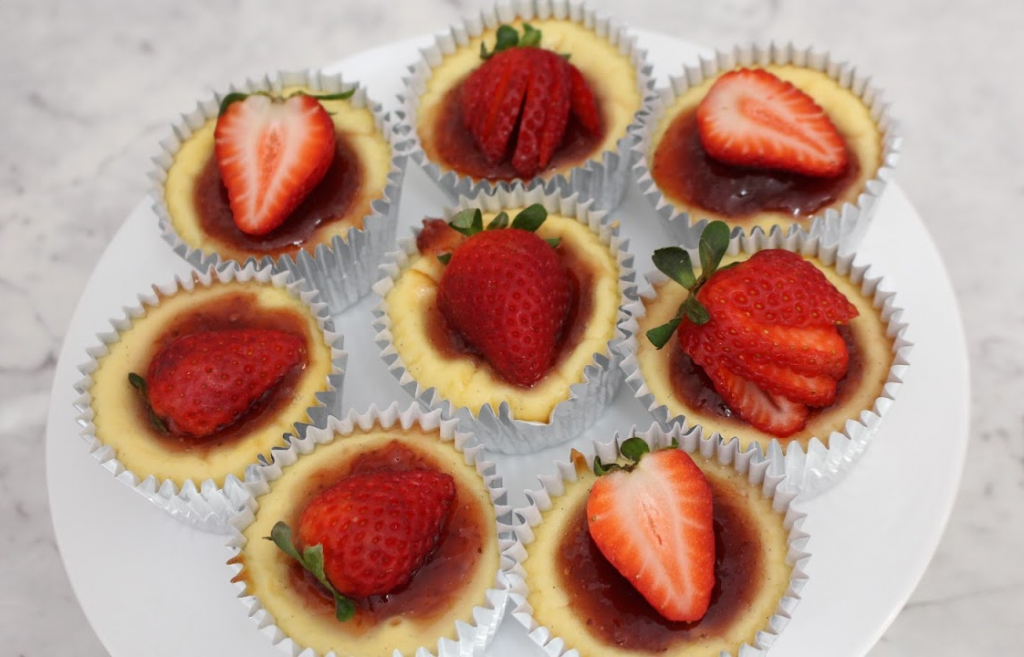 Cheesecake is one of our favorite desserts at home. My last couple of birthday cakes have been cheesecakes. That alone should tell you how much I love it. But do you know whats even better than a cheesecake? Little mini cheesecakes, of course. Jokes aside, these are the perfect option for a party or even for the family. You can make them a day ahead of the party and keep them refrigerated. They are easy to serve and could serve to help portion control too. And they are super delicious as well. Now that's a dessert that ticks all the boxes for me.




Easy Mini Cheesecakes with a Strawberry Topping
Makes 8 mini cheesecakes
For the base –
120g Digestive biscuits
30g butter
For the cheesecake –
250g cream cheese
1/3 cup caster sugar
1 tbsp lemon juice
1/2 tsp lemon zest
1/2 tsp vanilla extract (or vanilla bean paste)
100g double cream
2 eggs
A tiny pinch of salt
For the topping –
1/2 cup strawberry jam
Fresh strawberries
For the base –


Melt the butter and keep aside.


Blitz the biscuits in a food processor till you get a coarse crumb texture. Add the melted butter and blitz again to combine. This should now resemble wet sand.
For the filling –


Beat the cream cheese till its creamy.
Add the sugar and and mix till it is well combined.
Add the eggs, one at a time, beating well after each addition.
Now add the lemon zest, lemon juice, vanilla and salt and mix till combined.
Lastly, add the cream and mix till it has incorporated with the rest of the ingredients.
To assemble –


Preheat the oven to 180 degrees C.
Line a cupcake tray with paper cases.
Place about 1 tbsp. or so of the biscuit crumb in each case. Using the back of a spoon, pack it down and flatten it.
Top it with the cheesecake filling about 2/3 of the way.
Bake for 15-17 minutes or till the outside has set and the middle still has a little jiggle to it. (You may find some of them puff up a bit or develop a little crack. That is fine.)
Take it out of the oven and let it cool down completely.
Warm the jam over some medium heat, just to loosen it a bit. You don't need to simmer or boil it. This took me about a minute.
Spoon a little jam over each of the mini cheesecakes.
Top with some fresh berries.
Refrigerate for 2-4 hours to set. You can leave it to set overnight as well.
Enjoy!!!