I have a little confession. A few years ago, I used to not like Oreo biscuits very much. There!!! I said it. But wait, I must also say this. A few months ago, I sorta flipped a switch. I happened to try one again, and I must say, I didn't mind it at all. Don't ask me what happened or how it did, but I can now say I actually like Oreo biscuits. So it was time that I reworked what was originally a recipe that used Oreos, which, when I first made, I actually substituted with another biscuit. But recently, I made them again using the real thing.
Sometime in August, we were celebrating a couple of birthdays at work and I decided I was going to bring a batch of these to the celebration. I was a little skeptical of how they would be received, but I shouldn't have been. They disappeared. Not everyone had an opportunity to grab one, but some clever ones managed to get seconds, maybe thirds 😉 Those that had a chance to try them out, absolutely loved them. So turns out I didn't have to worry about these at all. I've had a few people ask me for the recipe more than once. So I'm actually doing another post for it.
This is one of the easier treats I've made and if you have to take something sweet to a potluck, may I recommend making these. They will be an instant hit. Be warned, they are really moreish. You wont be able to stop at one.
Oreo Truffles
(Makes 1 dozen)
200g Oreo cookies (each packet is 137g, I just used 2 packets)
60g cream cheese
200g chocolate (I used 100g milk chocolate and 100g dark chocolate but you could use all milk or all dark or any ratio you prefer)
1/4 cup Candy melts (I used Yellow melts)
Blitz the cookies in a food processor till it reaches a fine crumb state. (If you don't have a food processor, place the cookies in a ziplock bag and pound on them using a rolling pin.)
Stir in the cream cheese and mix thoroughly.
Roll them into balls. Refrigerate them for an hour so that the firm up.
Chop the chocolate into small pieces. Melt the chocolate in a microwave safe bowl for 30 seconds and stir. Then as needed microwave in 30 second increments stirring inbetween till the chocolate melts. The stirring helps the chocolate melt.
Line a cookie sheet tray with parchment paper.
Dip the cookie balls in the melted chocolate. Using a fork, let the excess chocolate drip off and leave them to set on the parchment lined tray. You can serve them up as they are or decorate them with sprinkles or chocolate then do that at this stage and leave it to set.
If you want to use sprinkles to decorate them, sprinkle them on the truffles just after you dip them in chocolate.
If you want to drizzle some chocolate or candy melts over, microwave them in a microwave safe bowl according to the package instructions. Pour it into an icing bag or a small ziplock bag, snip off the tip of the bag and drizzle the chocolate over the truffles. Leave to set.
Enjoy!!!
Those of you who follow my blog posts will know that my recipe titles which are normally my post titles usually never make lofty claims. This time it just had to be done. I believe, yes, truly believe that I have come across the best cheesecake recipe.
Let's go back to where it all began, shall we! My husband and I were sitting one evening and watching the latest season of Masterchef Australia (one of my favourite food shows) and it happened to be a Masterclass episode. I'm so stoked they brought back the Masterclass episodes this year. I felt quite cheated out of them last year. Anyway, Matt Preston was making a baked cheesecake. We love cheesecake in our house. So we were very keen to check this masterclass out. Long story short, we loved the way his cheesecake turned out and decided that we would try it sometime soon.
Now I didn't know how soon "soon" would actually be. I figured it would be a while before I got a chance to make one of them. Turned out, my husband had other plans. The following Saturday while I was at work (yes, unfortunately I do work some weekends), he actually went to the shops and picked out all the ingredients for the cake and had it prepped by the time I got home from work. We popped it in to bake and then in the fridge to set. After dinner that day we were both anxious to see how it turned out. It was HEAVENLY. Soft, creamy, beautifully flavoured with a fantastic crust. We we both very, very pleased with the way this cheesecake turned out and I can happily say that this will now be my go-to recipe for a baked Cheesecake. Thank you Matt Preston! and thank you Masterchef Australia!
Baked Cheesecake


For the base –
1 packet of Granita biscuits (250g pack) (if you can't find Granita biscuits, you can use Digestive biscuits instead)
60g sugar
75 g butter, melted
For the filling –
750g cream cheese, at room temperature
230g or 1 cup caster sugar
4 eggs
2 1/2 tbsp lemon juice
1 tsp lemon
1 tsp vanilla extract
A pinch of salt
300ml double cream
Preheat the oven to 175ºC.
Line a 23cm spring form cake tin with baking paper.
Double wrap the outside of the cake tin with extra wide aluminium foil. This is to make the tin water tight to ensure that water from the little water bath you will create for the cake, doesn't seep into the cake.
For the base, blitz the biscuits in a food processor till you get crumbs. Add the sugar and blitz again for a couple of seconds till its mixes well. Add the unsalted butter and blitz again to combine.
At this stage, your base mix should resemble coarse wet sand.
Press the mix into the bottom of the prepared cake tin, spreading it out with the back of a large wooden spoon to even it out.
Bake for 10 minutes till lightly brown and set.
Remove the tin from the oven and set aside to cool. This base should be completely cooled before you add the filling.
For the filling, place the cream cheese in a stand mixer and using a padding attachment beat till smooth and creamy.
Add the sugar and beat till the sugar has completely dissolved.
Add the eggs one at a time, beating between each addition and make sure the egg is fully incorporated in the mix before adding the next one.
Add the lemon juice, vanilla extract and salt and mix until well combined.
Now add the cream and mix until well combined.
Pour the mix over the cooled base. Set the cake tin in the middle of a larger roasting tray or larger baking dish. You want to ensure your roasting tray / baking dish has high sides. Set this on the middle rack of the oven.
Carefully, fill the roasting tray with boiling water upto a 2 cm height and bake till the cake has set and the top is a little golden brown. This should take about 65 minutes.
Turn off the oven and leave the cheesecake inside the oven to cool with the oven door closed.
Then take the cheesecake and leave to cool completely.
Cover it and pop it into the fridge to cool a little and set further.
Serve with fresh berries if desired. But even by itself, the cake is so good you'll be glad you baked it.
I've been in a bit of a cooking / baking rut recently. I've been walking into the kitchen totally uninspired and seem to be just going through the motions. But that thankfully is in the past. Thanks to this months
SRC
assignment, I'm on a roll. This lovely lady and her blog are so inspirational. I've been admiring her blog for a while. I first came across Kate's blog
Kitchen Trial & Error
in Nov-Dec 2011 when I was participating in the 12 Weeks of Christmas Cookies Challenge and I spotted her recipe for homemade
Creamy Mints
. Kate and I seem to have in common our love of homemade and freshly baked goodies at home, and amazingly both our households seem to love garlic and mushrooms too. Her lovely family comprises of her husband and 2 very handsome little boys. Kate's blog – what can I say about it! It is one that brims over with amazing recipes and gorgeous pictures. She has a massive collection of delicious recipes that spans quite a few ingredients, techniques and courses, which means there's bound to be something for everyone. So what are you waiting for? Pop over and say Hi to Kate!
So as you can imagine, I had a heck of a task picking one recipe for the reveal. Along with the creamy mints, the shortlist also comprised of her Cheesy Potato Soup with Ham, Marshmallows, Gnocchi, Churros and Banana Bars, among many others that caught my eye. Well, you've probably guessed by now that I made the Banana bars with a Cream Cheese Frosting. The fact that I had 4 bananas slightly past their prime sitting on my counter, helped a lot in the decision making process. So I went with it and was very happy with the outcome. The recipe for the bars and the frosting is super easy to put together and is absolutely delicious. The banana bar base is moist and flavourful and honestly, I could eat it just like that without the frosting or anything. But for all you cream cheese frosting lovers out there, you'll be happy to hear that the frosting takes it to a whole other level of deliciousness. These bars keep very well too. We had these as tea time treats and I might or might not have had a couple of these as dessert after lunch on my days off 😉 I simply covered them with cling film and refrigerated them and took them out of the fridge and placed them on the kitchen counter about an hour before eating them and it lasted about a week. It might have lasted longer, but we'd happily devoured it by then.
I stuck to the original recipe. Only difference is I used 4 bananas instead of 3, since I wanted to use all 4 bananas that I had. Also, you'll see from Kate's pictures (which are so much prettier that mine will ever be) that I used a different sized pan. She recommends a 9″x13″ pan. I used a 9″x9″ since that's all I had. So I cut my bars into smaller sizes, since they would be a lot thicker than hers.
Banana Bars
Yields 16 pieces


For the bars –
4 ripe bananas
1 cup sugar
1/3 cup vegetable oil
2 eggs
1 cup all purpose flour
1 tsp baking powder
1/2 tsp baking soda
1 tsp cinnamon
A pinch of salt
Heat the oven to 180ºC and grease the baking pan.
Peel and mash the bananas in a large bowl.
Mix in the sugar, oil and eggs till well combined.
Stir in the flour, baking powder, baking soda, cinnamon and salt.
Pour into a the prepared baking pan and bake for about 40-45 minutes or till done. (Note this was because I used a smaller pan resulting in thicker bars. If you are using a 9″x13″ pan, the bars will be thinner and you'll need to start checking to see if its done around the 20 minute mark.)
Cool the bars completely before frosting.
While the bars are cooling, you can make the frosting.
For the Cream Cheese frosting –
3 oz Cream Cheese, at room temperature
1/4 cup butter, at room temperature
A splash of vanilla
3 cups icing sugar
Beat the cream cheese and butter till well combined.
Add the vanilla and the icing sugar half a cup at a time and beat between additions till you get the desired consistency. I ended up using the whole 3 cups.
To assemble –
When the banana bread has cooled through completely, spread the Cream Cheese frosting over the top.
Cut into bars / squares.
Enjoy!!!
I have finally started trying out new cupcake and brownie recipes, basically the sweet baked stuff, to add to my repertoire. It started with the
strawberry cupcakes
and now I've moved on to brownies. The first brownie to catch my attention was this cream cheese swirl brownie, that I saw at one of the linky parties that I participate in. This was a great brownie. It had a little tang from the cream cheese but it wasn't too overwhelming. What worked really well with it was the yummy caramel like taste that the edges of the brownies lent to it. The combination of flavors was great. My brother and husband both thought that these were caramel brownies and if I didn't know better I would've thought so myself.
In a nutshell, try it out. Good stuff, I tell ya.
This is what the inside edges look like –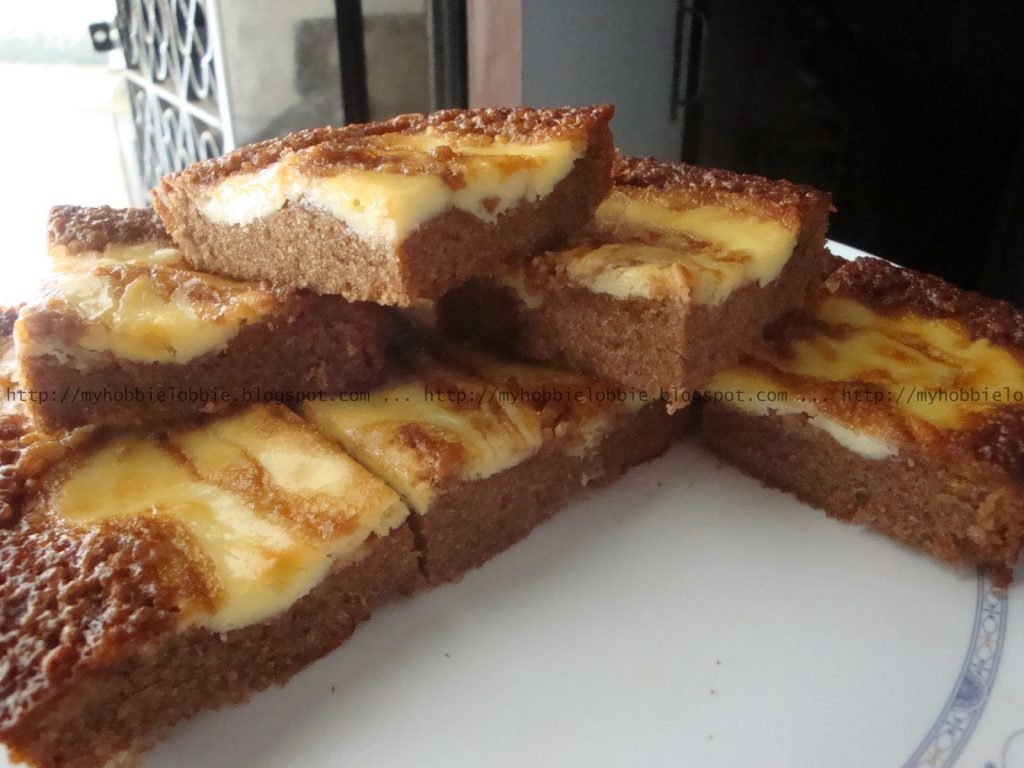 Cream Cheese Swirl Brownies
Adapted from: The Flour Sack
Makes 16
For the Brownie base:
2/3 cup all purpose flour
1/2 tsp baking powder
6 oz bittersweet chocolate
1/2 cup butter, cut into cubes
1 cup sugar
2 tsp vanilla extract
3 eggs
For the Cream Cheese Swirl:
8 oz Cream Cheese, at room temperature
1/4 cup sugar
1/2 tsp vanilla
1 egg yolk
Preheat your oven to 160ºC.
Butter an 8″ square pan
For the brownie base, whisk the flower and baking powder in a small bowl and keep aside.
Melt the chocolate and butter over a double boiler. When the chocolate has melted completely, remove from the heat and whisk in sugar and vanilla.
Cool slightly. Add the eggs one at a time, whisking between each addition.
Continue whisking till the mixture is well incorporated and smooth.
Gently fold in the dry ingredients and mix till just barely incorporated.
For the cream cheese layer, beat the cream cheese, sugar, vanilla and egg yolk till well combined.
Pour half the brownies base batter into the pan. Dollop half the cream cheese mixture by the spoonfuls. Repeat by layering the brownie base over it and then dollop the rest of the cream cheese mixture. Use a butter knife and gently swirl the batter to give a marbled effect.
Bake till the edges of the brownies have puffed slightly and a toothpick inserted into the center comes out with several fudgy crumbs attached to it. This should take about 55 minutes.
Cool completely. Cut into squares and enjoy!
(Note: I halved the recipe and used a 6″ square pan and I got 9 pieces.)
This recipe is linked to –
Sweet Tooth Friday
Sweets for a Saturday
These Chicks Cooked