Have I told you how much I love Indian sweets? Probably not. Well, here goes – I love, love, LOVE Indian sweets. I love Indian sweets even more than I love chocolate some days. I know, shocking!!! Isn't it?
When I lived in Mumbai, I was fortunate enough to have 3 really good Indian sweet shops or Mithaiwalas in the vicinity. Thankfully they weren't too close. I'd literally go nuts whenever I went there. There were so many options to choose from. And I don't to well with too many options. I just cannot pick in those situations. Anyway, my indecisiveness aside, one of my favourite Indian sweets has to be Gulab Jamuns. Gulab Jamuns are beautiful little deep fried dumplings soaked in cardamom infused sugar syrup.
I have made Gulab Jamun at home a few times now. Traditionally, the dumplings are made with milk that is reduced to an almost solid state. This process takes atleast an hour. If you live in India, you should be able to go to the store and buy mava / khoya (the reduced milk solids). If you don't want to spend as much time or money (mava / khoya can be pricey), but still want to sit back and enjoy some home made Gulab Jamun, you have come to the right place. I have found a recipe that will probably take you about half an hour (or thereabouts) to make from start to finish.
If you are someone who has just about started dabbling in Indian food and want to impress your family and friends with some home made Indian dessert, try your hand at this recipe. You will love it and you can count on being hailed a superstar if you bring these to a potluck or any party.
Now, on to the recipe. I cannot take credit for this genious idea. I was watching Better Homes and Gardens one Friday night and I saw Fast Ed make these and I knew then and there that I had to try them out myself. It was too good to be true and the skeptic in me, knew there'd be something different about these. Either the flavour or the texture wouldn't be right. But I was wrong, so very wrong. These Gulab Jamun turned out just like I remember them. Beautiful luscious dumplings, soft and drenched in the infused sugar syrup. These are best enjoyed a little warm but they are pretty darn good served cold as well. Even in the traditional sweet shops in India the sizes of the dumpling vary. I make them a little smaller because they will expand after frying and soaking in the sugar syrup. I prefer them smaller because that way they cook through quickly and they look so dainty served in a little bowl. I have also seen them made oblong in shape. Either way they are like little bites of heaven.
You could dress them up by sprinkling some pistachio dust (grated/ finely chopped pistachio) over them. They don't need it, but it looks prettier. I didn't have any pistachio with me, so I skipped that step.
If you love Gulab Jamun as much as I do, and you've been known to pick up some of the tinned stuff you get in the Indian stores or probably even the ready mixes (like Gits etc.), ditch them. You don't need any of that stuff. Try this recipe out and you'll never go back to those tins and mixes again.
Gulab Jamun
For the sugar syrup –
500g sugar
700ml water
4 pods of cardamom
Open the cardamom pods and separate the seeds and the shells.
Place all the ingredients, including the cardamom seeds and shells in a saucepan and bring to a boil.
Lower the temperature after it comes to a boil and let it simmer for 5 minutes.
Take off the heat and set it aside.
** We usually crush the cardamom seeds to a powder and add that to the syrup. This results in a stronger infusion of flavour. If you haven't tried cardamom before or aren't sure how strong the flavour would be, start off by keeping the seeds whole. The favour infused will be subtle. When serving, make sure you discard the seeds and shells first.
** Start off by making the syrup first because it needs to cool a little before you can add the dumplings. The syrup needs to be warm, not scalding hot when the dumplings are put in.
** Do NOT stir the syrup once the sugar has dissolved. Stirring will crystallise the sugar.
For the dumplings –
220g milk powder
1/2 cup all purpose flour
1/2 tsp baking powder
1 tbsp ghee / clarified butter
A little milk (approximately less than half a cup)
Oil, for deep frying
Heat the oil for deep frying.
Place the milk powder, all purpose flour, baking powder and ghee in a mixing bowl.
Gradually add the milk a little at a time and bind the ingredients to a dough. It is important to not add too much milk while making the dough. Use just enough to bind everything together.
Shape them into little balls. You want the balls to be smaller than what size you want the finished product because they will expand.
This recipe yield 20-22 massive dumplings or if you're after little ones, you can get about 45. I got 47 in all. Make sure the dumplings are evenly sized so that they cook evenly.
Test if the oil is hot by placing a tiny pea sized ball in the oil. If it sizzles and rises to the top you'r oil is hot enough and you can proceed. If it just sits in the oil, you need to heat the oil a little more. If the ball just chars, you're oil is too hot. Take it off the heat for a couple of minutes and then place it back on slightly lower heat and continue.
Have the oil on medium heat.
Carefully, drop the dumplings in the hot oil and fry till golden brown.
Your sugar syrup should have cooled down a little by now, but should still be fairly warm.
Using a slotted spoon, take the dumplings out of the oil and tap off any excess oil and put the dumplings in the sugar syrup straight away. Watch them expand as they soak in the syrup. Gently turn them around in the syrup after about a minute so that is soaks in the syrup on all sides.
Repeat with the rest of the batter. Once the dumpling have soaked in the sugar syrup and expanded a bit, you can carefully take them out into a shallow serving bowl or a baking dish like this one. Pour all the sugar syrup over.
At this stage, you can add the chopped pistachio over.
Sneak a peek at what it looks like on the inside. Soft, melt in your mouth goodness!
Serve warm or cold.
As the person who put made these lovely dumplings, even if you're making this ahead of time, I urge you to sample some of these warm and you'll know what I'm talking about. 🙂
Have you ever found yourself in a situation where you're expecting company and have put in so much time and effort to prepare a wonderful meal, but somehow have either forgotten to make dessert or just don't have enough time to make something elaborate? I have. And that too, not just once. Each time though, these little bowls of chocolaty goodness come to the rescue. The batter is simple and comes together in a couple of minutes and since they're individual portions, baking time is very short. The chocohotopots are so delicious, its sure to please everyone, chocolate lover or not. Its like a brownie in a bowl. The top layer is slightly crusty and, if cooked for the correct amount of time the center is still molten and oh so gooey. To your guests, you'll be a rockstar. They'll never know how simple and easy this was to put together, unless you tell them. I like to put these in the oven before we sit down to lunch or dinner, so that they're still nice and warm by the time we get down to dessert. I like to have these while they're still a little warm. However, they keep well and are pretty good cold as well. So go ahead and treat yourself this weekend.
Have a lovely weekend everybody!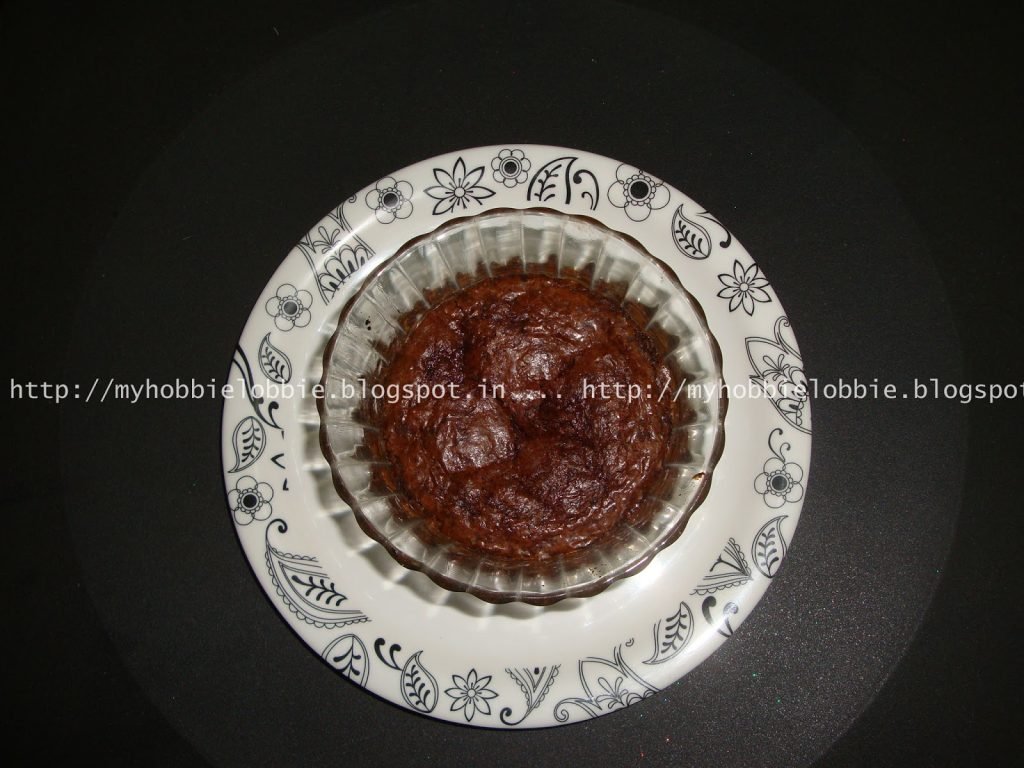 Chocohotopots
Recipe by: Nigella Lawson
125g semisweet chocolate, roughly chopped
125g butter
2 eggs
150g sugar, powdered
3 tbsp flour
Melt the chocolate and the butter over a double boiler. If you chop your chocolate to smaller pieces, this will hardly take a few minutes. Keep aside.
Break 2 eggs in a bowl and whisk them along with the sugar.
Add the flour to the egg mixture and mix well.
Fold in the melted chocolate and butter mix.
Pour into greased bowls or ramekins.
Bake at 200ºC for about 20 minutes. (You can tell they're done when the top appears cracked. Take them out of the oven when that happens. If you overcook them, they wont be nice and molten inside. They'll still taste good though 😉 )
Serve warm. You can serve some good vanilla ice cream with this if you like.
This recipe is linked to –
Sweet Tooth Friday
Sweets for a Saturday
My Meatless Mondays
Forever Nigella
Gaajar ka Halwa, Carrot (Gaajar) Halwa or Carrot Pudding is a very popular dessert in India. There are loads of recipes you will find being using to whip this up. Some serve it warm, some serve it cold, some recipes will result in a richer version, but I'd like to think of mine as a slightly more health conscious variant which still results in a delightful dessert. This can also be kept in an airtight container in the refrigerator for a long time. But truth be told, it'll get gobbled up much sooner.
Gaajar ka Halwa
(Makes about 14-16 servings)
1 kg carrots, grated
1 (400g) tin condensed milk (I used Milkmaid)
1/4 cup milk
2 tbsp. ghee or clarified butter
2 tbsp. sugar (please adjust this to suit your taste)
Seeds of about 15 green cardamom pods, pounded to a fine powder
A few almonds, slivered
In a heavy bottomed pan, heat the ghee.
Add the grated carrots and stir well. Let the carrots sweat a little.
Add the milk and let it cook off for a couple of minutes on a medium flame.
Add the condensed milk. Stir well. After a few minutes add sugar to taste. Stir well.
Leave it uncovered on a medium flame, stirring occasionally till all the liquid evaporates. You may need to turn the heat down towards the end of the cooking process.
When its almost done, add the powdered cardamom seeds and slivered almonds. Mix well and take of the heat.
Garnish with a few slivered almonds and serve.
Once it has cooled completely, you can refrigerate the rest.
Note: When adding the powdered cardamom and slivered almonds, you can also throw in a few raisins and/or some chopped pistachios if you want.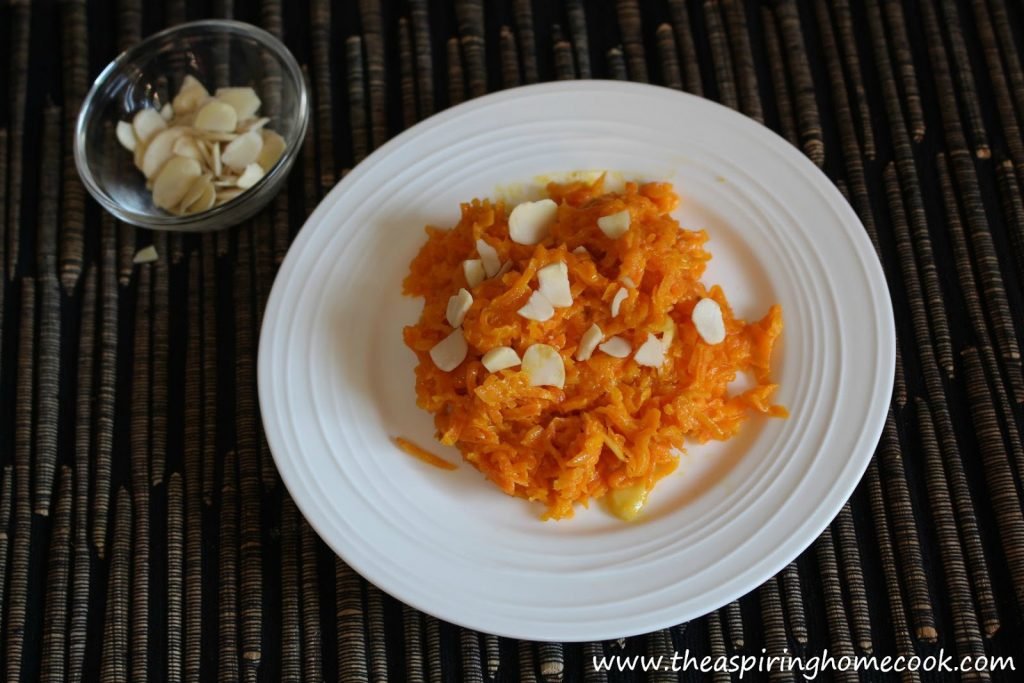 This recipe has been linked to
Sweets for a Saturday #1 hosted by Lisa of Sweet as Sugar Cookies
Please spend some time and check out what the others have brought to the table this week.