Its hard to believe that its only the first month of Spring right now. We've had a few scorchers already and its starting to feel like Summer is long to be a long and hot one. While I enjoy the extra daylight and the bounty of fruit, veg and flowers and beautiful beach days that summer brings, I cannot cope with HOT days. Last weekend was one such scorcher, thanks to the second heatwave of the season. I don't know about you, but on such days, I cannot even think of putting the stove or the oven on, much less standing near it. I think I see a lot of salads and sandwiches for lunch this Summer.
I tried out this amazing Avocado Pasta Salad over the weekend and it was a big hit. There is a little stove time involved to boil the pasta and to fry the bacon, but the end result is so good, I'd say it was well worth it. I can't wait for the next potluck or picnic, because I know that this salad will make an appearance.
The dressing is an avocado based one and is super easy to make. If you have an immersion blender, you life will be even easier. If not, just use your regular blender and you'll be sorted. Basically all the ingredients for the dressing get blitzed together and ta-da …. you have yourself a salad dressing. I love recipes that are as easy as this. The ingredient list for the salad is just an approximation of what I used. Feel free to adjust as needed.
Avocado Pasta Salad
Serves 4 (as Main Course)
Adapted from: Spend with Pennies
2 cups uncooked Macaroni
1/4 onion, finely chopped (use a sweeter onion if you can't stand the heat from a raw onion. You can also use a couple of spring onions, finely sliced)
1 cup cherry tomatoes, halved
1/2 cup broccoli florets
1/2 cup boiled / roast chicken, shredded
1/2 cup corn kernels
1 avocado, diced
4 rashers of bacon, fried till crisp and chopped / crumbled
1/4-1/3 capsicum (I used green because thats all I had. You can use red or yellow too, or even a combination of them.)
2 tbsp chopped fresh coriander
For the dressing –
1 ripe avocado
Juice of 1/2 a lime
1/4 cup chopped fresh coriander (use the leaves and the stalks)
1/2 tsp cumin powder
1/2 tsp garlic powder
1/2 cup Greek yogurt
Salt, to taste
Freshly cracked black pepper, to taste
Boil the pasta till al dente, following the package instructions. Run under cold water to stop the cooking process and to cool the pasta down. Drain and set aside.
Blanch the broccoli florets in boiling, salted water till it is a vibrant green, about 30 seconds to a minute, depending on how crunchy you like your broccoli. Immediately drain and immerse the broccoli in ice cold water for a few seconds to stop the cooking process. Drain and keep aside.
In the same pot of boiling water, boil your sweet corn kernels till done. Drain and set aside.
Get your salad ingredients ready.
For the dressing, simply blitz all the ingredients together.
Toss the salad in the dressing and refrigerate for about 1 hour before serving.
Enjoy!!!
Pin now and try later!!!
Anyone who knows me well, knows I love my snacks. Most Indian snacks are deep fried. Actually, scratch that, most snacks anywhere are deep fried. Well, atleast the yummy ones are. That being the way it is, I try to cut down on these kinds of snacks. Which means, I'm constantly on the lookout for healthier options. And it goes without saying that even these healthier options, have to be delicious. At the end of the post, I will list some of the recipes that I find healthier. Do you love your snacks as much as I do? Hit me up with your healthy snack recipes in the comments section. I would love to try them out and will post my experience here, with credit to you, of course.
Today's post is one such snack option. Kale Chips. I never thought I'd love it as much as I do. I've had the option to cook with Kale only in the last couple of years. I've not tried too many Kale recipes so far. Just this Skillet Breakfast Hash and now these Kale Chips. I've made them both a few times and we love them. That is how I knew, I had to share these Kale Chips with you. Kale is really good for you. They are choc full of antioxidants. These are baked and I can't tell you how delightful they are to snack on. You have to try it to believe it. What I love is that the options for the seasonings are endless. I have a soft spot to this Spicy Masala Chaat Seasoning. It is a little tangy, a little salty and a little spicy – just perfect. And its such an easy recipe too. All you do is prep the leaves, sprinkle the seasoning over, toss and bake. So what are you waiting for? Try it out. You'll definitely want to make it again.
You can watch the recipe here –
Kale Chips


1 bunch of Kale, washed and shaken dry
1 tbsp olive oil
1/2 tsp Kashmiri chilli powder or to taste
1/2 tsp Chaat masala, or to taste
Salt, to taste
Preheat the oven to 180ºC.
To prep the Kale leaves, break the leaves into smaller chip size portions, discarding the tougher stem.
In a small bowl, mix the olive oil, the chilli powder, chaat masal and salt together.
Drizzle this over the the kale leaves and toss well to make sure all the leaves are coated with the spices. Its best to do this with your hands. Rub the leaves gently to get the seasoning in the little nooks and crannies.
Either line a baking tray with some parchment paper or lightly spray with some oil
Arrange the kale leaves in a single layer on the tray.
Bake for 10-15 minutes or till the leaves are lightly browned.
Keep a close watch on the leaves as they can go from just right to burnt very quickly.
Take them out of the oven and let the chips cool completely before eating. They crisp up as they cool.
Sit back and enjoy.
Pin now and enjoy later!
** This post contains affiliate links.
Today's post takes me back about 16 years. Back to when I first started working (gosh I feel old now). Back then, our meals were taken care off by the work place. And for me that was novelty because growing up we almost never ate out. My mum would cook up every meal and snack for us at home and as kids we were content with that. But eating in the office cafeteria was interesting. Here, I was introduced to such a variety of food from different parts of the country (India). But I wasn't too keen on cooking then. During those days I only enjoyed making our traditional Goan sweets (Kuswar) for Christmas and other Goan sweets that my Nana would whip up for us for afternoon tea or an after school snack.
One of the dishes I encountered in the office cafeteria, that eventually became a favorite, was Methi Malai Matar (meaning Grean Peas in a Creamy fenugreek gravy.) It has strong Indian flavors but is mildly spiced. After moving to Sydney, I began craving some of this stuff. And it was only then I decided I was going to have to learn to make this dish myself, much like I had to learn so many other Indian recipes that I wanted to enjoy. Now the challenge was finding fresh Fenugreek leaves. The only place I've found fresh leaves is at one vendor at the Paddy's Market in Flemington. But that's a long drive from us. So I thought I'd try and find a recipe that used dried leaves (known as Kasoori Methi
) which is easily available at any Indian grocery store. And let me tell you, I found one. I couldn't believe how easy this little curry is to put together. With just a handful of ingredients, in less than half an hour you can be sitting down to a warm bowl of Methi Malai Matar for dinner. This goes really well with roti / chapatis, but you can also enjoy this with some bread or plain rice.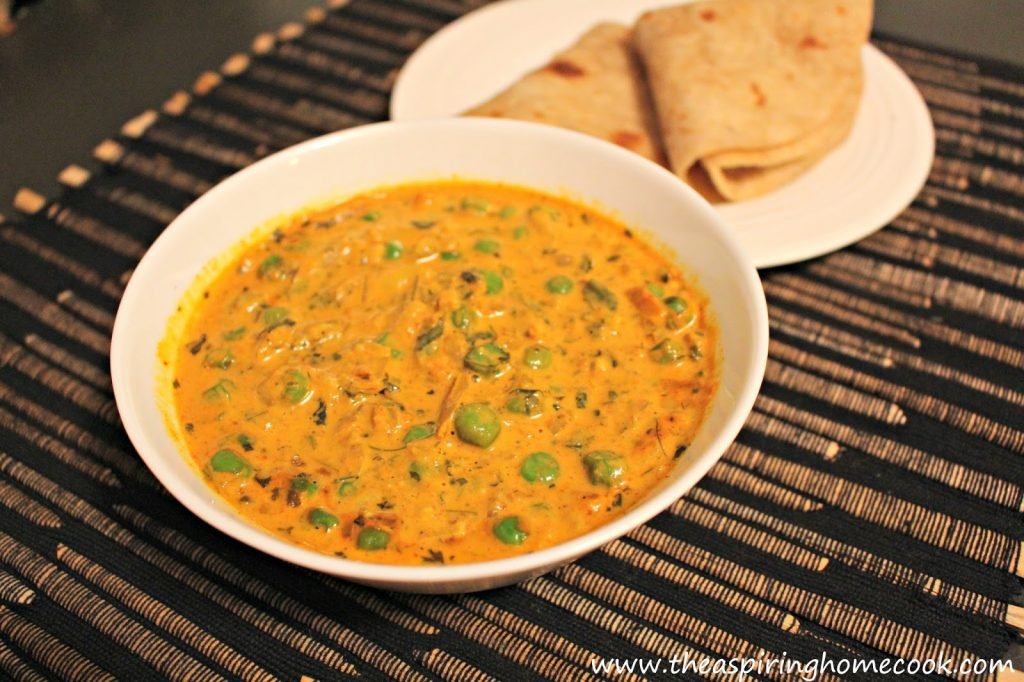 Methi Malai Matar
Recipe from: Sharmi's Passions
1 cup green peas (fresh or frozen will both work, if using frozen let it thaw before using)
3 tbsp Kasoori Methi

1 onion, finely chopped
1 tsp ginger garlic paste
1/2 tsp Cumin seeds
1 green chilly, finely chopped (optional)
1 cup milk
5 cashew nuts
2-3 tbsp cream
1/2 tsp Garam Masala Powder

1 tsp Red Chilly Powder

1/4 tsp Turmeric Powder

1 tbsp oil (I use olive oil for cooking)
Salt, to taste
Soak the cashewnuts in a couple of tablespoons of milk for about 15 minutes.
Grind this to a smooth paste and keep aside.
In a pot / saucepan heat the oil on medium heat.
Add the cumin seeds to the oil.
When the cumin seeds start to sizzle, add the ginger garlic paste and green chillies and saute for a minute.
Now, add the chopped onions and saute till they've slightly browned.
Add the cashew paste and fry it for a couple of minutes, stirring to avoid burning.
Now add the turmeric powder, red chilly powder and the garam masala powder. Add salt to taste and stir well.
Now add the rest of the milk and stir.
Let it come to a boil and then simmer for about 2-3 minutes and the gravy will start thickening.
Add the cream and stir in.
Now add the green peas. Let the peas heat through and let the gravy come to a boil again.
Now add the kasoori methi and stir.
If the gravy is too thick at this stage, add a little water to achieve desired consistency. Just make sure the gravy comes to a boil after the water is added and simmer for a couple of minutes.
If the gravy is not thick enough, let it continue cooking, stirring occasionally, till it thickens to your liking.
Serve hot with rotis / chapatis.
Enjoy!!!
If you're looking for other methi / fenugreek recipes, check these out –
Methi Parathas
Methi Namakpare
Methi Poori
** This post contains affiliate links.
One of the best things about the onset of spring and the weather warming up, is the abundance of fresh fruit and veg in my part of the world. This year we've already seen an abundance of beautiful strawberries in the market. And the blueberries are close behind. I've only just come to realize that I haven't baked much with fresh fruit in a very long time. So during the last grocery run, I picked up a few punnets of strawberries. Though I think the best way to enjoy them is eating them straightaway, I couldn't turn down an opportunity to try baking with them.
After a bit of searching, I found just the sort of recipe I was looking for – a French Strawberry Cake. I wasn't sure if I would enjoy the strawberries after baking and I've often found cake recipes either bland or just sweet with very little going for it in terms of flavor. Not this cake though. It was really easy to make, full of flavor and really delicious. I'd fo as far as saying it had a personality of its own. This recipe sure is a keeper. I made a few minor modifications to the recipe and was really happy with how it turned out. This would be perfect for morning or afternoon tea. It makes quite an impression in a simple, elegant way just in case you're expecting people over. I love having such recipes on hand.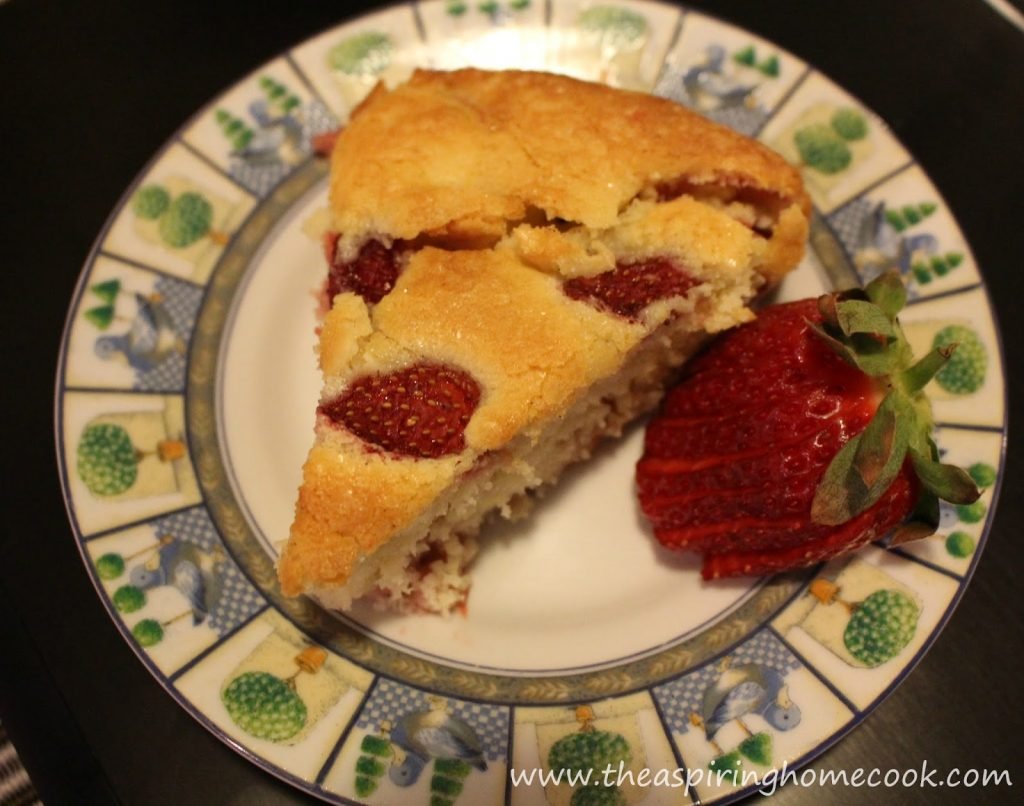 French Strawberry Cake
Yields: A 9 inch cake
350-400 gms fresh strawberries
115g butter, at room temperature / softened
1 cup sugar + 1 tbsp extra
2 large eggs
1 tsp vanilla bean paste
1 1/3 cup all purpose flour
1 1/4 tsp baking powder
1/2 cup plain, unflavored Greek Yogurt
Preheat the oven to 180ºC.
Line and grease a
9 inch round cake tin
and set aside.
Hull and slice the strawberries.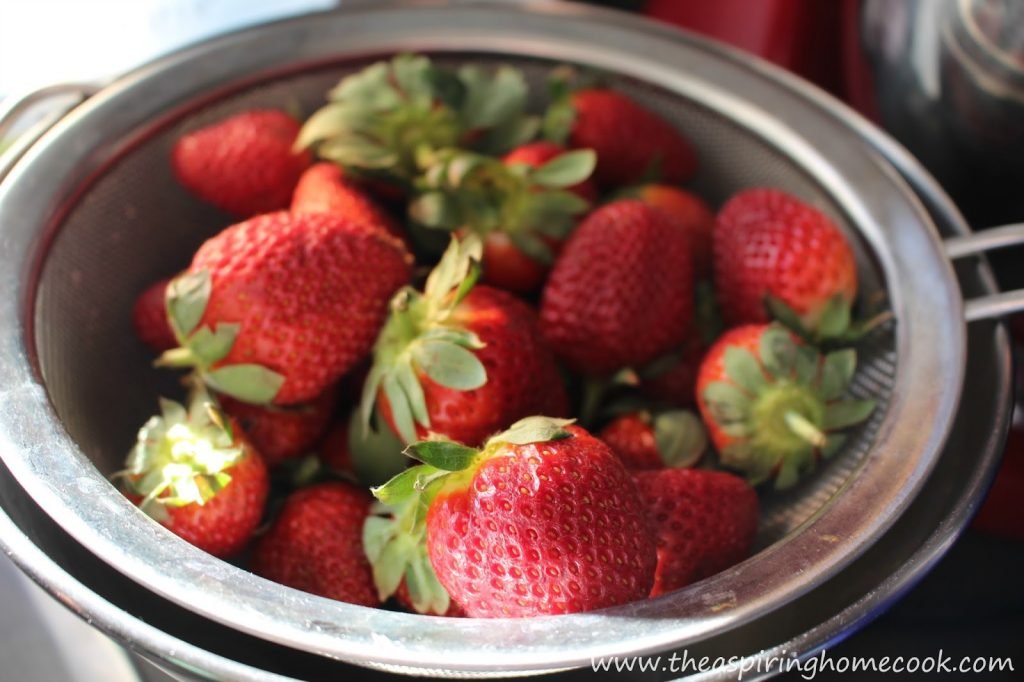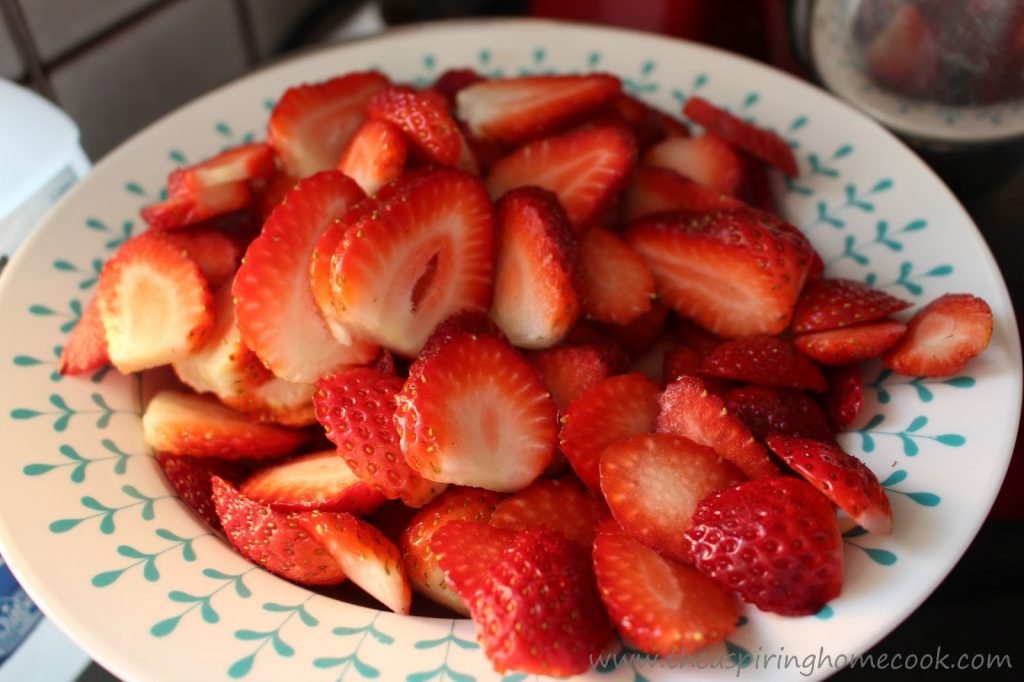 Whisk the butter and 1 cup sugar till pale and fluffy.
Now add the eggs, one at a time, beating well after each addition.
Add the vanilla and beat till incorporated.
In another
bowl
, whisk the flour and baking powder to mix well and set aside.
Now alternating between the two, add the flour and Greek yogurt to the mixing bowl, beating till just incorporated before adding the next. (I divide the flour into 3 parts and the Greek yogurt in 2 parts. Start with one part of the flour, next one part of the yogurt and continue till it is all added to the batter.)
Fold in the sliced strawberries, setting aside a few of the outer side slices.
Pour the batter into the prepared cake tin.
Now place some of the reserved side slices of strawberry on the top of the cake and lightly press into the cake batter. (This step is optional and you could just add all the strawberries in at one time and fold into the batter. But I think this makes the cake look prettier.)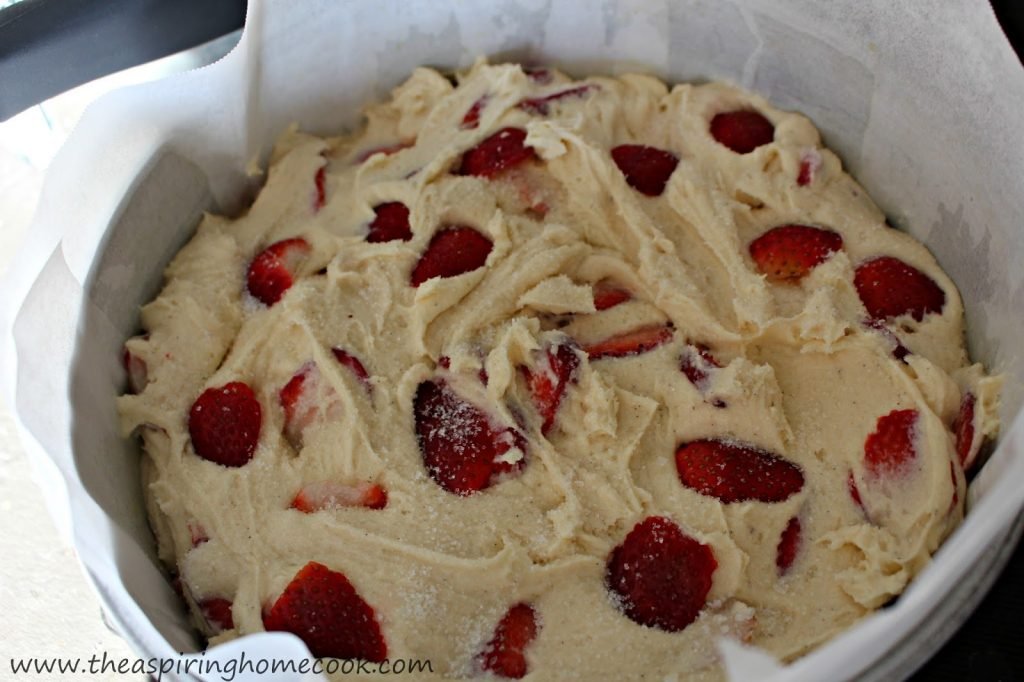 Sprinkle 1 tbsp of sugar over the top of the cake evenly.
Bake for about 30-40 minutes till a skewer pierced through the center of the cake comes out clean.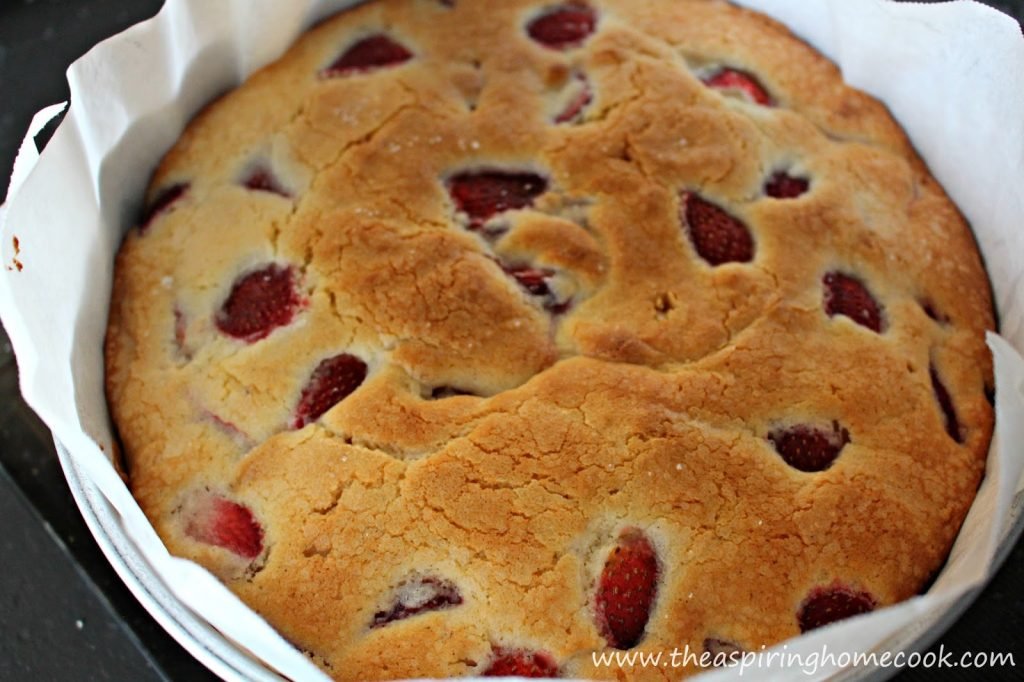 Let the cake cool in the pan itself.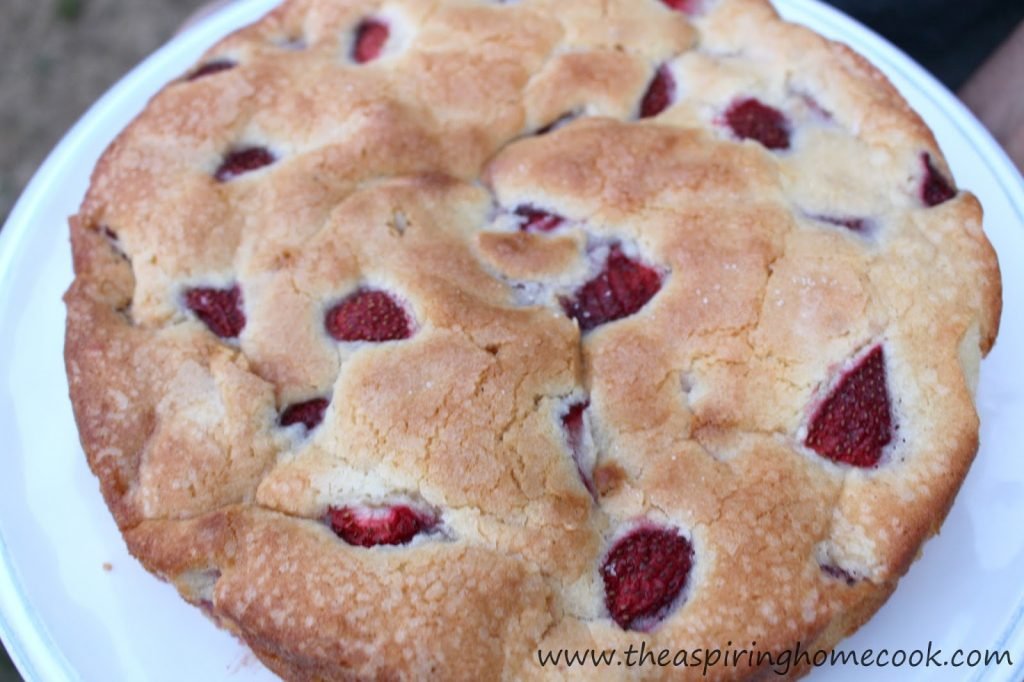 When completely cool, slice and serve.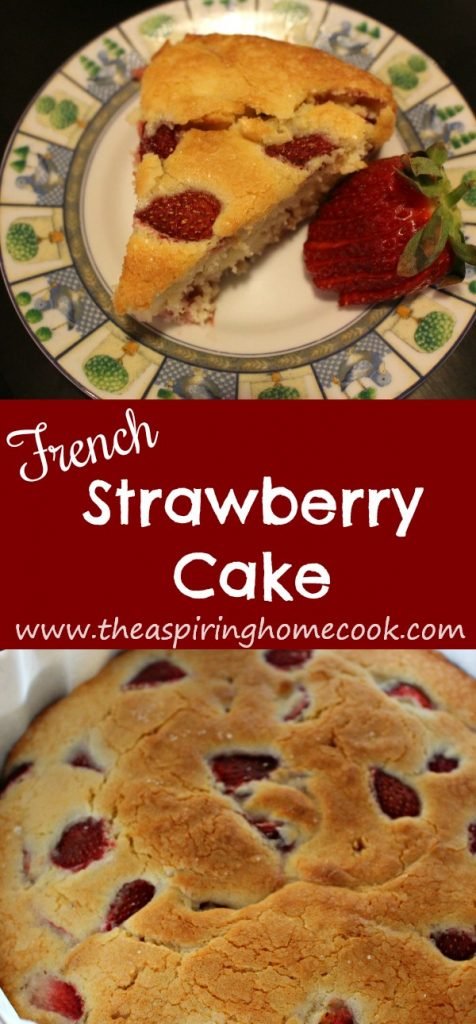 If you need any more strawberry-licious inspiration, here are some of my previous posts featuring strawberries –
Strawberry Lassi
It's time to review August 2017 in blog posts and pick a favorite for First Monday Favorites. Those of you who aren't familiar with it, its a relatively new linky party hosted by Sid of
Sid's Sea Palm Cooking
. A group of us come together on the first Monday of every month and share our Favorite recipe from the previous month. It is a lot of fun and we get to look through an amazing collection of recipes. Do you have a food blog or are you looking at starting one? We'd love it if you could join us. The more the merrier, right?
My favorite recipe from August 2017 is this gorgeous
Pasta with Spinach Pesto
. An easy recipe, that's quick to make and is healthy too. In my book that makes it a great option for a weeknight meal. You can find the recipe for my Pasta with Spinach Pesto posted
here
.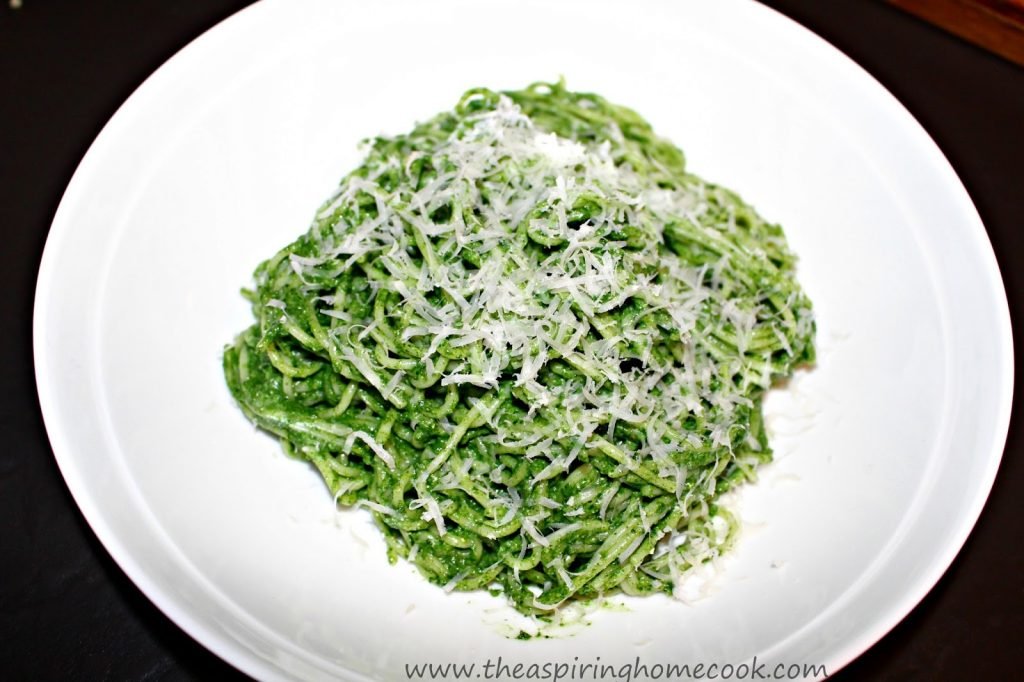 Don't forget to check what the rest of the group considered their favorites this month.
What do you do when some gorgeous Blue Swimmer Crabs call out to you at the Fish Mongers? Well, you take them home of course. And then you get your Mum, who by the way is a fantastic cook and happens to be visiting at the moment, to whip you up a big ol' pot of some amazing Goan Crab Curry. Nothing compares to the joys of enjoying Mum's cooking. Atleast, that's what I did. If you don't have the same luxury, I've got permission from Mum to share her Crab Curry recipe with you so that you can enjoy some of it too.
We use a roasted masala (spice mix) for this curry. So there is an extra step of roasting a few ingredients before grinding, but it doesn't take too long and that added step does a whole lot of good stuff for your curry. It adds amazing depth of flavor and your curry just wouldn't be the same without roasting the masala.
So if you're craving some good Goan food, try this curry. It took us right back to Goa. And until we visit Goa again, we'll just have to make do with little culinary gems like this one.
Goan Crab Curry
Serves 6-8
3 Blue Swimmer Crabs (or any other crabs of your choice)
8 curry leaves (curry patta)
1/2 large onion, finely chopped
2-3 fresh green chillies, slit
5-6 pieces of Kokum*** (See note below)
1 tbsp oil (We use olive oil for all our cooking, you can use whatever mild cooking oil you have)
Salt, to taste
For the Masala (Spice Paste) –
1/2 large onion, roughly chopped
6 large cloves of garlic, roughly chopped
3/4 inch ginger, roughly chopped
1/2 cup grated coconut (fresh or frozen will both work. If using frozen, let it thaw before roasting)
10 Kashmiri Chillies (See note below), discard stalks
1 tbsp Coriander seeds
1/2 tsp Cumin seeds
1 tsp tumeric powder
3 cloves
8-10 peppercorns (this will add heat so use about 6-8 for a milder curry and around 10 if you want it hotter)
2″ cinnamon
1 tbsp oil
1 tomato, roughly chopped
Prep the crabs, sprinkle a little salt (about 1/2 tsp) on it, toss it in a bowl to salt the crabs well and set aside.
Roasting the Masala –
Heat a large pan / tava on medium heat.
Drizzle the oil in the pan and add the onion, garlic and ginger. Saute till it softens a bit.
Add the coconut and stirring frequently, roast it till it gets fragrant and the color starts changing. Lower the heat, if needed, to ensure the coconut and the spices don't burn.
Next add the Kashmiri chillies, coriander and cumin seeds and stir with the rest of the ingredients for about another 30 seconds.
Now add the turmeric powder, cloves, peppercorns and cinnamon to the rest of the spices in the pan and roast for about another 30 seconds to a minute, till it all gets fragrant and heated through.
Take off the heat and transfer to a large plate to cool.
Once it has cooled to room temperature, grind the roasted spice and coconut mix with the chopped tomato and a little water to a fine, smooth paste in the blender.
Keep aside.
For the curry –
Take a large pot, preferably with a slightly wide base that you will be able to fit all the crabs into.
Heat a tbsp of oil and add the finely chopped onion to the pan.
Saute till it has softened and is golden brown.
Add the spice paste and stir through. Let if fry off for about 2 minutes.
Add the Kokum at this stage.
Next add the crabs stir to coat with the spices.
Now add a little water to achieve the desired consistency for your curry.
If you don't have kokum and are using apple cider vinegar, add the vinegar, to taste, at this stage.
Let it come to a boil and simmer for about 15 minutes (Please note, this time will vary depending on the size of the crabs.)
Check for seasoning and add more salt if needed. At this stage if you find the curry too thick you can add a little more water to thin it down a little and continue to cook till it comes back to a boil.
If you find your curry too thin and want it thicker, continue cooking on a medium high heat till you get the desired thickness, stirring every now and then to ensure the curry doesn't stick to the pan and burn.
Serve hot with some boiled rice or bread.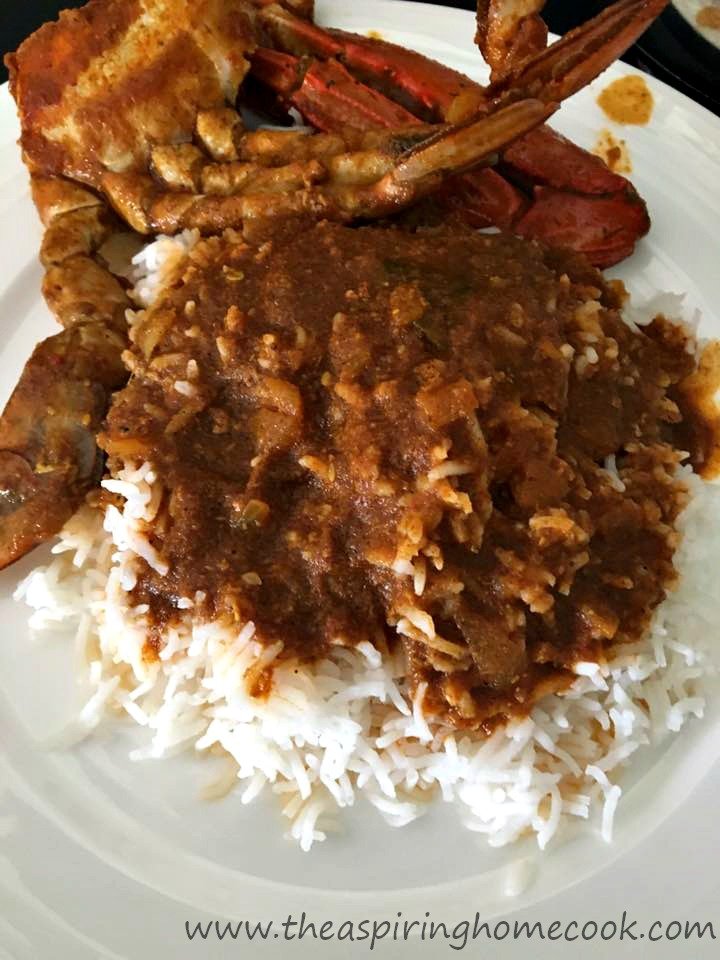 Enjoy!!!
*** NOTES:
– Kokum is an Goan souring agent (dried pieces of the Indian plum) using in cooking. You will find it in any Indian grocery store. If you don't have any on hand, just use some Apple Cider Vinegar, to taste.
– Kashmiri Chillies are dried red chillies. These are mild in flavor. You can substitute any other mild dried chillies or chilly powder.