You're probably wondering why I'm posting a soup recipe in the middle of summer. Well, it's like this – we've had about two and a half days of rains now. So everything around is grey, wet and bleak. Don't get me wrong. I love this kind of weather. All you have to do is snuggle up with a nice hot cuppa and a good read or watch the rain – perfect. Also, it means we get to have soup. I love soup but have not made it from scratch often enough. All I can say is, I am done with the instant and frozen, store-bought varieties. I have had very good results the couple of times I've made soup from scratch and come this winter, I hope to make plenty more.
So back to the butternut pumpkin. This is the second time I'm making a butternut pumpkin soup. The last time it turned out really bland and I wasn't overly impressed, which is why it hasn't made an appearance on the blog. This time around, I decided I wanted some bold, punchy flavours so I looked around and took a few ideas from around the web. It turned out this recipe was easy, simple to make and has big, bold flavours. I remember thinking the last time, that a little ginger would make this soup so much better and I was right. This soup just warms the cockles of your heart.
I took the idea of topping it up with blue cheese from a recipe I found online. Please do yourself a favour and add the blue cheese. The blue cheese elevates this soup from being a nice soup to being a fantastic one.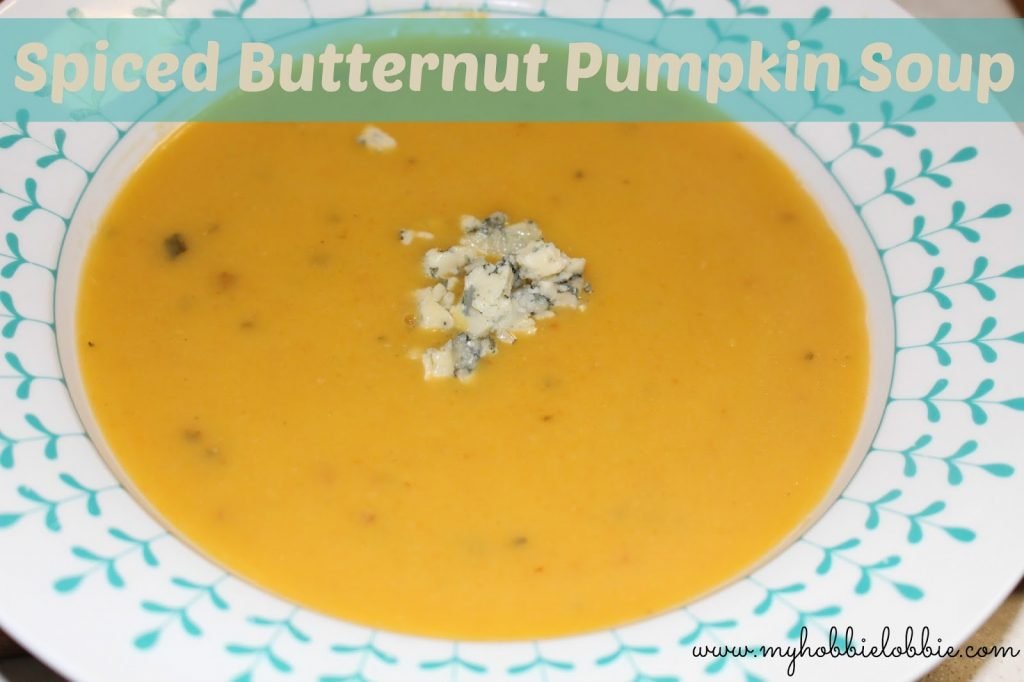 Spiced Butternut Pumpkin Soup


700g butternut pumpkin, peeled and chopped
1 onion, chopped
2 carrots, chopped
1 stick celery, chopped
2 large cloves of garlic, finely chopped
1/2 tsp grated ginger
Salt, to taste
Freshly ground black pepper, to taste
1/2 – 1 tsp red chilly flakes, or to taste (optional)
1/2 tsp chives
2 tbsp olive oil
1 litre boiling water
1/3 cup cream cheese
1/4 cup freshly grated parmesan cheese
Blue cheese, to crumble over
In a large pot, over medium heat, pour the olive oil.
Add the garlic and when it is fragrant, add the onion and and saute over medium heat, till softened and translucent. Add the ginger and continue sauteing.
Once the ginger has released its aromas, add the celery, carrot and pumpkin.
Sprinkle the salt, pepper and red chilly flakes and stir well.
Let the veggies, saute for about five minutes, stirring to make sure it doesn't burn.
Add one litre of recently boiled water. (You could add cold water too, but that will increase cooking time. Using hot water results in the soup simmering almost immediately.)
Cover and simmer till the veggies are cooked and tender.
When the vegetables are fork tender, take off the heat.
Using an immersion blender, blitz till you are left with a smooth puree. Add the cream cheese and blitz again.
Add the parmesan cheese and chives and stir through.
Serve hot with a little blue cheese crumbled over.
Enjoy!
So unlike most of you reading this post now, we're right in the middle of winter, here in Australia. Not just that, we're in the middle of a polar vortex at the moment. They say this is the coldest its been in the last 20-30 years … brrr!!! A nice warm, hearty bowl of soup hits the spot at a time like this. I've always wanted to try some split pea and ham soup. This recent weather seemed like the perfect opportunity.
After looking around the internet for a recipe, I found one I was happy with. I picked up all the ingredients I needed and got to work. I was happy with the fact that I found a pressure cooker recipe, which meant that I could sit down to a nice bowl of soup in a fraction of the time. Since its the middle of the year, I didn't have any leftover ham. But for those of you that bake a leg of ham around the holidays, using your leftovers would be perfect for this recipe. I bought some smoked ham meat from the supermarket and used it. When I think back, I think I'd be happy even without the ham in the soup. The split pea soup is so flavourful, a vegetarian version would be really delicious as well. All this without the fuss of having to spend hours developing flavour.
I looked at this recipe and this one to get an idea and then from there on I mostly winged it. So here's my homemade almost homemade split pea and ham soup. If you baked your own ham and made your own stock, you've got yourself a made from scratch Split Pea & Ham Soup. 🙂
Homemade Split Pea & Ham Soup


1 onion, finely diced
2 cloves garlic, finely chopped
3 carrots, finely chopped
3 sticks celery, finely chopped
1 bay leaf
1 tsp olive oil
1 lb dry split peas
1 stock cube (chicken, beef, veg – its upto you)
6 cups water
200-250g ham, diced
Rinse the peas under cold water.
Heat oil in a pressure cooker under medium heat.
Add the bay leaf and onion and saute till onions soften up.
Add the garlic, carrots and celery.
Saute for 4-5 minutes.
Add the peas, crumbled cube and water.
Cover and bring to a boil. After it reaches pressure / till the first whistle, simmer on low heat for about 20 minutes.
Take off the heat and let the cooker release pressure on its own.
When it is safe to open, adjust liquid by adding water if needed.
Adjust salt and freshly cracked pepper if need.
Add the ham, remove the bay leaf and let the meat heat through.
If the soup feels like it needs more cooking, cook till it reaches the desired thickness.
Serve hot.
I crack some black pepper over it after serving it up and
Notes:
** You could use stock instead of the cube and water if you have any at hand.
** This soup keeps well in the fridge. My pot lasted us about 10 days. I just took out small portions and heated it up as I needed it.
** I found that the soup thickened after refrigeration. So each time I need to heat up a portion, I added some hot water to the portion I was heating up, to reach the consistency I like and then heated it through.