Gaajar ka Halwa, Carrot (Gaajar) Halwa or Carrot Pudding is a very popular dessert in India. There are loads of recipes you will find being using to whip this up. Some serve it warm, some serve it cold, some recipes will result in a richer version, but I'd like to think of mine as a slightly more health conscious variant which still results in a delightful dessert. This can also be kept in an airtight container in the refrigerator for a long time. But truth be told, it'll get gobbled up much sooner.
Gaajar ka Halwa
(Makes about 14-16 servings)
1 kg carrots, grated
1 (400g) tin condensed milk (I used Milkmaid)
1/4 cup milk
2 tbsp. ghee or clarified butter
2 tbsp. sugar (please adjust this to suit your taste)
Seeds of about 15 green cardamom pods, pounded to a fine powder
A few almonds, slivered
In a heavy bottomed pan, heat the ghee.
Add the grated carrots and stir well. Let the carrots sweat a little.
Add the milk and let it cook off for a couple of minutes on a medium flame.
Add the condensed milk. Stir well. After a few minutes add sugar to taste. Stir well.
Leave it uncovered on a medium flame, stirring occasionally till all the liquid evaporates. You may need to turn the heat down towards the end of the cooking process.
When its almost done, add the powdered cardamom seeds and slivered almonds. Mix well and take of the heat.
Garnish with a few slivered almonds and serve.
Once it has cooled completely, you can refrigerate the rest.
Note: When adding the powdered cardamom and slivered almonds, you can also throw in a few raisins and/or some chopped pistachios if you want.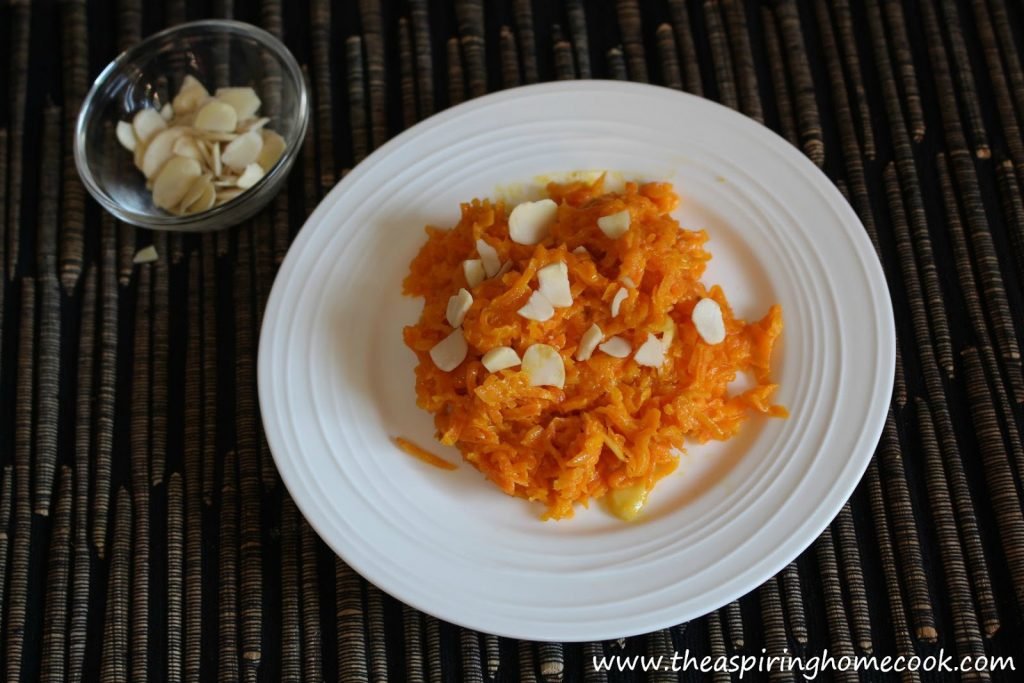 This recipe has been linked to
Sweets for a Saturday #1 hosted by Lisa of Sweet as Sugar Cookies
Please spend some time and check out what the others have brought to the table this week.