Oh it is my favourite time of the month again – its
SRC
reveal day. I tell you, I've been part of the Secret Recipe Club for a couple of years now, and I still feel the same excitement and sense of anticipation that I did at the first few reveal days. For this month's reveal I was assigned the lovely Sara's blog,
Cupcake Muffin
.
It was a hard choice this month. If you're wondering why, just pop over to Sara's recipe list and you'll know why. Sara's been blogging since 2007 and there were hundreds of recipes for me to choose from, each one better than the previous. There were so many delicious things listed that with great difficulty I managed to narrow it down to a few like these Chilli Corn Muffins, Whole Wheat Herby Rolls, Fried Fish Tacos and this Giant Cheddar Cornbread Biscuit, not to mention the winner, her recipe for Carrot Fritters.
I love carrots and I mostly eat them raw. But I also enjoy a good Carrot Cake (I need to post a recipe for this one soon) and Gaajar ka Halwa (carrot pudding). I don't really cook much savoury stuff with carrots. This was a fantastic opportunity to try out one such recipe. I had all the ingredients on hand, which was an added bonus – I love when that happens 🙂 This recipe is really quick and easy to put together. The rice flour adds a wonderful crunch to these fritters and the lemon zest flavours it in its own way. I absolutely loved this recipe. Though I might leave out the lemon zest when I make these again, just so that I can fully appreciate the flavour of the carrots. With the zest or without, this recipe would make a nice addition to any meal routine. Try it out and watch the kiddos eat up their veggies.
Thank you Sara, for a lovely recipe.
Carrot Fritters
Makes 5-6 fritters
3 medium sized carrots (approx. 180g), grated
1/2 tsp garlic powder
1/4 cup finely chopped onion
1/4 – 1/2 tsp red chilli flakes (depending on how spicy you want to make it)
1/2 tsp lemon zest
1 egg white
1 heaped tbsp rice flour
Salt, to taste
Freshly cracked black pepper, to taste
Olive oil, to fry
Combine the carrots, garlic powder, onion, chilli flakes, lemon zest, egg white and rice flour in a bowl.
Season to taste with salt and pepper and mix well.
Heat some olive oil (1/2 to 1 tbsp) in a non stick skillet over medium heat.
Form small patties with your hands and carefully place in the skillet.
Cook for about 2-4 minutes on each side till crispy.
Serve hot.
<!– end InLinkz script —>
Gaajar ka Halwa, Carrot (Gaajar) Halwa or Carrot Pudding is a very popular dessert in India. There are loads of recipes you will find being using to whip this up. Some serve it warm, some serve it cold, some recipes will result in a richer version, but I'd like to think of mine as a slightly more health conscious variant which still results in a delightful dessert. This can also be kept in an airtight container in the refrigerator for a long time. But truth be told, it'll get gobbled up much sooner.
Gaajar ka Halwa
(Makes about 14-16 servings)
1 kg carrots, grated
1 (400g) tin condensed milk (I used Milkmaid)
1/4 cup milk
2 tbsp. ghee or clarified butter
2 tbsp. sugar (please adjust this to suit your taste)
Seeds of about 15 green cardamom pods, pounded to a fine powder
A few almonds, slivered
In a heavy bottomed pan, heat the ghee.
Add the grated carrots and stir well. Let the carrots sweat a little.
Add the milk and let it cook off for a couple of minutes on a medium flame.
Add the condensed milk. Stir well. After a few minutes add sugar to taste. Stir well.
Leave it uncovered on a medium flame, stirring occasionally till all the liquid evaporates. You may need to turn the heat down towards the end of the cooking process.
When its almost done, add the powdered cardamom seeds and slivered almonds. Mix well and take of the heat.
Garnish with a few slivered almonds and serve.
Once it has cooled completely, you can refrigerate the rest.
Note: When adding the powdered cardamom and slivered almonds, you can also throw in a few raisins and/or some chopped pistachios if you want.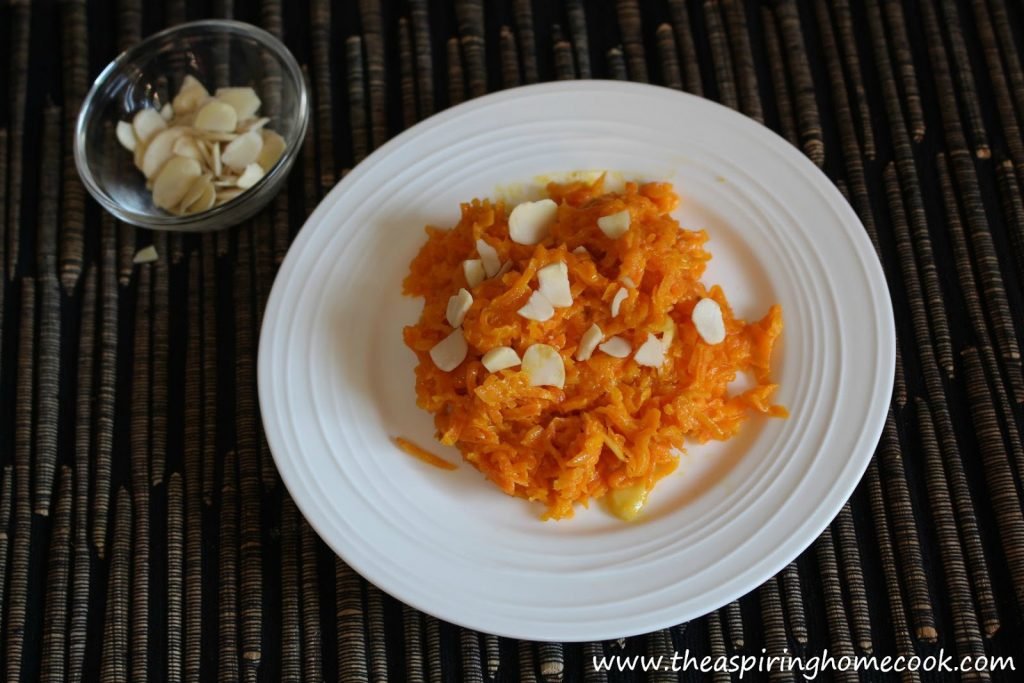 This recipe has been linked to
Sweets for a Saturday #1 hosted by Lisa of Sweet as Sugar Cookies
Please spend some time and check out what the others have brought to the table this week.