Almost everyone around the globe appears to be embracing the approach of fall. Falling leaves, cooler days, soups and sweaters and all things pumpkin. In my part of the world though, we are well on our way to Summer. But, since we're so blessed with great weather and an abundance of fruit and veg all the year round, we are still getting a fair bit of pumpkin. But I think it is nearing the end of pumpkin season. I realized I had never made or tasted pumpkin pie. I know right! That, I am glad to report, has officially changed.
Over the weekend, I bought some pumpkin, made my own pumpkin puree, the filling and the pastry from scratch. Hang on, don't run away. It sounds like a lot of work, but it really wasn't. I roasted the pumpkin late one evening and the next day I made the pie. The pastry and the filling comes together in the food processor. The food processor was used mainly out of necessity. I'd sprained my wrist a few days ago and there was no way I could have knead the dough or mashed the pumpkin by hand. I was amazed at how easy it was. I may never go back to making shortcrust pastry any other way. I do hope you try baking a pumpkin pie from scratch this year, especially if you haven't done so before. It is so satisfying, you'll be glad you did.
I left the pie just as it was baked and didn't even cover the little knife test mark, because I didn't want to over sweeten it by adding any icing sugar on top. You could dust it with some icing sugar if you'd like. If you want to make it more indulgent, top it with some whipped cream or serve it with some ice cream if you'd like. We tried that, but loved how it tasted by itself. And trust me, it tasted even better the next day. So make it a day or two before you need it (think Thanksgiving dinner), and once it has completely cooled down, refrigerate till you are ready to serve. The pie is beautiful – the pastry is perfectly flaky and the filling spiked with warm spices is silky smooth.
How to make Pumpkin Puree at home –
1 – 1 1/2 kilo pumpkin
You can either use small pumpkins or a wedge of a larger one, whatever you can get your hands on. I used about 1/3 of a Kent Pumpkin.
Preheat the oven to 180ºC.
Cut into equal sized wedges. Leave the skin on. Scoop out the insides – the seeds and the membrane.
Place the pumpkin skin side down on a roasting tray and bake for 45 minutes to an hour or till a knife pierced through the flesh of the pumpkin goes through without any resistance. (I did this while we were having dinner)
Let the pumpkin cool. (I left it to cool overnight and made the puree the next day.) Peel the pumpkin or scoop out the flesh, whatever you find easier, and place the pumpkin in a food processor and blitz till done. If it looks too dry, add a couple of spoons of water and blitz again.
What you are left with is a glorious bowl of fresh pumpkin puree.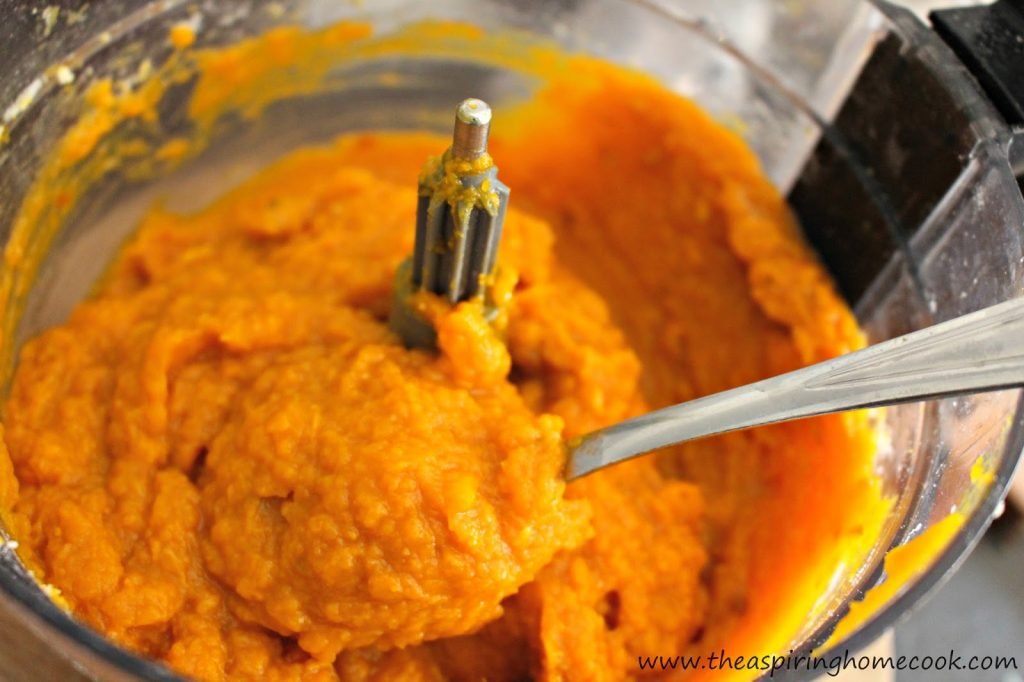 Once you have your pumpkin puree, you can use it to make anything pumpkin you'd like – Pumpkin pie, pumpkin doughnuts, pumpkin cake / cookies, pumpkin rolls and the list goes on.
Now, let's get on to making the Pumpkin Pie.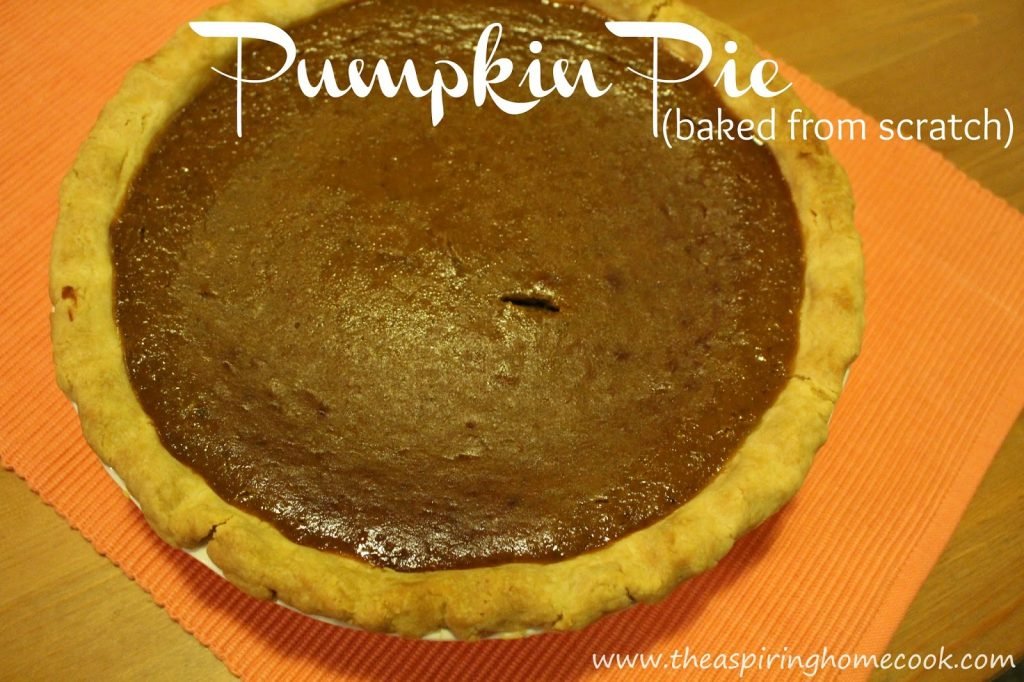 Pumpkin Pie
Recipe from: Tabler Party of Two
For the pie crust –
250g all purpose flour
125g cold butter, cubed
A couple of tablespoons of cold milk
(If you're using unsalted butter, add a pinch of salt. If you're using salted butter, leave out the salt.)
Place the flour and butter in the food processor.
Pulse a few times till the butter has broken down and you're left with a mix that looks like this.
Add a couple of spoons of cold milk to help bind the pastry and pulse a couple of times till you are left a mix that looks like this. Start with a spoon or two and add more if needed.
Place some clingfilm on your work surface (lesser clean up this way) and tip this mix on top.
Press together to form a dough. Don't knead or overwork the dough.
Wrap it up in the same cling film and refrigerate for about half an hour.
While the dough is chilling, make the pie filling.
For the pie filling –
2 cups fresh pumpkin puree
1 can evaporated milk (a 12 ounce can)
3 eggs
3/4 cup sugar
1/2 tsp salt
1 1/2 tsp ground cinnamon
1 tsp ground ginger
1/2 tsp ground nutmeg
1/2 tsp ground cloves
Place all the ingredients in the food processor and blitz till everything is well incorporated and smooth.

Preheat the oven to 180ºC.
Take the dough out of the refrigerator and roll to a disc large enough to cover a 9 inch pie dish. Line the pie dish with the dough and pour in the filling.
Cover just the edges of the pie crust loosely with foil to keep it from burning.
Bake for 50-60 minutes or till a knife pierced through the center comes out clean. Take the foil off in about the last ten minutes to let it evenly brown.
Cool and cut into wedges and serve.
Enjoy!!!
Pin now and try later.
You're probably wondering why I'm posting a soup recipe in the middle of summer. Well, it's like this – we've had about two and a half days of rains now. So everything around is grey, wet and bleak. Don't get me wrong. I love this kind of weather. All you have to do is snuggle up with a nice hot cuppa and a good read or watch the rain – perfect. Also, it means we get to have soup. I love soup but have not made it from scratch often enough. All I can say is, I am done with the instant and frozen, store-bought varieties. I have had very good results the couple of times I've made soup from scratch and come this winter, I hope to make plenty more.
So back to the butternut pumpkin. This is the second time I'm making a butternut pumpkin soup. The last time it turned out really bland and I wasn't overly impressed, which is why it hasn't made an appearance on the blog. This time around, I decided I wanted some bold, punchy flavours so I looked around and took a few ideas from around the web. It turned out this recipe was easy, simple to make and has big, bold flavours. I remember thinking the last time, that a little ginger would make this soup so much better and I was right. This soup just warms the cockles of your heart.
I took the idea of topping it up with blue cheese from a recipe I found online. Please do yourself a favour and add the blue cheese. The blue cheese elevates this soup from being a nice soup to being a fantastic one.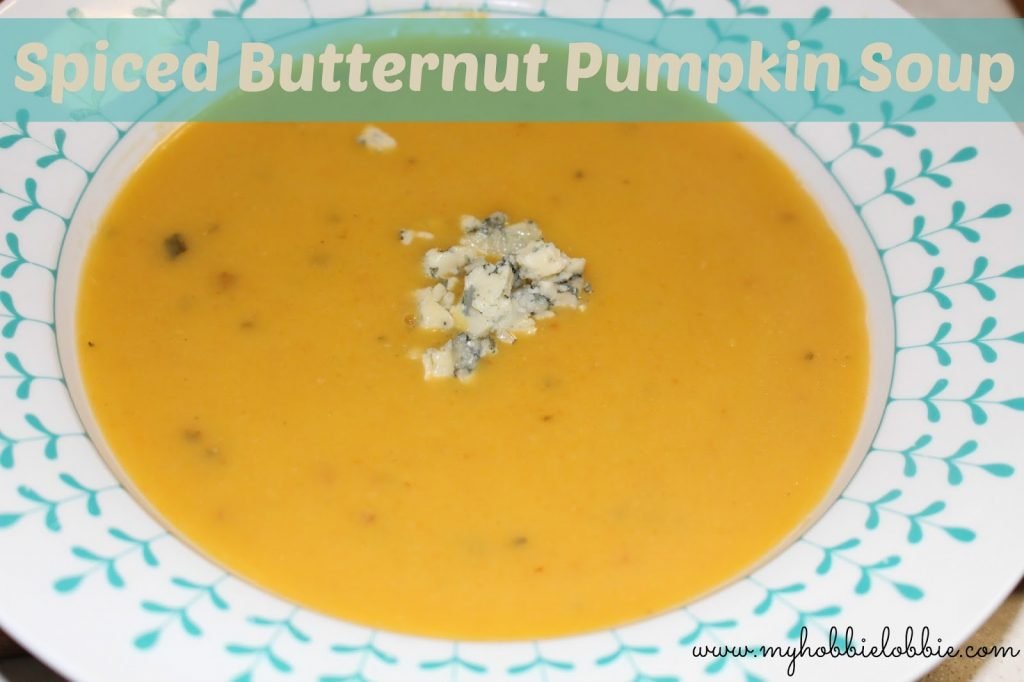 Spiced Butternut Pumpkin Soup


700g butternut pumpkin, peeled and chopped
1 onion, chopped
2 carrots, chopped
1 stick celery, chopped
2 large cloves of garlic, finely chopped
1/2 tsp grated ginger
Salt, to taste
Freshly ground black pepper, to taste
1/2 – 1 tsp red chilly flakes, or to taste (optional)
1/2 tsp chives
2 tbsp olive oil
1 litre boiling water
1/3 cup cream cheese
1/4 cup freshly grated parmesan cheese
Blue cheese, to crumble over
In a large pot, over medium heat, pour the olive oil.
Add the garlic and when it is fragrant, add the onion and and saute over medium heat, till softened and translucent. Add the ginger and continue sauteing.
Once the ginger has released its aromas, add the celery, carrot and pumpkin.
Sprinkle the salt, pepper and red chilly flakes and stir well.
Let the veggies, saute for about five minutes, stirring to make sure it doesn't burn.
Add one litre of recently boiled water. (You could add cold water too, but that will increase cooking time. Using hot water results in the soup simmering almost immediately.)
Cover and simmer till the veggies are cooked and tender.
When the vegetables are fork tender, take off the heat.
Using an immersion blender, blitz till you are left with a smooth puree. Add the cream cheese and blitz again.
Add the parmesan cheese and chives and stir through.
Serve hot with a little blue cheese crumbled over.
Enjoy!
One of my favourite seasons is Fall and stemming from that, I love all things Fall – the days getting cooler, the leaves turning colour, apples, pumpkins, Halloween, love it all. You see, right upto this time, I'd only every used a pumpkin to make a savoury side dish, I'd never used it for anything sweet. For years now, I've sat back and watched so very many blog posts from all across the globe using pumpkins for desserts and sweet bakes. I've always been curious to see what that would turn out like but strangely enough, not so curious as to actually try it out myself. Go figure, right! A while ago, while pumpkins were at the peak of their season, I bought myself a little Kent pumpkin to finally use in a sweet bake. I hadn't quite decided what I was going to make. I knew there would be plenty of inspiration on the internet. (Gosh, I really can't imagine life without the internet anymore – can anyone else relate to this or is that just me?) Anyway, so after staring at my pumpkin for a few days as it sat on the kitchen counter I came across this recipe for pumpkin muffins.
It was the perfect choice for me. I got to use the pumpkin in a sweet bake. And it made for the perfect breakfast on the go option, since I start work at 7 am now. (Gasp!) It keeps really well in the fridge too. This batch actually kept for a little over a week. All I did was take out the one or two we needed at the time and popped in the microwave for a few seconds to get the chill off and I ended up with a nice, warm, moist, flavourful muffin. I was more than pleased with this recipe and I can safely say I'll be trying my hand at some more sweet recipes with pumpkin in the future. This recipe makes quite a few muffins. I made some in the muffin moulds and the rest I poured into a bundt pan and got a little cake out of it.
You will notice that the muffins look a little different. Well, I forgot to add stir in the fruit and nuts before pouring the batter in the pan so I just added a few to each muffic. The ones on top with the raisins and nuts visible clearly are those ones. That was the time I added the fruit and nuts to the batter and the muffins on the lowest row are made from that batter. I think I like the ones where I can see the raisins clearly better visually. So I've decided the next time I make these, I will stir in most of the fruit and nuts but reserve a few to place over each unbaked muffin so the look like they're studded with little jewels. 🙂
The original recipe calls for canned pumpkin. I can't find canned pumpkin at the local supermarket, so I used a whole Kent pumpkin and made my own puree.
Country Pumpkin Muffins
Adapted from: Taste of Home
Makes about 26-28 muffins
(I got one dozen muffins and a little bundt cake)
2 cups sugar
1/2 cup vegetable oil
3 eggs
1 1/2 cups pumpkin puree
1/2 cup water
3 cups all purpose flour
1 1/2 tsp baking powder
1 tsp baking soda
1/2 tsp ground cloves
3/4 tsp ground cinnamon
1/2 tsp ground nutmeg
1 tsp salt
1 raisins (the original recipe calls for 1 1/2 cup)
1 cup chopped pecans (the original recipe uses walnuts but I didn't have any)
To make the pumpkin puree –
Cut the pumkin in quarters / wedges.
Don't worry about the skin. Leave it on for now. Its easier to take it off after baking.
Take out the seeds and membrane. You can roast the seeds to snack on. Discard the membrane.
Place the pumpkin skin side down on a lined baking tray and baked it in the oven at 180ºC for about 30-40 minutes or till the flesh of the pumpkin is tender. Test with a fork or a knife.
Let it cool. The skin just peels off. You may need to peel the skin off gently with a knife, but it comes off pretty easily.
Mash the flesh using a potato masher or you could puree it in a food processor, if you like. I just used the potato masher.
I used a smallish pumpkin and ended up using all the puree for this recipe, but any excess you may have can be frozen to use later.
To make the muffins –
Preheat the oven to 200ºC.
In a large bowl, mix the sugar, oil, eggs, pumpkin puree and water till combined.
In another bowl combine the dry ingredients, the flour, baking powder, baking soda, spice powders and salt.
Add the dry ingredients to the pumpkin puree mix and blend well. Don't overmix.
Fold in the raisins and chopped nuts.
Spoon batter into a lined muffin pan.

Without the raisins & nuts —- with them added on top — a combination of both
Bake for about 15 minutes or till done.
If you are baking the batter as a larger cake, it will take longer. My bundt cake baked for about 50 minutes.