Peri Peri Chicken Wings – a perfect , spicy dish to serve up at a party or game night, or even with a nice big salad for a quick weeknight meal. Either way, these are super delicious and while looking through the blog recently, I realized that I haven't shared many chicken wings recipes here. So today, I'm going to rectify that. I bring you some spicy, delicious Peri Peri Chicken wings. These are made from scratch and bake off in the oven. So there's very little hands-on time required for this recipe. All you have to do it put together a simple marinade paste and then work on a dip, a salad or anything else you'd like to serve these wings up with.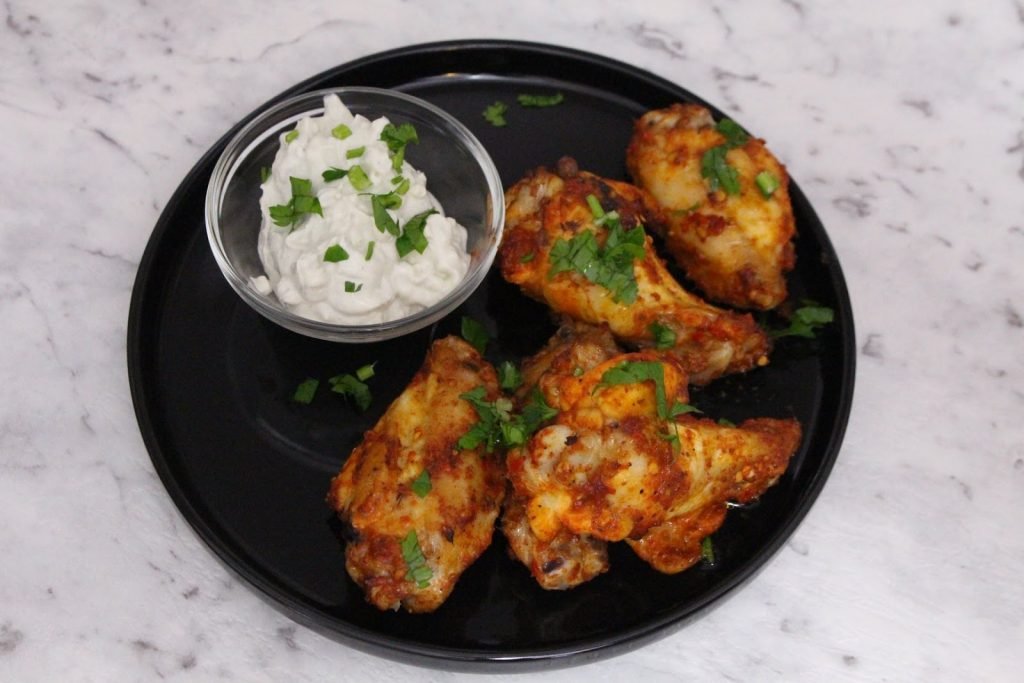 If you're prepping your own chicken wings, split the wings and either set the tips aside for a stock or discard. I bought Marco's Wing Nibbles from Woolworths that has this stage dealt with so you use the wings as is. 
This recipe couldn't be any simpler. After prepping the wings, you simply wash them and pat them dry. Sprinkle with salt and use our beautiful homemade marinade. Peri Peri is known to be a spicy sauce / marinade and this one is. If you enjoy a good Peri Peri, but don't want it too spicy, you could substitute some of the birdseye chillies with a milder pepper. That way you will still get the color and volume in the marinade but it won't be too spicy. 
In our house, we love spicy food, so I've used birdseye chillies with the seeds and all. And can I tell you, these wings turned out so very delicious. It packs the perfect amount of kick for us and when you pair this with the homemade Blue Cheese Dip, it is absolutely divine. 
The Blue Cheese Dip has the perfect cooling affect to counter the spiciness of the wings. Let me tell you, once you taste this, you won't be able to stop at one. But don't just take my word for it. Go ahead and make these wings and try them out for yourself. 
So let's take a look at the recipe now, shall we?
You're probably wondering why I'm posting a soup recipe in the middle of summer. Well, it's like this – we've had about two and a half days of rains now. So everything around is grey, wet and bleak. Don't get me wrong. I love this kind of weather. All you have to do is snuggle up with a nice hot cuppa and a good read or watch the rain – perfect. Also, it means we get to have soup. I love soup but have not made it from scratch often enough. All I can say is, I am done with the instant and frozen, store-bought varieties. I have had very good results the couple of times I've made soup from scratch and come this winter, I hope to make plenty more.
So back to the butternut pumpkin. This is the second time I'm making a butternut pumpkin soup. The last time it turned out really bland and I wasn't overly impressed, which is why it hasn't made an appearance on the blog. This time around, I decided I wanted some bold, punchy flavours so I looked around and took a few ideas from around the web. It turned out this recipe was easy, simple to make and has big, bold flavours. I remember thinking the last time, that a little ginger would make this soup so much better and I was right. This soup just warms the cockles of your heart.
I took the idea of topping it up with blue cheese from a recipe I found online. Please do yourself a favour and add the blue cheese. The blue cheese elevates this soup from being a nice soup to being a fantastic one.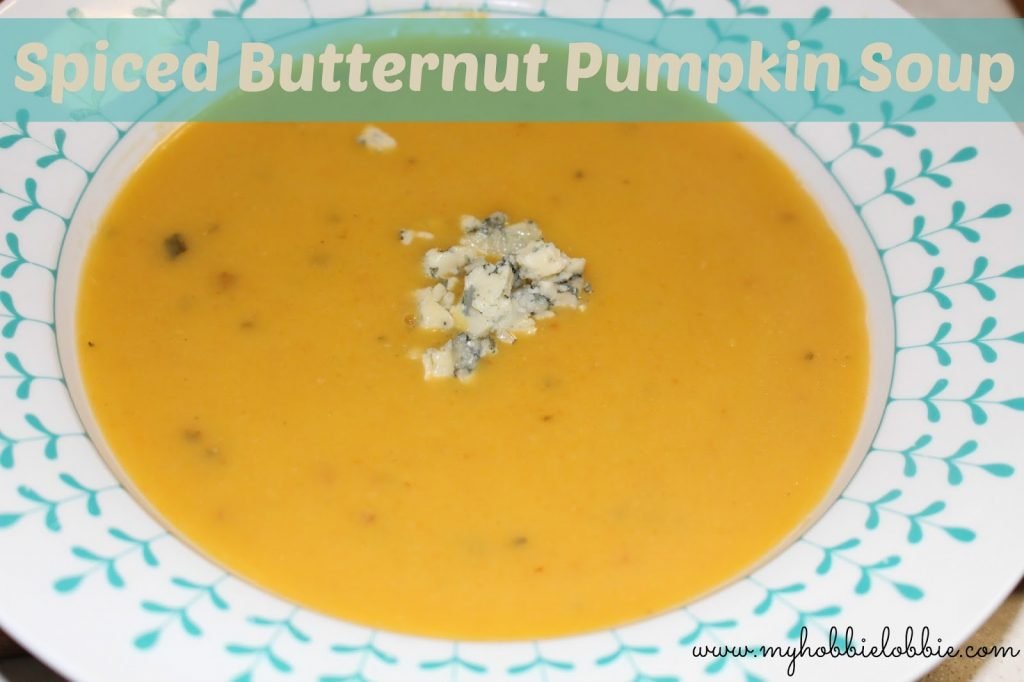 Spiced Butternut Pumpkin Soup


700g butternut pumpkin, peeled and chopped
1 onion, chopped
2 carrots, chopped
1 stick celery, chopped
2 large cloves of garlic, finely chopped
1/2 tsp grated ginger
Salt, to taste
Freshly ground black pepper, to taste
1/2 – 1 tsp red chilly flakes, or to taste (optional)
1/2 tsp chives
2 tbsp olive oil
1 litre boiling water
1/3 cup cream cheese
1/4 cup freshly grated parmesan cheese
Blue cheese, to crumble over
In a large pot, over medium heat, pour the olive oil.
Add the garlic and when it is fragrant, add the onion and and saute over medium heat, till softened and translucent. Add the ginger and continue sauteing.
Once the ginger has released its aromas, add the celery, carrot and pumpkin.
Sprinkle the salt, pepper and red chilly flakes and stir well.
Let the veggies, saute for about five minutes, stirring to make sure it doesn't burn.
Add one litre of recently boiled water. (You could add cold water too, but that will increase cooking time. Using hot water results in the soup simmering almost immediately.)
Cover and simmer till the veggies are cooked and tender.
When the vegetables are fork tender, take off the heat.
Using an immersion blender, blitz till you are left with a smooth puree. Add the cream cheese and blitz again.
Add the parmesan cheese and chives and stir through.
Serve hot with a little blue cheese crumbled over.
Enjoy!