Goa – what can I say about this little piece of heaven? Well, our ancestors hail from Goa and ever since I was a little girl, we spent most of our summer holidays there. Even today, my husband and I love going there. We drive down for a few days whenever we get the chance. Goa is along the West Coast of India and the place really needs no introduction. Folks from all over the world holiday here. It has some really amazing beaches, lots of Portuguese influence in the culture (the architecture, the way of life and the food) and, in my opinion, some of the best food, especially the traditional Goan seafood preparations.
This recipe is a mild stew compared to the otherwise spicy food found there. This is the second time I've made it and I've got to tell you I love it. Its easy to make, the flavors are clean, the colors are really vibrant and have I mentioned that its really delicious. You really should try this, you wont regret it. This one is definitely a keeper for me. The recipe I used is from this really great book that I picked up a couple of years ago called "The Essential Goa Cookbook" by Maria Teresa Menezes. This is a book I use very often and I've never been disappointed.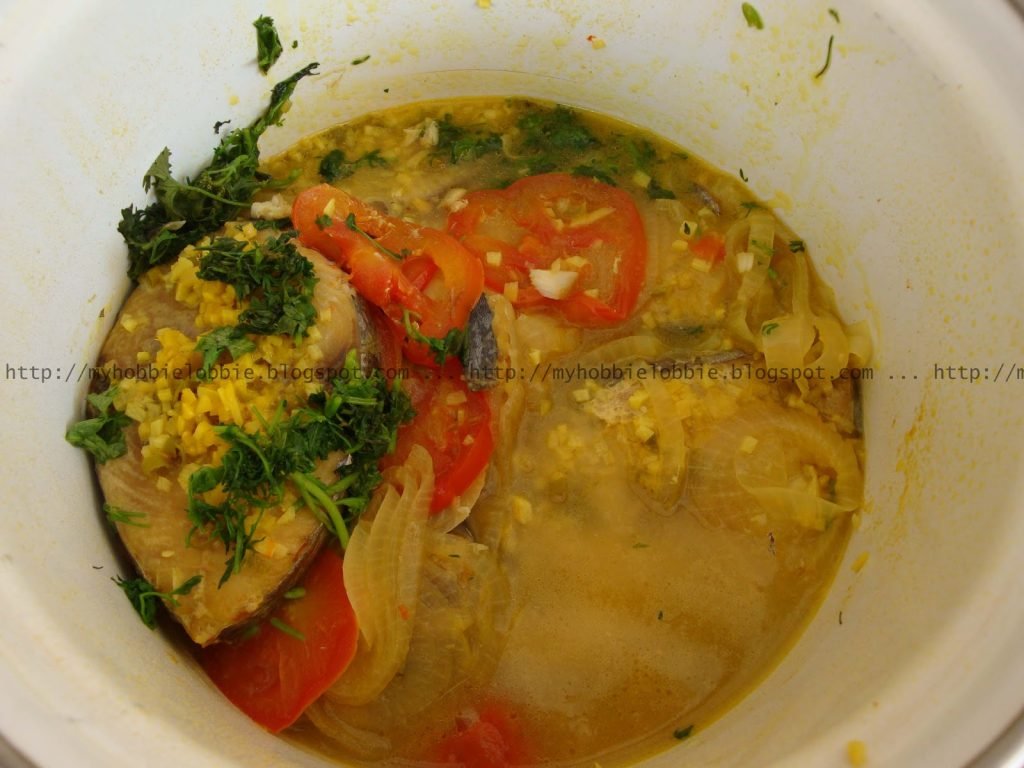 Caldeirada
Adapted from: The Essential Goa Cookbook
6 slices large fish, or 6 small fish whole (I used Kingfish)
10 cloves garlic, chopped fine
1″ ginger, chopped fine
4 green chillies, chopped fine (I used 3)
1/4 tsp turmeric powder
3 large onions, sliced to get rings
3 large tomatoes, slice to get rings
1 tbsp vinegar (I used Apple Cider Vinegar)
2 tbsp olive oil
Salt, to taste
Fresh coriander leaves, chopped, for garnish
Clean and wash the fish. Apply a little salt and keep the fish aside for about half an hour.
Mix the ginger, garlic, chilly and turmeric powder and a little salt in a bowl.
In a shallow pan, arrange half of the onion slices to form a layer. Layer half the tomatoes over it. Place half the fish over it and sprinkle half the spice mix over it. Repeat the layers with the rest of the onions, tomatoes, fish and spice mix.
Over this, pour the olive oil, vinegar and one cup of water. Do this carefully so as to not disturb the layers.
Cover the pan and cook on a medium heat till the fish is done. Shake the pan gently and tilt it to prevent the contents from sticking to the pan.
Turn off the heat when the fish is cooked and sprinkle with the chopped coriander leaves. Cover and let it sit for about 5 minutes before serving.
We had this with some plain rice.
Enjoy!!!
This recipe is linked to –