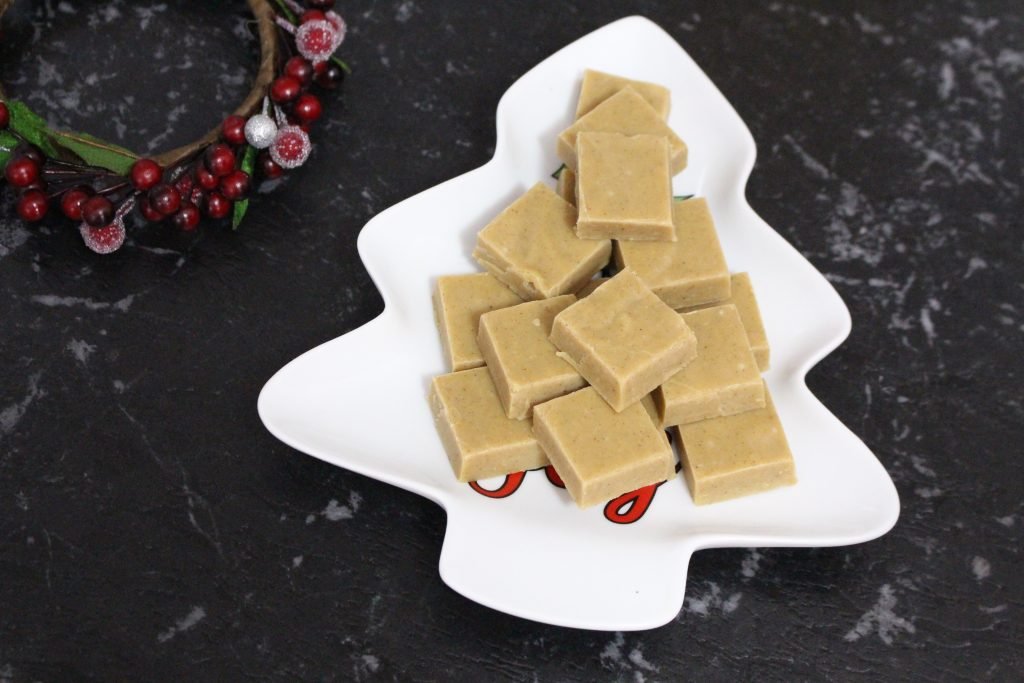 Today's Gingerbread Fudge is a great recipe to have on hand for Christmas. It is quick and easy, and results in a creamy fudge that is beautifully spiced with all the Christmas flavours. So if a combination of white chocolate and the flavours of a traditional gingerbread is your thing, stick around for the recipe.

With Christmas fast approaching, a lot of folks have started with all kinds of prep work. From deep cleaning and decorating their homes, shopping for the Holiday season and planning their social calendars, most houses see frenzied levels of activity at this time of the year. It's because of this, one needs to have a few easy and delicious recipes to fall back on.

This gingerbread fudge recipe ticks all those boxes. With prep and cook time of mere minutes, the hardest part of this recipe is leaving the fudge alone, to cool and set. Sounds perfect, right? Well, it is. And you're left with a nice batch of fudge that just melts in your mouth.

And if you're in the Southern Hemisphere like I am, we're headed straight for summer. And it gets really hot here in Sydney. So while everyone in the North is baking up a storm, these kind of recipes work out perfectly for us. This way we get to enjoy those beautiful flavours of Christmas without having to turn the oven on.

This fudge can be made a few days ahead. Store it in the fridge in an airtight container lined with baking / parchment paper. I suggest placing a piece of baking / parchment paper between layers as well, to prevent the pieces of fudge from potentially sticking to each other.

Now, if dark chocolate is more your thing, check out my Dark Chocolate and Hazelnut Fudge recipe. It is absolutely divine.

The ingredients –

This list is an easy one to get a hold off. You will need condensed milk, white chocolate, vanilla, molasses, ground spices (ginger, cinnamon, cloves and nutmeg) and don't forget the butter.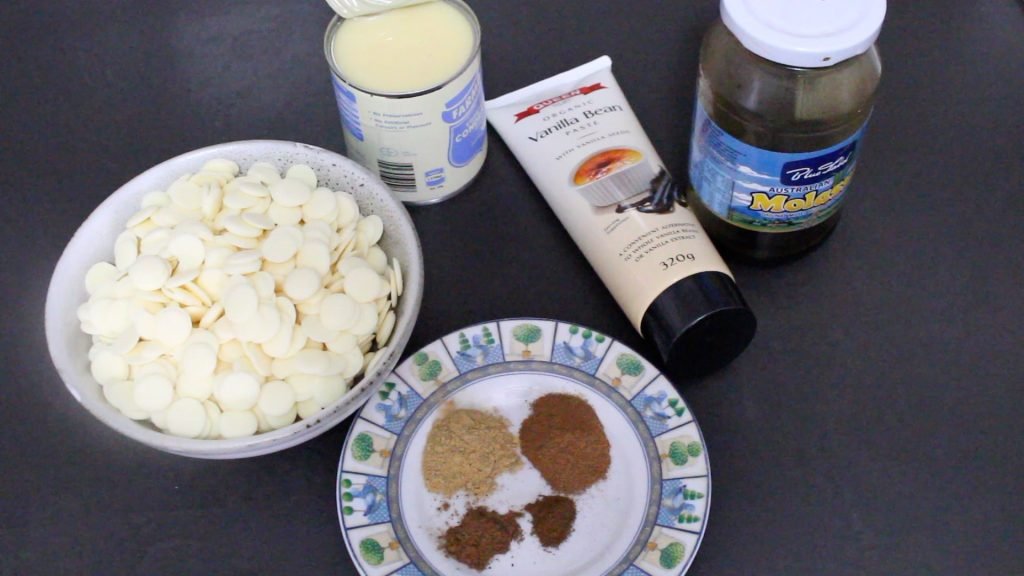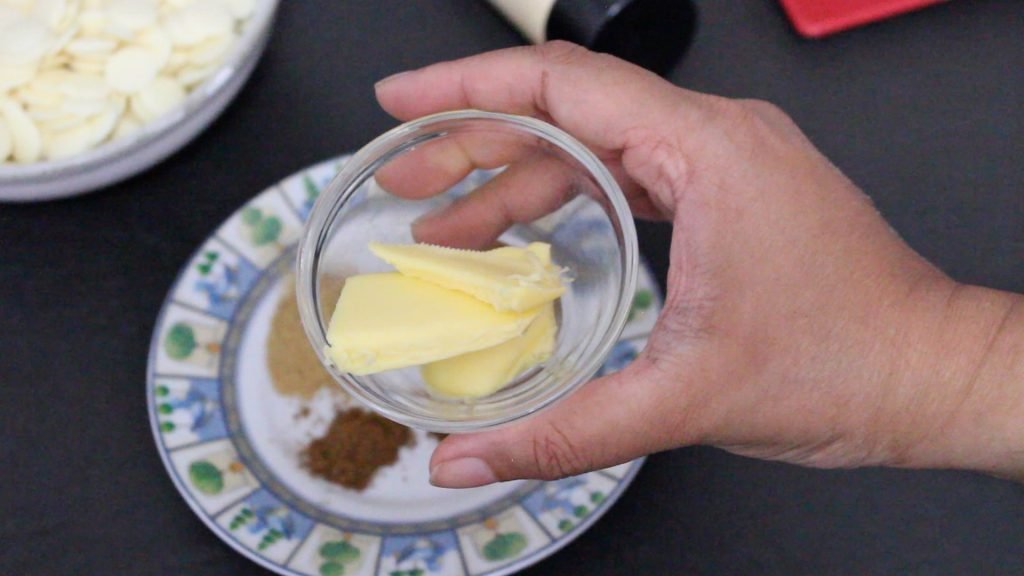 Let's get cooking –
Line a 9×9 inch cake pan with some foil, leaving a little overhang to help take the fudge out once it has set. Set this aside to use later.

Place the condensed milk and butter in a heavy bottomed pan on a medium low heat.
Add the molasses and vanilla. Mix through and add the white chocolate. Stir well to help the chocolate pieces melt.

Next, add the spice powders and stir well to incorporate.

Once all the chocolate has melted and the spice powders have been incorporated thoroughly, pour out onto the lined cake pan. Tap the pan gently a couple of times to get rid of any air bubbles.

Leave it on the kitchen counter and let it come to room temperature.

Refrigerate for 4-6 hours or overnight to set completely.

Cut into squares and serve.
When you think of Chickpeas, a lot of people think of savory recipes. Have you tried making sweets with a chickpea base? If you haven't, you really ought to. This Chana Doce is a Goan sweet served at Christmas time, weddings and special occasions. It is made with chana dal and coconut and mildly flavored with cardamom. There are heaps of Indian sweets that use some form of chickpeas as a base, like these Besan Laddoos or even these sweet flatbreads called Puran Poli. These two are just the tip of the ice berg and I hope to try and bring you some more Chickpea deliciousness in the future.

Today, I'm sharing with you a Goan sweet recipe. This Chana Doce is a Goan delicacy and makes an appearance at Christmas time, weddings and special occasions. The recipe calls for chana dal, which is hulled and split chickpeas. Everytime we visit Goa, we always bring some back home with us. A good Goan bakery is paradise if you have a sweet tooth. Our typical haul would include this Chana Doce and a Coconut variant, the ever popular Bebinca, Dodol, Baath, Bolinhas and Pinag. I think that about covers it. Our favorite place to buy these treats is a quaint little bakery in Mapusa called Simona's. They also have outlets in Porvorim and Sinquerim. What's your go-to place to buy your favourite Goan treats?

It's hard for us to get back to Goa as often as we did when we were in Mumbai, so I've decided to try and make these delicacies at home. And after some experimenting, I've finally got a recipe for Chana Doce that I'm happy with. This is a softer version of the sweet and just melts in your mouth. The commercially available one is a little harder and has a slightly longer shelf life, but its slightly more difficult to make. We actually quite like this softer version and hope you do too.
Cheesecake is one of our favorite desserts at home. My last couple of birthday cakes have been cheesecakes. That alone should tell you how much I love it. But do you know whats even better than a cheesecake? Little mini cheesecakes, of course. Jokes aside, these are the perfect option for a party or even for the family. You can make them a day ahead of the party and keep them refrigerated. They are easy to serve and could serve to help portion control too. And they are super delicious as well. Now that's a dessert that ticks all the boxes for me.




Easy Mini Cheesecakes with a Strawberry Topping
Makes 8 mini cheesecakes
For the base –
120g Digestive biscuits
30g butter
For the cheesecake –
250g cream cheese
1/3 cup caster sugar
1 tbsp lemon juice
1/2 tsp lemon zest
1/2 tsp vanilla extract (or vanilla bean paste)
100g double cream
2 eggs
A tiny pinch of salt
For the topping –
1/2 cup strawberry jam
Fresh strawberries
For the base –


Melt the butter and keep aside.


Blitz the biscuits in a food processor till you get a coarse crumb texture. Add the melted butter and blitz again to combine. This should now resemble wet sand.
For the filling –


Beat the cream cheese till its creamy.
Add the sugar and and mix till it is well combined.
Add the eggs, one at a time, beating well after each addition.
Now add the lemon zest, lemon juice, vanilla and salt and mix till combined.
Lastly, add the cream and mix till it has incorporated with the rest of the ingredients.
To assemble –


Preheat the oven to 180 degrees C.
Line a cupcake tray with paper cases.
Place about 1 tbsp. or so of the biscuit crumb in each case. Using the back of a spoon, pack it down and flatten it.
Top it with the cheesecake filling about 2/3 of the way.
Bake for 15-17 minutes or till the outside has set and the middle still has a little jiggle to it. (You may find some of them puff up a bit or develop a little crack. That is fine.)
Take it out of the oven and let it cool down completely.
Warm the jam over some medium heat, just to loosen it a bit. You don't need to simmer or boil it. This took me about a minute.
Spoon a little jam over each of the mini cheesecakes.
Top with some fresh berries.
Refrigerate for 2-4 hours to set. You can leave it to set overnight as well.
Enjoy!!!
Today's post is a walk down memory lane for me. As a kid, this dessert made an appearance at a lot of parties and gatherings and on other special occasions too. My mum makes a version of this. However, back in the day, we always used custard powder to make our custard. And I used to love it. When we moved away from India, initially I found it a little hard to find the custard powder that we used. So I did the only other thing I could think of. I started working on a custard recipe. After a few attempts and tweaks, I came up with a recipe that I was happy with. It's a simple, easy and super delicious one. Well, you don't have to take my word for it. Try it out for yourself and see. And then come back and let me know what you thought of it.
Once you make the custard, there are so many ways you can use it. Make a thinner version and pour it over your favorite dessert. You can serve this custard with some fresh fruit or use it to make a fresh fruit tart (I'll share how I make mine very soon). Or you can do what I did, I made a layered dessert and serve it with some jelly. It was my first attempt at serving it up this way. If you don't want to make individual servings, you can set your custard and jelly separately and let your guests help themselves to it.
Whichever way you decide to serve it up, you are going to love it.
Vanilla Custard
4 egg yolks
3 cups milk
1/4 cup sugar
1 tbsp cornflour
A scant pinch of salt
1 tsp vanilla bean paste
In a heavy bottomed saucepan, whisk the egg yolks, sugar, salt and vanilla till it is light and creamy.
Add the cornflour and whisk it in.
Next add the milk and whisk it in till it is well incorporated and is a uniform mix.
Place on a medium heat and cook, whisking continuously for about 15-18 minutes.
Cool to room temperature and then refrigerate to set.
To make a layered dessert –


You'll need to whip up one portion of Jelly and a fruit salad
For the fruit salad –
1 pack of Raspberry Jelly
Assortment of fresh fruit, chopped into little pieces (Do NOT use pineapple, kiwi or papaya / pawpaw as your jelly will not set.)
Pour the jelly granules in a bowl.
Add 250ml boiling hot water. Stir to dissolve the Jelly granules.
Add 200ml cold water and stir through.
When the jelly has reached room temperature, add some chopped fruit.
Please note, every Jelly brand may have to be prepared differently. So, please follow the instructions on your box of jelly to achieve the best results.
Layer the custard and jelly in your servingware and keep refrigerated till you're ready to serve.
Enjoy chilled!
I've been making marzipan at home for a little over 12 years now. I must admit that in the past, I have only made marzipan using cashew nuts. This is mainly because they were more widely available in Mumbai and were more affordable than almonds. Last Christmas, when I shared my favorite marzipan recipe
here
and on
YouTube
, the video got a lot of love. I also got a lot of questions about making marzipan using almonds. There were also requests for an eggless version of marzipan. Now I have previously shared a different recipe for an
eggless (cashew nuts) version
. But I decided that this year, in time for Easter, I would try out an eggless almond marzipan recipe and share it with you. After a little experimenting, and more marzipan than I know what to do with, I have, what I consider a really good recipe to share with you.
How do they both compare? Well I found that the cashewnut marzipan is lighter while the almond one is a little on the denser side. That being said, the almond version is super delicious. I think even more than the cashewnut one. Then, there's also the fact that the almond one is a no-cook recipe. So, to sum up, I will still make my cashewnut version as it is a little easier to work with, but the almond one will be absolutely perfect to use in so many different ways. I'd love for you to try it out and tell me what you think of it.


No-cook Almond Marzipan
(Yields 250-260gms approx.)
1 cup raw, natural almonds
1/2 cup icing sugar
1/2 tsp rose water (you can add a little more if needed)
1/2 tsp almond extract (you can add a little more if needed)
Place the almonds in a heatproof bowl.
Pour water from a recently boiled kettle over the almonds to cover the nuts. Leave the almonds to soak for a couple of minutes.
Drain the almonds and peel them. Place them on some kitchen paper or a clean kitchen towel to dry up. Let the almonds cool down completely.
In a high powered blender / food processor, blitz the almonds to a fine powder.
Place the almond powder in a large bowl. Add in the icing sugar. Mix it thoroughly till combined.
Add the rose water and almond extract and knead to form a dough / log.
Your marzipan is now ready to be used.
If you don't need to use it immediately, you can wrap it in cling film and refrigerate till needed. It keeps for a couple of months. (Personally, I would just make this when needed, probably a couple of days ahead.)
NOTE: This marzipan is not a very sweet version. When the marzipan is formed, taste some of it. If you want it sweeter, simply add some more icing sugar and knead it in.
This version of marzipan is made using cashew seeds and is shaped into little colorful bites. It is the crowning glory of every Indian Christmas platter.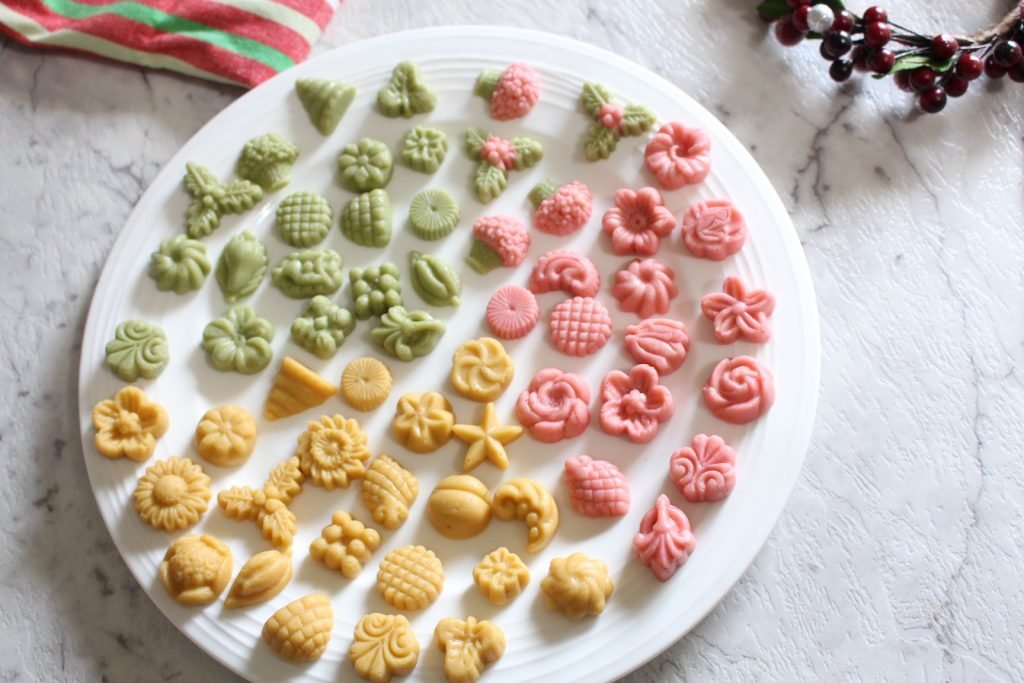 Today, I want to take a minute, right at the onset, to say "Thank you" from the bottom of my heart for all your support on my YouTube Channel. I am overwhelmed that so many of you want to watch my videos and try my recipes. A lot of you lovely folks have asked me to share my Marzipan recipe. 
The recipe that I'm sharing with you today, is my absolute favourite. Typically, Marzipan is made using Almonds. But in Goa(and India, in general), Cashew nuts / Cashew seeds are more easily and abundantly available than Almonds. So the Goans / Indians have simply swapped one for another. And the results are pretty spectacular. I always make my version using cashew seeds. You can use this recipe to form little shapes like you will see me do today, you can cover a cake with it, and I've also made
Marzipan tarts
in the past. The possibilities are endless. 


Marzipan
Yields: 1/4 kilo or 250g Marzipan
125g Cashew Nuts 
200g Sugar
1 egg white
1/2 tsp Almond essence
1/4 cup water
Food colours, as required
Soak the cashew nuts in some (room temperature) water for about 10 minutes. Drain, run some fresh water through the nuts, and drain them again.
Grind the cashew nuts, egg white and water to a fine paste.
Pour the ground paste, the almond essence and sugar into a large heavy pan. Place the pan on low-medium heat and stir to combine.
Cook the paste on a medium low heat, stirring continuously till it thickens and starts coming away from the pan. 
Use the water test to check if it is ready. Place some ice cold water in a small bowl and drop a 1/2 teaspoon of the sweet on it. If it firms up on cooling it is done. If it is still soft or too sticky, it needs more cooking.
As soon as it has cooked, pour the marzipan on a large plate and spread it out a little and leave it to cool down a little. Knead it to a dough while it is still warm.
Portion and colour the marzipan as desired. 
You can now shape it as needed or use it in any recipe that calls for it. 
If you making little shapes with the marzipan, once you de-mould it, place it on a plate and leave it to air dry for a while till it sets and is slightly firm to the touch. You can then place it in an airtight container and store. This should last you a couple of weeks if stored well. 
If the temperature is too high where you are, consider refrigerating it till needed.
My Christmas Tree is up, the carols are playing and the air at home, especially in my kitchen is full of lovely aromas of Christmas sweets being made. This literally is the best time of the year. If you haven't figured it out yet, I love all things Christmas. Christmas sweets in my house, like any other Goan household, includes all sorts of traditional Goan recipes. Over the last few years, I've found myself including a couple of recipes that are more 'recent' for lack of a better word. Like this little gem I'm sharing with you today.
Most Goan Sweet recipes are a labor of love and usually require either hours of stirring on the stovetop or take hours to shape and form. And while I love them all and make most of them every year, I love having recipes like this Chocolate Hazelnut Fudge on hand. This recipe is a great one to have on hand. It uses just 4 ingredients and the cooking time is just a few minutes. And, after leaving it to set in the fridge for a few hours, you end up with a super delicious, decadent chocolate fudge. This time around, I'm using hazelnuts in the fudge and I'm happy to report that this fudge tastes very similar to the Ferrero Rocher chocolates you find in the shops, albeit, without the wafer. You can customize this fudge to suit your liking by swapping hazelnuts for any nuts that you prefer.
Chocolate Hazelnut Fudge


350g dark chocolate
100g hazelnuts
1 tin condensed milk (we get 395g tins here)
30g butter
Line a 9 inch square baking tray with some foil, leaving a little overhang on the sides and set aside.
Lightly roast the hazelnuts. Carefully remove any pieces of skin / peel that may have been left on. Let the nuts cool down completely.
Roughly chop the nuts or place them in a ziplock back and crush the nuts with a rolling pin. You will be left with a rough chop.
Add the butter, condensed milk and chocolate pieces to a heavy bottomed pan. Stir over medium heat till the chocolate has melted and everything in the pan has combined to form a rich, luscious mix.
Add the hazelnuts and stir through to incorporate well. You will notice the mix starting to thicken.
Quickly pour into the foil lined tray. Leave it on the countertop to cool down a little. Once it comes to room temperature, pop the tray into the fridge and leave it to set for 4-6 hours or overnight.
Carefully peel back the foil. Cut the fudge into squares and serve.
If you're not serving this up immediately, place in an airtight container and refrigerate till needed.
Enjoy!!!
Hi guys! Today's post is a special one. It's my favorite chocolate brownie recipe that I'm going to share with you. It's my go to recipe for chocolate brownies and I've used it for years now. It yields, what I consider, the perfect Chocolate Brownie. You get a beautiful crust on the outside and a fudgy, gooey center.
It's the perfect baking option for holidays or when you're baking for a crowd because of its simplicity. The recipe can be doubled if you like. And when simple recipes yield such fantastic results, you know you're on to a winner.
So I do hope you try these brownies out.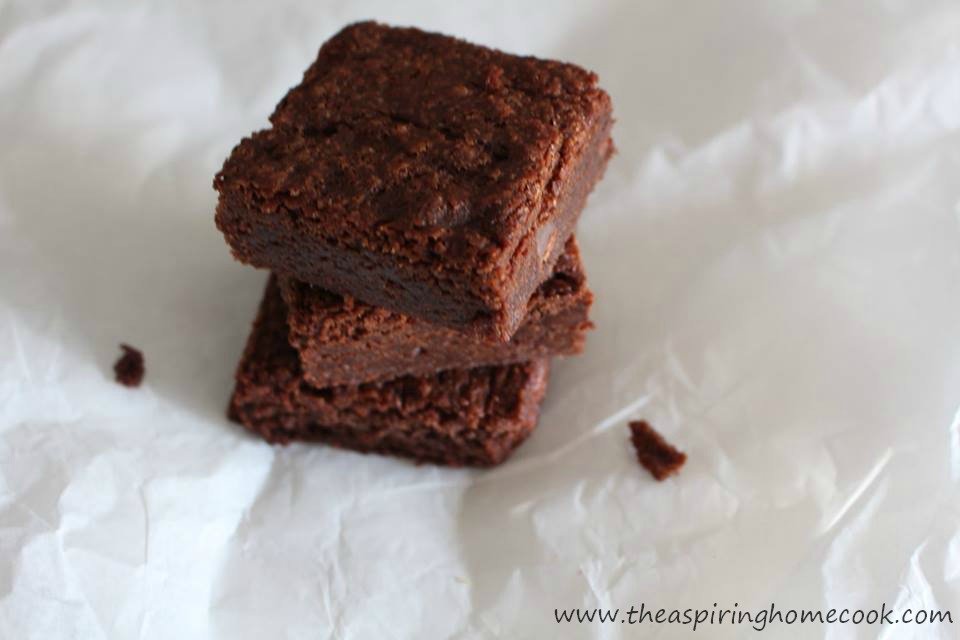 The Best Chocolate Brownies


110g all purpose flour
185g salted butter
175g dark chocolate (either buttons, or roughly chopped bars, both would work)
175g sugar
2 eggs
1 tsp vanilla bean paste
A pinch of salt
50g chocolate chips.
Melt the butter and dark chocolate in a heavy bottomed pan on low heat. Once everything has melted, take the pan off the heat and set it aside to cool.
Halfway through the cooling process, turn the oven on and preheat it to 180ºC. Line an 8 inch square baking tray with some foil and leave an overhang on the sides. The foil makes clean up so much easier and the overhang helps take the brownies out of the try very easily.
Crack one egg into a small bowl and lightly whisk it. Add it to the melted and cooled butter and chocolate mix and whisk to incorporate. Repeat this with the second egg.
Add the vanilla, salt and sugar and whisk well, making sure everything has mixed well.
Now add the flour and whisk until just combined.
Add the chocolate chips and fold it through the batter with the help of a spatula.
Pour the batter into the foil lined tray and bake for about 25-30 minutes.
Take the brownies out of the oven and let them cool completely.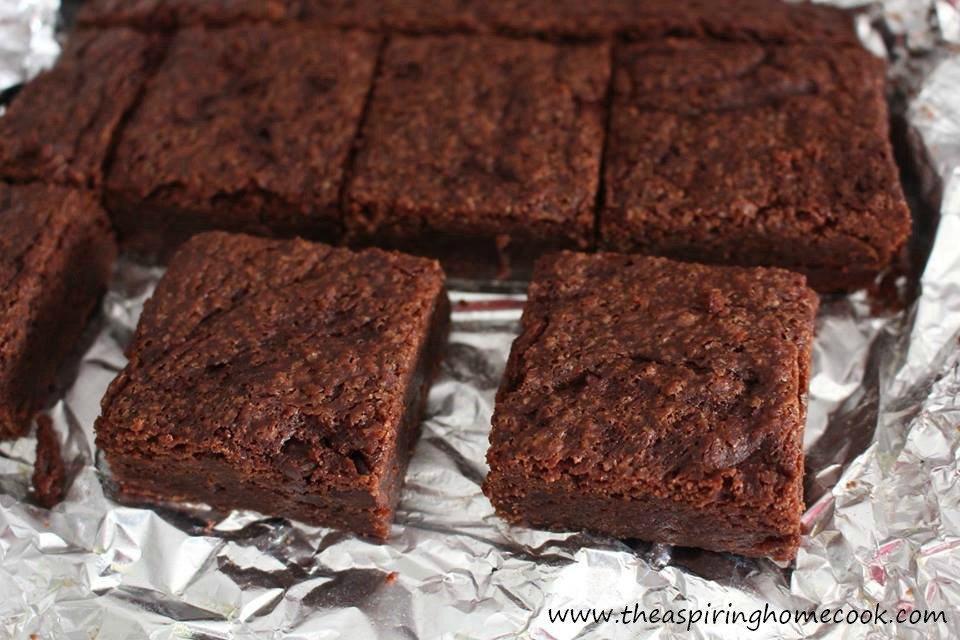 You can now cut them into squares and serve.
Pin now and try later!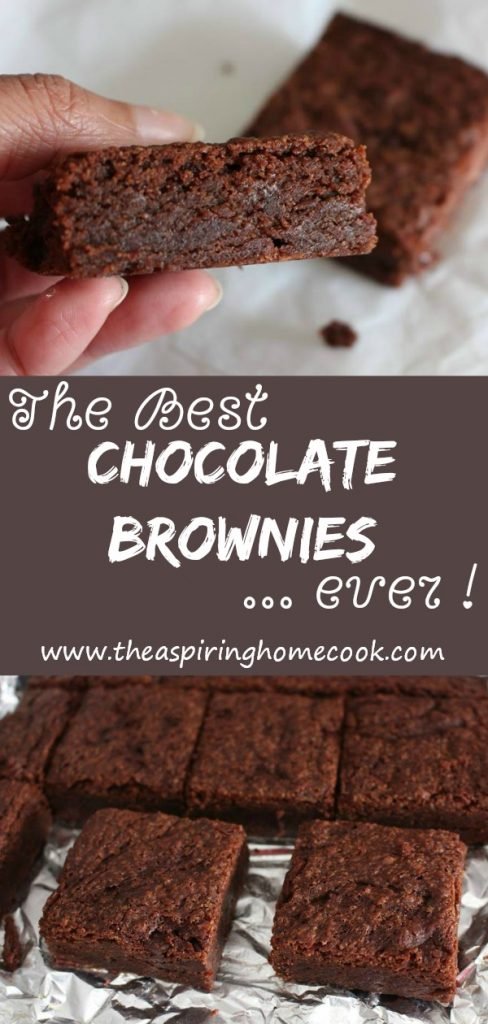 I have kept my Easter prep for too late this year. I'm usually a lot more prepared than this. However, a minor accident had reduced my mobility this past week. I am on the mend but still not back to 100%. So I wanted to keep my treats quick and easy.
With that in mind I whipped up some Chocolate Nests. I love this recipe. It takes 3 ingredients and half and hour to make a batch. This is a very versatile recipe so you can make as big or small a batch, as you'd like. It is also a flexible recipe, so you can use the chocolate of your choice and mini eggs of your choosing too. So, if like me, you've left Easter prep for the last minute, try out this recipe. It is very popular with the little kids … and the big ones too.
Wish you and your loved ones a Happy and Holy Easter!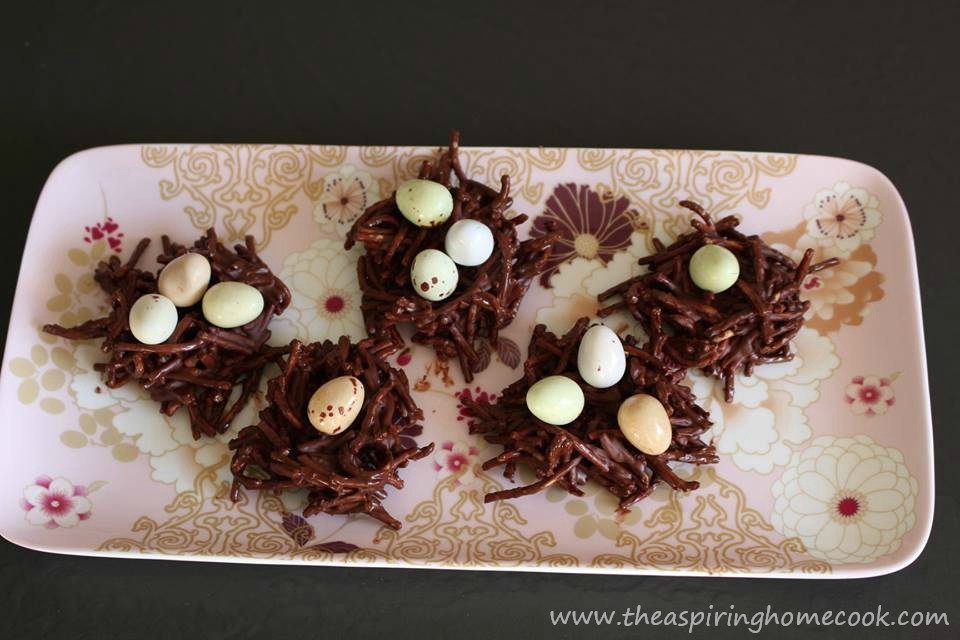 Chocolate Nests
Makes 8 Nests
100 grams Chocolate (I used Dark chocolate)
100 grams ready to serve Noodles
Mini Speckled Eggs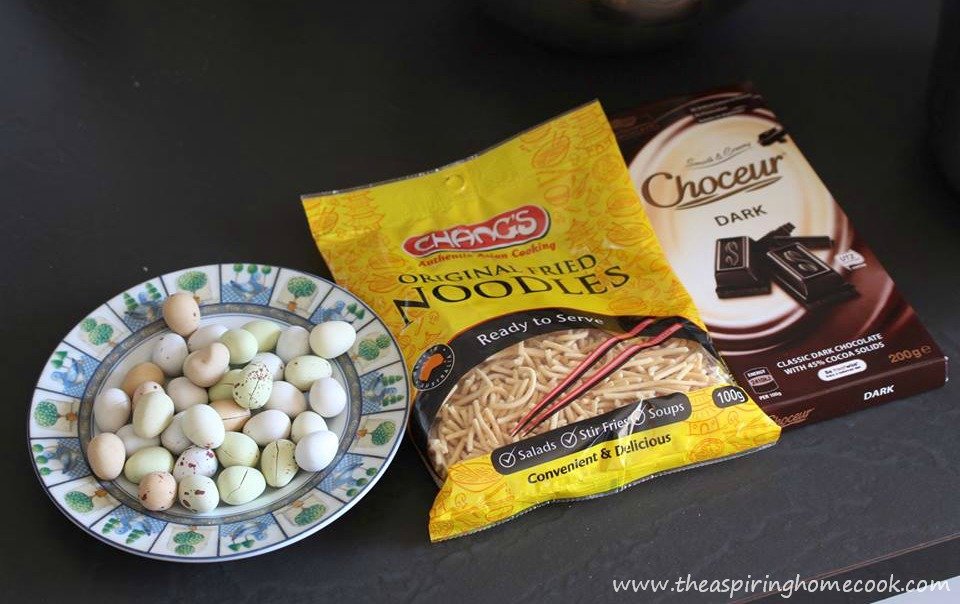 Chop up the chocolate roughly and melt using a double boiler. If you haven't worked with a double boiler, watch the video linked below to see how you can use a simple saucepan and bowl to make one. (You can also melt the chocolate in a micowave using a microwave safe bowl and in 30 second increments.)
Toss the noodles into the chocolate and mix gently to coat the noodles in the chocolate completely.
Using a spoon and either a spatula or a butter knife, scoop out portions of the noodles onto a tray lined with baking paper. Shape to form rough circular shapes and make a little dip in the center of each nest.
Place the mini eggs in the dents created.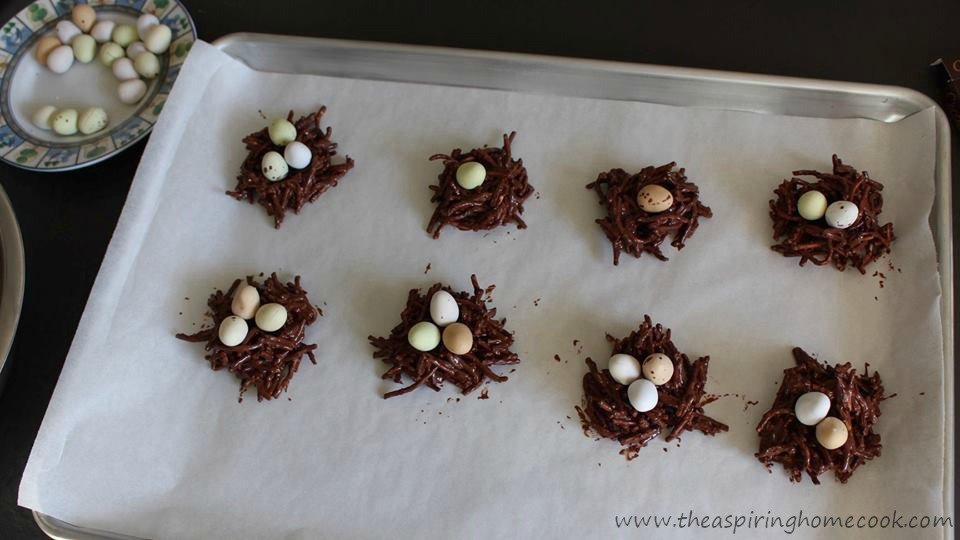 Refrigerate for 20 minutes.
Serve.
You can watch the video recipe here –
** This post contains affiliate links.
Goa, renowned for its beautiful beaches and people is an idyllic getaway for many. Every school holiday meant a trip to Goa to spend time with family. Along with beautiful weather and some of the most amazing produce, what I enjoy most are the traditional Goan sweets. Since moving from Bombay, these sweets are no longer within easy reach for me. So over the last few years, I've done the next best thing – learn to make them myself. A lot of these sweets make an appearance on the Goan Christmas platter also called Kuswar (pronounced koos-wahr). So far, I've had brilliant luck with quite a few and I will list them along with links to their recipes at the end of this post. I'm hoping to get a few more of them up earlier this year. So check back soon.
Today, after a long wait, I'm happy to share with you a recipe for Dodol. Dodol is almost a jelly like sweet made using Goa Jaggery, coconut and rice. Traditionally made, it is a very labor intensive recipe, but the results are so worth it. You use coconuts, freshly grated and juice extracted, the rice roasted and ground and after the jaggery is added you cook it long and slow, stirring continuously. Unfortunately for me, I don't have access to Goa Jaggery in Sydney. But I was told that I could use Molasses instead. So on my last grocery shop, I picked up a bottle of Molasses. I decided I was going to try a few short cuts to cut down on time involved and used rice flour and a can of coconut cream. I'm happy to report that the whole prep and cooking process that usually takes hours, took be about half an hour from start to finish. The hardest part was leaving it overnight to set. You may not need to leave it that long, but I made the dodol in the evening and it was too warm to cut into after dinner.
But when I did cut into it, it was soft and delicious, just like I remember. I would recommend refrigerating it for a while before serving. It cuts a lot easier when cold. So if you've been putting of making Dodol because you can't find jaggery, go get some molasses and get making. When adding the molasses, don't go by the color of the mix, but taste for sweetness.
Dodol


1 1/2 cup rice flour
1 can (400ml) coconut cream
350-400g molasses
3 tbsp roughly chopped cashew nuts
1 tsp ghee to grease the loaf tin and knife
Water, as needed
Grease a loaf tin with a little ghee and keep aside.
In a large pan (I use the 12″ Kitchenaid Stainless steel skillet) measure out the rice flour. Add enough water and make a batter (almost like a thick pancake batter). I use a whisk for this as it mixes the flour well without any lumps.
Pour in the coconut cream and whisk till dissolved.
Add the molasses and stir.
Now, place the mix on a medium heat and let it cook, stirring continuously.
When it starts thickening, drop the heat to low and continue stirring. I find that you may still find lumps in the mix even inspite of stirring. Use a whisk and break them up. It returns to a smooth consistency very quickly. I had to do this about 3 times.
As it thickens, it gets harder to stir. Add the chopped cashew nuts and keep stirring.
After about 20 minutes, here's what my mix looked like.
Continue cooking till the mixture starts leaving the sides of pan and looks a little glossy. I cooked the mix down for about another 5 minutes, stirring continuously.
At this stage, you need to work quickly. Pour into the greased loaf tin and flatten it down using the back of a spoon or a spatula.
Leave to set and cool completely. Once it has cooled you can either refrigerate it for later use or demould it to serve. To demould, just place a plate, slightly larger in size than the loaf tin, on top and tip the tin over the plate. A slight shake of the tin and plate should be enough to loosen the dodol and let prop it on the plate.
Slice and serve.
Enjoy!!!
Pin now and try later.
Other Goan sweets and Kuswar –
Perad / Guava Cheese (using canned guavas)
Perad / Guava Cheese (using fresh guavas)
Kulkuls
Coconut Toffee
Milk Cream
Jujups
Baath
Marzipan