I've been making marzipan at home for a little over 12 years now. I must admit that in the past, I have only made marzipan using cashew nuts. This is mainly because they were more widely available in Mumbai and were more affordable than almonds. Last Christmas, when I shared my favorite marzipan recipe
here
and on
YouTube
, the video got a lot of love. I also got a lot of questions about making marzipan using almonds. There were also requests for an eggless version of marzipan. Now I have previously shared a different recipe for an
eggless (cashew nuts) version
. But I decided that this year, in time for Easter, I would try out an eggless almond marzipan recipe and share it with you. After a little experimenting, and more marzipan than I know what to do with, I have, what I consider a really good recipe to share with you.
How do they both compare? Well I found that the cashewnut marzipan is lighter while the almond one is a little on the denser side. That being said, the almond version is super delicious. I think even more than the cashewnut one. Then, there's also the fact that the almond one is a no-cook recipe. So, to sum up, I will still make my cashewnut version as it is a little easier to work with, but the almond one will be absolutely perfect to use in so many different ways. I'd love for you to try it out and tell me what you think of it.


No-cook Almond Marzipan
(Yields 250-260gms approx.)
1 cup raw, natural almonds
1/2 cup icing sugar
1/2 tsp rose water (you can add a little more if needed)
1/2 tsp almond extract (you can add a little more if needed)
Place the almonds in a heatproof bowl.
Pour water from a recently boiled kettle over the almonds to cover the nuts. Leave the almonds to soak for a couple of minutes.
Drain the almonds and peel them. Place them on some kitchen paper or a clean kitchen towel to dry up. Let the almonds cool down completely.
In a high powered blender / food processor, blitz the almonds to a fine powder.
Place the almond powder in a large bowl. Add in the icing sugar. Mix it thoroughly till combined.
Add the rose water and almond extract and knead to form a dough / log.
Your marzipan is now ready to be used.
If you don't need to use it immediately, you can wrap it in cling film and refrigerate till needed. It keeps for a couple of months. (Personally, I would just make this when needed, probably a couple of days ahead.)
NOTE: This marzipan is not a very sweet version. When the marzipan is formed, taste some of it. If you want it sweeter, simply add some more icing sugar and knead it in.
This month I had the pleasure of being assigned, Mellissa's blog,
A Fit and Spicy Life
. That's one thing I really love about the
Secret Recipe Club
, each month you are introduced to a blog you are not necessarily familiar with. I had so much fun looking through Mellissa's blog. If you are a dog lover like me, you have got to go over and check out the doggie cuteness on her blog. And yeah, while you're there stay a little longer and check out her recipes. There's something for everyone.
There were two recipes that I was very eager to try. Strangely enough, they were very similar recipes – both munchies. I've been surrounded by sweet food. If you go to a supermarket here, you're bombarded by sweet stuff – cakes, cookies, pies, pastries and so much more. But it is practically impossible to find good savoury treats that are slightly on the spicier side. So when I saw these recipes for Spiced Pumpkin seeds and these Sriracha Peanuts, I was sold. So by now, you've figured that I chose to make the Sriracha Peanuts and I'm so very glad I did. These were super easy to make and they are so addictive, I had to put them in a container and tuck them away before I finished the whole lot. I made a few minute changes to the spice mix, but that's only because the blend called for in the original recipe, is not available in my part of the world. But the resulting peanuts are crunchy and tasty and I'm sure I'll be making many more variants, now that I've figured how to add a spicy glaze to nuts. Thanks Mellissa for the inspiration.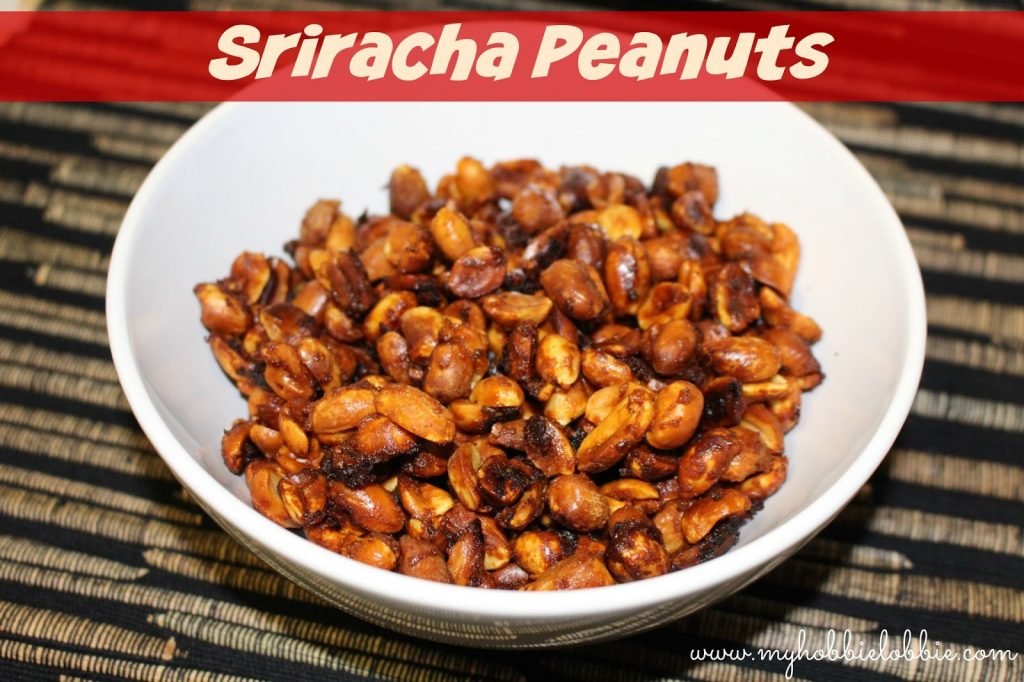 Sriracha Peanuts


2 cups salted peanuts
1 tbsp olive oil
2 tbsp Sriracha sauce
1 tbsp Smokey barbecue sauce
1 tsp Cajun spice blend
1/2 tsp garlic powder
Preheat the oven to 180ºC.
Line a baking sheet with foil and spray with a non stick spray.
Combine all the ingredients together in a bowl and stir to make sure all the peanuts are well coated with the sauces and spices.
Pour the nuts onto the lined baking sheet and spread so that they form an even single layer of nuts.
Bake for about 12-15 minutes till they're toasted. Carefully stir them through once at about the 10 minute mark.
Let the nuts cools completely.
You could either pack these up in an airtight container and nibble on it over the next few days, or serve them right up. If you put a bowl of these nuts in front of company, trust me, you will need to make a double batch and might still not have any left over.