It is so good to have access to an oven again. After a trying 6-7 months without one, the last few have been bliss. My last post talks about how to make a basic chicken roast in the oven. Every roast, chicken or otherwise, needs to be accompanied by a few yummy sides too. I only recently realized that I haven't posted too many such sides on my blog. Now that was just not done. I had to rectify that. So I'm going to start with these really delicious baked potato wedges. These baked potato wedges are a step up from the humble roasted potatoes. The garlic herb seasoning makes these irresistible.
Most of you know my deep rooted love for the humble potato in every form. This recipe here, is another good one. Its healthier than the regular french fries, but don't let that fool you. It tastes really good. I'm so happy to have tried this recipe. I know these wedges will make more than a few appearances on my dinner table.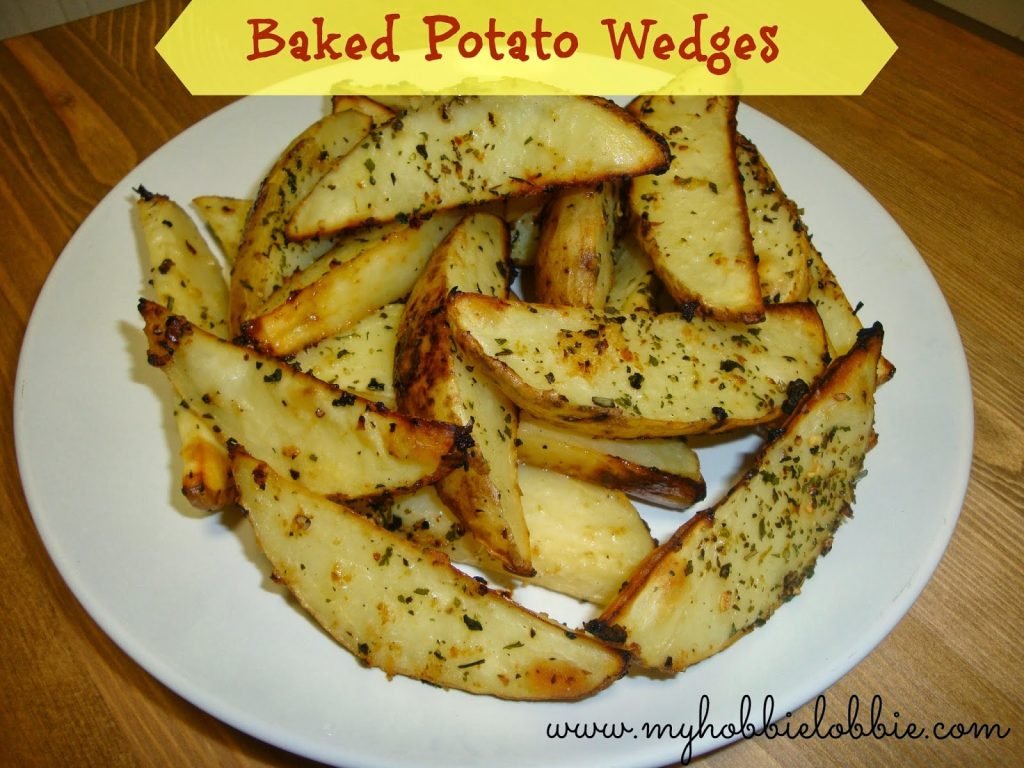 Baked Garlic Herb Potato Wedges
Adapted from: About.com
2 potatoes, washed thoroughly, skins left on
Salt, to taste
1-2 tbsp. Olive oil
1/2 tsp garlic powder (I used garlic salt and adjusted the salt levels accordingly)
Black peppercorns, crushed, to taste
1 tsp dried Italian herb mix
A little dried parsley (or finely chopped fresh parsley), to garnish
Preheat oven to 210°C.
Cut the potatoes in half, lengthwise and each half into 4-5 wedges, equal in size.
Toss the wedges with the rest of the ingredients in a bowl and make sure all the wedges are coated evenly. You can adjust the quantities of the seasoning to your taste. The quantities mentioned above work well as a guide.
Line a baking sheet with foil. Place the wedges skin side down. Space them evenly so that they cook uniformly.
Bake for about 30-35 minutes or until browned to your liking, crusty on the ends and tender inside.
Serve immediately. Add more salt if needed while they are still hot from the oven.
Sprinkle a little parsley over the potatoes and serve hot.
Sit back and enjoy!
Happy St. Patrick's Day everyone!
While most of the times, you see recipes for St. Paddy's day all decked out in green, I'm pretty sure Irish fare isn't all green. Do correct me if I'm wrong. I've never been to Ireland, but hope to travel there someday. This year, I decided to treat myself and the husband to traditional Irish food. After looking through a few sites, I knew I would have to bake some Irish Soda Bread, but I wanted something quick to go with it. I happened upon a recipe for traditional Irish Colcannon. As luck would have it, I had all the requisite ingredients. So I had picked out the side dish for the evening. Now, I didn't have the time to make anything elaborate for the main, so I just went with some sausages. I don't know how Irish that is, but I can tell you this, it sure made for a delicious meal.
Many of you may not know this, but I can be very absent minded at times. For example, I was so sure I had taken pictures of the loaf of bread I baked, but actually I hadn't. The bread was very easy and quick to put together. It was different compared to the regular yeasted breads, but I was happy with the way it turned out. I made a wholewheat soda bread this time around, but I'm quite eager to try out the white bread version too. We enjoyed this bread for dinner as well as for breakfast the next morning, with a smear of butter and some homemade Nectarine jam (recipe to follow). Later in the day when I sat down to edit the pictures and blog about it, it appeared I hadn't taken pictures of the bread at all. ***Gasp*** I know!!! In the life of a blogger, that's an absolute disaster. I figured, I would have to skip blogging about the bread this time around, atleast till I made this bread again and captured some pictures of it anyway. That's when I realized, I still had one lonesome slice of the bread left. So please forgive the picture of the lone slice of soda bread.
On to the colcannon; nothing could be simpler to put together. Its a nice way to mix up mashed potatoes. I simply wrapped a couple of clean, washed and brushed potaotes – skin on, in some foil and put them in the oven with the bread and it was ready it by the time the bread was done. I didn't think the combination of cabbage and potato would work, but I was wrong. This turned out really yummy. It had some nice flavor and texture from the cabbage and the onion. Typically, leftovers of mashed potato are used in the dish. I didn't have any, so I just roasted some potatoes in the oven to use. You could make some mashed potatoes the regular way, by boiling the potatoes instead. Do what works best for you.
Our tribute to St. Patrick's Day was a rather subdued one. What are you doing this year to celebrate this day. Leave me a comment, I'd love to hear more.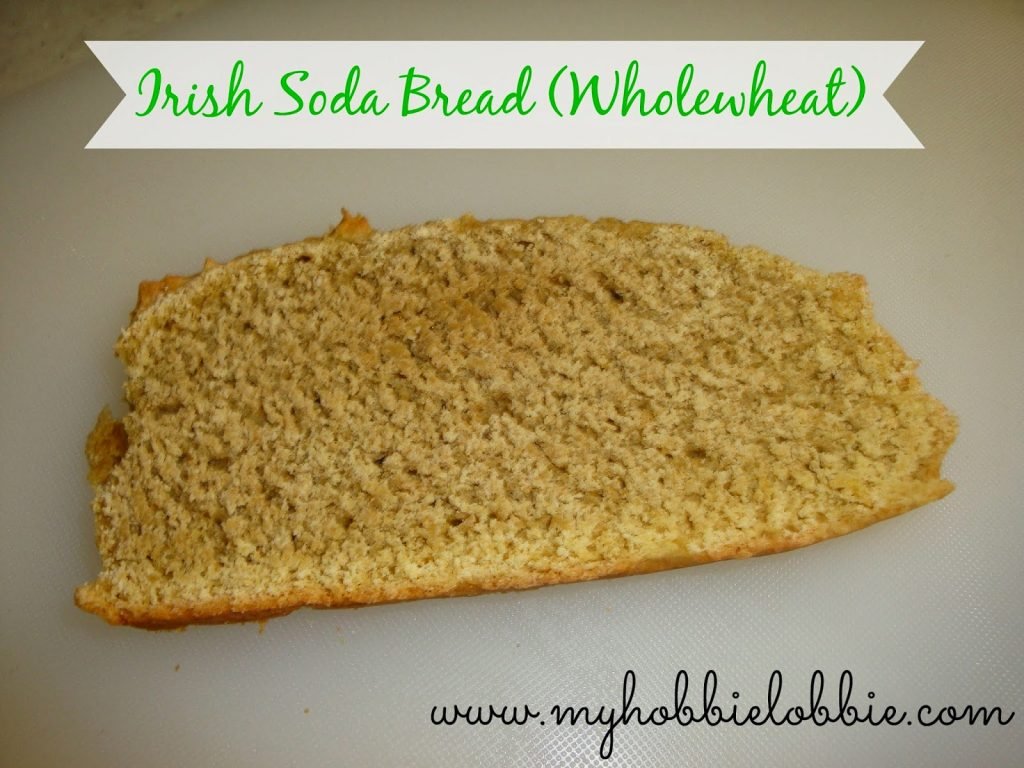 You can find the recipe I used here.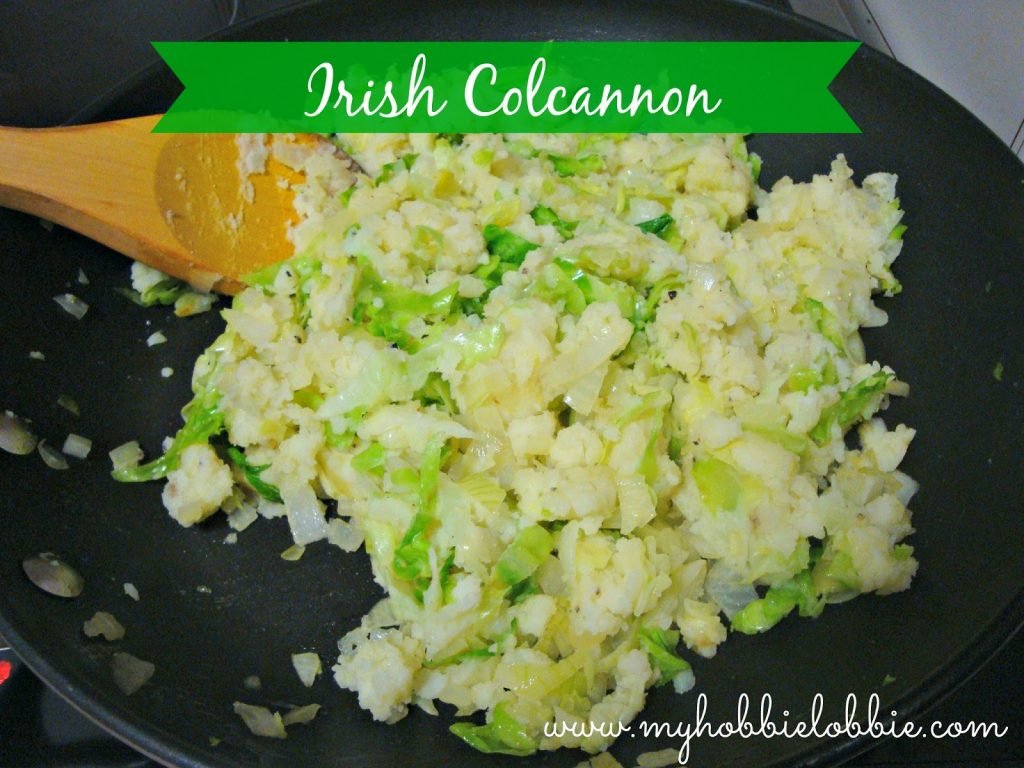 Irish Colcannon
Recipe from: Crystal's Tiny Treasures
2 large potatoes, boiled or roasted
1/3 head of cabbage, finely cut
1 onion, finely chopped
Salt, to taste
Crushed black pepper, to taste
Splash of milk, as needed
Small knob of butter
Peel and mash the potatoes.
Heat a small knob of butter in a pan and saute the cabbage till done to your liking,
Mix the cabbage and mashed potato well. Season with salt and pepper. If the mash appears too stiff, add a splash of milk and mix.
Melt some more butter in a pan and saute the onion till it has softened.
Tip in the potato and cabbage mash and mix well. Check the seasonings and adjust, if needed.
Enjoy!!!
Ok, today's post features my favorite vegetable. Yup, you heard me. My favorite vegetable is the humble potato. I can eat it in any form – baked, fried, mashed, roasted, any which way. I usually have potatoes in the house, for me they are a pantry staple. I rely on potatoes for those days just before I can make my weekly grocery shopping trip, where the fridge is almost bare. You'll see a few potato recipes here like
Batata vadas
,
Bhajiyas
,
homemade Samosas
,
Aloo Cheese Frankies
,
Smokey Potato Salad
,
Shepherd's Pie
,
Potato Chops
,
Garlicky Baked Potato Wedges
,
Fries
,
Aloo Bhaji
,
Hasselback Potatoes
and
Aloo Tikkis
. But I'm pretty sure that these options are just the tip of the iceberg.
Anyway, this is one recipe, that can be made many different ways. You can –
Boil potatoes – on the stovetop or in the microwave
Roast potatoes – I usually pop a couple of potatoes whole and skin on (but washed well / brushed) in the oven, if I'm roasting some meat or baking a casserole or something. I simply wrap it in foil and leave it in till done.
Use raw potatoes, washed, peeled and cubed
What makes it special is the dill. Dill and potatoes go well together. Haven't tried it before, well, you definitely should.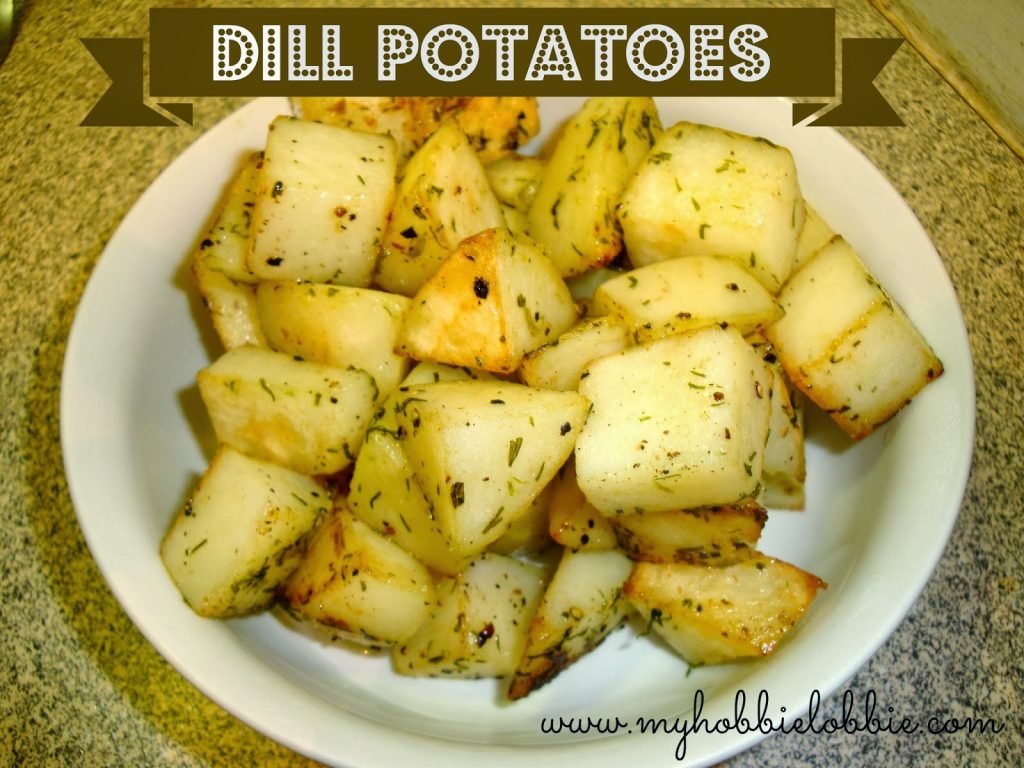 Dill Potatoes


2 potatoes (You could use as many as you think you'll need)
Salt, to taste
Dill leaves (either fresh or frozen), to taste
1 tsp canola oil
Prep your potatoes as desired – either boiled, roasted or raw.
Cut the potatoes into cubes.
Heat oil in a pan and toss the potato cubes in gently. Let it fry till they edges get nice and golden brown and crunchy. (This will take a little longer if you are using raw potatoes – keep it on a medium heat so that it cooks through. If you're using boiled / roasted potatoes you can turn up the heat a bit and heat through till it browns to your liking.)
When the potatoes are done to your liking, season with salt and toss in the dill leaves, as much or as little as you'd like. Toss it up well.
Serve hot.
Watch the recipe video here –
This recipe has quickly become one of my absolute favorites. Its a funny story,until a couple of months ago, I didn't really care much for Zucchini. They aren't easily available in Mumbai but I'd had it as a side dish at a couple of restaurants and every single time, I personally found it revolting. I couldn't understand what all the fuss was about in blogland. I saw so many blog posts with so many absolutely delicious recipes, I figured it was just me, something I didn't like and was going to have to live with it. Again, this was hard for me to understand, because there aren't too many things that I don't like. Anyway, life went on. And then when I moved to Sydney, my aunt invited us to spend the day with them at their place in Woy Woy. At dinner, one of the sides that my uncle whipped up was a simple veg. stir fry, which had zucchini in it and you know what, I loved it, much to my surprise. I wanted to make sure it wasn't a one off thing, so I decided to try my hand at cooking it myself.
After a few minutes online, I had found a recipe I knew would be nice. I bought some zucchini from my favorite Paddy's market (Haymarket). I had the rest of the ingredients on hand. This recipe is fairly quick to put together, apart from hand grating the zucchini. If you have a food processor that can do the job for you, go for it. Nothing like saving time and effort. Its simple and quick to put the batter together and then all you do is fry it up. Within a short while, you will be sitting down to some pretty amazing fritters. My husband and I love these little guys so much, I've made them thrice already. And trust me, I can see myself making these fritters many more times to come. Try it out for yourself and see how good these are.
Zucchini Fritters
2 medium zucchini
1/2 onion, finely chopped
1 chilly, finely chopped
1/3 cup all purpose flour
1/3 cup grated cheese
1 egg
2 tbsp. fresh coriander, finely chopped
1/2 tsp. dried oregano leaves
1 tsp. salt
1/4 cup of bread crumbs, approx
2-4 tbsp olive oil
Grate the zucchini coarsely. Sprinkle a little salt (about 1/4 tsp.) over it and let it stand for about 10 minutes. The salt will draw out all the excess liquid. Place in a colander and squeeze to drain out as much excess liquid as possible.
Place the grated zucchini in a bowl. Add the onion, chilly, flour, cheese, salt, coriander, oregano and bread crumbs. Whisk the egg and add to the batter. Mix all the ingredients together. If the batter is to wet, add a tbsp or 2 of bread crumbs.
Heat a tbsp of olive oil in a pan. Place spoonfuls of the batter onto the pan and using the back of the spoon, flatten it out a bit and shape into fritters. Fry on medium heat till it turns golden brown. Flip and cook on the other side till it turns golden brown too.
Drain on kitchen paper and serve hot.
Yummy, yummy, yummy!
** I have tried this recipe using cream cheese as well as grated cheese and both times, it was delicious. Feel free to experiment with your favorite cheese.
This recipe has been shared at –
Show Me Your Plaid
This one isn't really a recipe, but just a way to use up some leftover ground
beef mince
and make it a little interesting. The wrap adds a lovely crunch and is super versatile; fill it with whatever you have at hand. It is a beautiful way to serve up leftovers.
I use ice berg lettuce leaves, but you can adapt and use any lettuce you have. Another thing to remember is, make sure the beef is slightly on the drier side. While cooking the mince, if you've left it at a gravy consistency, simply cook it uncovered till the juices dry up, stirring occasionally to ensure it doesn't burn.
I didn't just stop there. I threw in some thinly sliced onion, a slice of tomato and some chopped coriander leaves.
As options, you could use steamed prawns and a cocktail sauce, you could use leftover grilled chicken with some sauteed onions and mushrooms and so much more. I like to think of this as a healthy snack; there's no carbs. If you decide to whip up some lettuce wraps, I'd love to hear from you. Leave me a comment and tell me what you used as a filling. You could send me some pictures or a link too, I'd be happy to feature them here.
Here's to healthy snacking!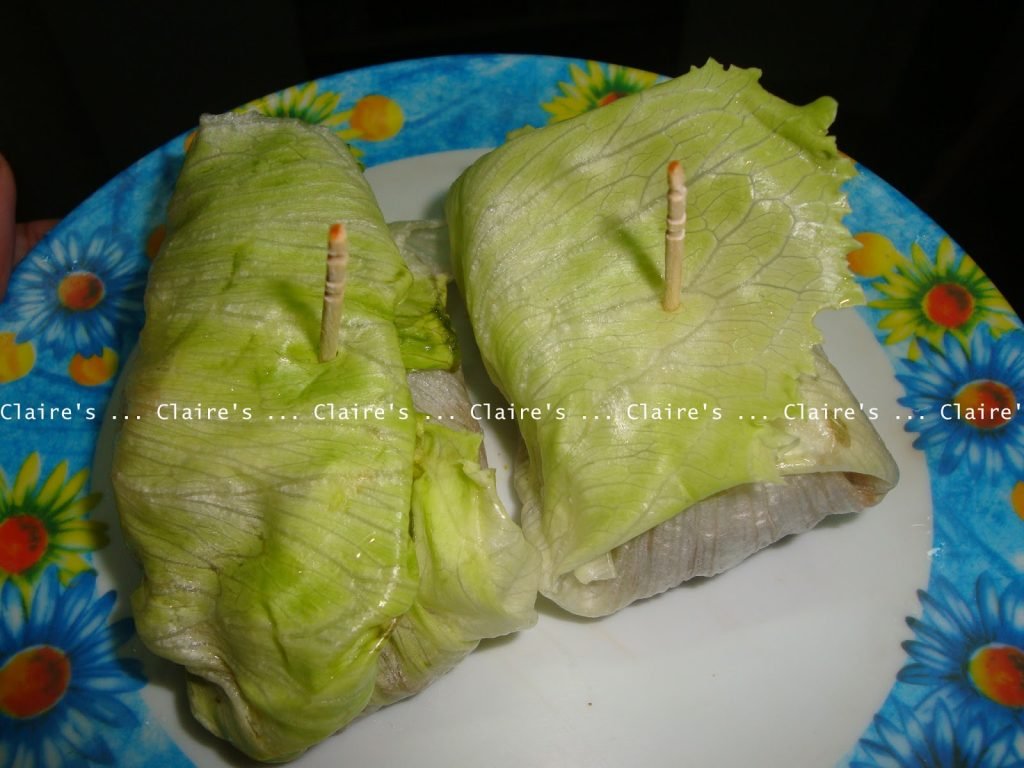 Crunchy Lettuce Wraps


Iceberg lettuce
Leftover beef mince
A few slices of onion
A few slices of tomato
Fresh coriander leaves, chopped


Wash, pat dry and separate as many layers of ice berg lettuce as you'd want wraps.
Place a spoonful of the beef mince, a few slices of onion, a slice of tomato and some chopped coriander leaves.
Wrap it snugly, so that the filling doesn't fall out. As a precaution, I used some small cocktail sticks to keep everything in place.
Place on a platter and serve.
Cauliflower – now here's a vegetable that can go either way if you ask me. Till date, I like my cauliflower with a little crunch. I think cauliflower has a little bit of a bad rep, because some folks just don't know how to cook it well. I've had cauliflower in many forms – steamed, steamed and tossed in butter, filled in some parathas, as pakodas / fritters or curried like an aloo gobhi (a recipe I will share with you soon), and I like most of them. But serve me some overcooked, mushy cauliflower florets and I will struggle to get through a portion of it.
This is another ingenious way of cooking cauliflower, if you ask me. They call it a healthier alternative to fries, and I will agree. Can you imagine a healthier alternative to fries? It was hard for me to, and I always thought this would be a lot of hype and would not deliver. But, I was wrong, and I'm glad I was wrong. Because these little beauties turned out gorgeous. They are so more-ish, its hard to stop eating them. Like you see in the picture below, I served these up with some skewered chicken (recipe to follow in the next post). It was super quick to put together and it was absolutely delicious. It needs very little prep work, so once you pop it in the oven, you can get on with other tasks you may have to complete.
It turns out, that these poppers can be served with some ketchup, but we loved them just the way they were and didn't even bother with the ketchup.
If you haven't tried these yet, I really think you should. I know that these baked poppers will make an appearance at my dinner table every now and then 🙂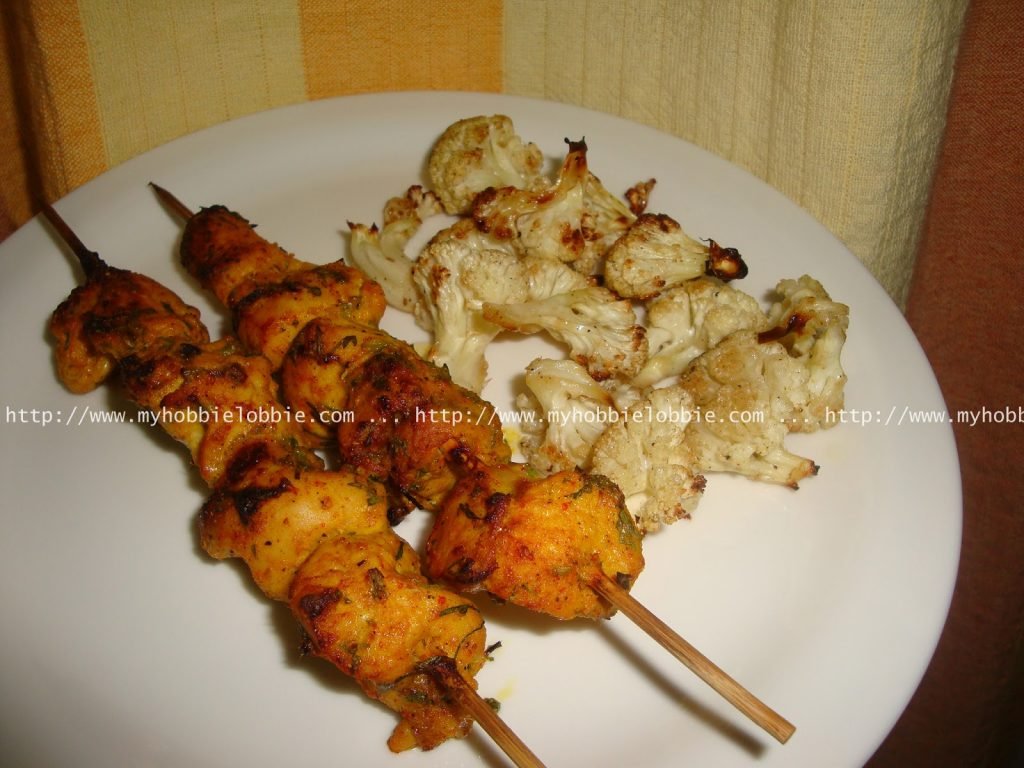 Baked Cauliflower Poppers

1 head of cauliflower
2-3 tbsp. olive oil
Salt, to taste
Freshly crushed black pepper corns, to taste
Preheat the oven to 190º – 200ºC.
Wash and dry the cauliflower and cut it up into florets. Try and maintain the same size to ensure even cooking.
In a large bowl, toss the cauliflower florets, olive oil, salt and pepper. Make sure the florets are evenly coated with the oil and seasoning.
Line a baking sheet with parchment paper or foil and spread the cauliflower over it evenly.
Bake for about 20-30 minutes, stirring and turning the florets over every now and then, to make sure they don't burn. I stirred them around every 8 minutes or so. Keep an eye on them and turn them as needed. You don't want them to burn.
Once they're nicely roasted, serve them up hot and enjoy.
This would be so much healthier than a bag of potato chips to snack on too.
Some of you know that in the past few posts, I've tried a few new things with a view to using up what was in the pantry, since we were going to move. These little gems were the result of one such experiment in my kitchen. I'm a big fan of sabudana (globally known tapioca pearls) preparations. I've had a few of them in the form of Kheer (sweet pudding), Khitchdi (savoury stir-fry) and these Vadas (fritters). I'd bought a packet of these pearls in the hopes of making all of these in my own kitchen at home. I didn't have too much luck with the Khitchdi, but these Vadas were superb. They were beautifully flavourful, nice and crunchy on the outside and would be great as a snack served with some ketchup or green chutney or as a side dish as part of a meal too. I'm happy I got around to trying these.
When going through Kanan's blog, I learnt that there are different varieties of sabudana. Some need to be soaked for just 2-3 hours, others overnight, depending on the quality of the pearls. Mine was good to go in about 2 and a half hours. When you soak the pearls, it is best to use a wide, shallow dish for this. If you're not sure how long your sabudana needs to be soaked, so what I did the first time around. Check on them every now and then. When you press a pearl between your fingers, it should mash easily, that's when you know they are done. Do not oversoak as the pearls will just get mushy and you don't want that to happen.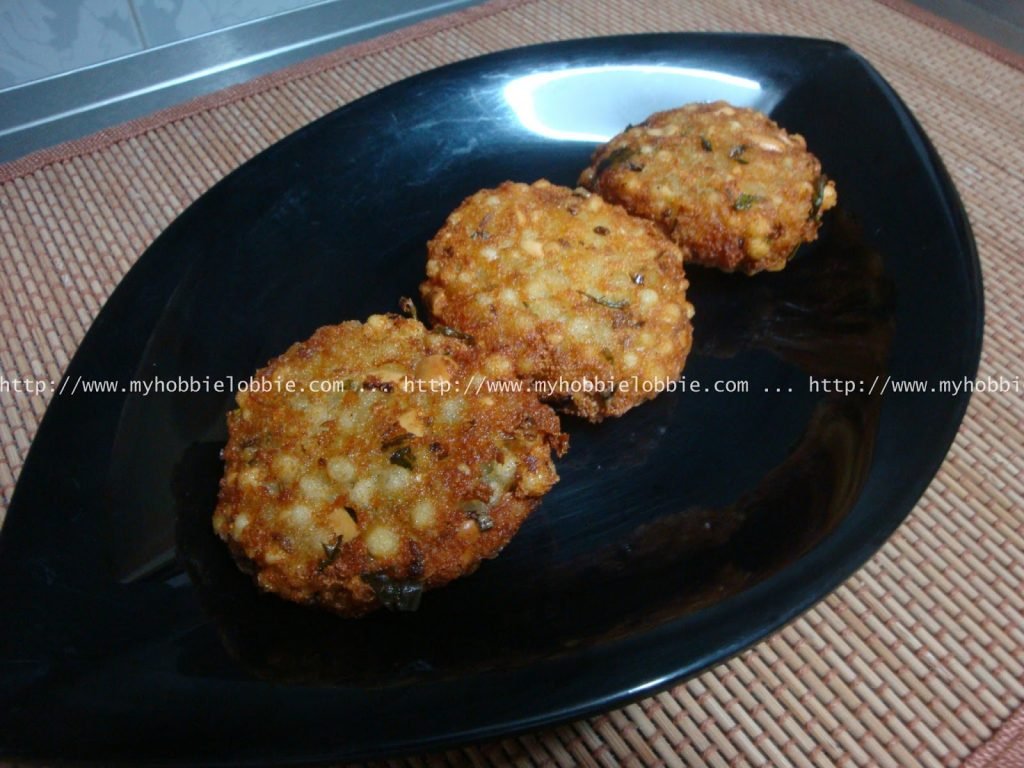 Sabudana Vadas
Recipe from: Spice Up the Curry
Yields about 20 vadas
3/4 cup Sabudana
2 medium sized potatoes, boiled, peeled and mashed (1 1/2 cup)
1/2 cup roasted peanuts
1 tsp cumin seeds
1 1/2 tsp ginger, finely chopped
5-6 green chillies, finely chopped (Or to taste)
10 sprigs fresh coriander, finely chopped
1 tsp lemon juice
Salt, to taste
Oil, for deep frying
Wash the sabudana under cold, running water, till the water runs clear.
Soak in a shallow dish till done. (See information above the picture.) The pearls will more than double in size so use a dish size that will accommodate this.
Drain the water and leave the pearls in a colander for about 10 minutes.
Roughly chop the roasted peanuts.
Place all the ingredients in a large bowl and mix till everything is well incorporated and form into a ball.
Heat the oil for deep frying. To check if the oil is hot enough, carefully place a small portion of a the mix in the oil. If it rises to the top immediately, you are good to go.
Grease your palms with a little oil, to avoid the mix sticking to your hands.
Take portions of the mix and shape them into little patties, round and flat.
Gently slide the patties into the oil, and fry till they are golden brown on both sides, on medium heat.
Do not overcrowd the pan that you are deep frying in.
Drain them on a paper towel lined plate to do away with the excess oil.
Serve them hot, with some ketchup or green chutney (coriander or mint) and a cup of hot tea.
Perfect snack for evenings when its raining or cold outsides. Alternatively, you can also serve these as part of a larger meal.
Enjoy!
Notes:
After shaping a few of the vadas, if the mix starts sticking to your hands, wash your hands, wipe dry, grease your palms lightly again and continue.
If the oil is not hot enough, the vadas will either fall apart in the oil or will soak up too much oil when frying.
Once the vadas are place in the oil, do not disturb them for about a minute. If they are disturbed, they could break up and absorb a lot more oil than they should.
These vadas are nice and crispy on the outside, if stored and reheated, they will lose their crispness to an extent.
Between batches while frying, let the temperature of the oil come back up before you can add the next lot. Do not overcrowd the pan.

In last few weeks have been an absolute blur for us. We'll soon be moving from Mumbai where both my husband and I were born and brought up to Sydney, Australia. We were so excited when our paperwork came through and since then things in our home have been absolutely crazy. With travel arrangements, shopping, packing and selling off things we're not taking, I've hardly had any time to focus on cooking. This month I was assigned Jackie's blog Rediscovering Lost Arts From Our Mothers. This blog was new to me and I was thrilled to see the ideology behind it. I agree with Jackie all the way, there's so much we're missing out on in the form of tradition, practices and culture all because of the convenience of today's world, where were always in a hurry, short of time and running. You should stop by Jackie's space and check it out, she's got loads of recipes on canning, smoking, preserves and wonderful home cooked goodness.
To my absolute delight, that not all she has. Even though I didn't have much time, I managed to make 2 recipes from her blog using stuff that I had in the pantry. I've always wanted to try Spaghetti Alio Olio after watching David Rocco make it on his cooking show. This seemed like the perfect opportunity since Jackie has a version of it on her blog and while I was going through her space, I noticed a post on Onion straws. Like her I love me some onion. Whether is onion rings, sauteed onions, onions in a salad or these onion fritters, I love cooking with onion and enjoy eating it in its many different forms too. I was intrigued by her recipe and it seemed simple and quick enough for me to try. Both these dishes came together so quickly and can I tell you, they were both yummy. The spaghetti was simple but so flavorful. I loved it. The onions straws, may I add, was an absolute hit. I had a hard time keeping my husband away from it long enough to get pictures. There are crisp, delicious and very addictive. They'd be a fantastic addition to some grilled or roasted meat, but I think they make for some very yummy party munchies too. The only thing I'd do differently next time is use larger onions. These ones were rather small so the onion straws don't particularly look like straws, but were delicious nevertheless. In all I was very happy with the way both recipes turned out. Thanks Jackie, for introducing me to these yummy treats. The only changes I made was I used fresh coriander instead of parsley since that is what I had on hand and I upped the garlic content. I love garlic and if you don't please remember to cut down on the quantities mentioned.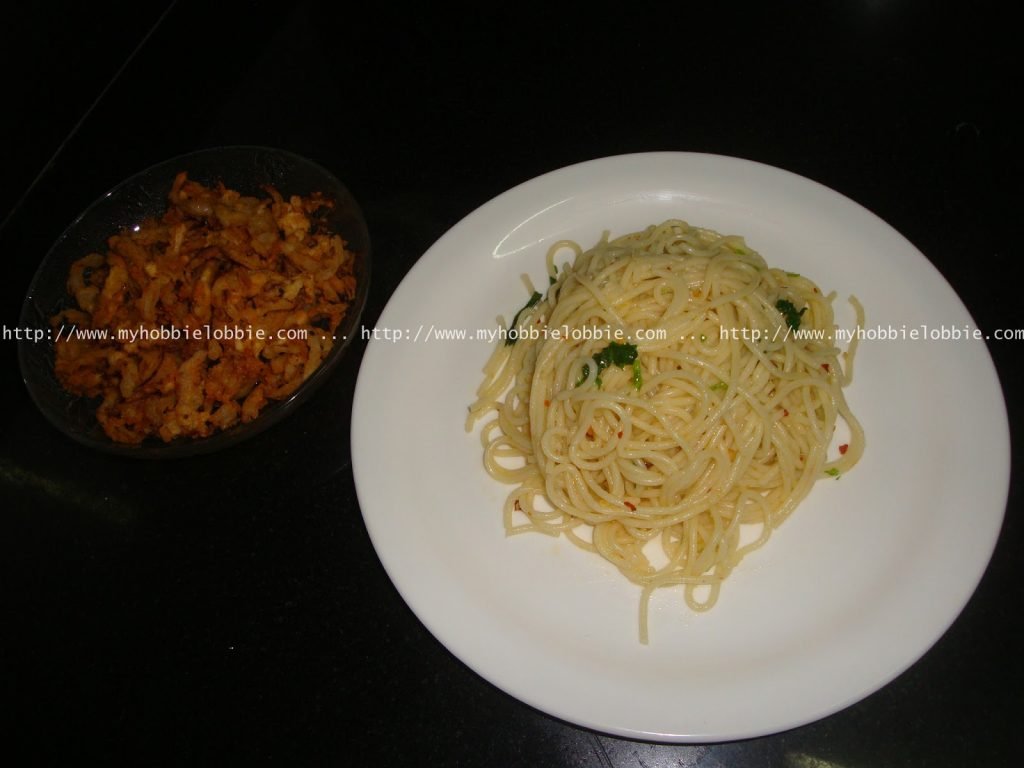 Spaghetti Alio Olio


1/2 lb. spaghetti
1/4 cup olive oil
1/8 cup butter
3 cloves garlic, chopped fine
1/2-1 tsp. red pepper flakes, to taste
2 tbsp. fresh coriander, chopped (Original recipe calls for parsley)
Salt, to taste
Pepper, to taste
Boil the spaghetti till its al dente and drain. (You may want to reserve some of the boiling liquid and add a little back if you feel that the spaghetti has dried up when adding the herbs – I didn't need to)
In a small pan, add the oil and butter and the garlic and saute for a few seconds on medium low heat till the garlic releases flavor and aroma. Add the red pepper flakes and pepper and saute for a few seconds more. Make sure the garlic doesn't brown, else its burnt and will be slightly bitter.
Add this back to the pasta and place on the stove for a little while on low heat. Toss the pasta well and make sure the oil and herbs are evenly distributed.
Add the chopped coriander and toss well. Serve hot.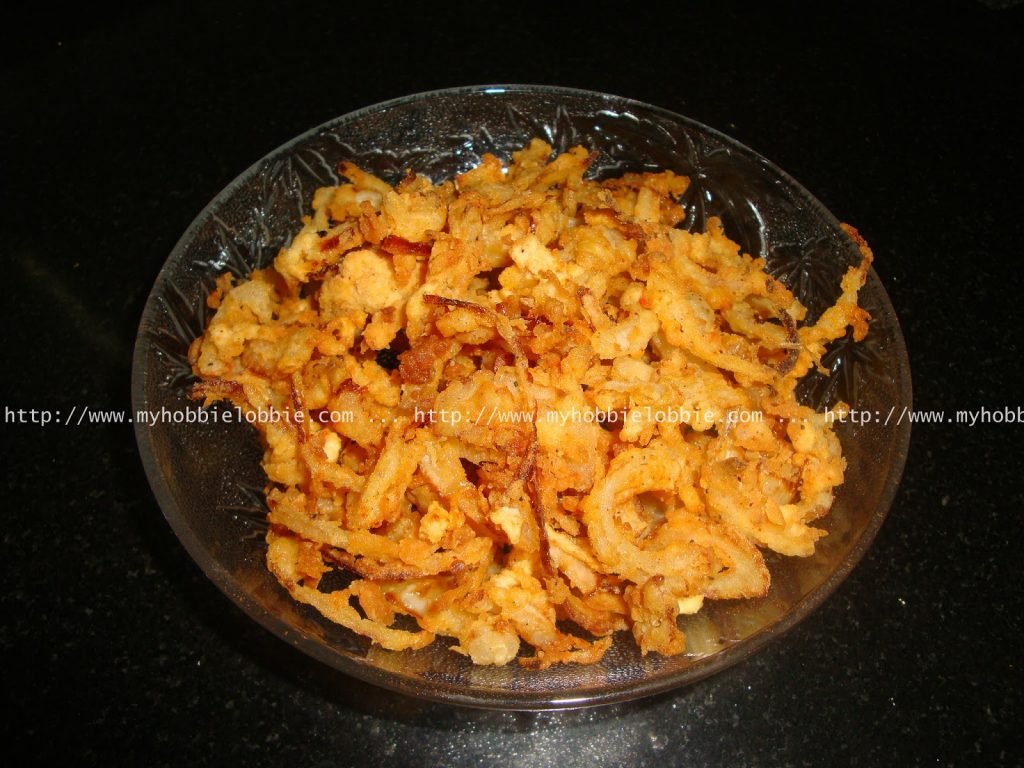 Onion Straws
2 onions, finely sliced
1 cup buttermilk
1 cup all purpose flour
Salt, to taste
Crushed black pepper, to taste
Red chilly powder, to taste
Oil for deep frying
Peel and slice the onions and soak it in the buttermilk.
Heat the oil for deep frying.
In the meanwhile, add the salt, pepper and red chilly powder to your flour and mix well.
Shake off the excess buttermilk from the resulting onion straws and dredge it in the flour mix.
Carefully place it in the oil and deep fry till golden brown and beautifully crispy.
Enjoy!!!
Thank you Jutta (Hungry Little Girl) for hosting this fun event month after month. Its been a blast. If you'd like to join in on the fun, click here.
The last couple of weeks have just passed me by. There are so many goodies that I've whipped up during this time, but I just haven't gotten around to posting any of them yet. To top that I had the craziest weekend. We had the family over for lunch on Saturday, it was so much fun having them over, that's 11 people and 3 dogs in all. Once they left, I had to focus on a real quick clean up since I had to complete an order of a kilo of handmade liqueur chocolates and a couple of dozen thank you bars for a Monday pickup. By the time Monday arrived, I was ready to sleep it off. Of course, that was not possible. Even though things were so hectic, I enjoyed every minute of it.
Since I had very little time to put meals together in the last few days, I whipped up some of the quick but good stuff. One such treat is the Aloo tikki, or a potato cutlet. Its comes together fairly quick and is really tasty. I served it as a side but I think it would be really tasty in a vegetarian burger as well. This tikki is fairly versatile and you can add a few finely chopped veggies to it if you'd like. You need to add some bread crumbs to make these a little sturdier than they would ordinarily be. It also adds a lovely crunch to the tikkis. This would be a great way to serve the kiddies their veggies, in a burger. I think they'd enjoy it. Try it out and let me know how it goes.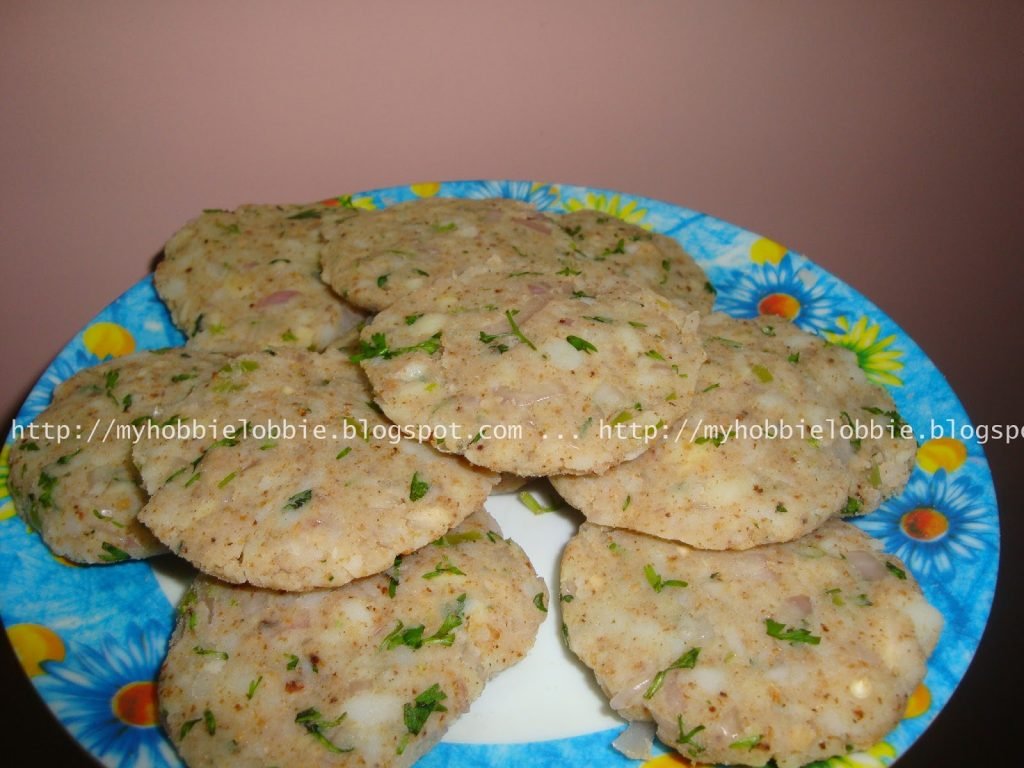 Aloo tikkis before frying
Aloo Tikkis
2 potatoes, washed, boiled and mashed
1/2 onion, finely chopped
1 green chilly, finely chopped (optional)
Some fresh coriander leaves, chopped
Salt to taste
A pinch of chat masala (optional)
1/2 tsp red chilly powder or to taste
A couple of pinches of cumin powder
1-2 tbsp bread crumbs
Oil, for frying
Mix all the ingredients except the oil well.
Check for seasoning and adjust if needed.
Shape into small cutlets.
Shallow fry in a pan.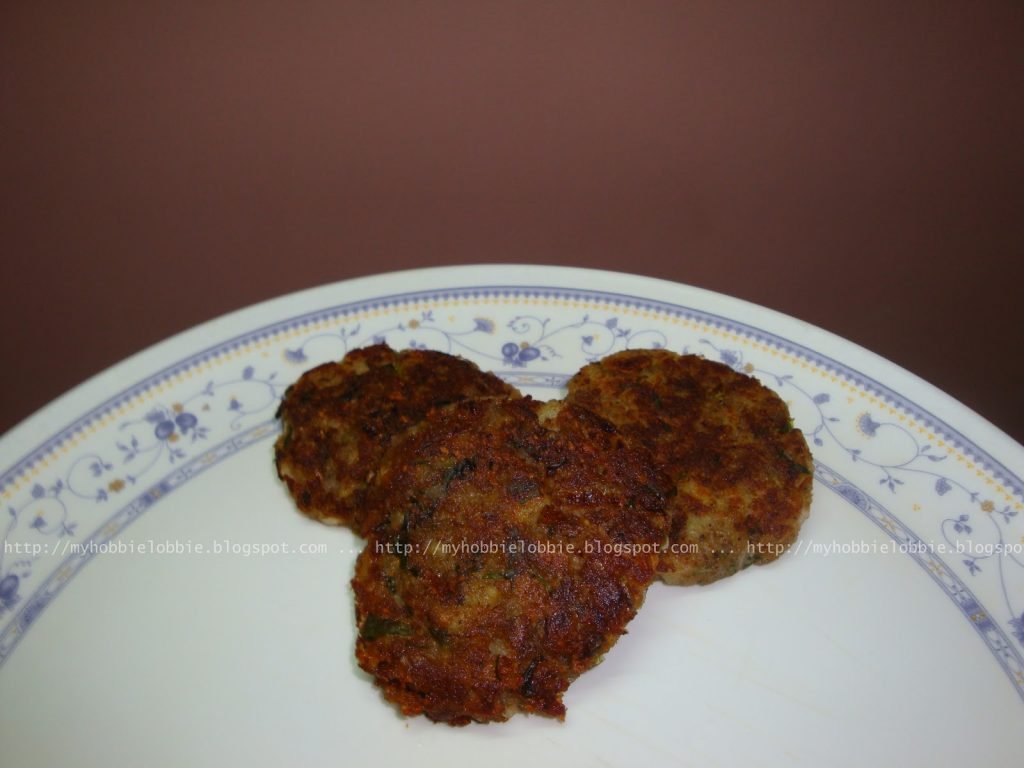 Serve hot.
I was amazed by the Hasselback potatoes every since I first saw it. Initially I though it would take some fancy knifework or some exotic equipment to get a potato to look this pretty. After a little reading up, I realized how wrong I was. Once, I figured out how easy it was, I decided to try it out. I think I can eat potatoes in almost any form – baked, roasted, boiled or fried. I have yet to meet a potato I didn't love. What made this different was the slices of garlic between the slices of potato. Everything about this was just right. I am quite eager to make these for the next dinner party I throw. I know it will look stunning on the table.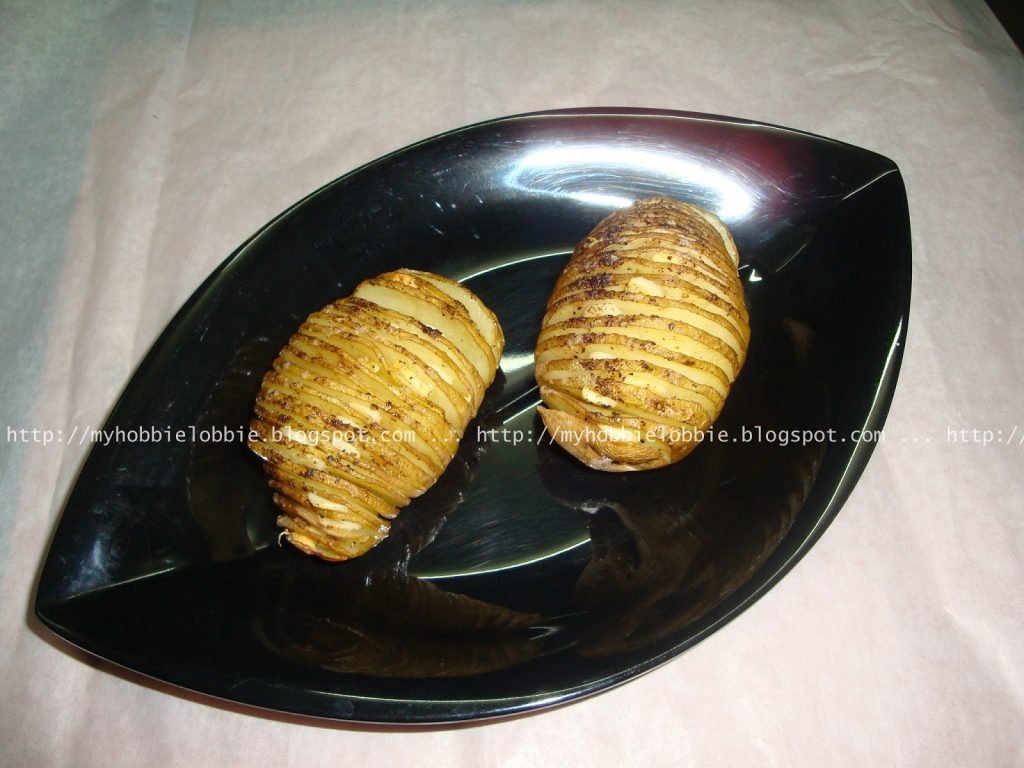 Hasselback Potatoes
1 potato per person being served
A few cloves of garlic, peeled and finely sliced
Salt, to taste
Crushed black pepper, to taste
Some butter, a small knob for each potato
Olive oil, to drizzle over the potatoes
Preheat the oven to 200ºC.
Wash the potatoes well and scrub them.
With the skin on, place the potato on a cutting board, with the flat side down and cut into slices almost all the way, but not seperating the slices from the base of the potato. You are basically making slits without cutting the slices through.
Place a slice of garlic in each gap between the slits of the potato.
Arrange the potatoes in a baking dish. Place a small knob of butter on each potato and drizzle with a little olive oil and sprinkle with salt and pepper to taste.
Bake for about 40 minutes or until the potatoes are crisp on the outside and the flesh is soft and fluffy on the inside.
If you want, you can place a small knob of butter when you get it out of the oven. Serve immediately.
The next time, I'm going to sprinkle some chives over the potatoes midway through baking.