I was amazed by the Hasselback potatoes every since I first saw it. Initially I though it would take some fancy knifework or some exotic equipment to get a potato to look this pretty. After a little reading up, I realized how wrong I was. Once, I figured out how easy it was, I decided to try it out. I think I can eat potatoes in almost any form – baked, roasted, boiled or fried. I have yet to meet a potato I didn't love. What made this different was the slices of garlic between the slices of potato. Everything about this was just right. I am quite eager to make these for the next dinner party I throw. I know it will look stunning on the table.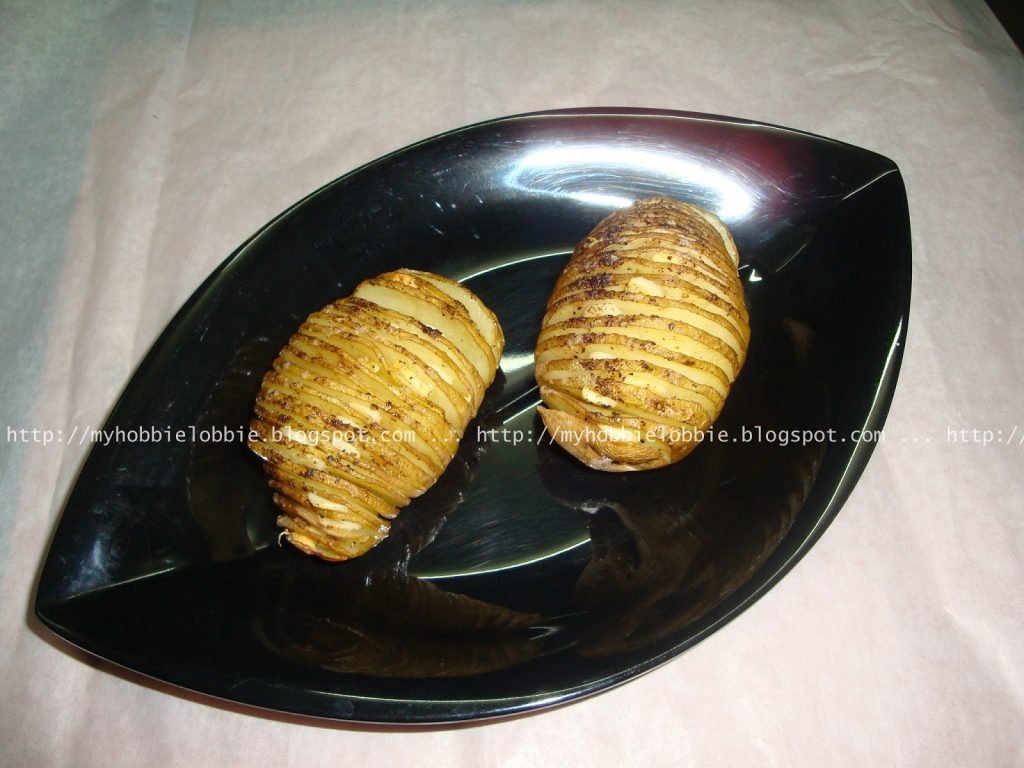 Hasselback Potatoes
1 potato per person being served
A few cloves of garlic, peeled and finely sliced
Salt, to taste
Crushed black pepper, to taste
Some butter, a small knob for each potato
Olive oil, to drizzle over the potatoes
Preheat the oven to 200ºC.
Wash the potatoes well and scrub them.
With the skin on, place the potato on a cutting board, with the flat side down and cut into slices almost all the way, but not seperating the slices from the base of the potato. You are basically making slits without cutting the slices through.
Place a slice of garlic in each gap between the slits of the potato.
Arrange the potatoes in a baking dish. Place a small knob of butter on each potato and drizzle with a little olive oil and sprinkle with salt and pepper to taste.
Bake for about 40 minutes or until the potatoes are crisp on the outside and the flesh is soft and fluffy on the inside.
If you want, you can place a small knob of butter when you get it out of the oven. Serve immediately.
The next time, I'm going to sprinkle some chives over the potatoes midway through baking.