Every now and then I love a little snack. Yes, I snack between meals Dad. My Dad would be horrified that I still do. He is a strong believer that food should be restricted to meal time, unless you were at a party or something. However, I love my snacks. I've always tried to cook / bake from scratch and now I want to try and take that one step ahead and eat clean. It will take some getting used to, but I think it definitely is do-able and I hope to take that to my snacks as well. Does this mean you'll stop seeing desserts, bakes and other slightly indulgent food on my blog. Most definitely not. I will still do that, but will try and be more mindful of the kind of food I eat on a regular basis. Do you have any clean eating recipes that you love? I would love to try them out too. Leave me a comment and let me know 🙂
So back to this salad. I love cucumbers – continental, lebanese, baby cukes – all of them. One of my favourite ways to eat cucumber is straight up sprinkled with a tiny bit of salt. I usually serve some up with lunch or dinner. I wanted to try and change it up a little. Thats where this Asian inspired gem comes in. It was quick and easy and sounded delicious. I could definitely snack on some of this too. I'm very glad I stumbled across this recipe.
If you're making this salad ahead of time, you can make the dressing in advance and just chop the cucumber and toss it up just before serving.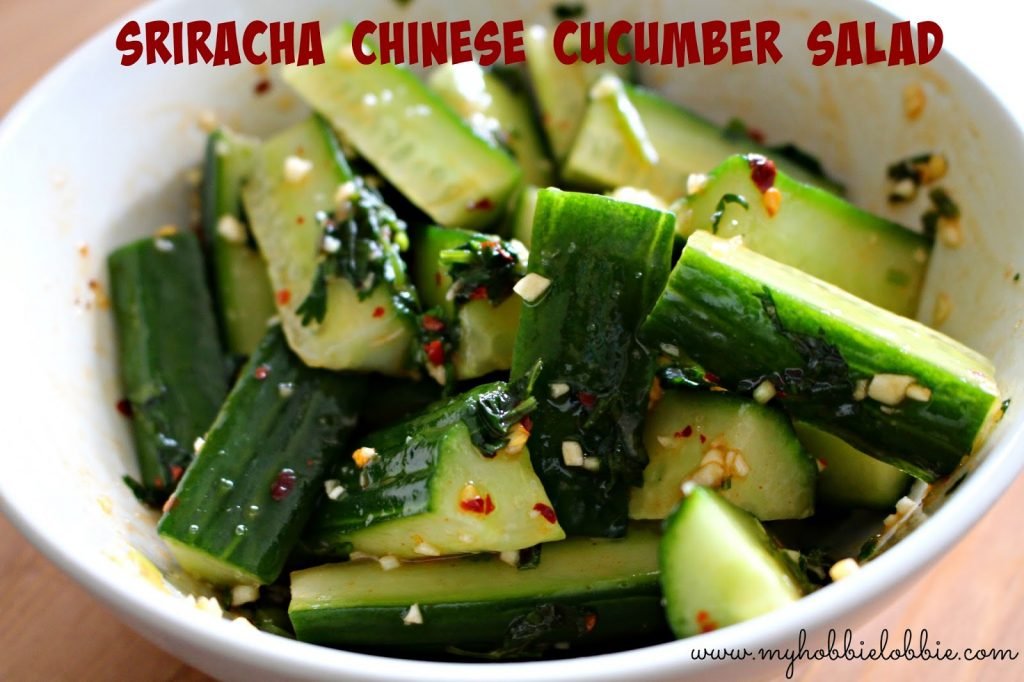 Sriracha Chinese Cucumber Salad
1 continental cucumber, cut into batons
1 clove of garlic, minced
1 tsp sesame oil
1/4 – 1/2 tsp sugar
1 tsp sriracha sauce
1/2 tsp fresh coriander leaves and stalks, chopped
1/4 tsp red chilly flakes
Lemon / lime juice, to taste
Mix all the ingredients except the cucumber pieces together in a bowl.
Add the cucumber pieces to the bowl and toss well.
Serve immediately.
Ok, today's post features my favorite vegetable. Yup, you heard me. My favorite vegetable is the humble potato. I can eat it in any form – baked, fried, mashed, roasted, any which way. I usually have potatoes in the house, for me they are a pantry staple. I rely on potatoes for those days just before I can make my weekly grocery shopping trip, where the fridge is almost bare. You'll see a few potato recipes here like
Batata vadas
,
Bhajiyas
,
Aloo Cheese Frankies
,
Potato Chops
,  
Fries
,
Aloo Bhaji
,
Hasselback Potatoes
 and 
Aloo Tikkis
. But I'm pretty sure that these options are just the tip of the iceberg.
Anyway, this is one recipe, that can be made many different ways. You can –
Boil potatoes – on the stovetop or in the microwave
Roast potatoes – I usually pop a couple of potatoes whole and skin on (but washed well / brushed) in the oven, if I'm roasting some meat or baking a casserole or something. I simply wrap it in foil and leave it in till done.
Use raw potatoes, washed, peeled and cubed
What makes it special is the dill. Dill and potatoes go well together. Haven't tried it before, well, you definitely should.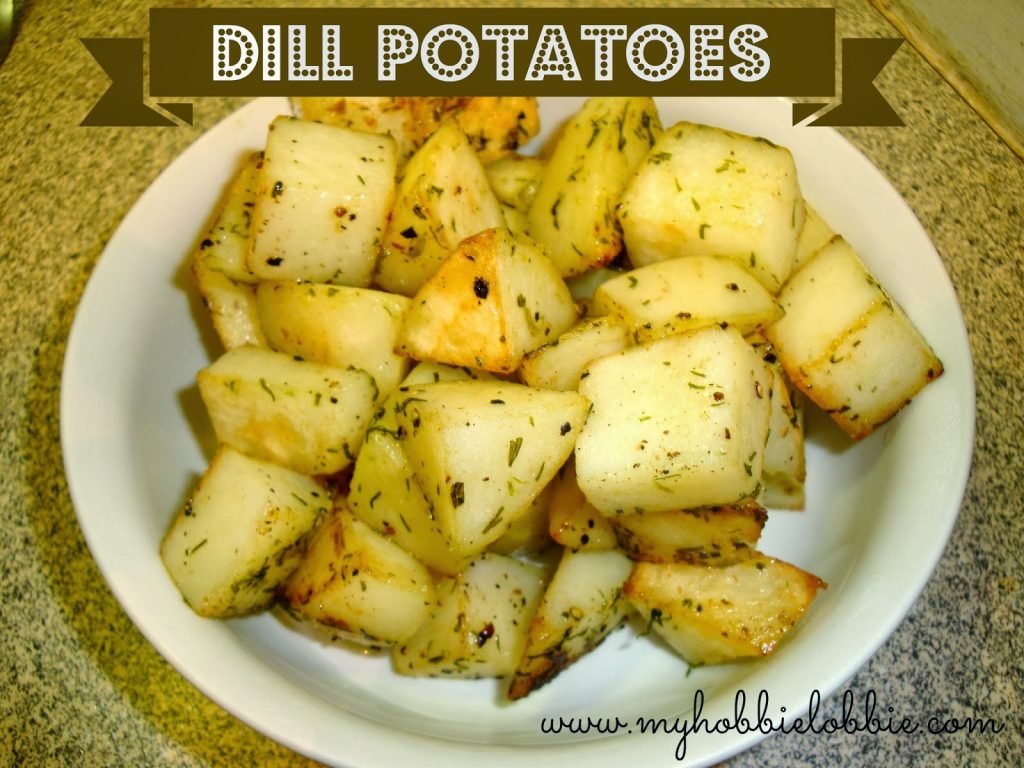 Dill Potatoes 


2 potatoes (You could use as many as you think you'll need)
Salt, to taste
Dill leaves (either fresh or frozen), to taste
1 tsp canola oil
Prep your potatoes as desired – either boiled, roasted or raw.
Cut the potatoes into cubes.
Heat oil in a pan and toss the potato cubes in gently. Let it fry till they edges get nice and golden brown and crunchy.  (This will take a little longer if you are using raw potatoes – keep it on a medium heat so that it cooks through. If you're using boiled / roasted potatoes you can turn up the heat a bit and heat through till it browns to your liking.)
When the potatoes are done to your liking, season with salt and toss in the dill leaves, as much or as little as you'd like. Toss it up well.
Serve hot.