I have finally gotten around to writing this post. For some reason these pictures have been lurking somewhere in the deep, dark recesses of my computer and kinda got forgotten there. Today, when I was looking for something else, I came across them and realized I hadn't yet shared it with you. So it just had to be done.
We've been trying to be more conscious of what we eat now. No fad diets or deprivation, but we're trying to focus on making better choices. Let me be very clear here, there will still be baked goodies. And lots of regular ones too. All I'm saying is that I'm going to be more open to the slightly healthier variants too. For example, these brownies. I came across this recipe when I was looking for ways to use up a massive box of sweet potatoes I picked up at the growers market at Flemington. The only sweetener in it is maple syrup. The rest of the sweetness comes from the sweet potato and the dates. And that make me happy. I can enjoy a piece because I know whats in it. There are also no eggs in the recipe, so that will make my vegetarian friends from India (the ones that don't eat eggs) very happy. This recipe also uses raw cacao powder instead of cocoa powder or chocolate. Though I'm pretty sure you'd be able to substitute them if you so wished. I hear raw cacao is purer and healthier. A quick blitz of ingredients in the food processor, a quick stir in of the dry ingredients and you're ready to bake. That's how easy it is to make these brownies.
Now, the verdict – These are nothing like the typical chocolate brownies you buy at the store or even make at home. They are equally delicious and have a nice gooey texture. They have a slightly different flavor from the sweet potatoes and kinda reminded me of a typical Goan sweet "Dodol" with minimal effort. So if you're up for trying out something a little different, give these sweet potato brownies a go. You won't be disappointed.
Sweet Potato Brownies
Recipe from: Deliciously Ella
2 medium to large sweet potatoes (approx 600g)
2/3 cup ground almonds (I used almond meal)
1/2 cup rice flour (You could also use buckwheat flour)
14 dates
4 tbsp raw cacao
3 tbsp pure maple syrup
A pinch of salt


Preheat the oven to 180ºC.
You need to use cooked sweet potato for the recipe. You could either roast, boil or stem them till they are nice and soft. I wrapped them in foil and baked them while I had the oven on the previous night.
Peel the sweet potato and cut them into chunks and add them to a food processor along with the pitted dates. Process this you are left with a nice creamy mixture.
Place all the dry ingredients in a bowl and stir together.

Add the sweet potato and date paste and mix this thoroughly combined.
Every now and then I love a little snack. Yes, I snack between meals Dad. My Dad would be horrified that I still do. He is a strong believer that food should be restricted to meal time, unless you were at a party or something. However, I love my snacks. I've always tried to cook / bake from scratch and now I want to try and take that one step ahead and eat clean. It will take some getting used to, but I think it definitely is do-able and I hope to take that to my snacks as well. Does this mean you'll stop seeing desserts, bakes and other slightly indulgent food on my blog. Most definitely not. I will still do that, but will try and be more mindful of the kind of food I eat on a regular basis. Do you have any clean eating recipes that you love? I would love to try them out too. Leave me a comment and let me know 🙂
So back to this salad. I love cucumbers – continental, lebanese, baby cukes – all of them. One of my favourite ways to eat cucumber is straight up sprinkled with a tiny bit of salt. I usually serve some up with lunch or dinner. I wanted to try and change it up a little. So after a little looking around on the internet I came across this recipe. It was quick and easy and sounded delicious. I could definitely snack on some of this too. I'm very glad I stumbled across this recipe.
I did this a tiny bit differently. I didn't drain out the liquid and to make it work as a fresh salad, toss salad in the dressing and serve immediately. If not, it will get soggy. You can make the dressing ahead of time and just chop the cucumber and toss it up just before serving.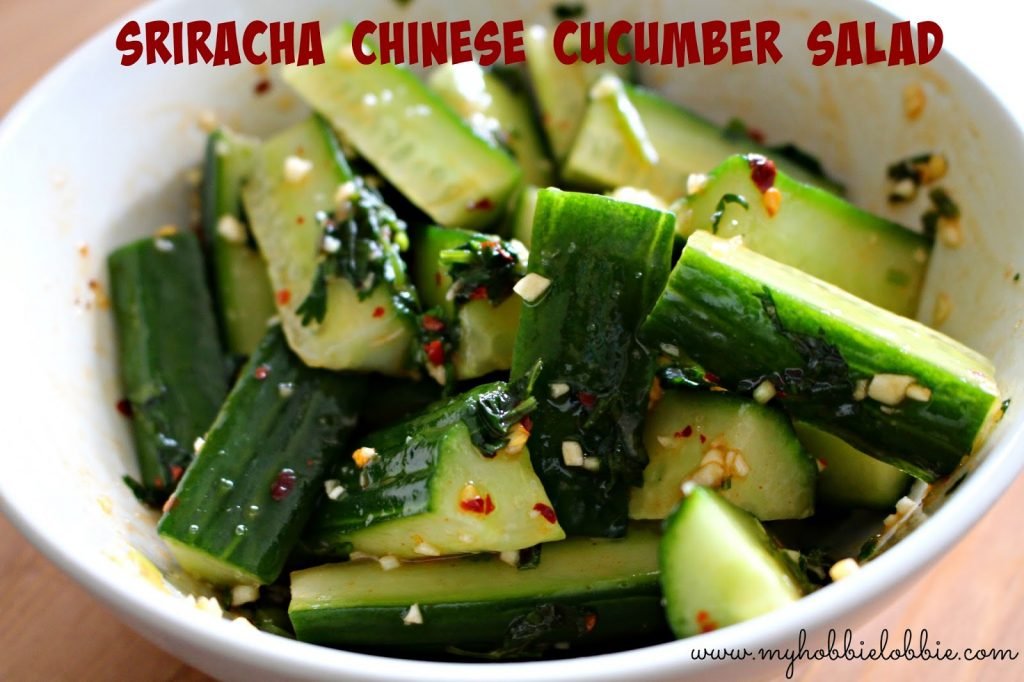 Sriracha Chinese Cucumber Salad
1 continental cucumber, cut into batons
1 clove of garlic, minced
1 tsp sesame oil
1/4 – 1/2 tsp sugar
1 tsp sriracha sauce
1/2 tsp fresh coriander leaves and stalks, chopped
1/4 tsp red chilly flakes
Lemon / lime juice, to taste
Mix all the ingredients except the cucumber pieces together in a bowl.
Add the cucumber pieces to the bowl and toss well.
Serve immediately.
If you have more zucchini than you know what to do with, yesterdays savoury
Cheesy Garlic Zucchini Bread
and this vegan chocolate  cranberry zucchini bread should give you a couple of options. It is amazing how versatile zucchini is. It lends itself to both sweet and savoury recipes really well.
I was happy to find a vegan bake recipe, because I have quite a few readers / followers that would love an eggless bake like this. That coupled with the fact that it is so easy to make, makes this a must try recipe. I was glad I tried this recipe and it is a keeper for sure. The bread is nice and moist, light and chocolatey.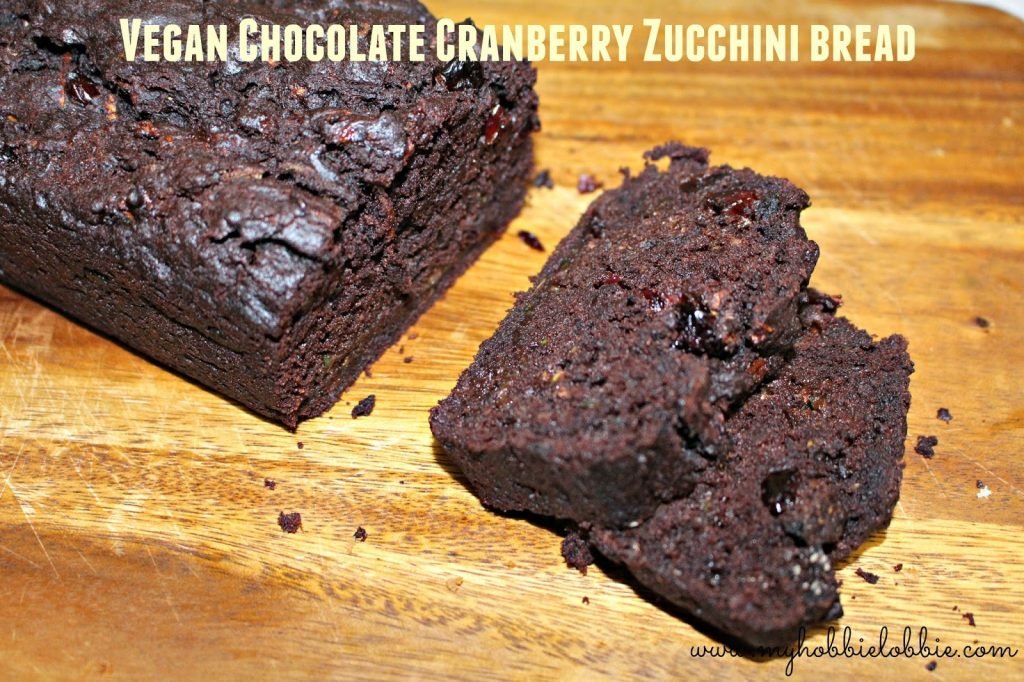 Vegan Chocolate Cranberry Zucchini Bread
Recipe from: Popsugar
1 1/2 cups zucchini, grated
1 cup whole wheat flour
1/2 cup unsweetened cocoa powder
1 tsp baking soda
1/4 tsp baking powder
1/4 tsp salt
1/2 tsp cinnamon powder
1/4 tsp allspice powder
1 large ripe banana
1/2 cup white sugar
1/2 cup canola oil
1 tsp vanilla extract
1/2 cup dried cranberries
Preheat the oven to 180ºC and lightly grease a lined loaf tin.
In a large bowl, mix the flour, cocoa powder, baking soda, baking powder, salt and spices and set aside.
In another bowl, mash the banana and mix in the sugar, oil and vanilla. Fold in the grated zucchini.
Stir in the dry ingredients while being careful not to over mix.
Fold in the cranberries.
Pour the batter into the prepared loaf tin and bake for 40-50 minutes or until a toothpick inserted comes out clean.
Ok, today's post features my favorite vegetable. Yup, you heard me. My favorite vegetable is the humble potato. I can eat it in any form – baked, fried, mashed, roasted, any which way. I usually have potatoes in the house, for me they are a pantry staple. I rely on potatoes for those days just before I can make my weekly grocery shopping trip, where the fridge is almost bare. You'll see a few potato recipes here like
Batata vadas
,
Bhajiyas
,
homemade Samosas
,
Aloo Cheese Frankies
,
Smokey Potato Salad
,
Shepherd's Pie
,
Potato Chops
,
Garlicky Baked Potato Wedges
,
Fries
,
Aloo Bhaji
,
Hasselback Potatoes
and
Aloo Tikkis
. But I'm pretty sure that these options are just the tip of the iceberg.
Anyway, this is one recipe, that can be made many different ways. You can –
Boil potatoes – on the stovetop or in the microwave
Roast potatoes – I usually pop a couple of potatoes whole and skin on (but washed well / brushed) in the oven, if I'm roasting some meat or baking a casserole or something. I simply wrap it in foil and leave it in till done.
Use raw potatoes, washed, peeled and cubed
What makes it special is the dill. Dill and potatoes go well together. Haven't tried it before, well, you definitely should.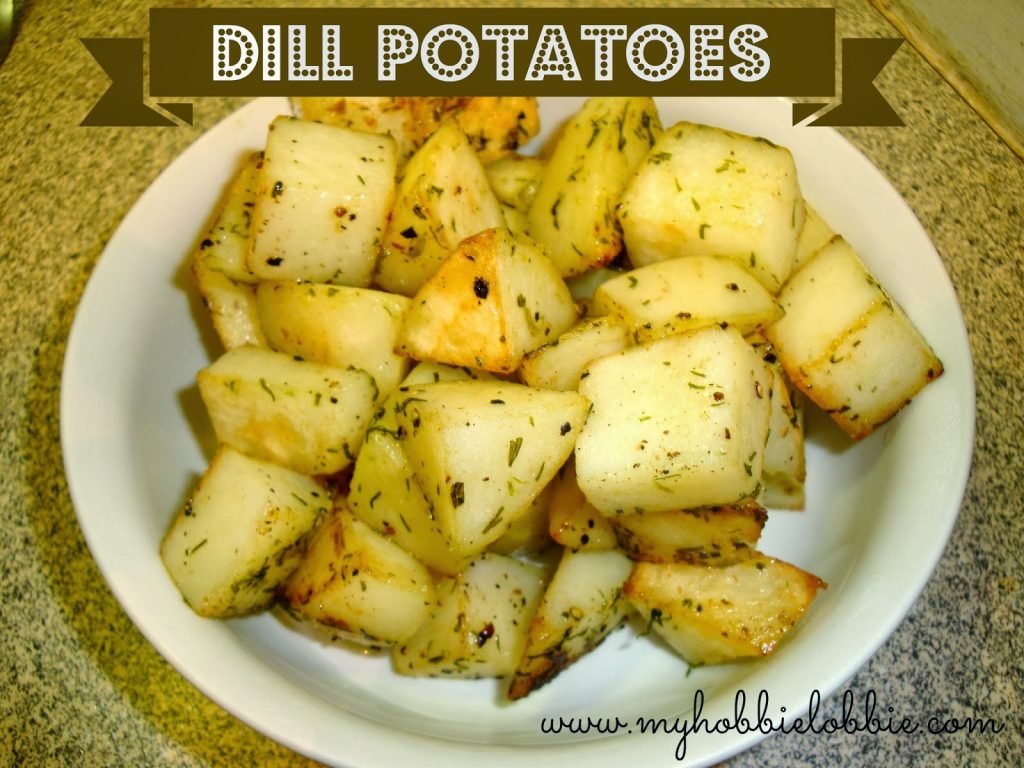 Dill Potatoes


2 potatoes (You could use as many as you think you'll need)
Salt, to taste
Dill leaves (either fresh or frozen), to taste
1 tsp canola oil
Prep your potatoes as desired – either boiled, roasted or raw.
Cut the potatoes into cubes.
Heat oil in a pan and toss the potato cubes in gently. Let it fry till they edges get nice and golden brown and crunchy. (This will take a little longer if you are using raw potatoes – keep it on a medium heat so that it cooks through. If you're using boiled / roasted potatoes you can turn up the heat a bit and heat through till it browns to your liking.)
When the potatoes are done to your liking, season with salt and toss in the dill leaves, as much or as little as you'd like. Toss it up well.
Serve hot.
When I hear of pancakes, the first things that come to mind is a stack of
American pancakes
with a good drizzle of honey or a typical
Goan Coconut Pancake
or usually something sweet. However, today's post is about pancakes made using oats which is savory and is a wonderful snack that you can have for breakfast or even in the evening with a cup of tea.
Typically, these pancakes are supposed to be spread as thin as you possibly can so that they crisp up. This was my first time with them so I didn't manage to get all of them as thin as I'd have liked, but they were really tasty, so I won't complain. Also, they are supposed to be round, and clearly mine weren't. But that is something I need to try and perfect in the next attempts. These were really good with some coconut chutney.
Savory Oats Pancakes
Recipe from: Bring On The Chef In You
1 cup oats
1/4 cup rice flour
1/4 cup semolina
1 tsp cumin seeds
1 onion, finely chopped
1 small onion, kept whole
1/2 tsp crushed black pepper corns
1 green chilly, chopped fine
Salt, to taste
Enough water to make a runny batter
Oil for frying and to saute the onion
Heat a non stick pan and dry roast the oats till it turns slightly brown.
Cool and powder it in a dry grinder.
In a pan, heat a little oil maybe about a tsp. and saute the chopped onion and green chilly till the onions soften and turn slightly pinkish and keep aside.
Take the whole onion and leaving the skin on, cut it flat at the base so that it can stand. Make sure the broader part of the onion forms the base. Pierce a fork into the opposite end. This will now be used to smear the pan with oil. This lessens the amount of oil used to fry the pancakes.
In a bowl, place the powdered oats, rice flour, semolina, cumin seeds, the sauteed onions, the crushed pepper and salt and mix it up. Add enough water to make a runny batter.
Place some oil (a couple of tbsps) in a small bowl. Heat a non stick pan and using the whole onion on a fork, dip it into the bowl of oil and smear the pan with the oil. For the first pancake, make sure you smear the pan well so that the batter doesn't stick to the pan.
Pour a ladle of batter onto the pan and swirl the pan around to make sure you have a thin layer of batter on the pan. You can use the back of a spoon to help you do this if you'd like. You have to work fast while doing this. Initially you will notice a lot of holes in the pancake while pouring the batter, but swirling the pan should help this a little.
Once a few bubbles appear on the pancake, cover and let it fry. When done one one side, flip over and cook on the other side. When it has cooked to a crisp pancake, take off the pan and serve hot with some chutney.
This recipe has been linked with –
Savory Sunday
My Meatless Mondays
Mix It Up Monday
Mangia Mondays
Truth be told, I've been craving pancakes for the longest time ever. I couldn't use my favorite pancake
recipe
, since it used eggs and I'm staying off eggs for a while. And I thought that was the end of that. How wrong was I? The other day it seemed like fate when my hankering for pancakes was at an all time high and I came across a wonderful recipe for a vegan pancake. I've never baked anything vegan or made vegan pancakes before, so I was a little skeptical at first. However, I am a very visual person and the pictures looked very convincing. So I decided to go for it. And I'm so glad I did. My version was not quite vegan since I used a dairy milk and not soy milk like the original recipe required. But that being said, the pancakes turned out wonderful. If I hadn't made them myself, I would have never figured that they were eggless. I enjoyed a stack of these pancakes with some honey and a huge mug of steaming hot coffee and had myself a wonderful Sunday breakfast. Do try these out, they are quick to put together and so very tasty.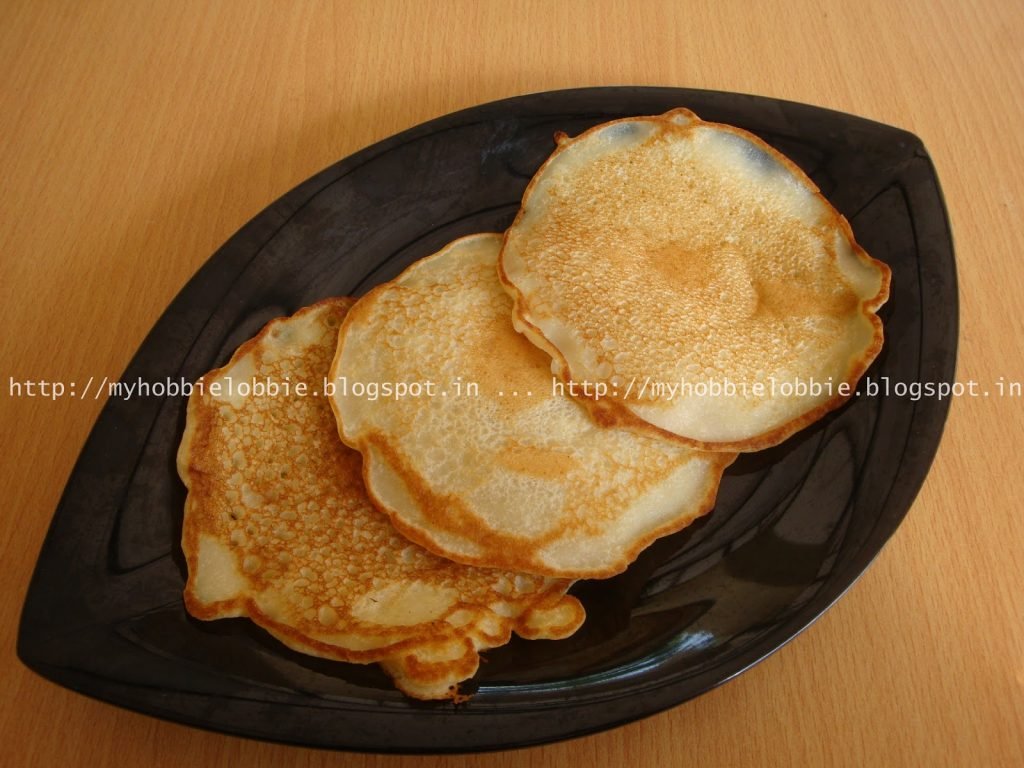 Almost Vegan Pancakes
Adapted from: Vegan Yum Yum
Make about 8-10 pancakes depending on size(4-5″)
1 cup all-purpose flour
1 1/2 cup milk
2 tbsp sugar
2 tbsp oil
1 tsp baking powder
1/4 tsp salt
1 tsp Vanilla extract
1-2 tbsp water to thin the batter, if needed
Dissolve the sugar in the milk and add the rest of the ingredients to the bowl and mix till the the batter is smooth and there are no lumps.
Heat a pan over medium heat.
I lightly greased the pan before ladling the batter to make the pancakes. But I've read that using an ungreased pan makes perfect pancakes. I'm definitely going to try that next time. I'd love to have pancakes with ever so perfect edges.
Cook the pancake on medium heat till it has lightly browned. Flip over and cook on the other side till browned as well.
Continue this process till all the batter is used up.
Serve warm with a drizzle of honey.
This recipe is linked to –
Meatless Mondays
Recipe Sharing Monday
Just Another Meatless Monday
Mix it up Monday
Mouthwatering Mondays
Mangia Mondays
Crazy Sweet Tuesday
Tempt My Tummy Tuesday