After spending a little more than 30 years in Mumbai, when I was born and brought up, we moved to our new home – Australia. Nothing gives me greater joy than calling Australia home. But every once in a while, I go through phases where I miss Indian food. We cook a lot of Indian food at home. But what I was missing was the easily available street food that Mumbai is famous for – it's Chat and idli/vada/dosas. Another thing I tend to miss is the Indian Mithai (sweets) and farsaan (savoury munchies). The Indian stores here stock them, but they're usually not as fresh as they should be, or as tasty. You also end up spending a fair bit on them. I decided it was time that I learnt to make the things I love, myself. To my surprise, I found that a lot of these recipes are fairly easy. With a little research online, I am now well on my way to making a lot of these goodies myself. Today I'm making some Garlic Karasev.
I tried my hand at an easy version of the Gulab Jamun which you can check out here. I was so stoked with the results, I knew I couldn't stop there. So the very next day, I decided to try out something savoury. I found this recipe through Pinterest and at the same time I tried out a recipe for Methi Mathri. The Methi Mathri flopped, but I think I know what possible caused that to fail. But this Garlic Karasev, was spot on. I love garlic and that garlicky flavour came through beautifully. I was very pleased with the results. It is hard to stop snacking on this garlic karasev with your afternoon cup of tea. This recipe is an absolute keeper. It yields a fairly big batch within a short time too.
Garlic Karasev
2 1/2 cups besan (chickpea flour)
1 cup rice flour
2 tsp melted ghee (clarified butter)
2 tsp red chilli powder
3 large cloves of garlic, finely grated
Salt to taste (about 1 tsp approx.)
Oil, for deep frying
Heat oil in a wok for deep frying. While the oil is heating, prepare the dough.
In a large mixing bowl, place the besan, rice flour, red chilli powder and salt. Mix well.
Add the grated garlic and mix to distribute evenly.
Add the melted ghee next. Again mix well.
Gradually add a little water and knead to a dough. The dough shouldn't be too tight or too soft. It will be a little sticky, which is fine.
Divide the dough into 2-3 portions. I had 3 portions, one was in the chakli press.
For this recipe, you need to use the form with slightly larger holes. You may have one with 3 larger holes or multiple ones. I've indicated the one I used.
By now, the oil should have heated. Insert the form you are using first. Add the dough. Then simply turn the handle on the top while moving your arm slightly to form a little circular nest directly in the hot oil. Don't overlap the dough too much or it wont fry well. Turn the heat to medium.
When it starts to turn a light golden brown, carefully turn over with a slotted spoon.
When it has cooked on both sides to a golden brown colour, take it off the heat using a slotted spoon and place on some kitchen paper to get rid of any excess oil.
Continue the process with the rest of the dough.
Once it has cooled completely, you can break it up gently into smaller pieces and store in an airtight container.
You've got yourself a couple of weeks worth of munchies. And the best part is, you know exactly what is in it, no artificial flavouring or preservatives. That makes me very happy.
So go ahead, try this recipe and let me know what you think of it.
Update: Here's a slightly better picture of the same recipe 🙂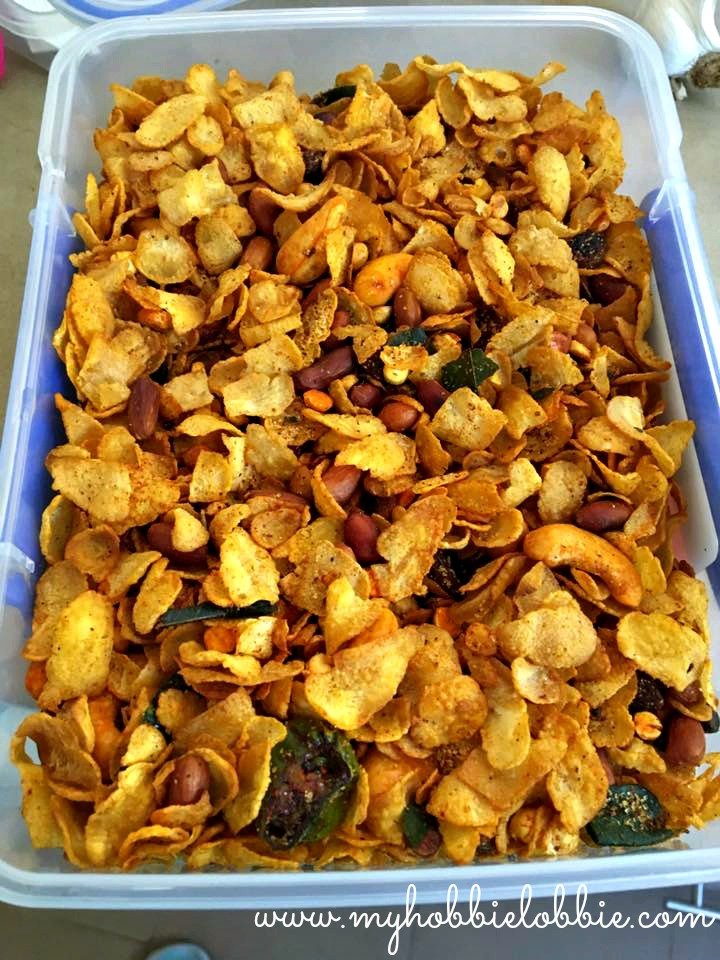 For those of you who've never heard of this, you must be thinking I've lost it. Most of us associate corn flakes with a morning breakfast cereal thats a little on the sweeter side. Today, I'm going to introduce you to a snack mix made of corn flakes, which is savory, crunchy, healthy and really tasty. As a matter of fact this is my husband's favorite munchy. I'm convinced that given the chance he'll snack on this every day. I enjoy this from time to time, but in the past the thought of making this myself has always been intimidating. After a fair amount of online research, I decided to try it out. I saw a few recipes that had elements I liked as well as stuff I really didn't care for. What I'm listing below is a combination of a few, mostly inspired by a store-bought variety that I quite like. This is so easy, I think it take about 15 minutes to make and you can store it in an air-tight container and nibble on it over the next few days, if it doesn't get wolfed down sooner.
Corn Flakes Chivda


2 cups cornflakes
2 tbsp vegetable oil
1 tsp mustard seeds
1-2 green chillies, slit (optional)
6-8 curry leaves
20 raisins
20 cashewnuts
1/4 cup peanuts
1/4 cup roasted chana dal (dalia)
2 tbsp unsweetened coconut chips (optional)
1/2 tsp turmeric powder
1/2 – 1 tsp red chilly powder
Salt, to taste
2 tbsp superfine sugar (You can also use granulated sugar, powdered)
Heat the oil in a large pan.
Add the mustard seeds and let it sputter.
Add the green chillies and curry leaves and let them fry off till they are nice and crisp. Be careful not to burn them.
Then add the peanuts. If you're using raw peanuts, let them fry off on a medium flame till they are lightly browned and cooked. If you're using roasted peanuts, this won't take as long.
Add the roasted chana dal and cashew seeds and saute for a minute or so.
Next, add the raisins and let them fry for about half a minute.
Add the salt, turmeric powder, red chilly powder and stir well.
Add the corn flakes and toss well making sure that the corn flakes are well coated with the spice mix.
Take it off the fire.
When it has cooled a little but is still warm, sprinkle the sugar over it and toss gently but thoroughly.
Let it cool completely and store in an air tight container.
Please note – Snacks like this should be tweaked to your liking. Feel free to play around with the dry fruits and nuts added as well as the spice, sugar and salt levels. After you make this once, you'll have a better idea of what you'd like to do the next time.
Have fun with this recipe.
This recipe is linked to –
What's On The Menu Wednesday
What's Cooking Thurdays
Real Food Wednesday
Diwali Delicacies @ Spicy Treats and Priya's Versatile Recipes