This is a recipe I came up with on the go. This Saturday, I was presented with a situation where I had a couple of really great side dishes(one of them being
fish cutlets
and the other I will share with you shortly) for lunch and I needed to whip up a nice rice dish. I didn't want to use my regular pulao recipe (which I've just realized I haven't shared with you yet, but I will), so I decided to try making a vegetable pulao. Usually I only ever use peas in my rice, but this time I felt a little adventurous and used some corn kernels, peas and chopped up carrot. I ended up with a tricolored medley of vegetables in my rice, hence the name Tricolored Vegetable Pulao. Doesn't it look pretty. I was very happy with the way it looked and it tasted great. I think I'd be able to eat this by itself. This dish is also ideal to prepare if you have kids in the house that don't each too much spice, I'm sure they'll love it. Try it out and you'll see for yourself why this is a kid friendly recipe.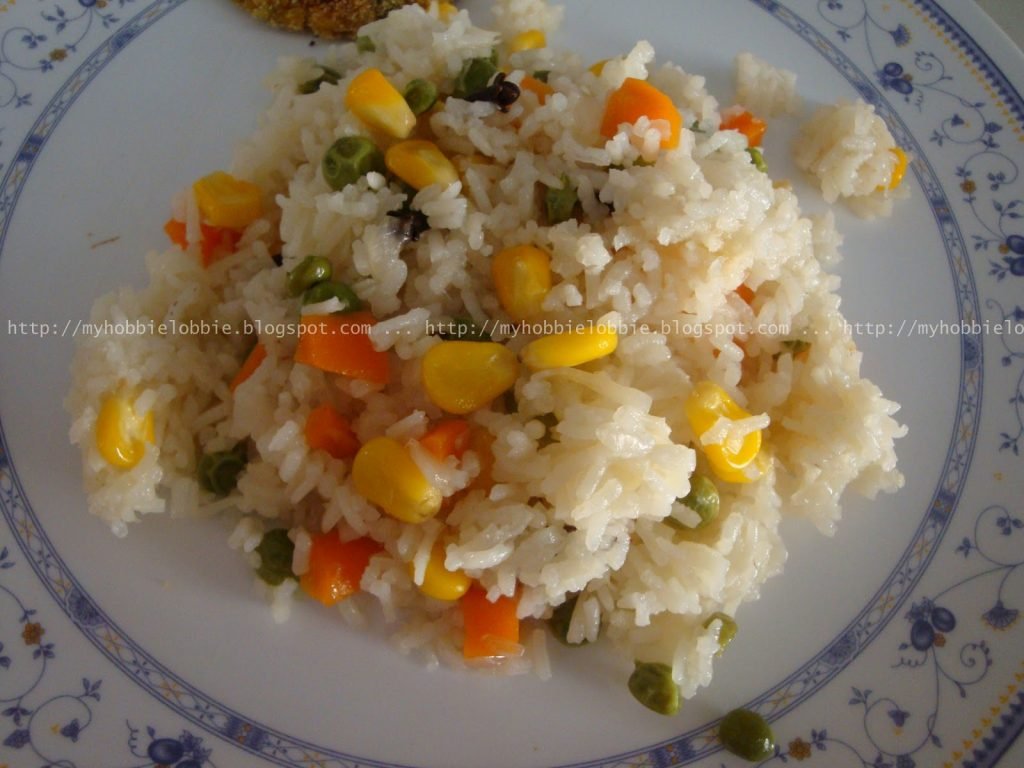 Tricolored Vegetable Pulao


1 cup rice
2 bay leaves
2″ cinnamon
6 cloves
4 pepper corns
2 pods of cardamom, whole
Salt, to taste
1 tbsp vegetable oil (You can use ghee/clarified butter if you prefer)
1 carrot, peeled and diced
1/4 cup green peas (You can adjust this quantity to suit your liking, I used a little more)
1/4 cup corn kernels (You can adjust this quantity to suit your liking, I used a little more)
1 onion, chopped
Wash the rice and soak it in some water while you prepare the other ingredients for the pulao, about 15 minutes.
Heat some oil in a vessel and add the bay leaves, cinnamon, cardamom, cloves and pepper corns. Let it infuse the oil with its flavors.
Once you can smell the aromas from the spices, add the onions and saute till they are soft and translucent.
Add the vegetables and stir fry them for a couple of minutes. Add salt to taste.
Drain the rice and add it to the veggies. Stir gently.
Add 2 cups of water. (I use a 1:2 rice to water ratio while making a pulao.)
Stir gently to mix everything. Cover and cook till all the liquid is absorbed.
Turn off the fire and fluff the rice up using a fork.
Serve hot!
This recipe is linked to –
Mouthwatering Mondays
Just Another Meatless Monday
Mangia Mondays
My Meatless Mondays