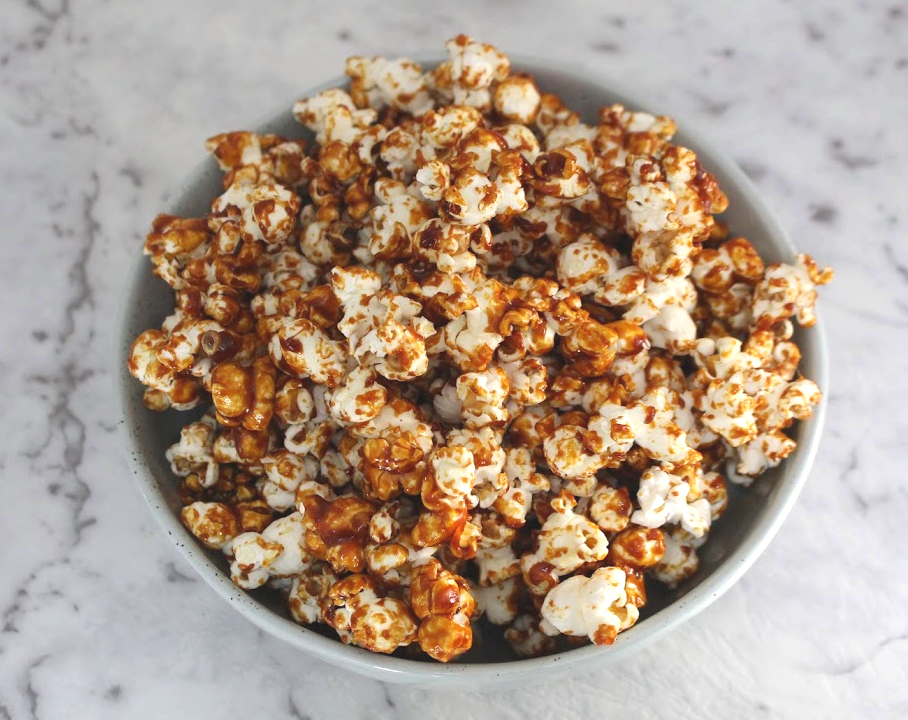 Who's up for some popcorn? And not just any ordinary packet of store-bought popcorn, but an amazing Homemade Caramel Popcorn. I've said it before and I'll say it again, popcorn is one of my favorite snacks. In the past, I've used those microwavable packets too, but ever since I learned how to pop my own corn at home, I just make it from scratch. It is so easy and so much more economical than the store bought bags. Not to mention, that you're saving on all that unnecessary packaging too.
I've tried so many variants of flavoring while experimenting at home. Some savory and some sweet. Today, I'm going to share with you my favorite version of Caramel popcorn. The corn takes a couple of minutes to pop, the caramel sauce comes together in a few minutes, then all you do is toss everything together and leave it to cool down and set for a few minutes. 
What you get is the most amazing crunchy popcorn, seasoned lightly with a little salt, to taste, covered in the most beautiful caramel sauce. Is there anything else you could want in a snack? Yes, this is a slightly indulgent snack, but we all deserve a treat every once in a while, don't you think so?
Let's have a look at the recipe.
Caramel Popcorn
Yields: 3-3 1/2 cups of popped corn
For the popcorn –
1 1/2 – 2 tbsp cooking oil, any unflavored oil will do
1/4  cup popping corn
Salt, to taste
For the sauce – 
1 tbsp butter
1/2 cup sugar (finegrain / caster sugar works best)
1/8 tsp baking soda
To make the popcorn – 
Heat a large, heavy bottomed vessel. Add the oil and let it heat up. 
Add 2-3 corn kernels and let them pop. This is when the oil is at the right temperature. At this stage, add the rest of the corn to the vessel. Put a lid on and leave very slightly ajar. 
Swirl the pan around every now and then. 
When the popping slows down and almost stops, take the vessel off the heat and immediately sprinkle some salt over. Toss the corn and salt to season well. 
To make the caramel sauce – 
Heat a small saucepan over some medium heat. 
Add the butter and sugar to the pan and let it all melt down, stirring every now and then.
Once it melts, watch the pot carefully as the sugar will turn color very quickly and could burn. 
When you've reached a nice caramel color, immediately take it off the heat and add the baking soda and stir thoroughly.
Quickly pour it over the popped corn and stir through to coat the popcorn with the sauce. 
Turn the popcorn out on a lightly greased baking tray and leave it to cool and set. 
Enjoy!