Here's a stir-fry that's really quick to put together. It literally takes about 15 minutes. The veggies are lightly spiced (of course you can increase the spice levels if you fancy it) and still a little crunchy. The liver is tender and so flavorful. This dish is one of my childhood favorites. I remember my mum and dad making this once in a while and I so enjoyed it. What I can't figure out though, is why it took me so long to make this. This is literally the first time I've made it on my own. Better late than never! I know for sure this recipe is a keeper. We loved this dish so much, I will use it more often.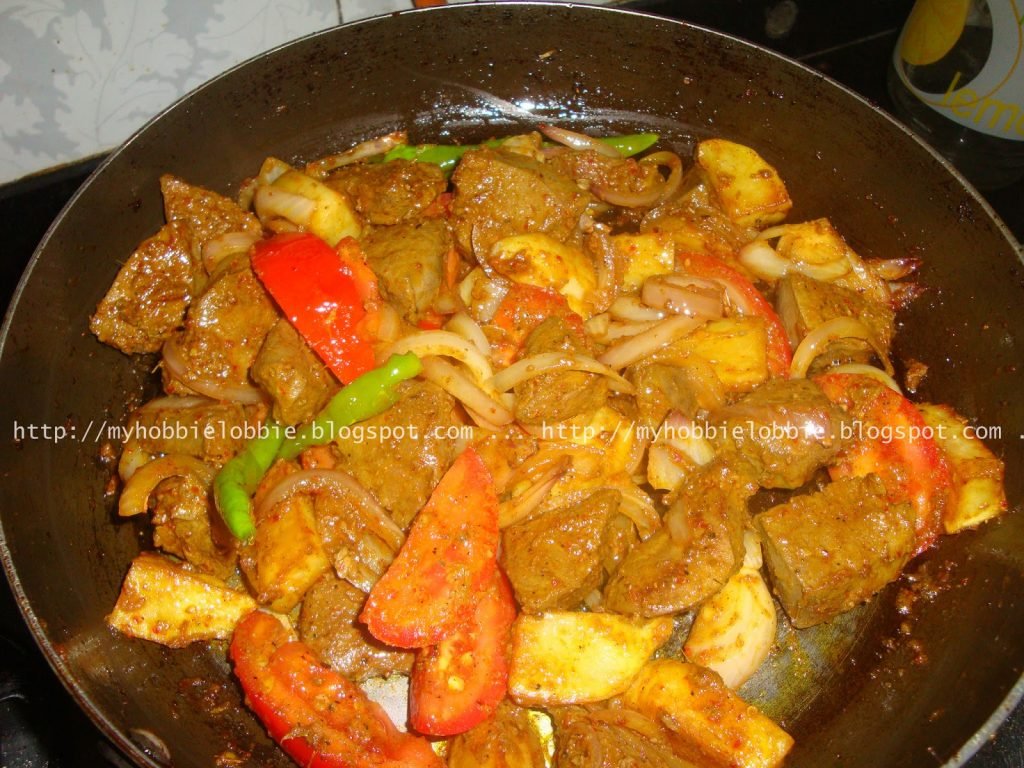 Mutton Liver Masala


250g fresh mutton liver
1 large onion, sliced
1 tomato, cut into thin wedges
1 potato, cut into wedges or cubed
1 green chilly, slit
Salt, to taste
Juice of 1/2 a lime
1 tsp ginger garlic paste
Black pepper powder, to taste
1/4 tsp turmeric powder
1/2 tsp red chilly powder
1-2 tbsp oil
Wash the mutton liver and cut in into bite sized slices.
Marinade with salt, lime black pepper powder and the ginger garlic paste for about 10 minutes, while you get the other ingredients prepped.
Slice the onion, tomato, slit the green chilly and peel, wash and cut the potato.
Heat some oil in a large pan and fry the potato wedges / cubes till they're done. Take them out of the pan and set aside.
In the same pan, add some more oil if needed and fry the mutton liver for a few minutes turning them over to make sure that they are cooked. Don't overcook the liver as it gets rubbery and doesn't taste as good. Take the mutton liver pieces out of the pan and set aside.
Using the same pan, add a little more oil if you need it. Drop in the green chilly and let it fry off for a few seconds. Then add the onions and saute them till they sweat a little. They should maintain some of their crunch.
Now add the turmeric powder and red chilly powder and stir well.
Add the tomato wedges and stir fry for a little while till the tomato has softened a little.
Tip the cooked potato wedges and the cooked liver into the pan. Stir everything gently but thoroughly to make sure the spices have coated everything and let it all warm through for a couple of minutes.
Serve hot.
This recipe is linked to –
Savory Sunday
Mouthwatering Mondays
Mangia Mondays
Hearth and Soul
You've probably heard me mention the "poori" (pronounced poo-ree) in a couple of posts before, like
here
and
here
. Both these posts give you ideas of stir fries and curries that you can serve with pooris. They are fairly simple to make. I love these little fellows so much, that I can eat them plain, without anything else to go with it. I don't make them too often 'coz they're deep fried and trust me when I say you may not be able to stop at just a couple. They taste incredible when they are hot. If there are any leftovers, I refrigerate them and the next day I simply warm them on a griddle and they are good to go.
Learn how to make the Puris here –
Pooris


2 cups whole wheat flour
1 tsp Salt, or to taste
Water (approx 1 cup)
Oil, for deep frying
Mix the flour and salt in a large mixing bowl.
Make a well in the centre and adding water a little at a time, knead to form a nice pliable dough. If you need to use more than a cup of water, please do so.
Heat the oil for deep frying over medium heat. To test the oil, drop a tiny pea sized ball of the dough carefully into the oil. It should sizzle and rise to the top fairly quickly. If this happens, your oil is at the right temperature. If it browns straightaway, your oil is too hot. Take it off the heat for a while and then start frying. If it just sinks to the bottom without any sizzle, your oil is not hot enough.
Make small walnut size portions and roll to form a disc. Do not roll out too thin. (According to my mum, they need to be a little on the thicker side to puff up. I simply follow that and get brilliant results each time.)
Deep fry as you're rolling them out. Don't stack the raw discs before frying.
When golden brown, drain on absorbent paper.
Serve hot!
This recipe is linked to –
Let's Do Brunch
Full Plate Thursday
It's A Keeper Thursday
I've seen a few versions of this on a few blogs for a while and I wanted to try them out for the longest time now. Since jalapeno peppers don't make a regular appearance at the marketplace, I just used what was available. I used some local peppers that are about double the size of jalapenos. These are not spicy but have a lovely flavor. You can use whatever peppers you prefer, or are available, just make sure they're aren't to spicy. This little snack is really easy to put together with a 5 minute prep time and about 15 minutes in the oven. So its quick too, ideal for a party. These little peppers are so flavorful, you can't stop at one. So if you're making these for a crowd, I think you should make a few more as folks will definitely want a second and a third.
Stuffed Peppers with Bacon
Makes 6 pieces
3 peppers, washed, stalks taken off, halved lengthwise and deseeded
1/3 cup cream cheese, softened
A sprinkle of red chilly powder or paprika (optional)
6 slices of bacon, skin taken off
Spread the softened cream cheese on the insides of the peppers almost stuffing it. Don't over-stuff the peppers.
Sprinkle the red chilly powder / paprika over the cream cheese. Use as much or as little as you like. It adds a lovely flavor.
Place a rasher of bacon over it.
Lightly grease a baking tray with some olive oil.
Please the peppers on the tray and bake in an oven preheated to 170°C for about 15 minutes or till the bacon gets a little color.
Enjoy them warm.
This recipe is linked to –
Real Food Wednesday
What's on the Menu Wednesday
Those of you who read my post on
Whole Wheat Carrot Muffins
, know the lovely Louisa of
Living Lou
. I was assigned her blog for this months
SRC
. She has so many treats lined up that I couldn't help making another one. You already know how much I love garlic. My
Garlicky Baked Potato Wedges
and
Easy Garlic Rolls
are a testimony to that. So when I say this Cheese Garlic Bread, I knew I had to make it, and there was no to ways about it. I've made garlic bread before, but nothing like this. I've never used mayo in it. I was curious and wanted to see how it would turn out. I had a few slices of white bread that had to be used up so I just used those. This Cheese Garlic Bread is my new favorite. I think the mayo makes it yummier somehow, I don't know how, it just does. The spring onion lends it a mild flavor that is so different from the other cheese garlic bread versions around. I really like it. The only thing i did differently was increasing the amount of garlic, which I still found a little subtle. The next time I'm going to step the garlic further up a notch than mentioned in my adaptation of the recipe. If you can't deal with too much garlic, you don't need to do that.
Anyway, I urge you to try this out. Make it for your family and friends, they'll love you even more for it. 😉
Cheese Garlic Bread
Adapted from: Living Lou
Makes 12 pieces
6 slices of bread
1 spring onion, sliced
1/4 cup mayonnaise (I used Homemade Mayonnaise)
2 tbsp. softened butter
2 cloves garlic, finely chopped (I'll probably use 3 or 4 cloves of garlic next time)
1 – 1 1/2 cup grated cheese
Freshly crushed black pepper, to taste
Preheat the oven to 170ºC.
Mix the onion, mayo, butter, garlic, cheese and pepper in a bowl till well combined.
Spread this mix on the slices of bread and bake for about 5-7 minutes or until the cheese has melted and is bubbly.
Take it out of the oven immediately and allow it to cool for a minute. Cut the slices of bread into two and serve immediately.
This recipe is linked to –
Delectable Tuesday
Tuesdays At The Table
Hearth and Soul
A Little Birdie Told Me
SRC, my how we've grown! Those of you who haven't heard of it, The Secret Recipe Club or SRC as it is now fondly called, was started by Amanda of Amanda's Cooking. With the number of participants growing each month, the Club now has it's own
website
. Its a really fun Club. Each month you are assigned a blog from which you need to pick out a recipe and recreate it and blog about it. You get to know so many wonderful people who you would have never interacted with otherwise. If you want to join in on the fun, click
here
.
This month, I was assigned Louisa's blog,
Living Lou
. She's just 18, but you'd never have guessed that looking at her work. She has some wonderful recipes which made picking one very challenging. I can't wait to try some of her other goodies like her version of Cheese Garlic Bread, Spicy Chicken Skewers, Spicy Broccoli and so many more. Do stop by her space and check it out. You will definitely find some stuff you'll want to make. For this month's SRC submission, I decided to try out one of the many muffins she has posted on her site, the whole wheat carrot muffins. I made a few changes to the recipe, not because they were needed, but simply because I didn't have a few ingredients on hand even though I'd planned to make these muffins and didn't really feel upto going to a store to pick up the 2 things I replaced. **smiles sheepishly** That's me, lazy ol' me.
Back to food. The batter is really simple to put together and you'll have a kitchen that smells delightful for hours after you're done baking them. The muffins themselves are moist. I've tried a savory muffin in the past and didn't have much luck with them. But these are nothing like that. They taste lovely – not too sweet, you get a delicate hint of cinnamon which is just divine. The nuts lend a nice bite and I managed to get a light little crunch on the top. I'd like to think of them as really healthy too, since this recipe calls for whole wheat flour and oats, which makes them perfect for breakfast. I am really pleased with the way these turned out. So thank you, Lou, for a delightful recipe and keep up the great job. I can't wait to try out the other recipes that I've bookmarked.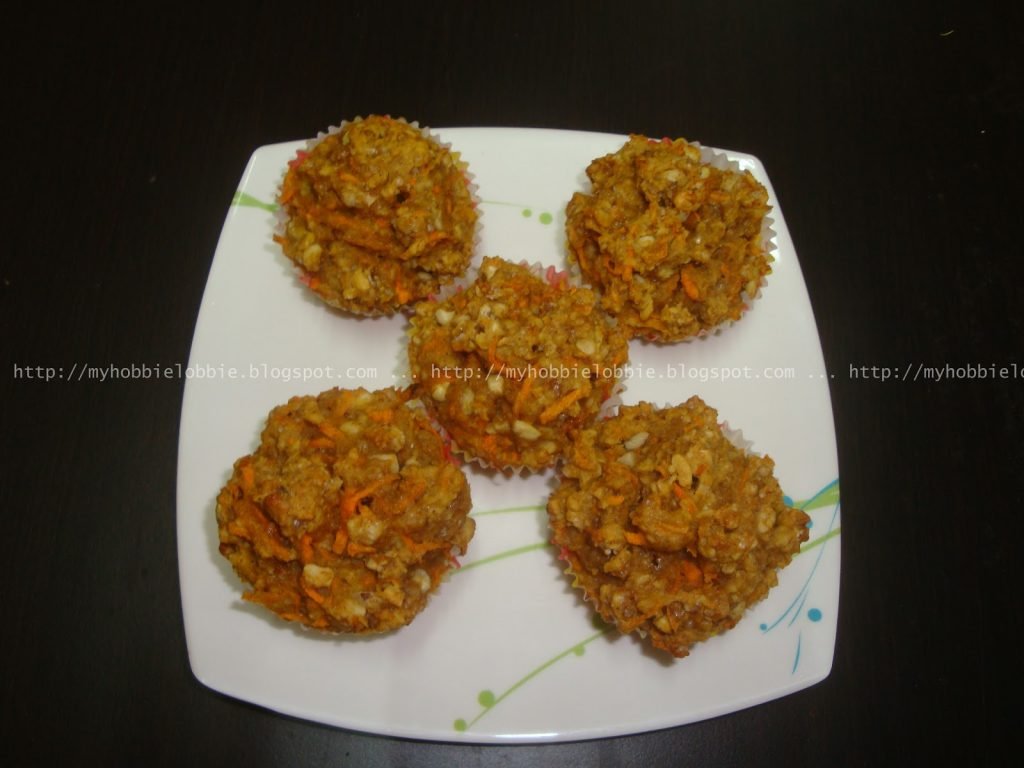 Whole Wheat Carrot Muffins
Adapted from: Living Lou
Yield – 12 muffins
1 1/2 cups whole wheat flour
1 cup oats
1/4 cup packed brown sugar
1 tbsp baking powder
1/2 tsp cinnamon powder
1/4 tsp salt
1 cup natural unflavored yogurt (The original recipe calls for 1 cup milk)
1 egg
1/4 cup honey
1/4 cup vegetable oil
1 tsp vanilla
1 carrot, grated
1/2 cup cashew nuts, chopped (The original recipe uses walnuts)
Preheat the oven to 170ºC.
Grease a muffin tray or line with paper liners.
Mix the dry ingredients in one bowl and the wet ingredients in another.
Add the wet ingredients to the dry and mix gently until just combined.
Once combined, gently stir in the grated carrot and the nuts.
Don't overwork your batter, or you'll be stuck with some not so soft muffins.
Spoon the batter into the prepared muffin tin and bake for about 20 minutes or till a toothpick inserted in the muffin comes out clean.
Let it cool down a little before you try it. Trust me this will be hard to do based on how your kitchen smells at the moment.
Look at how moist the muffins are on the inside.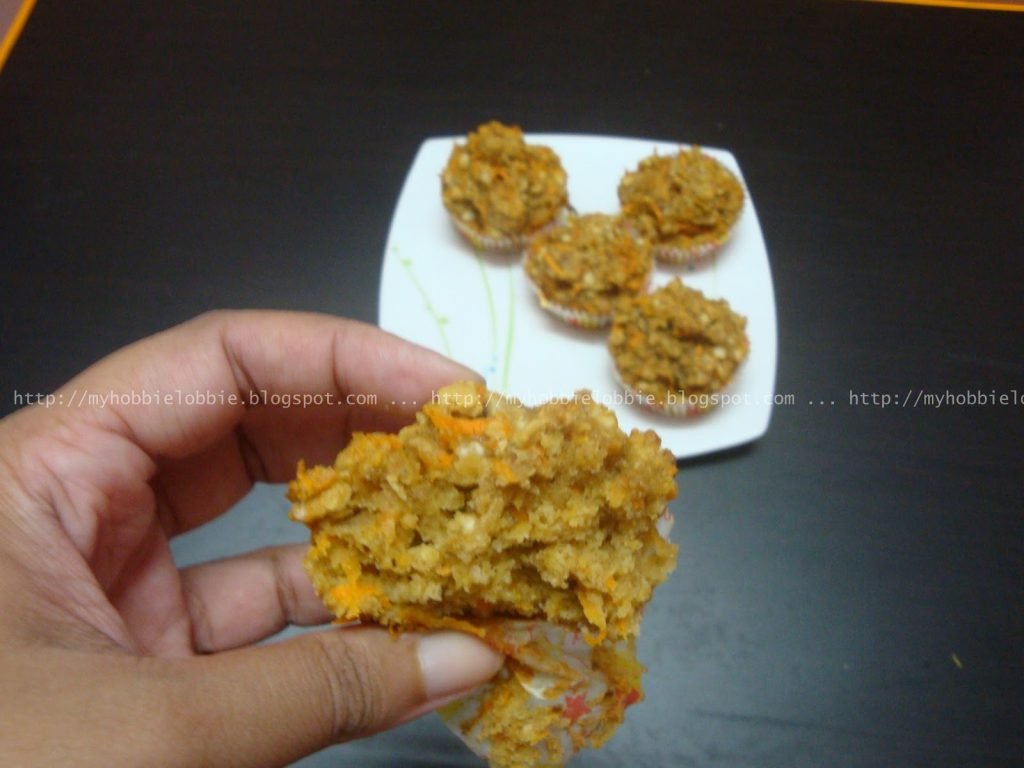 Enjoy!
Don't forget to spend a while and check on what the other participants have whipped up this month.
This is a recipe I came up with on the go. This Saturday, I was presented with a situation where I had a couple of really great side dishes(one of them being
fish cutlets
and the other I will share with you shortly) for lunch and I needed to whip up a nice rice dish. I didn't want to use my regular pulao recipe (which I've just realized I haven't shared with you yet, but I will), so I decided to try making a vegetable pulao. Usually I only ever use peas in my rice, but this time I felt a little adventurous and used some corn kernels, peas and chopped up carrot. I ended up with a tricolored medley of vegetables in my rice, hence the name Tricolored Vegetable Pulao. Doesn't it look pretty. I was very happy with the way it looked and it tasted great. I think I'd be able to eat this by itself. This dish is also ideal to prepare if you have kids in the house that don't each too much spice, I'm sure they'll love it. Try it out and you'll see for yourself why this is a kid friendly recipe.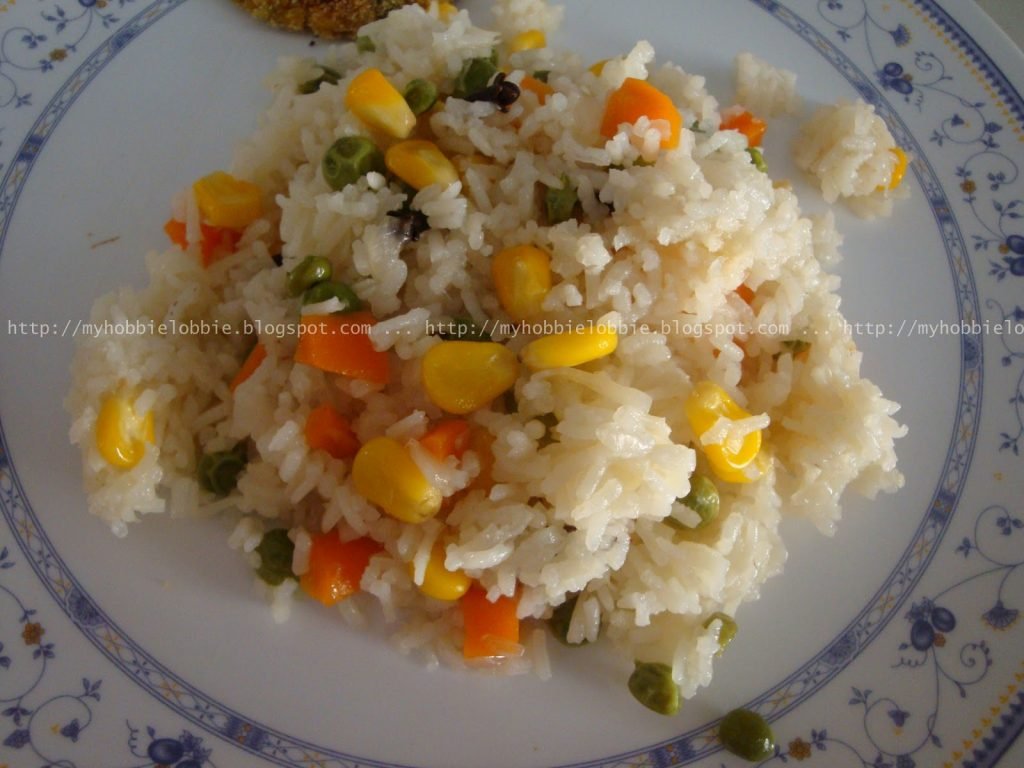 Tricolored Vegetable Pulao


1 cup rice
2 bay leaves
2″ cinnamon
6 cloves
4 pepper corns
2 pods of cardamom, whole
Salt, to taste
1 tbsp vegetable oil (You can use ghee/clarified butter if you prefer)
1 carrot, peeled and diced
1/4 cup green peas (You can adjust this quantity to suit your liking, I used a little more)
1/4 cup corn kernels (You can adjust this quantity to suit your liking, I used a little more)
1 onion, chopped
Wash the rice and soak it in some water while you prepare the other ingredients for the pulao, about 15 minutes.
Heat some oil in a vessel and add the bay leaves, cinnamon, cardamom, cloves and pepper corns. Let it infuse the oil with its flavors.
Once you can smell the aromas from the spices, add the onions and saute till they are soft and translucent.
Add the vegetables and stir fry them for a couple of minutes. Add salt to taste.
Drain the rice and add it to the veggies. Stir gently.
Add 2 cups of water. (I use a 1:2 rice to water ratio while making a pulao.)
Stir gently to mix everything. Cover and cook till all the liquid is absorbed.
Turn off the fire and fluff the rice up using a fork.
Serve hot!
This recipe is linked to –
Mouthwatering Mondays
Just Another Meatless Monday
Mangia Mondays
My Meatless Mondays
I celebrated my birthday last week and I wanted a cake that I'd never made before and strangely I wanted one without frosting. Go figure! Anyway I'd been thinking of trying my hand at making a Pineapple Upside Down Cake for a while and this was the perfect opportunity. I found a recipe by Nigella Lawson and you guys know how much I love her food. So I tried it out and quite liked it. A few points to note however, is she recommends using a can of pineapple in pineapple juice and not syrup, but I could only find cans in syrup. This made the slices of pineapple a little sweeter than I would've liked, but the great thing was that the cake was not to sweet so the combination turned out really well. One thing that I'm going to do differently the next time I make this cake is try to caramelize the pineapple somehow, I'm thinking of using brown sugar to sprinkle in the pan or to caramelize the slices of pineapple on a griddle or something, I haven't quite decided yet, but I know for a fact that I'm going to try fresh pineapple the next time. The canned slices that I used definitely lacked flavor. I'd love to hear of any recipes that you use or any tips that'll give me the results I want the next time around.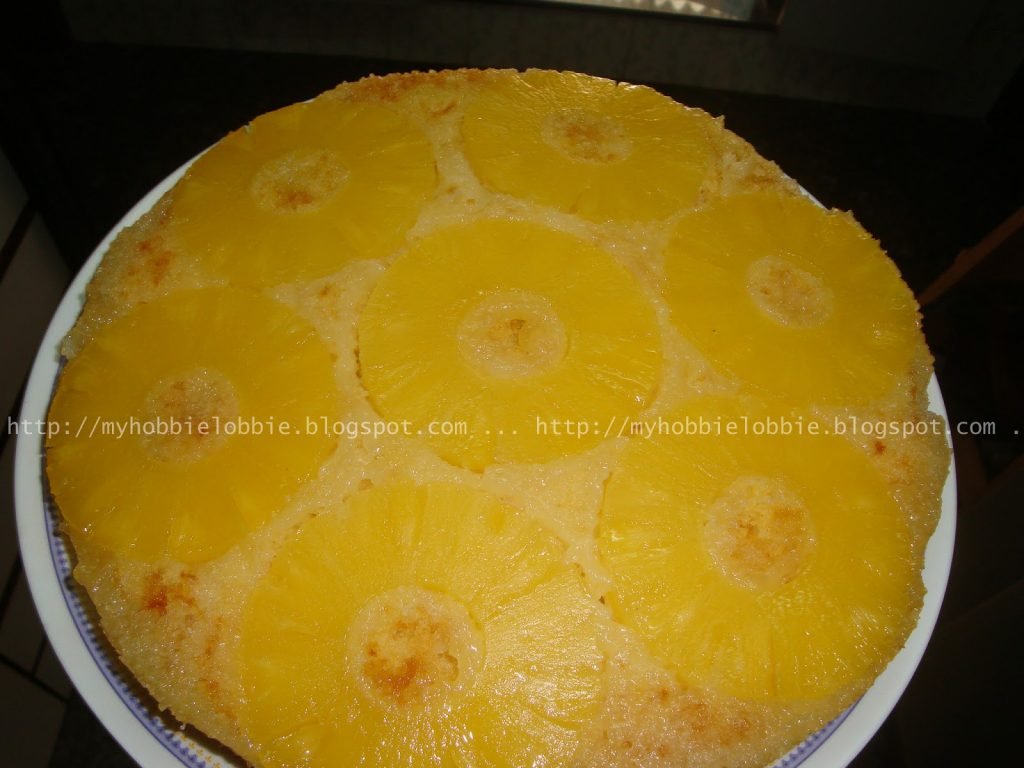 Pineapple Upside Down Cake
Adapted from: Nigella Lawson
100g butter + extra to grease the cake pan
100g sugar + 2tbsp to sprinkle in the cake pan
2 eggs
100g flour
1 tsp baking powder
1/4 bicarbonate of soda
6 slices of pineapple
Preheat the oven to 200ºC.
Butter a 9″ round cake tin. Sprinkle the 2 tbsp of sugar on the buttered base of the tin and place the pineapple slices in a circle around the pan and place one in the center.
Place all the ingredients in a mixing bowl and beat together to form the cake batter.
Pour out the batter carefully to cover the pineapple rings. You may think you don't have sufficient batter at first, I did. But spoon the batter over the slices and gently and very light handedly spread it with a spoon if necessary to cover the rings. Trust Nigella here, the pineapple to cake ratio is perfect.
Bake for 30 minutes.
Place a plate over the cake tin and in one deft move, turn the pan and plate upside down to un-mould the cake.
Voila! You have yourself your very own Pineapple Upside Down Cake.
Enjoy!
This recipe is linked to –
Sweet Tooth Friday
Friday Potluck
Sweets for a Saturday
This is going to be a quick post, because I was having my doubts about whether or not I should post something so ridiculously simple. But in the end the freshness and the taste of this sandwich triumphed.
Back when I was in college, we had this amazing cafe really close by that served some of the most amazing snacks and it was a fact that if you couldn't find a person on campus, you'd definitely find them at this cafe. On offer was a range of savory puffs, rolls, cutlets, sweet stuff and sandwiches. This humble tomato cheese sandwich was my favorite. Just recently, out of nowhere I really wanted to have one of these and there was no way that I was going to travel 1 hour to and another hour back just to get a taste of this, considering how easy it was. So I ran to the kitchen and in less than 5 minutes I was happily munching away on one. At that moment nothing could've tasted better. This sandwich is so simple, that nothing can go wrong really.
But don't take my word for it. Try it out yourself and let me know what you think of it. Its a meatless sandwich that I absolutely love.
Tomato Cheese Sandwich
Makes 1 sandwich
2 slices of bread
Butter, to spread
1 tomato, sliced
A slice of cheese
Salt, to taste
Freshly crushed black pepper corns, to taste
Spread butter on one slice and top that slice with slices of tomato. The butter prevents the slice of bread from getting too soggy from the juice of the tomato.
Sprinkle some salt and pepper on the slices of tomato to season it.
If you'd like, you can butter the other slice of bread and place a slice of cheese over it.
Cover the slice of bread that has the tomato slices on, with the one that has the cheese slice on.
Enjoy!!!
This sandwich (hardly a recipe 😉 ) is linked to –
A Little Birdie Told Me
Tuesdays at the Table
Tempt My Tummy Tuesday


After quite a few requests over the past few months, I'm excited to announce that I will now conduct baking workshops in Mumbai. To start off with there are 3 different workshops that will be conducted and I'm hoping to add to the list in the coming days. So let this festive season be one to surprise your loved ones with goodies you've made yourself.
Workshop 1:
Tea Cakes – We will cover 5 different types of tea cakes.
Workshop 2:
Chocolates – Over 20 different varieties will be featured ranging from the basic chocolates to the more advanced liqueur chocolates.
Workshop 3:
Cupcakes – We will cover 3 varieties of cakes and 3 varieties of icing / frosting. We will also cover basic cupcake decorating tips.
Simply call me at 9769713102 or email me at clairespartysupplies(at)gmail(dot)com for more details.
Please note:
*The workshops will be conducted in Malad (W).
*You can give me preferred dates for the workshops and we'll schedule you accordingly.
*Notes will be provided along with hands on experience during the workshop to enable you to learn better.
If you have any specific requests for workshops not listed here, please let us know so that we can arrange to offer those at a later time as well.
In addition to these, we also conduct paper flower making workshops and fabric flower making workshops. Over 40 varieties of flowers can be learnt. These sessions will be conducted at a time convenient for you. Contact us for more details.
Today I'm going to actually add another post to the Bombay Street Food Special Series I'd started a while ago. I'll bet you thought I was done with that. But I'm not. I will keep adding to that section, because I love street food. Today's recipe, falls under the chaat category and there is a more fully loaded version with a number of chutneys and stuff that I so want to try making at home, I've just never gotten around to it, but this version is a quick and easy treat that you can munch away on in about 5 minutes. It has lovely fresh flavors and it makes for a quick, healthy snack.
It is ideally served with some papdi, which is a small crispy puri. I didn't have any handy and haven't yet tried making them, but soon will. I did the next best thing. I served it with some of my
homemade tortilla chips
. The street food stalls in Mumbai sell portions of this chaat in paper cones and patrons use the crisp, but sturdy papdi as a spoon.
Sukha Bhel
1 cup puffed rice, murmura
1/2 onion, chopped
1/2 tomato, chopped
1 green chilly, chopped fine (optional)
1 tsp fresh coriander leaves, chopped
A pinch of Salt
A couple of pinches Chaat masala
A squirt of lime juice
1/4 cup sev
1-2 papdi/tortilla chips crushed
1 papdi/tortilla chip whole
Mix the onion, tomato, chilly, salt, lime and chaat masala lightly, in a bowl.
Add the puffed rice, crushed papdi / tortilla chips and sev and toss well.
Garnish with the chopped coriander leaves.
Serve with a whole papdi / tortilla chip.