Update: Here's a slightly better picture of the same recipe 🙂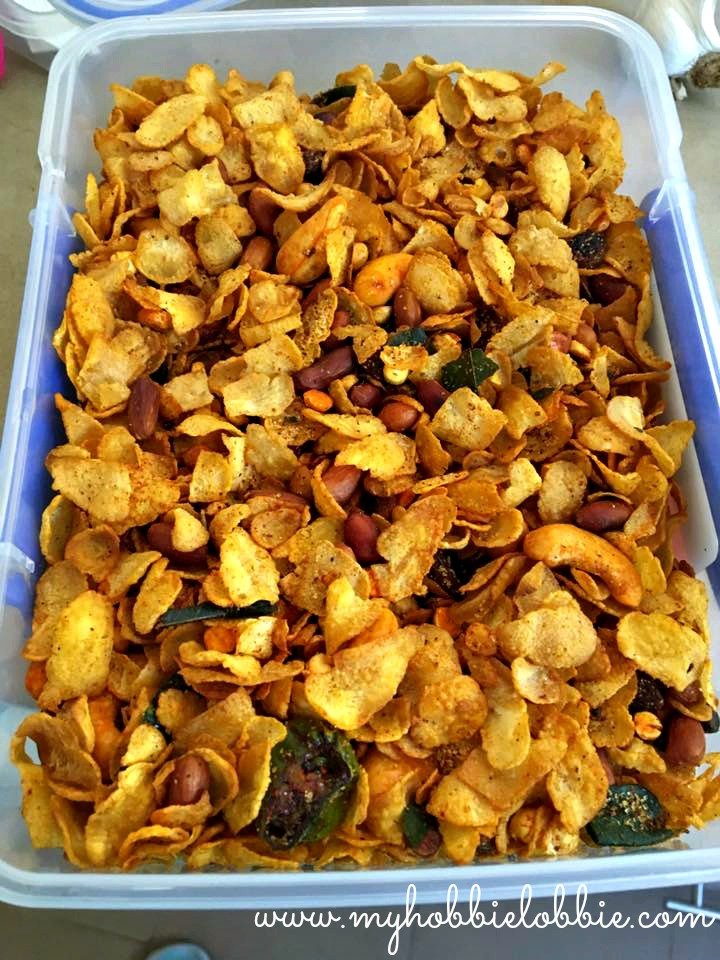 For those of you who've never heard of this, you must be thinking I've lost it. Most of us associate corn flakes with a morning breakfast cereal thats a little on the sweeter side. Today, I'm going to introduce you to a snack mix made of corn flakes, which is savory, crunchy, healthy and really tasty. As a matter of fact this is my husband's favorite munchy. I'm convinced that given the chance he'll snack on this every day. I enjoy this from time to time, but in the past the thought of making this myself has always been intimidating. After a fair amount of online research, I decided to try it out. I saw a few recipes that had elements I liked as well as stuff I really didn't care for. What I'm listing below is a combination of a few, mostly inspired by a store-bought variety that I quite like. This is so easy, I think it take about 15 minutes to make and you can store it in an air-tight container and nibble on it over the next few days, if it doesn't get wolfed down sooner.
Corn Flakes Chivda


2 cups cornflakes
2 tbsp vegetable oil
1 tsp mustard seeds
1-2 green chillies, slit (optional)
6-8 curry leaves
20 raisins
20 cashewnuts
1/4 cup peanuts
1/4 cup roasted chana dal (dalia)
2 tbsp unsweetened coconut chips (optional)
1/2 tsp turmeric powder
1/2 – 1 tsp red chilly powder
Salt, to taste
2 tbsp superfine sugar (You can also use granulated sugar, powdered)
Heat the oil in a large pan.
Add the mustard seeds and let it sputter.
Add the green chillies and curry leaves and let them fry off till they are nice and crisp. Be careful not to burn them.
Then add the peanuts. If you're using raw peanuts, let them fry off on a medium flame till they are lightly browned and cooked. If you're using roasted peanuts, this won't take as long.
Add the roasted chana dal and cashew seeds and saute for a minute or so.
Next, add the raisins and let them fry for about half a minute.
Add the salt, turmeric powder, red chilly powder and stir well.
Add the corn flakes and toss well making sure that the corn flakes are well coated with the spice mix.
Take it off the fire.
When it has cooled a little but is still warm, sprinkle the sugar over it and toss gently but thoroughly.
Let it cool completely and store in an air tight container.
Please note – Snacks like this should be tweaked to your liking. Feel free to play around with the dry fruits and nuts added as well as the spice, sugar and salt levels. After you make this once, you'll have a better idea of what you'd like to do the next time.
Have fun with this recipe.
This recipe is linked to –
What's On The Menu Wednesday
What's Cooking Thurdays
Real Food Wednesday
Diwali Delicacies @ Spicy Treats and Priya's Versatile Recipes