This is a pie we made a while back and I just had to share it with you. A couple of months ago, when cherries were in season, I bought a couple of kilos from the farmers market. Ofcourse, just the two of us found it hard to eat them all up. I decided to try making some cherry pie filling. I've never had cherry pie before, so I figured it was a good time to try it out.
After looking around at a few recipes, I decided to use
this
one. It looked simple and that is exactly what I was looking for. It turned out that the recipe was so simple, the most time consuming part is pitting the cherries. I did buy a brand new pitter for the occasion, not that I need a reason to add something to my kitchen 😉
I didn't can this filling. I just put it in a clean, dry, glass jar in the fridge and it is still intact a couple of months later. So if cherries are plentiful in your part of the world, I hope you try this out.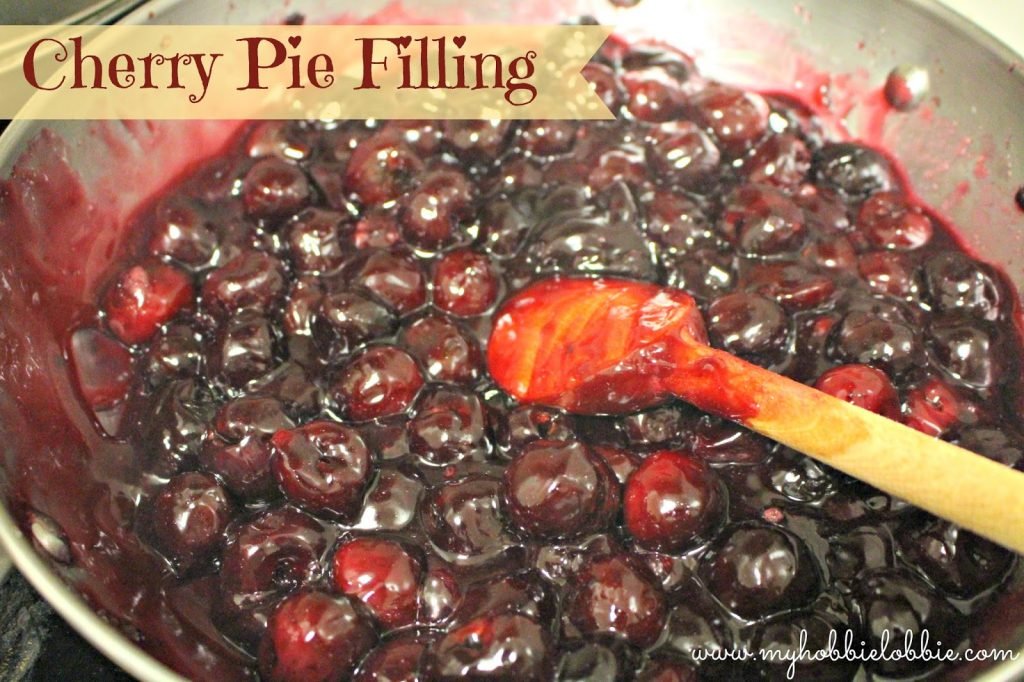 Homemade Cherry Pie Filling –
5 cups cherries, pitted
3/4 cup sugar
2 tbsp lemon juice
1/2 cup water
4 tbsp corn starch / corn flour
Place the pitted cherries in a large pot with the sugar and lemon juice.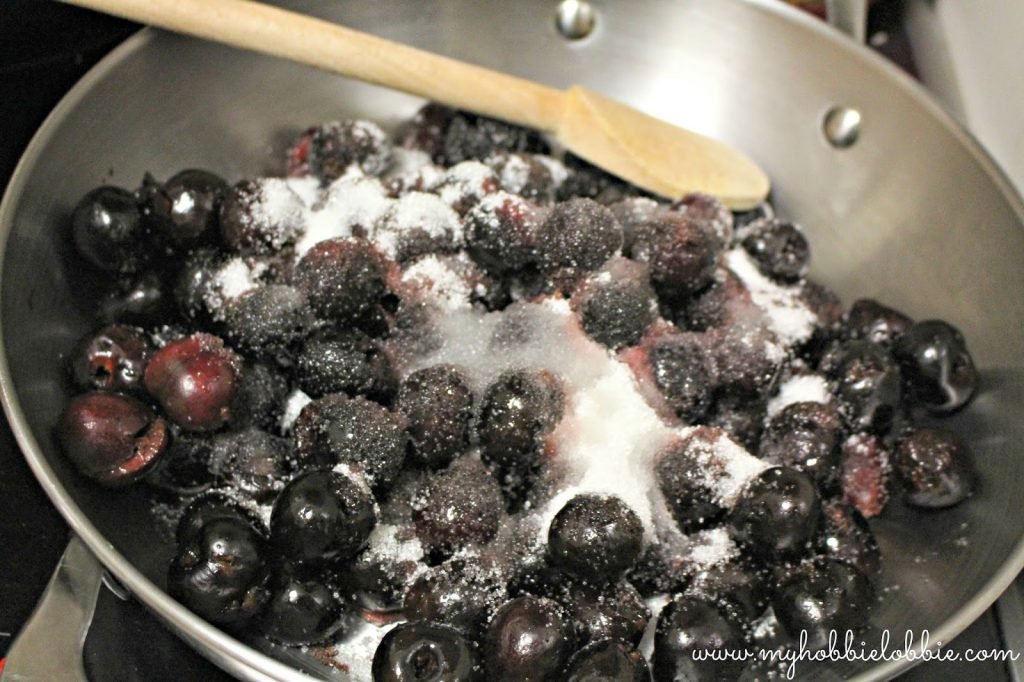 On medium heat, allow the cherries to warm up and start cooking down. Stir frequently.
Mix the cornstarch and water in a small bowl till dissolved.
After the cherries have started releasing their juices and have heated up, add the cornstarch solution and bring it to a boil.
Stirring well, cook till the mixture gets nice and thick.
Cool and store.
After I came back home from work the next day, I found this in the kitchen waiting for me –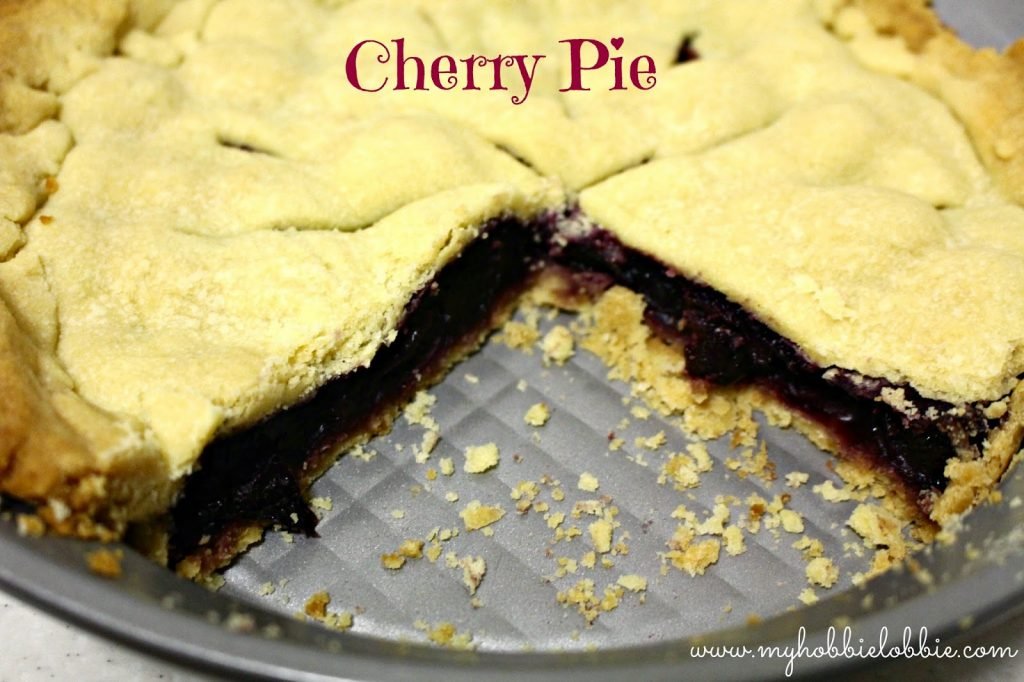 I had previously mentioned to my darling husband that I wanted to use this for a galette or a pie, but I didn't have the time to do it on the day I made the filling. This sweet, sweet man who was home the next day when I was at work, whipped up a beautiful light, buttery and short shortcrust dough and made the pie all by himself. He used our trusty
recipe
for the crust.
The crust was fantastic. Infact the dough was so short, I couldn't get a clean slice for a picture, but it was so very delicious. The simple and unassuming pie filling that was so easy to put together simply blew me away. It was tasty and worked so well with the pastry, without being cloyingly sweet. If you're feeling a little indulgent, serve this up with some vanilla ice cream and sit back and enjoy!
What a crazy month it has been! My last post was for last months
SRC
reveal. Heaven only knows where the whole month went. I can't complain though, its been busy with work as well I have a new project in the pipeline that I am so very excited about. I can't wait to share more about that soon. Stay tuned!!!
Today, I'm very excited to share with you the recipe I picked and recreated for the reveal. I was assigned Ilona's Kitchen. I was excited when I learned I was paired with this wonderful blog and on spending some time going through the wonderful recipes here, I wasn't disappointed. Ilona's blog is choc full of yummy recipes. She has a ton of citrus desserts. I love citrus desserts and I have a few of her recipes earmarked to make soon. But when I saw her post on a coconut pie, I was sold. I love coconut in all its many forms in chutneys, coconut based curries, in my veggies and of course in the sweet form. If you love a Bounty bar or a Cherry Ripe (minus the cherry, of course), you will love this. This recipe reminded me of a Goan recipe for coconut cake, which I happen to love and will share on this blog soon. I stuck to the recipe but just made one little change, it wasn't a choice, but a little bit of a necessity. You see I thought I had some frozen shortcrust pastry in the freezer, but it turned out I didn't. I did however have some puff pastry and decided to give it a go and see what happened. Oh and I used unsweetened desiccated coconut, because no matter how hard I looked, I couldn't find the sweetened version.
With the ingredients on hand, this pie is a dream to put together. It is simple and quick with no fussy process involved. Of course, I could barely wait for this to cool. I didn't get a picture of a cut piece of this pie. But it was so very good. The pastry was flaky and crispy and the filling was just right. Using the unsweetened desiccated coconut worked well and the filling wasn't cloyingly sweet. My husband really liked the pie, but he didn't care for my puff pastry base and I agree. The next time I make this, it will have a homemade shortcrust pastry base.
If you'd like to make your pastry from scratch, you can refer to my shortcrust pastry recipe here.
Coconut Pie


For the filling –
1 stick of butter, melted
1 1/2 cups sugar
3 eggs
1 cup desiccated coconut
1 tsp vanilla essense
1 tsp white vinegar
Whisk the eggs in a large bowl till frothy.
Add the sugar and stir well.
Add the melted butter and stir to incorporate.
Add the vanilla and vinegar and stir well.
Add the coconut and stir till well incorporated.
Here's what it looks like just before going into the oven
For the pie –


Preheat the oven to 180°C.
Place the pastry in a pie dish and pour the filling in the unbaked pie base.
Bake for 45 minutes or until golden brown.
Enjoy!!!
Notes:
1) I left the edges of the pastry on since it was just for us at home, you could trim the edges if you'd like
2) Also, I think I've let this bake for a couple of minutes more than I should have, so it looks darker than golden brown. We tend to like our pastry a tiny bit over. Feel free to take the pie out of the oven when you are satisfied with the color.
I was so excited when I received my blog assignment for this
SRC
reveal. I mean, who wouldn't be? Especially when the blog you've been assigned has a name like –
Searching for Dessert
. The lovely Shannon, authors this blog, and boy, does she have an impressive background – she's recently graduated from Le Cordon Bleu College with a bachelor's degree in Culinary Management. She also has an associate's degree in Baking & Pastry Arts. I've got to be honest, when I read this, I was more than a little nervous, I wanted to do her recipes justice, and wasn't sure if I would.
Anyway, I figured, this would be a huge learning experience for me. So off I went to try picking out a recipe. I was spoiled for choice, ranging from breads to cakes and cookies, to desserts as well as some savory meatless dishes, I had a lot of options, making my decision a really hard one. That being said, there's something for everyone. So do go over and say Hi to Shannon, will you? But be warned, that impressive recipe index is not for the faint hearted 😉
After a lot of looking and considering and re-considering and then considering some more, I settled on these little pretties for this months reveal. Some of you already know, I love me my apple pie. And when I saw this cute little version of it, I was sold. I already had all the ingredients on hand, so one afternoon, I decided that we were going to have apple pie with our evening tea. These pies are so easy to make, but they do take a little time, since they are individual portions. I made a few of these dainty sized ones and then, embarrassing as this may sound, I got lazy and decided to go with some that were larger than the others. By the time I got to the larger ones, I realized that the filling had no cinnamon in it. I simply had to add cinnamon, you see, for me the smell of cinnamon IS apple pie and I couldn't see myself having apple pie without it, so I simply sprinkled some cinnamon powder over the filling before sealing it up. Within no time, I had the pies in the oven and waited eagerly for them to be done. We tried a few of them when they were still warm and I have to tell you, I was so happy with them. The crust was beautiful (maybe even the best I've had or made so far), the filling was mildly sweet (just the way we like it), they looked lovely and made for easily portions without the bother of cutting. These are definitely going to make an appearance on more than a few occasions. Thanks Shannon, this one's a keeper.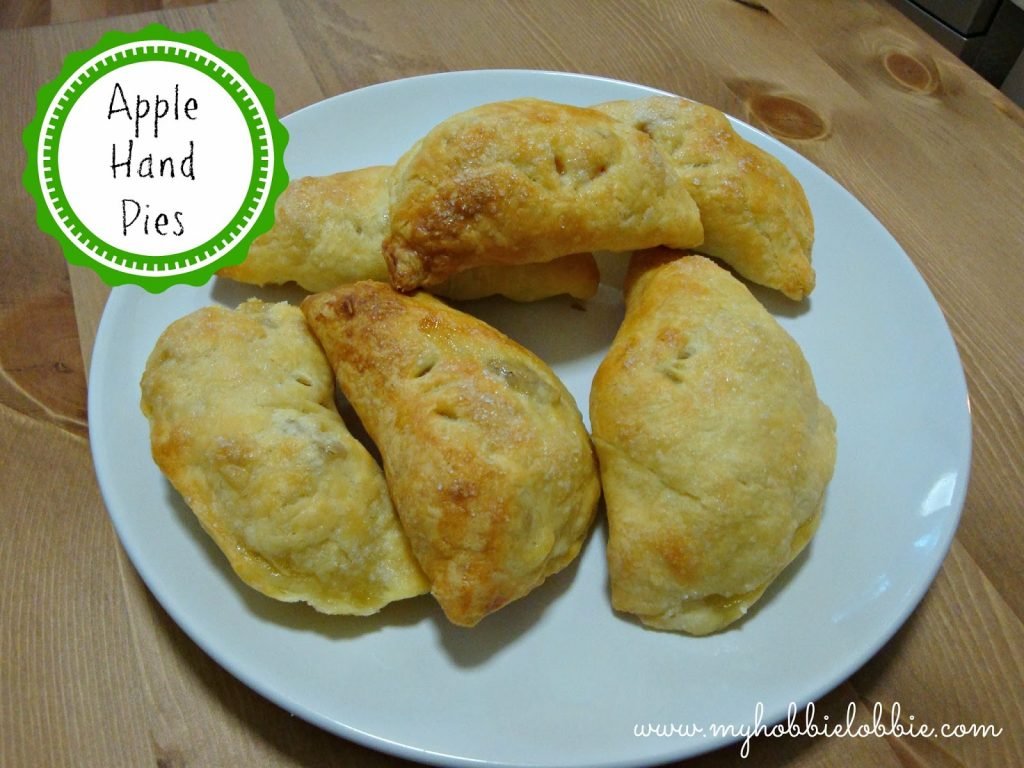 Apple Hand Pies
For the crust –
1 1/2 cups all-purpose flour
1/2 tsp salt
1/2 cup + 2 tbsp cold unsalted butter, cubed
1 egg
1 1/2 tsp vinegar (I used apple cider vinegar)
2 1/2 tbsp water
For the filling –
1 1/2 cups apples (I used 1 1/2 local Aussie apples)
2 tbsp granulated sugar
3/4 tbsp all-purpose flour
1/8 tsp salt
1/4 tsp lemon juice
Cinnamon powder, to taste
Some milk
Granulated sugar
For the crust –
Sprinkle the salt into the flour and mix well.
Rub the butter into the flour till it resembles coarse, wet sand.
Mix the egg, water and vinegar in a bowl.
Add to the flour and mix gently till it just about comes together. Do not knead too much or heavily – or you wont get a short pastry.
On a lightly floured surface, turn the dough over and lightly bring it together. Wrap in cling film and flatten to a disc. Refrigerate for about half an hour.
Preheat the oven to 180ºC.
Dice the apples into 1/4″ pieces and place in a bowl along with the lime, salt, flour and sugar. Stir well, making sure the apple pieces are well coated. You could add some cinnamon powder to the mix at this stage. Since I forgot to, I just sprinkled some over the filling before sealing the pies.
Place a cooling rack onto a cookie tray lined with foil. This ensures you get a lovely crisp crust and quick cleanup. Brush some butter on the cooling rack.
When the dough has been in the fridge for about 30 minutes, roll out to 1/4″ thickness and cut into 3 1/2 " circles.
Place some filling in the middle of the disc and fold the dough over to form a half moon shape. Seal the edges well and place the pies on the cooling rack on the pan. Repeat with the other hand pies.
Brush the hand pies with a little milk and sprinkle some sugar over it. Make 3 little slits on the top of the hand pies.
Bake for 30 minutes or till the crust is beautifully golden brown.
Remove from the oven and gently loosen from the rack. Cool.
Enjoy!!!
If anyone wants a peek at the slightly bigger version of these hand pies, here it is –

At the start of this year I honestly thought I would be able to dedicate more time to this blog. I had a few plans and unfortunately, they've still remained plans. I intend getting to work on those plans soon, so fingers crossed, you should see more frequent posts here. It seems like the stars seem to have something else in mind for me altogether. I've been awfully busy with work and some medical issues – my husband had to get knee surgery done week before last, and that didn't allow me to spend more time here. But I'm really glad to be a part of the
Secret Recipe Club
, because month after month, this blog party makes sure that I post, no matter what. So "Thank You" Amanda of
Amanda's Cookin
' for keeping me on track, atleast once a month. Also, our wonderful hostess Suzanne of
Thru the Bugs on My Windshield
makes sure we remember to get our posts up and running on time.
My blog partner this month was From Arepas to Zwetschgen. I was delighted to be partnered with a blog with so much culinary diversity. German Mama has a wonderful selection of food from all over the globe. She has a wonderful ongoing event, or project, as she likes to think of it, called "Cook Around the Globe" where every month you get an insight into the cuisine of a certain region. What a wonderful way to get familiar with the culture and food of other countries! Do stop by and go for a trip around the globe, right from the comfort of your own home.
This month, I decided to try out something sweet. After all the running to the hospital and back, I figured we could do with a little treat. So I picked out these lovely chocolate fudge tarts. I love the way these turned out. The original recipe serves these up with some whipped cream, but I just dusted some icing sugar over these. These tarts have just the right amount of sweetness for me. They're not too sweet and that suits me just fine. Next time I think I'll try topping these with some toasted almond flakes or chopped, roasted hazelnuts. I think that'll be really good too. This recipe yields 5-6 4″ tarts.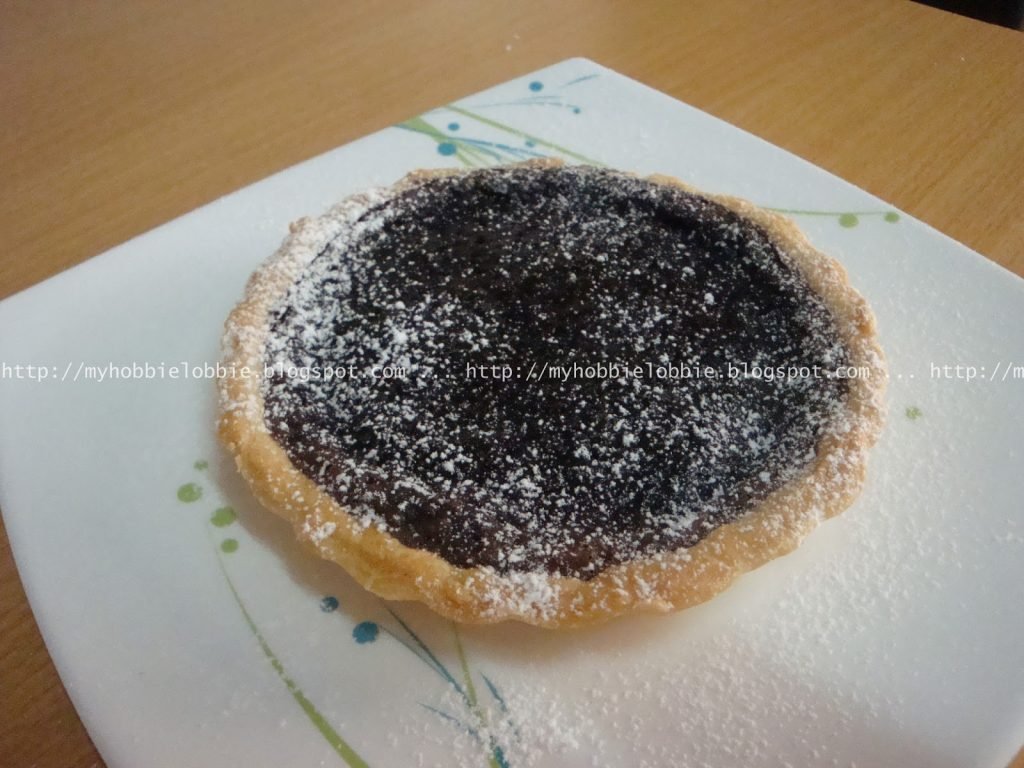 Chocolate Fudge Tarts
4 tbsp unsalted butter
125g dark chocolate
125g heavy cream
1 large egg
1 egg yolk
1/4 cup sugar
1 tsp vanilla extract
Icing sugar, for dusting over
Preheat the oven to 200ºC.
Roll out the shortcrust pastry and line the tart moulds with the pastry. Pierce with a fork and bake for 10-12 minutes till lightly browned.
Let the shells cool off and while this is happening prepare the filling.
Melt the butter and chocolate over a double boiler or on very low heat. (I didn't use a double boiler.)
Add the cream and stir well to incorporate. (The original recipe adds the cream to the chocolate and butter and melts them down together. I added the cream after the chocolate had completely melted to bring down the temperature of the mix so that I didn't have to wait to add the egg mix.)
Whisk the egg, the yolk, vanilla extract and the sugar till it is well combined and add to the chocolate mix.
Stir well to incorporate.
Preheat the oven to 130ºC.
Pour the filling into the pre-baked tart shells and carefully place them back in the oven and bake for about 25-30 minutes or till the fudge has set.
Once the tarts have cooled, you can serve it with your choice of topping.
Don't forget to check what the others have chosen to make for this month's reveal.
document.write('
I'm back!!!!!!
I can't believe I've been away for this long. This has got to be my longest blog hiatus ever. I remember, not too long ago, in December, I was making crazy plans for the blog this year and was working on a few interesting ideas and stuff and then one thing after another happened and before I knew it we're almost at the end of Jan. Well, better late than never I say. I hope you guys had a fantastic holiday season. I can't wait to catch up with what everyone's been upto.
To start off this year's yumminess I have a treat for you. I found myself picking up a crazy amount of spinach at the market the other day and didn't really wan't to make the same stir fry that I normally make with spinach – I have to share that with you sometime soon. I wanted to make something different, more like a meal in itself. After a few minutes of looking around a few sites, I found this recipe. The picture looked amazing and I think that sealed the deal for me. The recipe was pretty simple. However, I used my own shortcrust pastry recipe instead of the one mentioned here. I can't get myself to use shortening in a pie crust. I don't know why – it's just me, I guess. For me, it has to be butter all the way. I made a few additions and changes to suit our tastes and ended up with a truly gorgeous spinach quiche. If you have trouble eating your greens, this is for you. Cheese makes everything taste better and we loved the delicate flavors. I'm thinking of throwing in some pieces of fried bacon next time to switch it up. This time around it was completely meatless.
Have any of you made a pie crust at home with shortening. If you have, I'd love to hear how it turned out. Maybe, I'll give your version a try the next time.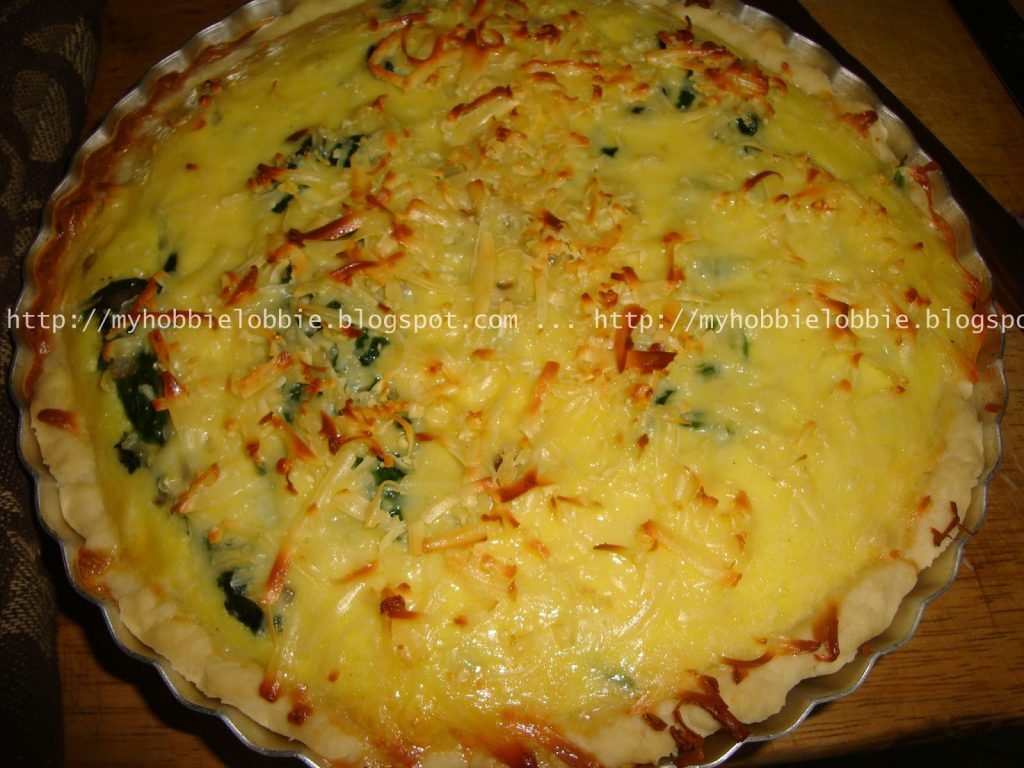 Spinach Quiche
For the pie crust –


250g all-purpose flour
120g salted butter, cold and cut into cubes
A pinch of salt
Rub the cold butter into the flour and salt mix using your fingers or cut the butter into the flour using a pastry cutter till is resembles wet, coarse sand.
Then gradually add 2-3 tbsp ice cold water to bring the dough together to rolling consistency. Don't over roll as this will make the crust dense.
Press the dough into a disc and cover in plastic wrap and refrigerate for about 20 minutes or till needed.
For the filling –


1 large bunch of spinach (approx.250g)
3 cloves of garlic, finely chopped
1 small onion, finely chopped
A couple of tbsp of butter
Salt, to taste
Crushed black pepper, to taste
1 cup grated cheese
2 eggs
1/2 cup cream
A little olive oil
Dollop a tbsp of butter in a large pan and saute the cleaned and washed spinach till it has wilted and the excess juices have dried up. You can do this in batches depending on your pan size and quantity of spinach. When almost done, sprinkle with salt and pepper to taste and keep aside.
Using the same pan, place a little olive oil to it. Add the chopped garlic and saute till fragrant on medium-low flame.
Add the chopped onion and stir fry till the onions turn translucent. Take it off the heat and keep aside.
In a bowl, beat the eggs and cream together till combined. Season with salt and pepper to taste.
To make the pie –


Roll the pie crust to fit the size of your pie dish. You can use a 7″-8″ dish for this. If you have a ceramic pie dish, I suggest you use it. I used a regular loose bottomed one and had a little spillage – nothing too bad though.
Place the crust into the dish and trim the edges. Prick the base using a fork.
Bake in an oven preheated to 200ºC for about 8 minutes.
Take it out of the oven and let it cool for a couple of minutes.
Mix the sauteed spinach with the onion and garlic mix and add 1/2 a cup of grated cheese to it. Mix well and spoon into the crust.
Pour the egg-cream mixture over this slowly to avoid spilling.
Sprinkle the remaining grated cheese to cover the top.
Bake at 200ºC for 30-45 minutes or till the quiche has set.
Let it sit for about 10 minutes.
Cut into wedges and serve with a salad.
Enjoy!!!
This recipe has been linked to –
A Little Birdie Told Me
Let's Do Brunch
Mangia Mondays
My Meatless Mondays
Bake with Bizzy
Mouthwatering Mondays
EDITED: The recipe is the same great recipe. I've just taken better pictures and add a video version of the recipe too.
Happy Thanksgiving everybody! Its nice to take a moment to be thankful for everything in our lives. I hope you have a wonderful time with family and friends!
Today, I'm going to share with you my Apple Pie recipe. It is a very basic one but it's a real favorite. Just in case you are still scrambling getting things together for your Thanksgiving dinner, I'd suggest trying this out. It comes together really fast and served with some good vanilla ice cream, its a real winner.
Apple Pie
Makes 1 x 8″ pie
For the shortcurst pastry –
250g all purpose flour
125g cold butter cubed
A pinch of salt
A little cold water (about 60ml)
Add a pinch of salt to the flour and mix well.
Rub the cold butter cubes into the flour till it resembles wet sand or coarse bread crumbs.
Adding very little cold water, bring the dough together. Do NOT work the dough too much. If you do you'll be stuck with a dense pastry, not a light, flaky, buttery one.
Lightly bring the dough together and press into a disc. Wrap in cling film and refrigerate for about half an hour, during which you can prepare the filling.
For the filling –
5 large apples (I prefer using apples that are crisp and a little tart or you can also use a combination of apples)
1/2 tbsp lemon juice
1/2 teacup water
4 tbsp sugar
1 tsp cinnamon powder
A little milk for glazing (you can also use an egg wash if you'd like)
Add the lemon juice to the water and keep aside.
Peel, quarter, core and slice the apples and add it to the lemon juice and water solution.
Add the sugar and cinnamon powder and mix well.
Cook till you're left with a nice stew. It should be nice and pulpy but not a mash. Be gentle while stirring. Cook till all the water evaporates.
To make the pie –
Divide the dough into two parts.
Roll it out on a lightly floured surface. Place in the in pie dish and trim the edges. Pierce the base randomly with a fork, to ensure that it doesn't puff up.
Bake at 220ºC for 6 minutes.
Remove from the oven and fill it up with the prepared filling.
Roll out the other part of the dough and place on top of the filling to cover the pie.
Seal the edges by crimping it with a fork.
Using a sharp knife make a few slits on the top to let the steam escape.
Brush with a little milk or beaten egg.
Bake it at 220ºC for 12-15 minutes.
Cool the pie, cut into wedges and serve with some vanilla ice cream.
Watch me make my Apple Pie here –
This recipe is linked to –
… you make a Peach Tart!
The other day I picked up some peaches from the market. I'm not overly fond of peaches but I wanted to try and bake with them. Last year I made a peach crisp that turned out pretty amazing. Unfortunately this was before my blogging days, so I don't have a picture, and silly me didn't save the recipe either. So imagine my joy when while surfing through one of the linky parties I participate in, I found a recipe for a pretty amazing looking Peach Tart.
I was quite eager to see what it would turn out like, because unlike the other pies I've made in the past, this one calls for a different recipe for the dough. The method is more cake like than dough like and I was wondering what flavors nutmeg and peaches would yield. I tell you, once I bit into this tart, all I could do was close my eyes and smile. This crust with its hint of almond and the nutmeg-peach coupling truly is a match made in heaven. This recipe is a keeper, for sure. I know I'm going to make this every time peaches come around. I honestly hope, for your sake, you give this a try. It is so good, no one, and I mean absolutely no one, should go without tasting it for yourself. So try it and let me know what you think.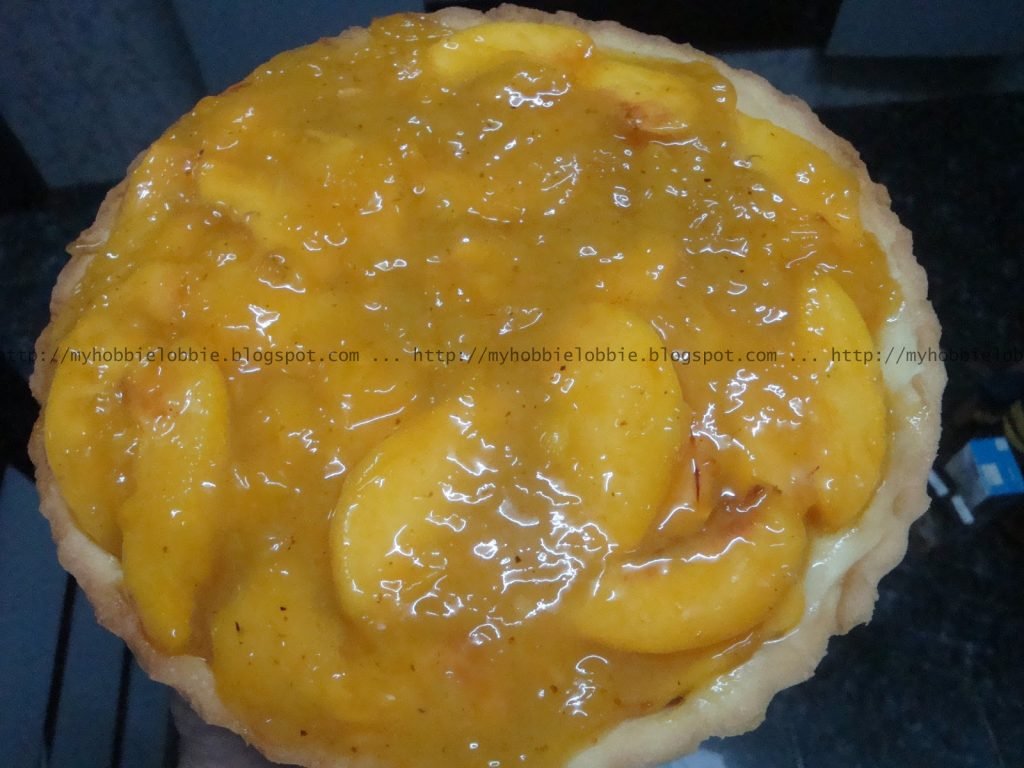 Peach Tart
Adapted from: A Bountiful Kitchen
(Makes one 9″ tart)
For the Tart Shell:
1/2 cup sugar
1/4 cup butter
1/2 an egg
1/2 tsp Almond extract
1 1/8 cups flour
Preheat the oven to 180ºC
Lightly grease a 9″ pie pan,
Cream the butter and sugar till light and fluffy.
Add the egg and the almond extract and mix well.
Add the flour and fold it in gently. Do not over mix. Add flour till the dough is no longer sticky.
Press it to line the pie pan. Pierce with a fork to allow the steam to escape.
Bake for 10-15 minutes or till it has a hint of light brown coloring.
Cool completely before filling.




For the Fresh Peach Filling:
1/2 cup white sugar

1 cups fresh peaches, pitted and mashed
1/8 teaspoon freshly grated nutmeg
2 cups fresh peaches – pitted, skinned, and sliced
Combine the sugar, water, cornstarch, butter, mashed peaches and nutmeg in a saucepan.
Cook over medium heat until clear and thick.
Take it off the fire and stir in the vanilla.
Mix the sliced peaches with the glaze.
Fill the tart shells with this filling.
Serve with vanilla ice cream.




This recipe is linked to –
Sweet Tooth Friday
Sweets for a Saturday
Honestly, before I got married and before I could take a look at my late mum-in-laws recipe collection, I had never heard of this treat. And let me tell you, I was missing out on something. My mum-in-law was a very talented person. She was an amazing cook and very skilled with the crochet needle. She was also a really good seamstress and was very creative. I wish I had the opportunity to meet her. So the first time my husband asked me to make this, I didn't know what to expect. This is one pie he enjoys making, and hey, I'm not complaining. He does a wonderful job with it. We've made this for quite a few parties, gatherings and it works well as a hostess gift as well. It has always received great reviews. It is quite a rich pie, so you might want to adjust the portion sizes accordingly.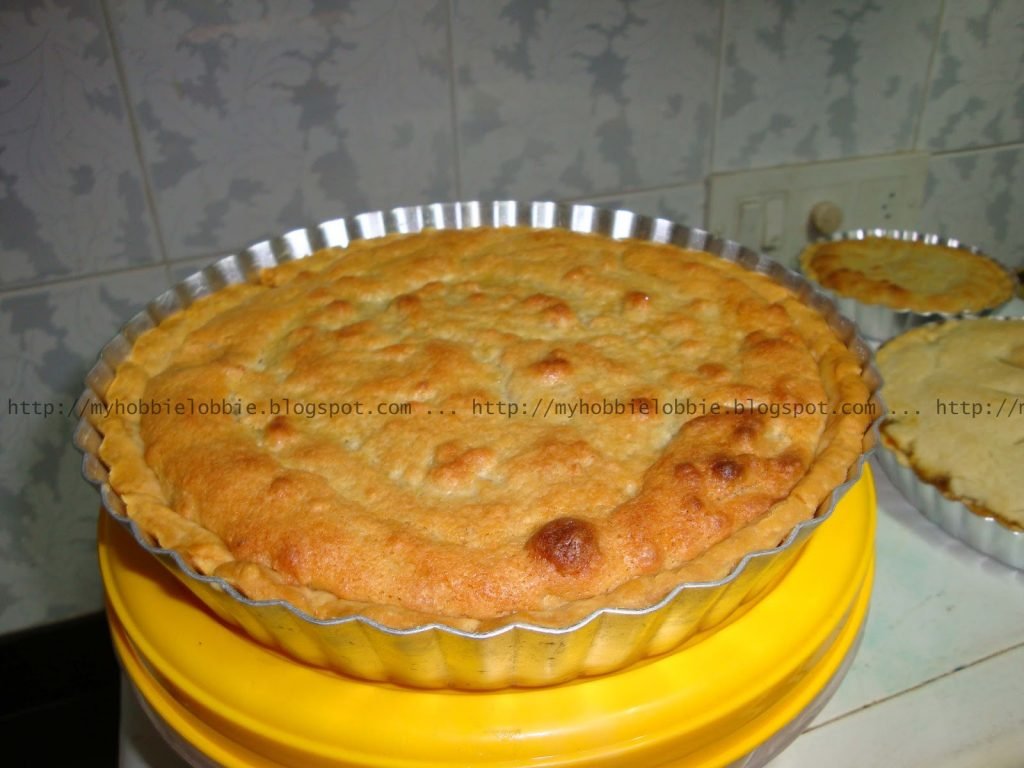 Franzipan


For the pie crust –
250 gms all purpose flour, sieved
125 gms cold butter, cubed
Mix the cold butter and flour till it becomes crumbly.
Add a little cold water at a time and knead lightly to form a dough.
Wrap in cling film and refrigerate for ½ hour.
Roll out.
Place it in the pie pan and pierce it with a fork to help the steam escape.
Bake at 180º till lightly brown.
For the filling –
4 oz superfine sugar
4 oz cashewnuts, ground
1 oz flour
2 eggs
Method –
Melt butter over low heat.
Whisking well, add sugar and cashewnuts. Mix till it is well combined.
Take off heat and add the eggs. Mix well.
Bake in a baked pastry shell for 25 minutes at 180ºC.
Enjoy!!!
Here's a peek at what the inside looks like –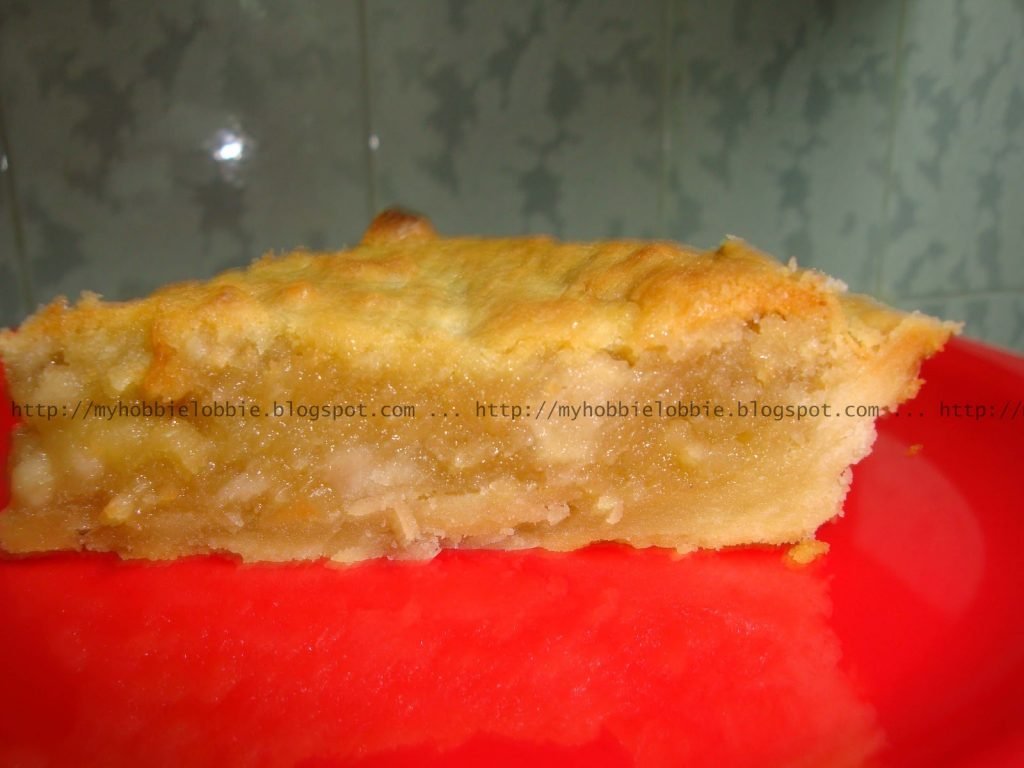 This recipe is linked to –
Sweet tooth Friday
Sweets for a Saturday
Decidedly Healthy or Horridly Decadent
We had a crazy weekend. It started out with the regular weekend chores like laundry, grocery shopping, cleaning – you know how it works, right? and before we knew it, we found ourselves scrambling to save some trees in our area from being cut. We did manage to put a halt to the original plan of chopping down 13 great, big trees that are atleast 30 years old. I say this with so much authority because the trees have been in their spots as far back as I can remember. I'm pretty sure they are much older than me. We had a local newspaper report the incident and are hoping that this will help us preserve the remaining tree cover in the area. You can check out the article here.
Anyway, things got better from there. We spent Sunday with family at my brother-in-law's place. The guys had a blast. They played carrom after years and played for quite a few hours, while I spent time with my sister-in-law and neices (you remember them – Faith & Shania – from my second post). After a delightful morning and lunch with them, we headed home.
I was exhausted but I still wanted to make something for dinner that night.At first, I wanted to make some Moussaka. I've made that a couple of times before, and my husband and I simply love it. Then I started having second thoughts as the recipe calls for a lot of frying and with the temperatures and humidity levels being sky-high in Mumbai at the moment, I didn't think I could endure all that frying. So as I was sifting through my collection of recipes, I stumbled upon a recipe for Shepherd's Pie that I'd bookmarked some time ago and decided to give it a go. The original recipe calls for lamb mince but since I only had beef mince in the house, I made the switch. Well some folks say that Shepherd's Pie is strictly made using lamb mince and if you do happen u switch the meat like I did, then what you've made is some Cottage Pie. Either way, I must say, this recipe did not disappoint. I used the recipe found in Nita Mehta's – The Best of Mutton. All you do is make some mashed potato and a simple mince. Place the mince in a baking dish and smear the mashed potato over to make a nice layer. Bake @ 170ºC for about 20 minutes. In less than an hour, we sat down to a hearty, warm and scrumptious dinner. This, served with a lovely fresh salad, is really yummy.
Give it a go and you won't be disappointed.
Note to Self: Next time, get pictures before wolfing down delicious food. 🙂