Soft and light, these delicious bread rolls are made from scratch and make the perfect addition to any dinner menu or party meal.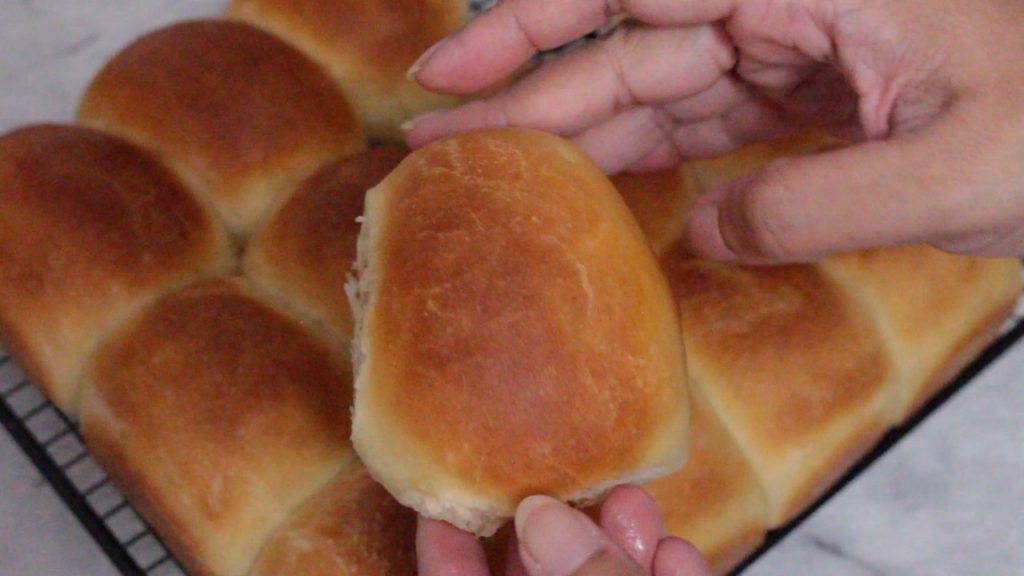 Believe me when I say, there's nothing better than taking a batch of freshly baked bread out of the oven. Except of course, eating it. Have you ever tried baking bread at home, from scratch? I know a lot of people feel intimidated by the thought of yeast. I was a member of that club for a very long time. But I can tell you this much, if you keep a few things in mind, you will be well on your way to mastering the art of bread baking. Moreover, there are so many varieties to try.

The recipe I'm sharing with you today is one that I fall back on frequently to make bread rolls. It's a very basic bread recipe and makes a great starting point, if you haven't baked bread before.


Things to keep in mind –
Yeast – Make sure that your yeast is viable. This is easy to do. Place the quantity specified in the recipe in a bowl with warm water and sugar. When rested for about 5 minutes, the yeast gets bubbly and frothy, signalling that it is still viable. If it doesn't froth up, you may need to replace your yeast.

Using warm water – Make sure that your water is warm, not hot. You should be able to keep your finger submerged in the warm water comfortably. If you cannot, the water is too hot, and it will kill the yeast.

Kneading the dough – Kneading the dough takes a little time. You need to do this patiently. This helps build gluten fibres, which in turn will help your bread rise well.

Resting time – Bread almost always, cannot be rushed, unless you're making a quick bread. The time needed to rest (prove) your dough depends on the ambient temperature. Resting the dough in a warm spot in the kitchen will help it rise. If it is really cold where you are, consider keeping it by a window that gets a lot of sun or in the oven with just the light on.
Keep these vital points in mind when you're making bread and you will see great results. Bread making gets better with practice. If your first batch doesn't turn out spectacular, don't worry, the next batch will be better, since you now know what to expect. So now that we've covered all of that, let's move on to the recipe.
How to make Bread Rolls (Pao)
Soft and light, these delicious bread rolls are made from scratch and make the perfect addition to any dinner menu or party meal.
Ingredients
1 1/2 tsp instant dried yeast

2 tsp sugar

1/4 cup warm water + 1 cup warm water (approx.) to knead the dough

3 cups plain flour / all purpose flour

1 tsp salt

1-2 tbsp olive oil
Directions
In a little bowl, place the warm water and add sugar and yeast to it. Stir to mix a little. Let it stand for about 5-10 minutes for the yeast to activate.
In a large mixing bowl, place the flour and salt. Mix through.
Make a well in the centre and add the yeast and sugar solution. Mix it in with the flour. Add more warm water gradually and knead to a smooth, soft dough. (I had to use just over 1 cup of water) Once the dough comes together, continue kneading for about 5 minutes. You will find the dough gets a little more stretchy than it first was.
Drizzle oil and knead it into the dough.
Lightly oil the bottom of the bowl and place the dough in it. I lightly oil the top of the dough too. This keeps it from drying out. Cover and set aside in a warm spot in the for about an hour or till the dough has doubled in size.
Knock the dough back to get rid of the air bubbles and roll to a ball. Cut into portions and roll out into smooth balls. Place them about an inch apart in a lightly greased baking pan.
Cover and leave it in a warm spot for the second rise. This takes about 45 minutes to an hour.
Preheat your oven to 180 degrees. Brush the top of the bread rolls with some water and bake for about 25-30 minutes.
As soon as the bread is baked, take it out of the oven, brush some butter over the top and cover the pan for around 5 minutes with a clean tea towel. This traps the steam in and keeps the rolls soft.
Then take the rolls out of the pan and leave them on a cooling rack to cool.

Enjoy!!!
Recipe Video
Notes
This is a vegan friendly recipe. I used a vegan butter, but feel free to use a butter of your choice.
This is a recipe I came across by pure chance. Last week I bought a big basket of fresh ricotta, not for the ricotta, but for the basket. Has anyone else done something as crazy as that? I needed the basket for a project I'm working on and if all goes well, I will share that with you. But I must admit, I was quite stoked to have the fresh ricotta to play with. And play I did. This is one of the things I made using that ricotta. I made a batch of these amazing Savory Ricotta Scones. I used a bunch of dried herbs I had in the kitchen, but I can only imagine how much more amazing these would taste with fresh herbs. One of the things I want to do, is grow my own herbs. And if I have any luck with that, I will make this recipe using fresh herbs.
Have you tried making scones before? I've tried these Chocolate Chip Banana Scones, Double Chocolate Scones and some Classic Scones – all sweet ones, out of which my favorite one is the Chocolate Chip Banana Scone. That being said, I do want to try my hand at a few more recipes. So this time, I decided to try out a savory scone and when I saw this recipe for Savory Ricotta Scones, I was thrilled. It would be the perfect way to build on my scones list as well as use up that amazing Ricotta.
The recipe itself was very simple and the scones turned out really well. They were tender and delicate and beautifully flavored. They would pair fantastically with a soup. I want to try these with a roasted tomato soup when the weather cools down. So whether or not you've tried scones before, I do hope you try these out. Serve them with a soup, or for brunch or with some tea and let me know what you think of them.
I've made a little video to help you through the process –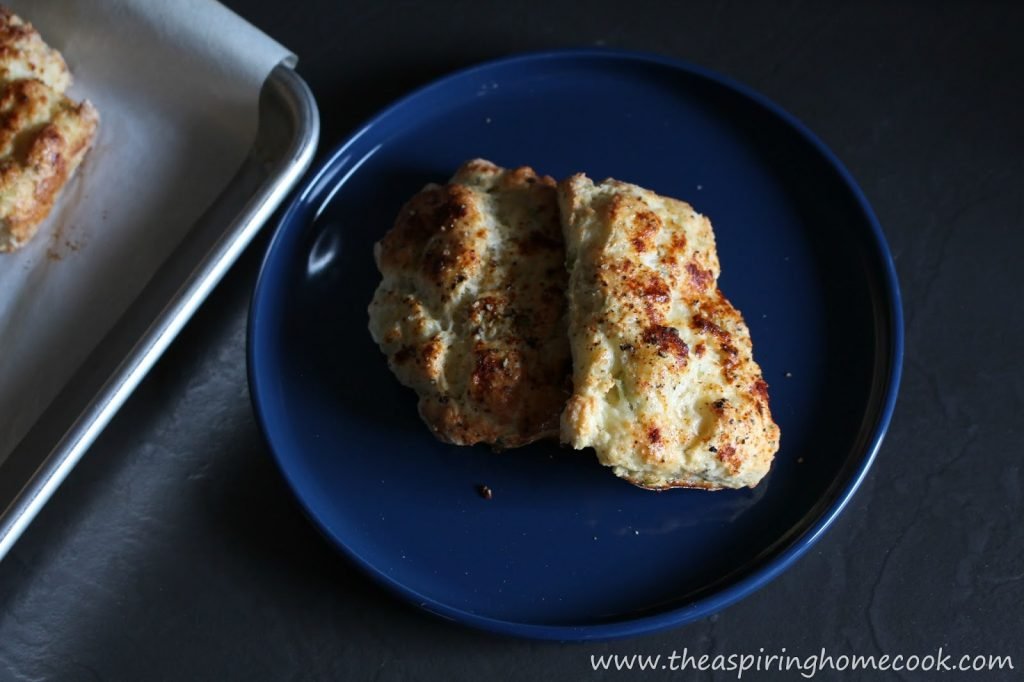 Savory Ricotta Scones
Adapted from: Love Life and Good Food
2 cups all-purpose flour
1 tbsp baking powder
2 tsp sugar
1/2 tsp salt
5 tbsp chilled butter
1/2 cup sliced spring onions
1/2 tsp dried mixed herbs
1/4 tsp dried parsley
1/8 tsp dried thyme
1 cup ricotta cheese
2/3 cup milk
1 egg
Sea Salt
Black pepper, freshly cracked, to taste
Smoked paprika, to sprinkle over
Preheat the oven to 220ºC.
Line a baking tray with some parchment / baking paper and lightly grease the paper.
Whisk the flour, baking powder, sugar and salt in a large bowl.
Cut the butter through the flour mix or grate it and mix it till you get a coarse crumb texture.
Add the spring onions and herbs. Stir through.
Add the Ricotta cheese and milk and stir through just until combined.
Turn out on a lightly floured surface. Lightly bring the dough together. Do not knead.
Pat the dough into a rectangle. Dip the cutter or knife in some flour and cut into 10-12 equal pieces.
Place on the parchment lined baking tray.
In a small bowl, whisk the egg with 1 tsp water. Use a silicone / pastry brush and brush the egg white on the scones. Sprinkle some salt, freshly cracked black pepper and smoked paprika over the tops of the scones.
Bake for 20 minutes.
Serve while still warm with a little butter.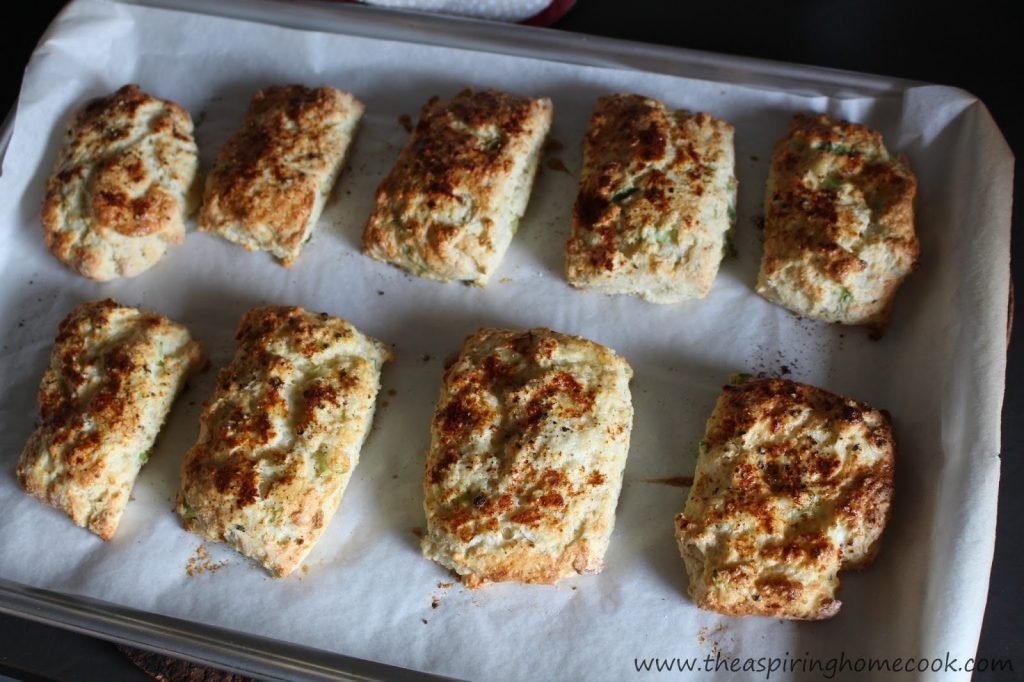 If you're making these in advance or if you have leftovers, they reheat well either in a covered pan on low heat or wrap them in foil and warm in a 180ºC oven for about 5-10 minutes.