As a food blogger, someone who loves learning new things and basically a lover of good food, I have an ever-growing list of 'Recipes to try' and 'food I'd love to learn how to make'. And that list grows like it has a life of its own. Just the other day, my husband, in all innocence asked me what I would do when I ran out of recipes to share on the blog. My response – I laughed. He thought I'd lost it. Then I showed him just a glimpse of these lists and he knew it wasn't going to happen any time soon.
Today's recipe is one I've wanted to try even before I'd started any of these lists. You see, Dal Vadas are easily available street food in Bombay. These aren't as popular as Idlis and Medhu Vadas (South Indian Food), but I've always had a soft corner for this treat. These deep fried dumplings are made from split and hulled chickpeas aka Chana Dal, easily found in any Indian grocery store in the aisle with the lentils. They are everything I love in a snack, small portion size, crispy on the outside and chock full of flavor.
The recipe I tried is a little different from the commonly found Dal Vada. It is amped up with some Garam Masala (an Indian spice blend) and fennel seeds, which you typically don't find in the Street Food variety, I must admit it adds a lot of flavor. You could skip the fennel for a more tradition version of the vada. I couldn't believe how easy it was to make. You could serve this with your favorite chutneys like this Green Mint Chutney (
Pudiney ki chutney
) and this Tamarind and Date Chutney (
Imli ki chutney
), or you could just serve it with some Tomato Ketchup. Or be like me, throw caution to the wind and serve it up with all three for a little variety. Whichever way you decide to go, I hope you try it out.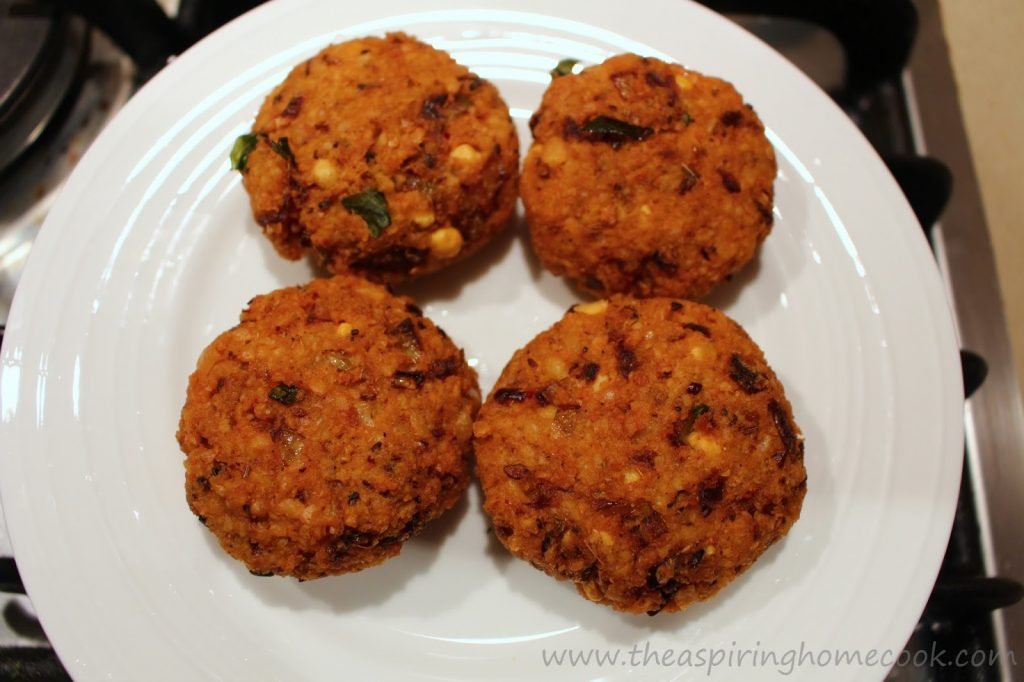 Dal Vada
1 cup chana dal
Salt, to taste
1″ cinnamon
1-2 dried red chillies
3/4 tsp cumin seeds
3/4 tsp fennel seeds
1 medium onion, finely chopped
1-2 sprigs curry leaves, roughly torn / chopped
1/2 tsp ginger paste
1/2 tsp garlic paste
1-2 green chillies, finely chopped
1/2 tsp turmeric powder
Oil, for deep frying
Wash the chana dal a couple of times and drain the water.
Soak the dal in fresh water for an hour and a half. Make sure there is ample water in the bowl. after soaking drain the dal thoroughly using a colander.
Grind the cinnamon, red chillies, cumin and fennel to a coarse powder.
Keep this aside along with 2 tbsp of the chana dal.
Grind the rest of the drained dal and salt by using the 'Pulse' function on your blender to grind it coarsely and transfer to a bowl.
To the bowl, add the curry leaves, onion, coarsely ground spices, green chillies and the reserved dal and mix it all well.
Heat the oil for deep frying.
To shape the vadas, roll a golf ball size of the mix to a ball and flatten them.
Deep fry on medium heat till golden brown on both sides. (Using high heat will just brown the outside and leave the inside uncooked, so be sure to fry it on a medium heat.)
Drain and place on some kitchen paper to absorb any excess oil.
Serve hot with either chutney or ketchup.
Enjoy hot with a steaming cup of tea !!!
Click
here
for some more Bombay Street Food options.
UPDATE: I've finally had an opportunity to take new pictures. The recipe used is still the exact same one. You can watch the entire Kulkul making process in the video at the end of this post. Enjoy!
(I will still keep the old pictures on the post as it shows you the step by step process.)
As Christmas comes closer, I see so very many posts of Christmas cookies and treats pop up all over the place. A lot of the treats that you now see have evolved over the years. In the last couple of years, I have seen and tried out a few that are brand new to me and I wouldn't have known of if it wasn't for the internet. These were so much easier and quicker to make than the kind of Christmas sweets I am used to making, not to mention absolutely delicious. Today, however, I'm going to share with you a Christmas treat that I've grown up with, these gorgeous Kulkuls. This is a traditional Goan sweet and if you haven't had them before these are little deep-fried, sweet, pastry bites.
This sweet called Kulkuls (cuhl-cuhls), is something I've grown up with. Every year, at around this time the family would gather to make these little treats. And yes, it is a family affair. This little bites of fried, sweetened pastry take a while to make. Since, many hands make for light work, my Grandma, my Mum, my Father (whenever he was on leave from work), my brother and I would sit down to make these sweets. We'd make a massive batch of this every year and it would take a whole evening from start to finish. That being as it is, we'd make Kulkuls every single year. These little fried dumplings can be sweetened to your liking and they have a long shelf life. The batch that we used to make around this time, would last till the end of Jan. In all honesty, they'd probably keep much longer, but they are so tasty and addictive, they'll be finished long before that.
Most of my family recipes, the old Goan ones have been handed down from one generation to another. The weird part is almost all of these recipes, never had fixed quantities of ingredients mentioned. The recipe is very forgiving and I've managed to chart down some quantities for reference. This quantity is a much more manageable batch size than what I'm used to, but you could cut it down further, if you need to. The process should take a couple of hours but I think its all worth it. While I did manage to get step by step pictures of the process, I didn't manage to take a picture of the batch after it was done frying. So for the time being, I am putting up a picture of our platter of traditional Goan Christmas sweets from last year which has some kulkuls on it. I"ll try and get a better one this year.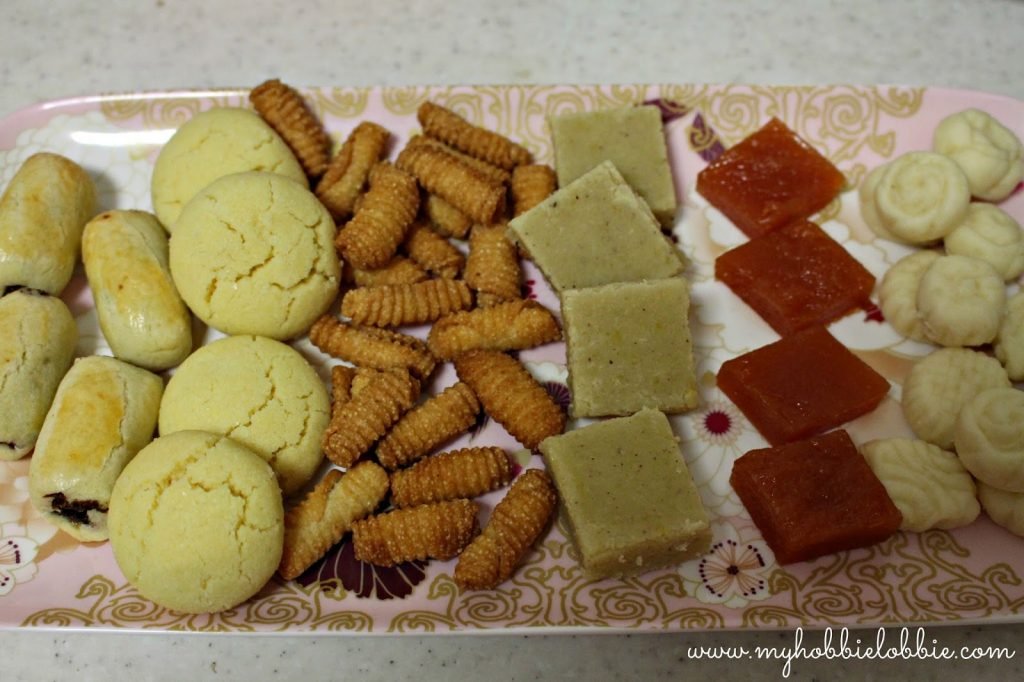 L-R: Date Rolls, Nankatais, Kulkuls, Chonya Doce, Perad, Milk Cream
Kulkuls


1/4 kg Semolina (rava)
1/4 kg All purpose flour (maida)
1 egg
A splash of milk
3 tbsp clarified butter (ghee)
1/3 can coconut cream (400ml can) (You could also use about 150 ml freshly extracted coconut juice)
2 fat pinches of salt, or to taste
Superfine (or powdered) sugar, to taste (Start with a couple of heaped tablespoons and add more as needed)
Oil, for deep frying
Knead all the ingredients to a dough using milk as needed.
Kneading the dough once its done, should leave a slight trace of ghee on your hand, but only just. If your dough is on the dry side, add a little more ghee and knead again. This ensures that the dough doesn't stick to the forms we're using to shape the kulkuls.
Taste a little pinch of the dough for sweetness. I tend to not make these too sweet so that it cuts through all the other sweetness on the plate. If you think you want the kulkuls sweeter, add some more sugar and knead into the dough.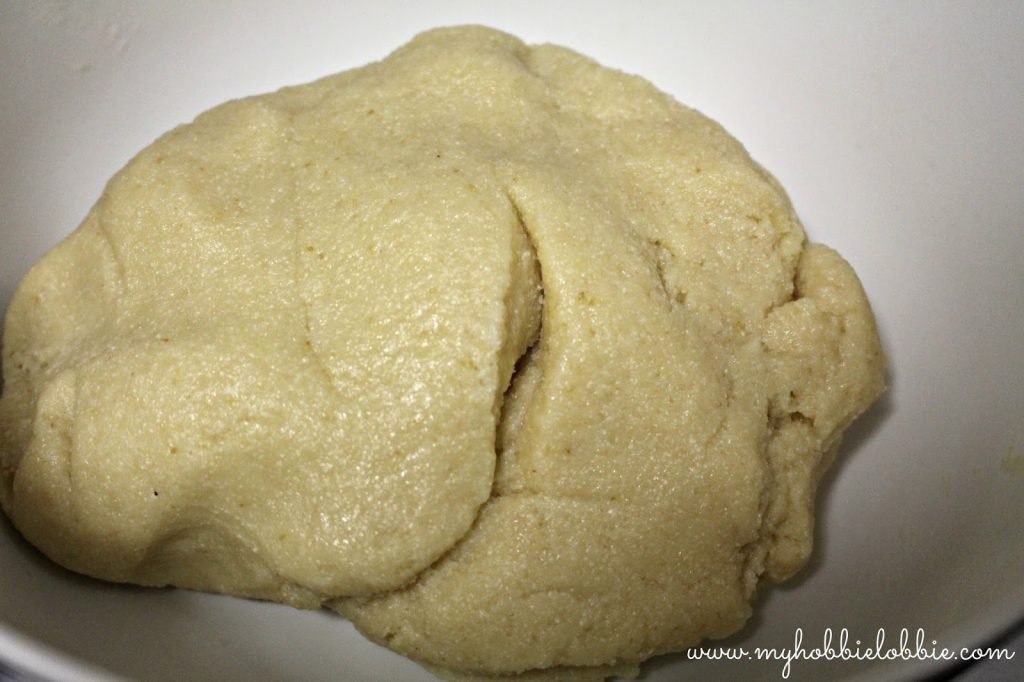 Cover the dough with a damp cloth and let it rest for about half and hour.
To shape the kulkuls, you can use a variety of things. We now use these paddles that are specifically used for kulkuls. If you don't have these paddles, you can use the back of a fork or a new, clean haircomb.
Work with a small portion of the dough at a time. Keep the unused dough covered with a damp cloth while you work with the rest. Roll into a long sausage shape and cut into pieces.
Working with one piece at a time, place the piece of dough on the paddle.
Using your thumb, flatten the dough into a rectangular piece as shown in the pictures below.
Starting with the end closest to you, gently life the dough and roll away from you, keeping the roll fairly tight.
Lightly press the edge of the roll to seal it up so that it doesn't open up while frying.
Adjust the size of the pieces of dough to suit the size of the kulkuls you need.
Repeat with the rest of the dough. As you shape the kulkuls, keep them on a flat tray. I turn a cookie sheet upside down and use the back of the tray.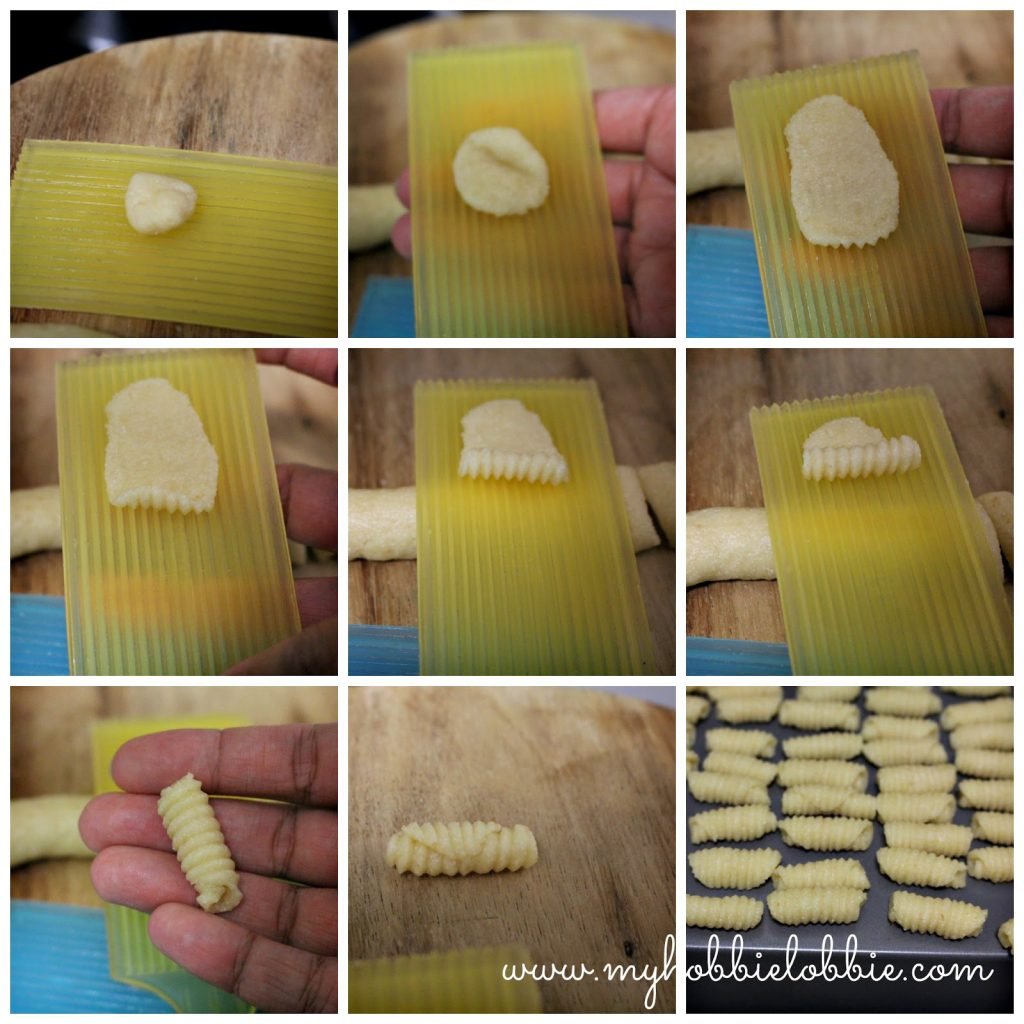 When they are all done, heat some oil for deep frying.
Test that the oil is hot enough by gently dropping a small bead of dough into the oil. If it bubbles in the oil, instantly and comes to the top, the oil is hot enough.
Keep the oil on medium heat.
Gently tip the kulkuls into the oil. Don't overcrowd the pan. Fry them in small batches as the oil may froth a little and bubble up and spill over. Start with the ones that were shaped first.
When the kulkuls are golden brown, drain using a slotted spoon and place on some kitchen paper to drain off any excess oil.
Repeat with the rest of the kulkuls until they are all fried up.
When the kulkuls have completely cooled down, store in an airtight container.
Enjoy this lovely addition to your Kuswar platter.
** I'm hoping to get more pictures this year and will add them to this post.
If you're looking for other Kuswar recipes, you can find them here –
1) Marzipan
2) Date Rolls
3) Nankatais
4) Chaklis
5) Baath / Badca
6) Peraad
7) Coconut Toffee
8) Milk Cream
9) Jujups
10) Coconut Ladoos / Coconut Snowballs
I seem to be on an Indian bread / flatbread roll at the moment 🙂 A while ago, I had spotted someone posting a picture for Methi Pooris and ever since, I've thought about them every once in a while when I try and work out what we're going to have for dinner. What are Methi Pooris? Pooris are little deep fried flatbreads. Methi is nothing but fenugreek. So basically, these are just little deep fried flatbreads with a little fenugreek in them. Now, not always, do these thoughts get acted on, but not this time. This time, I am proud to say I actually made these pooris. I did a little reading up on them and with every recipe I read, I found myself with a little ingredient hurdle I wasn't going to conquer. So on went my thinking cap and I decided that I was going to bravely venture into conconting my own version of the pooris. I took bits and pieces from 3 different recipes that I thought would work together, made a few minute changes and was very happy with the result. I didn't get any step by step pictures this time, since I wasn't sure how well the pooris would turn out. But when we tasted them, I knew I had to share this recipe with you as soon as I could.
So, if you are looking to add a little variety to your routine Indian meals, try this out. A lot of folks make the pooris using fresh methi / fenugreek. I didn't have access to any, so I replaced it with some Kasuri Methi / dried fenugreek leaves. These are readily available in any Indian grocery store and keep well for months. I served this up with some Aloo bhaji, or mildly spiced Indian curried potatoes. You can find the recipe for that here. If you'd like to try the basic poori recipe, the plain one, you can find it here. If you're a noob at cooking Indian food the potato stir fry is a good place to start. It is nothing more than a quick stir fry and if I can make it, anyone can 🙂 So don't let the thought of cooking Indian food scare you. Give these recipes a try and you'll be hooked.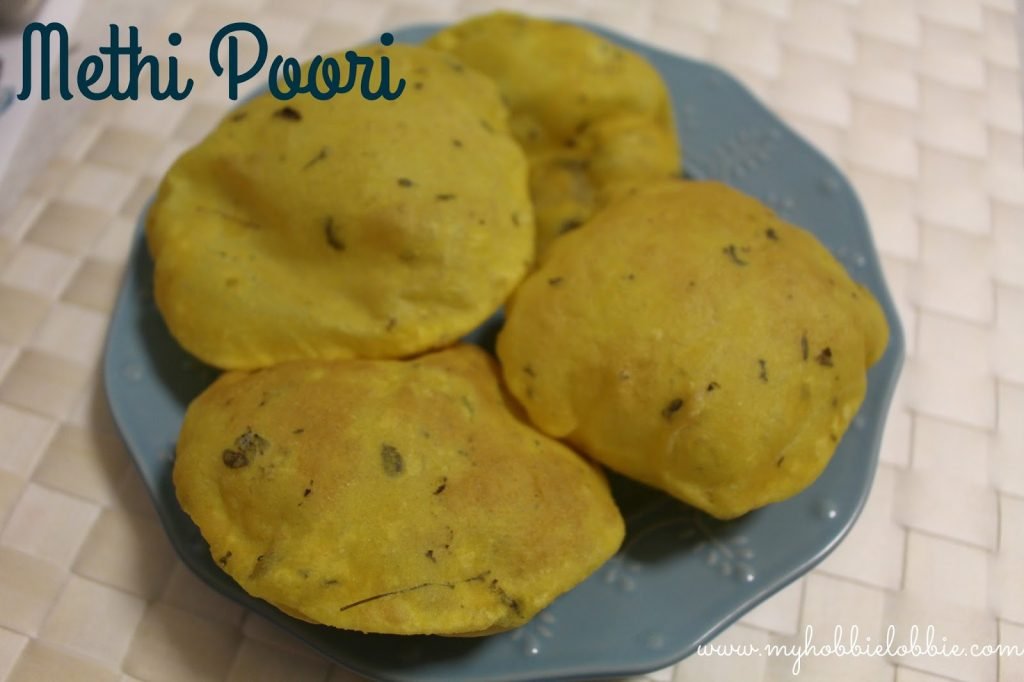 Methi Poori


1 cup whole wheat flour
1/2 cup all purpose flour
1/2 tsp salt
1 heaped tbsp natural, unflavoured yogurt
1/2 tsp turmeric powder
2 tbsp Kasuri methi (dried fenugreek leaves)
Oil, for deep frying
Mix the whole wheat flour, all purpose flour and salt in a large bowl.
Place the kasuri methi in your palms and rub a little to release their flavour. Sprinkle over the flour.
Tip in the turmeric powder and mix everything together.
Add the yogurt and stir through.
Gradually add a little water and knead to a soft, pliable dough.
Add the water gradually as you don't want to end up with a sticky dough. If the dough turns out too sticky, sprinkle a little flour over and knead it in and you should be good to go.
Cover with a damp cloth and let it rest for about half an hour.
Heat the oil for deep frying over medium heat.
(To test the oil, drop a tiny pea sized ball of the dough carefully into the oil. It should sizzle and rise to the top fairly quickly. If this happens, your oil is at the right temperature. If it browns straightaway, your oil is too hot. Take it off the heat for a while and then start frying. If it just sinks to the bottom without any sizzle, your oil is not hot enough.)
Make small walnut size portions and roll to form a disc. Do not roll out too thin. (According to my mum, they need to be a little on the thicker side to puff up. I simply follow that and get brilliant results each time.)
Deep fry as you're rolling them out. Don't stack the raw discs before frying.
When golden brown, drain on absorbent kitchen paper.
Serve hot!