I'm really excited as I write this post. Those of you following my blog will know that I've been venturing into the world of baking with yeast lately. Obviously this is just the tip of the ice berg. There is so much more I need to learn and try. But so far its been great fun. So when I made these doughnuts yesterday and they turned out great, I was thrilled to bits. Now, for the past couple of weeks, I've been craving doughnuts. Sinful, luscious, indulgent doughnuts. Strangely this craving pops around over the weekend. The past couple of weekends have been a little busy, so I really haven't been able to do anything about this craving for a long time. But this weekend I needed to get my doughnut fix. I really didn't want to stop by the mall and pick up a box of doughnuts. I wanted to try making them on my own. I had bookmarked a recipe that I liked a few months ago. And please don't laugh, but I really wanted to try out this doughnut cutter that I'd picked up over a year ago. I tend to do that every now and then, buy stuff planning to put it to good use, but sometimes it gets pushed right back to the deep dark recesses of my shelf and doesn't see the light of day for a while. But now I can happily justify this impulse buying. **wink*wink**
These doughnuts are fried, but are not in the least bit greasy. They are ever so light and did I mention, really delicious. The dough is not too sweet, just the way I like it. And I think I got a little carried away while dressing them up. I had some with a vanilla glaze, some with a chocolate glaze and some dipped in cinnamon sugar. The cinna-sugar ones were my favorite. I would also suggest making sure your vanilla glaze is nice and thick or else it won't be seen. You can't really tell but the vanilla glaze is supposed to be a lovely yellow. In any case, they are really delicious, so no one will really mind. I halved the recipe and I got 19 doughnuts. I guess your yield will depend on the size of you cutter. The recipe below is the full one that should yield 30.
Recipe from: La Mia Vita Dolce
4 tsp Active Dry Yeast
1/4 cup lukewarm water
1 cup lukewarm milk
3 tbsp caster sugar
100g butter, melted
3 eggs
4 1/4 cups all purpose flour
Vegetable oil, for deep frying
Activate the yeast by placing the water, milk, sugar and yeast in a bowl. Keep aside for 10 minutes. It will turn into a frothy concoction, indicating that the yeast is active.
Mix the flour, butter, eggs and the yeast mixture to form a sticky dough.
Cover with a damp cloth and keep aside for about 45 minutes or till the dough has doubled in size.
Knead the dough on a lightly floured surface till it becomes smooth and elastic.
Roll on a lightly floured surface and cut out. Place the doughnuts on lightly greased baking paper. Cover with a tea towel and keep aside for about 30 minutes to rise.
Heat oil for deep frying. Carefully fry the doughnuts on a medium flame till golden brown. Drain on absorbent kitchen paper.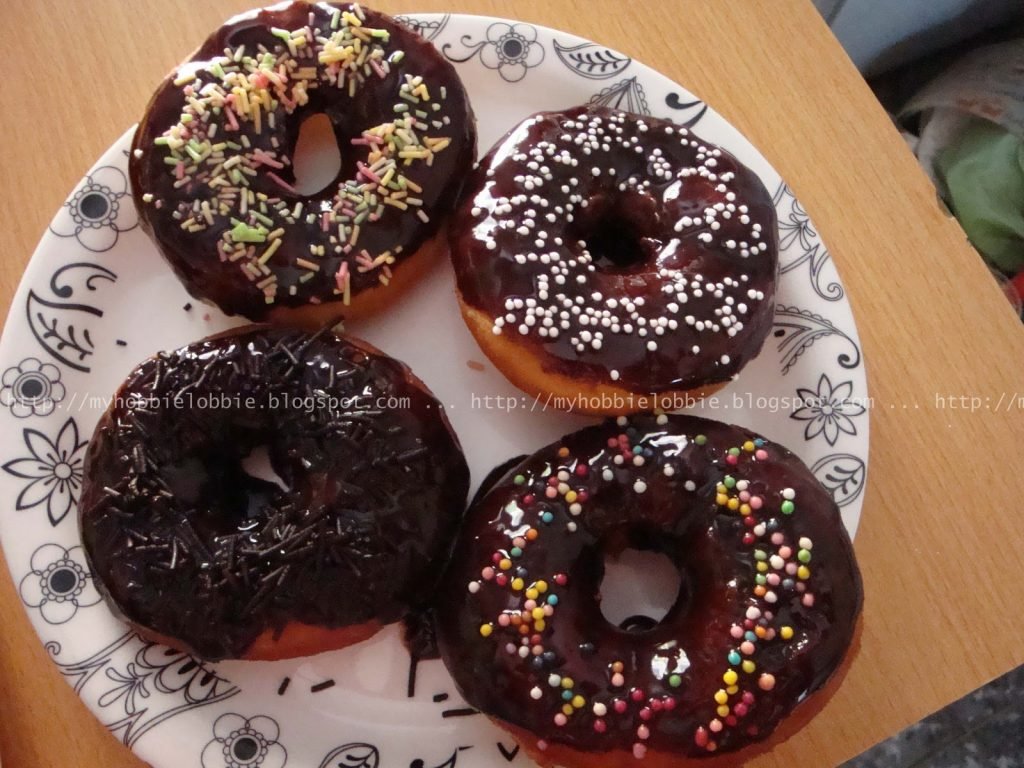 For the chocolate glaze –
(Makes enough to glaze the whole batch)
4 ounces dark chocolate, chopped
Sift icing sugar and keep aside.
Combine butter, milk, corn syrup, and vanilla in a medium saucepan and heat over medium heat until butter is melted.
Decrease the heat to low, add the chocolate, and whisk until melted.
Turn off heat, add the icing sugar, and whisk until smooth.
Dip the doughnuts in this glaze and sprinkle as desired.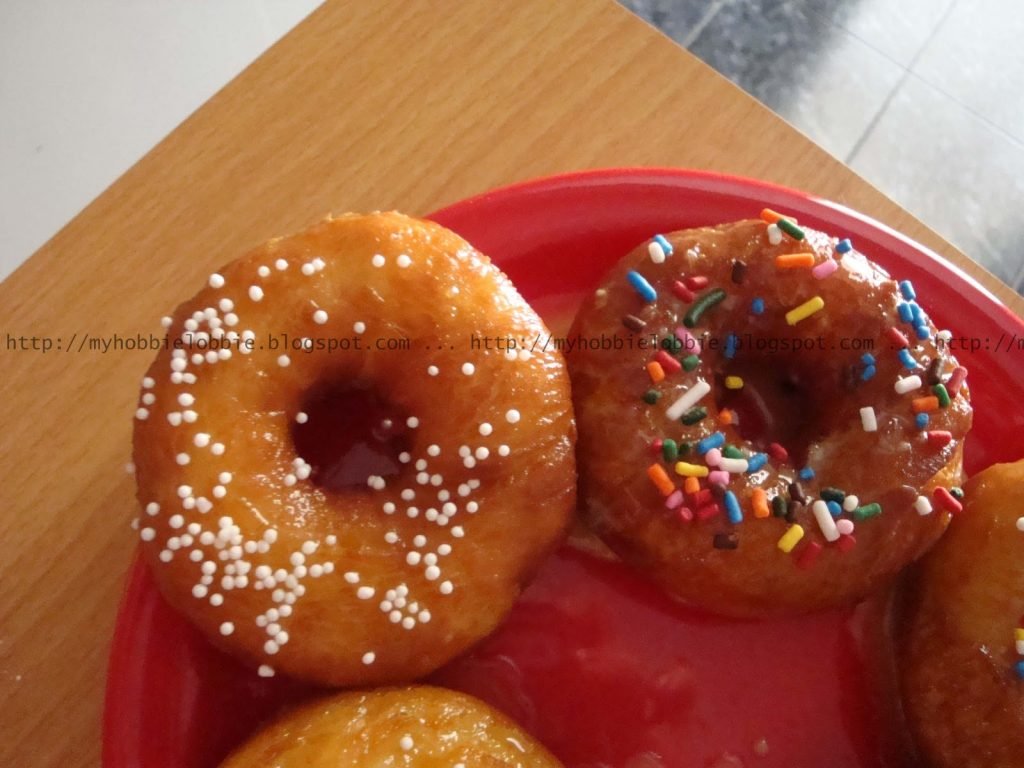 For the Vanilla glaze
(Makes enough to glaze the whole batch)
1 teaspoon clear vanilla extract
2 cups icing sugar, sifted
Gel paste food colouring (if using)
Warm the milk and vanilla in a medium saucepan set over low heat.
Add the confectioners' sugar and whisk slowly until well combined.
If tinting glaze, using a toothpick, add a drop of gel paste at a time, whisking to combine well, until you've reach the desired colour.
Remove from heat and set over a bowl of warm water (you may have to reheat over low heat occasionally).
Dip the doughnuts in the glaze and sprinkle as desired.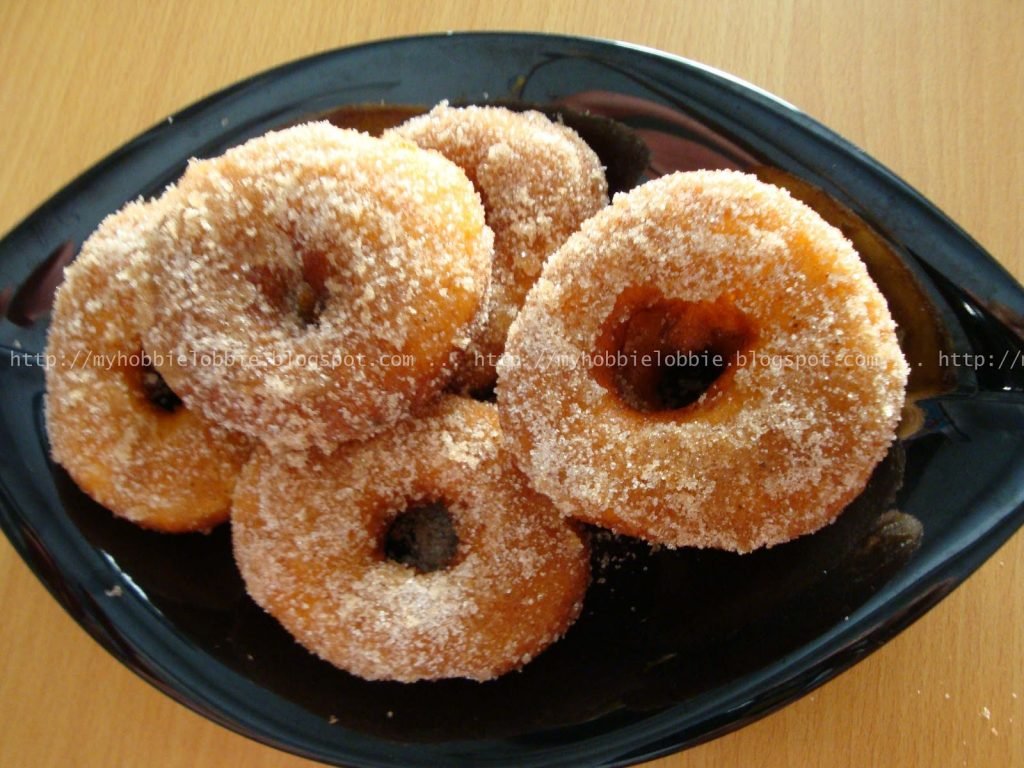 Cinnamon Sugar Topping
Mix the caster sugar and enough cinnamon powder, till you get the intensity of flavor you are looking for.
Dip the doughnut very briefly in the melted butter and then dip in the sugar and cinnamon mix to coat well.
There are many variants of the paratha that are made across the country. All sorts of veggies can be used for the stuffing. I hope to share some of the others with you soon. Today, I'm going to share with you one of our absolute favorites. This takes a little time and effort so I usually make these parathas when my husband has the day off and we don't have to rush anywhere early in the day. A lot of folks serve this with plain curds and a spicy pickle. Personally, we find curds a little too tart for breakfast and pickle isn't really our breakfast thingie. We like to have it plain and with a dollop of butter on top. Ooh yummy! The thought of it makes my mouth water. The recipe is very simple. I do hope you give it a try. Let me know what you think of it.
Aloo Parathas


For the dough –
3 cups wholewheat flour
1/2 tsp. salt
Water
Mix the flour and the salt well.
Bind with a little water at a time to form a soft pliable dough. The dough should not be sticky.
If you find the dough sticky, add some more whole wheat flour. If the dough is too dry and difficult to knead, add a little water.
Knead well, roll into a ball, cover with a damp cloth and keep aside while you make the filling.
For the filling –
3 potatoes, boiled
1-2 onions, finely chopped
1-2 green chillies, finely chopped
2 tbsp. fresh coriander leaves, finely chopped
1/4 tsp. turmeric powder
1/4 tsp. cumin powder
1/4 tsp. amchur (dry mango) powder (optional)
Salt, to taste (Make sure the mix is sufficiently salted)
Combine all the ingredients in a bowl and mix well to make sure all the ingredients are well mixed. Adjust seasoning, if needed.
Shape into balls about the size of a ping pong ball and keep aside.
To assemble –
Shape the dough into balls a little bigger than the ones made for the filling.
Roll the dough into 4″ disc on a lightly floured surface, making sure it doesn't stick to the work area. Don't flip the dough over while rolling.
Place the disc in the palm of your add, add a few drops of clarified butter / ghee on the side facing you and spread it out on the disc.
Place a ball of the filling in the centre and bring the sides of the dough together and press to seal the edges. Roll between your palms to form a ball again, without pressing. (The layer of dough around the filling shouldn't be too thin or else the filling will come out and burn while roasting).
Roll this out to a disc on a floured surface. Don't roll too thin.
Place this on a well heated tawa / griddle and roast for a while moving it around till light brown spots appear on one side. Turn over and cook on the other side till light brown spots appear on the other side as well.
To finish off, spoon a few drops of clarified butter on the paratha and spread. Flip over and repeat this on the other side letting it roast for a few seconds after you add the clarified butter to the side.
Serve hot with butter and a mug of hot coffee.
You can leave out the clarified butter if you want an even healthier version, but it does wonders for the taste.
If you have any dough or filling left over, simply refrigerate and use the next day.
You can also make a plain paratha by simply rolling out the dough, spreading with ghee, wrap, re-roll and roast it without the filling. This can be served with your favorite jam or cheese or scrambled eggs or an omelette or anything else you'd fancy.
This recipe is linked to –
Meatless Mondays @ Midnight Maniac
Mouthwatering Mondays @ A Southern Fairytale
Decidedly Healthy or Horridly Decadent
What's Cooking Wednesday
Just Another Meatless Monday
My Meatless Monday