This is a recipe I wanted to post a long time ago, back when I'd posted the
Chole
recipe. They go amazingly well together. I hope you try these out. These bhatures are simple to make and are well worth the effort. They look similar to the pooris but are different in taste and texture. We enjoy these so much, we can eat them plain when they're piping hot.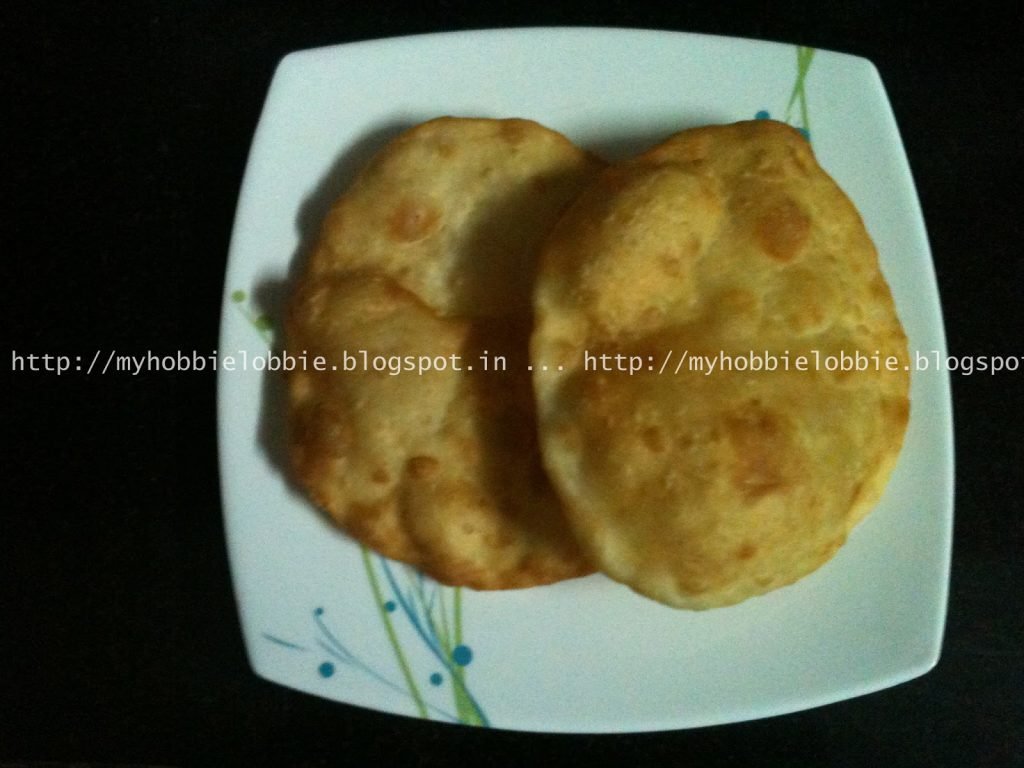 Bhature
Recipe by: Sanjeev Kapoor
2 1/2 cups all purpose flour
A pinch of baking soda
1/2 tsp baking powder
1/2 cup natural unflavored yogurt
1 tsp salt
2 tsp sugar, powdered
2 tbsp vegetable oil
Oil, for deep frying
Mix the dry ingredients – flour, baking soda, baking powder, salt and sugar in a bowl making sure you mix well.
Add the yogurt, oil and enough water to knead into a soft dough.
Cover with a damp cloth and let it rest for half an hour.
Heat the oil for deep frying and as it is heating, grease your hands and divide the dough into portions the size of golf balls (You can change the size of the portions to suit your liking) and roll out into a disc.
Deep fry in the hot oil and when browned, drain on absorbent paper.
Serve hot.
Parathas are one of my favorite breakfast items. Do you remember the
Aloo Parathas
and the
Methi Parathas
? If you haven't seen those, you really should. Here's another variation to the stuffed paratha that you can try. The method is the same as the one used for the Aloo Paratha except here we're going to make a gobhi (cauliflower) filling.
Do you have a favorite paratha? Leave me a comment and let me know what it is. I'd love to try it out!
Gobhi Parathas


For the dough recipe and on how to make the parathas, click here.
For the Filling-
1 head of cauliflower, washed and grated (Do not use the greens)
1″ ginger, grated
1 green chilly, finely chopped
Salt, to taste
Mix well and use a spoonful of this mix to stuff the parathas.
For details on how to make the parathas, go here.




This recipe is linked to –
My Meatless Mondays
For months together I've been in awe of all you wonderful bloggers out in blog land who bake their own bread. Seriously, I've not done much in this field. Somehow, yeast has always intimidated me. But somehow, everywhere I looked, folks were baking their own bread. So this weekend, I decided to take the plunge and try my hand at a brioche loaf.
What can I say! I was really anxious while preparing the dough even though the process was fairly simple. But it did rise well while resting so I calmed down a little and continued. I had my fingers crossed and was seriously hoping the bread would turn out okay. I was going to serve it up for dinner, with almost no backup, should it have failed. All my hopes were pinned on it. I was thrilled to pieces when I took it out of the oven. I almost did a little dance with the hot loaf tin in my oven mitt covered hands. Who am I kidding? I did a little dance! I had finally conquered the mighty yeast; at least for now. The loaf had risen beautifully and was so tasty, I could eat it plain. To say that the mass produced, store bought bread pales in comparison, is an understatement.
I love being able to bake my own bread and not having to rely on what available at the stores. There are so many different types of bread I've seen on diiferent websites and blogs, I know for sure, I will be baking my bread more often.
I didn't change the recipe much, since this was my first attempt, except for using salted butter instead of unsalted and adjusting the amount of salt used. However, I did alter the method a bit. What follows is the method I used and its what I'll stick to, since I got such great results.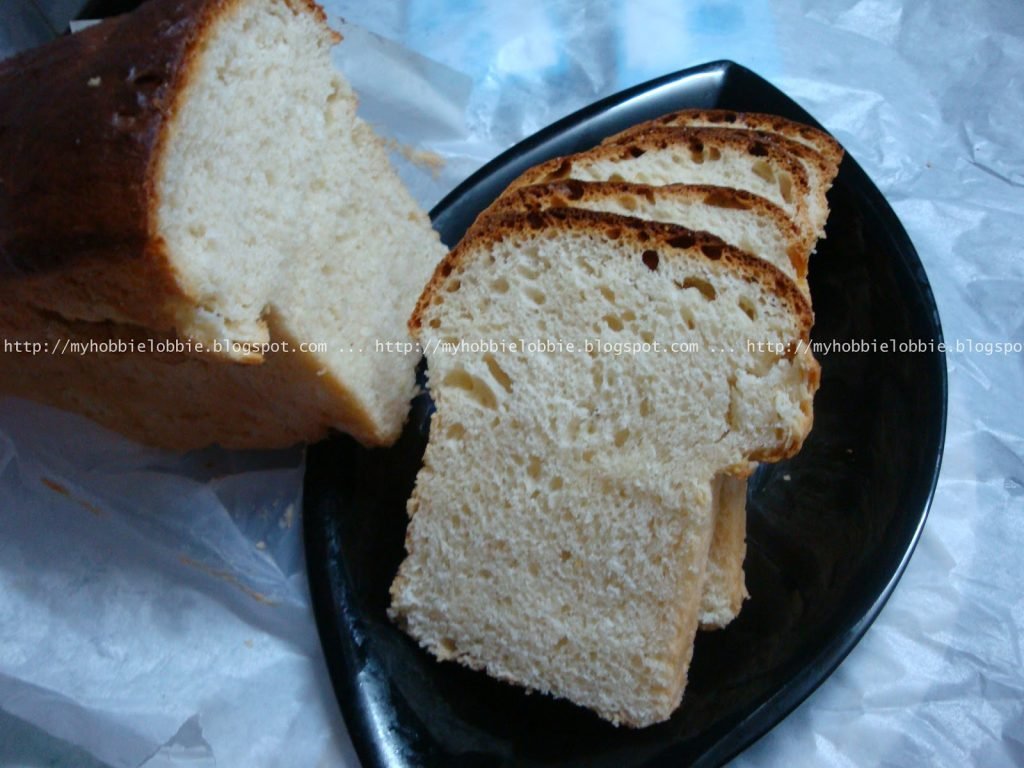 Brioche Loaf
Adapted from: Group Recipes
1/2 cup milk
2 large eggs
2 tbsp sugar
1/2 tsp salt
1/2 cup butter, softened
2 1/2 cups all purpose flour
2 1/2 tsp active dry yeast
Heat the milk to get it warm but not hot. (If its too hot, it'll kill the yeast and if its not too warm, the yeast won't activate. The original recipe suggests 110-115ºF, I just went by feel). Pour the milk into a bowl. Add the sugar and sprinkle the yeast over it. Cover and leave it to stand for about 10 minutes or till frothy.
Pour this mix into a large mixing bowl. Add the eggs 1 at a time and using an electric whisk beat between each addition.
Add the butter and salt and beat well again.
Add a cup of the flour and beat well.
Add the rest of the flour and mix till is it well incorporated. At this stage I started mixing with a large wooden spoon.
Once this is done, turn out on a lightly floured surface and knead well for about 5 minutes till the dough becomes smooth and elastic. This is a fairly sticky dough, so lightly flour your hands before needing and curb the urge to add more flour. Trust me, you don't need it.
I lined and greased a loaf tin, leaving a little overhang of the baking paper. Transfer the dough to a 8 1/2-9″ loaf tin. (I had only a 7 1/2″ one so I used that, which is why the top of the loaf looks the way it does.) Cover with a clean kitchen towel and leave it to rise for an hour.
Preheat the oven to 180ºC. Bake for 30-40 minutes or until golden brown.
Enjoy!
This recipe is linked to –
Savory Sundays
My Meatless Mondays
Bake with Bizzy
Mangia Mondays
Mouthwatering Mondays
You've probably heard me mention the "poori" (pronounced poo-ree) in a couple of posts before, like
here
and
here
. Both these posts give you ideas of stir fries and curries that you can serve with pooris. They are fairly simple to make. I love these little fellows so much, that I can eat them plain, without anything else to go with it. I don't make them too often 'coz they're deep fried and trust me when I say you may not be able to stop at just a couple. They taste incredible when they are hot. If there are any leftovers, I refrigerate them and the next day I simply warm them on a griddle and they are good to go.
Learn how to make the Puris here –
Pooris


2 cups whole wheat flour
1 tsp Salt, or to taste
Water (approx 1 cup)
Oil, for deep frying
Mix the flour and salt in a large mixing bowl.
Make a well in the centre and adding water a little at a time, knead to form a nice pliable dough. If you need to use more than a cup of water, please do so.
Heat the oil for deep frying over medium heat. To test the oil, drop a tiny pea sized ball of the dough carefully into the oil. It should sizzle and rise to the top fairly quickly. If this happens, your oil is at the right temperature. If it browns straightaway, your oil is too hot. Take it off the heat for a while and then start frying. If it just sinks to the bottom without any sizzle, your oil is not hot enough.
Make small walnut size portions and roll to form a disc. Do not roll out too thin. (According to my mum, they need to be a little on the thicker side to puff up. I simply follow that and get brilliant results each time.)
Deep fry as you're rolling them out. Don't stack the raw discs before frying.
When golden brown, drain on absorbent paper.
Serve hot!
This recipe is linked to –
Let's Do Brunch
Full Plate Thursday
It's A Keeper Thursday
Those of you who read my post on
Whole Wheat Carrot Muffins
, know the lovely Louisa of
Living Lou
. I was assigned her blog for this months
SRC
. She has so many treats lined up that I couldn't help making another one. You already know how much I love garlic. My
Garlicky Baked Potato Wedges
and
Easy Garlic Rolls
are a testimony to that. So when I say this Cheese Garlic Bread, I knew I had to make it, and there was no to ways about it. I've made garlic bread before, but nothing like this. I've never used mayo in it. I was curious and wanted to see how it would turn out. I had a few slices of white bread that had to be used up so I just used those. This Cheese Garlic Bread is my new favorite. I think the mayo makes it yummier somehow, I don't know how, it just does. The spring onion lends it a mild flavor that is so different from the other cheese garlic bread versions around. I really like it. The only thing i did differently was increasing the amount of garlic, which I still found a little subtle. The next time I'm going to step the garlic further up a notch than mentioned in my adaptation of the recipe. If you can't deal with too much garlic, you don't need to do that.
Anyway, I urge you to try this out. Make it for your family and friends, they'll love you even more for it. 😉
Cheese Garlic Bread
Adapted from: Living Lou
Makes 12 pieces
6 slices of bread
1 spring onion, sliced
1/4 cup mayonnaise (I used Homemade Mayonnaise)
2 tbsp. softened butter
2 cloves garlic, finely chopped (I'll probably use 3 or 4 cloves of garlic next time)
1 – 1 1/2 cup grated cheese
Freshly crushed black pepper, to taste
Preheat the oven to 170ºC.
Mix the onion, mayo, butter, garlic, cheese and pepper in a bowl till well combined.
Spread this mix on the slices of bread and bake for about 5-7 minutes or until the cheese has melted and is bubbly.
Take it out of the oven immediately and allow it to cool for a minute. Cut the slices of bread into two and serve immediately.
This recipe is linked to –
Delectable Tuesday
Tuesdays At The Table
Hearth and Soul
A Little Birdie Told Me
When I saw
this
post on Focaccia on Lisa's
blog
, one I visit almost every day, I knew I was going to make it soon. The bread looked so wonderfully comforting. I don't have much experience in baking with yeast save a few things in the past, namely these
doughnuts
and these
easy garlic rolls
, so when I saw this was a no-fuss yeasted bread, I decided there was no better way to add to my yeasted bread repertoire. I had all the ingredients at home and that made my decision so much more easier. Instead of one large focaccia, I split the dough in half and made 2, with different toppings. I changed the toppings, Lisa used tomatoes, but I had some delicious
homemade roasted bell peppers
, so I ended up using those and I also used some stuffed olives that I happened to have. My husband and I loved the outcome. Warm, fresh bread just out of the oven, not only fills your kitchen with its wonderful aromas, but is so very comforting. There's nothing like it. I have decided to try out some more yeasted breads in the near future. So stay tuned. But before I embark on that journey, I will need to pop into a store and buy some more yeast; I've run out. As far as this focaccia recipe goes, its most definitely a keeper and I have so many flavor combos in mind to use as toppings, I'm going to make a list before I forget. What toppings would you like on yours?
No-Fuss Focaccia
Adapted from: Sweet As Sugar Cookies


For the dough –
3/4 cup warm water
1 tbsp olive oil (plus more for drizzling)
Salt, to taste (I used about 1/2 tsp)
1 3/4 cup all purpose flour
1 1/2 tsp. active dry yeast
2 tsp sugar
Place the warm water in a glass bowl and add the yeast and the sugar and let it stand for about 10 minutes in a warm spot in your kitchen, till foamy.
Tip this yeast solution into your mixing bowl. Add the flour 1/2 cup at a time and after a couple of additions of flour, sprinkle the salt over evenly and continue adding the flour, till the dough no longer sticks to the side of the bowl. You will end up with a sticky dough. This is exactly what you're looking for.
Drizzle some of the olive oil into a 9″ cake pan and make sure it is evenly coated (much like greasing a pan for a cake). Place the dough in the pan and cover with some cling wrap and let it rest for about 60 minutes.
Since I made this two ways, I divided the dough in half and used 2 round 6″ cake tins.
Towards the end of this period, preheat your oven to about 170ºC.
Once the dough is nice and puffy and has increased in size, gently poke the risen dough all over with your index finger. Drizzle it lightly with some more olive oil and add the desired toppings.
Bake for about 35-40 minutes till nice and golden brown.
Roasted Bell Pepper Focaccia –




After drizzling the dough with olive oil, I sprinkled some dried oregano, some dried chives, a light sprinkle of salt and some chopped up marinaded bell peppers. Then I baked it till golden brown.
Olive studded Focaccia




After the dough was drizzled with olive oil, I sprinkled it with some dried chives, a light sprinkle of salt and some chopped pimento-stuffed green olives. Then I baked it till golden brown.
Please forgive the lighting, it was really late in the evening!
This recipe is linked to –
Savory Sunday
Mouthwatering Mondays
My Meatless Mondays
Let's Do Brunch
Mangia Mondays
Hearth And Soul
Just Another Meatless Monday
Meatless Mondays
Tempt My Tummy Tuesday
A Little Birdie Told Me
What's On The Menu Wednesday
Real Food Wednesday
What's Cooking Thursdays
Full Plate Thursday
These parathas are another one of my favorite savory breakfast items. Like the Aloo Parathas, it can be served with some unflavored yogurt or pickle. But I like it served pipping hot with a dollop of butter and a mug of good hot coffee. To me that sums up a great breakfast. The parathas are easy to make because there is no stuffing involved, all the ingredients are mixed together to form a dough. They can be made the previous night and kept in refrigerated in a covered container. All you need to do the next morning while the coffee is brewing, is warm it on a tava (griddle) and you're all set.
Usually fenugreek is known to have a bitter-ish taste. These parathas however aren't. For this recipe, I don't use the baby fenugreek leaves but the larger ones. Another thing to keep in mind, is that when you are cleaning the sprigs of fenugreek leaves, make sure you pick only the leaves and not the stalk, no matter how tender you may find the stalk to be.
You might want to allow a couple of extra parathas per person as these are not as heavy as the Aloo Parathas are and they are very more-ish. I added a couple of hot green chillies. You can either deseed them to cut down the heat or simply cut down the amount of chillies if you are not used to spice. Also, if you are calorie conscious, you can leave out the ghee and these parathas will still be tasty.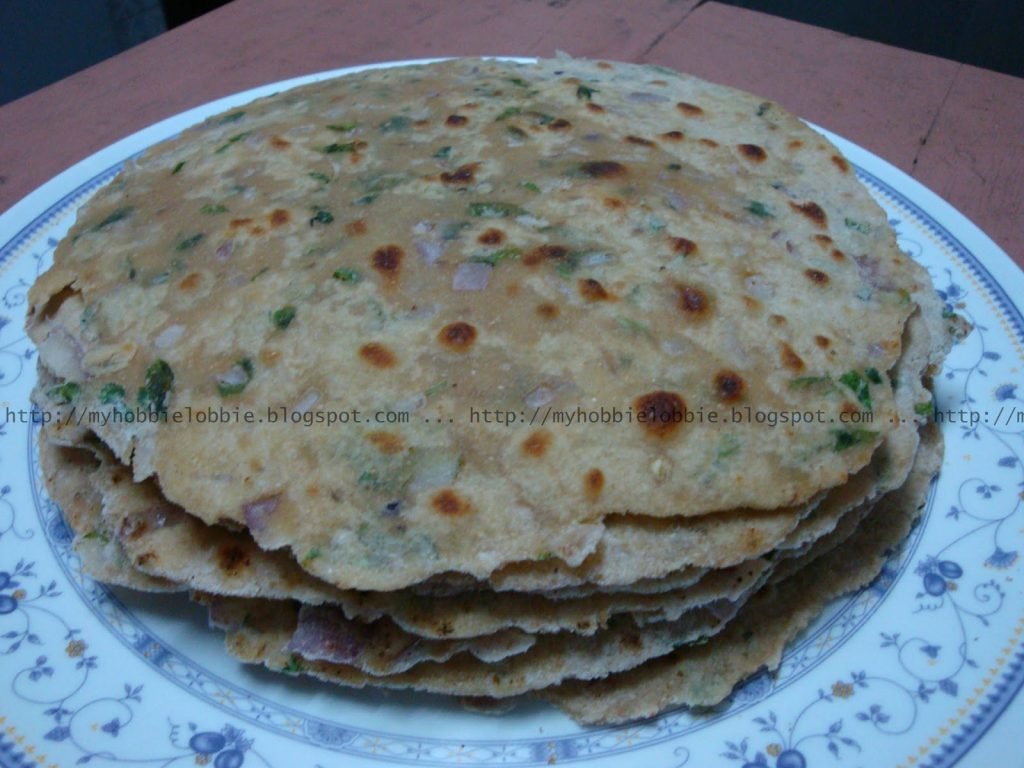 Methi Parathas
(Makes 12-15)


2 cups whole wheat flour
1 medium sized onion, finely chopped
2 green chillies, finely chopped
1 cup fenugreek leaves, chopped
1 tsp carrom seeds, rubbed between the palms of your hands to release their flavor
1 tsp salt, or to taste
1 tbsp ghee / clarified butter + extra to smear on the parathas while they're cooking (optional)


In a large bowl, mix all the ingredients well to make sure they are well distributed.


Make a well in the centre and gradually add enough water to bind into a pliable dough.


Divide into portions the size of a golf ball and keep ready.


Roll this out to a thin disc on a floured surface.
Place this on a well heated tawa / griddle and roast for a while moving it around till light brown spots appear on one side. Turn over and cook on the other side till light brown spots appear on the other side as well.
To finish off, spoon a few drops of clarified butter on the paratha and spread. Flip over and repeat this on the other side letting it roast for a few seconds after you add the clarified butter to the side.
Serve hot with butter and a mug of hot coffee.
You can leave out the clarified butter if you want an even healthier version, but it does wonders for the taste.
Enjoy.




This recipe is linked to –
Just Another Meatless Monday
My Meatless Mondays
Meatless Mondays
Let's Do Brunch
Not Baaad
Mangia Mondays
Herbs and Flowers in my platter- Fenugreek leaves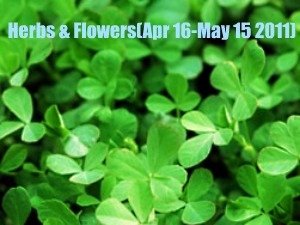 (http://seduceyourtastebuds.blogspot.com/p/herbs-flowers-hosting-schedule.html)
I'm really excited as I write this post. Those of you following my blog will know that I've been venturing into the world of baking with yeast lately. Obviously this is just the tip of the ice berg. There is so much more I need to learn and try. But so far its been great fun. So when I made these doughnuts yesterday and they turned out great, I was thrilled to bits. Now, for the past couple of weeks, I've been craving doughnuts. Sinful, luscious, indulgent doughnuts. Strangely this craving pops around over the weekend. The past couple of weekends have been a little busy, so I really haven't been able to do anything about this craving for a long time. But this weekend I needed to get my doughnut fix. I really didn't want to stop by the mall and pick up a box of doughnuts. I wanted to try making them on my own. I had bookmarked a recipe that I liked a few months ago. And please don't laugh, but I really wanted to try out this doughnut cutter that I'd picked up over a year ago. I tend to do that every now and then, buy stuff planning to put it to good use, but sometimes it gets pushed right back to the deep dark recesses of my shelf and doesn't see the light of day for a while. But now I can happily justify this impulse buying. **wink*wink**
These doughnuts are fried, but are not in the least bit greasy. They are ever so light and did I mention, really delicious. The dough is not too sweet, just the way I like it. And I think I got a little carried away while dressing them up. I had some with a vanilla glaze, some with a chocolate glaze and some dipped in cinnamon sugar. The cinna-sugar ones were my favorite. I would also suggest making sure your vanilla glaze is nice and thick or else it won't be seen. You can't really tell but the vanilla glaze is supposed to be a lovely yellow. In any case, they are really delicious, so no one will really mind. I halved the recipe and I got 19 doughnuts. I guess your yield will depend on the size of you cutter. The recipe below is the full one that should yield 30.
4 tsp Active Dry Yeast
1/4 cup lukewarm water
1 cup lukewarm milk
3 tbsp caster sugar
100g butter, melted
3 eggs
4 1/4 cups all purpose flour
Vegetable oil, for deep frying
Activate the yeast by placing the water, milk, sugar and yeast in a bowl. Keep aside for 10 minutes. It will turn into a frothy concoction, indicating that the yeast is active.
Mix the flour, butter, eggs and the yeast mixture to form a sticky dough.
Cover with a damp cloth and keep aside for about 45 minutes or till the dough has doubled in size.
Knead the dough on a lightly floured surface till it becomes smooth and elastic.
Roll on a lightly floured surface and cut out. Place the doughnuts on lightly greased baking paper. Cover with a tea towel and keep aside for about 30 minutes to rise.
Heat oil for deep frying. Carefully fry the doughnuts on a medium flame till golden brown. Drain on absorbent kitchen paper.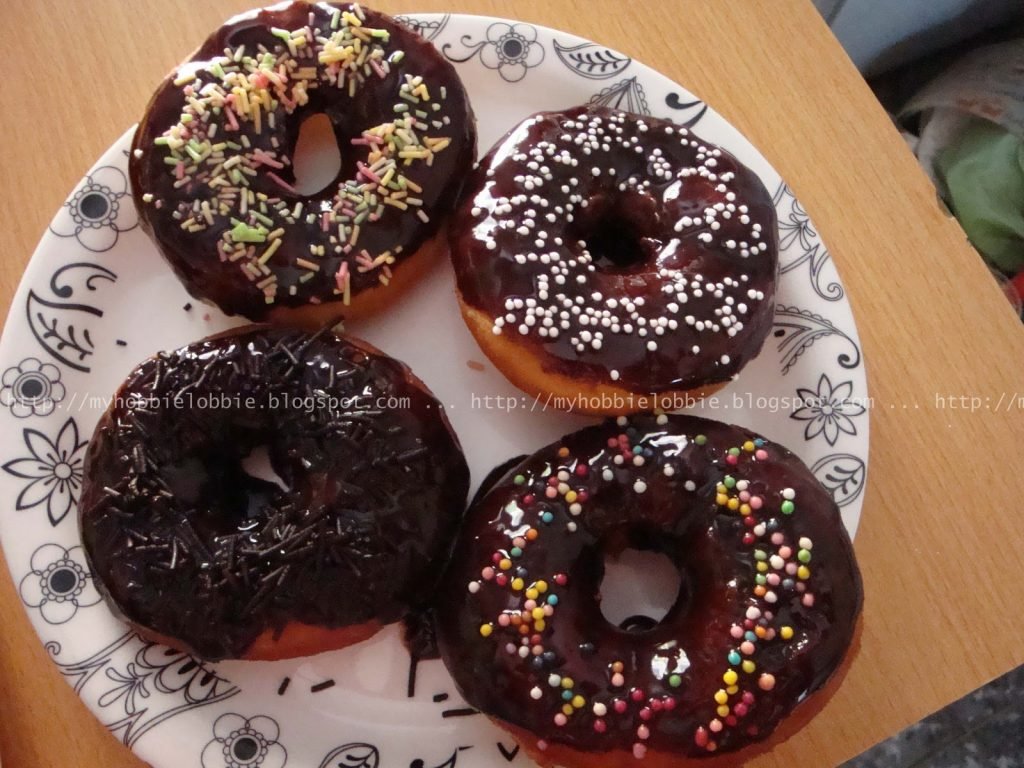 For the chocolate glaze –
(Makes enough to glaze the whole batch)
4 ounces dark chocolate, chopped
Sift icing sugar and keep aside.
Combine butter, milk, corn syrup, and vanilla in a medium saucepan and heat over medium heat until butter is melted.
Decrease the heat to low, add the chocolate, and whisk until melted.
Turn off heat, add the icing sugar, and whisk until smooth.
Dip the doughnuts in this glaze and sprinkle as desired.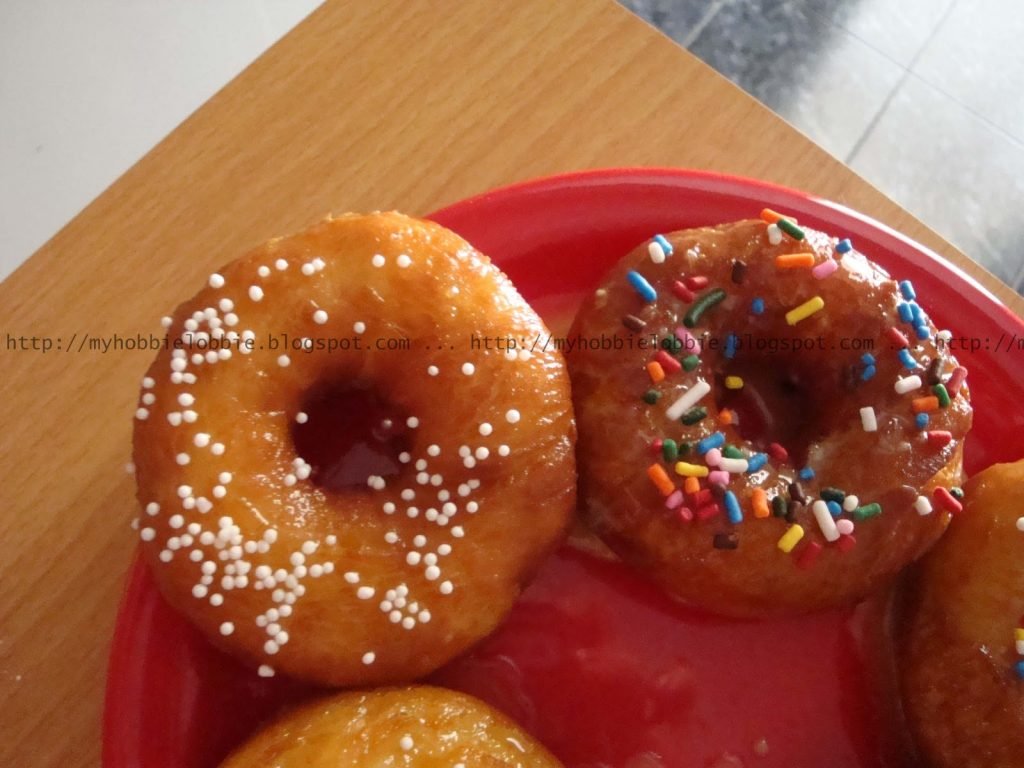 For the Vanilla glaze
(Makes enough to glaze the whole batch)
1 teaspoon clear vanilla extract
2 cups icing sugar, sifted
Gel paste food colouring (if using)
Warm the milk and vanilla in a medium saucepan set over low heat.
Add the confectioners' sugar and whisk slowly until well combined.
If tinting glaze, using a toothpick, add a drop of gel paste at a time, whisking to combine well, until you've reach the desired colour.
Remove from heat and set over a bowl of warm water (you may have to reheat over low heat occasionally).
Dip the doughnuts in the glaze and sprinkle as desired.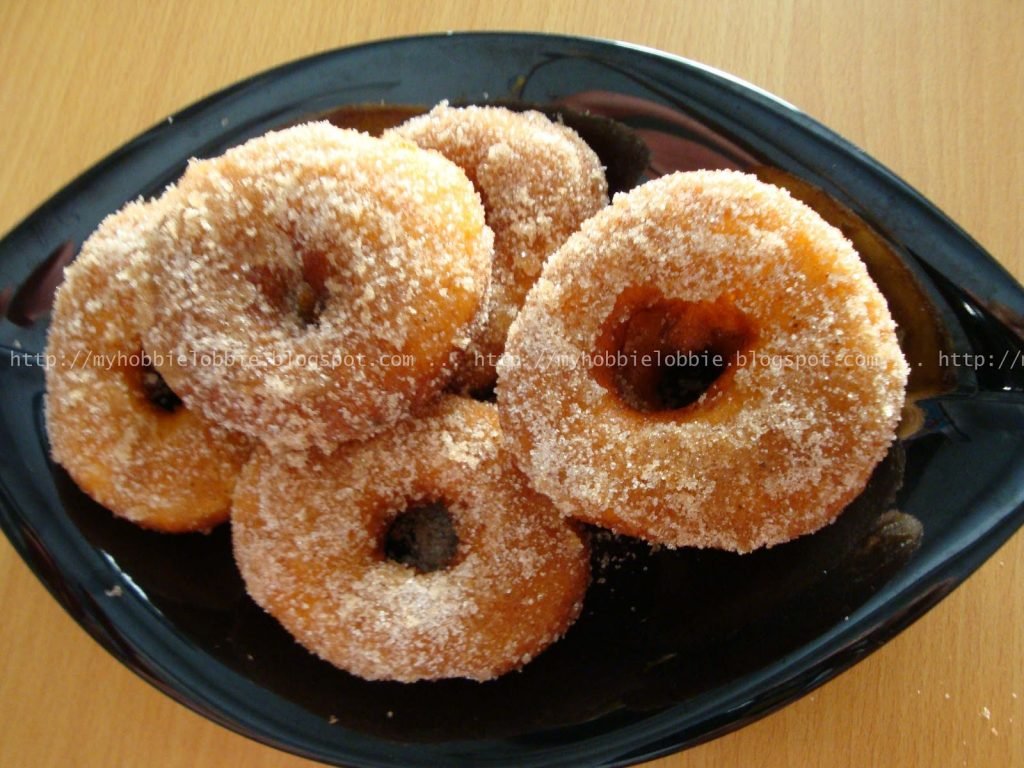 Cinnamon Sugar Topping
Mix the caster sugar and enough cinnamon powder, till you get the intensity of flavor you are looking for.
Dip the doughnut very briefly in the melted butter and then dip in the sugar and cinnamon mix to coat well.
Since I'd had my first encounter with yeasted bread and managed these beautiful, yummy
burger buns
, I got a little more adventurous and decided to start experimenting with yeast a little more. The other day when I was browsing through a few blogs, I came across these garlic rolls. I immediately knew I was going to make them. I'm sure this doesn't surprise you. If you've been reading this blog, right from the early days I've been proclaiming my love for garlic, literally shouting about it from the rooftops (or atleast doing the blog-equivalent of it). My fourth blog post was about these wonderfully delicious
Garlicky baked potato wedges
, if you haven't tried it yet, you should, its really good. Anyway back to the garlic rolls.
The dough came together really well. I made a mini version of the actual rolls, since we wanted to have them as snacks. Am I glad I did that! They resulted in slightly crunchier outsides, with a lovely garlic flavored buttery insides. We just couldn't stop eating these. A word of advice, if you intend making these (and you should, you really should) make sure you have enough, or else you may not get your hands on even one of them. I skipped the coriander leaves and the carrot used in the original recipe and added some chilly flakes for a little spice. You can leave it out, if you don't like your food spicy and you'll love it nonetheless.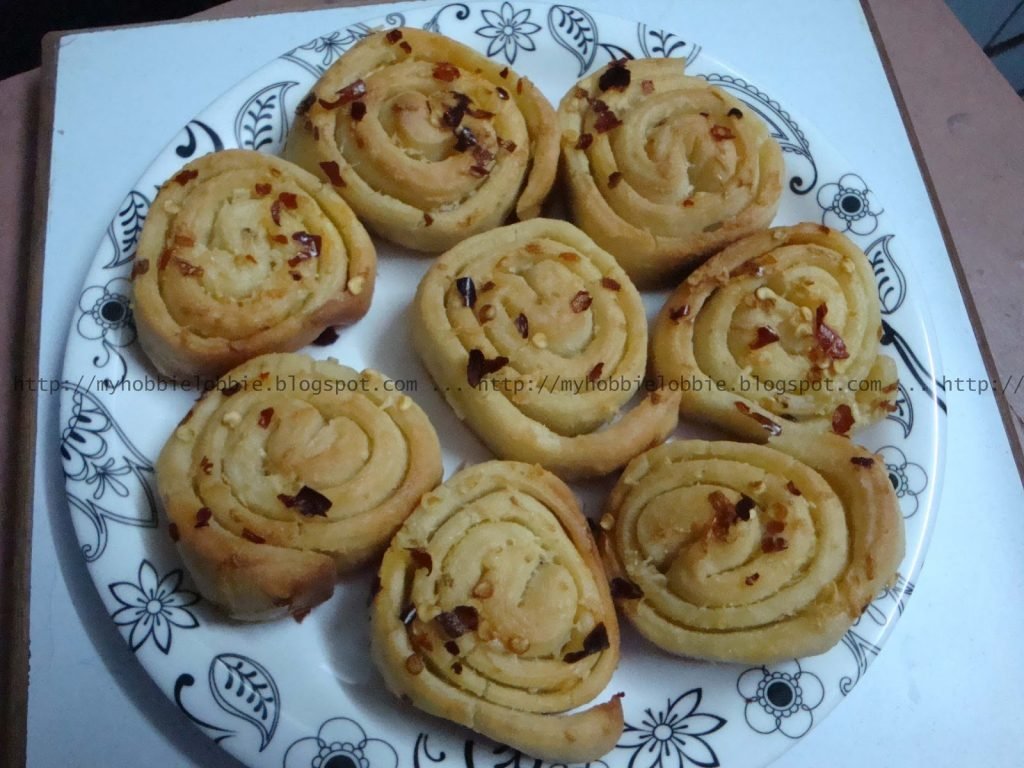 Easy Garlic Rolls with Red Chilly Flakes
Adapted from: Cooking is Easy
For the dough:
1 1/2 cups all purpose flour
1/2 cup warm water
3/4 tsp. active dry yeast
1/2 tsp. salt
1 tbsp. sugar
For the spread:
5 tbsp salted butter, at room temperature
3-4 cloves garlic, grated
In a bowl, tip in warm (not hot) water, sugar and yeast. Cover and keep in a warm place for 5-10 minutes till it gets frothy and bubbly. (This means your yeast has been activated.)
In a large bowl, tip in the flour and salt and mix so the salt is evenly distributed. Use the yeast solution to knead it to a soft dough. The dough will be a little sticky. Leave it as it is. (Don't add more flour.)
Cover with a damp cloth and set aside in a warm place for about 40 minutes. The dough will double in size.
Make the garlic butter spread by simple mixing the ingredients together. (You could add herbs to the spread, if you fancy.)
Knock down the air in the dough, roll out on a lightly floured surface till you get a rectangular piece about 1/4″ thick. Spread most about 2/3 of the garlic spread on it. With the longer edge towards you, roll up the dough, starting with the end closest to you, working you way towards the outside.
Using dental floss, cut into pieces and place them in a lightly greased baking dish. Spread the rest of the garlic spread on the top.
Sprinkle with some red chilly flakes. Cover it with a damp cloth and keep aside for another 20 minutes.
Bake them in a preheated oven for about 30 minutes or till lightly browned on the top at 180ºC.
This recipe is linked to –
Meals on Monday
Meatless Mondays
Just Another Meatless Monday
My Meatless Mondays
Mouthwatering Mondays
Mangia Mondays
Lets Do Brunch
Not Baaad
Tuesday Night Supper Club
Tuesdays at the Table
Hearth and Soul
Tasty Tuesdays
Delectable Tuesday
Tasty Tuesday
A Little Birdie Told Me
Let's Break Bread Together
When I first started this blog, I assumed I would use it to share things that I made often and was good at. Never in my wildest dreams would I have thought that it would become so much more. This blog has given me the push in so many ways. Its made me revisit my collection of recipes and helped me discover some lost wonders amongst them. It has also encouraged me to try out things I've never done before and post it. I love all the little discoveries I've made along the way. Which brings me to todays post – my very first attempt at yeasted bread. My husband and I have always enjoyed a good burger. That however seems to have become increasingly difficult to find. So one weekend, we decided to whip up some burgers at home. So far, no biggie. While we were thinking of what kind of meat to have in our burgers, I decided that it would be really cool if we could bake our own burger buns as well. Trust me, a year ago I would've never thought that. Anyway after a little bit of scouting on the internet, I decided to go with a recipe I found on the
King Arthur Flour website
.
It was fairly easy to make. The only catch here is the waiting. You need to make this a little ahead of when you will be needing it. The buns turned out really tasty. However, they didn't turn out as light as I expected them to. I used Active Dry Yeast instead of the Instant Yeast the original recipe calls for, which later, upon troubleshooting I discovered is okay to do, provided to add more yeast than the original Instant yeast quantities called for. When I make them next, I will try that out and see if it works better. But the loaves turned out really hearty and so much more flavorful than the store bought ones. I also wanted to try out two different washes. The ones in the center, the plain ones, those had a melted butter wash going for them. The sesame topped buns had the egg wash. I like the glaze that the egg wash added to the finished product. I'm definitely going to keep making my own burger buns at home. Do you have a no fail burger bun recipe? I'd love to give it a try.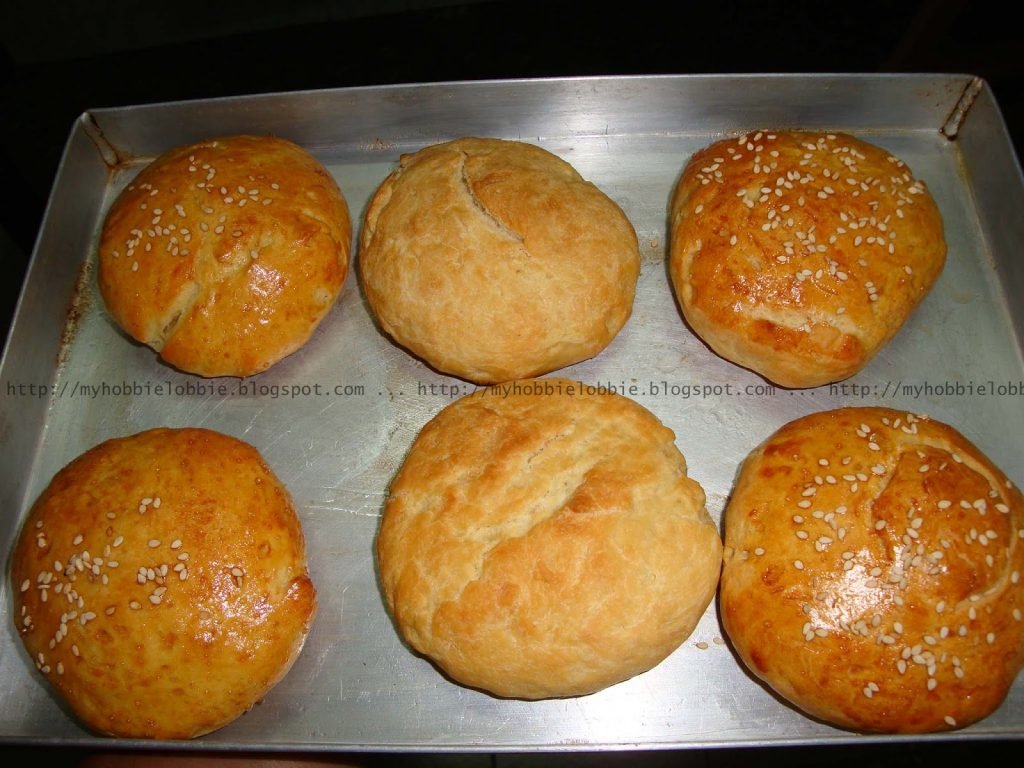 Homemade Burger Buns
Recipe by: King Arthur Flour
Yield: 8 buns
3 1/2 cups all purpose flour
3/4 to 1 cup luke warm water
1 tbsp instant yeast
1/4 cup sugar
1 1/4 tsp salt
2 tbsp butter
1 large egg
Mix all the ingredients to form a smooth soft dough. (If you are using Active Dry yeast instead, let it sit in the warm water and sugar for about 5-10 minutes till it gets bubbly and frothy and then add it to the other dry ingredients).
Cover the dough and let it rise till it has doubled in size, about an hour.
Gently deflate the dough. Divide into 8 portions. Shape the buns and place them on a lightly greased baking sheet.
Cover and let it rise for about another hour, till nice and puffy.


If desired, brush buns with melted butter. Or brush lightly with egg wash (1 egg beaten with 1 tablespoon water), and sprinkle with sesame seeds.
Bake the buns for about 12-15 minutes in an oven thats been preheated to 180ºC till golden.
Cool on a rack.
Enjoy your own homemade burger buns.
Stay tuned for tomorrows post to see what I did with these.
This recipe has been linked to –
Recipes I Can't Wait to Try
Whats on the Menu Wednesday
Works for me Wednesday
Real Food Wednesday
Delicious Dishes
Let's Break Bread Together