My first Christmas post … is this really possible? It's not yet December but I already have my Christmas on, and it makes me insanely happy. I happen to be someone that loves Christmas. Turns out this is the first Christmas that I have to myself in about 8-10 years. For more than the first half of the last decade, I made Christmas sweets to order back in Mumbai. So as you can imagine around mid November, things would kick into higher gear with the prep, graphic work, shopping and planning of the month ahead and come December I'd be buried to my ears in work. It was exhausting but I loved every second of it and I can't wait to do this all over again here in Sydney. Not this year though. After spending the last few years in Retail, which at this time of the year has you running off your feet, I have decided to take a little time off. Time to step back, re-prioritize and take some time off. We going to spend Christmas with the family in Bombay this year and I'm really excited. So you should see a little more of me on the blog at this time of the year.
For my first Christmas treat, I'm going to share with you a little chocolate creation that will knock your socks off. If you aren't wearing any socks at the moment, I'll wait for you. Put them on and come back to check the rest of the post and prepare to have them knocked off. Almond Rocks are so simple to make and need just 2 ingredients. You can make as big or small a batch as you'd like to. But I must warn you, these are so addictive, do yourself a favor and make a bigger batch than you need. You can also adjust the chocolate to be as intensely dark or sweet as you want it. We personally love dark chocolate, so I use a 70% dark chocolate straight up. If you like a sweeter chocolate, you simple use milk chocolate. If you're in a Goldilocks kinda situation, use half semisweet / dark and half milk chocolate. So you see what I mean, you could have your chocolate just the way you like it. So that's about your first ingredient. Now onto your second, the almonds. I use just the regular natural almonds and I roast them myself. I find the flavor much better this way. But you could use store bought roasted almonds too. Those are the ingredients for you. Now let's put these together, shall we.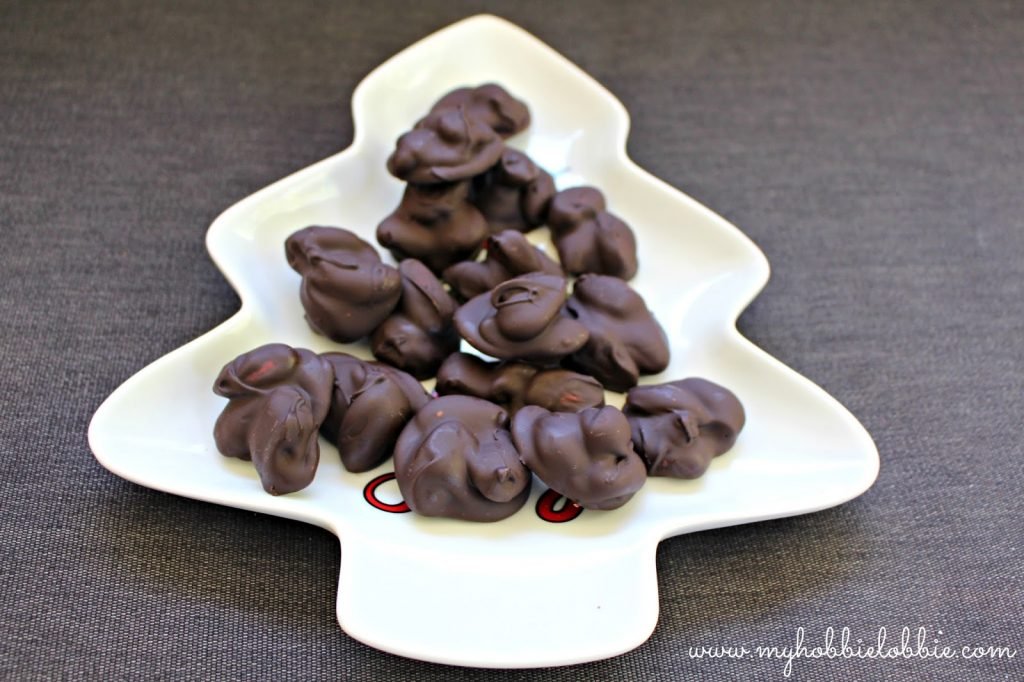 Almond Rocks
Yield: 16 pcs
100g dark chocolate (I used 70%, but you can use whatever you like)
A handful of almonds (I use 3 per chocolate, and always roast some extras, in case you have chocolate left over. The almonds taste great for snacking too.)
Preheat the oven to 170°C.
Place the almonds on a baking tray and roast in the oven for 5 minutes.
Toss the almonds and place back in the oven for another 4-5 minutes. Check at the 3 minute mark this time. You may not need as long as 5 minutes, depending on the size of your almonds and your oven. You want the almonds to slightly change color and you will distinctly be able to smell the nuttiness. You need to watch the almonds as you don't want them to char or burn.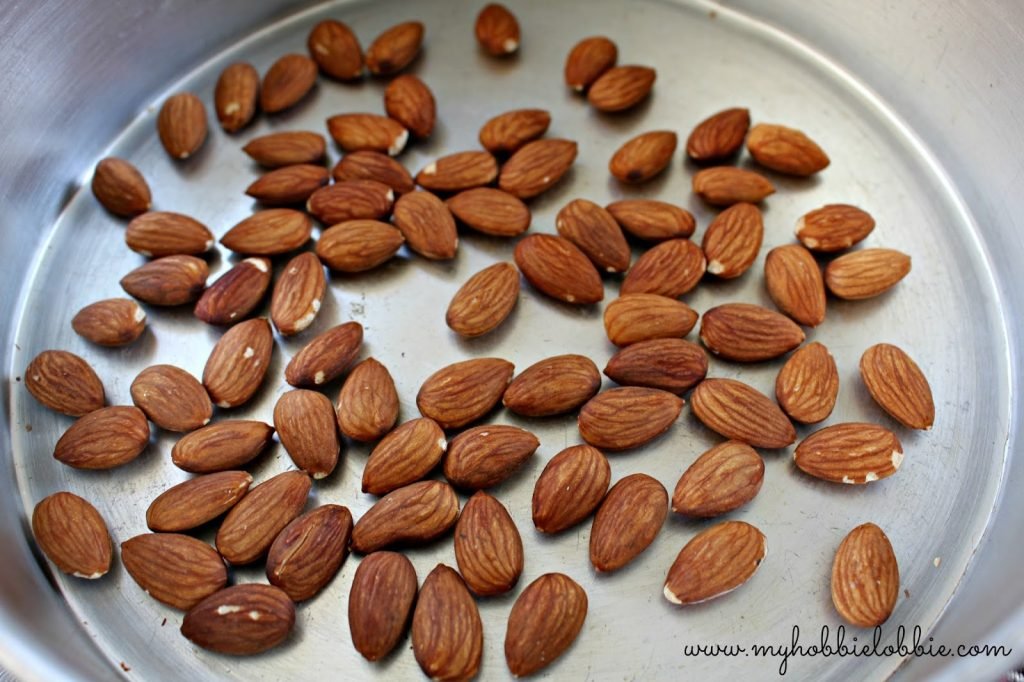 Once you're happy with how roasted the almonds are, take them out of the oven and let them cool completely. They will crisp up and be a whole lot yummier one it has cooled down. (If you are using store bought almonds that are roasted, you can skip this whole step.)
While this is happening, roughly chop the chocolate into small pieces. Remember, the smaller the pieces, the faster it will melt, which is a good thing. If you haven't worked with chocolate before, please ensure that all surfaces, bowls/plates, knives that you use to work with the chocolate are comepletely dry. Water and chocolate don't get along. Any moisture will cause the chocolate to seize and that is NOT a good thing.
Place the chopped up chocolate in a microwave suitable bowl and pop it in the microwave for 30 seconds. Stir and return to the microwave for another 15 seconds. Stir again. As you stir, you will see the chocolate starting to melt. It took me a further 15 seconds (1 minute in all) to get my chocolate melted. Stir well and as you stir, the chocolate continues to melt and gets silky like this.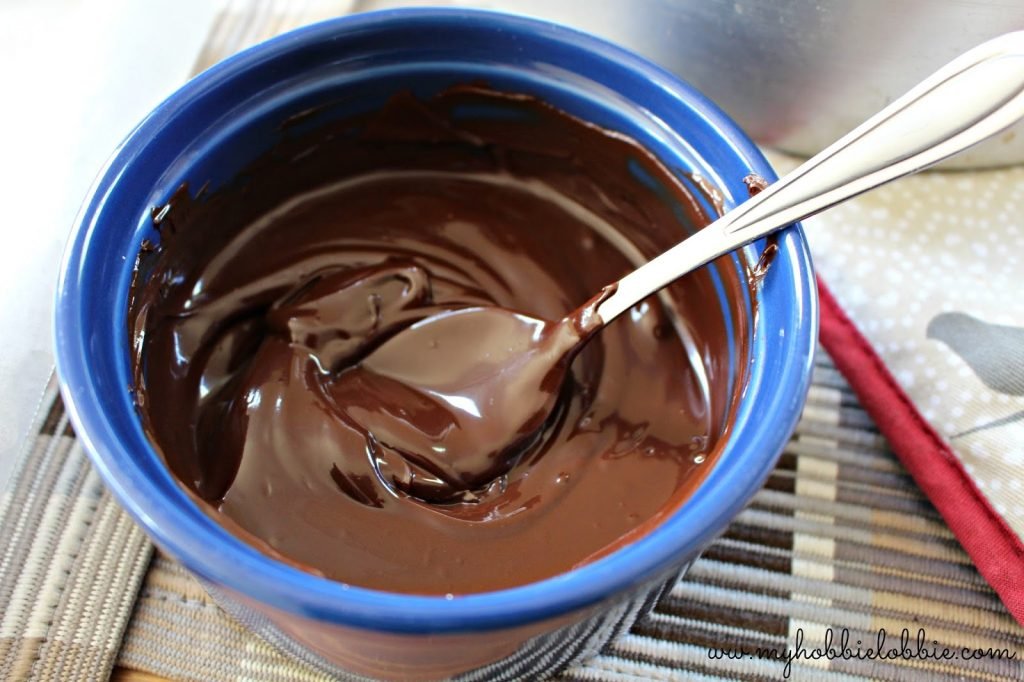 Tip the completely cool roasted almonds in the chocolate. At this stage, you may feel like there isn't enough chocolate, but trust me, there is. If you want to, you can add the almonds in two stages.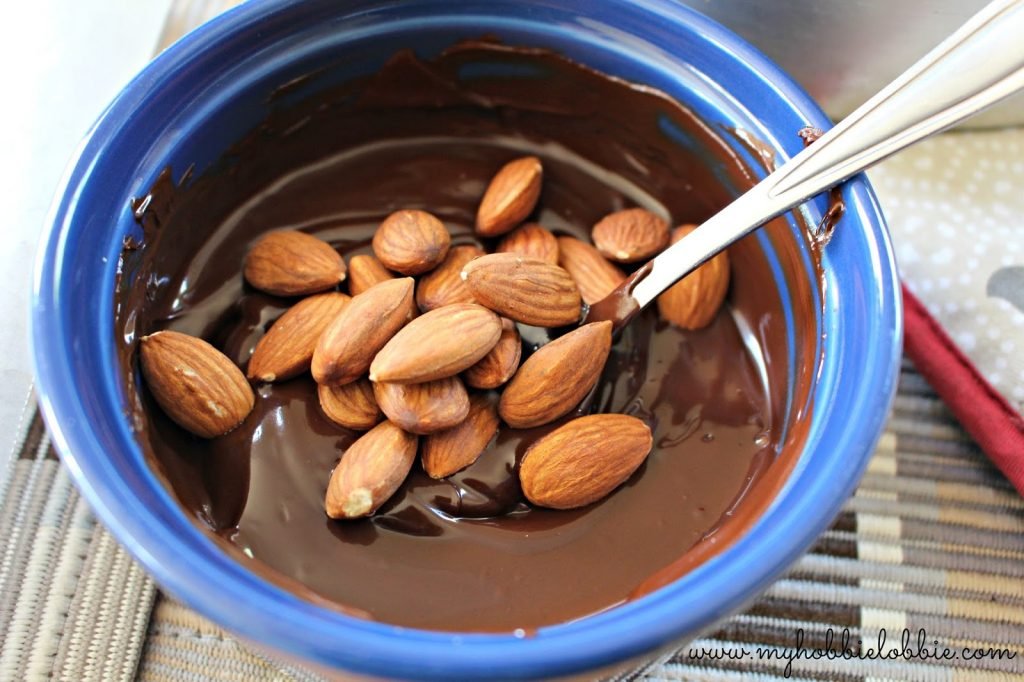 Stir the almonds into the chocolate to make sure every nut is well coated in the chocolate.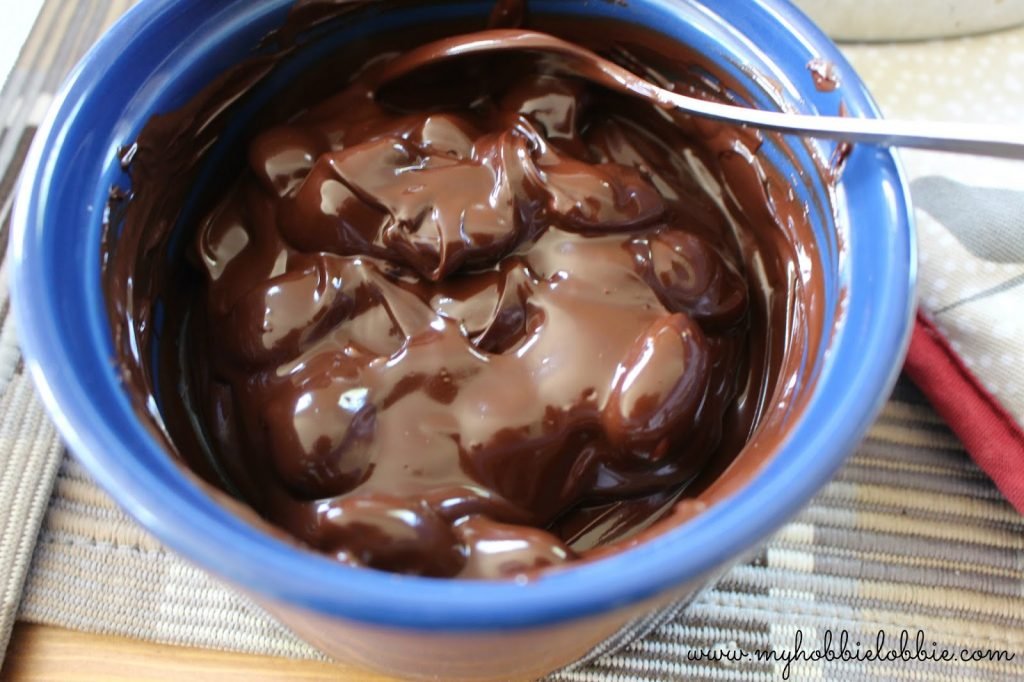 Line a plate or platter or tray with parchment paper.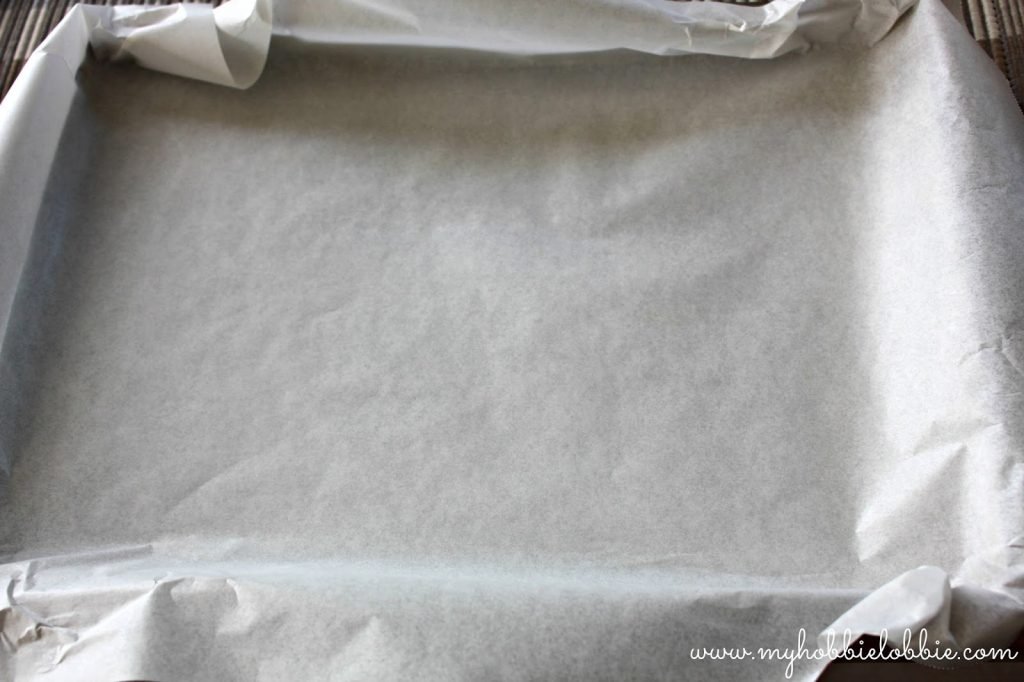 Spoon out one cluster at a time. I scoop up 3 almonds at a time and drop them on the parchment lined tray. (If you want smaller clusters, you could use just 2 almonds for each cluster. I like the portion size that 3 almonds yield.)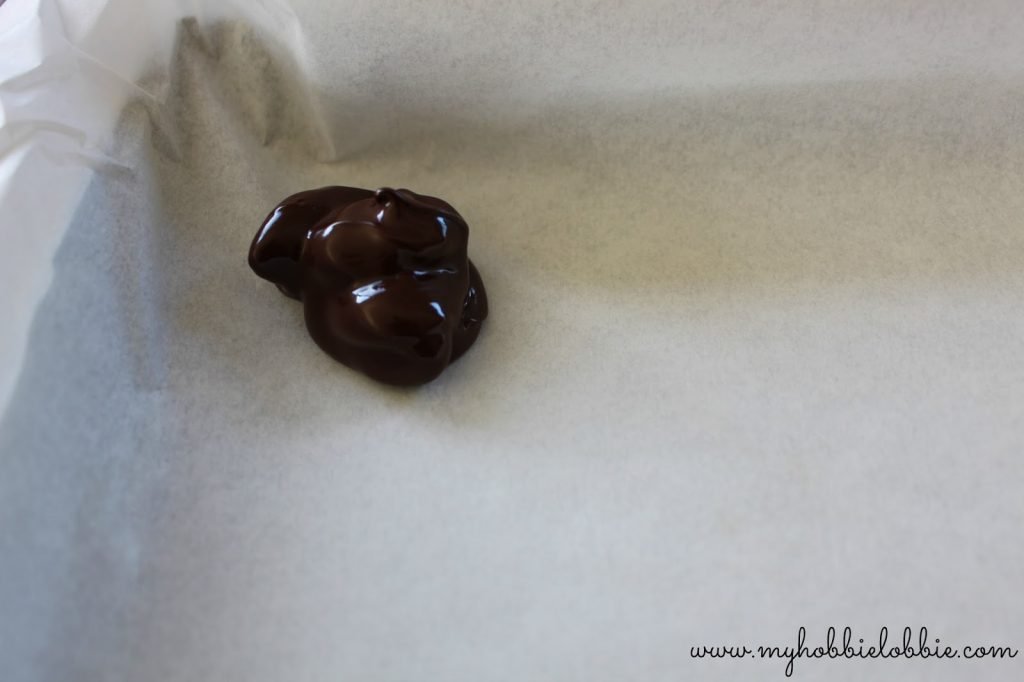 Repeat with the rest of the almonds and chocolate. I love the irregular shapes of candy you get. I think its what gives these almond rocks a lot of character.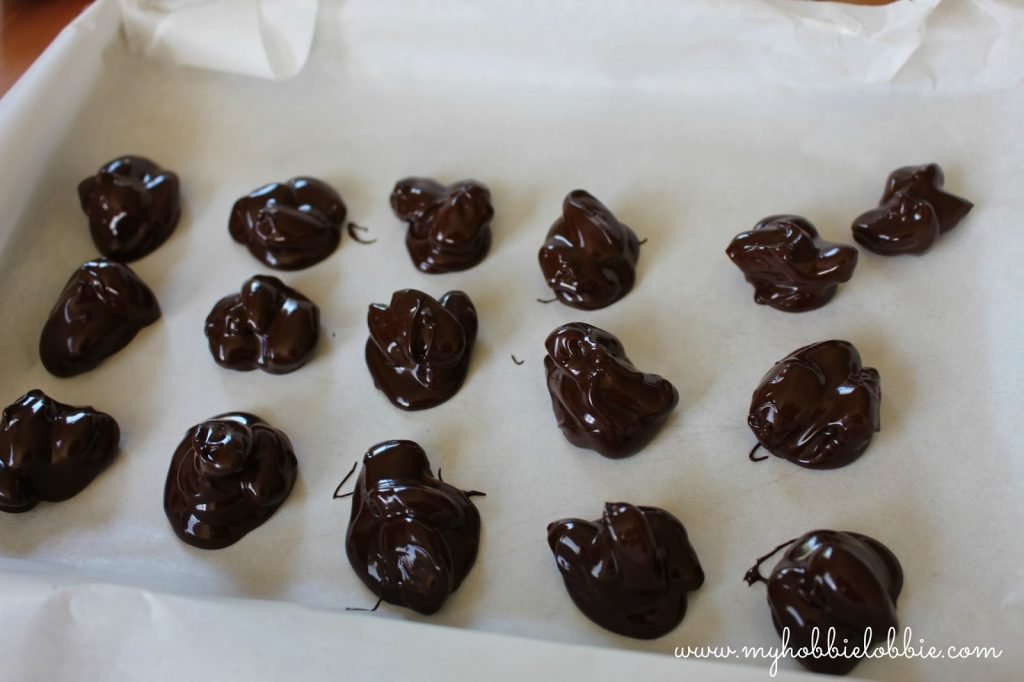 Pop the tray in the refrigerator for around 20 minutes to set. This is what it will look after it has set.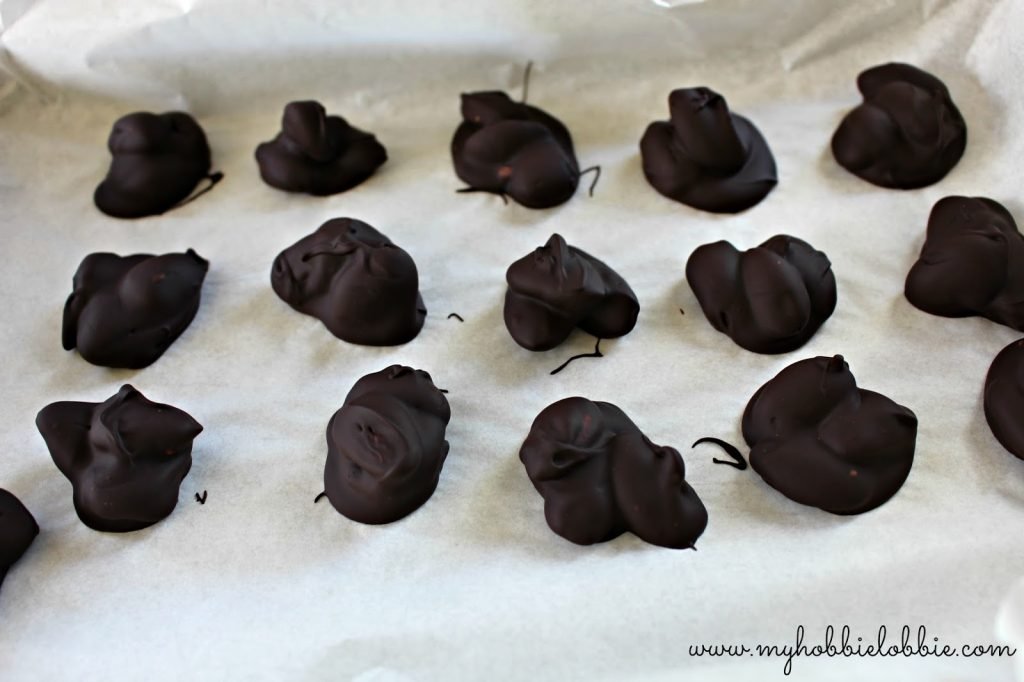 Keep refrigerated till you are ready to serve or store in an airtight container in the fridge. If you want to wrap them in colored candy wrapping foil you can do so at this stage. You could also pop them in little festive bags and use them as edible gifts or host / hostess gifts this holiday season. I am going to leave them uncovered.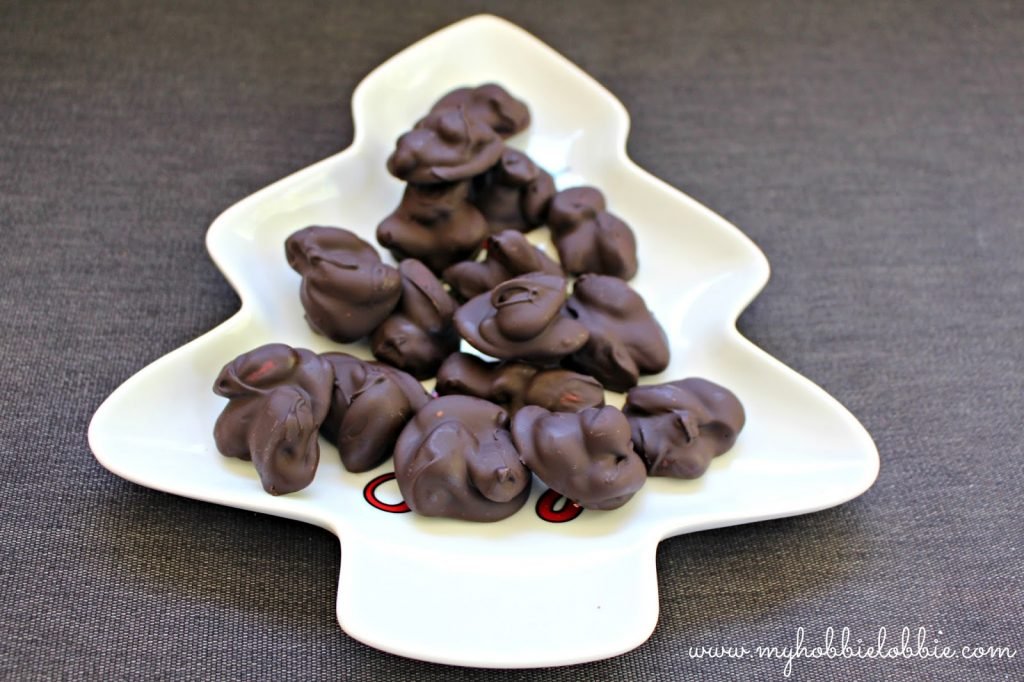 Enjoy!!!
Note: If you are making a massive batch, melt your chocolate in batches that way it is easy to work with. However if you find the chocolate getting too thick to work it, microwave it for about 10 seconds and you should be good to go.
If you don't have a microwave, you could use the double boiler method to melt the chocolate. Simply place a bowl with the chocolate over a pot of simmering water, making sure the water doesn't touch the bottom of the bowl and no moisture or vapor gets to the chocolate while you are melting it.
After a long break from the craft videos side of life, I'm happy to announce that I'm back on that track with a brand new crepe paper flower tutorial. The Iris is such a simple flower to make but has such a visual impact.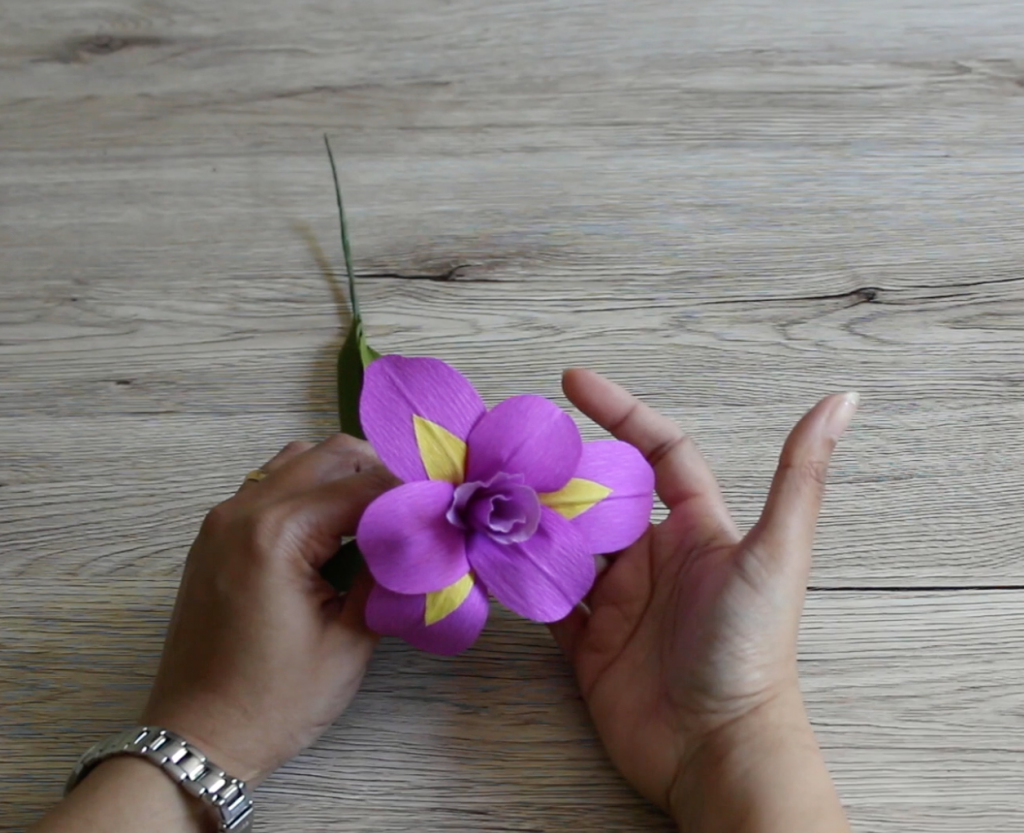 You can watch the step by step video crepe paper flower tutorial here.
If you'd like to play along you can find the template here.
A couple of days ago, I came across something I instantly new was going to be a wonderful find. Now I am guilty of constantly looking for and saving interesting recipes that I want to try out. I have a list of bookmarks that grows every minute and a pinterest account that will prove my point. But this little treat flew straight to the top of that list. Turns out that smoothie bowls have been very popular for a while now. I was probably stuck under a rock for a really, really long time given that I hadn't seen these beauties before. But when I saw the first one, I had to look them up. There are so many combinations possible that it blew my mind. A smoothie bowl is bowlful of refreshing goodness with a choice of flavors and toppings only limited by your imagination. These smoothie bowls are like a cross between an ice cream, a soft serve, a frozen yogurt and a smoothie without the bad stuff. It is great for summer. And seeing how hot a summer it is turning out to be, these are going to be perfect for breakfast, Or once you see how good these are, a smaller portion as a snack.
Since this is my first smoothie bowl, I kept it simple. It is so easy to make and so refreshingly delicious, I know I'm going to be making more than a few more of these All you need is the fruit of your choice, milk and a little yogurt. Onto the toppings. You could use your choice of cereal, granola, nuts, seeds, chocolate chips pretty much whatever you feel like.
So go ahead and give these bowls a try. They will be a hard summer option to beat. You know you'll be seeing a few more of these. Oh, have I mentioned these just take a couple of minutes to make. Its a winner all the way.
Also, I have news. I have finally been bitten by the Instagram bug. I hope you can join me there. My Instagram username is @TheAspiringHomeCook. You can find the recipes from this blog making an appearance there at #theaspiringhomecook. Have you tried a recipe from this site. Post a picture on Instagram with #theaspiringhomecook and tag me in the picture to be featured in my feed.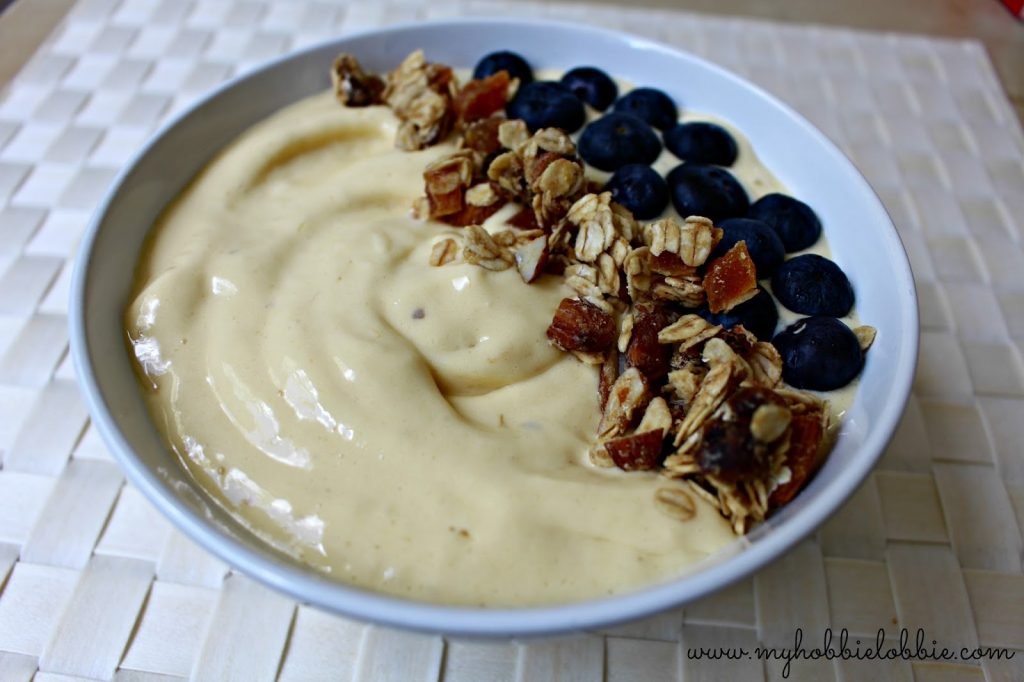 Mango Smoothie Bowl
Serves 1-2
1 cup frozen mango cubes
1 banana, frozen
1 cup milk
4 tbsp Greek yogurt
For the toppings –
A few fresh blueberries
Peanut butter granola
Place the mango, banana, milk and yogurt in a blender and blitz on slow at first.
Scrape down the sides and blitz till you are left with a soft serve consistency.
Pour the smoothie into a bowl.
Top off with fresh blueberries and some granola.
Serve chilled.
As many of you know, I've been a part of the Secret Recipe Club for a long time now and this month was our last reveal. Yes, this much loved club is posting its last reveal this month and I know that it will be missed by all the members. As a parting post, I've decided to post a recap of all the recipes that I've made for the reveals for quicker access. I hope you enjoy having a look through with me.
I love bananas!!! I don't know if I've shared that with you before, but I really do love them. Infact, we almost always have bananas in the house. Up until now, every time I was left with a couple of over ripe bananas, I would either make some
banana bread
or banana fritters (I must share that with you sometime soon). And trust me, I love both the banana bread and fritters. But sometimes its nice to switch it up.
Last week I had 2 over ripe bananas and its been so hot, I had no intention of switching the oven on to make the banana bread. I kept putting off the tea-time fritters and yesterday I decided I had to use the bananas and if I left them anymore, I'd probably have to throw them out. I hate wasting food so that was out of the question. The plan that morning was to make some oatmeal for breakfast, but then it struck me I could use the bananas with the oats and do something with that. I remember a while ago, coming across a banana oat pancake recipe and decided to try it out. Now, those of you who've been visiting for a while know I love my pancakes. So what could be better than combining my love for bananas and pancakes. Nothing much right! So breakfast that morning was sorted. I blitzed the ingredients in the blender and added a few fixin's like fresh blueberries and roughly sliced almonds. I think Jamie Oliver would have been happy with me. I really like his philosophy on superfoods. Eat a variety of fresh produce in moderation and everything acts as a superfood. I figure the addition of the berries and almonds would amp up these pancakes to superfood status. I googled a few recipes but in the end just ended up throwing a few things together and I tell you it was great. I was really pleased with how the pancakes turned out.
Basically this recipe uses no refined flour and no refined sugar and you'll never miss them. We did use some maple syrup over the pancakes to sweeten the deal, but who can resist maple syrup over pancakes. Definitely not me 🙂
I hope you give these pancakes a try. They deliver taste and health together.
Banana Oat Blueberry Pancakes
Makes 6 pancakes


1 cup rolled oats
2 over ripe bananas
2 eggs
1 tsp vanilla extract
A handful of fresh blueberries
12-15 roasted almonds, roughly sliced
A pinch of salt
A little oil, to fry the pancakes (I use olive oil, but you could any oil of your choice)
Maple syrup, to drizzle over
Blitz the oats in a blender till you are left with a powder.
Add the bananas, eggs, a pinch of salt and the vanilla extract. Blitz till you are left with a nice batter.
Scrape the sides down and give it another quick blitz.
Pour the batter in a large bowl and add the sliced almonds and blueberries and fold through gently, making sure they are evenly distributed.
Heat a little oil in a pan, about half a teaspoon. I use an oil spray to reduce the amount of oil being used.
Carefully ladle some batter onto the pan. Cook on medium heat.
When the bottom edge looks like its getting a little color, gently lift a portion of the pancake. If you are happy with the cooking on that side, flip the pancake and let it cook on the second side too.
Repeat with a spray of oil and a ladle of batter for every pancake till you finish the batter.
Serve warm with some maple syrup.
Enjoy!!!
Today's post is bittersweet for me. Today is our
SRC
Group A reveal day – our very last one. I've been with this fun bunch a little over 5 years and every month this club has brought me great joy. I've had the opportunity to meet (virtually ofcourse) so many wonderful people and have been introduced to so many great blogs during the past five years, I don't think I would've found them on my own. But all good things must come to an end and here we are at the end of a great run.
For my last assignment, I got Emily's blog, Life on Food. Emily's blog is full of wonderful food. I had an almost impossible task of picking a recipe for this reveal. Go over and say Hi to Emily and tell her I sent you. While you're there check out the wonderful food on her blog. You will also see her gorgeous little baby there – absolutely precious. Here's probably what makes Emily my favorite person – she goes to Disney World every year. Yes, every single year. Someday, I hope to be able to visit every single Disney park there it to visit. It is on my bucket list. Anyway, back to Emily's blog. In the end, I narrowed down my endless list to these gorgeous Cheddar Bay Biscuits, these Chocolate Hazlenut Truffles, Chocolate Chip and Hazlenut Cookies with Sea Salt, Macaroon Blossoms, and this Coconut Rice Pudding, but in the end these Classic Blueberry Muffins won.
We're in the middle of spring at the moment, so everywhere I look I can see berries and that was one of the main reasons I decided to go with this muffin recipe. You can never have too many muffin recipes, can you? This recipe is perfect for summer and they make a great brekkie on the go. You know what else they'd be great for …. morning tea at work. These muffins are one of the best berry muffin recipes I've tried. They're packed with berries and have a beautiful crumb. At first, I was a little skeptical of the cinnamon in this recipe, but don't be like me. The cinnamon is subtle and you can barely tell its there, but it does wonder for the flavor of the muffin. I did add a little vanilla extract to the recipe but other than that stuck to the original. Thanks Emily for a fantastic blueberry muffin recipe.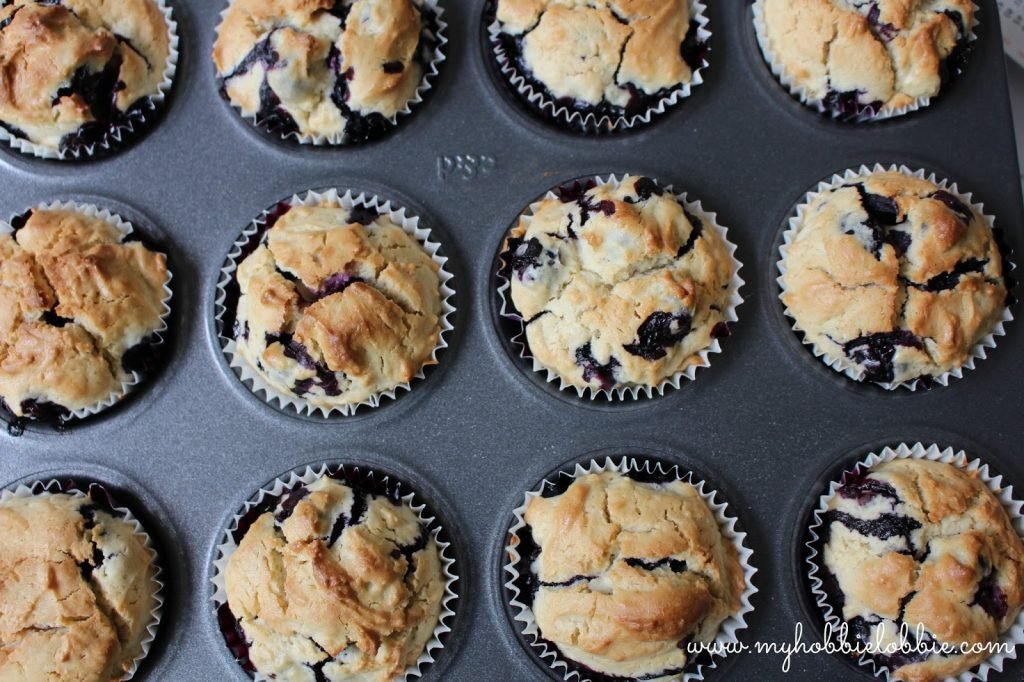 Classic Blueberry Muffins
Makes 12
2 cups all purpose flour
1 tsp baking powder
1 tsp ground cinnamon
1/2 tsp salt
1 egg
1 cup sugar
4 tbsp butter, melted and slightly cooled
1 1/4 cup sour cream
1 tsp vanilla extract
1 1/2 cup blueberries
Preheat the oven to 180º and line a muffin tray with paper liners or grease a tray.
In a mixing bowl, place the flour, baking powder, cinnamon powder and salt and whisk till combined.
Toss in the blueberries and make sure the flour mix coats them well and set the bowl aside. (This ensures the berries don't sink to the bottom.)
In another bowl whisk the egg till it has loosened. Add the sugar and whisk till you are left with a thick mixture.
Add the vanilla extract and combine.
Add the melted butter and whisk well to combine.
Lastly, add the sour cream and whisk until just combined.
Add the wet mix to the dry ingredients and gently fold in using a rubber spatula until just combined. The batter will be thick and you may see a few small dry flour spots. I found mine a little too dry so I added a couple of tbsps of milk and folded in gently. Take care to not overmix the batter.
Spoon the batter into the lined muffin tray.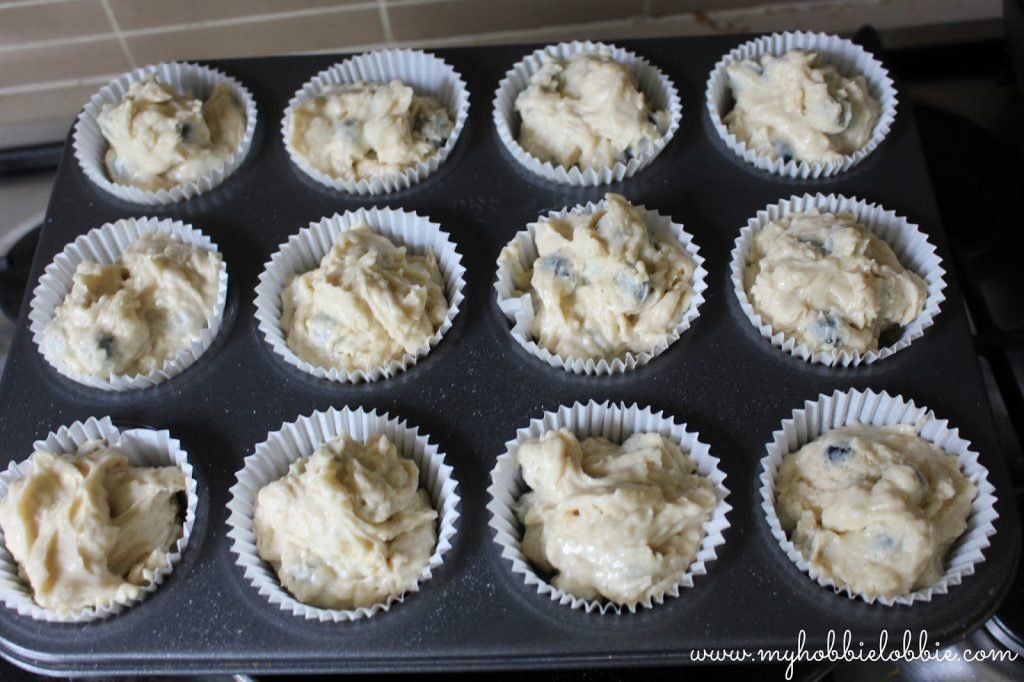 Bake till the tops are a light golden brown and a toothpick pierced in the center comes out clean, about 25-30 minutes.
Immediately move the muffins to a wire rack to cool and serve at room temperature.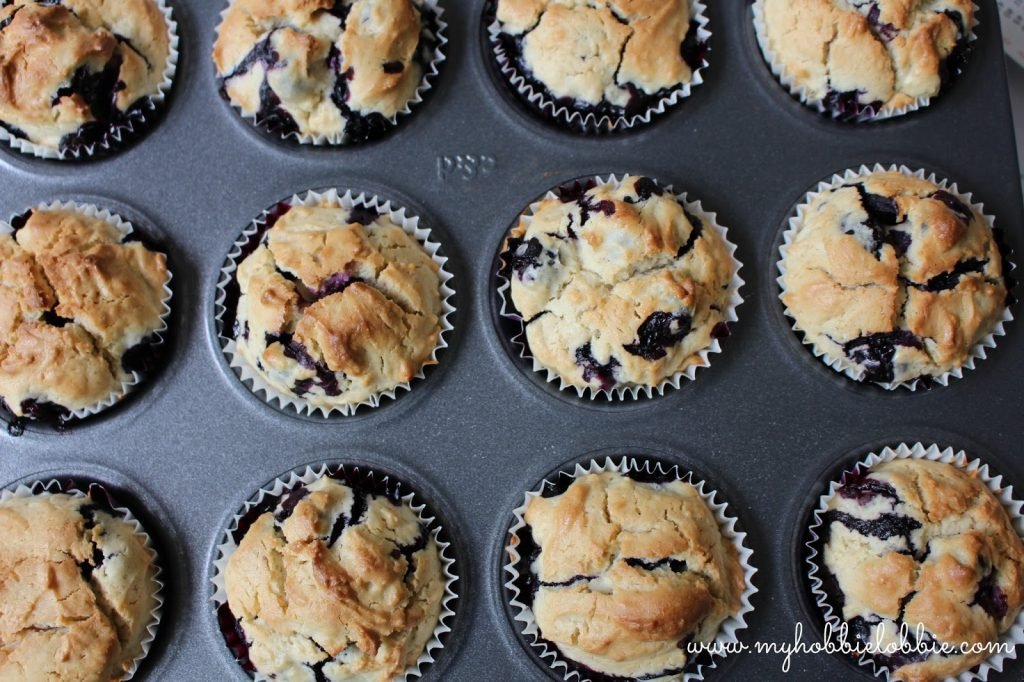 Store any leftovers in an airtight container at room temperature.
One whiff of this prawn pulao takes me back years, or is it a couple of decades back to when I was growing up (yikes, I feel old now). My mum used to make this pulao for us. I grew up in a house of prawn lovers. Yes, you heard that right. Mum has a few go to recipes for prawns – this
Prawn Chilly fry with Coriander speckled rice
(my absolute favorite), a Goan prawn curry (I still cannot get mine to taste like hers so I will get her to make me some for the blog) and this prawn pulao.
This prawn pulao is pretty amazing. It is a meal in itself served with a nice, light, fresh salad alongside. It comes together fast and easy and if you love prawns like us, you'll be glad to have this recipe to fall back on. Throw in a few drinks and you could make this to serve a crowd too. The recipe below makes 2 generous portions if served as a meal. If you intend making a larger quantity, you just need to keep in mind the rice to water ratio. As long as you use 1 portion of rice to 2 portions of water, you'll be fine. All the other ingredients can be multiplied and adjusted to suit your taste. As long as the rice and water ratio is right, you will be left with a perfect rice dish. It wont be mushy, the grains will be whole, the rice will be fluffy and all will be well.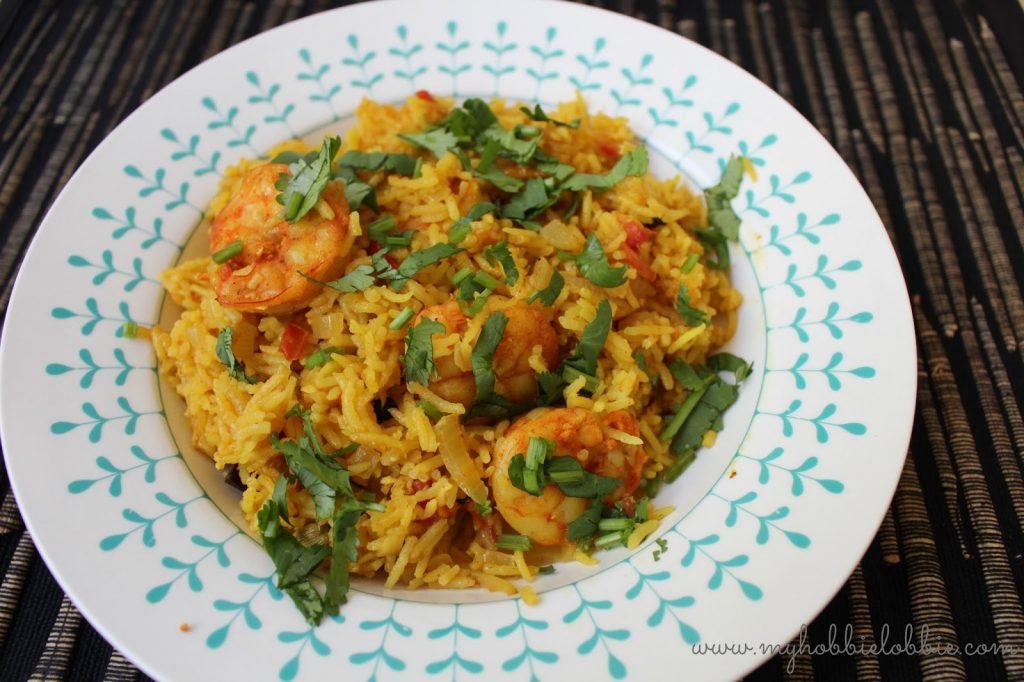 Prawn Pulao
Serves 2
For the prawns:
10-12 medium to large prawns, shelled and deveined (5-6 per person) (I used the local Aussie Banana Prawns, but you could use King Prawns or any other type you can get your hands on)
Salt, to taste
Lime / lemon juice to taste
A pinch of turmeric powder
1/4 tsp red chilly powder
1 tbsp olive oil
For the rice:
2/3 cups Basmati rice
5 cloves
2 bay leaves
2 cardamom pods
5 pepper corns
2 pieces of cinnamon, about an inch each
1 medium onion, diced
1 medium tomato, diced
1 tsp ginger garlic paste
1 green / red chilly, finely sliced (optional)
1/4 tsp turmeric powder
1 tbsp olive oil
Salt, to taste
1 1/3 cup water
1-1 1/2 tbsp fresh coriander leaves and stems, finely chopped, to garnish
Marinade the prawns with some salt, a little lime juice, turmeric and chilly powder and keep it aside for 15-30 minutes.
Wash the rice and drain the water. You will need to do this about 2-3 times, till the water runs clear.
Place a tablespoon of oil in a frying and and when it is hot, carefully place the prawns in the pan without over crowding the pan. Fry the prawns till they turn opaque with a little char and flip them over and let them char on the other side too. This takes just a couple of minutes, don't leave them unattended. You just want some color on the outside. They don't need to cook all the way because they will continue to cook with the rice. Take the prawns out of the pan and keep aside.
Heat a tablespoon of olive oil in the pot that you want to cook the rice in. Add the cloves, bay leaves, cardamom pods, pepper corns and cinnamon. In a few seconds, the spices will smell fragrant. Add the onions to the pot.
Saute the onions till they have softened.
Add the ginger garlic paste and let it cook of for a minute.
Add the turmeric powder and the sliced chilly and stir it up.
Add the tomato and stir well.
Drain the rice and run some fresh cold water through and drain it again.
Add the rice and the fried prawns to the pot and stir gently till the rice and prawns are coated with the spices. Season with some salt and add the water.
Stir a little and check the seasoning. I taste a little of the stock and see if more salt is needed.
When the water comes to a boil, cover the pot and lower the heat to a simmer. Let it cook till all the water is absorbed. As soon as all the water is absorbed, take the pot of the heat and leave aside covered for a couple of minutes. Loosen the rice gently with a fork.
Serve hot and sprinkle the chopped coriander over the rice just before serving.
Enjoy!!!