Most of you have heard of lamb chops, pork chops etc. but I'm pretty sure you're wondering what on earth is a Potato Chop. Its one of my favorite little treats. I usually make these at quite a few dinners and parties. My mum used to make these for our birthday parties and other gatherings and I tell you these are simply the best. To give you a gist of it, its like a cottage / shepherd's pie that you can almost call finger food, except that its a little larger than finger food but you get the picture. It is also the perfect way to use up any leftover
beef mince
(only you might want to make sure you don't use any pieces of potatoes that may be in the mince). If I'm making some mince just to make the chops, I leave out the potatoes, because the mince is stuffed in a pocket of mashed potato anyway.
They taste best if served hot with some tomato ketchup. They also keep well, refrigerated. All you do, is pop them in a pan, cover and let it heat through on a low flame before serving. These chops are a good option to consider as travel food for a road trip.The crumb coating gives this a nice crunchy exterior.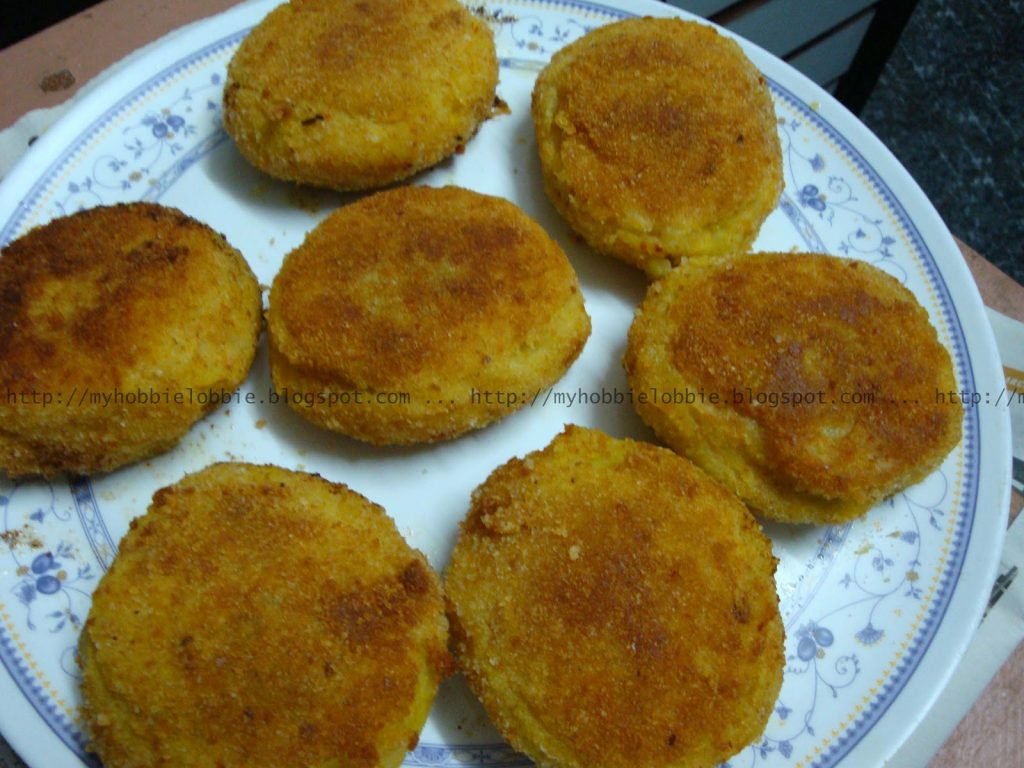 Potato Chops


1/2 a recipe of Beef Mince (You can substitute mutton mince, if you don't eat beef)
4-5 medium potatoes, boiled, peeled and mashed
Salt to taste
1/4 tsp cumin powder
A pinch of turmeric powder (optional)
1 tbsp fresh coriander leaves, chopped
1 egg
Bread crumbs
Vegetable oil, for frying
Make half a portion of beef mince and keep aside. This should come down to room temperature before you proceed with this recipe.
Boil the potatoes only when you are ready to make the chops you need to work when the potatoes are still warm. Cold potatoes make handling difficult.
Peel and mash the potatoes well. Make sure there are no lumps. Add salt to taste, cumin powder, turmeric powder and coriander leaves and using your hands mix well to ensure all the spices and herbs are evenly distributed. Feel free to adjust the quantities of the spices and herbs used to suit your taste.
Take a portion of the mashed potato, the size of a tennis ball, roll into a ball and flatten to form a thick disc on the palm of your hand. Place a spoon of the mince in the center and bring the sides of the potato disc up and over the filling to cover it well. Make sure that no mince is sticking out. If you feel the need to add more potato to it, feel free to do so. The mashed potato merges well. Shape it to form a patty and keep aside. Continue till you've used up all the mashed potato.
Crack an egg in a shallow bowl, wide enough to fit the chops. Beat well to incorporate the white and the yolk.
Pour some bread crumbs onto a plate and keep it ready. I have a little assembly line going for this, starting with the chops at one end, followed by the bowl with the beaten egg, the bread crumbs and a plate lined with some absorbent kitchen paper at the other end.
Heat some oil in a pan.
Briefly dip a chop in the egg and turn over, making sure it coats the chop well.
Dredge it through the bread crumbs making sure the potato chop is well coated. This is what will give it a good crunch.
Carefully place in the pan with the heated oil and shallow fry till it takes on a nice golden brown color. Turn and let the other side fry as well till it gets golden brown.
Carefully take it off the pan and place on some kitchen paper to drain out any excess oil.
NOTE: You don't need to fry these one at a time, place as many as your pan can accommodate, making sure theres a little space between them to help you turn these over.


Here's what it looks like on the inside –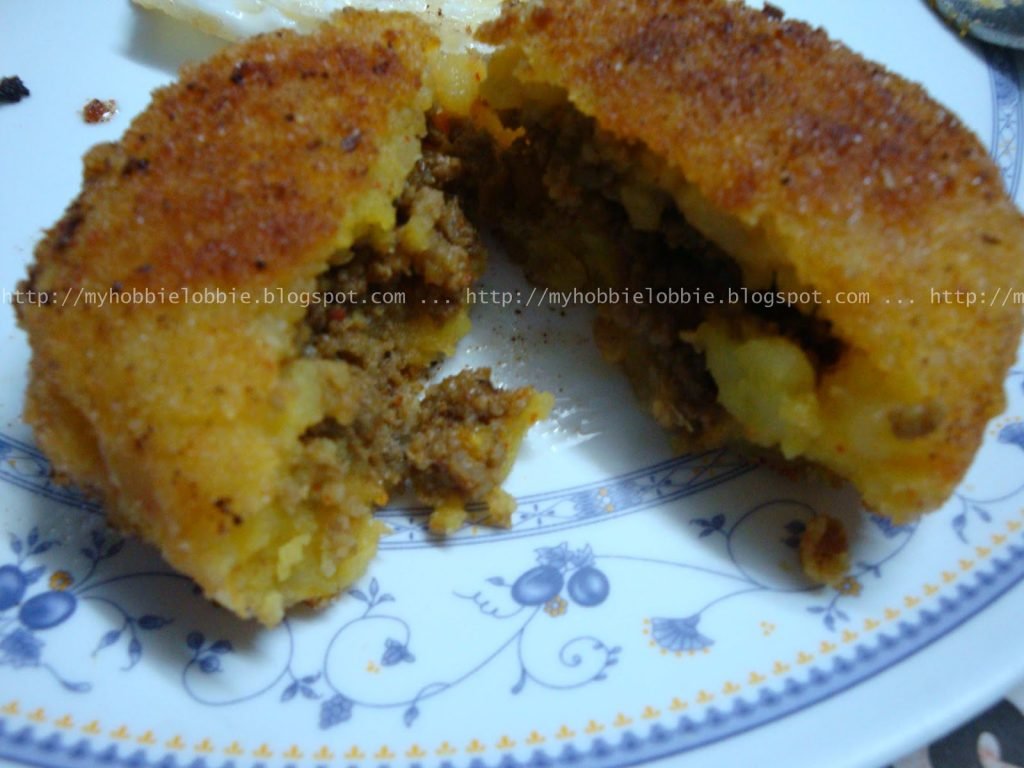 Enjoy!!!
This recipe is linked to –
What's Cookin' in the Kitchen
Feed Me Tweet Me Follow Me Home
Friday Potluck
Fat Camp Friday
My parents are both wonderful cooks and I've learnt many a kitchen trick from them. Most of the food that I cook is based on something or the other that they made. Ofcourse, the lack of written recipes, leaves me with no choice than to improvise with ingredients and quantities as I go along. You see, both my parents mostly cook without any recipe and they eyeball not only quantities of ingredients used, but the ingredients themselves. It happens so often, my mum or dad whips up something spectacular and then when they're asked for a recipe, its always you can do this or that or even the other. Pretty frustrating, I tell you! I now know better and if I like something, I try and get them to dictate a recipe, which I hurriedly scribble on a paper napkin or something, before they claim to have forgotten, or confused between a couple of ways about how they usually make it.
So you see, when they come over for a meal, I have pretty high standards to live up to. One dish, I know for sure, I make much better than both of them do, is a minced beef with potatoes and green peas. Today, I'm going to share that recipe with you. I love this preparation.
Here are some serving options –
with fresh bread
in a toasted sandwich
with plain rice
with a wheat chapati, naan or roti
in a tart shell
within puff pastry layers
in a potato chop
with a lovely pulao
over some pasta
as a pizza topping
…. and many more
One thing to note though, is if I'm using it in a potato chop or using it as a tart filling/puff pastry or in a toasted sandwich, I cook it till all the juices have dried up, to avoid a soggy mess when used. I also leave out the potato. For other purposes, I take it off the heat before it absorbs all the moisture, leaving a little gravy.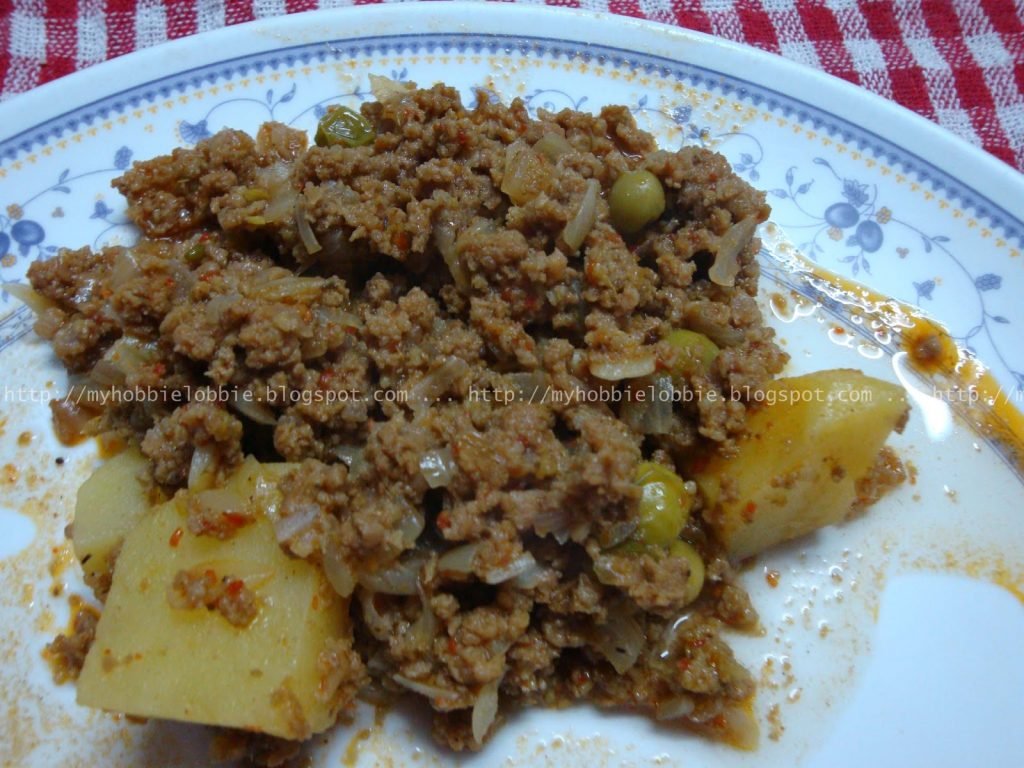 Beef Mince with Potatoes and Green Peas


1/2 kilo minced beef, (I pick up lean meat)
1 large or 2 medium sized onions, finely chopped
2 tsp ginger garlic paste
2 green chillies, finely chopped
5-6 curry leaves
1″ cinnamon
6 cloves
5-8 black pepper corns, whole
2 tbsp vegetable oil
1 potato, cubes
1/3 cup green peas
3 tbsp. Worcestershire sauce
Salt, to taste
1/2 tsp turmeric powder
1-1 1/2 tsp red chilly powder
1 1/2 tsp garam masala powder
2 tbsp fresh coriander leaves, chopped
Heat the oil in a large vessel. Carefully tip in the cinnamon stick, cloves and pepper corns. When they warm up and release their flavors, add the curry leaves and let it sputter. Be careful not to burn it.
Add the onions and green chillies and sauté till the onions have softened, stirring to avoid burning.


Add the ginger garlic paste and let it fry off for a couple of minutes, stirring well to make sure it doesn't stick to the bottom of the vessel and burn.


When the onions have slightly browned, add the turmeric powder, red chilly powder and garam masala powder. Still well and let the spices fry out for a few seconds.


Add the minced beef, and sear it well on a medium high heat, till it browns, stirring well.


When you see that all of it has browned, (no pink patches should be visible) and it has released some of its juices, add salt to taste and the Worcestershire sauce. Add the cubed potatoes and green peas. Stir well and let it cook for about a minute or so.


Add about a cup of water to the pot. Let it come to a boil. Cover and simmer till the meat is cooked. If you see that there's too much liquid left in the pot after the meat has cooked completely, cook uncovered on a medium heat till the liquid has been absorbed, stirring occasionally.


Lastly add the chopped coriander leaves and stir it in.


Enjoy it hot!!!




This recipe is linked to –
Full Plate Thursday
What's Cooking Thursdays
Thrilling Thursday
Its a Keeper
I know, you're thinking 'How can spring rolls be healthy?' These I know for sure are at least healthier that the deep fried variants. Theres no flour, no oil, its almost like a salad. When I saw this on Candace's
blog
, I knew that I had to try them out. I'm glad I did. If you're looking for an interesting side, not to mention impressive looking one, once you get the hang of it, these spring rolls are the way to go. They are an interesting way of serving up some greens. The best part is, there's practically no cooking involved and the rolls are so versatile you can use whatever you like (or have at hand) for the filling. These rolls are light and tasty, you can leave out the seafood and make it completely meatless. I think it would add a nice touch to any party spread too.
To be honest, I was pressed for time when I made these and hadn't really planned on making them. So I had to make do with whatever I had on hand and improvise as I went along. I didn't have a dipping sauce at hand and didn't have the time to whip one up at the last minute. The next time I make these, I think I'll make the sauce in advance. Anyway, I knew there had to be something saucy to go with the rolls. So what I did was, combine a cocktail sauce that I use for my shrimp cocktail with these rolls. You could think of these as shrimp cocktails in a wrapper =o) I was quite happy with the way they turned out and I plan on serving these at the next party or family gathering, whichever comes first.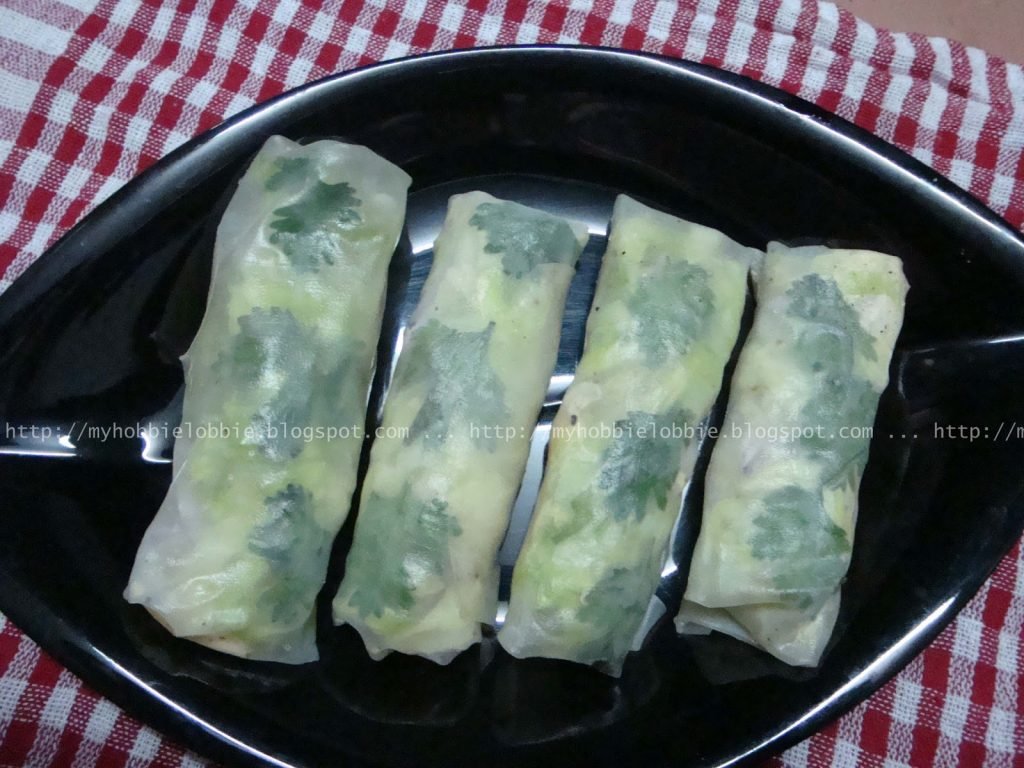 Healthy Spring Rolls
Adapted from: Mi Chiamo Candance


4 sheets of Rice paper
A few prawns, peeled, de-veined and boiled for a few minutes with a pinch of salt till tender
Some iceberg lettuce, chopped fine
A carrot, julienned
A cucumber, julienned
A few fresh coriander leaves whole
2-3 tbsp Mayonnaise
1 tsp tomato sauce/ketchup
A few drops of Tabasco sauce
Salt, to taste
Freshly crushed black pepper, to taste
The trick to assembling these well, is to prep everything and keep it ready.
For the cocktail sauce, mix the mayonnaise, ketchup and Tabasco sauce in a bowl. Taste and adjust the flavors to your linking. If you like a hit of spice, you can use a tomato-chilly sauce and some extra Tabasco sauce.
Cut up all the veggies and keep aside.
I slit my prawns in half, lengthwise, like Candace suggested.
To assemble the rolls –


Place warm water in a shallow dish large enough to fit your sheets of rice paper.
Dip the sheets of rice paper in the water for a few seconds till they have softened and then place them on a flat tray or cutting board.
Place the ingredients prepped for the filling in the center. I placed the coriander leaves first, I like how they look through the wrappers. Place the veggies and prawns. Season with a light sprinkle of salt and pepper. Spoon some of the cocktail sauce over the filling and roll the wrapper tightly to form a spring roll.
Just to give you an idea I included the first sheet I rolled. It wasn't rolled snug enough.Its the first one on the left. I wrapped the others tighter and I think they look so much better than the first one.
I hope these instructions can be understood. I now realize that it would have been simpler if I had pictures for each step. In any case, you can visit Candace's blog for a step by step pictorial demo. Her spring rolls are really pretty.
Enjoy!
This recipe is linked to –
A Little Birdie Told Me
Hearth and Soul
Tasty Tuesdays
Tuesday Night Supper Club
Tuesday's at the Table
Delectable Tuesday
Tasty Tuesday
Recipes I Can't Wait to Try
What's On the Menu Wednesday
Real Food Wednesday
This is a cake I'd made a couple of years ago. I know it'll bring some cheer to those of you longing for warmer weathers. I for one, can't wait for summer to end. I think I've had my share of the heat. This cake is really simple to put together. This cake is covered with marzipan and fondant and decorated with royal icing and gumpaste flowers. Everything is made from scratch. I will try and put up a step by step post when I make this again. It will also dress up an Easter table well. I think it makes a lovely gift for Mother's Day too.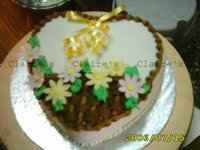 It is a heart shaped cake with a basket weave pipping to resemble the basket, dotted with gumpaste daisies and royal icing pipped leaves, finished off with a bow made out of curling ribbon.
Goa – what can I say about this little piece of heaven? Well, our ancestors hail from Goa and ever since I was a little girl, we spent most of our summer holidays there. Even today, my husband and I love going there. We drive down for a few days whenever we get the chance. Goa is along the West Coast of India and the place really needs no introduction. Folks from all over the world holiday here. It has some really amazing beaches, lots of Portuguese influence in the culture (the architecture, the way of life and the food) and, in my opinion, some of the best food, especially the traditional Goan seafood preparations.
This recipe is a mild stew compared to the otherwise spicy food found there. This is the second time I've made it and I've got to tell you I love it. Its easy to make, the flavors are clean, the colors are really vibrant and have I mentioned that its really delicious. You really should try this, you wont regret it. This one is definitely a keeper for me. The recipe I used is from this really great book that I picked up a couple of years ago called "The Essential Goa Cookbook" by Maria Teresa Menezes. This is a book I use very often and I've never been disappointed.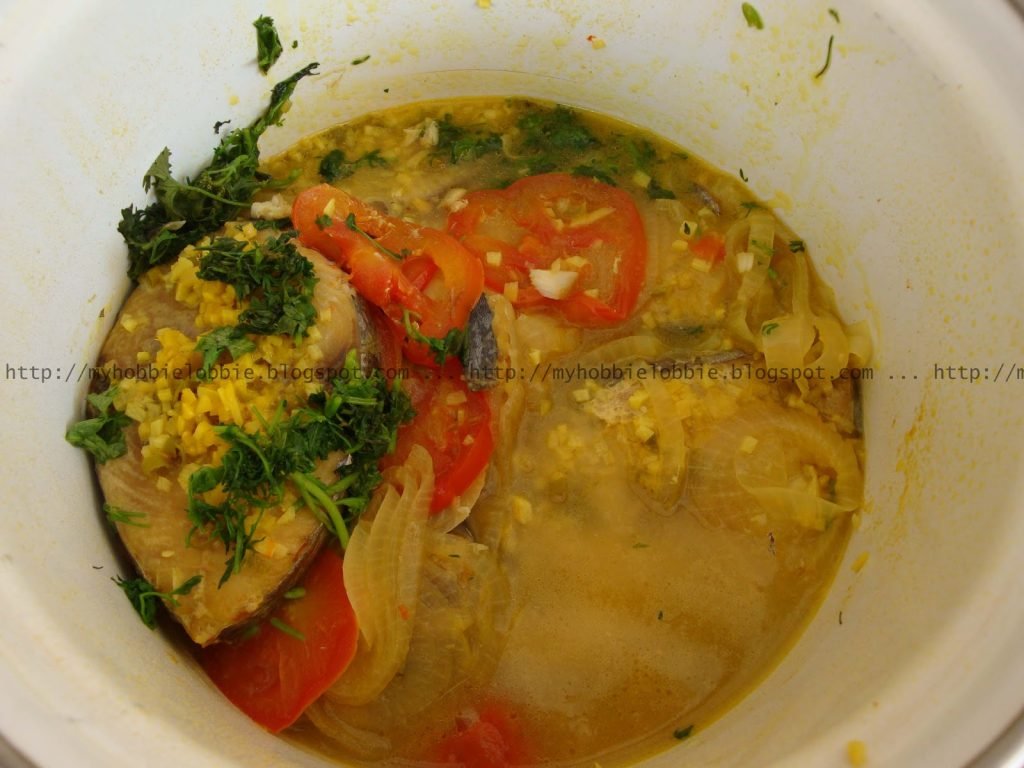 Caldeirada
Adapted from: The Essential Goa Cookbook
6 slices large fish, or 6 small fish whole (I used Kingfish)
10 cloves garlic, chopped fine
1″ ginger, chopped fine
4 green chillies, chopped fine (I used 3)
1/4 tsp turmeric powder
3 large onions, sliced to get rings
3 large tomatoes, slice to get rings
1 tbsp vinegar (I used Apple Cider Vinegar)
2 tbsp olive oil
Salt, to taste
Fresh coriander leaves, chopped, for garnish
Clean and wash the fish. Apply a little salt and keep the fish aside for about half an hour.
Mix the ginger, garlic, chilly and turmeric powder and a little salt in a bowl.
In a shallow pan, arrange half of the onion slices to form a layer. Layer half the tomatoes over it. Place half the fish over it and sprinkle half the spice mix over it. Repeat the layers with the rest of the onions, tomatoes, fish and spice mix.
Over this, pour the olive oil, vinegar and one cup of water. Do this carefully so as to not disturb the layers.
Cover the pan and cook on a medium heat till the fish is done. Shake the pan gently and tilt it to prevent the contents from sticking to the pan.
Turn off the heat when the fish is cooked and sprinkle with the chopped coriander leaves. Cover and let it sit for about 5 minutes before serving.
We had this with some plain rice.
Enjoy!!!
This recipe is linked to –
I'm really excited as I write this post. Those of you following my blog will know that I've been venturing into the world of baking with yeast lately. Obviously this is just the tip of the ice berg. There is so much more I need to learn and try. But so far its been great fun. So when I made these doughnuts yesterday and they turned out great, I was thrilled to bits. Now, for the past couple of weeks, I've been craving doughnuts. Sinful, luscious, indulgent doughnuts. Strangely this craving pops around over the weekend. The past couple of weekends have been a little busy, so I really haven't been able to do anything about this craving for a long time. But this weekend I needed to get my doughnut fix. I really didn't want to stop by the mall and pick up a box of doughnuts. I wanted to try making them on my own. I had bookmarked a recipe that I liked a few months ago. And please don't laugh, but I really wanted to try out this doughnut cutter that I'd picked up over a year ago. I tend to do that every now and then, buy stuff planning to put it to good use, but sometimes it gets pushed right back to the deep dark recesses of my shelf and doesn't see the light of day for a while. But now I can happily justify this impulse buying. **wink*wink**
These doughnuts are fried, but are not in the least bit greasy. They are ever so light and did I mention, really delicious. The dough is not too sweet, just the way I like it. And I think I got a little carried away while dressing them up. I had some with a vanilla glaze, some with a chocolate glaze and some dipped in cinnamon sugar. The cinna-sugar ones were my favorite. I would also suggest making sure your vanilla glaze is nice and thick or else it won't be seen. You can't really tell but the vanilla glaze is supposed to be a lovely yellow. In any case, they are really delicious, so no one will really mind. I halved the recipe and I got 19 doughnuts. I guess your yield will depend on the size of you cutter. The recipe below is the full one that should yield 30.
Recipe from: La Mia Vita Dolce
4 tsp Active Dry Yeast
1/4 cup lukewarm water
1 cup lukewarm milk
3 tbsp caster sugar
100g butter, melted
3 eggs
4 1/4 cups all purpose flour
Vegetable oil, for deep frying
Activate the yeast by placing the water, milk, sugar and yeast in a bowl. Keep aside for 10 minutes. It will turn into a frothy concoction, indicating that the yeast is active.
Mix the flour, butter, eggs and the yeast mixture to form a sticky dough.
Cover with a damp cloth and keep aside for about 45 minutes or till the dough has doubled in size.
Knead the dough on a lightly floured surface till it becomes smooth and elastic.
Roll on a lightly floured surface and cut out. Place the doughnuts on lightly greased baking paper. Cover with a tea towel and keep aside for about 30 minutes to rise.
Heat oil for deep frying. Carefully fry the doughnuts on a medium flame till golden brown. Drain on absorbent kitchen paper.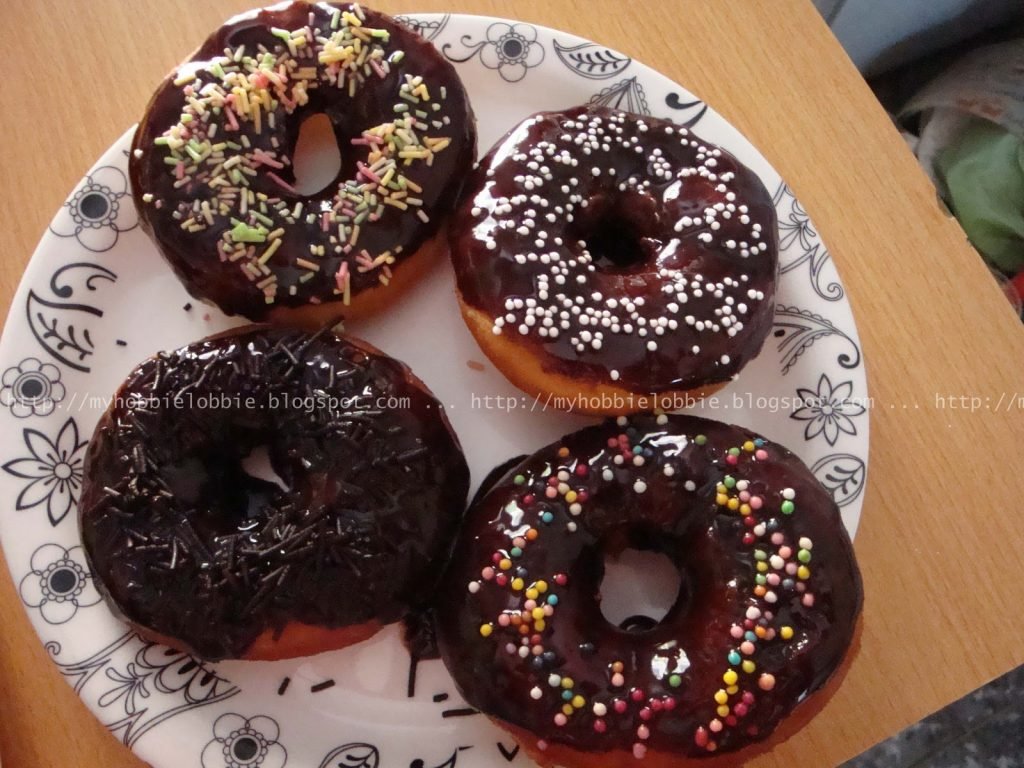 For the chocolate glaze –
(Makes enough to glaze the whole batch)
4 ounces dark chocolate, chopped
Sift icing sugar and keep aside.
Combine butter, milk, corn syrup, and vanilla in a medium saucepan and heat over medium heat until butter is melted.
Decrease the heat to low, add the chocolate, and whisk until melted.
Turn off heat, add the icing sugar, and whisk until smooth.
Dip the doughnuts in this glaze and sprinkle as desired.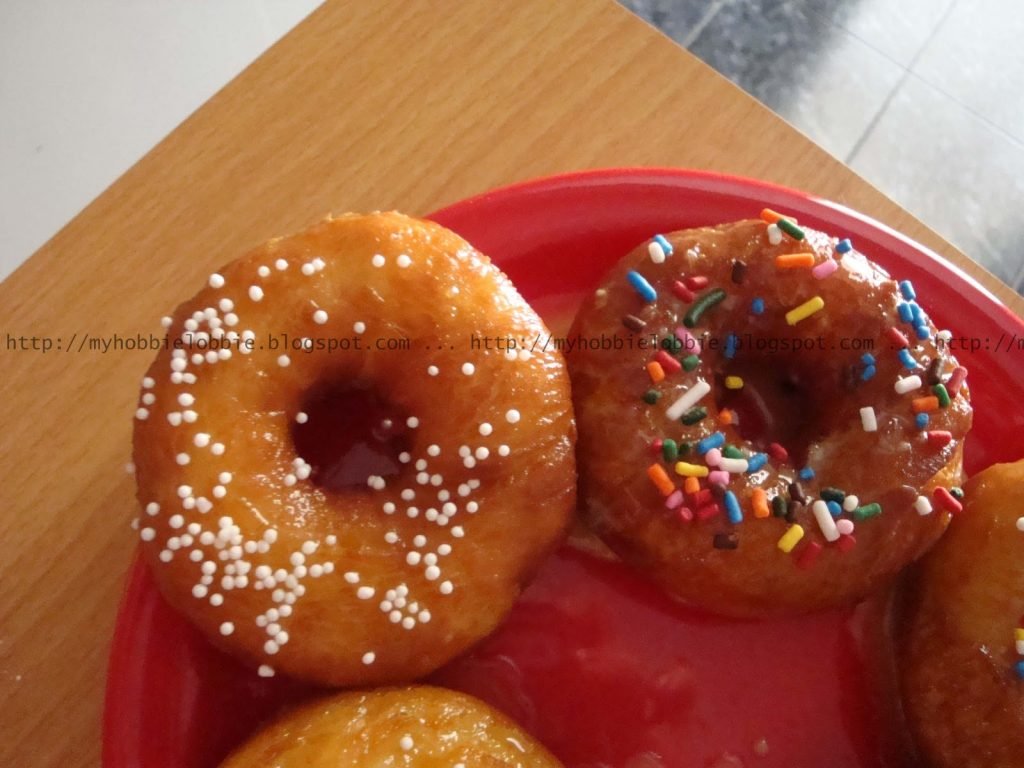 For the Vanilla glaze
(Makes enough to glaze the whole batch)
1 teaspoon clear vanilla extract
2 cups icing sugar, sifted
Gel paste food colouring (if using)
Warm the milk and vanilla in a medium saucepan set over low heat.
Add the confectioners' sugar and whisk slowly until well combined.
If tinting glaze, using a toothpick, add a drop of gel paste at a time, whisking to combine well, until you've reach the desired colour.
Remove from heat and set over a bowl of warm water (you may have to reheat over low heat occasionally).
Dip the doughnuts in the glaze and sprinkle as desired.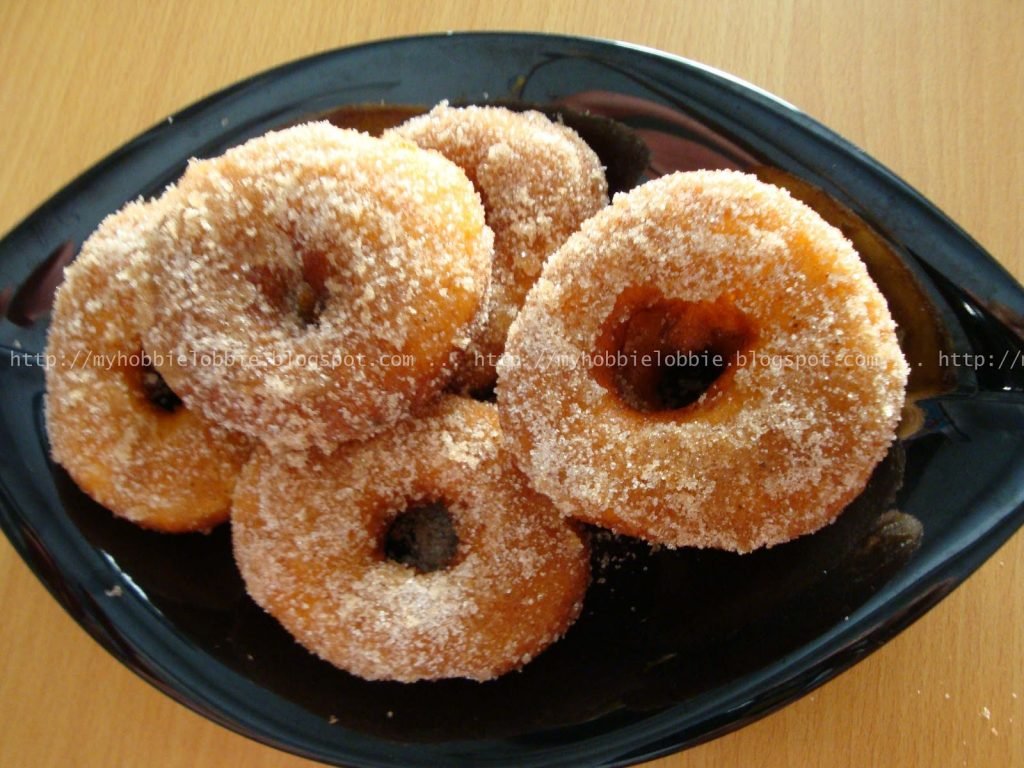 Cinnamon Sugar Topping
Mix the caster sugar and enough cinnamon powder, till you get the intensity of flavor you are looking for.
Dip the doughnut very briefly in the melted butter and then dip in the sugar and cinnamon mix to coat well.
UPDATE: If you don't have loose tea leaves in your pantry, you don't need to buy some just to make this. Simply use tea bags to make the tea and then proceed as mentioned below. Enjoy!
In my part of the world, summer is upon us in all its glory. Sometimes I think that besides a couple of weeks that we can call the monsoon and an even shorter time span that we call winter, what we experience is varying degrees of summer. How I long for colder weather. Anyway, to help deal with the heat levels around here, we make a good pitcher of Ice Tea. We've tried a couple of flavors and I think they're simply lovely. We've also sampled the ready powdered stuff that you get, brands like Lipton and Nestea and stuff, but let me tell you, there's nothing better than the real deal. It takes a few minutes more to make, but its so worth it.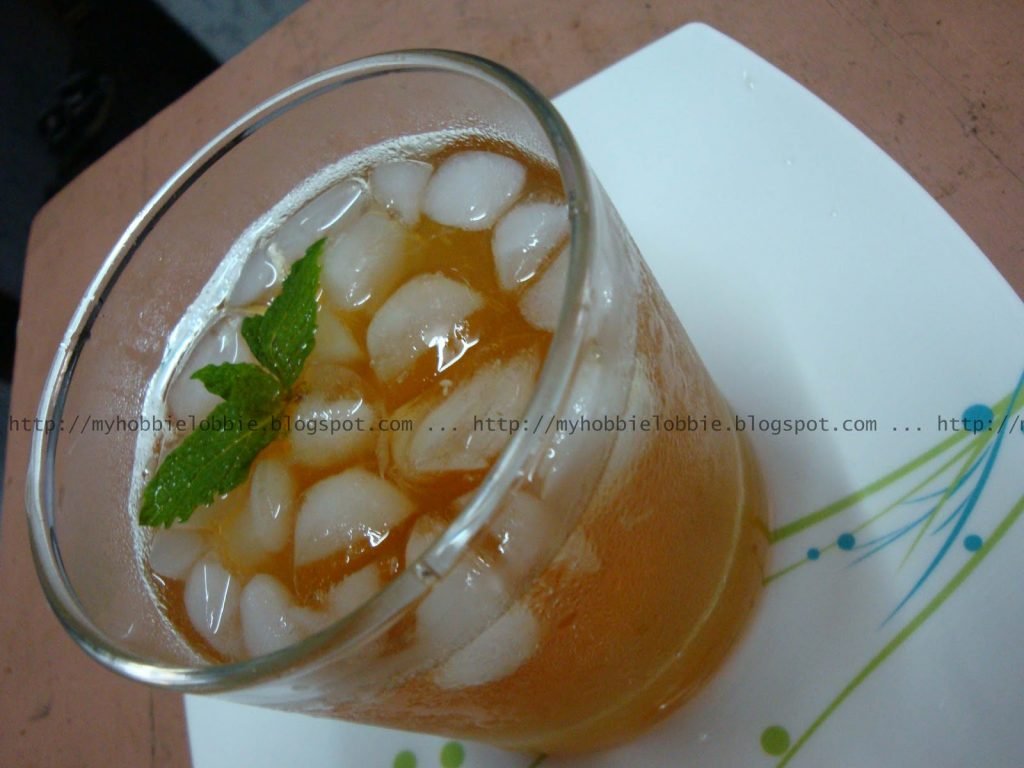 Lemon Ice Tea
3 cups water
1/2 tsp tea leaves
2 lemons / limes
Sugar, to taste
Sprigs of mint, to garnish
Ice cubes, as required
Bring the water to a boil.
Tip in the tea leaves and let it simmer for about 30 seconds to a minute. If you like a stronger tea flavor, let it simmer longer. If you prefer it mild, you should take it off the stove sooner.
Strain the tea to get rid of the tea leaves. Add sugar to taste. (You can substitute with a sweetener of your choice.)
Let the tea cool down.
Add the juice of about 2 limes. Again, taste and see how much citrus you'd like.
Give it a good stir.
Decant in glasses with lots of ice.
Garnish with a sprig of mint or a wedge of lime.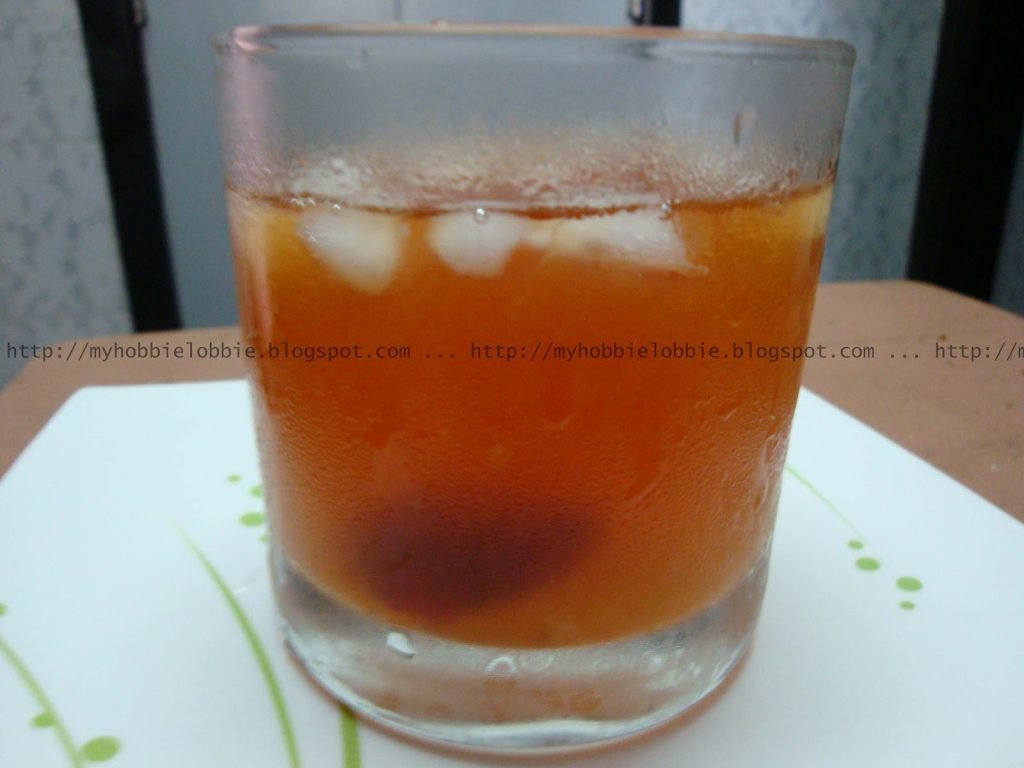 Strawberry Ice Tea
For this variant, make the tea just like you would for the lemon ice tea.
Add the sweetener of your choice.
We like to add some lime juice to this as well. It adds a nice touch. Of course, quantity needs to be adjusted to suit your preference.
Lastly, add some strawberry puree or crush to this and stir well. Don't forget to top the glass with some ice. What you see at the bottom of the glass is a whole strawberry to munch on after you're done with the drink.
Make your own ice tea. You will get hooked, and yeah, in the bargain you'll beat the heat as well.
This recipe is linked to –
Like I'd promised
here
, today I'm going to show you a little something that I did to change up these marzipan Easter eggs. One of my clients, last year, needed something to take along to work for his colleagues. He didn't want something as big as the regular Easter goodies since quite a few of the guys at work were bringing something or the other. So this is what I did. I hand rolled the marzipan into small eggs (the larger ones are made using a mould). Pipped a little royal icing border and a single flower. I had no idea they would turn out this adorable, since this was the first time I made them. I sure do hope I get the opportunity to make these again. I had fun with them. They are ideal if you need to take some treats for a large number of people. It also turns out easier on the pocket than the larger pieces. Here they are in their individual little paper cups, ready to go. Aren't they pretty? (If I do say so myself).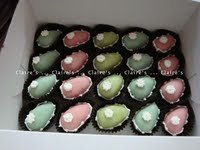 I've added one of my favorite marzipan recipes. Click here to view it.
This fun idea is linked to –
Crafty Soiree
The Homespun Bake Shop
Sweets for a Saturday
Meals on Monday
Easter Party
Since I'd had my first encounter with yeasted bread and managed these beautiful, yummy
burger buns
, I got a little more adventurous and decided to start experimenting with yeast a little more. The other day when I was browsing through a few blogs, I came across these garlic rolls. I immediately knew I was going to make them. I'm sure this doesn't surprise you. If you've been reading this blog, right from the early days I've been proclaiming my love for garlic, literally shouting about it from the rooftops (or atleast doing the blog-equivalent of it). My fourth blog post was about these wonderfully delicious
Garlicky baked potato wedges
, if you haven't tried it yet, you should, its really good. Anyway back to the garlic rolls.
The dough came together really well. I made a mini version of the actual rolls, since we wanted to have them as snacks. Am I glad I did that! They resulted in slightly crunchier outsides, with a lovely garlic flavored buttery insides. We just couldn't stop eating these. A word of advice, if you intend making these (and you should, you really should) make sure you have enough, or else you may not get your hands on even one of them. I skipped the coriander leaves and the carrot used in the original recipe and added some chilly flakes for a little spice. You can leave it out, if you don't like your food spicy and you'll love it nonetheless.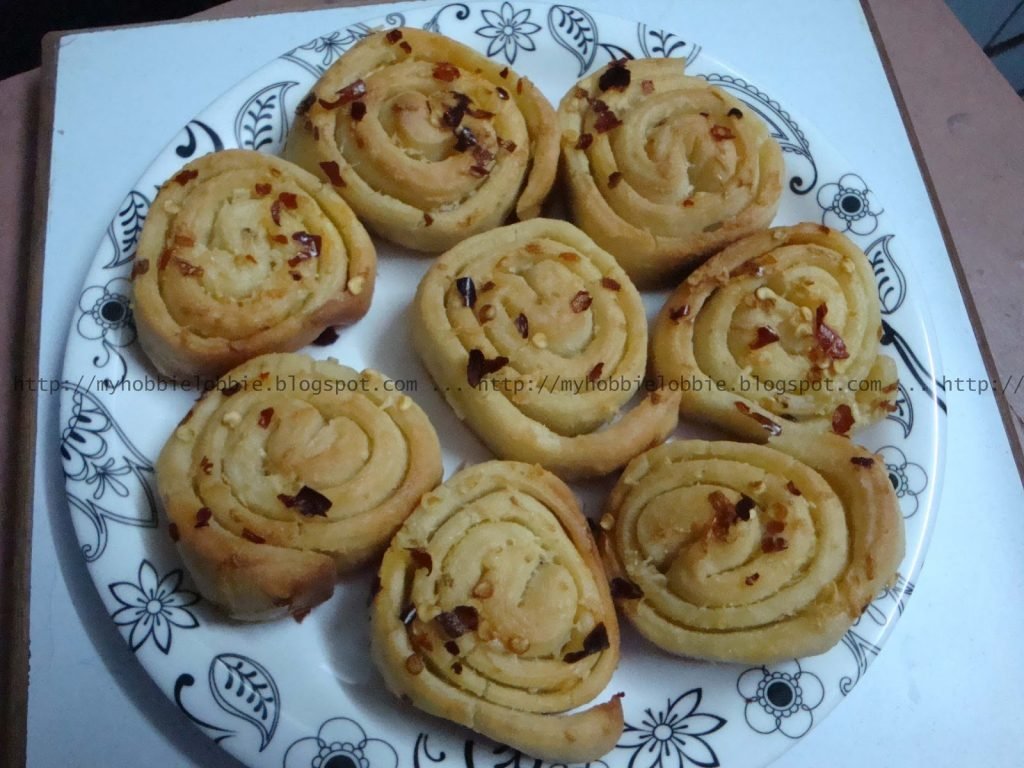 Easy Garlic Rolls with Red Chilly Flakes
Adapted from: Cooking is Easy
For the dough:
1 1/2 cups all purpose flour
1/2 cup warm water
3/4 tsp. active dry yeast
1/2 tsp. salt
1 tbsp. sugar
For the spread:
5 tbsp salted butter, at room temperature
3-4 cloves garlic, grated
In a bowl, tip in warm (not hot) water, sugar and yeast. Cover and keep in a warm place for 5-10 minutes till it gets frothy and bubbly. (This means your yeast has been activated.)
In a large bowl, tip in the flour and salt and mix so the salt is evenly distributed. Use the yeast solution to knead it to a soft dough. The dough will be a little sticky. Leave it as it is. (Don't add more flour.)
Cover with a damp cloth and set aside in a warm place for about 40 minutes. The dough will double in size.
Make the garlic butter spread by simple mixing the ingredients together. (You could add herbs to the spread, if you fancy.)
Knock down the air in the dough, roll out on a lightly floured surface till you get a rectangular piece about 1/4″ thick. Spread most about 2/3 of the garlic spread on it. With the longer edge towards you, roll up the dough, starting with the end closest to you, working you way towards the outside.
Using dental floss, cut into pieces and place them in a lightly greased baking dish. Spread the rest of the garlic spread on the top.
Sprinkle with some red chilly flakes. Cover it with a damp cloth and keep aside for another 20 minutes.
Bake them in a preheated oven for about 30 minutes or till lightly browned on the top at 180ºC.
This recipe is linked to –
Meals on Monday
Meatless Mondays
Just Another Meatless Monday
My Meatless Mondays
Mouthwatering Mondays
Mangia Mondays
Lets Do Brunch
Not Baaad
Tuesday Night Supper Club
Tuesdays at the Table
Hearth and Soul
Tasty Tuesdays
Delectable Tuesday
Tasty Tuesday
A Little Birdie Told Me
Let's Break Bread Together
You'll have noticed that all the easter goodies showcased so far have marzipan in them. Incase you're wondering why, thats because Easter treats in this part of the world primarily come in three forms – made of marzipan, made of chocolate and the hollow sugar egg. Folks here are slowly opening up to other Easter treats, but these three are still the most popular.
These are pictures of some of the marzipan Easter eggs I'd made a few years ago. The ones I made last year turned out really pretty, but true to my silly procrastinating self, I waited to make these at the last minute, took way too much time making them pretty packages and didn't have the opportunity to get any pictures. As luck would have it, the people who had ordered them oooh'd and aaah'd about them but they didn't have any pictures either. Well, all I can say is lesson learnt. This year there will be pictures!
Back to the Easter eggs, these are made of marzipan with Royal icing piping and fondant flowers.


In my next Easter Goodies post, I'll show you a tiny twist on these delightful treats!
I've added one of my favorite marzipan recipes. Click here to view it.
This post is linked to –
Crafty Soiree
The Homespun Bake Shop
Sweets for a Saturday
Meals on Monday
Easter Party