Most of you have heard of lamb chops, pork chops etc. but I'm pretty sure you're wondering what on earth is a Potato Chop. Its one of my favorite little treats. I usually make these at quite a few dinners and parties. My mum used to make these for our birthday parties and other gatherings and I tell you these are simply the best. To give you a gist of it, its like a cottage / shepherd's pie that you can almost call finger food, except that its a little larger than finger food but you get the picture. It is also the perfect way to use up any leftover
beef mince
(only you might want to make sure you don't use any pieces of potatoes that may be in the mince). If I'm making some mince just to make the chops, I leave out the potatoes, because the mince is stuffed in a pocket of mashed potato anyway.
They taste best if served hot with some tomato ketchup. They also keep well, refrigerated. All you do, is pop them in a pan, cover and let it heat through on a low flame before serving. These chops are a good option to consider as travel food for a road trip.The crumb coating gives this a nice crunchy exterior.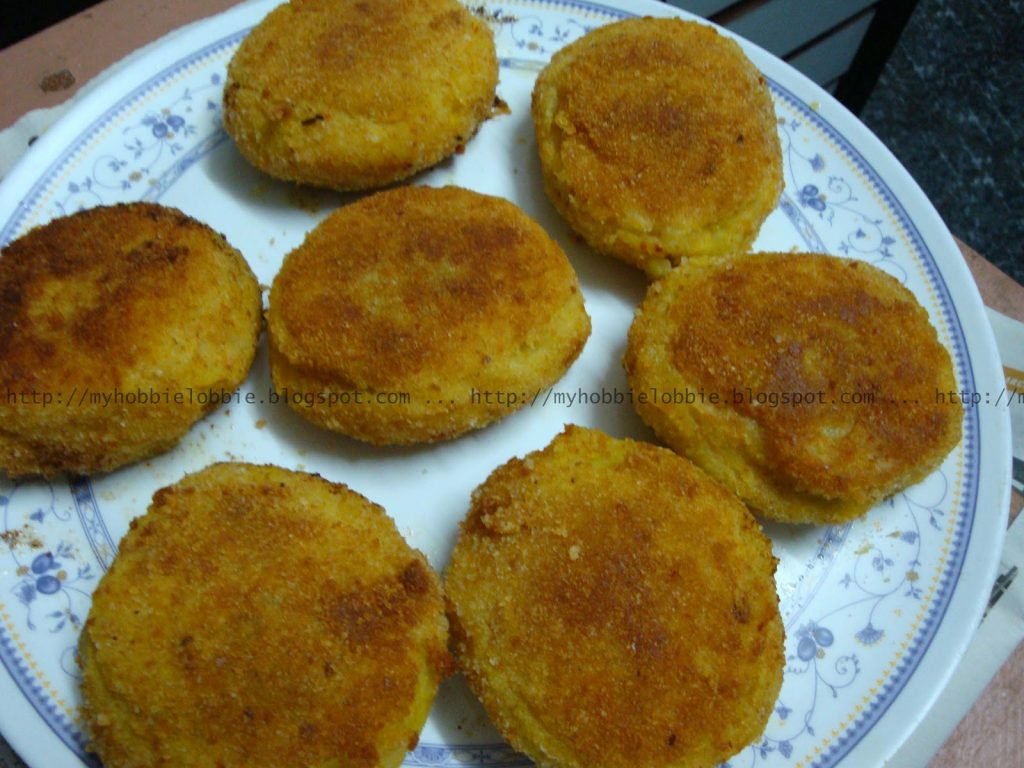 Potato Chops


1/2 a recipe of Beef Mince (You can substitute mutton mince, if you don't eat beef)
4-5 medium potatoes, boiled, peeled and mashed
Salt to taste
1/4 tsp cumin powder
A pinch of turmeric powder (optional)
1 tbsp fresh coriander leaves, chopped
1 egg
Bread crumbs
Vegetable oil, for frying
Make half a portion of beef mince and keep aside. This should come down to room temperature before you proceed with this recipe.
Boil the potatoes only when you are ready to make the chops you need to work when the potatoes are still warm. Cold potatoes make handling difficult.
Peel and mash the potatoes well. Make sure there are no lumps. Add salt to taste, cumin powder, turmeric powder and coriander leaves and using your hands mix well to ensure all the spices and herbs are evenly distributed. Feel free to adjust the quantities of the spices and herbs used to suit your taste.
Take a portion of the mashed potato, the size of a tennis ball, roll into a ball and flatten to form a thick disc on the palm of your hand. Place a spoon of the mince in the center and bring the sides of the potato disc up and over the filling to cover it well. Make sure that no mince is sticking out. If you feel the need to add more potato to it, feel free to do so. The mashed potato merges well. Shape it to form a patty and keep aside. Continue till you've used up all the mashed potato.
Crack an egg in a shallow bowl, wide enough to fit the chops. Beat well to incorporate the white and the yolk.
Pour some bread crumbs onto a plate and keep it ready. I have a little assembly line going for this, starting with the chops at one end, followed by the bowl with the beaten egg, the bread crumbs and a plate lined with some absorbent kitchen paper at the other end.
Heat some oil in a pan.
Briefly dip a chop in the egg and turn over, making sure it coats the chop well.
Dredge it through the bread crumbs making sure the potato chop is well coated. This is what will give it a good crunch.
Carefully place in the pan with the heated oil and shallow fry till it takes on a nice golden brown color. Turn and let the other side fry as well till it gets golden brown.
Carefully take it off the pan and place on some kitchen paper to drain out any excess oil.
NOTE: You don't need to fry these one at a time, place as many as your pan can accommodate, making sure theres a little space between them to help you turn these over.


Here's what it looks like on the inside –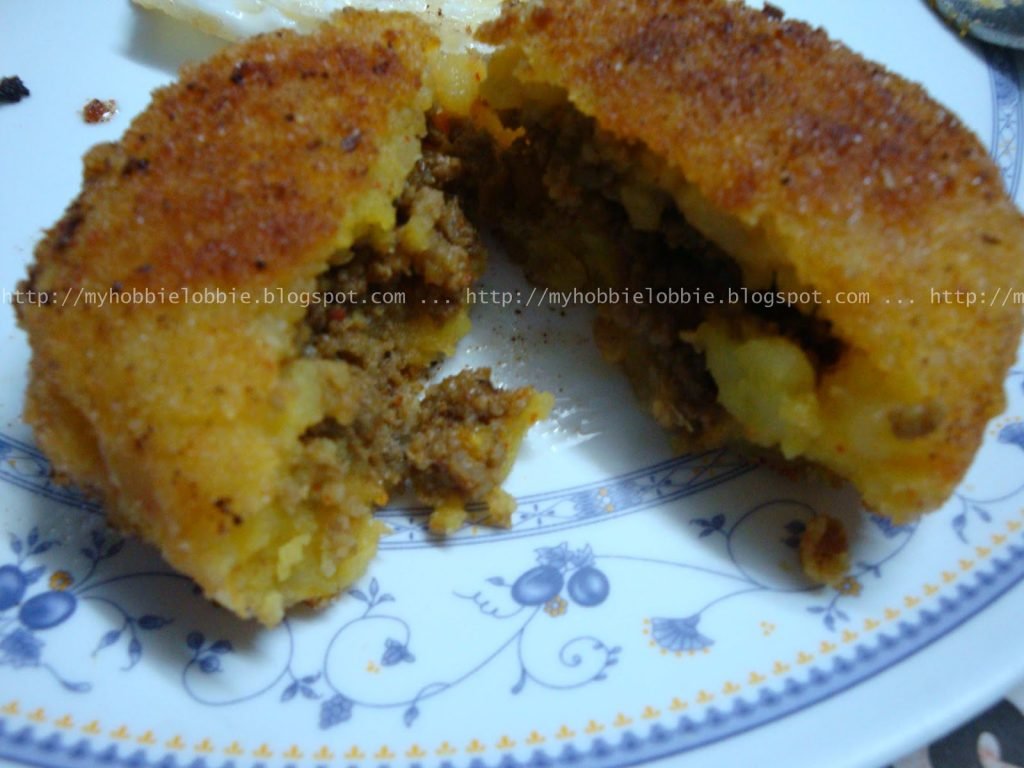 Enjoy!!!
This recipe is linked to –
What's Cookin' in the Kitchen
Feed Me Tweet Me Follow Me Home
Friday Potluck
Fat Camp Friday