My parents are both wonderful cooks and I've learnt many a kitchen trick from them. Most of the food that I cook is based on something or the other that they made. Ofcourse, the lack of written recipes, leaves me with no choice than to improvise with ingredients and quantities as I go along. You see, both my parents mostly cook without any recipe and they eyeball not only quantities of ingredients used, but the ingredients themselves. It happens so often, my mum or dad whips up something spectacular and then when they're asked for a recipe, its always you can do this or that or even the other. Pretty frustrating, I tell you! I now know better and if I like something, I try and get them to dictate a recipe, which I hurriedly scribble on a paper napkin or something, before they claim to have forgotten, or confused between a couple of ways about how they usually make it.
So you see, when they come over for a meal, I have pretty high standards to live up to. One dish, I know for sure, I make much better than both of them do, is a minced beef with potatoes and green peas. Today, I'm going to share that recipe with you. I love this preparation.
Here are some serving options –
with fresh bread
in a toasted sandwich
with plain rice
with a wheat chapati, naan or roti
in a tart shell
within puff pastry layers
in a potato chop
with a lovely pulao
over some pasta
as a pizza topping
…. and many more
One thing to note though, is if I'm using it in a potato chop or using it as a tart filling/puff pastry or in a toasted sandwich, I cook it till all the juices have dried up, to avoid a soggy mess when used. I also leave out the potato. For other purposes, I take it off the heat before it absorbs all the moisture, leaving a little gravy.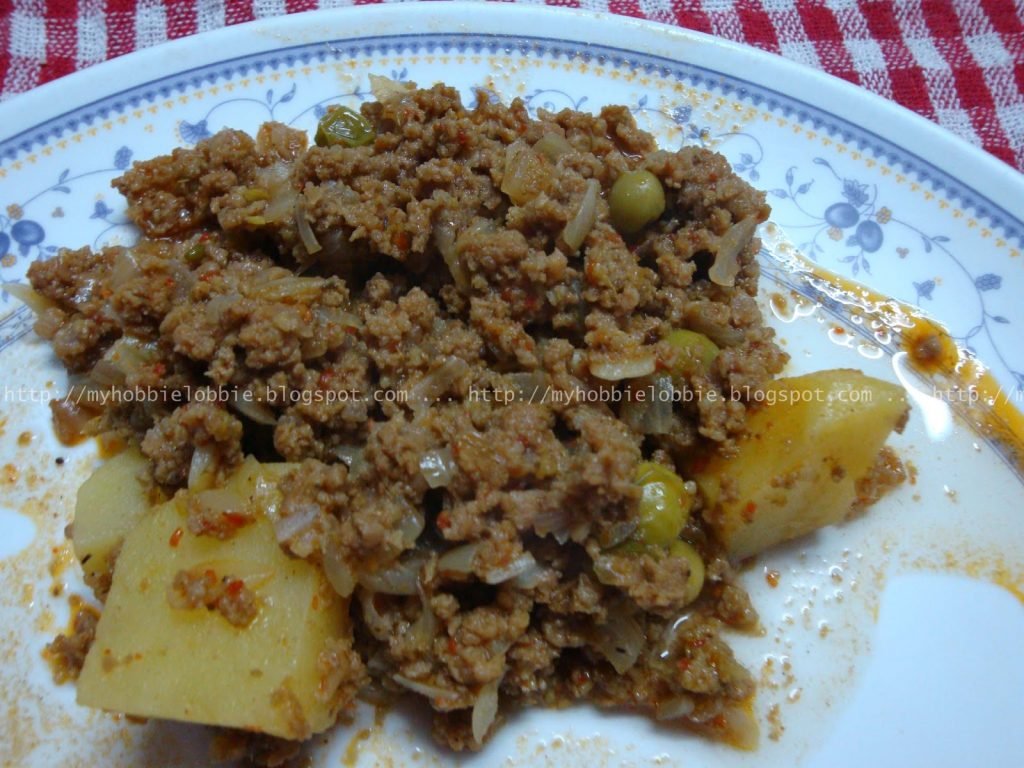 Beef Mince with Potatoes and Green Peas


1/2 kilo minced beef, (I pick up lean meat)
1 large or 2 medium sized onions, finely chopped
2 tsp ginger garlic paste
2 green chillies, finely chopped
5-6 curry leaves
1″ cinnamon
6 cloves
5-8 black pepper corns, whole
2 tbsp vegetable oil
1 potato, cubes
1/3 cup green peas
3 tbsp. Worcestershire sauce
Salt, to taste
1/2 tsp turmeric powder
1-1 1/2 tsp red chilly powder
1 1/2 tsp garam masala powder
2 tbsp fresh coriander leaves, chopped
Heat the oil in a large vessel. Carefully tip in the cinnamon stick, cloves and pepper corns. When they warm up and release their flavors, add the curry leaves and let it sputter. Be careful not to burn it.
Add the onions and green chillies and sauté till the onions have softened, stirring to avoid burning.


Add the ginger garlic paste and let it fry off for a couple of minutes, stirring well to make sure it doesn't stick to the bottom of the vessel and burn.


When the onions have slightly browned, add the turmeric powder, red chilly powder and garam masala powder. Still well and let the spices fry out for a few seconds.


Add the minced beef, and sear it well on a medium high heat, till it browns, stirring well.


When you see that all of it has browned, (no pink patches should be visible) and it has released some of its juices, add salt to taste and the Worcestershire sauce. Add the cubed potatoes and green peas. Stir well and let it cook for about a minute or so.


Add about a cup of water to the pot. Let it come to a boil. Cover and simmer till the meat is cooked. If you see that there's too much liquid left in the pot after the meat has cooked completely, cook uncovered on a medium heat till the liquid has been absorbed, stirring occasionally.


Lastly add the chopped coriander leaves and stir it in.


Enjoy it hot!!!




This recipe is linked to –
Full Plate Thursday
What's Cooking Thursdays
Thrilling Thursday
Its a Keeper