My sister-in-law and father-in-law have birthdays just a day apart so we had a little celebration on Saturday to celebrate both. I was bringing the cake. It took me forever to figure out what kind of cake to make. I wanted to make something that tasted great and was an eye catcher too. Then all of a sudden it came to me. I'd seen this Candy cake on Mickey's
blog
before and since my sister-in-laws name is Candy, I thought it would be perfect. For the base I made a Devil's Food Cake with Chocolate Ganache, which is to die for. I tried to mimic the neat pattern of MnM's that Mickey used, but eventually ran out of MnM packets to sort and ran out of time to run to a store and pick up some more as well, so I just improvised. And I was quite pleased with the way it turned out.
It was a huge hit at the party. I literally got to see the kid in everyone. I had to fight off the adults who were trying to pick out some candy before the cake was cut. And once we set it down on the table to cut, we had a tough time getting the children to wait for the cake to be cut.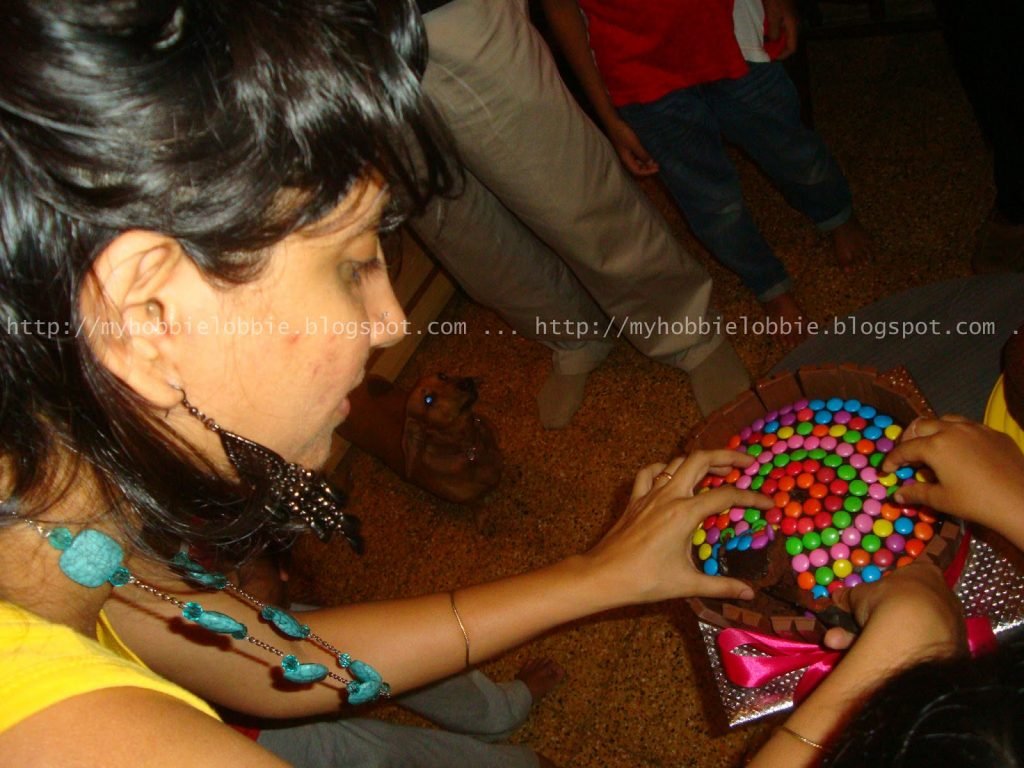 Besides that I made a heart shaped (unfrosted) Mawa cake that I absolutely love, that I baked for my father in law. It is more of a tea cake, but is scrumptious and I figured it would be nice contrast to the richness of the Devil's Food Cake. More on that later.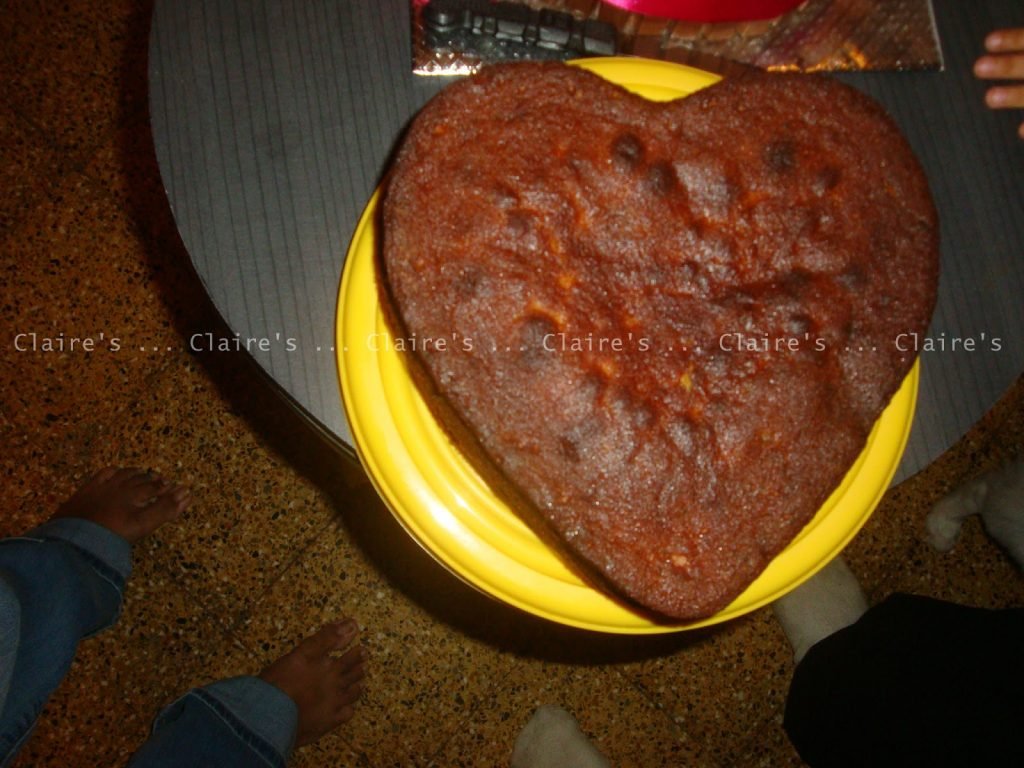 Devil's Food Cake
Recipe by: David Lebovitz
For the cake:
9 tbsp cocoa powder
1½ cups all purpose flour
1 tsp baking soda
¼ tsp baking powder
4 ounces butter, at room temperature
1½ cups granulated sugar
2 eggs, at room temperature
½ cup strong coffee
½ cup whole milk
For the ganache frosting:
10 ounces bittersweet or semisweet chocolate, coarsely chopped
½ cup cream
¾ cup butter
Preheat the oven to 170ºC.
Butter two 9″ x 2″ cake pans and line the bottoms with circles of parchment paper.
To make the cake –
Sift together the cocoa powder, flour, salt, baking soda, and baking powder in a bowl.
Beat together the butter and sugar until smooth and creamy.
Add the eggs one at a time until fully incorporated.
Mix together the coffee and milk.
Stir half of the dry ingredients into the butter mixture, the add the coffee and milk. Finally stir in the other half of the dry ingredients.
Divide the batter into the two prepared cake pans and bake for 25 minutes, or until a toothpick inserted into the center comes out clean.
Cool completely before frosting.
To make the frosting –
Melt the chopped chocolate with the cream in a heatproof bowl set over a pan of barely simmering water, stirring occasionally until melted. Remove the bowl from the pan of water.
Cut the butter into small pieces and whisk them into the chocolate until completely melted and the ganache is smooth.
Cool until spreadable, which may take about 1 hour at room temperature.
To frost the cake:
Run a knife around the inside of each of the cakes which will help release them from the pans. Tilt one cake out of the pan, remove the parchment paper from the bottom and invert it back onto a cake plate. Spread a good-sized layer of icing over the top. Top with the second cake layer and spread the top and sides with the remaining icing as decoratively as you want.
Storage: Cake is best the day it is made, although it's fine the next day. Store at room temperature under a cake dome. Just be sure to keep cake out of the sun in the meantime.
All I did after this, was place the (Cadbury's Gems) MnM's on the top of the cake and lined the outside with Kit Kat fingers and finished it off with a bow.
Here are some paper flowers that I made for Candy. I'm really pleased with the way they turned out.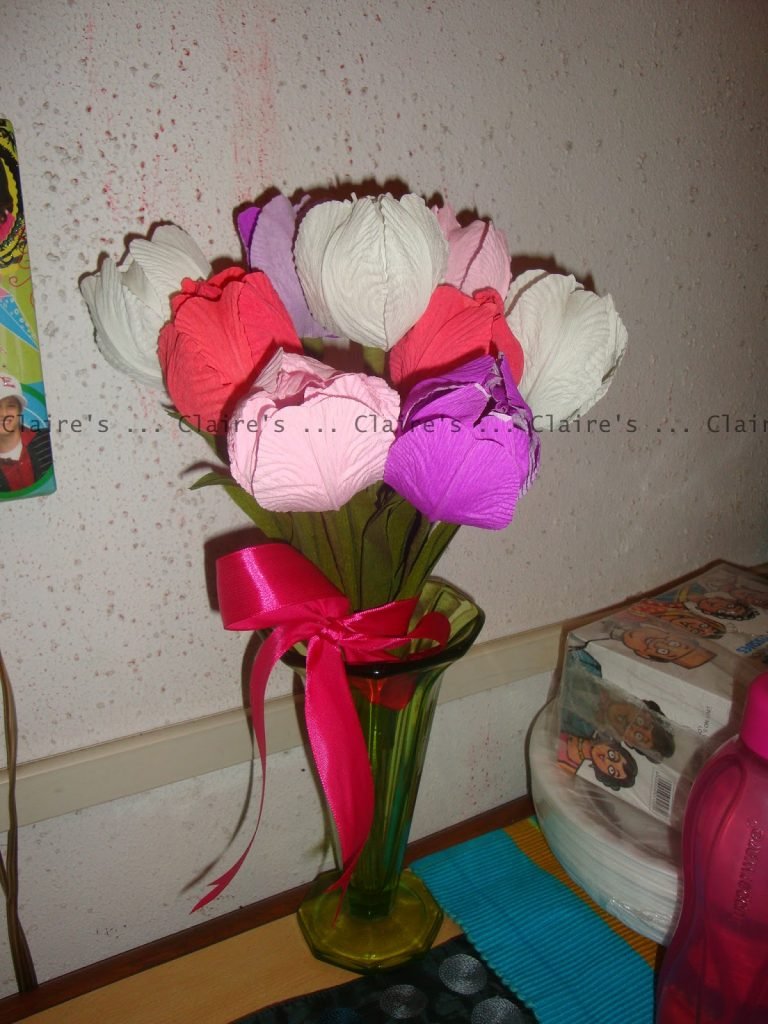 I'm submitting this Candy Lovers Cake to the following event –
This event is hosted by Sonia of Dinner Recipes from Sonia's Kitchen
this month and was originally started by Nivedita of
Nivedita's Kitchen
.
This is a cake I'd made a couple of years ago. I know it'll bring some cheer to those of you longing for warmer weathers. I for one, can't wait for summer to end. I think I've had my share of the heat. This cake is really simple to put together. This cake is covered with marzipan and fondant and decorated with royal icing and gumpaste flowers. Everything is made from scratch. I will try and put up a step by step post when I make this again. It will also dress up an Easter table well. I think it makes a lovely gift for Mother's Day too.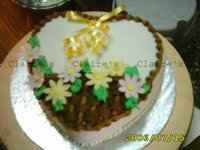 It is a heart shaped cake with a basket weave pipping to resemble the basket, dotted with gumpaste daisies and royal icing pipped leaves, finished off with a bow made out of curling ribbon.
I've been baking for the last 6 years. I've come a long way since I first started out. I can proudly say that I can whip up some mean baked goodies all from scratch. However, these mostly comprised of tea cakes, pies and cookies.
Last weekend I had to throw together some goodies for a birthday party thrown for 2 of my favourite nieces. It was a costume party and my elder niece decided that she wanted to dress as a mermaid while the younger one wanted to be a little dalmatian puppy. I obviously couldn't take them a tea cake and had to look at doing something a little more fancy. My next challenge was to figure out how to put a mermaid and a little puppy on the same cake. Since I couldn't figure out how to merge both characters on one cake, I simply decided to bake them a cake each. Here's a peek at what they looked like. These were unfortunately taken using my mobile phone as my camera battery had died out. But their dad managed to get some good shots. Will update those as soon as I get them.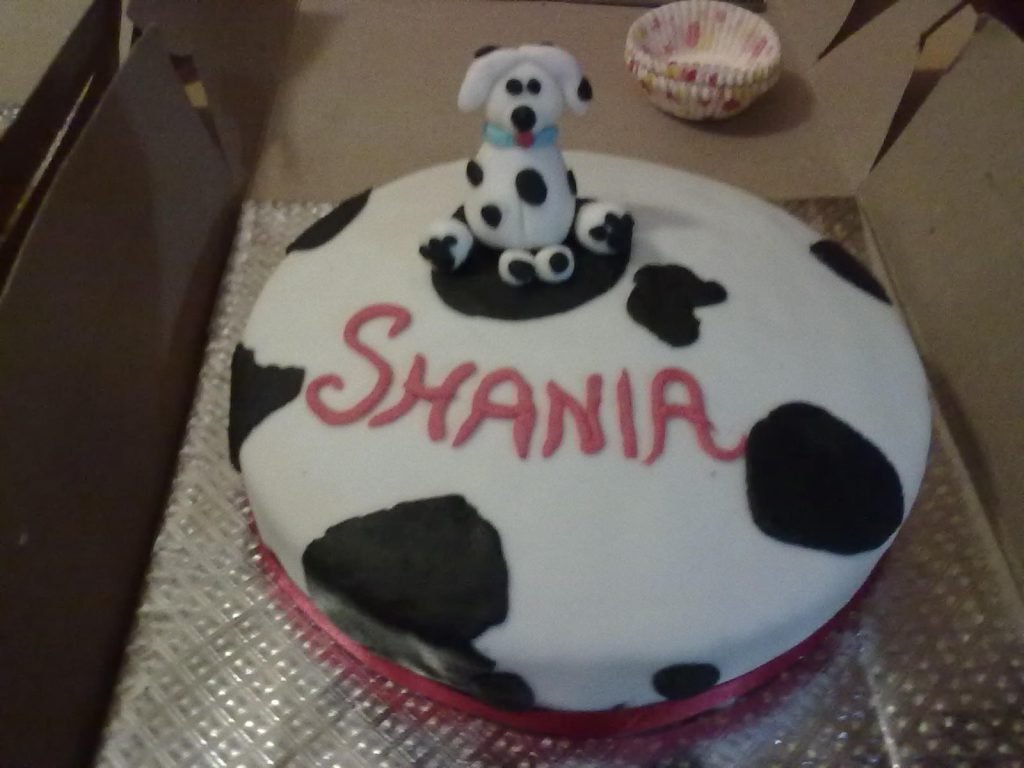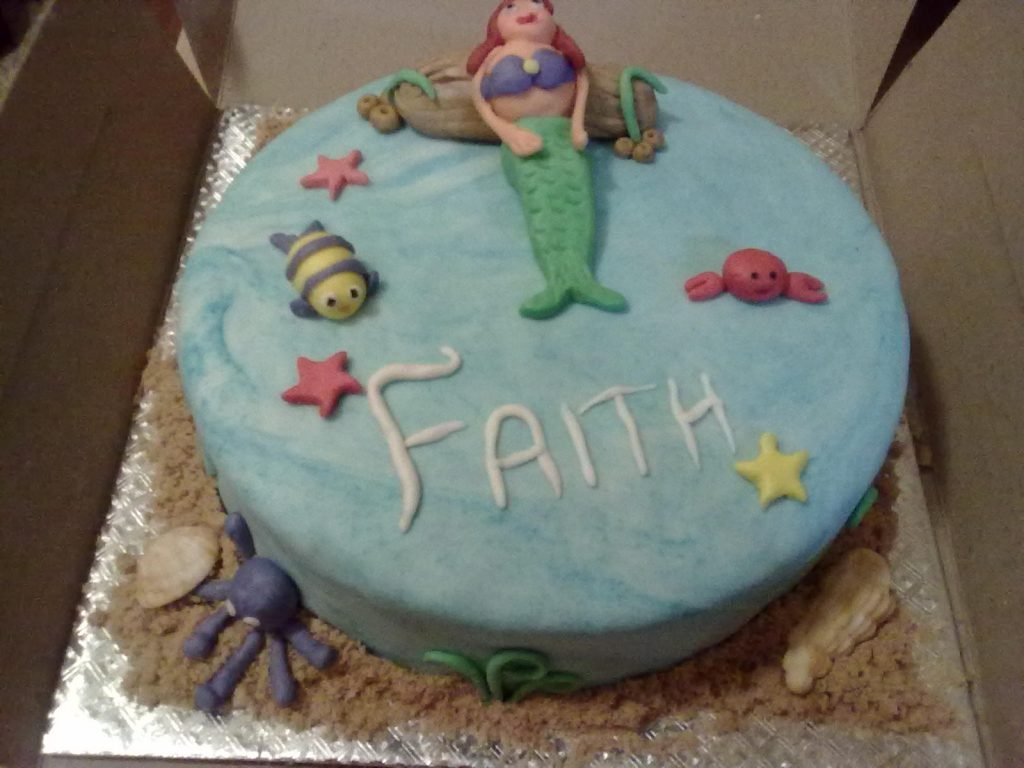 Both were chocolate cakes made using Nigella's Old Fashioned Chocolate Cake recipe and were covered in fondant. All the little characters were also made of fondant. So here you go. These are my very first fondant covered cakes with little characters all made from scratch. Both designs were inspired from images seen on the web.
This recipe has been linked to –
Treat to the Eyes – Series 2