Today we're going to talk pickles. No, not the bread and butter pickles or the dill pickle kind. We're talking Indian pickles. Pickles form a huge part of Indian cuisine. As vast as India is as a country, even more diverse is the food that comes from all different parts. Every region has its own culture, language, cuisine and hence versions of pickles. I have always been a very picky pickle person. (Haha, theres a mouthful of a sentence). Anyway, there are some pickles I just can't deal with (most of these being the spicy store bought ones) but there are others I can't get enough of.
Pickle making has always intimidated me. I always thought of it as a tedious and daunting process. I guess some of this anxiety with pickle making also comes from my Mum. She makes some mean pickles, but inspite of every care, can never get them to last. They'd get spoiled before we could finish them. I always thought that would happen to me too. Don't ask me why, I just thought it would. Until I tried my first homemade pickle – this super yummy Goan Eggplant Pickle. I was surprised at how easy it was to make and we enjoyed it for months after.
I was eager to try out a few more recipes after my success with the eggplant pickle. So a few months ago, when raw mangoes started showing up around Sydney, I just had to try out some mango pickles. Some Indian pickle recipes are long drawn and need to be kept in the sun. I wanted something a little quicker. So, I picked up a few green mangoes at Paddy's Market in Flemington and I narrowed it down to two recipes to try out this time around. One of them was this Instant Mango Pickle. Ofcourse, seeing that it was an instant recipe was a huge bonus. Plus it was so easy to make, I couldn't not try it. Also this is a small batch recipe, which was fantastic, because we're a family of 2 and I had more recipes to try out. I chose to wait for a few months before sharing this recipe, because I wanted to see if it would keep. And I'm happy to report that if you use a clean, dry glass bottle and a clean and dry fork / spoon to serve, this keeps refrigerated for more than 4 months. Moreover, this is a delicious spice blend, unlike those you will find in any store-bought version. I happen to really like this recipe. I'd take that as a win for me and my pickle making.
Spicy Kerala Mango Pickle
Recipe from: Edible Garden
2 cups raw mango, skin on, cut into uniform sized cubes
2 tbsp salt
1/4 cup oil
2 1/2 tsp black mustard seeds
1/2 tsp fenugreek seeds
2 springs curry leaves (leaves only)
2-3 tsp red chilly powder
2 tsp vinegar (optional)
Add salt to the cut mango pieces. Toss well and keep aside for 20-30 minutes.
Combine 2 tsp mustard seeds and the fenugreek seeds and grind them to a coarse powder together.
After the mango pieces have been sitting in the salt for 30 minutes, heat oil in the pan and add 1/2 tsp mustard seeds.
When the mustard seeds pop, turn the flame off. Add the powdered mustard and fenugreek.
Immediately add the curry leaves and the red chilly powder and stir well for about 5 seconds.
Tip in the salted mangoes and add the vinegar, if using.
Stir well. The residual heat of the pan will cook the pickle through as needed.
Let the pickle cool down completely in the pan itself.
Once it has completely cooled, store in a clean, dry glass bottle / jar.
Store refrigerated.
Enjoy!!!
**Serve with your favorite dal and rice.
This recipe has been added to –
Food on Friday @ Carole's Chatter
This month's
SRC
assignment was an absolute doozy. I was assigned Erin's blog,
Making Memories with Your Kids
. I was really happy with this assignment, not to mention excited. I've known and admired Erin's blog since 2010. That was when I first came across her blog; we were both participating in the "12 Weeks of Christmas Cookies" bake along. Go over and have a look at all the fun she's got going there. Not only does she have some awesome recipes, but she's also got heaps of fun foods for kids, craft activities and some really amazing gift ideas for pretty much any occasion. I love looking at all the ideas she comes up with.
For this month's SRC reveal, I decided to try out her Deep Fried Zucchini with Garlic Aioli Sauce. Mainly, because that Garlic Aioli sounds so amazing I had to try it out and I needed something to have it with. Enter – Deep Fried Zucchini. Both really simple recipes, but oh so very good. I know I will be making these time and again 🙂
The Aioli is nice and flavorful, but the real star, to my utter surprise was the zucchini. I expected the aioli to be my favorite. The zucchini was so good, it didn't need a dipping sauce. I have some more zucchini in the fridge and I'm going to make another batch for dinner this evening. That's how good it is. Don't take my word for it, go ahead and try it. Erin, thank you so much for this recipe. I LOVE it.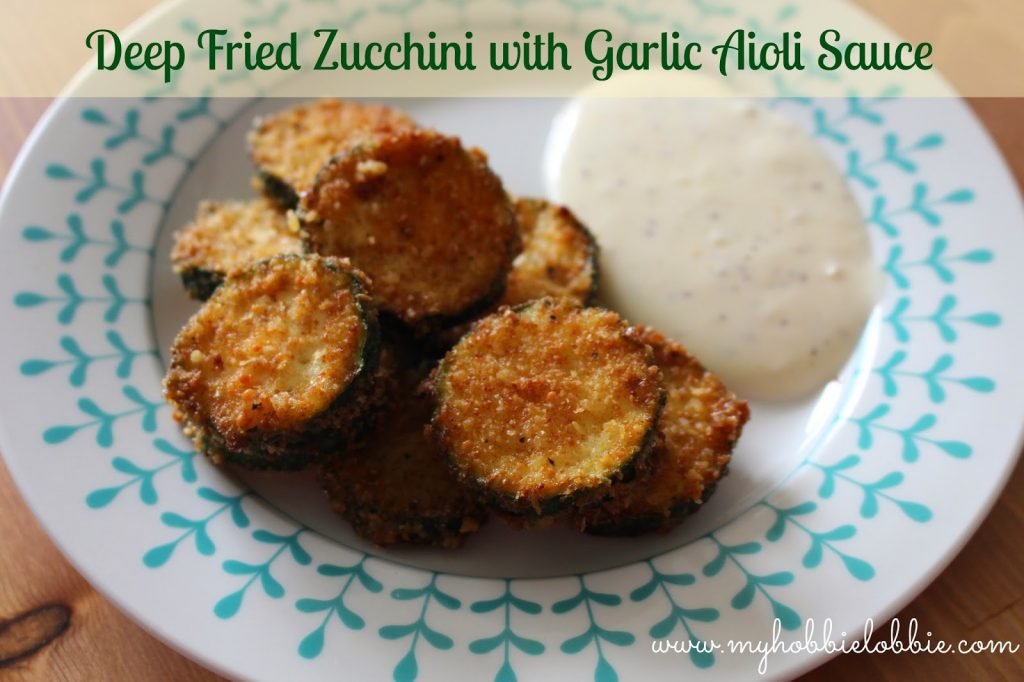 Deep Fried Zucchini
Zuchinni
2 eggs
1/4 cup buttermilk
1 cup breadcrumbs
1/2 cup Parmesan cheese
Salt and pepper, to taste
Oil, for deep frying
Heat the oil for deep frying.
Cut the zucchini into slices about 1/4 of an inch thick.
In a bowl, beat the eggs and the buttermilk.
In another bowl mix the breadcrumbs, parmesan cheese, salt and pepper.
When the oil is hot, dip the zucchini in the egg dip and then in the crumb mixture and then carefully place in the oil.
Fry for a couple of minutes on both sides on a medium flame, till golden brown.
Using a slotted spoon, remove the slices from the oil and place on some kitchen paper to drain any excess oil.
Serve hot.
Garlic Aioli


1 cup mayonnaise
1 tbsp lemon juice
3-4 cloves of garlic, minced / crushed.
Mix it all together and serve.
Here's something I haven't done before – I made dessert too. Nothing fussy but an absolute treat. When I saw this post on Erin's site, I couldn't go past it. I've seen this ages ago and always wanted to try it out. They just look like so much fun. I had absolutely no excuse to not make it. The next time I make these, I will have to leave the soda out a lot longer. I did it this time but evidently it needed to sit out longer. So when you try these out, if you think your soda has been out long enough to cut down the carbonated effect, keep it out a little longer 😉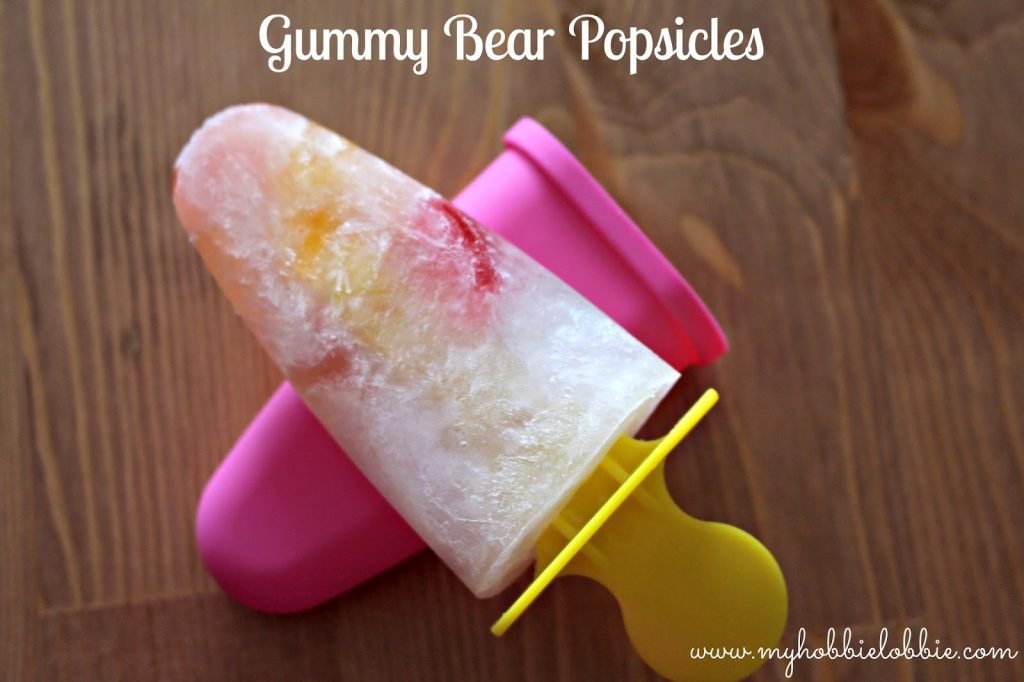 Gummy Bear Popsicles


Sprite
Gummy Bears
Let the soda sit out for a while to let some of the fizz die out.
Drop some gummy bears into your popsicle mould. You can use as many or as few as you like. I went for about the half way mark.
Top up with the Sprite.
Freeze.
Enjoy on a hot summer's day or as it turns out on the first day of autumn here 🙂
The kids will love it and so will the adults.
There are no kids in our household and I still made it and we loved it.
Do stop by and check out what the rest of Group A whipped up this month.
I know, it seems like I've abandoned this series on Bombay street food. I haven't, but sometimes theres just so much going on that its not possible to fit everything into a twenty four hour day. In the past few days since I've returned, the day seems to have somehow shrunk and become even shorter. Anyway, the news is that I'm going to try and squeeze in some time for this serious.
South Indian fare is very popular street food in Bombay. Today, I've got a little twist on the the traditional fare, but I promise you it is good, so very good. Typically, South Indian snacks like dosas and idlis take a while to make. The batter is made with a base combination of rice and urad dal (black gram). The ingredients have to be soaked, ground and fermented etc. (not necessarily in that order). In time, I'm itching to try out the traditional method. This take, however, is a quicker, simpler version. Its almost an instant recipe. The idlis turn out really delicious and I made a quick coconut chutney that my mum always made to go along with dosas and idlis. My mum has this amazing lady for a neighbor. She is from South India and ever so often whenever she has time away from school, where she's a full time teacher, assistant head mistress and I don't know what else, she'd treat us to a huge portion of breakfast snacks like this that she'd make for her family. I miss those days. And honestly, she was the first person I thought about while I was eating these. I should try and coax her to give me her recipe for the traditional rava idli.
But back to the instant rava idlis, they make a quick healthy snack with rava (semolina) and it is steamed. What could be healthier? For me, this is like soul food.


Rava Idli
Adapted from: Cooking Up Something Nice
(Makes 8)
1 cup rava or semolina
1 cup curd or plain unflavored yogurt
Salt to taste
1/4 to 1/2 cup water (I used a almost half)
1/2 tsp oil (I forgot to add this but it still turned out great)
A pinch of soda bi-carbonate
Mix all the ingredients in a large bowl and make sure there are no lumps.
Let it stand for 20-30 minutes. During this time you can make the chutney (Recipe below).
Pour the batter into idli moulds and steam for about 10 minutes.
Open the steamer and let it cool for a couple of minutes. Then take the idlis out of the moulds. A small spatula or the blunt end of a knife should be just right incase you need to help the out of the moulds.
Enjoy them hot with some Coconut Chutney.
Coconut Chutney
1/2-3/4 cup of freshly grated coconut
1-2 green chillies
Salt, to taste
1/2″ ginger
A ball of tamarind, the size of a large marble, soaked in a little water
Blitz all the ingredients together in a blender. Taste and adjust seasoning.
And thats it. In half an hour you can treat yourself to something yummy and wholesome.
This recipe is linked to –
Tuesdays at the Table
Delectable Tuesdays
Tuesday Night Supper Club
Whats Cooking Wednesday