2
SRC
posts in 2 weeks! You must think I've lost my marbles. But no, I haven't, not yet atleast 😉 Last week was a bonus themed SRC reveal but this post today is my regular Group A reveal. For this month I was assigned Sid's blog,
Sid's Sea Palm Cooking
. I've been watching this blog for a while now and when I received my assignment, I was quite excited to be cooking from this blog. I almost fell off my chair when I read Sid's tagline from her "About" page. Turns out we are kindred sisters at heart. In her own words, this is what she has to say,
"Sid cooks, entertains, plays with food, and hates to clean the kitchen after a marathon cooking/baking session."
I feel ya Sid. I love the prepping, the cooking and the serving and all that. But absolutely hate the cleaning up after. OMG, I can't believe I have said that out loud. Fortunately, I have an absolutely amazing husband, who almost always helps with the clean up. And that makes me one lucky and extremely happy girl.
Back to Sid and her blog. She hosts Tapas night once a month and her friends bring along a dish each to share. That is a wonderful idea for a potluck and they put together some pretty impressive spreads month after month. While I was perusing her blog, a few posts caught my attention. I loved the look of these Game Day Wings, and her Za'atar Pita Crisps looked intriguing. I had also shortlisted her recipe for Tonkatsu and her Candied Ginger and Lime Cookies. In the end I went with her Breakfast Salad.
I was so pleased I picked Sid's Breakfast Salad recipe. Though it is a simple recipe, for me it was a first. I have never poached an egg before. And until now, I have always found or made excuses and put off trying my hand at poaching eggs. To be honest, I always found it a little intimidating. Today I decided to bite the bullet and give it a shot. I'm so happy that I did. Turns out, poaching eggs is actually really easy. I wonder why I waited this long to try it out. It is a really healthy way to enjoy an egg for breakfast too, because there is absolutely no oil / butter involved. I even managed to get a runny yolk and all. This might just be my new favorite way to eat an egg now. Thank you so much Sid for the much need nudge. If you haven't tried poaching an egg yet, do give it a try.
The salad itself, makes the dish a very wholesome breakfast. I didn't have any mushrooms in the kitchen when I set out to make this, so I left out the mushrooms. But because my husband looked and the salad leaves and then looked at me thinking I had lost my mind, I decided to coax him with a few sausages. I fried up some cheese kransky sausages and sliced them up. With some croutons and salad dressing, this makes a super yummy and hearty breakfast. You don't feel heavy or overwhelmed with grease after sitting down to this salad. Though this was my first attempt at a breakfast salad, I know for sure this wont be the last. I really enjoyed this for breakfast. I probably enjoyed this a little more than I thought I would.
I have made this a couple of times now, once using store bought French Salad Dressing and once with my go to dressing comprising of a squirt of lemon juice and a sprinkle of salt and freshly cracked black pepper to taste. Both were really good.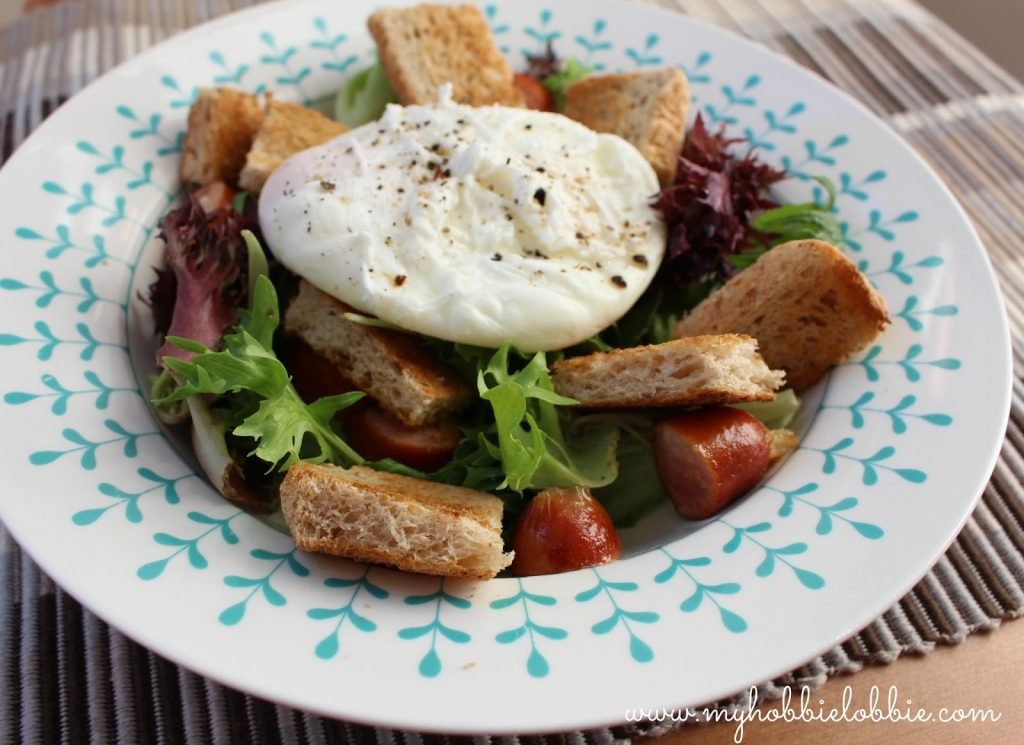 Breakfast Salad
Serves 1
To poach the egg –
Bring about a liter of water to a boil in a pot.
Add 2 tbsp vinegar to the boiling water.
Crack an egg into a ramekin.
Using a spoon, stir the water a few times till you have a little whirlpool going in the pot.
At this stage, gently pour the egg from the ramekin into the water. Cook of medium heat for about 2-3 minutes or till the egg whites have just set.
Drain using a slotted spoon and place on a paper towel to drain off any excess water.
For the salad –


A handful of salad leaves (I used the 4 leaf mix from Coles)
1 slice of bread
2 cocktail sized cheese kransky sausages
1 tsp olive oil
Salt, to taste
Freshly cracked, black pepper to taste
Salad dressing (of your choice), to taste
I turned the sliced of bread into croutons the lazy easy way. Simply toast it up in the toaster till browned and crunchy. Cut up into pieces and croutons are done.
Heat the oil in a pan and fry up the sausages till cooked. Carefully slice the sausages.
In the serving plate, place the salad leaves and drizzle a little salad dressing over.
Sprinkle the sliced sausages and crouton pieces over.
Place the poached egg on top and sprinkle some salt and pepper on the egg.
Enjoy!!!
Here's a peak at the runny yolk I managed to get 🙂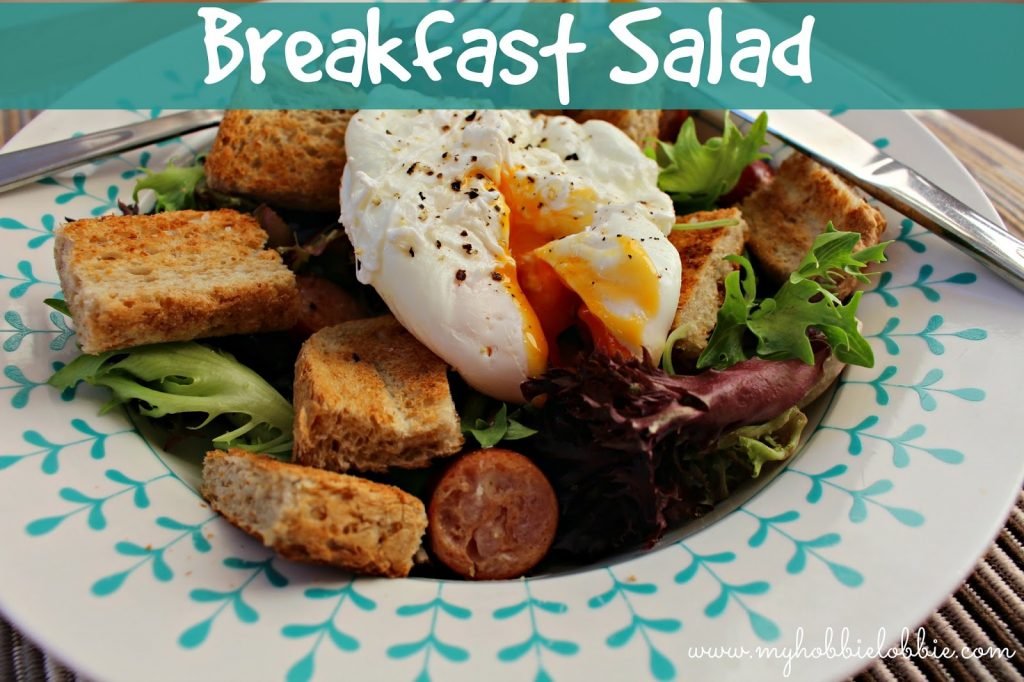 Don't forget to check what the others in Group A have whipped up this month.
**Disclaimer: This is NOT a sponsored post. I have just mentioned what type of salad leaves I've used here.
A couple of weeks ago, before we left on our holiday, I found myself longing for some home baked treats. There was just one tiny problem – I wanted it right then. Now, anyone who has baked know that yummy, home-baked goodness usually takes a little time and a few ingredients. Given the urgency of the craving, I suddenly thought of something a dear friend of mine (my soul sista, actually) told me about a few months ago. She'd told me about these quick and easy peanut butter cookies that she's whipped up one afternoon for an after-school snack. I knew that's what I was going to try out.
After a little looking, I settled on a recipe that asked for just 3 ingredients. I was SOLD. Yummy cookies with just 3 ingredients – I couldn't wait to try them out. Making the cookie dough was super easy and after a few minutes in the oven, I had a pile of little cookies. I split the dough and to half of it I added a fourth ingredient – some chocolate chips. You don't have to do this, but who can resist a little chocolate. With this cookie you get a little sweet and a little salty. If you are going to use some crunchy peanut butter like I did, you'll have a few small pieces of nuts in there too. I love having a quick and easy recipe like this one in my arsenal. I would, however, cut down the sugar in this recipe the next time I make them. I did find them a little too sweet for my taste. I'd probably drop it to 3/4 of a cup the next time and take it from there. The recipe below has the original quantities.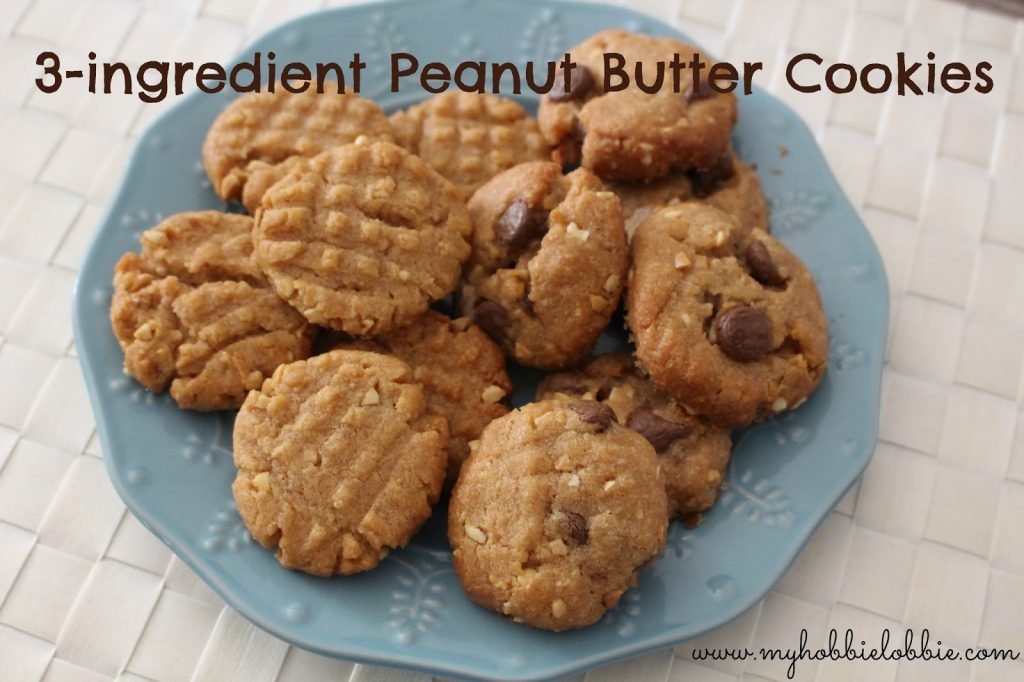 3-ingredient Peanut Butter Cookies
Recipe from: KitchMe
Yields:18-20 depending on size
1 cup peanut butter (smooth or chunky)
1 cup sugar
1 egg
Preheat oven to 170ºC.
Mix the peanut butter, sugar and egg till smooth.
At this stage, if you'd like to add chocolate chips to some, or all of the dough, you can do so.
Portion out and roll into balls. I just use my hands for this.
Press down lightly with a fork. The tines of the fork give you a criss cross pattern. You could either press down just once to give you some lines across the cookie or turn the cookie a little and press the fork down again to get a chequered pattern.
Place on a cookie sheet. Bake for 10-12 minutes.
Don't let it overbake or brown it off too much.
Enjoy!!!