How many of you enjoy your dry fruits, nuts and seeds? I'm talking raisins, sultanas, dates, apricots, prunes or almonds, cashewnuts, peanuts and also pumpkin seeds (pepitas) and sunflower seeds. Me, I love them all. They are all known to have health benefits if eaten in small quantities as part of a balanced diet. It is a shame that more people don't include these little gems in the diets. My husband loves nuts, but isn't too keen on the dried fruit or seeds by themselves. So I have to think of ways to include them in our diet. Most often, we usually just nibble on a small handful of an assortment of fruits and nuts / seeds, but I was looking for other ways to enjoy them too.
When I came across a post with these bars, I knew I had found something good. It has dates, apricots, pepitas, chia seeds and a touch of cinnamon, all of which are know to be healthy in their own right. They come together to form these little delicious bars which are so tasty. They are sweet from the dates, a little tangy from the apricots and have the crunch of the chia seeds and pepitas though them. As the original recipe included a small amount of white chocolate chips, I threw them in, but they would be fantastic even with dark chocolate or even without chocolate at all.
The verdict, my husband enjoys them, which is a win for dry fruits in his books. They are small portion sizes, but pack a punch. If you like to reach for a snack bar or a granola bar during the day, I suggest trying these out. They are very satisfying and will keep the hunger pangs away till your next meal. They take all of 10 minutes hands on time. So even if you are time poor, you can still make a batch of these on your day off and enjoy them through the week. Kids will enjoy them too. Go ahead, give them a try. If you do, I'd love to hear what you think of them.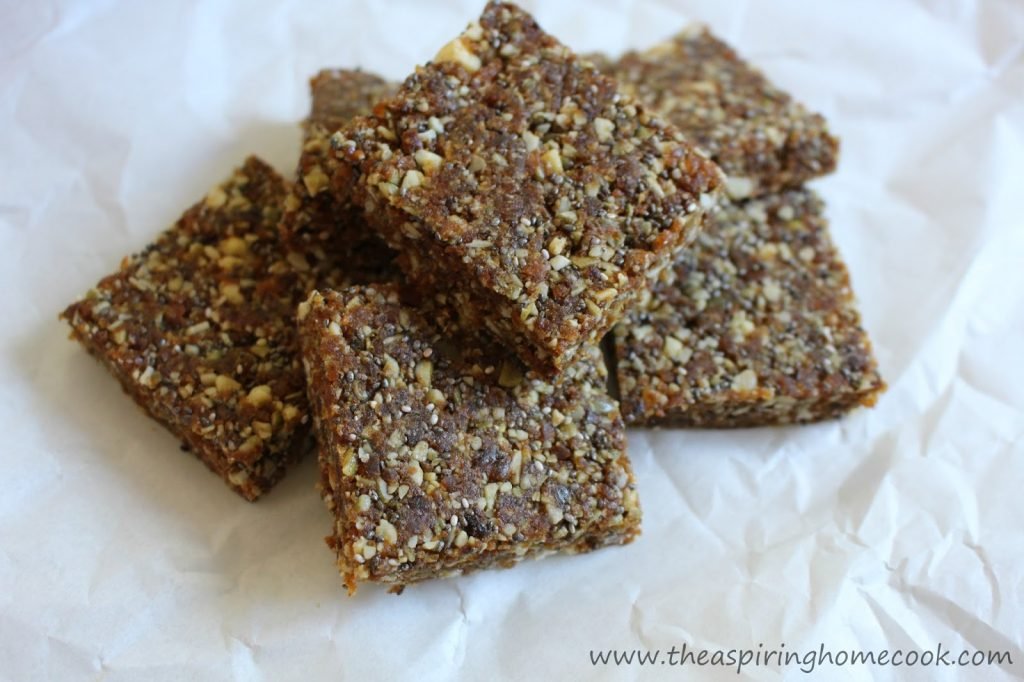 Date, Apricot & Chia Bars
Recipe from: Cupcakes & Kale Chips
Yields: 16 pieces (2 inch squares)
1 cup dates, pitted
1 cup dried apricots
2 tbsp Chia seeds
1/4 tsp ground cinnamon
1 cup raw pumpkin seeds / pepitas
2 tbsp white chocolate chips (optional)
Line an 8×8 inch baking dish or tray with baking paper.
Place the dates, apricots, chia seeds and cinnamon in a food processor and blitz till it has coarsely broken down.
Add the pepitas to the processor and blitz again till the pepitas have broken down to finely chopped.
Now add the chocolate chips, if you're using them and blitz again to break them up to little pieces.
Empty this mix onto the lined baking dish and flatten it down as best as you can, using the back of a spoon.
Next, I used another piece of baking paper on the top and used a large glass jar to flatten it out evenly. You can also use the bottom of a pan or a similar sized baking dish to do this after you place the baking paper on top.
Refrigerate for an hour.
Cut into squares. They are now ready to eat.
To store these bars, place a piece of baking paper between the squares to keep them from sticking to each other. Store in an airtight container in the fridge.
You now have little snack bars that will take you through the week.
Enjoy!!!
If you like this recipe, here's a few more you might enjoy –
Fruit & Nut Balls
Power Packed Snack Bars
Banana Bread Baked Oatmeal
I've been in a bit of a cooking / baking rut recently. I've been walking into the kitchen totally uninspired and seem to be just going through the motions. But that thankfully is in the past. Thanks to this months
SRC
assignment, I'm on a roll. This lovely lady and her blog are so inspirational. I've been admiring her blog for a while. I first came across Kate's blog
Kitchen Trial & Error
in Nov-Dec 2011 when I was participating in the 12 Weeks of Christmas Cookies Challenge and I spotted her recipe for homemade
Creamy Mints
. Kate and I seem to have in common our love of homemade and freshly baked goodies at home, and amazingly both our households seem to love garlic and mushrooms too. Her lovely family comprises of her husband and 2 very handsome little boys. Kate's blog – what can I say about it! It is one that brims over with amazing recipes and gorgeous pictures. She has a massive collection of delicious recipes that spans quite a few ingredients, techniques and courses, which means there's bound to be something for everyone. So what are you waiting for? Pop over and say Hi to Kate!
So as you can imagine, I had a heck of a task picking one recipe for the reveal. Along with the creamy mints, the shortlist also comprised of her Cheesy Potato Soup with Ham, Marshmallows, Gnocchi, Churros and Banana Bars, among many others that caught my eye. Well, you've probably guessed by now that I made the Banana bars with a Cream Cheese Frosting. The fact that I had 4 bananas slightly past their prime sitting on my counter, helped a lot in the decision making process. So I went with it and was very happy with the outcome. The recipe for the bars and the frosting is super easy to put together and is absolutely delicious. The banana bar base is moist and flavourful and honestly, I could eat it just like that without the frosting or anything. But for all you cream cheese frosting lovers out there, you'll be happy to hear that the frosting takes it to a whole other level of deliciousness. These bars keep very well too. We had these as tea time treats and I might or might not have had a couple of these as dessert after lunch on my days off 😉 I simply covered them with cling film and refrigerated them and took them out of the fridge and placed them on the kitchen counter about an hour before eating them and it lasted about a week. It might have lasted longer, but we'd happily devoured it by then.
I stuck to the original recipe. Only difference is I used 4 bananas instead of 3, since I wanted to use all 4 bananas that I had. Also, you'll see from Kate's pictures (which are so much prettier that mine will ever be) that I used a different sized pan. She recommends a 9″x13″ pan. I used a 9″x9″ since that's all I had. So I cut my bars into smaller sizes, since they would be a lot thicker than hers.
Banana Bars
Yields 16 pieces


For the bars –
4 ripe bananas
1 cup sugar
1/3 cup vegetable oil
2 eggs
1 cup all purpose flour
1 tsp baking powder
1/2 tsp baking soda
1 tsp cinnamon
A pinch of salt
Heat the oven to 180ºC and grease the baking pan.
Peel and mash the bananas in a large bowl.
Mix in the sugar, oil and eggs till well combined.
Stir in the flour, baking powder, baking soda, cinnamon and salt.
Pour into a the prepared baking pan and bake for about 40-45 minutes or till done. (Note this was because I used a smaller pan resulting in thicker bars. If you are using a 9″x13″ pan, the bars will be thinner and you'll need to start checking to see if its done around the 20 minute mark.)
Cool the bars completely before frosting.
While the bars are cooling, you can make the frosting.
For the Cream Cheese frosting –
3 oz Cream Cheese, at room temperature
1/4 cup butter, at room temperature
A splash of vanilla
3 cups icing sugar
Beat the cream cheese and butter till well combined.
Add the vanilla and the icing sugar half a cup at a time and beat between additions till you get the desired consistency. I ended up using the whole 3 cups.
To assemble –
When the banana bread has cooled through completely, spread the Cream Cheese frosting over the top.
Cut into bars / squares.
Enjoy!!!
Time sure does fly by real fast when you're having fun. And it is time for this months
SRC
reveal. This month I was
Secrets from the Cookie Princess
. Such a pretty name and such a pretty blog. I've spent hours going through The Cookie Princess' a.k.a Colleen's blog. I've had my eye on this blog for a while. Colleen has a huge collection of cookie posts. When I say huge, I mean HUGE. Saying "I was spoiled for choice" would be an understatement. I had such a hard time narrowing it down to one recipe for reveal day. In addition to her cookies, she has some other yummies too. I can wait to try this
Pita Bread
, her
Roasted Garlic Flatbread
and these
Mini Fritttatas
. However, since her blog is called
Secrets from the Cookie Princess
I knew from the start that I was going to try out a cookie recipe to being with. Also, its been ages since I made cookies at home. One glance at the Recipe Archive and I knew I was in trouble. I have a whole list of cookies and bars that I want to try out.
Coming back to today's post, I decided to try out Colleen's Cinnamon Bars. I'm not too sure if they're supposed to be softer like a blondie or crisper like a cookie. Mine ended up more on the crisper side like a cookie. Don't get me wrong, I'm not complaining, just curious. Either way, the kitchen smelled wonderful while these were baking. These bars tasted wonderful. We absolutely loved them. The original recipe calls for pecans and I wanted to use almonds, but ended up using walnuts. I can't wait to see what these will be like with almonds. I know I'll be making these every now and then. Maybe the next time I'll try baking them for a slightly shorter while and see what they turn out like. Maybe I'll add some chocolate chips or even drizzle them with melted chocolate. The possibilities seem endless. All I know is that I've found a good base recipe and I intend keeping it. Thank you Colleen.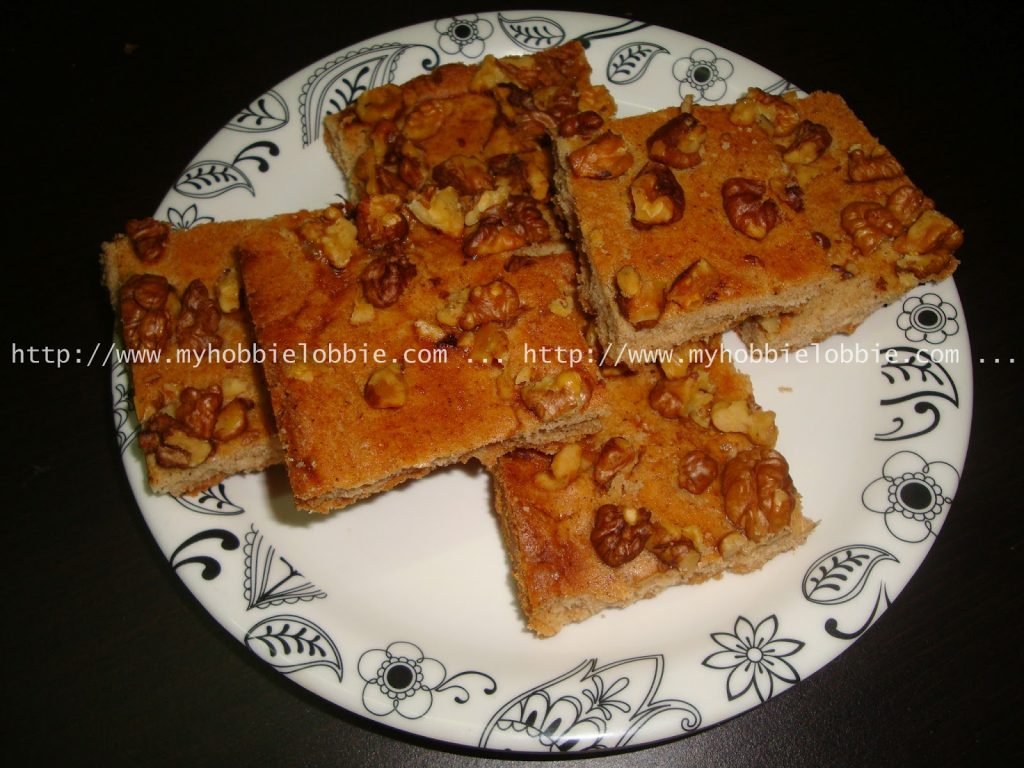 Nutty Cinnamon Bars
(Yields 24 bars)
1 cup butter, softened
1 cup sugar
1 egg, separated
2 cups flour
1 1/2 tbsp cinnamon powder
1 cup walnuts, chopped
Preheat the oven to 170ºC.
Grease a 9″ x 13″ pan and keep aside.
Cream the butter and sugar in a large bowl till light and fluffy.
Add the egg yolk and the cinnamon powder and mix well, scraping down the sides of the bowl.
Sift the flour and add it to the bowl 1 cup at a time and mix until combined. You should end up with a crumbly dough.
Press the dough evenly into the greased pan.
Pour the egg white over it and spread it around making sure it has coated the entire surface. Drain off any excess.
Sprinkle the chopped walnuts over this base and lightly press into the dough.
Bake for about 25-30 minutes.
Let it cool in the pan itself. When cool, cut into bars.
document.write('
This week I bring to you a treat like none I've ever tasted before. I've heard of love at first sight, but for me this was love at first bite, literally. The only thing I remember thinking as I savored every bite of this was "OH MY GOODNESS!!! OH MY GOODNESS!!! And you know what, it wasn't me. I wasn't going crazy. My husband also thought this was one of the best treats we'd eaten ever. That is the highest honor and treat can every get in my home. And mind you, these little devious treats are addictive. For the fist time in a very long time, I found myself thinking of these bars every now and then and it took massive restraint to keep from wolfing these down.
I can't really decide whether this is a cracker or a candy, but what I know is that this recipe is going to be treasured. I was really excited while making these bars because I got to use my new toy – the candy thermometer. Yes, I arrived at the decision that I had gone without one for too long. There were just so many wonderful delights out in blog land that called for a candy thermometer and I was done passing them by. So stay tuned and see what else I use this little magic wand of the sugar world for.
The Chocolate Toffee Cracker Bars are really quick and easy to put together. The most difficult part of this recipe was waiting for it to cool. By now you know, if there's one thing I always struggle with, its the waiting 😉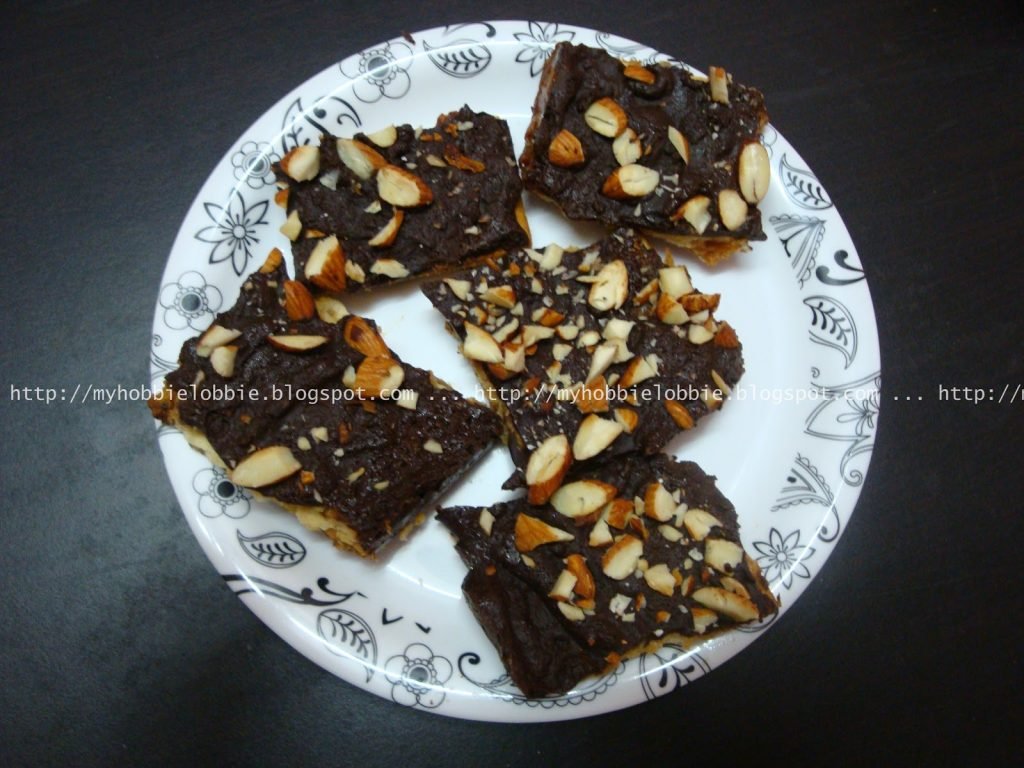 Chocolate Toffee Cracker Bars
Adapted from: Baking with Lisa
Makes 35 bars
1 1/4 cups butter
35 Saltine crackers
1 cup dark brown sugar, firmly packed
1 can condensed milk (14 oz.)
350g semisweet chocolate chips (I used a bar, chopped into small pieces)
1 cup toasted almonds, roughly chopped
Preheat the oven to 200ºC.
Line a 10″x15″ Jelly Roll pan with aluminium foil, shiny side up.
Melt 1/4 cup butter and brush the foil thoroughly with this melted butter. I didn't need all of it though.
Line the pan with the crackers.
Combine the remaining butter and the sugar in a saucepan and bring it to a boil over medium heat. Boil the mixture till it registers 248ºF on the candy thermometer.
Remove from the heat immediately and carefully whisk in condensed milk. Once the condensed milk has been incorporated well, pour it over the crackers, making sure they are all covered.
Bake for 10 minutes. The top should be all brown and bubbly.
Scatter the chocolate all over the top and pop it bake into the oven for 5 minutes.
Using an offset spatula or the back of a spoon spread the melted chocolate to make sure it covers the surface completely.
Sprinkle the coarsely chopped nuts all over and gently press down into the chocolate to make sure they stick.
Cool down and then refrigerate till the chocolate sets.
Invert the pan on a clean surface, peel back the foil and cut into bars. Keep refrigerated.
Cutting options –
1) Cut along the cracker edges for generous cracker sized bars.
2) Cut into quarters for little bites
3) Cut in half for fingers
Here's what the others have brought to the table this week –
It seems like just yesterday, I was eagerly waiting for this years 12 Weeks of Christmas Cookies event to start off. This year Brenda of
Meal Planning Magic
is out gracious hostess. But how time flies. Here we are at Week 3 of this event and this week, I'm going to share with you one of my favorite brownie recipes – Nigella Lawson's Triple Chocolate Brownies. Needless to say, these are a super big hit every time they are made. I have yet to meet a single person who didn't like these. The texture is just right, crusty out the top, chewy on the edges and all gooey and fudgy in the center. My personal favorite pieces are the ones along the edges of the baking tray, I love the chewiness. They are nice, rich and chocolatey but not too sweet, just the way I like it. Of the few chocolate brownie recipes I've tried, this is my favorite. Try it out and you'll see how soon it becomes a favorite in your home too.
Here is the pan straight out of the oven. Its best to wait till this has cooled down completely before cutting into it, atleast a few hours. I've realized that if you cut it while its warm, you'll have a little trouble cutting them clean as well as getting them off the foil.
After patiently waiting and trying not to go insane while waiting, here's what it looks like all cut up –
Do you wanna take a peek and see what the insides look like? Get ready … here it comes.
Triple Chocolate Brownies
Adapted from: Nigella Lawson
350g dark chocolate
375g butter
4 eggs
1 tbsp Vanilla extract
1 tsp salt
350g sugar
225g all-purpose flour
100g chocolate chips (I use a mix of about 70g dark chocolate chips and 30g white chocolate chips)
Melt the butter and chocolate together over low heat this completely melted.
Cool the mix down and in the meanwhile preheat the oven to 180ºC.
Add the 4 eggs one at a time, beating well between each addition.
Add the vanilla and salt (I use salted butter and just a tiny pinch of salt) and sugar and mix well.
Add the flour and mix till incorporated.
Stir in the chocolate chips.
Line a baking dish with aluminium foil, leaving an overhang on all sides. This makes is easy to get the brownies out of the pan and also makes cleaning a cinch.
Pour the batter into the pan and bake for 25 minutes. Do not overbake. When you see some cracks appearing on the top of the batter, you'll know they are done.
Cool completely and cut into pieces.
Check out the other entries this week.
This recipe is also linked to –
Friday Potluck
Sweet Tooth Friday
Sweets for a Saturday
Yay, My Hobbie Lobbie completes a year today. It seems like just yesterday I was obsessing about what to name my blog, what I would post about and whether there'd be anyone out there reading. The journey over the last one year has been an unbelievable one and starting this blog is one of the best decisions I've ever made. I've met so many wonderful folks from around the world and have received such delightful comments that I'm humbled. I've grown so attached to this blog and all my wonderful blogger friends that a few days away from the blog gets me all blogsick (is that even a word, anyway you get the idea). I can't willingly stay away for too long. Yet, there have been times where life demanded more of my time and I've spent more time away from this blog than I would have liked. But you guys have always been there everytime I got back. I want to say
Thank You
to each and every one who has visited this blog, followed and commented as well as those in the shadows, who faithfully visit, but still choose to remain anonymous – I would love to hear from you.
To commemorate this milestone, I've made Lemon Bars. I've wanted to try them out for the longest time and now I can proudly say I have. It was surprisingly simple to put together. I think I might've overcooked these a tad (I halved the original recipe but forgot to adjust the time, duh!), but they were still so very delicious, it took every ounce to will power to stay away from them. These have flown straight to the top of my favorite dessert list. I'm gonna hold on to this recipe and most certainly make them again and again and then again. You get the idea. The zested peel adds so much zing to these bars, I'm sure they wouldn't be the same without them. Did I mention how much I loved them?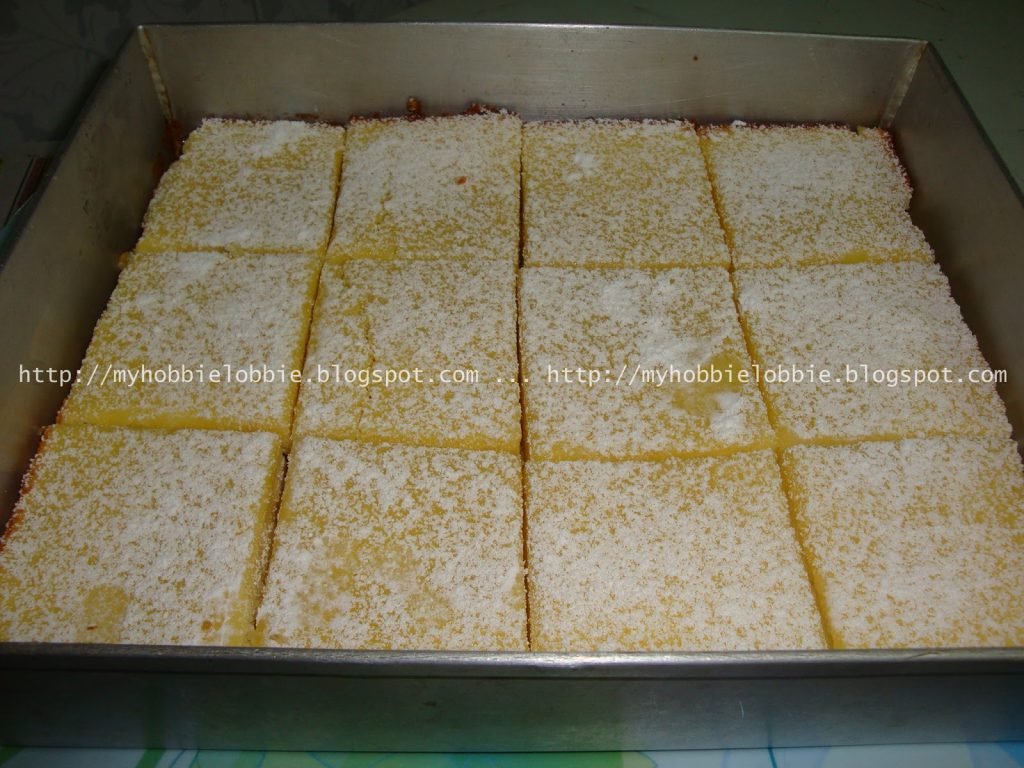 Here's what the insides look like –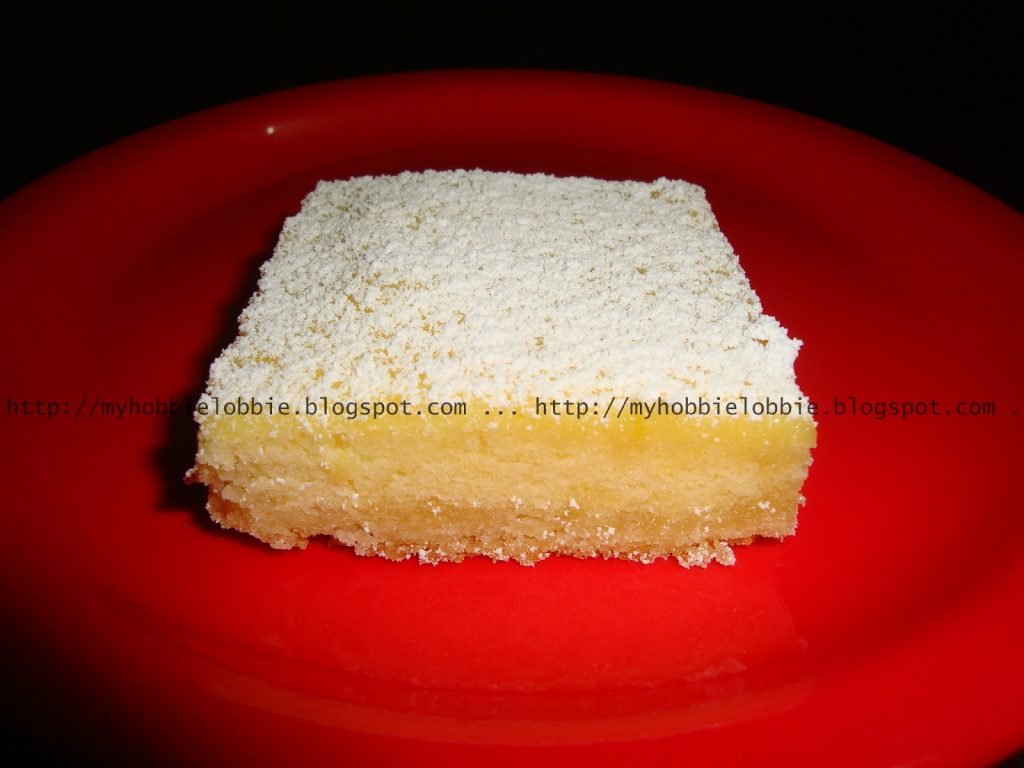 … full of lemony goodness!
Lemon Bars
Adapted from: A Farm Girl's Dabbles
(I halved the recipe to get 12 bars, but am publishing the whole recipe below – should yield 24 large pieces)
For the crust –
1 cup butter, softened (not melted)
2 cups all-purpose flour
1 cup sugar
For the lemon filling –
6 eggs
3 cups sugar
2 tbsp grated lemon zest
1/2 cup fresh lemon juice
1 cup all-purpose flour
Additional icing sugar to dust over the bars
Preheat the oven to 170ºC. Line a 9″*13″ pan with some greased baking paper. I would suggest leaving an overhand to help pulling it out of the tray. I'm definitely doing that the next time I make these.
To make the crust –
Mix the butter, flour and sugar till well combined. If you're using unsalted butter, please add a pinch of salt.
Spread this dough evenly into the prepared pan. Bake for about 15-20 minutes or until set and just beginning to turn color.
To make the filling –
Prepare the filling while the crust is baking.
Using an electric whisk at medium speed, whisk together the eggs, sugar, lemon zest, lemon juice and flour.
Pour this mix over the baked crust and bake for 30-35 minutes or until light golden brown. Don't overbake or underbake it either. If underbaked, the lemon filling won't set.
Let it cool completely.
Cut into bars and sift icing sugar over the top.
Farm girls says they keep well on the kitchen counter for a few days, but I refrigerated mine and it kept well. The only thing I did was take it out about 10 minutes before serving, to let it come to room temperature a little.
Whatever storage you choose, if it lasts till then, get ready to drown in some pure citrus heaven. Its simply sunshine on a plate!
This recipe is linked to –
Friday Potluck
Sweet Tooth Friday
Sweets for a Saturday
A Little Birdie Told Me
For this months edition of The Secret Recipe Club, hosted by the lovely Amanda of Amanda's Cookin, I was assigned Jeanie's blog The Tasty Cheapskate, "Hi Jeanie"!!!. Over the last month, I've had so much fun going through this lovely blog and I've found some very interesting recipes that I can see myself making very soon. One recipe that caught my attention and kept coming to mind every now and then, almost menacingly, in a nice way though, were

Oma van der Wouden's Dutch Almond Bars. I've never seen or had Dutch Almond Bars before, but I'm quite fond of almonds and these bars looked so amazing, I had to try them.
This recipe calls for almond paste and in this part of the world we don't get this stuff off the shelf in stores. I did a little digging online and most sources called for additional sugar, eggs, extracts and so on. I decided to do things a little differently. Since the recipe for these bars seemed to have sufficient sweetness, I simply added some homemade almond paste (details below). The batter came together beautifully and while these bars were baking, I was going nuts with the anticipation (read 'doing a crazy dance all around the kitchen and eagerly peeking through the oven door almost every minute'). The wait and the anticipation was so worth it. These bars are a real treat. They are perfect with a cup of tea or coffee. They are not too sweet but have this lovely nutty richness that the butter and the almonds have to offer. They are so wonderfully moreish. Be warned, you won't be able to stop at one. So thank you Jeanie for sharing this lovely treat. This recipe is a definite keeper.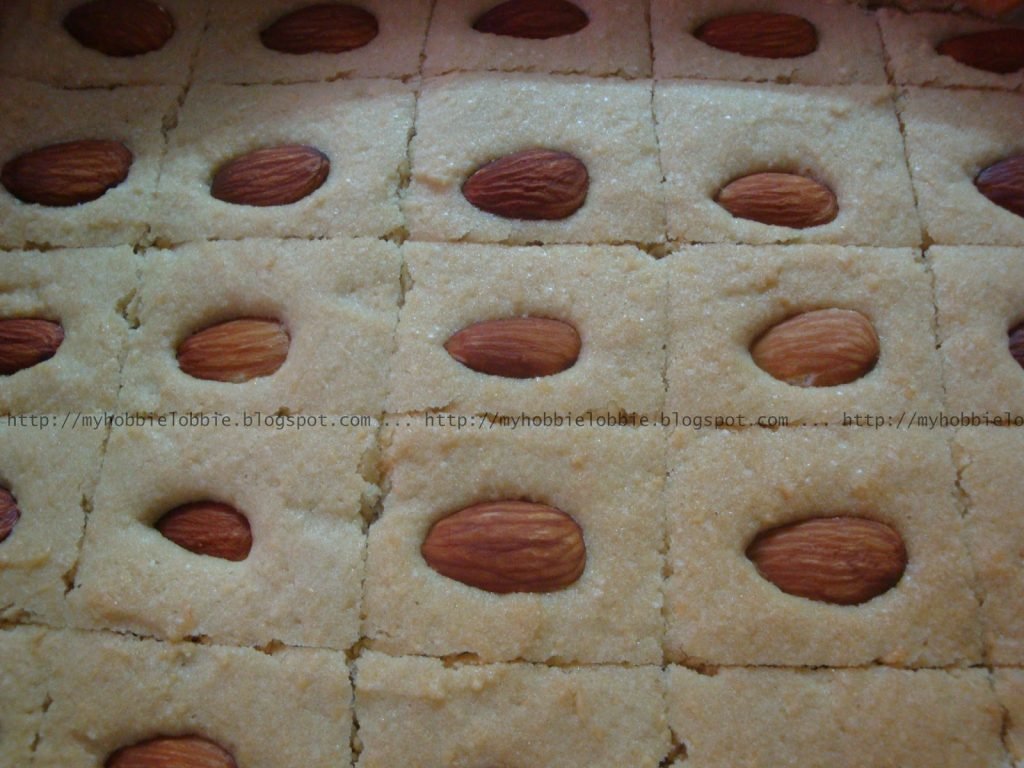 Dutch Almond Bars
1/2 cup butter
4 oz almonds
1 cup brown sugar, packed
1 egg
1 cup flour
1/4 cup whole almonds
1 tsp vanilla extract
Soak the 4 oz. almonds overnight in some water. The next morning, peel the skins off and discard. Grind the almonds to a paste in your food processor. That's it! Its really simple to make your own almond paste.
Preheat the oven to 150ºC.
Cream the butter and the almond paste.
Add the brown sugar and cream well.
Beat in the egg and vanilla extract.
Then mix in the flour.
Line a 8″x10″ cake pan with some foil.
Spread the batter in the prepared tin. Press the whole almonds into the batter.
Bake at 150ºC for about 40-45 minutes or till it has the slightest brownish pinkish glow.
Cut into bars.
Enjoy!!!
Note: This is half of the recipe mentioned on Jeanie's blog and I managed to get 25 pieces. The original quantities are baked in a 9″x13″ tin and yield about 24-36 pieces. So do adjust the size of the bars to suit your liking.
Do stop a while and check out what the others have whipped up this month. If you'd like to be a part of The Secret Recipe Club, get in touch with Amanda here and join in on the fun.
I have finally started trying out new cupcake and brownie recipes, basically the sweet baked stuff, to add to my repertoire. It started with the
strawberry cupcakes
and now I've moved on to brownies. The first brownie to catch my attention was this cream cheese swirl brownie, that I saw at one of the linky parties that I participate in. This was a great brownie. It had a little tang from the cream cheese but it wasn't too overwhelming. What worked really well with it was the yummy caramel like taste that the edges of the brownies lent to it. The combination of flavors was great. My brother and husband both thought that these were caramel brownies and if I didn't know better I would've thought so myself.
In a nutshell, try it out. Good stuff, I tell ya.
This is what the inside edges look like –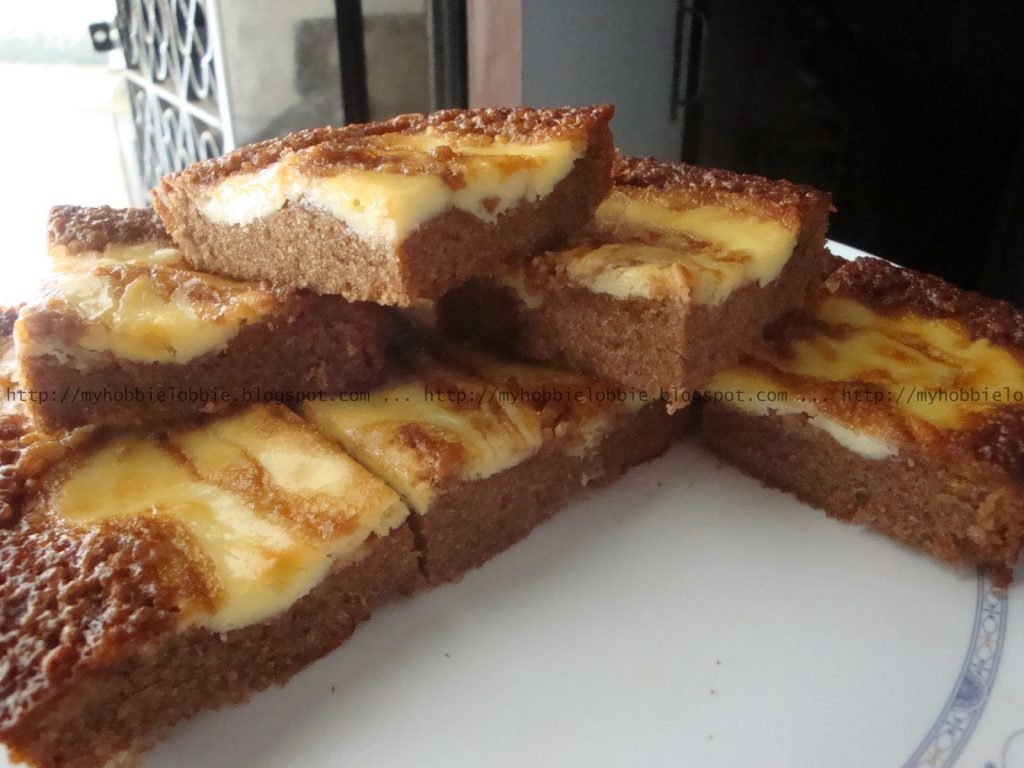 Cream Cheese Swirl Brownies
Adapted from: The Flour Sack
Makes 16
For the Brownie base:
2/3 cup all purpose flour
1/2 tsp baking powder
6 oz bittersweet chocolate
1/2 cup butter, cut into cubes
1 cup sugar
2 tsp vanilla extract
3 eggs
For the Cream Cheese Swirl:
8 oz Cream Cheese, at room temperature
1/4 cup sugar
1/2 tsp vanilla
1 egg yolk
Preheat your oven to 160ºC.
Butter an 8″ square pan
For the brownie base, whisk the flower and baking powder in a small bowl and keep aside.
Melt the chocolate and butter over a double boiler. When the chocolate has melted completely, remove from the heat and whisk in sugar and vanilla.
Cool slightly. Add the eggs one at a time, whisking between each addition.
Continue whisking till the mixture is well incorporated and smooth.
Gently fold in the dry ingredients and mix till just barely incorporated.
For the cream cheese layer, beat the cream cheese, sugar, vanilla and egg yolk till well combined.
Pour half the brownies base batter into the pan. Dollop half the cream cheese mixture by the spoonfuls. Repeat by layering the brownie base over it and then dollop the rest of the cream cheese mixture. Use a butter knife and gently swirl the batter to give a marbled effect.
Bake till the edges of the brownies have puffed slightly and a toothpick inserted into the center comes out with several fudgy crumbs attached to it. This should take about 55 minutes.
Cool completely. Cut into squares and enjoy!
(Note: I halved the recipe and used a 6″ square pan and I got 9 pieces.)
This recipe is linked to –
Sweet Tooth Friday
Sweets for a Saturday
These Chicks Cooked
These little wonders are originally called Breakfast Bars, but I honestly think they're great at any time of the day. Its a wonderful healthy alternative to other fried snacks and chips. The texture is a little chewy and the flavors are wonderful – it has the tartness of the cranberry, wonderful sweetness (though its not too sweet) of the condensed milk, the crunch of assorted nuts and a whole lot more. Whats great is that you can tweak this recipe and make it your own. Try out different ingredients, vary the dry fruit and the nuts to your liking and I'm sure you'll find a combination that works best for you. They are great for a quick breakfast, almost like having home-made granola on the go. These bars are a great snack to take in to the office as well, to satiate any untimely hunger pangs.
In the recipe that follows, you'll find the ingredients that I used, basically ingredients that I had on hand at the time. You can find the original recipe here. They may not be much to look at, but they are oh so good. Be warned, they are addictive ;o)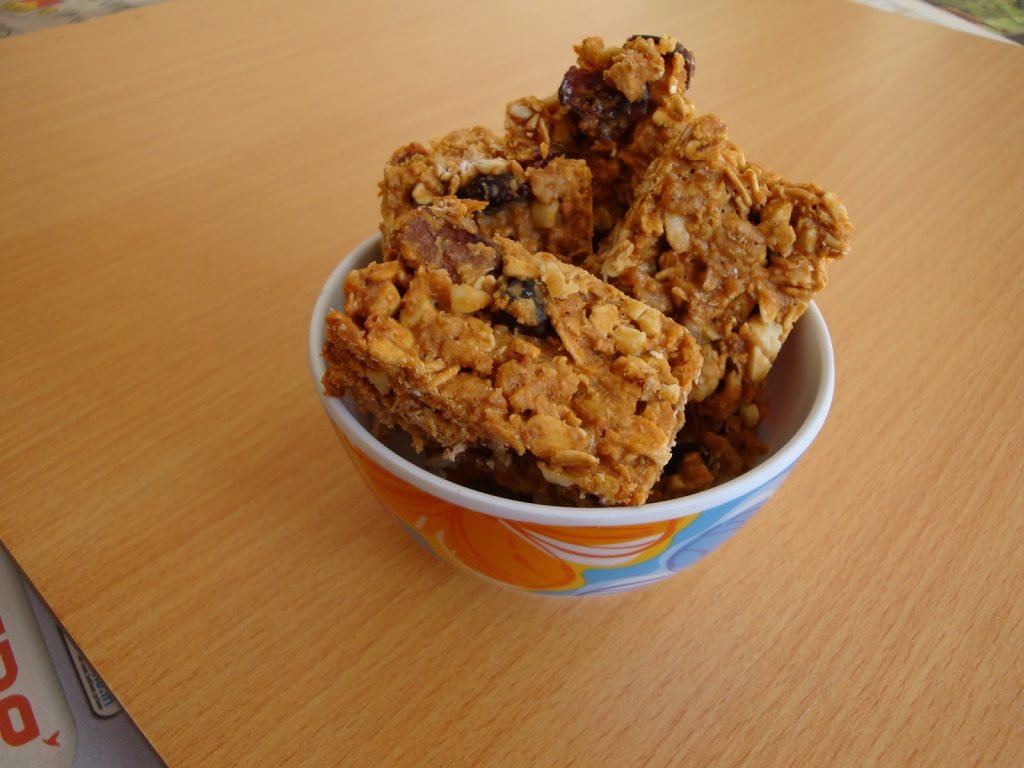 Power Packed Snack Bars
Adapted from: Nigella
1 can condensed milk (400g)
250g rolled oats (not instant)
75g dessicated coconut
100g dried cranberries
200g mixed seeds (I used walnuts, almonds and sesame seeds)
Preheat the oven to 130 degrees C. Grease a 23cm x 33cm x 4cm baking tray or use a disposable foil one. Grease it well so that you can take it off the pan easily.
Over a low flame, warm the condensed milk in a large pan. The pan should be large enough to hold all the ingredients and still have room for mixing.
Mix the remaining ingredients together and fold into the warm condensed milk. Using a rubber or wooden spatula, fold till evenly coated and well distributed.
Turn the mixture out on to the prepared baking sheet and press down and flatten with the spatula or using your hands. Even out the surface.
I kept mine in the oven for about 45 minutes, even though the original recipe says 1 hour, and it turned out just fine. After about 15 minutes cut into bars of whatever size you'd like. Be sure to cut while still warm, or else, you won't be able to. After you've cut the bars leave it to cool completely before storing.
This recipe has been linked up with – Decidedly Healthy or Horridly Decadent Saturday Party, hosted by the lovely Maggie of Ceo A's Draiocht. Thanks Maggie for letting me be a part of this.