Today's treat is something a lot of you will definitely be familiar with. It is my husband's favorite snack. It is a delicate, buttery treat that can be put together really quick and can be tweaked to suit your tastes. What's amazing is that these crackers are made out of scraps of shortcrust pastry. Yup, you heard me. Everytime I make some shortcrust pastry for a pie, I double the quantity and use the spare pastry to make these crackers. I usually make them plain, just the way they are, but this time I decided to dress them up a little. I made a bunch of them some plain, some with a sprinkling of chopped rosemary, some with a sprinkling of red chilly powder, some with carom seeds and others with sesame seeds sprinkled on them. The possibilities are endless. You can top these little treats with almost anything. So feel free to experiment. It was fun trying out each of these varieties.
You can check out the recipe I use for shortcrust pastry here. I sure hope you try making these crackers sometime. Let me know what you topped your crackers with. I'd love to hear from you.
Here's what my platter of crackers looked like –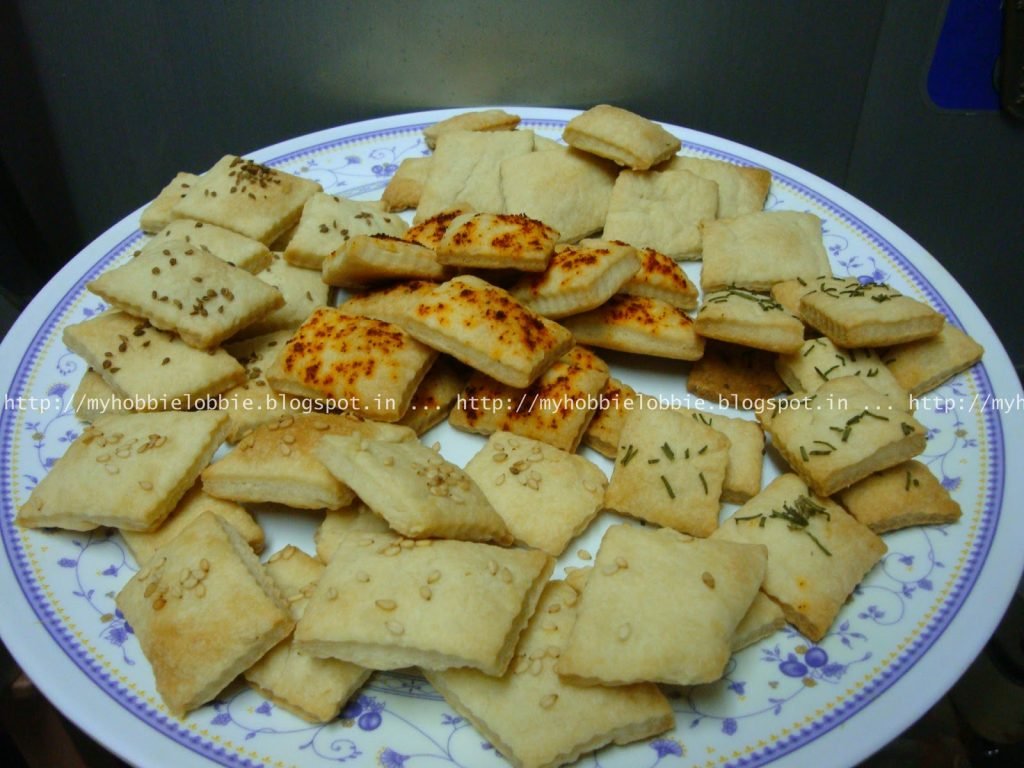 Savory Crackers


Shortcrust Pastry
Toppings of your choice (I used sesame seeds, carom seeds, red chilly powder and chopped fresh rosemary)


Roll out the shortcrust pastry and cut into diamond shapes or any other shape you fancy.
Sprinkle the herbs or seeds of your choice and lightly press them down into the dough using your hand.
Place on an ungreased baking sheet at bake at 170ºC for about 10 minutes or till lightly browned on the edges, making sure not to let them brown too far.
Cool and store in an airtight container.
This recipe is linked to –
A Little Birdie Told Me
My Meatless Mondays
Bake with Bizzy
Mangia Mondays
Mouthwatering Mondays
Full Plate Thursdays