With Christmas fast approaching, today I thought I'd share with you a recipe for Rose Cookies. Rose Cookies, Kokkisan or Achu Murukku – these are a few names these little treats go by in different parts of the South of India. If you've not had these before, imagine amazingly crisp, deep-fried, sweet cookies. They are so more-ish. Which is why it's a good thing this batch yields quite a few cookies.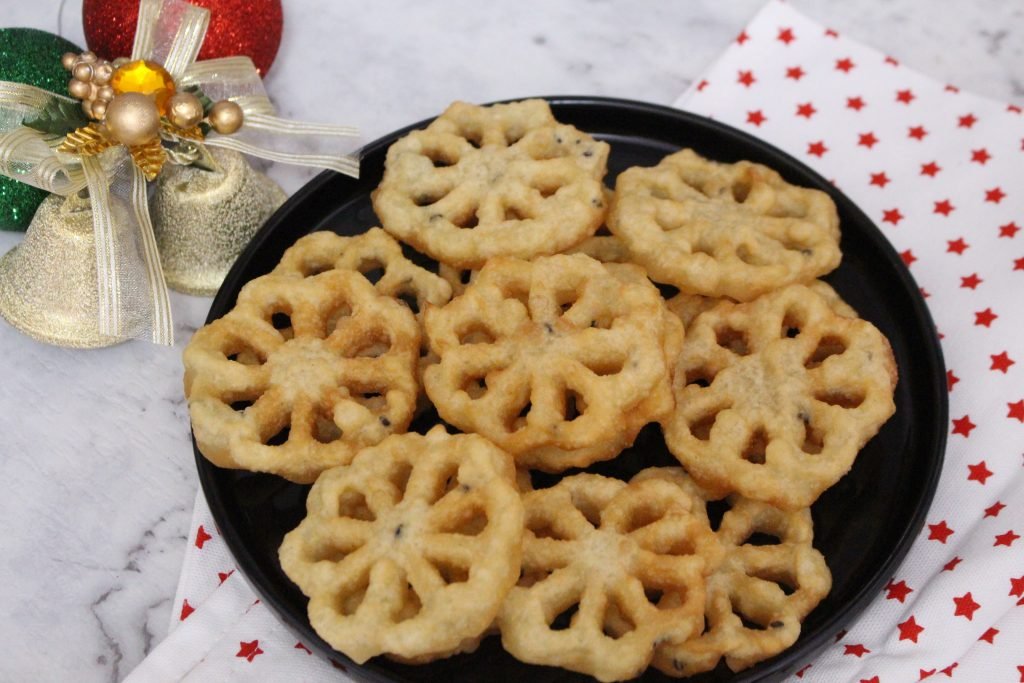 Let's move on to the cookies themselves, shall we? While they're not difficult to make, the batter can be very temperamental and finicky. This is one Kuswar treat I personally find the most trying. The most important part of this recipe is the batter. It takes a little patience and tweaking to get it to just the right consistency. But boy, once you do, churning these cookies out is a breeze.
The batter –
Are you ready to give these a try. Let me walk you though the process. Putting the batter together initially is a very simple process and it just a matter of whisking all of the ingredients together. The one thing you need to watch out for, is the amount of liquid that goes into it. You're looking for a batter that isn't too thick or too thin. It's a Goldilocks kinda situation; you have to get it just right. A huge saving grace is that the batter is forgiving and can be easily fixed.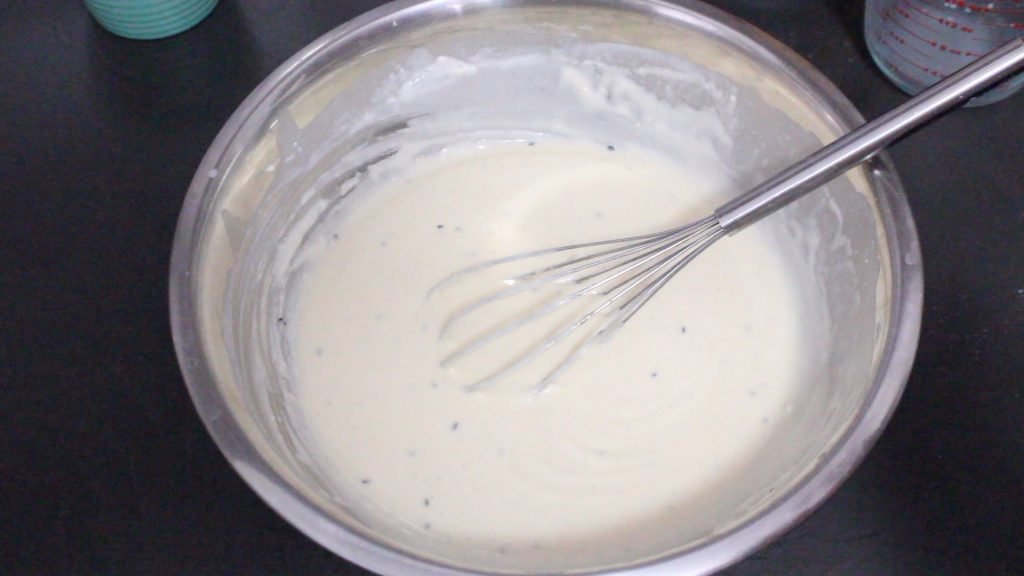 If its too thick, it wont cling to the cookie iron at all. When this happens, gradually add small amounts of coconut milk (if you're out of coconut milk, you can use water) and whisk it in. On the other hand, if its too thin, it'll stick to the iron and won't release into the oil, even after you try to separate it using a fork or a skewer. To fix this, simply add a little all purpose flour to the batter, a little at a time and whisk it through and try frying it again.
The frying process –
Now that you have you're batter sorted out, you need to keep a few things in mind while frying these cookies. Once the oil heats up, maintain it by using a medium to medium low heat. If the oil is too hot, the cookies will brown too quickly. The cookie iron needs to be heated well for it to release the cookies into the oil. The first few cookies are like a tester batch. You may have to sacrifice a couple of them while you figure out the right consistency.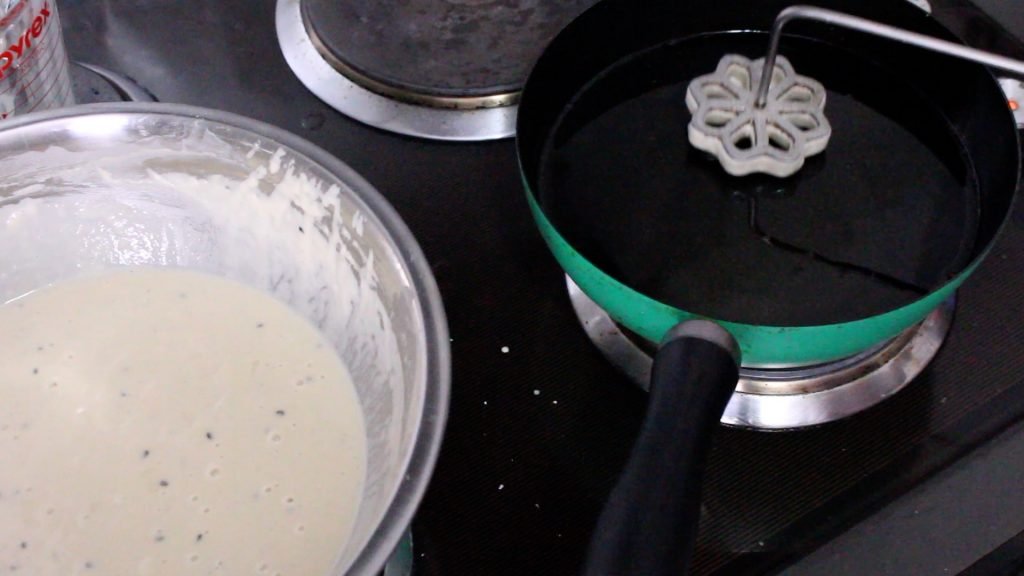 Take the cookies out of the oil when they're a little lighter than you'd like it. They tend to darken as they cool.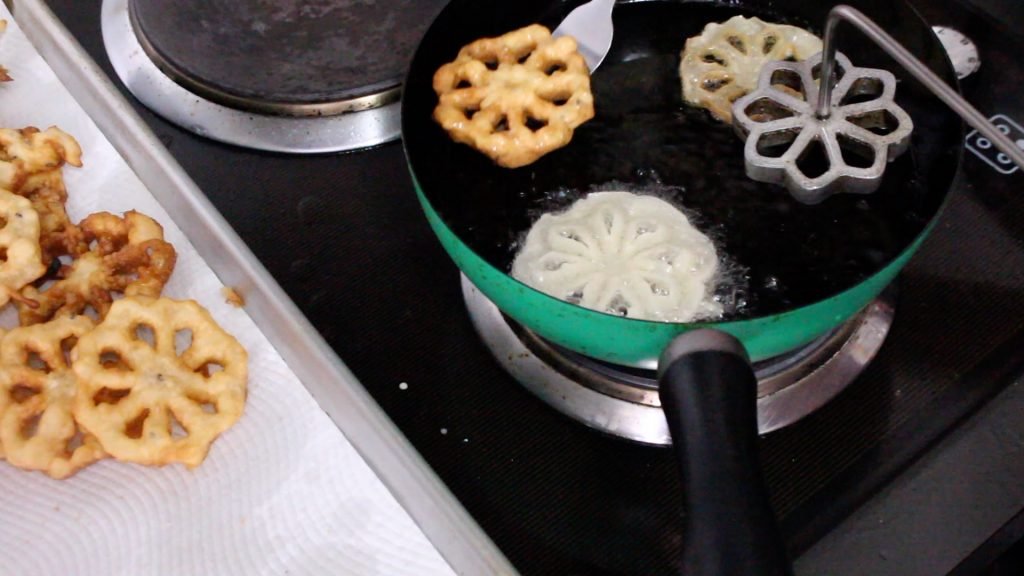 With these pointers in mind, you are now equipped to make a beautiful batch of these Rose Cookies.

If you're looking for more Kuswar recipes to make this Christmas, here are a few of my favorite recipes you might enjoy too –
1) Kulkuls
2) Date Rolls
3) Baath / Badca
4) Coconut Toffee
5) Milk Cream
6) Coconut Ladoos
7) Guava Cheese / Perad
8) Nankatais (Eggless)
9) Marzipan (Eggless)
10) No-cook Almond Marzipan
11) Marzipan – My favorite recipe
12) Chocolate Hazelnut Fudge
13) Chana Doce