This Vegan Parmesan Cheese has a bold, complex flavour that makes it a fantastic plant-based replacement for Parmesan cheese.
It's January 2021. I'm sure you know that perfectly well. What you probably may or may not know is that every January there is a movement called Veganuary that hundreds of thousands of people the world over participate in. Veganuary = Vegan + January.
There are a number of different reasons why people take part. Some take this as an opportunity to start their vegan journey. Others want to make a small commitment for a month to check and see how it works for them. Irrespective of the reason, I find it very heartening to see the number of people making the switch to a vegan life-style.
When I decided to go Vegan, I thought that I'd miss Cheese the most. See back then, I loved my cheese. And not just cheese, but butter, ghee and dairy as a whole. While we didn't consume much meat even then, dairy and eggs were big in our household. But what I found very interesting is that as my body adapted to eating more plant based food, I never really missed the dairy or the eggs for that matter.

That being said, every once in a while, especially when a make a big pot of pasta, I find that there's a little something missing. Yes, I'm talking about the last little grate of Parmesan Cheese. I started subbing everybody's favourite nutritional yeast (aka Nooch) and now if I have pasta without it, I definitely feel that somethings missing. It's amazing how the mind and body adapt. While Nutritional Yeast is a good substitute, when I was working on this recipe, I knew that this Vegan Parmesan Cheese would take my Vegan Pasta experience to the next level. It has these little salty pops much like Parmesan Cheese does and the nooch does its cheesy bit, making this the ultimate replacement for Parmesan Cheese.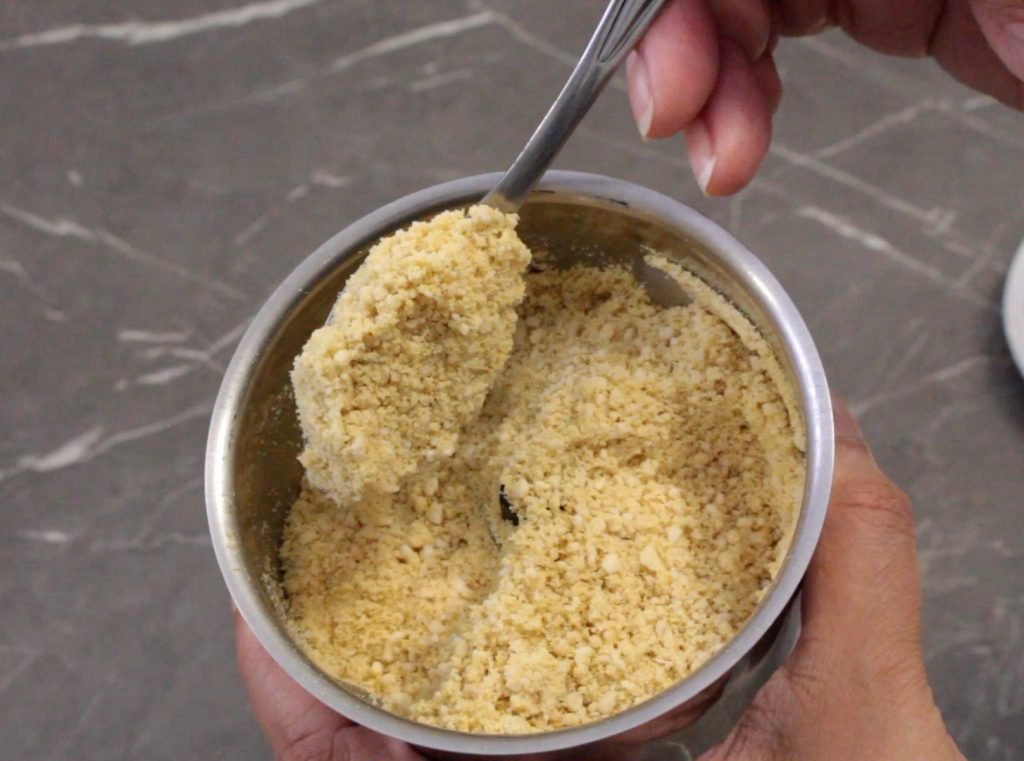 While you can find a number of Vegan Cheese products in store, they cost a pretty penny. And not just that, sometimes they have a bunch of ingredients that I'm not very comfortable consuming. That where my vegan Parmesan recipe comes in. This recipe is a fantastic one, if I should say so myself. It uses just 4 ingredients (all basic vegan pantry staples – no funny business here) and takes a couple of minutes to make, at most.

This Vegan Parmesan Cheese has become a staple in my home and I hope this recipe helps you too.
How to make Vegan Parmesan Cheese at home
Cuisine: Italian
Difficulty: Easy
This Vegan Parmesan Cheese has a bold, complex flavour that makes it a fantastic plant-based replacement for Parmesan cheese.
Ingredients
1/2 cup cashew nuts

1/2 teaspoon garlic powder

2 tablespoons Nutritional Yeast

1/2 teaspoon Salt, or to taste
Directions
Add all the ingredients to your spice or dry grinder. Blitz it in short bursts till it reaches a coarse sand like consistency.
Store in a clean, dry glass jar in the refrigerator.
Recipe Video
Notes
You can use a food processor to blend all the ingredients too.