I'm so totally not a bugs & insects (or reptiles for that matter) kind of person. But I just had to capture this little guy. He was so tiny, I'm surprised I spotted him at all.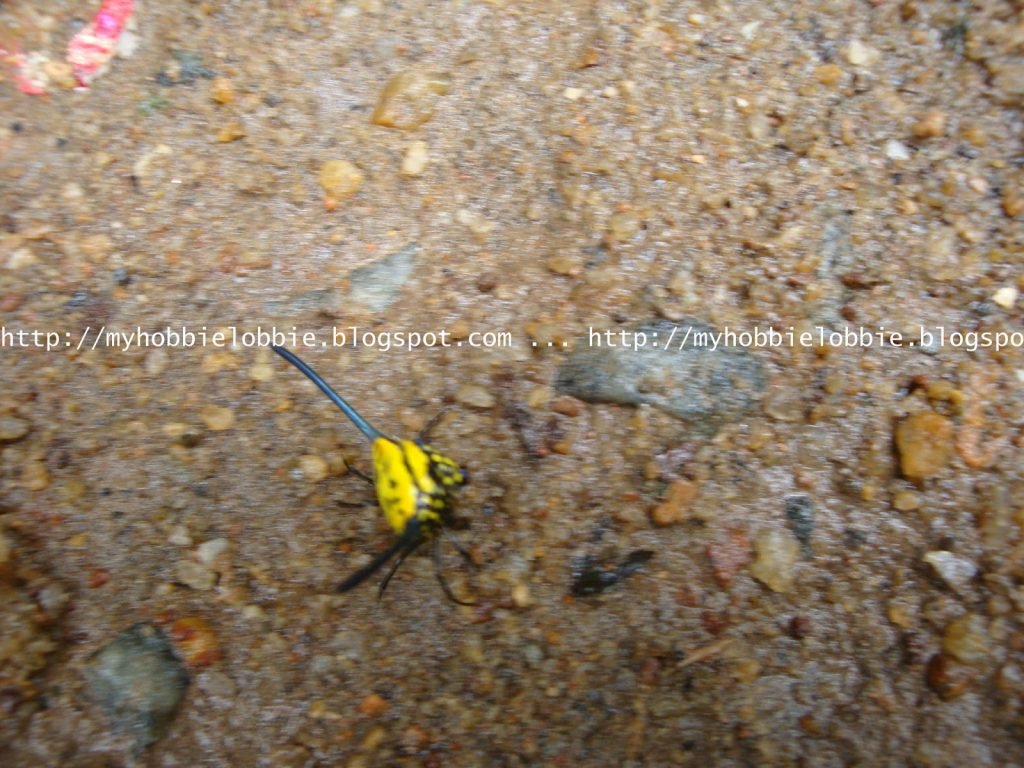 Speaking of bugs, anyone remember this guy?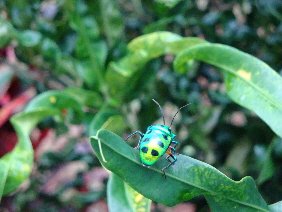 As promised yesterday, today I'm going to share with you a meatless version of the delicious frankie – The Aloo Cheese Frankie. Potatoes and cheese – to me that's a match made in heaven.
Check out the post on the Chicken Frankie for the naan roti recipe and instructions on how to assemble the frankie.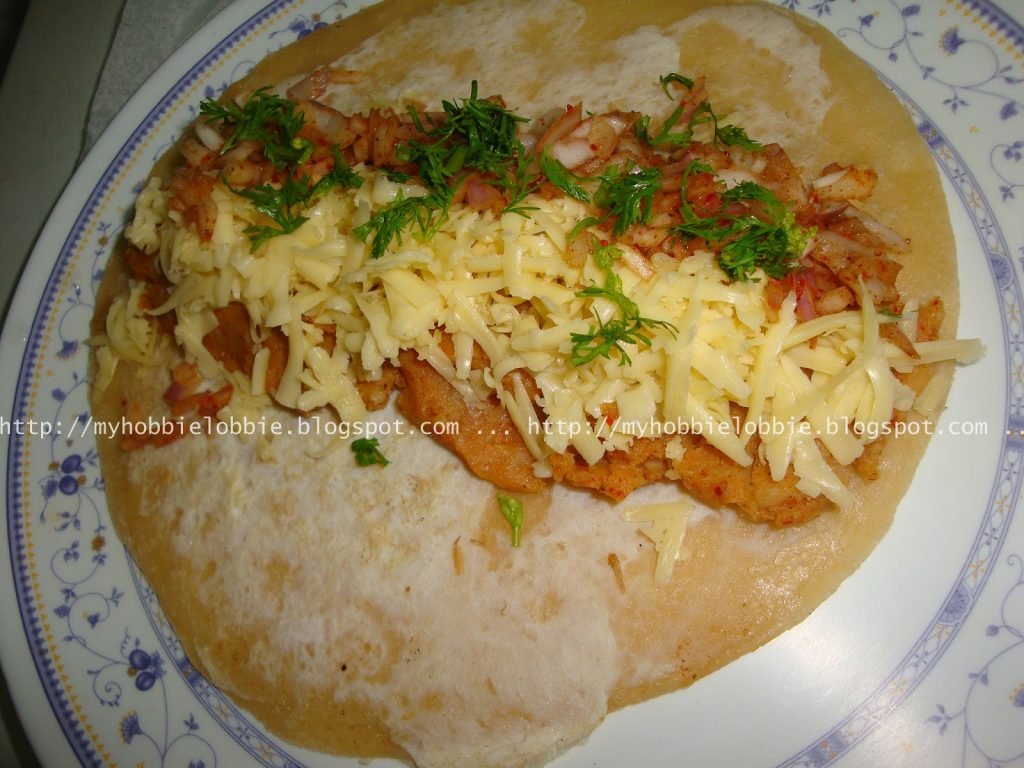 Aloo Cheese Frankies


For the Aloo Cheese filling –


2 potatoes, boiled, peeled and mashed
Salt, to taste
1/8 tsp chilly powder
A pinch of cumin powder
A pinch of turmeric powder
A pinch of amchur powder (dried mango powder)
Mix all the ingredients well. Check for seasoning and adjust if needed.
Here are the details on the recipe for the roti and the frankie assembly.
UPDATE: One thing I'll probably try out the next time I make this, is I'll make a long sausage of the mashed potato filling and lightly fry it off on a pan and then use it in the roll. I would love to see how that works out.
Chicken frankies are yet another version of a chicken wrap, but yeah, Mumbai style. I don't know what it is about wraps, but a lot of cuisines seem to have a version of their own. The Americans have the ever so versatile Wrap, the Mexicans have the burrito, the Asians have the spring roll, the Italians the calzone. In India we call wraps Frankies. It is another version of street food. Its not uncommon to see stalls around the city selling these wraps piping hot. Today, I'm going to show you how to make one from scratch in the comfort of your own home.
The street stalls have many varieties on offer. The Chicken, Mutton, Veg., Aloo, Egg are just a few. Then you also have the option of adding cheese to these wraps. And we know cheese makes everything better. I made a couple of these this time around – the chicken one for the meat lovers and the potato or Aloo version for those of you who don't eat meat. We love them both. Today I will focus on the Chicken Frankie and stay tuned for the meatless version tomorrow.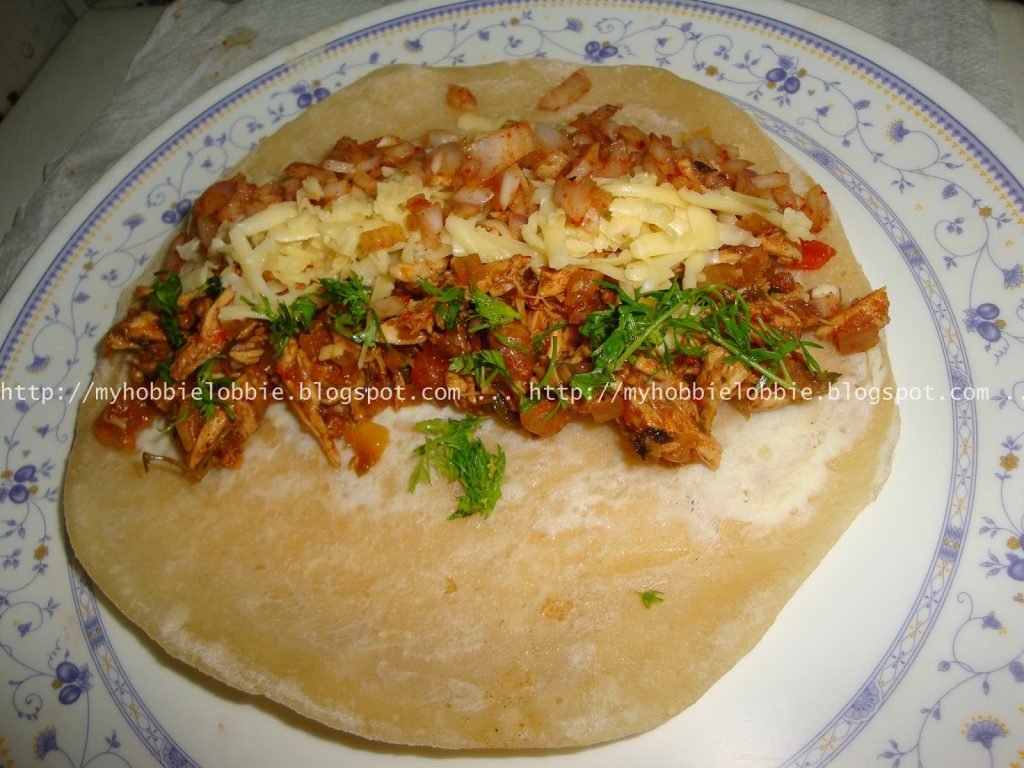 Chicken Frankie
For the naan roti –
Makes 8
1 1/2 cups all-purpose flour
1/2 cup wheat flour
1 tsp salt
4 tsp oil
2-3 eggs, whisked well
Mix the ingredients except the beaten egg in a bowl and using water, bind to a soft, pliable dough.
Divide into portions and roll out into a disk about 6″ in diameter. Make sure you don't roll it out too thin. At the same time, it shouldn't be too thick either.
Place it on a hot griddle or pan. Apply a few drops of oil on the top and spread it lightly using the back of a spoon.
Turn it over. Spread a couple of spoons of the whisked egg on this side. (Some vendors use 1 beaten egg for every roll, you may use as much or as little egg as you like. I find about 2 spoons or whisked egg works fairly well.)
Once the egg has slightly set, turn over and cook on this side as well.
Once both the sides have cooked well, take off the pan and keep aside.
Note: I usually cook off all the rotis and keep aside. You don't want to overcook it, since it needs to be warmed up again, just before you assemble. If you're just making a couple of these, you can assemble them straight on at this stage.
For the filling –
250g boneless chicken, cut into small pieces
1 onion, finely chopped
2 tomatoes, finely chopped
5 cloves of garlic, finely chopped
1″ ginger, finely chopped or grated
1 – 1 1/2 tsp amchur powder (dried mango powder)
1 tsp red chilly powder
1 tsp garam masala powder
1/2 tsp coriander powder
1/2 tsp cumin powder
Salt, to taste
2 tbsp oil
1 tbsp fresh mint leaves, chopped
4-5 tbsp fresh coriander leaves, chopped
Heat oil in a pan. Add the ginger and garlic and saute for a minute or so.
Add the chopped onion and fry off till the onion turns golden brown.
Add the chilly, garam masala, coriander and cumin powders and stir well.
Add the tomatoes and stir fry till the spices and tomatoes cook. The oil will start to separate around the edges of the vessel. The tomatoes should lose some of its moisture by now.
Add the chicken pieces and fry off, stirring well. You may add a tiny bit of water to cook it further. You need a moist filling, not a runny one. (I had some leftover chicken that was marinaded and gently cooked. To make you own, check out this
post
. Since the chicken was already cooked, I simply shredded the chicken and cooked it till it warmed through and absorbed all the flavors. You can add a tiny bit of stock or water if it seems too dry.)
Once the chicken has cooked, add the amchur powder, fresh chopped coriander and mint leaves and salt. Mix well. Taste and adjust seasoning, if needed.
Keep aside.
Onion salad mix –
1 onion, finely chopped
A pinch of salt
1/4 tsp. chilly powder
A few drops lemon juice
Some fresh coriander leaves, chopped
Mix all the ingredients.
I usually keep the coriander leaves aside and use it as a garnish.
To assemble the frankies –
Chaat masala
Cheese, grated
If you've made your rotis in advance. Place them on a pan and gently warm them up.
Spoon some of the filling onto the roti.
Sprinkle some of the onion salad on it.
Sprinkle lightly with some chaat masala if desired.
Sprinkle some grated cheese, if you're making a cheese version.
Top with some fresh chopped coriander leaves.
Wrap it up nice and tight and serve hot.
Here's what they look like all done –
Left – Aloo Cheese frankie
Right – Chicken Cheese frankie
This recipe is linked to –
I think this picture speaks for itself. Its such a calm, serene location.
Parathas are one of my favorite breakfast items. Do you remember the
Aloo Parathas
and the
Methi Parathas
? If you haven't seen those, you really should. Here's another variation to the stuffed paratha that you can try. The method is the same as the one used for the Aloo Paratha except here we're going to make a gobhi (cauliflower) filling.
Do you have a favorite paratha? Leave me a comment and let me know what it is. I'd love to try it out!
Gobhi Parathas


For the dough recipe and on how to make the parathas, click here.
For the Filling-
1 head of cauliflower, washed and grated (Do not use the greens)
1″ ginger, grated
1 green chilly, finely chopped
Salt, to taste
Mix well and use a spoonful of this mix to stuff the parathas.
For details on how to make the parathas, go here.




This recipe is linked to –
My Meatless Mondays
This week I bring to you a treat like none I've ever tasted before. I've heard of love at first sight, but for me this was love at first bite, literally. The only thing I remember thinking as I savored every bite of this was "OH MY GOODNESS!!! OH MY GOODNESS!!! And you know what, it wasn't me. I wasn't going crazy. My husband also thought this was one of the best treats we'd eaten ever. That is the highest honor and treat can every get in my home. And mind you, these little devious treats are addictive. For the fist time in a very long time, I found myself thinking of these bars every now and then and it took massive restraint to keep from wolfing these down.
I can't really decide whether this is a cracker or a candy, but what I know is that this recipe is going to be treasured. I was really excited while making these bars because I got to use my new toy – the candy thermometer. Yes, I arrived at the decision that I had gone without one for too long. There were just so many wonderful delights out in blog land that called for a candy thermometer and I was done passing them by. So stay tuned and see what else I use this little magic wand of the sugar world for.
The Chocolate Toffee Cracker Bars are really quick and easy to put together. The most difficult part of this recipe was waiting for it to cool. By now you know, if there's one thing I always struggle with, its the waiting 😉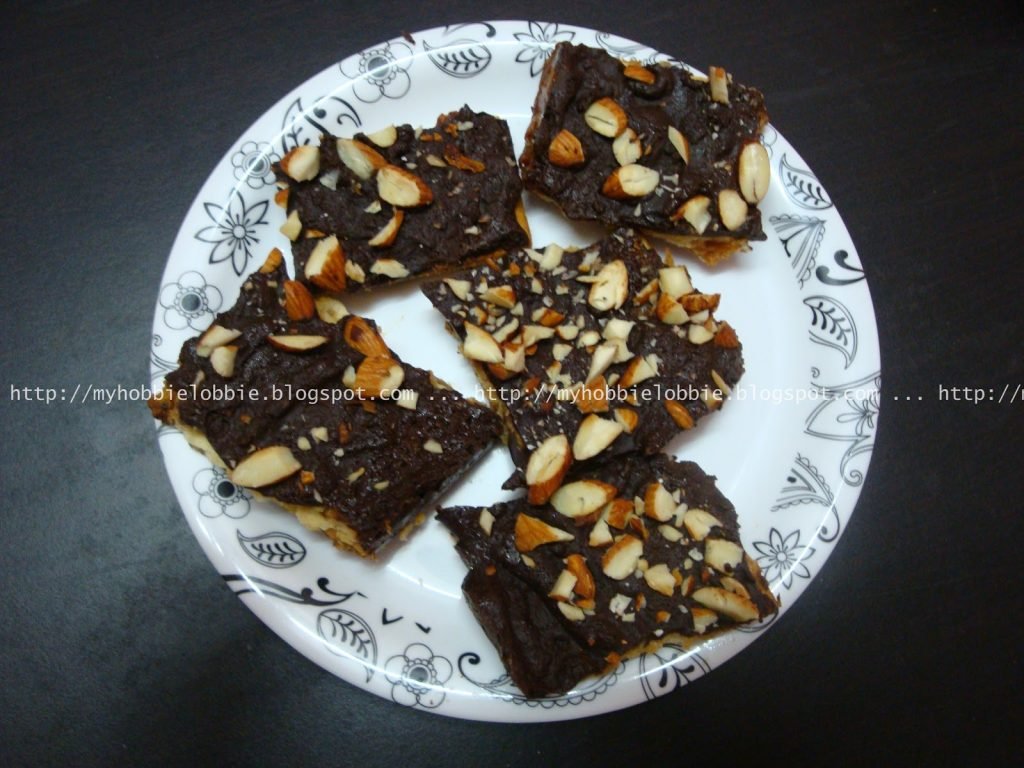 Chocolate Toffee Cracker Bars
Adapted from: Baking with Lisa
Makes 35 bars
1 1/4 cups butter
35 Saltine crackers
1 cup dark brown sugar, firmly packed
1 can condensed milk (14 oz.)
350g semisweet chocolate chips (I used a bar, chopped into small pieces)
1 cup toasted almonds, roughly chopped
Preheat the oven to 200ºC.
Line a 10″x15″ Jelly Roll pan with aluminium foil, shiny side up.
Melt 1/4 cup butter and brush the foil thoroughly with this melted butter. I didn't need all of it though.
Line the pan with the crackers.
Combine the remaining butter and the sugar in a saucepan and bring it to a boil over medium heat. Boil the mixture till it registers 248ºF on the candy thermometer.
Remove from the heat immediately and carefully whisk in condensed milk. Once the condensed milk has been incorporated well, pour it over the crackers, making sure they are all covered.
Bake for 10 minutes. The top should be all brown and bubbly.
Scatter the chocolate all over the top and pop it bake into the oven for 5 minutes.
Using an offset spatula or the back of a spoon spread the melted chocolate to make sure it covers the surface completely.
Sprinkle the coarsely chopped nuts all over and gently press down into the chocolate to make sure they stick.
Cool down and then refrigerate till the chocolate sets.
Invert the pan on a clean surface, peel back the foil and cut into bars. Keep refrigerated.
Cutting options –
1) Cut along the cracker edges for generous cracker sized bars.
2) Cut into quarters for little bites
3) Cut in half for fingers
Here's what the others have brought to the table this week –
Oh how I love these little guys! Lets backtrack a little. In my part of the world corn dogs are unheard of. I've always been eager to see what the fuss was all about each time I'd read about them. I really should have tried making them myself sooner. I don't know what I waited all this while for. But I'm glad I finally did. These corn dogs are so simple to make, you can serve them up in minutes, literally. They taste so good. I really can't compare them to the frozen variety because we don't get them here. But I do hope one of you tries these out and lets me know how they stand compared to their frozen counterparts. I'm so glad to have this recipe in my arsenal. I can't wait to serve them up when we have company.
I didn't make too many changes to the recipe since I didn't know what to expect. For the next time around, I will use lesser sugar. I found the sweetness coming through a little too much for my liking and seeing as to how I like my food a little spicy, I added some red chilly powder and some black pepper powder and I'm really glad I did. You can leave it out if you don't like too much spice.
I served them up with some ketchup and mustard, do each one could choose what condiment they wanted.
Homemade Corn Dogs
Adapted from: Group Recipes
(This recipe makes enough batter for about 6 hot dogs)


1/2 cup cornmeal
1/2 cup all-purpose flour
1/4 tsp salt
2 tsp baking powder
1/8 cup sugar
1 egg, beaten
1/4 – 1/2 cup milk
1/8 cup oil
1/4 tsp red chilly powder (optional)
1/4 tsp black pepper powder (optional)

6 hot dogs (I cut them up into 2 since I wanted smaller pieces)
12 wooden skewers
Oil for deep frying


Mix all the ingredients for the batter (leaving out the last 3) and that includes 1/8 cup of oil. Start with 1/4 cup milk and mix well. You need to gradually add more milk if needed till you get a batter thick like a pancake batter. If the batter is too thin, it'll fall off the hot dog. Mix well making sure there are no lumps in the batter.


Pat the hot dogs dry with a paper napkin.


Dip the hot dogs into the batter and carefully deep fry them in hot oil. Fry them on medium flame till golden brown on all sides.


Take them out of the oil and place on some kitchen paper.


Carefully insert the wooden skewers into the corn dogs.


Serve these up hot with some ketchup and mustard. Enjoy!!!
This recipe is linked to –
Savory Sunday
Mangia Mondays
Mouthwatering Mondays
A Little Birdie Told Me
Let's Do Brunch
Recipes I Can't Wait To Try
Hearth and Soul
Yay, its reveal day again. I've realized that over the last couple of months I get really excited as the SRC reveal day approaches. This month is no different. I can't wait to see what everyone's cooked up. The Secret Recipe Club is so much fun. It started off as the brain child of Amanda from
Amanda's Cooking
and because it got so very popular and grew so fast, we've been split into groups. I'm in Group B and Tina from
Mom's Crazy Cooking
is our hostess. If you'd like to participate or see our previous reveals, stop by at
The Secret Recipe Club
.
This month I was assigned Julie's blog, Little Bit of Everything. 'Hi Julie'! I had so much fun going through her blog. You simply have to head over. There were so many things that I wanted to try. And you know something, she dabbles not just in food, but like her blog name suggests, in a little bit of everything. I absolutely love the pictures of her garden. She has a series called In My Garden where once a week she posts some of the most gorgeous pictures. I absolutely love these kind of pictures and have tonnes of such images captured from when I travel. I've just recently launched Shutterbug Sundays on my blog in an attempt to gather such clicks in one place.
But I digress. Back to my pick for this months SRC. I saw Julie's version of the World's Best French Toast and I was hooked. I knew I was going to try this out. I've seen a few versions of Stuffed French Toast on some television shows, but I've never tried them. This was the perfect opportunity. I've actually combined ideas from a couple of Julie's recipes, her Peanut Butter Banana Muffins and the World's Best French Toast to come up with my very own version of Stuffed French Toast. This is a wonderful treat to serve up for breakfast on the weekend or a holiday. I think its a really healthy breakfast treat. It has absolutely no sugar in it. It gets its sweetness from the plantain and the honey. I love how this turned out. There are so many wonderful combinations that can be used to tweak a treat like this. I know I'll be trying many more. Thank you Julie for the inspiration.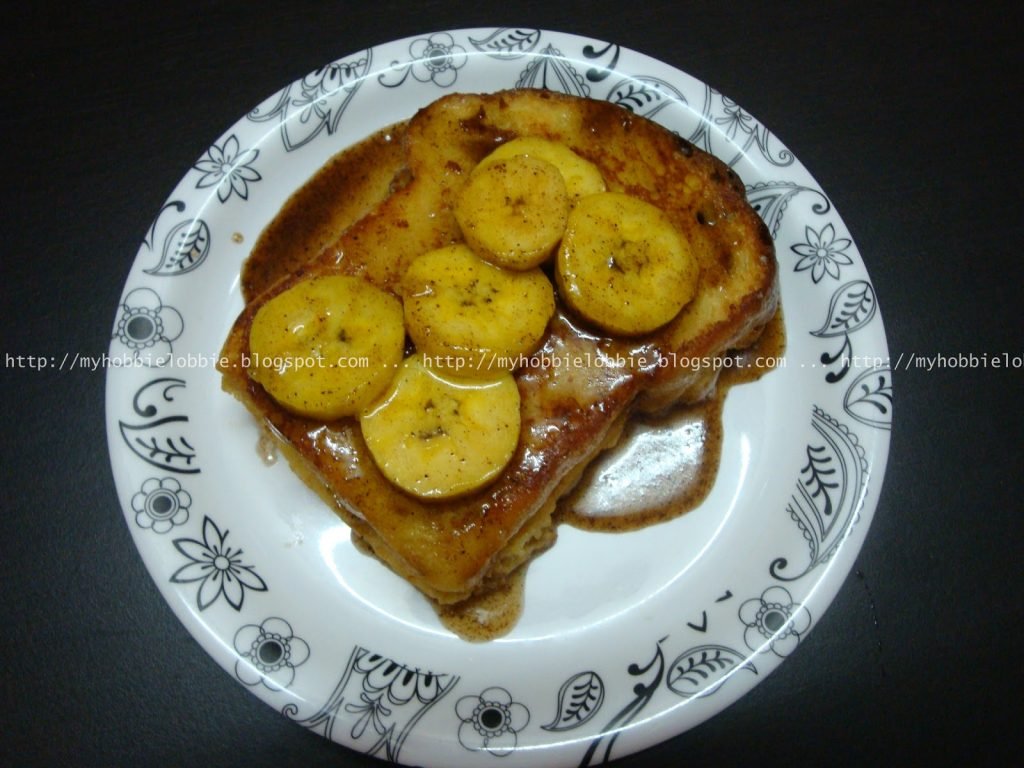 Stuffed French Toast
Adapted from: Little Bit of Everything
Makes 1 helping
2 slices of bread (I used a couple of slices of the Brioche Loaf I'd made)
Chunky peanut butter
1 tbsp butter
1 egg
2 tbsp milk
1/2 tsp vanilla extract
A pinch of salt
Spread the peanut butter on both the slices of bread and sandwich them together.
Beat the egg, milk, vanilla and salt in a bowl.
Dip the peanut butter sandwich in the milk and egg mix and let it soak it up. Turn it over so that the other slice soaks up some of this yummy stuff too.
Place a dollop on butter on the pan. When it has melted, fry the french toast till nicely crusted and browned to your liking. Place it on the serving plate.
For the sauce –
1 tsp butter
2 tbsp honey
1/2 tsp cinnamon powder
1 banana / 1/2 plantain sliced
Once the french toast is done, using the same pan, add a touch of butter.
Add the honey and cinnamon and stir well. When this mix starts bubbling, add the banana slices and cook it off for a minute or two. Avoid overcooking or the bananas will get too soft and mushy.
Pour this sauce over the French Toast and sit yourself down to a wonderful, healthy treat for breakfast.
If desired, you can sprinkle some icing sugar on top before serving.
Do stop by and check out what the other members of Group B have made this month.
document.write('
When we take a weekend break and head off to Panchgani, we always stay at this quaint little place that has the best view. This is a pretty shock of color in their garden, one of my favorites when we go there during the winter months.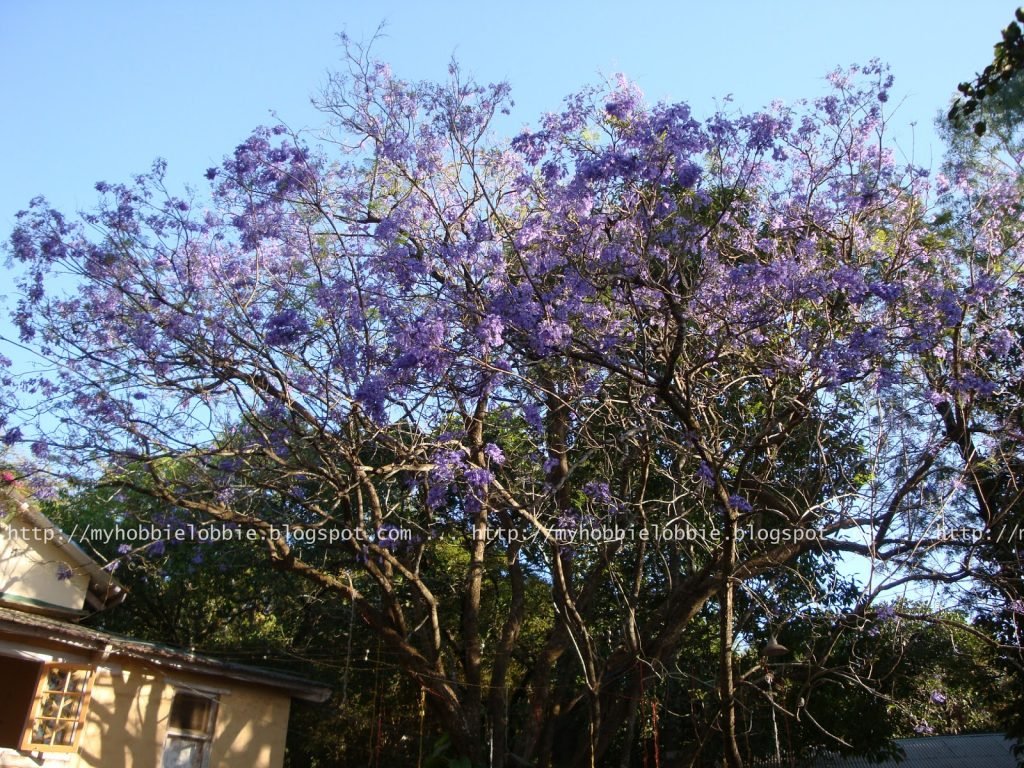 It seems like just yesterday, I was eagerly waiting for this years 12 Weeks of Christmas Cookies event to start off. This year Brenda of
Meal Planning Magic
is out gracious hostess. But how time flies. Here we are at Week 3 of this event and this week, I'm going to share with you one of my favorite brownie recipes – Nigella Lawson's Triple Chocolate Brownies. Needless to say, these are a super big hit every time they are made. I have yet to meet a single person who didn't like these. The texture is just right, crusty out the top, chewy on the edges and all gooey and fudgy in the center. My personal favorite pieces are the ones along the edges of the baking tray, I love the chewiness. They are nice, rich and chocolatey but not too sweet, just the way I like it. Of the few chocolate brownie recipes I've tried, this is my favorite. Try it out and you'll see how soon it becomes a favorite in your home too.
Here is the pan straight out of the oven. Its best to wait till this has cooled down completely before cutting into it, atleast a few hours. I've realized that if you cut it while its warm, you'll have a little trouble cutting them clean as well as getting them off the foil.
After patiently waiting and trying not to go insane while waiting, here's what it looks like all cut up –
Do you wanna take a peek and see what the insides look like? Get ready … here it comes.
Triple Chocolate Brownies
Adapted from: Nigella Lawson
350g dark chocolate
375g butter
4 eggs
1 tbsp Vanilla extract
1 tsp salt
350g sugar
225g all-purpose flour
100g chocolate chips (I use a mix of about 70g dark chocolate chips and 30g white chocolate chips)
Melt the butter and chocolate together over low heat this completely melted.
Cool the mix down and in the meanwhile preheat the oven to 180ºC.
Add the 4 eggs one at a time, beating well between each addition.
Add the vanilla and salt (I use salted butter and just a tiny pinch of salt) and sugar and mix well.
Add the flour and mix till incorporated.
Stir in the chocolate chips.
Line a baking dish with aluminium foil, leaving an overhang on all sides. This makes is easy to get the brownies out of the pan and also makes cleaning a cinch.
Pour the batter into the pan and bake for 25 minutes. Do not overbake. When you see some cracks appearing on the top of the batter, you'll know they are done.
Cool completely and cut into pieces.
Check out the other entries this week.
This recipe is also linked to –
Friday Potluck
Sweet Tooth Friday
Sweets for a Saturday