Today's post is bittersweet for me. Today is our
SRC
Group A reveal day – our very last one. I've been with this fun bunch a little over 5 years and every month this club has brought me great joy. I've had the opportunity to meet (virtually ofcourse) so many wonderful people and have been introduced to so many great blogs during the past five years, I don't think I would've found them on my own. But all good things must come to an end and here we are at the end of a great run.
For my last assignment, I got Emily's blog, Life on Food. Emily's blog is full of wonderful food. I had an almost impossible task of picking a recipe for this reveal. Go over and say Hi to Emily and tell her I sent you. While you're there check out the wonderful food on her blog. You will also see her gorgeous little baby there – absolutely precious. Here's probably what makes Emily my favorite person – she goes to Disney World every year. Yes, every single year. Someday, I hope to be able to visit every single Disney park there it to visit. It is on my bucket list. Anyway, back to Emily's blog. In the end, I narrowed down my endless list to these gorgeous Cheddar Bay Biscuits, these Chocolate Hazlenut Truffles, Chocolate Chip and Hazlenut Cookies with Sea Salt, Macaroon Blossoms, and this Coconut Rice Pudding, but in the end these Classic Blueberry Muffins won.
We're in the middle of spring at the moment, so everywhere I look I can see berries and that was one of the main reasons I decided to go with this muffin recipe. You can never have too many muffin recipes, can you? This recipe is perfect for summer and they make a great brekkie on the go. You know what else they'd be great for …. morning tea at work. These muffins are one of the best berry muffin recipes I've tried. They're packed with berries and have a beautiful crumb. At first, I was a little skeptical of the cinnamon in this recipe, but don't be like me. The cinnamon is subtle and you can barely tell its there, but it does wonder for the flavor of the muffin. I did add a little vanilla extract to the recipe but other than that stuck to the original. Thanks Emily for a fantastic blueberry muffin recipe.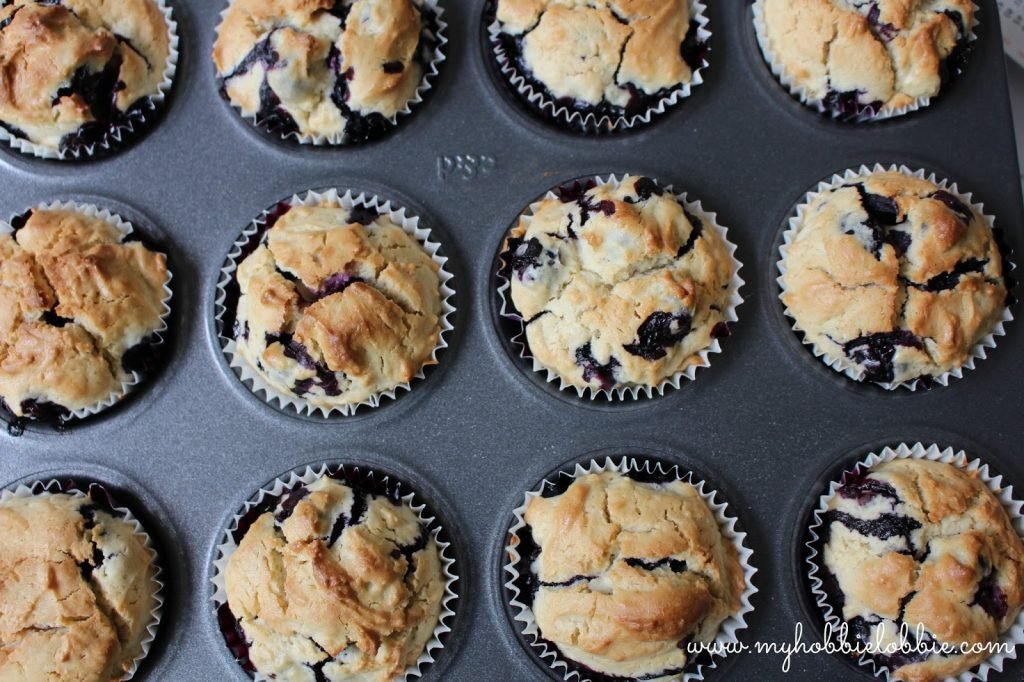 Classic Blueberry Muffins
Makes 12
2 cups all purpose flour
1 tsp baking powder
1 tsp ground cinnamon
1/2 tsp salt
1 egg
1 cup sugar
4 tbsp butter, melted and slightly cooled
1 1/4 cup sour cream
1 tsp vanilla extract
1 1/2 cup blueberries
Preheat the oven to 180º and line a muffin tray with paper liners or grease a tray.
In a mixing bowl, place the flour, baking powder, cinnamon powder and salt and whisk till combined.
Toss in the blueberries and make sure the flour mix coats them well and set the bowl aside. (This ensures the berries don't sink to the bottom.)
In another bowl whisk the egg till it has loosened. Add the sugar and whisk till you are left with a thick mixture.
Add the vanilla extract and combine.
Add the melted butter and whisk well to combine.
Lastly, add the sour cream and whisk until just combined.
Add the wet mix to the dry ingredients and gently fold in using a rubber spatula until just combined. The batter will be thick and you may see a few small dry flour spots. I found mine a little too dry so I added a couple of tbsps of milk and folded in gently. Take care to not overmix the batter.
Spoon the batter into the lined muffin tray.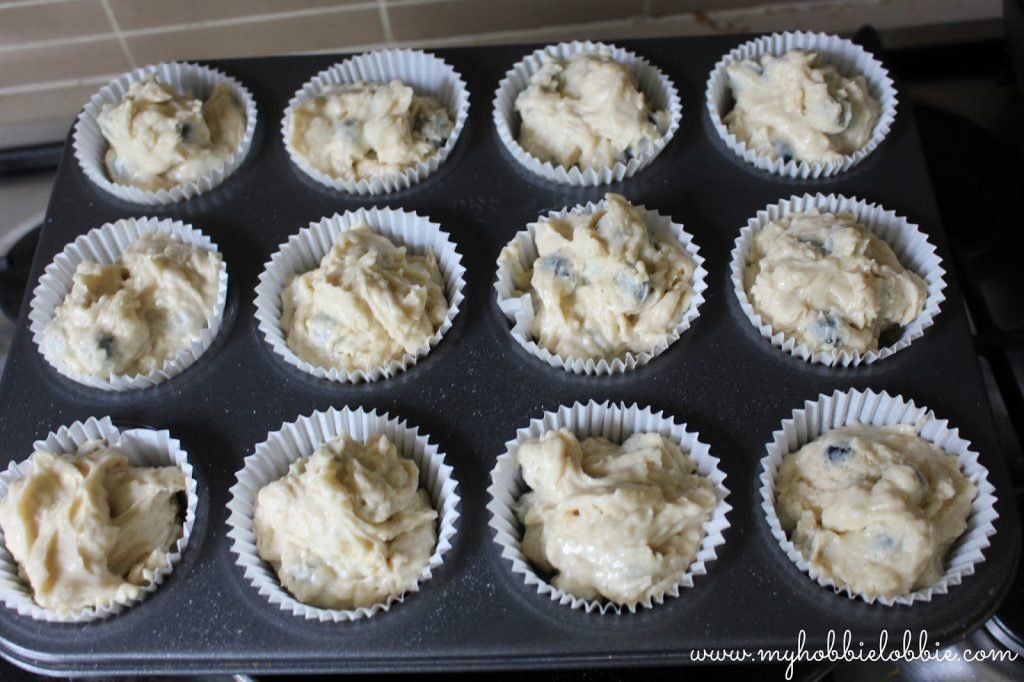 Bake till the tops are a light golden brown and a toothpick pierced in the center comes out clean, about 25-30 minutes.
Immediately move the muffins to a wire rack to cool and serve at room temperature.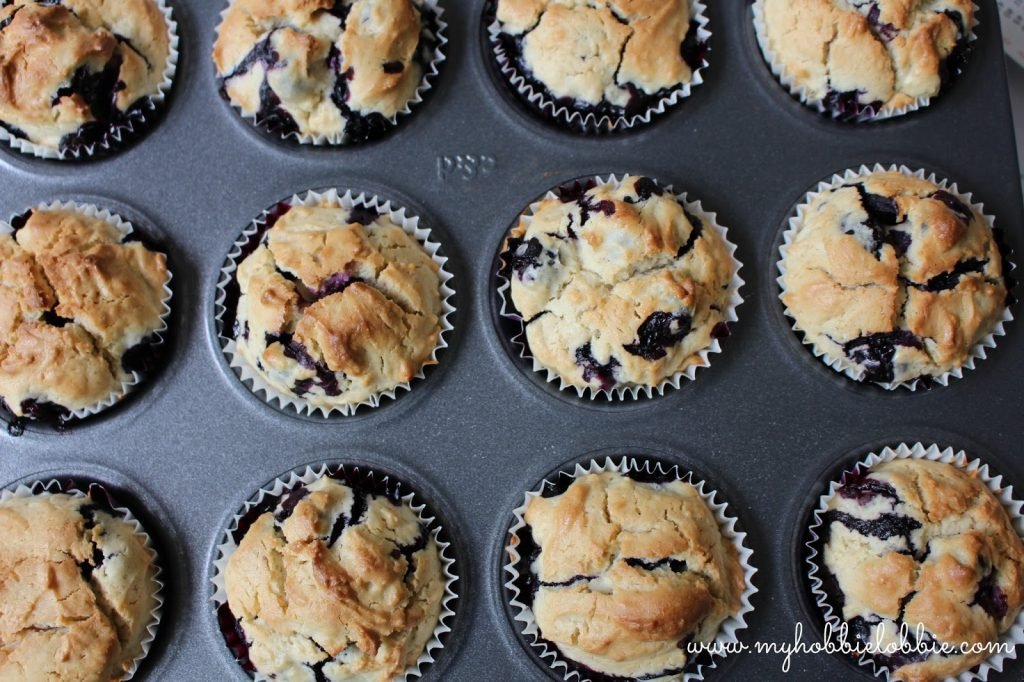 Store any leftovers in an airtight container at room temperature.
Yay for the first
SRC
reveal of 2016! Even though we just had a teeny tiny month off from SRC to enjoy the holidays and spend time with family, I must admit I've missed and an am happy to be back in the swing of things. For my first assignment for the year, I had the absolute pleasure of perusing Dorothy's blog,
Shockingly Delicious
. I was so excited with this assignment. I've been a big admirer of Dorothy's blog ever since I first set eyes on it. She has one of those blogs where you want to make everything you see. Which tells you what a task picking out a recipe for this months reveal was. With great difficulty I finally narrowed my picks down to these beauties –
Almond Polenta Cake
,
Irish Elephant Ears
and a delicious looking
sesame dressing
. Now, those of you who don't know Dorothy, she has also been called the
"Pie Lady of Malibu"
and with good reason. She has won 23 ribbons at the Malibu Pie Contest in all among other accolades. Check out her award winning recipes
here
. I have bookmarked her recipe for a pie called
The Bob and Andy Pie
, a curiously named pie that looks pretty darn good. I was tossing between the pie and her
Dutch Baby Oven pancakes
and in the end, by a very short margin, the oven baked pancakes won.
Truth be told, I've been waiting for the opportunity to try out the Dutch Baby Oven pancakes and this was the perfect time. I love my pancakes and was eager to check out this version that bakes in the oven and you just cut it up and serve with your favourite things. This time around I had to use fresh berries which are at their prime at the moment. Where do I start with this recipe! It is super simple to put together and the flavour is phenomenal. It is like no other pancake I have tasted. I loved the flavour of the nutmeg and the vanilla in the batter. And do not leave out the fresh fruit. It really adds to the taste and the whole experience. I used fresh berries because they are gorgeous and in season. You could use whatever fruit you like and is in season and I'm sure it will turn out fabulous. Thank you Dorothy for a fantastic recipe!
I halved the recipe and it was pretty good for breakfast for 2. The amounts mentioned below serves 2.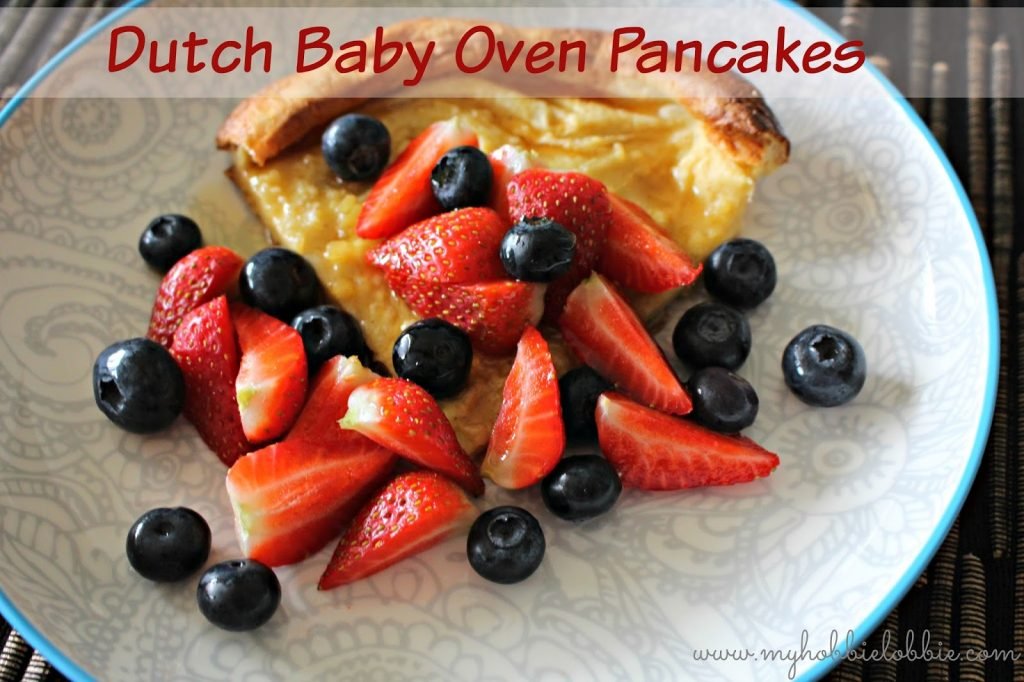 Dutch Baby Oven Pancake


2 eggs
1/2 cup milk
1/2 cup all-purpose flour
1 tbsp sugar
1/4 tsp vanilla extract
1/8 tsp grated nutmeg
A pinch of salt
1/8 cup butter
For the toppings –
Fresh blueberries
Fresh strawberries
Maple Syrup
Heat the oven to 245ºC.
Place an 8″ pan in the oven to heat up for about 5 minutes.
Place the butter in the pan and let it melt, till foamy.
In a large mixing bowl, whisk up the eggs, milk, sugar, vanilla, nutmeg and salt.
Add the flour and whisk till combined.
When the butter is foamy, carefully take the pan out of the oven and swirl the butter around to coat the bottom of the pan.
Pour in the pancake batter and bake for 20 minutes.
Sit back and be amazed as the sides rise up first, followed by the centre. This will deflate after you take it out of the oven and cut into it.
Serve up with berries and a drizzle of maple syrup.
I think some good greek yogurt would also do well with fruit or you could stick with some fruit and sprinkle some icing sugar over the top.
Enjoy!!!
:
<!– end InLinkz script —>
This month for my
SRC
reveal, I was assigned Leslie's blog,
La Cocina de Leslie
. If you haven't visited her blog yet, let me ask to go over right now and check it out. Don't worry, this post will still be here when you get back. I was amazed at the collection of delicious recipes on her blog. I found myself drooling at all the Mexican fare on her blog. I can't wait to try a few of them out. The way things worked for me was there were a few things at play – work is super busy at the moment, that coupled with the usual chores at home, I haven't have the time to stop and breathe. At the same time, the weather has warmed up quite a bit at the moment. We seem to have jumped from winter to summer in about a week. I would've liked a longer Spring. But this means we have lots of delicious berries to work with. I needed something yummy and quick to make. So when I saw Leslie's post on
Strawberry Oat Smoothies
, I knew I had to try it.
Usually my husband is the one who whips up the smoothies in our house. I have also consciously started taking some juice or a homemade smoothie to work over the last couple of weeks. Its been a nice change and has helped me lay off the coffee and give me a burst of energy that I need. I just made a couple of changes to the recipe for this smoothie like leaving out the cinnamon and I also cut down the honey to half. You could adjust the sweetness to your liking. I would like to try it soon with the cinnamon and see how that turns out. Let me tell you a little about this smoothie. Even though it didnt have any cream, yogurt, ice cream or avocado, it turned out nice and creamy and that was a pleasant surprise. I reckon I have the oats to thank for that. They also give the smoothie good substance and a glass of this great stuff will keep you going for a while. I have a punnet of blueberries that I will use to make another batch of these smoothies. Thanks Leslie for introducing me to a great new twist on the smoothie. 🙂


Strawberry Oat Smoothie
(Makes 2)
1 1/2 cup cold milk
12-15 strawberries
4 tbsp. dry oats
2 tbsp. honey
Place all the ingredients in the bowl of a food processor and puree till smooth.
Pour out into a glass and enjoy!!!
Picking up where we left off with the Bursting Berry Muffins, I thought it would be a good idea to use up some more of those frozen berries. I've been dying to have a good smoothie for a while now. The days have been consistently getting cooler here and we've had some wet spells too. So when we had a slightly warmer day than usual, I decided to make a Mixed Berry Smoothie, a farewell to Summer, of sorts. But I love the cooler weather. It usually means Christmas is around the corner, atleast it did when we were in Mumbai. The fact that its not is going to take a little getting used to here in the Southern Hemisphere. I still find it a little unusual to have a cooler Easter and a warmer Christmas. Anyway, I digress.
Back to this smoothie. Nothing could be simpler to put together. I used a packet of Nana's frozen mixed berries, a mix of blueberries, blackberries, raspberries and strawberries. I loved the flavors in this smoothie. It seriously made me wonder why I don't make them more often. Well, I guess it gives me something to look forward to when Summer is back. Another thing you mind want to consider is the seeds from the raspberries. I didn't care for the crunch of the seeds. If you're like me, you might want to consider leaving out the raspberries, but I think they add a nice flavor to the drink.
How do you deal with the seeds?
If you want to make a dairy free version, simply leave out the milk and yogurt and replace it with some fruit juice. I think that would be really delicious too.
We sat down to a nice big glass each after a particularly high intensity evening walk. My body was craving for something sweet and this was perfect. So much healthier than a soda and more delicious too.
Mixed Berry Smoothies
1 1/2 cup mixed frozen berries
1 ripe banana
1/2 cup of plain Greek yogurt
A splash of milk, optional (I needed a little to get the mix going in the blender.)
Sugar / Honey, to taste
Place all the ingredients into a blender and blitz till it reaches the desired consistency, nice and creamy.
I needed to add a little milk to get the blender going. Some people choose to use a fruit juice instead. You can use either.
Enjoy!
We're at another delicious reveal for the
Secret Recipe Club
– Group A. This month, my assigned blog was
Renee's Kitchen Adventures
. I had such a fun time looking through Renee's blog which is full of great recipes that are both, delicious and healthy. She is part of the Weight Watchers group and has had a lot of ongoing success with it. I've been trying to add such recipes to my repertoire so it was almost like destiny to receive this blog. For the reveal, I was torn between the
Grilled Jerk Chicken Thighs
, these
Mini NY Style Cheesecakes
, her mouth watering
Lightened up Salisbury Steak
and these little gems called
Almond Joy Shortbread Cookies
among many more. But when I saw her post on these
Bursting Berry Muffins
, I was sold. With a name like that and a picture to go with it, there was no way I could turn it down.
I happened to have some mixed frozen berries on hand and apart from smoothies, I was looking forward to using them in other recipes. This one was perfect. One thing I should mention before we begin is while Renee's recipe is a low fat one, I used the regular versions of yogurt, buttermilk etc. since I already had them on hand and didn't want to let them go to waste. So if you are looking for a healthier take on this recipe, please follow the original recipe on her blog. Also, the recipe calls for almond extract. I didn't have any so I used vanilla instead. I loved how simple and easy these muffins were to put together. The batter came together really quick and after spending 15-20 minutes in the oven, I had a batch of pretty muffins ready. We tried these with a nice hot cup of coffee in the afternoon and they were perfect for the cooler weather setting
in here. They were delicious. They were not too sweet either, just perfect.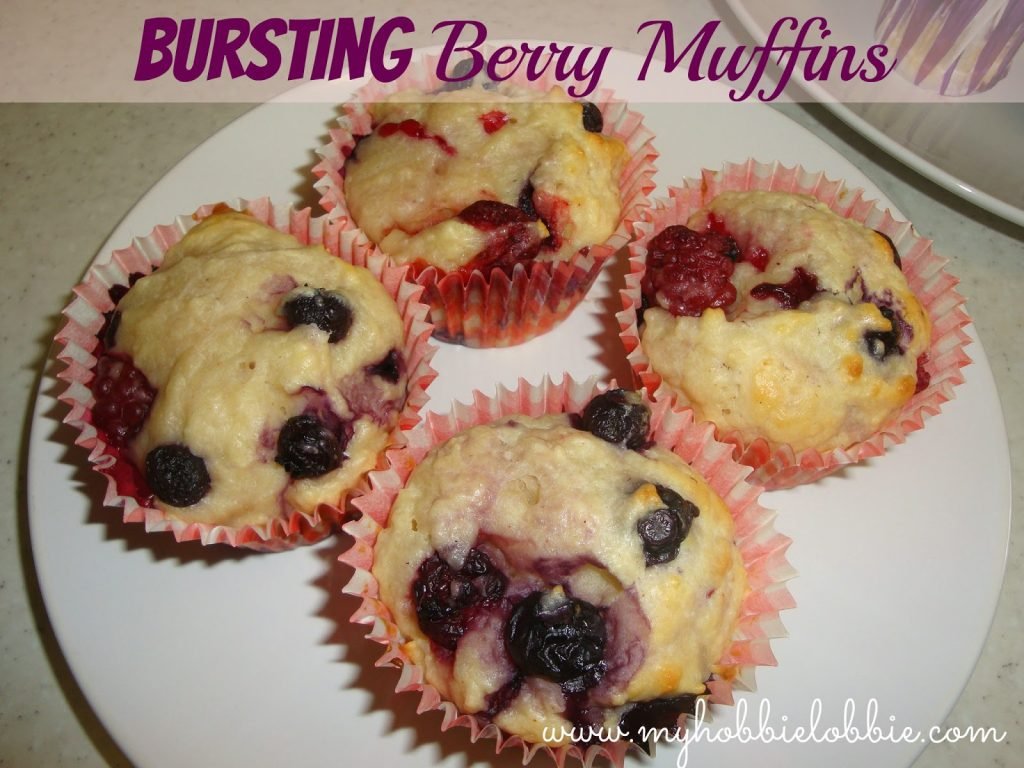 Bursting Berry Muffins


2 cups all purpose flour
1/2 cup sugar
1 tsp baking powder (the original recipe calls for 1 tbsp, but I wasn't sure about adding that much)
1/2 tsp salt
1/2 tsp cinnamon powder
2 eggs
1 cup Greek yogurt
1/4 cup buttermilk
2 tbsp Canola oil
1/2 tsp vanilla extract
1 cup frozen mixed berries (I had a pack of Nanna's mixed berries, but I left out the larger strawberries)
Preheat the oven to 180°C.
Place paper liners in a muffin tin.
Place the flour, sugar, baking powder, salt and cinnamon powder in a large mixing bowl.
In a smaller bowl, add the eggs, Greek yogurt, buttermilk, oil and extract and whisk well till combined.
Gently mix the wet ingredients with the dry. Do NOT over-mix. (Overmixing results in a tougher product.)
Fold in the frozen berries lightly.
Spoon the batter into the muffin tins and bake for 15-20 minutes or till a toothpick inserted in the center of a muffin comes out clean. (If you happen to pierce a berry, wipe the pick and try another spot, you are checking for the doneness of the batter.)
Enjoy!
I also made some mini muffins. They look kinda groovy, don't they? I love the color that the berries add to the muffins. So pretty!