Nothing says 'Spring is here' more than some Lamb kebabs. Spring Lamb is in stores now and while some of the premium cuts can be very pricey, today's recipe uses ground lamb (lamb mince). This is not just easy on the hip pocket, but cooks up really fast too.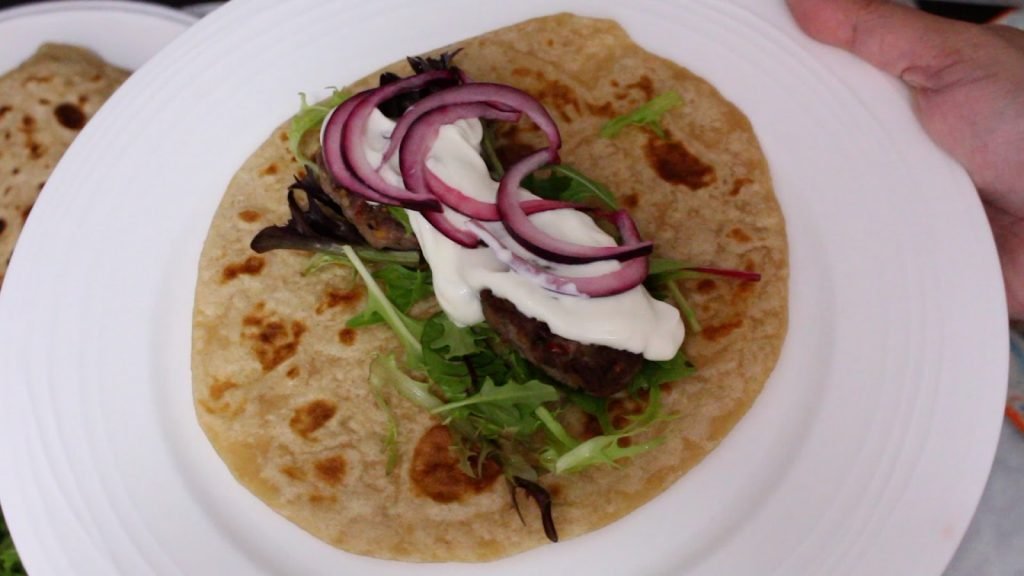 You can serve these kebabs as a starter, or with a salad as a main too. Today I'm serving it up as a wrap with some homemade, quick pickled onions and a yogurt dip. Start off by making the pickled onions and the dip, so that they have a little time to let the flavors develop.
Quick Pickled Onions
1/2 onion, sliced
Salt, to taste
1-2 tbsp Lemon juice
Separate the half rings of the onion slices.
Sprinkle salt and lemon juice over the onion and mix well to let the seasonings get to all the onion slices.
Cover and refrigerate for 30 minutes to an hour.
Yogurt Dip / Spread
1/2 cup Greek yogurt
Salt, to taste
1/2 tsp sugar, or to taste
1/2 clove of garlic, finely chopped
A few mint leaves, finely chopped
Mix all the ingredients together. Cover and refrigerate for 30 minutes to an hour.
Lamb Kebabs
500g lamb mince
Salt, to taste
Freshly cracked black pepper, to taste
2 chillies, finely chopped
3 large cloves of garlic, finely chopped
1-2 tbsp fresh mint, finely chopped
Oil, for frying
Mix all the ingredients and shape into kebabs.
Heat some oil in a pan.
Fry kebabs for a couple of minutes on each side, or till you get a beautiful golden brown color on each side and till its cooked through to your liking.
Serve hot.
** To make the wrap, I use some homemade, whole wheat chapatis, layer some salad greens on top, add a couple of the kebabs, smear some yogurt dip over and top with some pickled onions. Wrap up and enjoy.
Up until a few years ago, I wasn't the biggest fan of khichdi. At the time, I had never made it myself and the few versions that I tried, always fell short. That is till I tried Gloria's recipe. Gloria used to be my brother-in-laws housekeeper and she was very skilled in the kitchen. While I didn't have the opportunity to spend to much time with her, this was one recipe, she very willingly shared with me. I have tweaked it to suit our tastes and I love this version. To me this khichdi has now become comfort food. So, whenever I'm under the weather or even if its just a cold, wet day, I feel myself yearning for a bowl of this moong dal khichdi. Have I mentioned that this is a ridiculously easy recipe? Well, it is and today I'm sharing this little gem with you. I hope you try it out and like it as much as we do.
Moong Dal Khichdi
Serves 2
1/3 cup basmati rice
1/3 cup moong dal
1 tbsp oil
1 chilli, cut into large pieces
1/2 a medium sized onion, chopped
1/4 tsp. turmeric powder
Freshly cracked black pepper, to taste
Salt, to taste
Fresh coriander, chopped (leaves and stalks)
For the tempering –
1 1/2 tbsp ghee (clarified butter)
3 cloves garlic, finely chopped
1/2 tsp cumin seeds
Wash the rice and the dal separately. Repeat this process a few times, till the water runs clear. Soak the rice and the dal separately. The rice needs to soak for about 20 minutes and the dal for about 10 minutes. (So I soak the rice first, and 10 minutes later, I soak the dal). Drain the water in each of the bowls and run some fresh water through and drain again.
Heat the oil in a vessel on medium heat.
Add the chillies and saute for a few seconds.
Add the onions and saute till they have softened and are a little translucent.
Add the pepper and turmeric powder and stir well, to coat the onions.
Add the rice and the dal and stir through.
Now, add 2 1/3 cup of water. (I use a 1:3.5 ratio. That is, 1 part rice to 3.5 parts of water. Towards the end if you feel the need to add some more water, you can. I added another 1/3 cup towards the end. So this time I used a 1:4 ratio. The quantity of water will depend on your rice. So start off using 3.5 parts)
Add salt to taste and stir through. Once the salt has dissolved, you can taste the liquid in the pot and see if it is seasoned to your liking or add more salt, if needed.
Bring the water to a boil. Then cover the pot, reduce the heat to a simmer and let the rice and lentils cook off till tender and most of the liquid has been absorbed. (At this point if you feel the need to cook it further, add a little more water and continue cooking as stated above.)
When done, take off the heat and start working on the tempered spices.
In a small vessel, melt 1 1/2 tbsp ghee.
Add the chopped garlic and stir around. Let this cook gently till a little of the rawness of the garlic goes away.
Then, add the cumin seeds and gently cook a little more. This will infuse the ghee with beautiful flavors. Make sure to watch carefully, as you don't want the garlic to take on any color or burn.
Add this to the pot of khichdi and stir through.
Finish off with some chopped coriander and stir to distribute well.
Serve hot. Garnish with a little extra coriander and serve with a pickle of your choice. I recommend a Mango Chundo / Chunda (a sweet and slightly spicy Mango pickle).
Enjoy!
Like some of you already know, my mother's family originally is from Goa. Growing up, we spent almost every summer in our ancestral home in Goa. It was a sprawling old Portuguese styled house with large grounds surrounding it. In our garden grew a variety of mango trees. We also had a great big coconut tree. Our garden also housed some custard apple, pomegranate, chickoos / Sapota, jackfruit, cashews, guavas, bananas and so much more. Some of my fondest memories have got to be me tagging along with my aunt harvesting all the lovely organic produce right through our holidays and enjoying all the yummy food my mum and aunt would whip up for us.
This prawn curry made a regular appearance on the table along with some Goan red rice and whatever vegetable was in season. Our Goa house had 2 kitchens, one was a traditional old wood fired one and the other was a modern one with a gas stove-top. However, almost all the cooking was done in earthenware pots in the old kitchen. While everything took a lot longer to cook, the taste was unbeatable.
I would give anything to experience something like that again. While that might still be a pipe dream, for now, I just make do replicating some of the good old recipes. This prawn curry is a coconut based curry, known for its vibrant orange color and its spicy and tangy flavors. I hope you try it out and enjoy it as much as we do.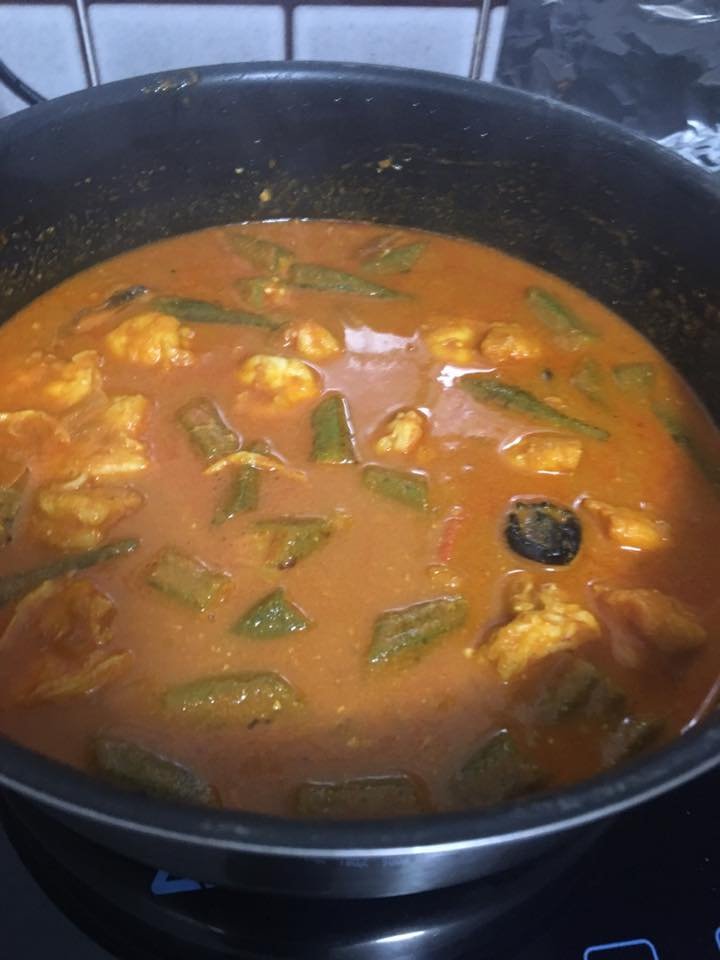 Goan Prawn Curry with Okra
500g prawns, shelled, de-veined and washed a couple of times
1 small onion, finely chopped
2 chillies, split lengthwise
A couple of pieces of Kokum / Aamsol (dried souring agents)
6-8 okra pods, trim off the stalk and cut into approx. 1 inch pieces
Salt, to taste
1-2 tbsp oil
A small ball of tamarind (about half a walnut in size)
For the masala / spice paste –
1/2 cup grated coconut
6 Kashmiri chillies
3 cloves garlic
1/4 tsp turmeric powder
1/8 tsp black pepper corns
1/4 tsp cumin seeds
1 tbsp coriander seeds
Sprinkle a little salt on the prepped prawns and set aside.
Soak the tamarind in a little warm water in a small bowl and set aside.
Grind all the ingredients for the masala into a fine paste using a little water, as needed
Heat the oil in a large vessel.
Add the onions and saute till they soften. Add the kokum / aamsol.
Add the ground masala / spice paste to the pan and let it fry for a couple of minutes.
Add a cup of water to the mixer and swirl around to pick up any of the remaining spice mix and add to the pan. Add more water as needed to achieve the desired consistency.
Add the chillies and bring to a boil. Season lightly with a little salt (The prawns also have some salt on them so add salt accordingly). Lower the heat to a simmer and add the okra.
Cook gently till the okra is almost cooked. Check for seasoning.
Mash the tamarind up and discard any pieces of fibre or shell and add some of the tamarind paste, to taste.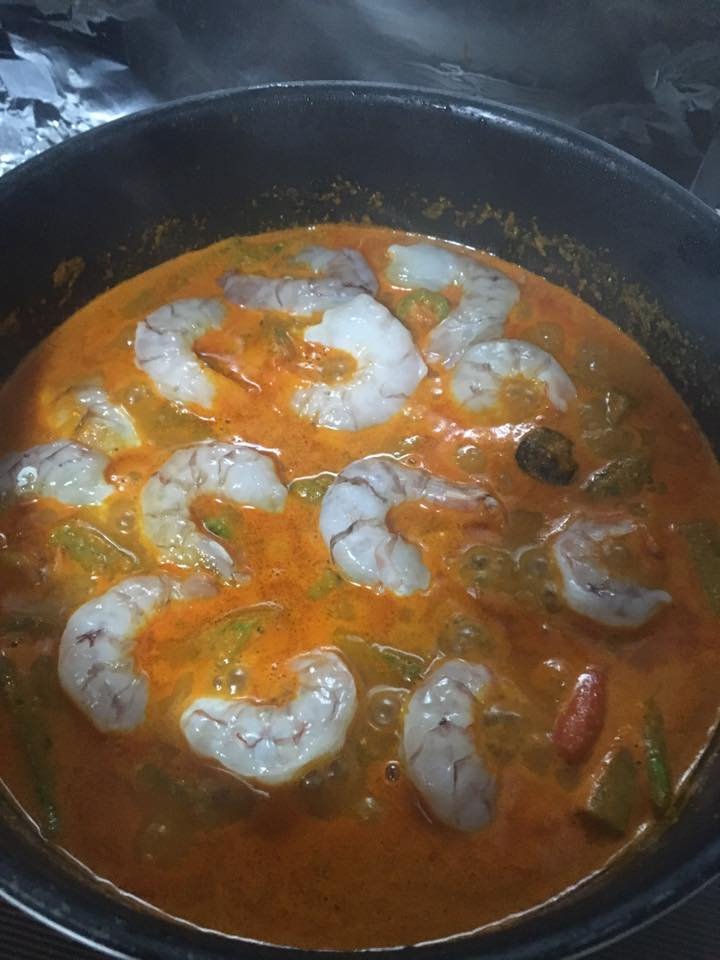 Add the prawns. Continue cooking just till the prawns have cooked through. (This usually just takes a couple of minutes depending on the size of the prawns.) Do not overcook the prawns.
Check for seasoning and adjust, if needed.
Serve hot.
Pasta – one humble ingredient but endless ways to cook it up. It has got to be one of the most versatile ingredients in the kitchen. You can serve it hot or cold, in a soup, salad or as a main. It works so well with so many different veggies, proteins and sauces. I love me some pasta and always have a couple of varieties in my pantry cupboard.
Pasta dishes can range from simple to a little more complicated. I personally, love the idea of a few simple recipes that I can use during the week. This Chicken in white sauce pasta is one such dish. With a little multi-tasking, I can serve this up in well under half and hour. Yup, you heard that right, under 30 minutes. Honestly, what takes the most time, is boiling up the pasta itself. If you don't eat meat, you can still make this recipe, just leave out the chicken and add some mushrooms, peas or even a little spinach. A vegetarian variant turns out equally delicious.
Are you ready to check this recipe out???
Chicken in White Sauce Pasta
(Serves 4)
A single Chicken breast fillet, cut into bite sized pieces
1/4 cup green capsicum, diced
1 cup of broccoli florets
1/2 cup corn kernels
2 cloves of garlic, finely chopped
Salt, to taste
Freshly cracked black pepper, to taste
Chilli flakes, to taste
1/2 – 1 tsp Mixed herbs, or to taste
1 tsp lemon juice
1-2 tbsp olive oil
1-2 tbsp vegetable stock / water
Pasta (enough for 4 servings)
A little parsley, to garnish
A little Parmesan cheese, grated
For the white sauce –
1 tsp olive oil
1 1/2 tbsp butter
1 tbsp all purpose flour
1 1/4 cup milk
1/3 cup cheddar cheese, grated
Salt, to taste
Cook your pasta according to the packet instructions. I bring a large pot of water to a rolling boil. Season generously with salt. Add the pasta and cook till done. Drain and reserve about 1/2 cup of the cooking liquid.
While the pasta is cooking, season the chicken with salt, pepper and lemon juice to taste. Mix well.
Heat 1 tbsp olive oil in a pan. Add the chicken and cook through, stirring occasionally, till the chicken has cooked through. Remove the chicken in a bowl and set aside.
In the same pan, add 1 tbsp of olive oil and quickly add the garlic.
Stir through and immediately add the green capsicum. Still through and let the capsicum cook for about a minute.
Next add the broccoli and saute well. (See note*)
Add the corn and stir through.
Season with salt, pepper, chilli flakes and mixed herbs, to taste.
Add 1-2 tbsp vegetable stock (you can also use water), stir well, cover and let the veggies steam and cook for a minute or two or till they are done to your liking. (If you are adding cooked broccoli to the pan, you can leave this step out. )
Add the cooked chicken to the pan and stir through. Set aside and cook your white sauce.
To cook the White Sauce / Bechamel Sauce –
(For detailed instructions on how to make a great white sauce, check the video above)
Add a tsp of olive oil to the pan on medium heat.
Add the butter and let it melt.
Add the flour and stir briskly, making sure the flour incorporates well with the butter and oil and that no lumps are left.
Cook this roux off for about 30 seconds to a minute or till the raw smell of the flour has gone. (Do not let it develop any color.)
Add half the milk to the pan and stir through well, making sure no lumps remain.
Add the remaining milk and whisk well.
Cook the sauce till it has thickened to your liking, whisking well.
When the sauce is done, lightly season with a little salt.
To assemble the pasta –
Add the white sauce to the chicken and veggies in the pan. Stir well. Add the cheese and mix through.
Check the sauce for seasoning and adjust, if needed.
Add the cooked pasta to the pan and stir through.
Serve your pasta in some serving plates. Finish with a light sprinkling of parsley and a grating of parmesan cheese.
*NOTE: Our broccoli is fairly tender and cooks very quickly. If your broccoli takes longer to cook, blanch or steam it before adding to the pan.