Yes folks, here we are, at the final week of an amazing 12 week journey. A journey where so many wonderful bakers, cooks and bloggers put up some wonderful treats each week. I know I've learned so much from them. Their work has truly been inspiring. My ever growing 'to bake' list just got a whole lot longer and I can't wait to try out some of these treats myself.
Considering how close we are to Christmas and how swamped I am with things that need to be done around my house and in my kitchen, I haven't baked anything for this weeks round up. Now that doesn't mean I didn't bake anything. There's a load of stuff happening in the kitchen … more on that later. However, it also doesn't mean that I'm going to skip this weeks submission. This week I'd like to showcase what we in India call 'Jujups'. This is a lovely sugary treat that can be made in a number of flavors and colors. Its quite a hit with kids. I haven't yet made jujups this year, so I'm going to add a picture from last year. I will add a better picture when I make it this time around.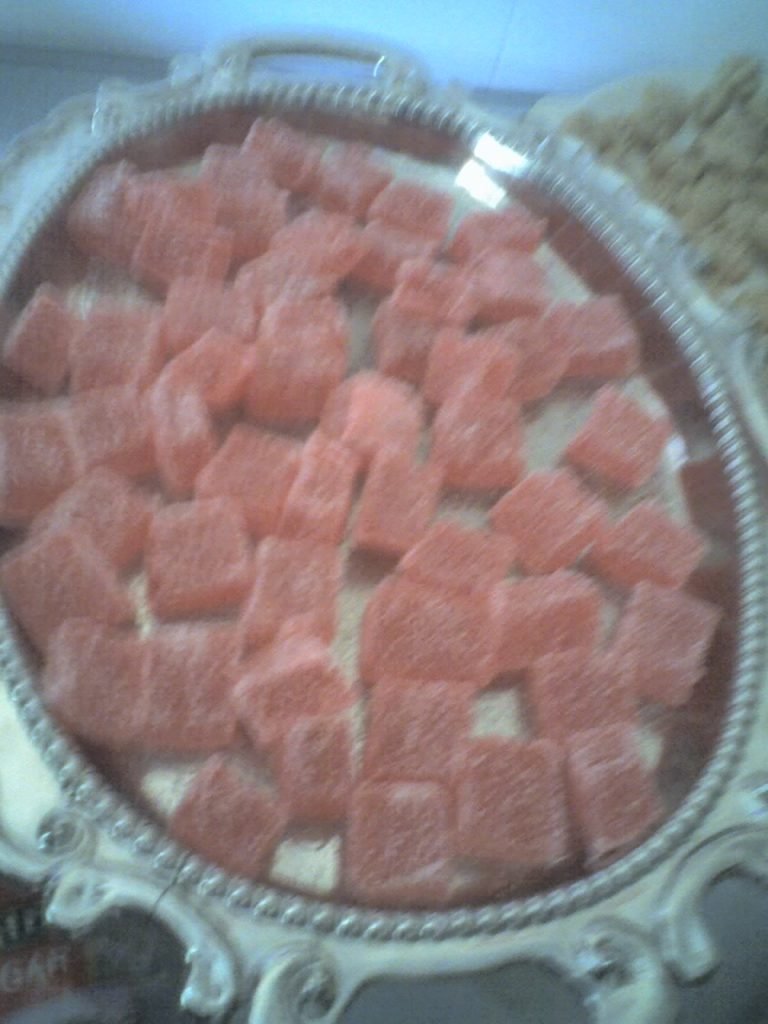 A pinch of cream of tartar
In a steel vessel, add ¾ cup water, sugar and the cream of tartare to make a sugar syrup. Keep on a high flame and stir till the sugar dissolves. Then on a low flame and let it cook to a 2 thread consistency approx. about 20 mins. While this is cooking, use ¼ cup of water and dissolve the gelatin in it. Add the juice of 1 sour lime and mix well. Let it soak for about 5-10 minutes.
Once the sugar syrup is ready, add the gelatin mix to it and stir well. Let this concoction warm through for a minute or so. Add the color and flavoring as desired and mix well. Grease a tray with olive oil and pour the mixture through a metal strainer into it. Leave it to set undisturbed. Once it cools you may keep it in the fridge overnight. The next day, bring the mix to room temperature and then loosen the edges using a knife. Unmould the jujups on a board covered liberally with castor sugar. Cut with a greased knife and roll the pieces in castor sugar. Cover and keep in an air tight container.
Here's a handy dandy chart to guide you when trying out different flavor and color combinations. This is the assortment I made last Christmas. Feel free to experiment and make it your own. If you do try any flavors that aren't mentioned here, let me know how it goes, so that I can add to this list.
Color – Flavor
Yellow – Pineapple / Lemon
NOTE:
Cream of tartar is used to prevent crystallization of sugar in the sugar syrup. Make sure you use a very small pinch – if excess is used, the jujups won't form.
Don't forget to check out what the others have put up this week!
Week 12 Twelve Weeks of Christmas: