UPDATE: I've added a new, better picture for the milk cream and the video recipe for it at the end of the post. The recipe is still the same great recipe. 
As promised in last weeks post, this week as well, I'm sharing 2 lovely treats. One is a little time consuming, the other far quicker. Both of these can be found on the traditional Goan Christmas sweets platter. These are none other than Milk Cream and Coconut Toffee. I simply love them both very much. I remember when I was a kid, my Nana (may she rest in peace), would be solely responsible for whipping up the coconut toffee and to this day I remember, she would tinker about the kitchen for about 15-20 minutes at the most and voila, the coconut toffee was ready. We then simply had to wait for it to cool. I've always been a big coconut toffee lover (Bounty being one of my favourite candy bars) but since my Nana passed away, we never made this any more. I wonder why. This year that is about to change.
Now the Milk Cream was a completely different story. You see, neither my Nana or my Mum knew how to make milk cream, but my Aunt used to make some of the best milk cream I've ever had to this date. She guarded her recipe with her life. Eventually, I managed to persuade her to share the recipe with me and she obliged. So I came home and decided that I was going to make Milk Cream that Christmas. And make it I did. Little did I know how fickle sugar was. The recipe seemed fairly simple and I figured like the rest of the traditional sweets, it wasn't done till your arm fell off from all the stirring. How wrong I was. I ended up with nothing close to the perfect Milk Cream that my aunt used to make but with some milk cream crumbs, some really delicious crumbs. I figured that while this couldn't be shared with friends and visitors, there was no reason why we at home couldn't enjoy it. So once my crumbs cooled off, I bottled it and we enjoyed this strange version of the Milk Cream for quite a while. When I called my aunt later and told her about it, she told me that my only error was I had overcooked it and thats why the mix had crystallized. She asked me to have a go at it again, but being the teenager I was, once was quite enough. I wasn't as persistent back in the day. I figured I would just enjoy the generous portion she usually gave us, since she knew it was my favourite.
Years later, with some much needed guidance, I attempted making this again and this time it worked out. I've never looked back since. I hope you try this out when time permits you won't be sorry. It's a lovely little bite that simply melts in your mouth.
Last week we started with the more time consuming treat first. This week, I'm starting with the quicker one.
Coconut Toffee


1 1/2 cups sugar
1/2 cup water
2 cups desiccated coconut (unsweetened)
A pinch of ground cardamom seeds
A couple of drops of food colour of your choice
Clarified butter for greasing the plate
Place the sugar and water in a heavy bottomed saucepan and place on a medium flame. Cook till it reaches 235ºF on a candy thermometer.
Grease a steel / aluminium plate or cookie sheet using ghee / clarified butter.
When the sugar solution reaches the desired temperate, add the coconut, cardamom powder and food colour. Mix well and take it off the fire.
Pour the mix onto the greased pan and flatten out evenly.
Let it cool for a while and then cut into squares.
Enjoy your coconut toffee!!!
Moving onto the milk cream. It is a time consuming recipe and you will be tempted to turn up the gas. Please don't. You get a lighter coloured end result if it is cooked on a slow flame. Do not leave it unattended.
Milk Cream


100g cashew nuts, ground to a powder
Boil the milk in a heavy bottomed vessel and continue cooking till is reduces to half the quantity on a very slow flame, stirring occasionally and ensuring that the milk that's on the sides of the vessel is stirred into the rest of the milk and not allowed to brown there. 
Add sugar and keep on stirring. 
When thickened, add the cashew nut powder. Keep stirring over a very slow flame till it starts leaving the vessel. 
Pour the mixture onto a steel plate and stir to cool a little.
Knead it into a dough while still warm. Mould into desired shapes.
NOTE:
If the dough turns out too sticky add a little icing sugar and knead.
Watch the video recipe here –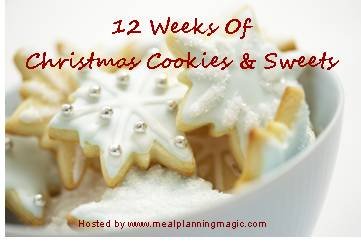 Don't forget to stop by next week for the 3rd issue of Double Treats.
I can't wait to see what the others have brought to the table this week. Go ahead and check it out –