A good Pork Vindaloo is a must-have at any gathering, party or special occasion in most Goan households. Today, I'm sharing a much loved recipe in our family – my father's Pork Vindaloo. It is such a simple recipe, but results in such a spectacular curry. You are going to enjoy this one. It is perfect to serve around the Holiday season, because this can be made a day or two in advance. In fact, the flavors are even better if it is served a day after it is made. I hope you enjoy this recipe as much as we do.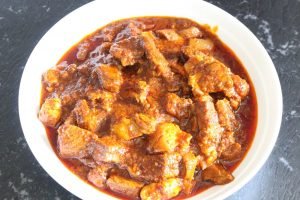 Goan Pork Vindaloo


1 kilo boneless pork (pick a slightly fatty cut)
1-2 tbsp oil
1 – 1 1/2 onion, finely chopped
Salt, to taste
Vinegar, to taste
1 tsp sugar
For the masala – 
12 Kashmiri chillies, deseeded
6 black peppercorns
5 cloves
3 green cardamom pods
2″ cinnamon
6-8 large garlic cloves
1 1/2 inch ginger
Vinegar, to grind to a paste
Cut the pork into chunks and set aside.
Grind all the ingredients for the masala to a fine paste using vinegar. (Ideally Goan vinegar is used. If you don't have access to it, malt vinegar or red wine vinegar will work well too.)
Heat some oil in a large pan. Saute the onions till they have softened and start caramelizing.
Add the masala and fry off well for a couple of minutes.
Add the pieces of pork and salt, to taste. Stir well to coat all the pieces with the masala and let the meat fry off for a few minutes.
Add enough water for the pork to cook through and achieve the consistency you want. I used about 2 cups of water. (You can add more water, if required, later on, when the meat is cooking.)
Cover and cook till the meat is tender.
Check for seasoning and adjust as required.
Add 1 tsp sugar to balance out all the flavors.
Serve hot. This Pork Vindaloo goes very well with some steamed rice, a Peas Pulao, some bread or sannas too.
Enjoy!
Goan sausage pulao is soul food for almost every Goan. And I definitely fall into that category. I've only been able to make this now, more than 5 years after we moved away from India, mainly because I haven't had access to a good Goan sausage. Goan sausages are called Chorize / Chorise and they are the spicier and tangier cousin of the Portuguese Chorizo. I recently tried making my own sausages at home and while I need to tweak the recipe just a tiny bit, I was pretty stoked with the results. They are the tastiest sausages I've had.
Anyway, on to the pulao. This pulao is a brilliant one-pot meal that comes together in a jiffy. You don't need to make your own sausages to enjoy this pulao. If you do, kudos to you. Otherwise, simply buy some good Goan sausages. Your pulao will only be as tasty as your sausages are. This pulao is a culmination of my
Peas Pulao
and my
Goan sausage chilly fry
, which by the way, make a stunning combination too.
Are you ready for it???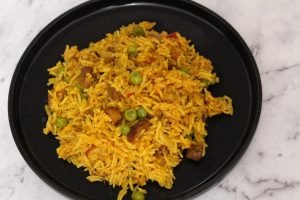 Goan Sausage Pulao
Serves 2
2/3 cup Basmati rice
1 tbsp oil
2 green cardamom pods
2″ cinnamon
8 black peppercorns
5 cloves
1/2 onion, chopped
1 chilly, finely chopped (or to taste)
1/3 tsp turmeric powder
1 large link of Goa sausages
1/2 tomato, chopped
1/4 cup green peas
Salt, to taste
Wash the rice in some water and drain. Repeat this 3-4 times. Then soak the rice in water for 30 minutes. The water level should be an inch above the level of rice. After 30 minutes, drain the rice, rinse through with some fresh water and drain. Your rice is now ready to be cooked.
Heat the oil in a vessel on a medium heat.
Add the whole spices (cardamom, cinnamon, peppercorns and cloves) to the oil and saute for about 30 seconds.
When the spices are nice and fragrant, add the onion and chilly. Saute till the onions have softened and turn translucent.
Add the turmeric powder and stir well.
Add the sausage and stir fry for a couple of minutes.
Add the tomato and cook till the tomato has softened.
Now add the rice and gently stir through, using either a wooden or silicon spoon, to prevent the grains from breaking.
One the rice has fried off a little for about a minute, and is coated well with all the spices add the green peas and 1 1/3 cup of room temperature water. (The ratio of rice to water should be 1:2)
Add salt to taste. (Remember the sausage also has some amount of salt in it.)
Stir well.
Cover and cook on medium heat till all the water has been absorbed by the rice.
Take off the heat and keep it covered. Let it rest for a couple minutes.
After a couple of minutes, fluff up the pulao gently with a fork.
Serve hot.
Everyone has atleast one meal that takes them right back to their childhood. For me its this prawn curry. This curry with some rice, for me, is the ultimate soul food. And I must say, my mother makes the best prawn curry in the world. Atleast I think so. This is her prawn curry recipe that I'm sharing with you today.
Goan Prawn Curry
1/2 kg prawns, peeled and deveined
1/2 onion, finely chopped
2 chillies, slit in half
1 piece of amsol (dried mango)
3-4 pieces of kokum
A walnut sized ball of tamarind
1 tbsp coconut oil
Salt, to taste
1-2 tbsp lemon juice
1 tsp vinegar
For the masala – 
1/2 cup grated coconut
6 Kashmiri chillies
2 large cloves garlic
1 tbsp coriander seeds
1/4 tsp black pepper corns
1/2 tsp cumin seeds
1/4 tsp turmeric powder
Sprinkle salt, squeeze some lemon juice and drizzle the vinegar over the prawns and set aside.
Pour a little warm water over the tamarind and set aside (I use about 1/4 cup of water).
Grind all the ingredients for the masala to a fine paste, using a little water as needed.
Heat some oil in a pot.
Saute the onions till they have softened and turn translucent.
Add the masala and let it saute for a few minutes.
Add some water to thin out your masala and get it to the consistency you like. Remember the curry will thicken as it cooks. So add a touch more water.
Add the chillies and bring it to a boil.
Turn the heat down to a simmer, add the amsol and the kokum and let the curry simmer for 6-8 minutes. Halfway through, stir the curry through and add water to adjust the consistency, if needed.
When the curry is almost ready, add the prawns. Add some of the tamarind extract and cook for another 2 minutes or till the prawns are just cooked. Don't overcook the prawns.
Check for seasoning and adjust as required.
Enjoy!
Pasta is a very popular meal option at home, like I'm sure it is in a lot of homes. I love how versatile the recipes can be and how quickly pasta meals come together. This recipe is no exception. I use a mix of vegetables, usually whatever I can find in the fridge. I use Passata to make my sauce and that gets it ready in a jiffy. This recipe is ready in under 30 minutes and that includes all the prep work too. It has so much flavor, its hard to believe how simple the recipe actually is. I hope you enjoy it as much as we do.




Veggie Pasta in a Tomato Sauce
4 large cloves of garlic, finely chopped
1/4 onion, chopped
1/3 – 1/2 cup capsicum, chopped (I used a mix of red and green peppers)
1/2 zucchini, thickly sliced
A handful of broccoli florets
1/3 cup corn kernels
10 olives, sliced
1 cup passata / tomato puree / canned tomatoes
1/2 cup vegetable stock
2 tbsp olive oil
Salt, to taste
Freshly cracked black pepper, to taste
Red chilly flakes, to taste
1 tsp mixed herbs (dried)
1/2 tsp oregano (dried)
1/2 tsp sugar
Pasta
Parmesan cheese, to grate over the pasta
Start by cooking the pasta according to the package instructions.
Bring a large pot of water to a rolling boil, season the water generously (I use 1.5 tsp salt) and add the pasta to the pot. Stir immediately, to prevent the pasta from sticking to each other and to the bottom of the pot.
When the pasta is cooking, heat another pan.
Add olive oil to the warm pan and add the garlic. Saute till the garlic turns fragrant.
Add the onions and cook over a medium heat till they soften a bit.
Add the peppers and continue to cook for 1-2 minutes or till they start to soften.
Add the broccoli florets and saute for another minute or so.
Now, add the zucchini and corn and stir through. Cook for another minute or two.
Season with some salt and pepper, to taste.
Add the red chilly flakes and the herbs. Stir through.
Add the passata and the stock.
Let it come to a boil and leave to simmer for 5-7 minutes or till the veggies cook through and the sauce develops good flavor.
Add the olives and the sugar and stir through. Take off the heat and set aside.
By now the pasta should be cooked. Reserve 1/4 – 1/2 cup of the pasta water and drain t
he pasta.
Add the pasta to the sauce and toss to coat the pasta with the sauce.
Place the pan on medium low heat. Add a couple of tbsp. of the reserved pasta water. Stir through and let the extra liquid cook off for another minute or so, or till your pasta reaches the desired consistency.
Grate some parmesan cheese over the pasta and serve.
Enjoy!
Peri Peri Chicken Wings – a perfect , spicy dish to serve up at a party or game night, or even with a nice big salad for a quick weeknight meal. Either way, these are super delicious and while looking through the blog recently, I realized that I haven't shared many chicken wings recipes here. So today, I'm going to rectify that. I bring you some spicy, delicious Peri Peri Chicken wings. These are made from scratch and bake off in the oven. So there's very little hands-on time required for this recipe. All you have to do it put together a simple marinade paste and then work on a dip, a salad or anything else you'd like to serve these wings up with.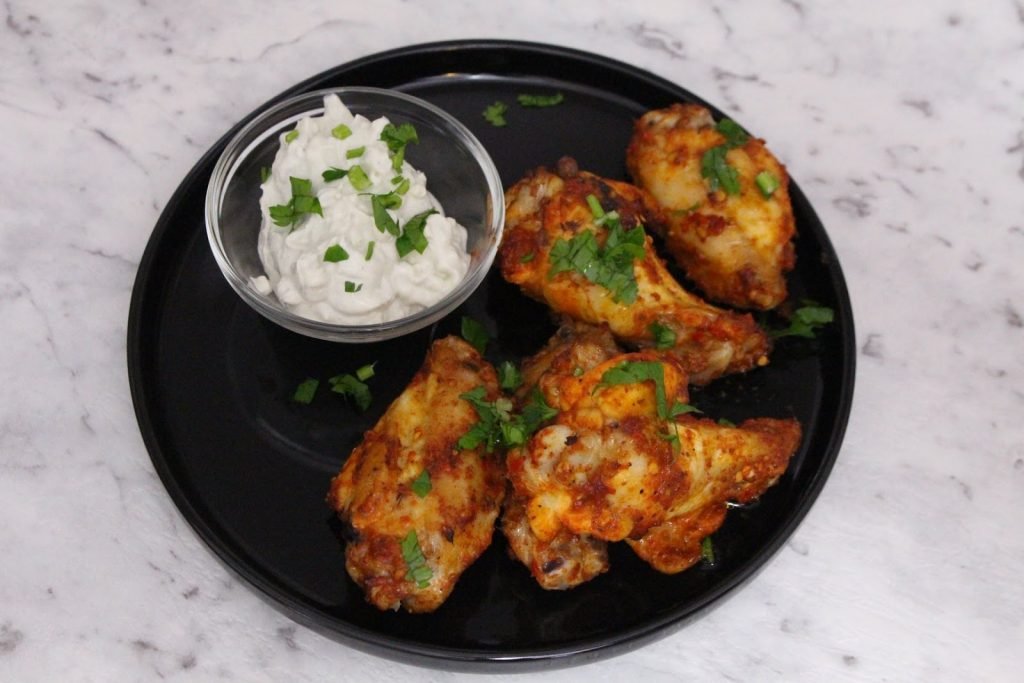 If you're prepping your own chicken wings, split the wings and either set the tips aside for a stock or discard. I bought Marco's Wing Nibbles from Woolworths that has this stage dealt with so you use the wings as is. 
This recipe couldn't be any simpler. After prepping the wings, you simply wash them and pat them dry. Sprinkle with salt and use our beautiful homemade marinade. Peri Peri is known to be a spicy sauce / marinade and this one is. If you enjoy a good Peri Peri, but don't want it too spicy, you could substitute some of the birdseye chillies with a milder pepper. That way you will still get the color and volume in the marinade but it won't be too spicy. 
In our house, we love spicy food, so I've used birdseye chillies with the seeds and all. And can I tell you, these wings turned out so very delicious. It packs the perfect amount of kick for us and when you pair this with the homemade Blue Cheese Dip, it is absolutely divine. 
The Blue Cheese Dip has the perfect cooling affect to counter the spiciness of the wings. Let me tell you, once you taste this, you won't be able to stop at one. But don't just take my word for it. Go ahead and make these wings and try them out for yourself. 
So let's take a look at the recipe now, shall we?