I've always been a bread lover. In my book, nothing beats warm bread fresh out of the oven with some butter on top. If like me you like good bread and you ever are in Hong Kong, please stop by this Italian restaurant called Fat Angelo's. The food is phenomenal, but their bread basket is out of this world. I consider their bread, the best I've had till date, ever.
On to my experience baking bread from scratch. In the past, using yeast overwhelmed me. I tried my hand at bread a few times a couple of years ago and each time ended up with blobs of unrisen dough resulting in brick hard bread, no, you could definitely not call that bread. Later on I learned that I wasn't doing anything wrong. Infact, I was using a brand of yeast that was known to fail; only I didn't know that. So if any of you reading this are based in India and have tried baking bread using Bluebird yeast, without much success, you know why. Please change your brand of yeast.
This Crusty Italian Bread is something I am so proud of. Once you get the hang of making bread, its actually a lot of fun and very satisfying to see a beautiful loaf emerge from the oven. The flavor and texture was fantastic. My husband isn't overly fond of bread, but he went back for seconds. He liked this bread so much that he had a slice after dinner with some butter. I was elated. I knew that I had done something right. I can't wait to make this again.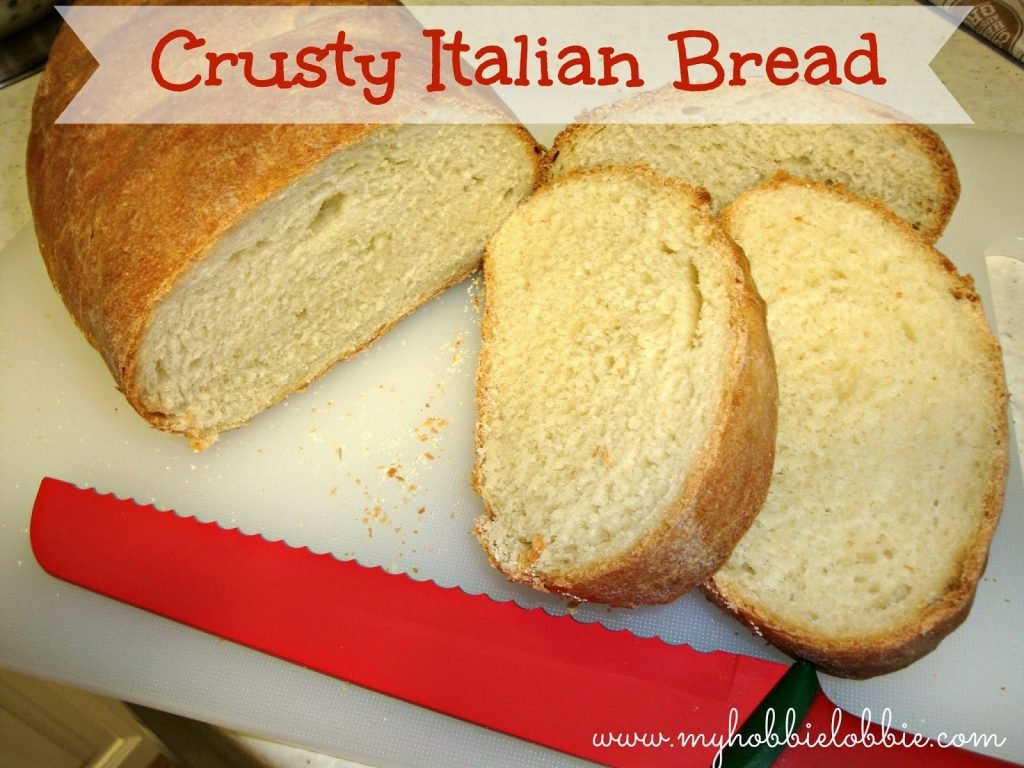 Crusty Italian Bread
Recipe from: Let's Feast
2 1/2 cups all purpose flour
1/2 tbsp light brown sugar
1 heaped tsp instant dry yeast
1 tbsp olive oil
1 cup lukewarm water
1 tsp salt
Place the flour in a large mixing bowl.
Mix in the yeast, salt and sugar.
Add the oil and the water and mix it well till the dough comes together.
Turn the dough out onto a lightly floured surface and knead the dough well. Add more flour gradually if the dough is too sticky. Knead the dough for about 7 minutes. The dough should be well knead, soft and not tacky or sticky.
Smooth it out into a ball and place in an oiled bowl and cover with cling film. Keep the bowl in a warm place for about 60 minutes or until double in size.
Remove the cling film and punch the dough back to knock out the air.
Turn the dough out onto a lightly floured surface and flatten the dough with your hands. Roll it to form an oval shape. It should be rolled tightly and press the seam well. Repeat the process again. You should end up with an oval loaf with slightly tapered ends. Place it onto a lightly floured board and cover loosely with a clean tea towel and leave to rise for 30 minutes.
Preheat the oven and your baking tray to 220°C.
When the dough is ready to be baked, remove the tray from the oven, sprinkle some semolina and place the loaf of bread over it, to add some crunch to the base.
Using a sharp knife, make a couple of slits on the top of the loaf about 1-2cm deep.
Spray the loaf with water and place it in the oven for 3 minutes. Repeat this step 2 more times, leaving the dough to bake for about 40 minutes after the last spray.
If you think the bread is browning a little to much or too quickly, place some aluminium foil loosely on top.
When the bread is done, take it out of the oven, turn over and tap the base of the loaf. If it sounds hollow, the bread is done.
Leave the bread on a cooling rack. Once it has cooled, slice and enjoy!!!
Chicken is a protein that we eat most frequently at home. Whether it is a curry or fried, roasted or in a salad, we love it. What I also love about it is that is easy to prepare and cooks fast. One of many new edible ingredients that I've had access to in the last year is a Cajun spice mix. A lot of the spices I use are Hoyt's including this one.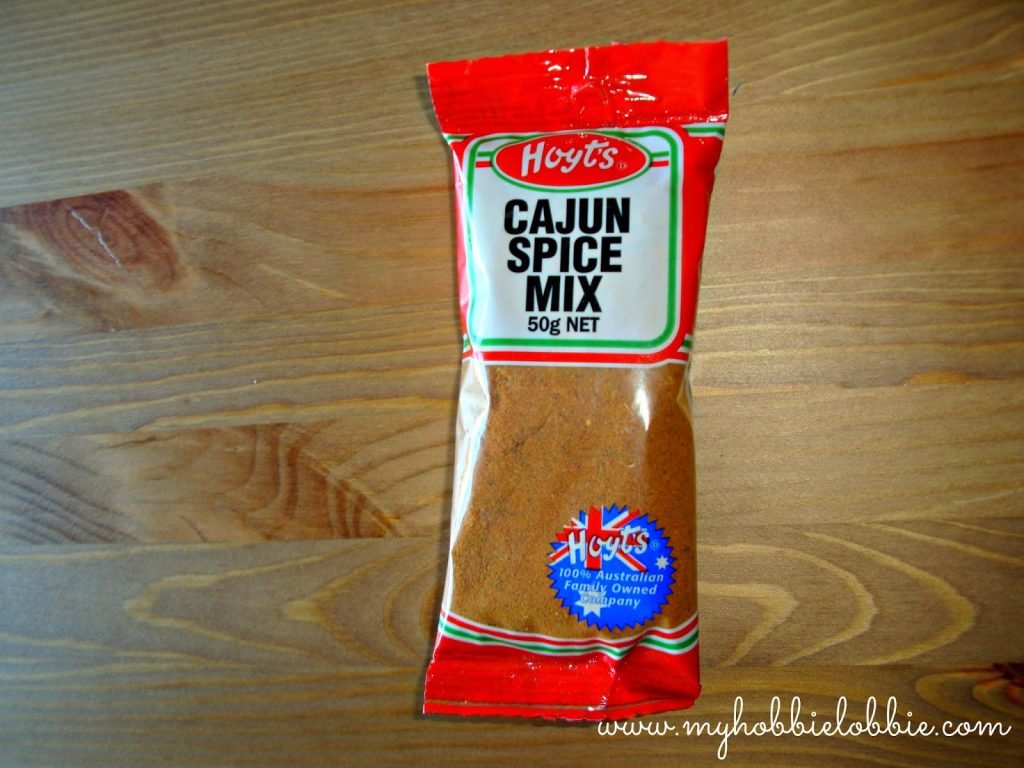 This is the first brand of Cajun Spice that I tried and enjoyed it a lot, so I've just stuck with it. And moreover, it is a 100% Aussie family owned company; I try to buy local whenever possible. I know there are loads of folks who make this blend at home and sometime in the future, I fully intend trying my hand at making it myself. For now, I'll stick with what I have easy access to.
Making Cajun chicken my way, couldn't be easier. I use smaller pieces of boneless chicken. Sometimes I use thigh fillets, other times I use breast fillets. I almost always buy the whole bird and then portion it out and cut it up at home (that is husband's department though). You could use whatever cut you like. Its nice to leave the chicken to marinade for about half an hour, but at times, when I've been pressed for time, I've made it after just 10 minutes and it still turns out pretty good. This is not a recipe as such, more of a guide to some yummy chicken.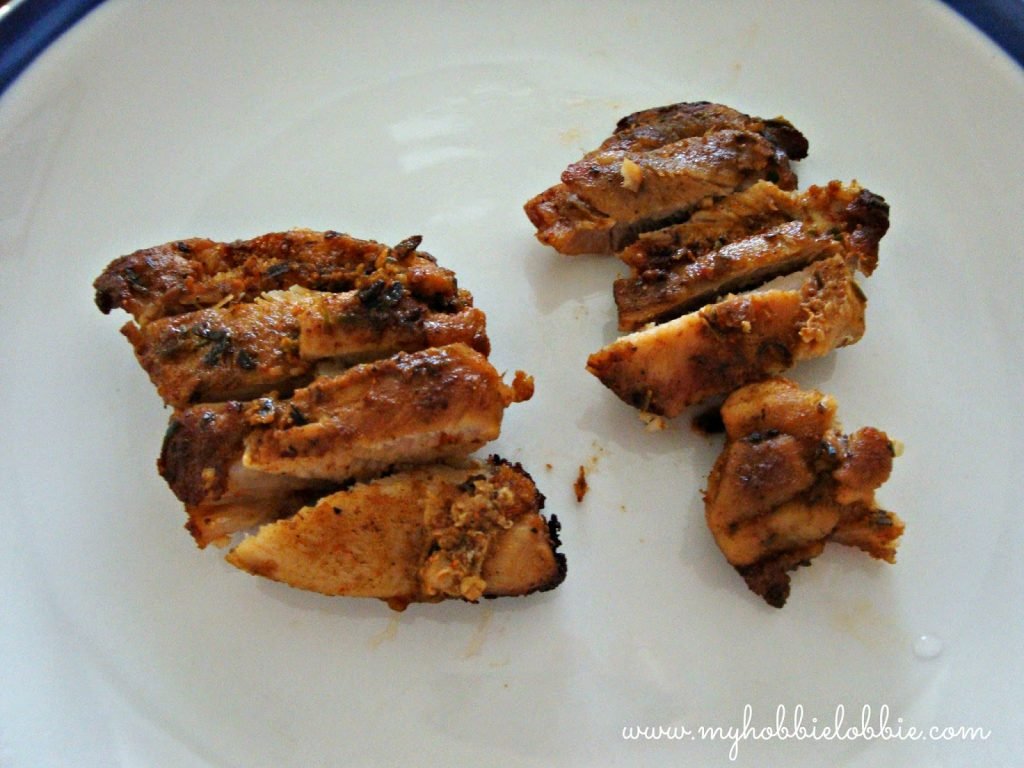 Boneless chicken pieces
Salt, to taste
Lime juice, to taste
Cajun spice blend, to taste
1 tbsp Vegetable oil
Take off the skin and trim the fat, if any, from the pieces of chicken.
Sprinkle the salt and cajun spice mix over the pieces of chicken.
Squeeze the sour lime juice over the chicken. I think the lime juice is what brings out the wonderful flavors of the spice blend. Its definitely not the same without the tang from the citrus juice. If you don't have lime juice at hand, you could use lemon juice too, you'll just need to use a little more.
Toss the pieces well to ensure they are well coated. Rubbing the spices into the pieces of the chicken works really well. Leave the chicken pieces in the spice rub for about half an hour.
Heat the oil in a pan. Carefully place the pieces of chicken in the pan and fry on both sides over medium heat till done. Depending on the number of chicken pieces you are frying, you may need to cook it in batches. Do not overcrowd the pan. You may need to use a touch more oil for each batch. (Tip: I start on a slightly higher heat to seal in the juices and then lower the heat to cook it through.) If you have a grill, I'm pretty sure this would taste fantastic grilled too.
You could serve these chicken pieces as they are with a salad for a fantastic quick weeknight meal. Or you could do what I do – cut up the pieces and use them in wraps and take them to work for a great packed lunch option. Here's how a put the wraps together.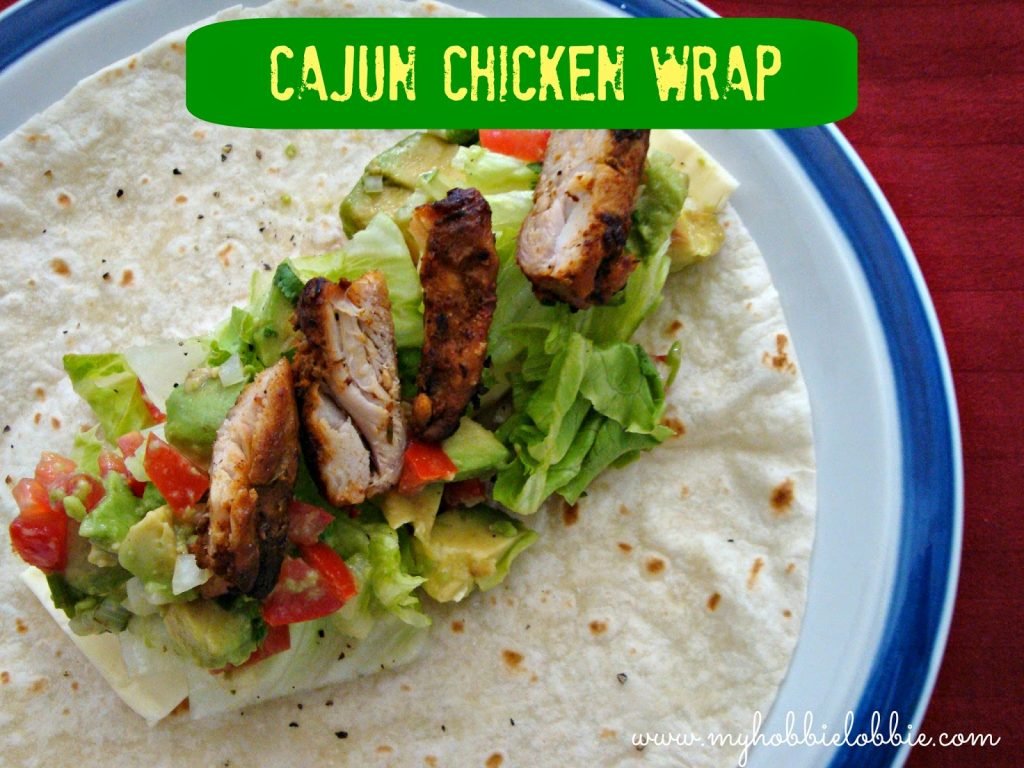 For the Wrap –
Flour tortillas (I used store bought)
Iceberg lettuce, chopped
Cheese slices, optional
Cajun chicken pieces
Lay the cheese in the middle of the tortilla and place some lettuce on top.
Top that with the the chunky guacamole and lay the chicken pieces over it.
Carefully, roll the tortilla to make the wrap.
Tip: If I'm eating the wrap straightaway, I warm the tortilla before making the wrap.
Enjoy!!!
** This is not a sponsored post. I'm just sharing with you a product I really enjoy.
Have I told you about how much I love avocados? Ofcourse not, because before we came to Australia, I'd never tasted one. But when I tried my first one, I was in love. I've had a few avocados since then and have loved every bite. My favorite way to enjoy an avocado is in the form of this simple, yet fresh and vibrant Guacamole. It is a chunky version so its nothing more than chopping up a few veggies, mixing and seasoning them. I can actually eat this by the bowlful. I serve this as a side like a salad, as a dip for some corn chips and so much more. Stay tuned for more.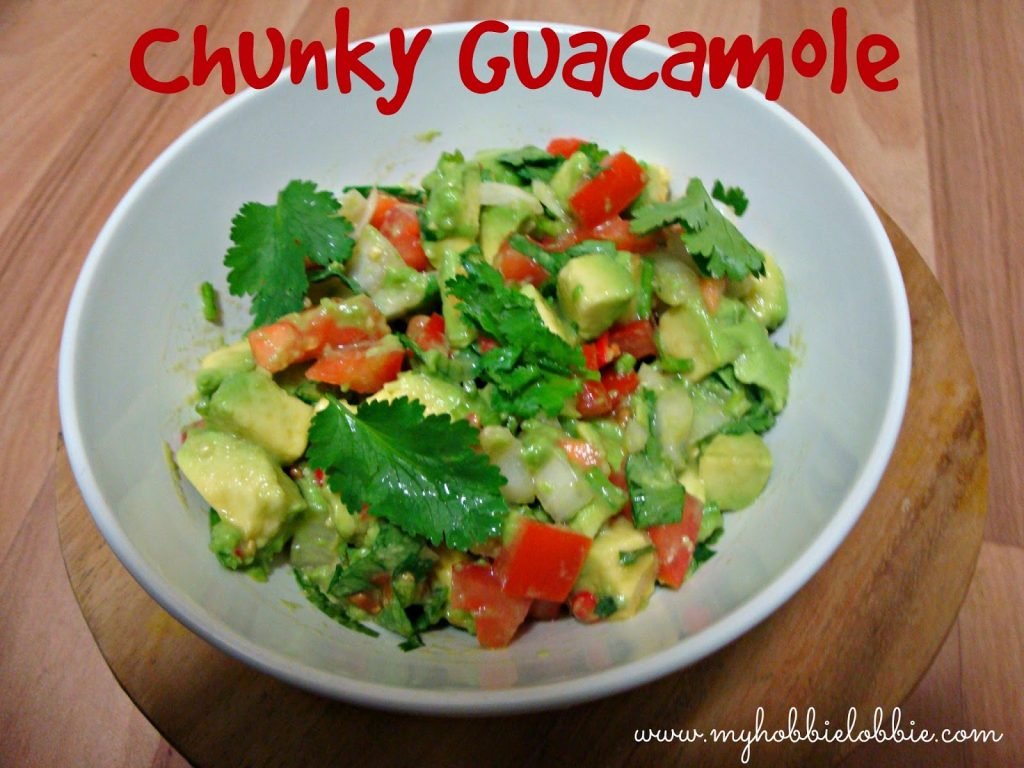 Chunky Guacamole
1 avocado, halved, pitted, peeled and chopped
1/2 onion, chopped
1 tomato, chopped
1 green chilly, finely chopped (optional)
1 tbsp fresh coriander leaves, chopped
Salt, to taste
Sour lime juice, to taste
Mix all the veggies in a bowl, add salt and lime to taste and toss well.
Serve.
This month for my
SRC
reveal, I was assigned one of my long time favorite blogs,
Baking and Boys
by Katrina. Ever since I started blogging back in September 2010, when I joined some awesome bloggers for the 12 Weeks of Christmas Cookies Challenge, I have been a big fan and follower of Katrina's blog. She always, ALWAYS, posts some absolutely delicious treats. Everytime, I visit her blog, I find myself wishing I lived next door to her, that way I might've been able to sample some of them (much easier than making them myself 😉 ). She has so many options for Chocolate Chip Cookies, I almost made a batch. But realized that I had just picked up a bag of chocolate chip cookies on impulse just before the assignments got out.
These days, Katrina has made a few dietary changes and I found so many treats on her blog that are healthier than the regular ones but equally delicious. I decided I had to try out one of those. I've been looking out for recipes for little snack like options to take to work. Something no-fuss, tasty and that will keep me going for a while. I found just the thing – her Cranberry Almond Date Balls. These were so simple to put together and super delicious. My husband could not believe that they didn't have a grain of sugar in it. I was really happy that I decided to try these out and I look forward to taking them in to work over the coming week. Thanks Katrina 🙂
I pretty much stuck to Katrina's recipe and added all the optional add-ins. The only difference being, I used almond meal instead of whole almonds since I had it at hand. Also, instead of mixing the coconut with the rest of the ingredients, I just rolled the little fruit and nut balls in it. I love the fact that these have no sugar in it and everything in it is wholesome. In my books, that makes it a healthy snack. With the cranberry peeking out from under that snowy looking coconut, these remind me of Christmas 🙂 I think it would look pretty on a platter of Christmas treats. These are slightly on the larger side and are snack sized, but when I make them next, I intend making them a little smaller.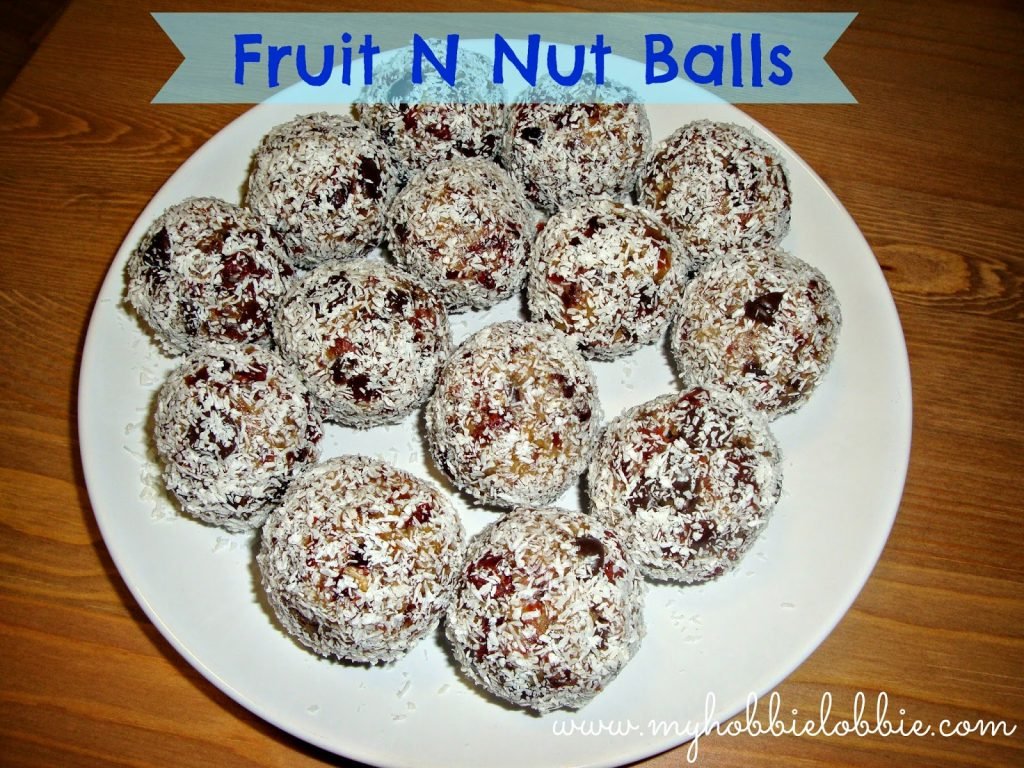 Fruit N Nut Balls


1 cup almond meal
1 cup dried cranberries
1 cup pitted dates
2 tbsp honey
1/2 tsp vanilla extract
A pinch of salt
2 tbsp dark chocolate chips
1-2 tbsp desiccated coconut (unsweetened)
Chop up the dates roughly.
Put the dates, cranberries and almond meal into a food processor and blitz till it chops everything up nice and fine and mixes it through.
Add the honey, vanilla and salt and pulse it to bring everything together. At this stage it will start to clump a little.
Add the chocolate chips and pulse it a couple of times to mix it through.
Divide the dough into walnut sized portions and roll to form balls.
Place the coconut in a small bowl or plate and roll the balls in the desiccated coconut.
Leave it to set for a little while. Store in an airtight container.
So one morning, I found myself craving something different for breakfast. And as luck would have it, this happened to be the day we needed to go grocery shopping for the week. So its safe to say it was slim pickings. I was out of eggs, cold cuts and bread. All that I had access to was one flour tortilla from a pack we used for dinner the previous night and 1 banana. I really didn't feel like breakfast cereal that morning, so I turned to Google to see if there was something that I could make really quick with what I had at hand. There were lots of amazing options but all required something or the other I didn't have. I took inspiration from some and just went with flavors that I know work well. Banana and chocolate – yum, peanut butter and chocolate – double yum. In minutes, I was sitting down with a warm, gooey, chocolatey, deliciously crunchy breakfast quesadilla and a big mug of coffee. Now that's what I call a good start to the day.
Breakfast Quesadilla
1 flour tortilla
Crunchy peanut butter
1 banana, sliced
Dark chocolate chips
A knob of butter
Spread some peanut butter on the tortilla.
On one half of the tortilla arrange the banana slices and sprinkle the dark chocolate chips over.
Fold the empty half over and press down lightly to make sure the peanut butter can do its thing and get everything together.
Add a knob of butter in a pan and over a low-medium flame toast the quesadilla till it gets nice and crunchy.
Then add another knob of butter to the pan and carefully turn the tortilla over to the other side and let it crisp up nicely.
I cut it into three wedges just to make it easier to handle.
Serve up…. and oh, please proceed carefully, the melted filling is hotter than you think it would be.