Even though I'm not British or Australian for that matter, or have never been to these countries, Fish N Chips has established itself as comfort food in my household. A lot of times when we'd go out for dinner, especially to Pop Tate's (now Jughead's – near Movietime, Malad), one of our favorite things to order had to be their Fish N Chips. What hooked me onto this was their tartar sauce. It was so good, I could literally enjoy it by itself. After quite a few dinner's there and spending quite a buck, I wondered if it would be possible to try and replicate this at home. So after going through a few searches on the internet, I had a rough idea of what would go into the sauce and I decided to wing it from there on.
The results were amazing. I was astonished at how simple the entire meal was to put together. We were feasting on Fish N Chips in no time at all. Would I dare compare it with the one from Pop Tate's. This time around, hell yeah! My version was just as good, if not better and my husband agrees. Now we no longer have to go out to tuck into a platter. Every single element on this plate can be made from scratch. Isn't that wonderful.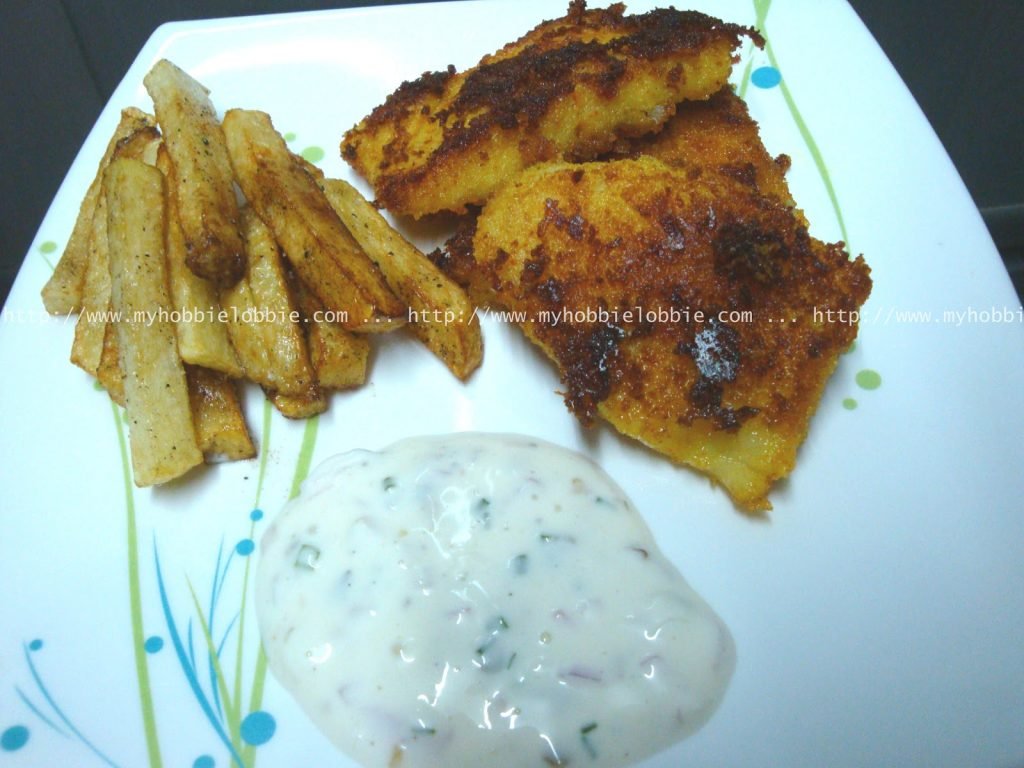 Fish N Chips
Serves 2


For the fish:
4-6 fillets of fish depending on the size (I used 2 Premium Basa fillets from Hypercity and cut it into smaller pieces. You can use any fish you like, preferably not the tinier ones.)
I simply crumb fried these fillets. I used the same recipe like the one for Crumb Fried Prawns.
Try not to fidget with the fish while it is frying as it is fairly delicate. Once it develops a nice golden brown crust on one side, flip it over and let the other side cook.
For the chips:
Use 2 potatoes, more if you'd like a larger portion of chips. I used the recipe for my Homemade French Fries.
For the tartar sauce:
1/3 cup Mayonnaise (This time around I used some store bought Mayo, that I happened to have on hand, but you could just as easily whip up some on your own. Click here to find out how.)
1/2 small onion, finely chopped
Some chives, chopped (I didn't have any fresh chives at hand, so I used dried chives)
A spoon of Pickled Sweet Cucumber Relish (I had a jar of this so I used it, otherwise I would've just thrown in some finely chopped cucumber)
A large squirt of lime juice
Place all these ingredients in a bowl and stir to mix.
Check for seasoning and adjust the ingredients as required to suit your taste.
Keep refrigerated till you're ready to serve. Stir before serving.
This recipe is linked to –
Real Food Wednesday
It's a Keeper Thursday
Full Plate Thursday
It feels so good to be back. I had a lovely week off, despite the sweltering heat and I'm ready to get back to the grind. I can't believe how much I missed blogging and interacting with my blogger friends – I missed you guys loads.
Today, I'm going to share with you a meal thats so quick to put together, it never ceases to amaze me. The added bonus, is that you need nothing special for this pasta dish. All the ingredients are usually found in any pantry most of the times. I don't know about you, but so often I find myself so hard pressed for time that I haven't been able to put together something for dinner. I'm trying to increase my repertoire of quick and easy meals that I can use on days like this rather than ordering for take out. I somehow just can't do takeout anymore, unless of course there is no other option. This is one of those meals that I stumbled upon in those times of desperation and I'm so glad I did. This ones a keeper. How do I know that? I'm going to share with you a piece of information I don't think I've mentioned before. My husband does not like pasta. And thats that. This is difficult for me to understand, because me, I love pasta. Imagine my joy when he told me he really enjoyed it. I tell you, this ones good enough to convert even a non pasta lover (if there is such a thing). Go ahead and give this a try.
Spicy Tuna Pasta


1-1 1/2 cup uncooked pasta (depending on how much you need)
1 large onion, finely chopped
3-4 cloves of garlic, finely chopped
1 green pepper, diced (You can use red or yellow peppers too, I just used what I had at hand)
3-4 tbsp canned tuna flakes or chunks
Red chilli flakes, to taste
Salt, to taste
Freshly crushed black pepper, to taste
Grated cheese
1 tbsp olive oil
Cook the pasta according to the instructions on the package.
While the pasta is cooking, heat some olive in a pan. Add the onion and stir fry for a couple of minutes, till it starts softening.
Add the chopped garlic and let it release its flavors.
Add the diced peppers and stir well. Let it cook off for a couple of minutes.
Add the tuna flakes.
Season this mix with salt, crushed black pepper and red chilly flakes. Mix well. Taste and adjust the seasoning if needed.
Add the cooked pasta to this mix and gently fold everything till all the ingredients are evenly distributed.
Add some grated cheese. I don't use a measure for the cheese, I just grate as much as needed. I taste to check if theres enough to match our liking.
Again, mix gently, you don't want to break up the pasta. The heat from the cooked pasta as well as the fish mix will melt the cheese, making it even better.
Serve hot.
This recipe is linked to –
Not Baaad
My Meatless Mondays
Meatless Mondays
Just Another Meatless Monday
Mangia Mondays
Mouthwatering Mondays
Its been really long since I last posted here. Believe me, I missed it and no matter how hard I tried I couldn't because we were getting ready for Easter, then after the family get together I was recovering from Easter and yesterday my computer decided that it wanted the day off. So there was nothing much I could do about it. But I'm glad to be here today. I will be busy through this week with a wedding order and then on Saturday I'm off on a holiday for a week. Golly gee, I'm so excited, I can hardly wait for the weekend. But before I go I'd like to share something really yummy with you guys – fish cakes or what we call fish cutlets.
I love these cutlets. We don't make them too often, and I've always wondered why. We love them, they're crunchy little treats, and the flavors are to die for. It goes so well with a humble meal of rice and lentils, more commonly known as dal-rice and turns it to something quite extra-ordinary. If that doesn't float your boat, how about using it to make yourself a yummy fish burger?
Whatever you decide to do with it, I'm sure you'll enjoy it. I mean, whats not to? For this recipe I used Kingfish slices. You can use any other white fleshy fish, but try and avoid the smaller varieties. Also, I've never really paid too much attention to quantities with any cutlets, its more about the mix feeling right to the touch. However, I have tried to give you an idea of the quantities I used. Feel free to adjust them as you like.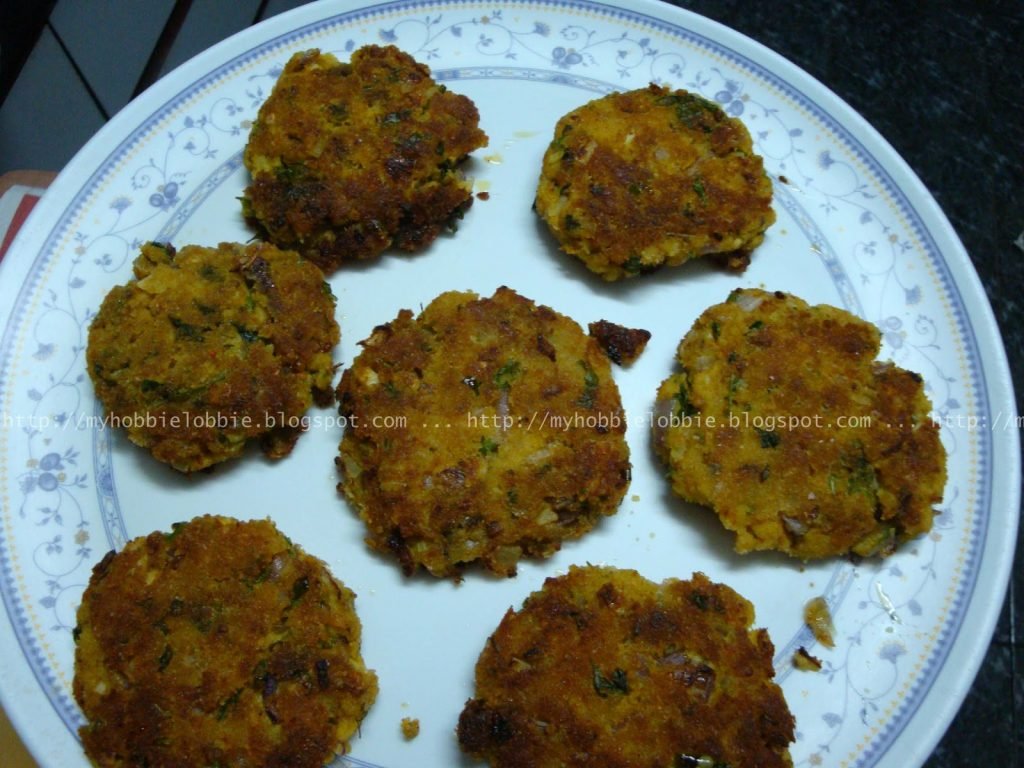 Fish Cutlets


4-5 large slices of fish
3-4 cloves of garlic
A pinch of turmeric powder
1 onion, finely chopped
2 green chillies, finely chopped
Salt to taste
1 tbsp fresh coriander leaves, chopped
1″ ginger
1 egg
1-2 slices of bread
Bread crumbs
Vegetable oil, for frying
In a vessel, boil the slices of fish with a pinch of turmeric powder, salt, whole cloves of garlic and a little water. The fish needs to be cooked through. Let it cool.
While this is happening, chop up the onions, ginger, chillies and the coriander leaves and keep aside.
De-bone the fish, making sure that no bones are left behind. Its rather unpleasant to find a fish bone in a cutlet.
Add the chopped onions, chillies, ginger and coriander leaves.
Crack into this 1 egg.
Soak 1-2 slices of bread in water for a minute and squeeze out all the liquid and add one slice, crumbled to the mix. Using your fingers, make sure that all the ingredients are mixed well. Try and form a cutlet, if it holds well, you're good to go. If the mix is too moist, crumble the other slice of bread into it and mix well.
Check for seasoning and adjust if needed.
Shape little portions of the mix into tightly formed cakes or cutlets. Coat with bread crumbs.
Heat 2 tbsp oil in a large flat pan and fry the cutlets on a medium flame till they are golden brown. Turn over and brown the other side as well. The fish is already cooked, all you want to do is let the cutlets get a nice brown color and in the meanwhile heat right through.
Serve hot.
This recipe is linked to –
My Meatless Mondays
Just Another Meatless Monday
Meatless Monday
Mangia Mondays
Mouthwatering Monday
Tuesdays At The Table
Delectable Tuesday
Tuesday Night Supper Club
A Little Birdie Told Me
Here's is a wonderful take on the King Fish, also known locally as Surmai. This is a large fish and the flesh is very meaty. I simply crumb fry the slices of fish after marinating it in some spices. Nothing can be simpler. The marinade is not complex and the process is simple. So the next time you have some fresh king fish, give this a try. Along with the crunch you get from the crumbs and the meaty flesh, you can also taste the subtle flavors of the marinade and they come together beautifully.
Serve this with a nice fresh salad and some bread and you have a lovely light meal. Traditionally, this would be served with some Goan Fish Curry and Rice or some wonderful Dal (Lentils) and Rice. I will get posts up on those as well. But for now, enjoy this recipe.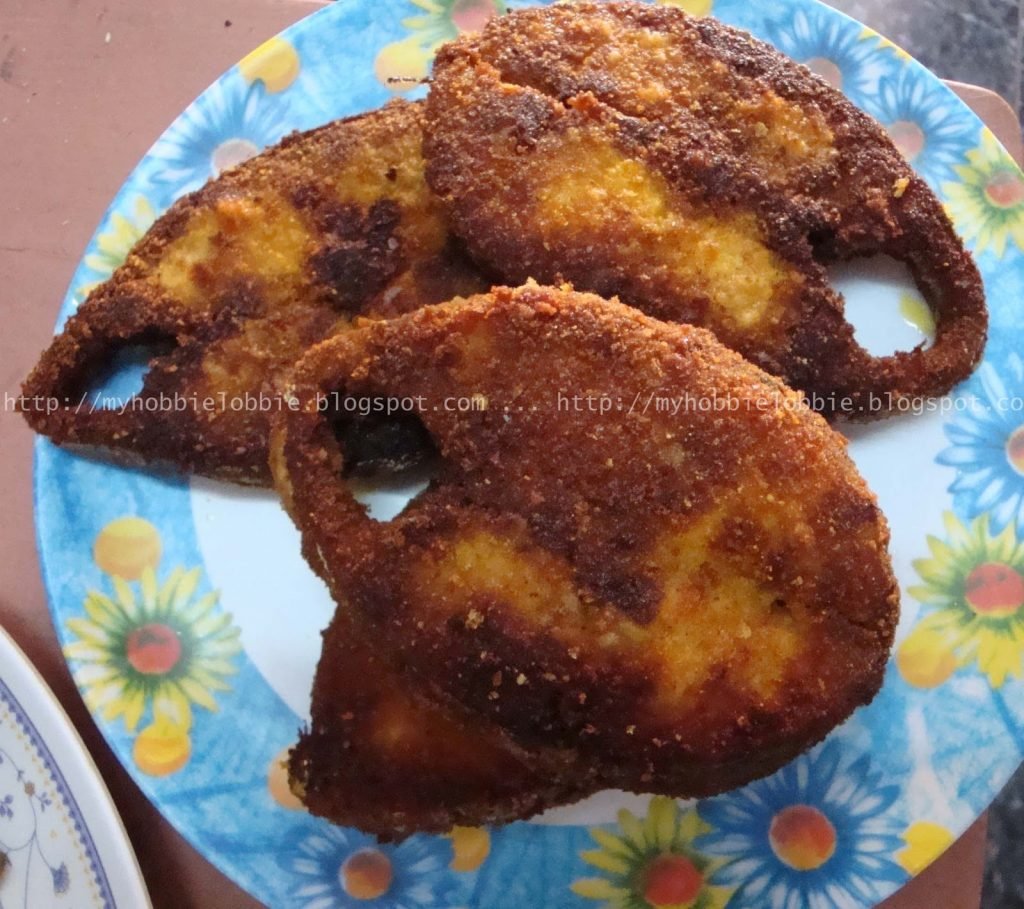 Crunchy King Fish Slices
4 slices of King fish
Salt, to taste
A combination of lime juice and Apple cider vinegar, to taste
1/4 tsp turmeric powder
1/2 tsp red chilly powder
A little besan (Chickpea flour)
Bread crumbs, to dredge
A couple of spoons vegetable oil, to shallow fry the fish slices
Please note that these quantities are just a guide. Feel free to adjust them to your liking. Also, quantities will depend on size of the slices of fish.
Sprinkle the salt, lemon juice, apple cider vinegar, turmeric powder, chilly powder and besan on both the sides of the slices of fish and gently rub it over to spread it onto the slices. You may need to add a few drops of water to help you with this process. Please be gentle, you don't want to break the slices.
Keep aside for atleast 15 minutes.
Heat some oil in a pan.
Dredge the slices of fish in the bread crumbs to coat well. Carefully place the slices in the pan and let it cook on a medium flame till it has browned on one side. Flip over gently and cook the other side as well, adding more oil to the pan, if needed.
Make sure you cook it on a medium flame and not a high one. A high flame will simple brown the outside, but leave the insides raw. Also, its best to have thinner slice of fish than thicker, they will cook faster.
Serve hot.
Enjoy!
This recipe is linked to –
I know, you're thinking 'How can spring rolls be healthy?' These I know for sure are at least healthier that the deep fried variants. Theres no flour, no oil, its almost like a salad. When I saw this on Candace's
blog
, I knew that I had to try them out. I'm glad I did. If you're looking for an interesting side, not to mention impressive looking one, once you get the hang of it, these spring rolls are the way to go. They are an interesting way of serving up some greens. The best part is, there's practically no cooking involved and the rolls are so versatile you can use whatever you like (or have at hand) for the filling. These rolls are light and tasty, you can leave out the seafood and make it completely meatless. I think it would add a nice touch to any party spread too.
To be honest, I was pressed for time when I made these and hadn't really planned on making them. So I had to make do with whatever I had on hand and improvise as I went along. I didn't have a dipping sauce at hand and didn't have the time to whip one up at the last minute. The next time I make these, I think I'll make the sauce in advance. Anyway, I knew there had to be something saucy to go with the rolls. So what I did was, combine a cocktail sauce that I use for my shrimp cocktail with these rolls. You could think of these as shrimp cocktails in a wrapper =o) I was quite happy with the way they turned out and I plan on serving these at the next party or family gathering, whichever comes first.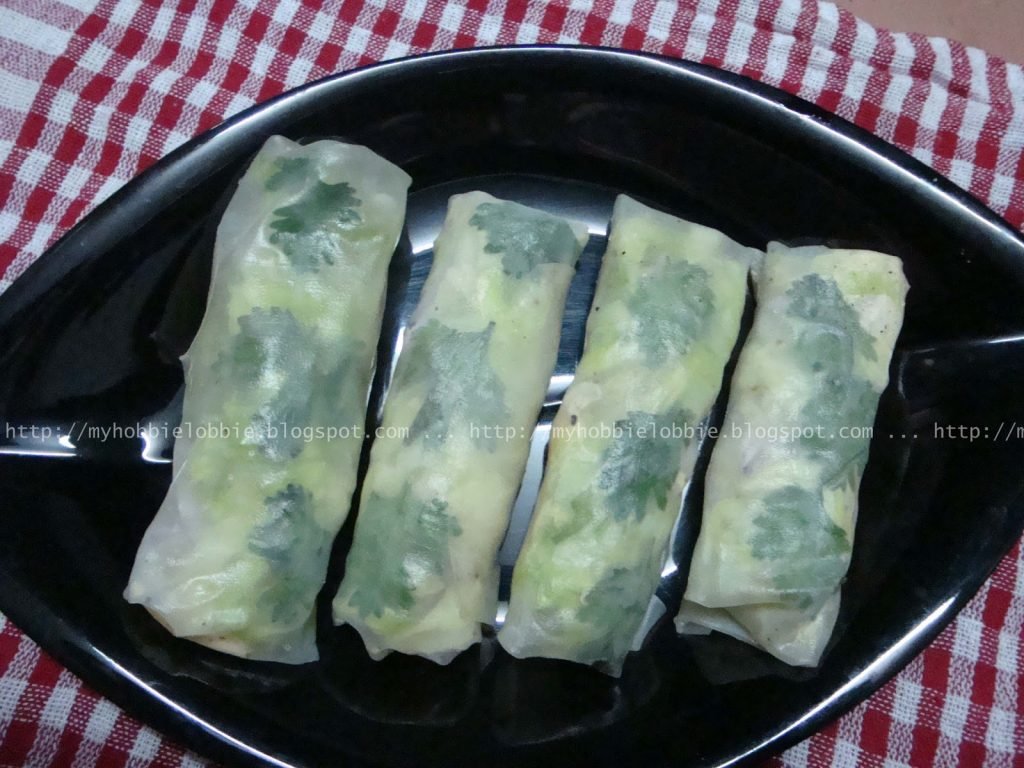 Healthy Spring Rolls
Adapted from: Mi Chiamo Candance


4 sheets of Rice paper
A few prawns, peeled, de-veined and boiled for a few minutes with a pinch of salt till tender
Some iceberg lettuce, chopped fine
A carrot, julienned
A cucumber, julienned
A few fresh coriander leaves whole
2-3 tbsp Mayonnaise
1 tsp tomato sauce/ketchup
A few drops of Tabasco sauce
Salt, to taste
Freshly crushed black pepper, to taste
The trick to assembling these well, is to prep everything and keep it ready.
For the cocktail sauce, mix the mayonnaise, ketchup and Tabasco sauce in a bowl. Taste and adjust the flavors to your linking. If you like a hit of spice, you can use a tomato-chilly sauce and some extra Tabasco sauce.
Cut up all the veggies and keep aside.
I slit my prawns in half, lengthwise, like Candace suggested.
To assemble the rolls –


Place warm water in a shallow dish large enough to fit your sheets of rice paper.
Dip the sheets of rice paper in the water for a few seconds till they have softened and then place them on a flat tray or cutting board.
Place the ingredients prepped for the filling in the center. I placed the coriander leaves first, I like how they look through the wrappers. Place the veggies and prawns. Season with a light sprinkle of salt and pepper. Spoon some of the cocktail sauce over the filling and roll the wrapper tightly to form a spring roll.
Just to give you an idea I included the first sheet I rolled. It wasn't rolled snug enough.Its the first one on the left. I wrapped the others tighter and I think they look so much better than the first one.
I hope these instructions can be understood. I now realize that it would have been simpler if I had pictures for each step. In any case, you can visit Candace's blog for a step by step pictorial demo. Her spring rolls are really pretty.
Enjoy!
This recipe is linked to –
A Little Birdie Told Me
Hearth and Soul
Tasty Tuesdays
Tuesday Night Supper Club
Tuesday's at the Table
Delectable Tuesday
Tasty Tuesday
Recipes I Can't Wait to Try
What's On the Menu Wednesday
Real Food Wednesday
Goa – what can I say about this little piece of heaven? Well, our ancestors hail from Goa and ever since I was a little girl, we spent most of our summer holidays there. Even today, my husband and I love going there. We drive down for a few days whenever we get the chance. Goa is along the West Coast of India and the place really needs no introduction. Folks from all over the world holiday here. It has some really amazing beaches, lots of Portuguese influence in the culture (the architecture, the way of life and the food) and, in my opinion, some of the best food, especially the traditional Goan seafood preparations.
This recipe is a mild stew compared to the otherwise spicy food found there. This is the second time I've made it and I've got to tell you I love it. Its easy to make, the flavors are clean, the colors are really vibrant and have I mentioned that its really delicious. You really should try this, you wont regret it. This one is definitely a keeper for me. The recipe I used is from this really great book that I picked up a couple of years ago called "The Essential Goa Cookbook" by Maria Teresa Menezes. This is a book I use very often and I've never been disappointed.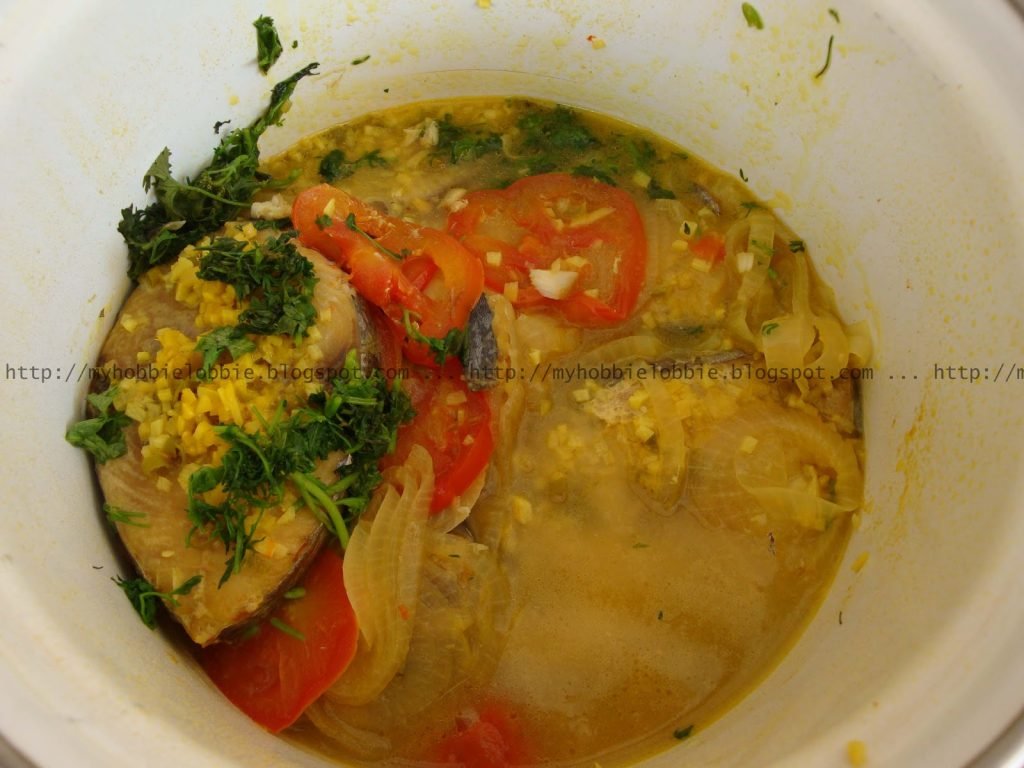 Caldeirada
Adapted from: The Essential Goa Cookbook
6 slices large fish, or 6 small fish whole (I used Kingfish)
10 cloves garlic, chopped fine
1″ ginger, chopped fine
4 green chillies, chopped fine (I used 3)
1/4 tsp turmeric powder
3 large onions, sliced to get rings
3 large tomatoes, slice to get rings
1 tbsp vinegar (I used Apple Cider Vinegar)
2 tbsp olive oil
Salt, to taste
Fresh coriander leaves, chopped, for garnish
Clean and wash the fish. Apply a little salt and keep the fish aside for about half an hour.
Mix the ginger, garlic, chilly and turmeric powder and a little salt in a bowl.
In a shallow pan, arrange half of the onion slices to form a layer. Layer half the tomatoes over it. Place half the fish over it and sprinkle half the spice mix over it. Repeat the layers with the rest of the onions, tomatoes, fish and spice mix.
Over this, pour the olive oil, vinegar and one cup of water. Do this carefully so as to not disturb the layers.
Cover the pan and cook on a medium heat till the fish is done. Shake the pan gently and tilt it to prevent the contents from sticking to the pan.
Turn off the heat when the fish is cooked and sprinkle with the chopped coriander leaves. Cover and let it sit for about 5 minutes before serving.
We had this with some plain rice.
Enjoy!!!
This recipe is linked to –
UPDATE: Just wanted to let you guys know that Bombay Ducks are actually a type of fish and not meat. They are called Bombil in Hindi and Marathi. You can get more information here.
As a child, I hated fish, or so they thought. My mum and nana would try everything they could think of to try and get me to eat fish. Of course, I wasn't a stubborn child except where eating fish was concerned so they had their work cut out for them. Eventually they realized that the reason I wouldn't eat fish was that I was okay with eating fish but what I actually hated having to debone the cooked fish before eating. Ironically I didn't mind eating fried sardines and fried karli (silver barfish), the boniest of the varieties available here, go figure! So my loving grandma would patiently sit and debone the fish on my plate, which I would very willingly eat up. Oh, the memories.
Anyway, moving on to the current day scenario, I love fish. And one of my current day favorites are crunchy (fresh) bombay duck fillets. The best part is, my husband, Ashley, is a genius at filleting these guys. Lucky me!!! Nothing could be simpler that making this dish. You really should try this. I want you to enjoy something this delicious. This is not so much a recipe, but simple pointers to making the fillets. Please adjust flavors to your liking
Crunchy Bombay Duck Fillets


Bombay ducks, cleaned and filleted
Turmeric powder
Red chilly powder
Salt, to taste
Lime juice to taste
Apple cider vinegar, to taste
Besan (chickpea flour)
Bread crumbs, to coat
Oil, for frying
Wash the fish and pat dry. Lay the fillets out flat on a plate.
Sprinkle the salt, turmeric powder, red chilly powder, lime juice and apple cider vinegar over the fish. Gently, turn over to make sure that both sides are seasoned. Its hard to give you quantities for the spices, since everyone has different preferences. I make sure that there is a little sprinkling of the spices on all the fish on both sides. Handle lightly as this is a delicate fish.
Sprinkle some chickpea flour over the fish on both sides till lightly coated. You can add a few drops of water to help you with this. The chickpea flour will help the fish stay together so please don't omit it. Since this is a delicate fish, leaving it out will result in the fish breaking up while you try to move it around in the pan. You don't want a thick layer or a chickpea batter coat, just a light sprinkling to bind it.
Keep aside for about 15 minutes.
Heat a couple of tablespoons of oil in a pan.
Dredge the fillets in breadcrumbs to coat them well. This will give you a crunchy fillet.
Shallow fry on a medium flame. Do not move the fish around in the pan, till a crust has formed on the bottom. Moving it to early will break the fish up. Once the bottom side has formed a nice brown crust, turn over and cook on the other side till done.
Serve hot.


This recipe has been linked to –
Delectable Tuesday
Whats Cooking Thursday
Full Plate Thursday
Fun with Food Friday
Folks, one of my fondest childhood food memories is when my Mommy used to whip up this Prawn Chilly Fry with Coriander Speckled Rice for us. I ♥ prawns in any form and in the days to come, I will share a few more of my prawn recipes with you. I have wanted to try making this dish forever, but did not get around to it till a couple of days ago. I picked up some gorgeous, fresh prawns and I knew that I just had to finally whip this up. There was just one little problem, I didn't have my mother's recipe and my parents were on holiday and I really didn't want to bother her by calling. So I decided to put it together from memory, trying really hard to remember what the flavors were like. And boy,oh boy! I was thrilled with the result. This meal is going to make many more appearances in my home, for sure.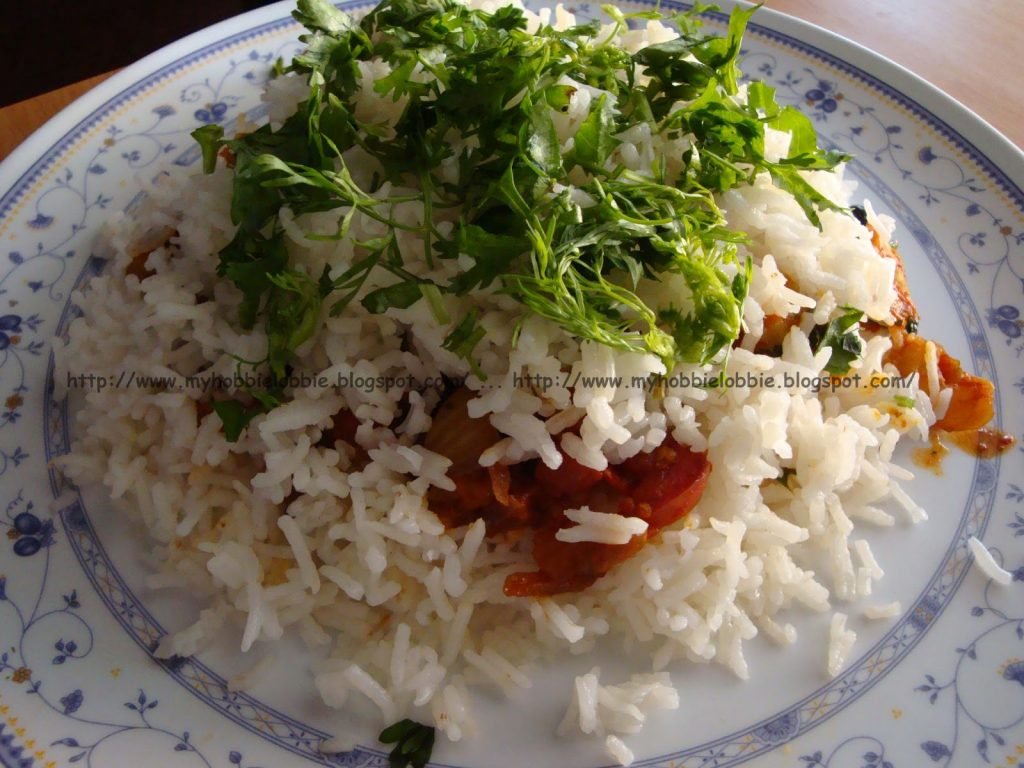 Prawn Chilly Fry with Coriander Speckled Rice
(Serves 3-4)

For the Rice –
1 cup basmati rice
1-2 bay leaves
4 cloves
2 cardamom pods
6 peppercorns
1″ cinnamon
1-2 tbsp. Ghee or clarified butter
Salt, to taste
A bunch of fresh coriander leaves, chopped (This will be used while assembling the meal.)
Heat the ghee in a vessel and add the whole spices.
When the ghee had released the aroma of the spices, add the washed rice. Stir gently just until the rice is coated with the ghee.
Add 2 cups of water, salt to taste and stir a little. Make sure you don't stir it too much as the grains of rice will breakdown.
Cover and bring to a boil on medium heat. On low heat cook till all the water has been absorbed. Make sure you don't stir the rice during the cooking process.
Once all the water has been absorbed, use a fork and loosen the grains of rice and make sure that all the water has evaporated. Keep covered.
For the Prawn Chilly Fry –
250 gms. fresh prawns, shelled and de-veined
1 large onion, chopped
4-5 curry leaves
1 large tomato, chopped
1 tbsp. vegetable oil
2 green chillies, cut into 1/2″ pieces (Please adjust this to taste. We like our food spicy.)
1/2 tsp. turmeric powder
3/4 tsp. red chilly powder
Salt, to taste
A dash of lime juice
2-3 tbsp. fresh coriander leaves, chopped
Marinade the prawns with a little salt and a dash of lime juice and keep aside.
Heat oil in a pan.
Add the curry leaves and when they release their flavor, add the onions and green chilly. Saute till the onions are light golden brown.
Add the turmeric powder and chilly powder. Stir well.
Once its mixed well, add the tomato and stir well.
When the ingredients in the pan have been sauteed well and you see the oil starting to separate, add the prawns and cook on medium heat. Still well and cook uncovered till the prawns are done.
Sprinkle the chopped coriander leaves and stir till combined.
To Assemble –
Layer about half the rice on the serving platter on in individual plates.
Spoon the prawn chilly fry over it.
Add another layer of the remaining rice.
Sprinkle generously with the chopped coriander leaves. Don't be shy while topping the rice with coriander leaves. Its a generous sprinkling of the coriander leaves that brings the elements of this dish together and makes it one finger-licking meal.
Serve hot.
Enjoy!
This recipe is linked to –
Fun with Food Friday
Decidedly Healthy or Horridly Decadent