A good Pork Vindaloo is a must-have at any gathering, party or special occasion in most Goan households. Today, I'm sharing a much loved recipe in our family – my father's Pork Vindaloo. It is such a simple recipe, but results in such a spectacular curry. You are going to enjoy this one. It is perfect to serve around the Holiday season, because this can be made a day or two in advance. In fact, the flavors are even better if it is served a day after it is made. I hope you enjoy this recipe as much as we do.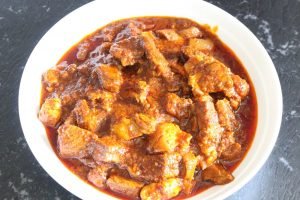 Goan Pork Vindaloo


1 kilo boneless pork (pick a slightly fatty cut)
1-2 tbsp oil
1 – 1 1/2 onion, finely chopped
Salt, to taste
Vinegar, to taste
1 tsp sugar
For the masala – 
12 Kashmiri chillies, deseeded
6 black peppercorns
5 cloves
3 green cardamom pods
2″ cinnamon
6-8 large garlic cloves
1 1/2 inch ginger
Vinegar, to grind to a paste
Cut the pork into chunks and set aside.
Grind all the ingredients for the masala to a fine paste using vinegar. (Ideally Goan vinegar is used. If you don't have access to it, malt vinegar or red wine vinegar will work well too.)
Heat some oil in a large pan. Saute the onions till they have softened and start caramelizing.
Add the masala and fry off well for a couple of minutes.
Add the pieces of pork and salt, to taste. Stir well to coat all the pieces with the masala and let the meat fry off for a few minutes.
Add enough water for the pork to cook through and achieve the consistency you want. I used about 2 cups of water. (You can add more water, if required, later on, when the meat is cooking.)
Cover and cook till the meat is tender.
Check for seasoning and adjust as required.
Add 1 tsp sugar to balance out all the flavors.
Serve hot. This Pork Vindaloo goes very well with some steamed rice, a Peas Pulao, some bread or sannas too.
Enjoy!
Goan sausage pulao is soul food for almost every Goan. And I definitely fall into that category. I've only been able to make this now, more than 5 years after we moved away from India, mainly because I haven't had access to a good Goan sausage. Goan sausages are called Chorize / Chorise and they are the spicier and tangier cousin of the Portuguese Chorizo. I recently tried making my own sausages at home and while I need to tweak the recipe just a tiny bit, I was pretty stoked with the results. They are the tastiest sausages I've had.
Anyway, on to the pulao. This pulao is a brilliant one-pot meal that comes together in a jiffy. You don't need to make your own sausages to enjoy this pulao. If you do, kudos to you. Otherwise, simply buy some good Goan sausages. Your pulao will only be as tasty as your sausages are. This pulao is a culmination of my
Peas Pulao
and my
Goan sausage chilly fry
, which by the way, make a stunning combination too.
Are you ready for it???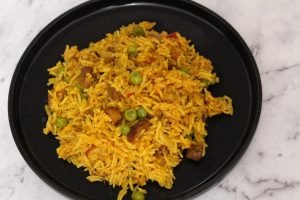 Goan Sausage Pulao
Serves 2
2/3 cup Basmati rice
1 tbsp oil
2 green cardamom pods
2″ cinnamon
8 black peppercorns
5 cloves
1/2 onion, chopped
1 chilly, finely chopped (or to taste)
1/3 tsp turmeric powder
1 large link of Goa sausages
1/2 tomato, chopped
1/4 cup green peas
Salt, to taste
Wash the rice in some water and drain. Repeat this 3-4 times. Then soak the rice in water for 30 minutes. The water level should be an inch above the level of rice. After 30 minutes, drain the rice, rinse through with some fresh water and drain. Your rice is now ready to be cooked.
Heat the oil in a vessel on a medium heat.
Add the whole spices (cardamom, cinnamon, peppercorns and cloves) to the oil and saute for about 30 seconds.
When the spices are nice and fragrant, add the onion and chilly. Saute till the onions have softened and turn translucent.
Add the turmeric powder and stir well.
Add the sausage and stir fry for a couple of minutes.
Add the tomato and cook till the tomato has softened.
Now add the rice and gently stir through, using either a wooden or silicon spoon, to prevent the grains from breaking.
One the rice has fried off a little for about a minute, and is coated well with all the spices add the green peas and 1 1/3 cup of room temperature water. (The ratio of rice to water should be 1:2)
Add salt to taste. (Remember the sausage also has some amount of salt in it.)
Stir well.
Cover and cook on medium heat till all the water has been absorbed by the rice.
Take off the heat and keep it covered. Let it rest for a couple minutes.
After a couple of minutes, fluff up the pulao gently with a fork.
Serve hot.
Today, I'm showcasing a highly requested recipe for the oh-so-popular Goan Sausage Chilly Fry. These little beauties are also called Chorize much like its European counterpart, the Chorizo. The Goan sausages originally can be traced back to the Portuguese who ruled Goa and bought with them a lot of their culture, including their food. This sausage was then coupled with the local spices and flavors in Goa and the resulting Goan Chorize is much more spicy and tangy and more pungent than the Portuguese one. But this is a good thing. All these flavors, when well balanced, make for a delectable meal. I have yet to meet someone who has tried Goan sausages and not liked it. In the past, a really long time ago, I have shared one of the ways I make my chilly fry
here
.
The recipe I'm sharing with you today, is more or less the same as the previous one as far as ingredients go, but the process of cooking it up differs. This is how my Nana and Mum have always made it and this is a method I personally prefer. The sausage meat usually contains a fair amount of fat and so no additional oil is needed. If the sausage you're using is lean, I would recommend my previous version of this recipe. Now the taste of the dish you end up with, to a large extent depends on the actual sausage meat. So if at first you're not happy with the dish, try using a different brand of sausages and you will be surprised at how much of the difference this makes.
Today's version of my Goan Sausage Chilly Fry is a great option for a quick and easy weeknight meal or for whenever you're short on time too. All the ingredients go into a pot with some water and is placed on the heat till cooked through. All you then need to do, is check for seasoning and adjust, if needed and you're ready to serve up.
So if you haven't yet tried making Goan sausages at home, try this out. I'm sure you'll love it.
Goan Sausage Chilly Fry
60 beads of Goa sausages (take the meat out of the casing)
6-8 curry leaves
3 large, mild chillies, chopped into large pieces
1/2″ ginger, chopped into a couple of large pieces
1 1/2 large or 2 medium onions, chopped
2 potatoes, cubed
1 tomato, chopped
Salt, to taste
Vinegar, to taste
In a large pot, place the sausage meat, curry leaves, chillies, ginger, onions, potatoes, tomatoes and add 11/2 cup of water. Stir well. Cover the pot and bring to a boil on high heat.
Once it comes to a boil, lower the heat to medium and cook till the potatoes and meat has cooked through and the liquid in the pot has mostly dried up.
Taste and add salt and vinegar, as required.
Serve hot!
This chilly fry pairs really well with some good bread – dinner rolls or some good crusty bread works brilliantly. You can also serve this up with some chapatis or some
Peas Pulao
.
NOTE: You can adjust the consistency to suit your liking. If you want the chilly fry completely dry, once the meat and potatoes have cooked through, cook it uncovered till the liquid dries up. If you'd like more of a gravy, add a little more water or take it off the heat as soon as the meat and potatoes have cooked.
I feel so immensely happy as I type this post and I owe it all to our SRC Reunion event. Those of you who've been around here for a while, will know that I was part of this super fun group called the
Secret Recipe Club
. This was a lot of fun, sort of like Secret Santa for food bloggers. You were assigned a partner and you had to pick and cook a recipe from their blog and all the members would post about it on a pre-determined day called Reveal Day. I was part of the SRC right from June 2011 to November 2016, a little over 5 years. So when we wrapped that up, I knew I would missed this bunch of bloggers.
Early last month, Sarah of Fantastical Sharing of Recipes, who happens to be our SRC boss lady 😉 called out to all the club members and announced an SRC reunion event. Of course, I signed up for it and for this event, I was assigned Micha's blog, Cooking Mimi. Micha's blog is packed with great recipes. I had an absolute blast going through her blog and picking a recipe for today. After a lot of looking around I narrowed my choices down to this Hawaiian Pork, Potstickers (she even makes her own potsticker wrappers), Quick and Crispy Pork Cutlets and her Sweet Chili Pork. Have you spotted the trend here? I somehow happened to be zeroing in on Pork recipes. So this much was clear, I knew I was making Pork. When I saw her recipe for Sweet Chili Pork my mind was made up. This is what I was going to make.
Before we move on to the recipe, let's talk about this Sweet Chili Pork, shall we? This dish has it all with juicy little pieces of pork tossed in a sweet sauce with mild heat from the Sweet Chili sauce and the crunch of the onion and capsicum just rounds it off beautifully. I could not believe how easy this recipe was. I wanted to try it just to see if a recipe this minimal would hit the spot. And hit the spot it did. I am so glad I tried this out. My husband is not a fussy eater but he is my biggest critic and helps me work on recipes and tweak them. He was floored by this recipe. And I agree with him 100%. This recipe is very similar to the kind of takeaway meals we got back in Bombay, albeit not with pork, but with chicken. Thank you Micha, for an absolute stunner.
I only made a couple of minor additions to the original recipe. I added some finely chopped ginger and garlic and some pieces of capsicum (green peppers) to the recipe. We served this up with some fried rice, but this would work very well with some noodles too.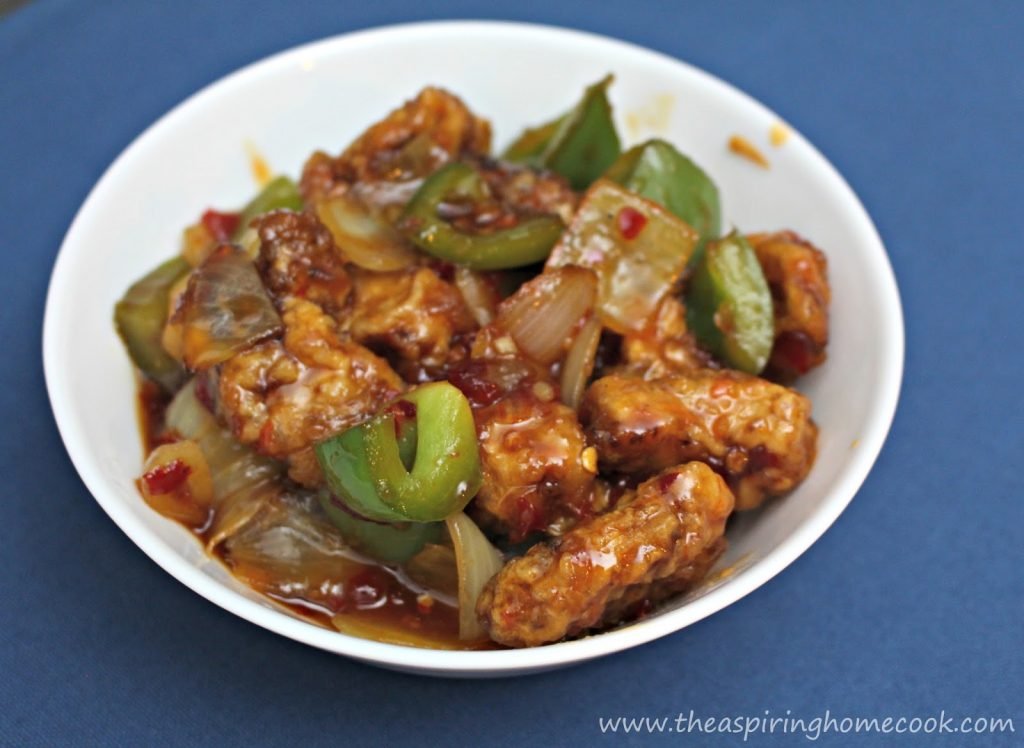 Sweet Chili Pork


1/4 kg boneless pork
1 egg
1/3 cup flour
1/4 cup cornstarch
1/2 cup + 1 tbsp vegetable oil
1 large onion, cut into cubes
1 /2 green capsicum, cut into cubes (similar in size to the onion cubes)
3 cloves garlic, finely chopped
1/2″ ginger, finely chopped
1/2 cup sweet chilli sauce
Salt, to taste
1 tbsp lime juice
Heat 1/2 cup of oil in a skillet over moderate heat.
Crack the egg into a small bowl, whisk it and set it aside.
In another bowl, mix the flour and cornstarch.
Cut the pork into bite sized pieces. Toss the pieces in a little salt and lime juice. Toss the pork pieces in the flour mix. Then dip them in the egg and in the flour mix again .
Fry the pieces of pork in batches for about 3-4 minutes a side or until golden brown and crispy. Drain and set aside.
Heat 1 tbsp of oil in another pan.
When the oil is hot, add the onion and capsicum and stir fry till the pieces have just started to soften. I like mine a little crunchy. Cook it to your desired level of doneness.
Add the finely chopped ginger and garlic and stir it around.
Add the sweet chilly sauce and the fried pork pieces. Stir to coat everything in the sweet chili sauce. At this point, if you want a little more sauce in the dish, add some more. Toss well.
Serve hot.
Enjoy!!!
Here's a peek at all my previous SRC posts.
Don't forget to see what the others have whipped up for our 2018 reunion –
Today, I'm bringing on some serious yum! I came across this recipe, went and bought the protein, made it and am posting about in all in a 2 day span, which in itself could be a record. (Mind you I still have atleast a dozen other recipes that are vying for your attention, they've been made and clicked and are just waiting to be posted). This one just had to be shared with you at the earliest. It is simple, doesn't take too long, but it is so tasty, it would be a crime to not share it with you.
I usually make my favourite pork curry and we enjoy it. Apart from that, I've only ever made these pan-fried pork chops and thats how long my pork recipe repertoire is. Now that's just wrong and needed to be fixed. You will see a few more pork recipes coming up. When I was on the lookout for some interesting ways to cook pork, I came across this recipe. I have heard so much about how good pork belly is and also how good a sticky Asian glaze can be, so obviously the two together had to be even better, right? I was so right. The original recipe calls for the pork to be cooked for 2 whole hours. While I've done this before when I didn't have access to my pressure cooker, I knew I wasn't going to slow cook it this time. I used my pressure cooker and in about 15-20 minutes achieved the same lovely tenderness. If you haven't tried using a pressure cooker before, you should. Maybe borrow it from a friend and see if it works for you. I use mine all the time. I use it to cook meat, boil dry beans (instead of buying canned ones), boiling potato and beetroot and so much more. I cannot imagine life without my pressure cooker. Oh wait, I did have to wait for a whole year before I got mine from back home and it wasn't fun. It just cuts down cooking time drastically and you save on gas/energy by cutting down on cooking time. That's a win-win in my book. I hope to share more pressure cooker recipes with you in future.
Back to the pork belly. There's beautiful flavour in the meat and the glaze is just a wonderful bonus. One thing I should mention is be very careful when the meat is in the pan, there is a lot of serious popping that goes on and you don't want to burn yourself. Frying the pork adds some lovely crunchy bits to the pork. So you end up with tender, succulent meat, crunchy bits and a sticky glaze. Yum!!! I served this pork up with a bowl of warm noodles and some stir fried Asian greens.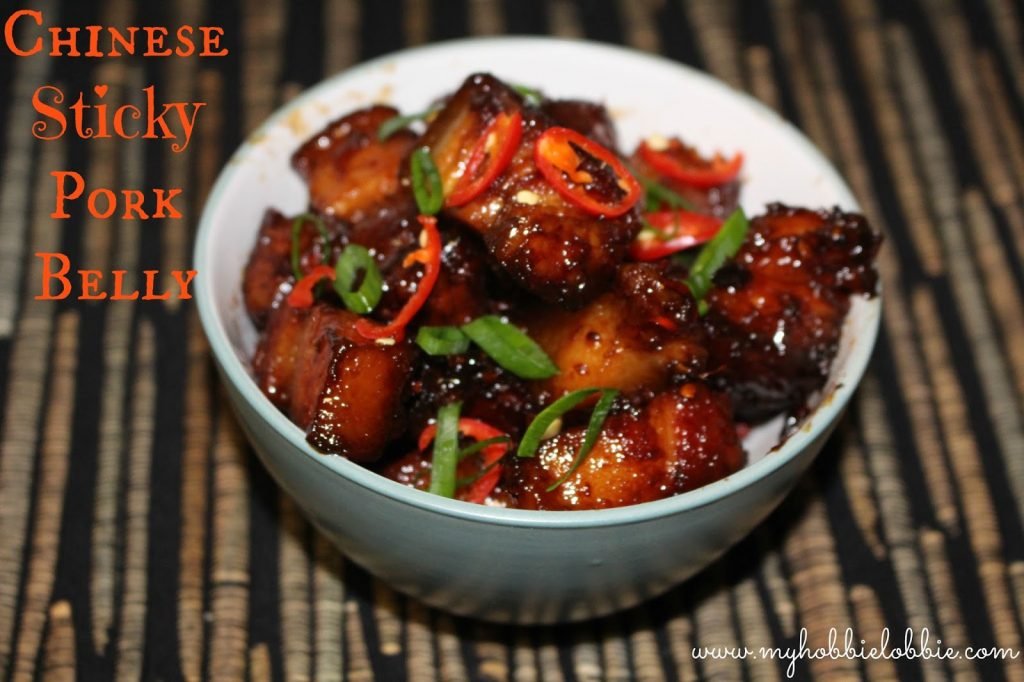 Chinese Sticky Pork Belly
Adapted from: Kitchen Sanctuary
1 kg pork belly
1 heaped tsp ginger paste
1 heaped tsp garlic paste
1 tsp salt
1 tbsp rice wine vinegar
1 tbsp apple cider vinegar (optional, but I find it adds lovely flavour)
1 tbsp sugar
For the glaze:
2 tbsp vegetable oil
A pinch of salt
A pinch of pepper
1″ ginger, peeled and finely chopped
2 red chillies, finely sliced (or to taste)
2 tbsp honey
2 tbsp brown sugar
3 tbsp soy sauce
Cut the pork belly into 4 quarters. Marinade with the ginger paste, garlic paste, salt, vinegars and sugar for 10-15 minutes.
Add 2 cups water and close the pressure cooker. Put the whistle / weight on and bring to a boil over high heat. After a whistle, reduce the heat to low and let it cook for about 12 minutes. After 12 minutes, take it off the heat and let the pressure drop naturally.
Carefully take the pork out. Cut into bite size pieces.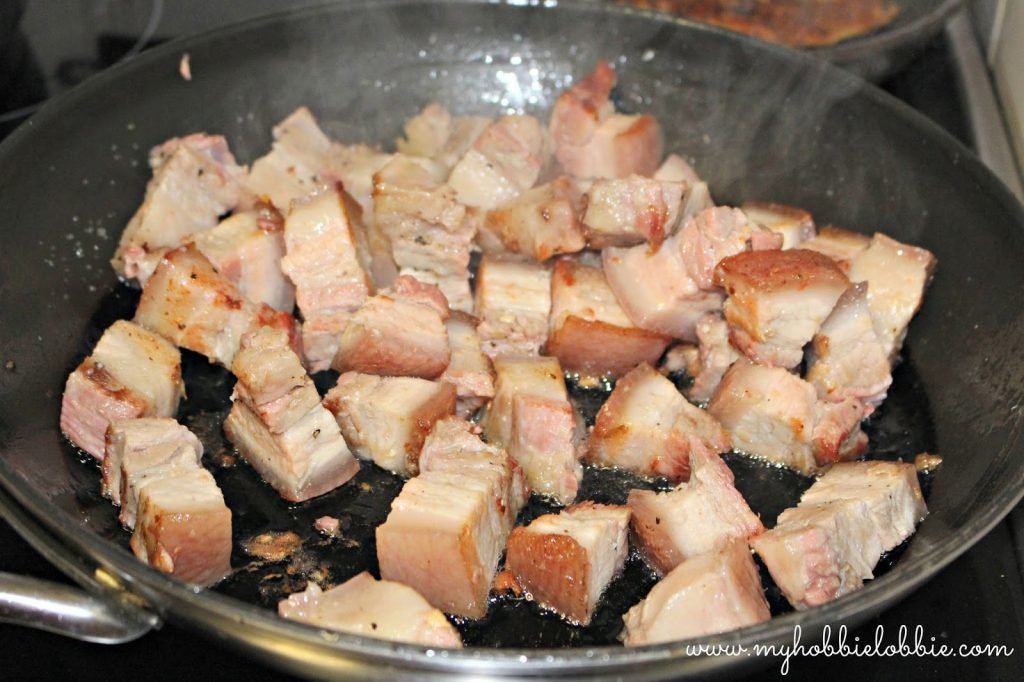 In a large pan, heat 1 tbsp of oil and add the pork pieces, salt and pepper. Fry on a high heat till the pork starts turning golden brown. Be careful while frying the pork as it will pop and sputter while frying.
Mix the remaining glaze ingredients in a small bowl.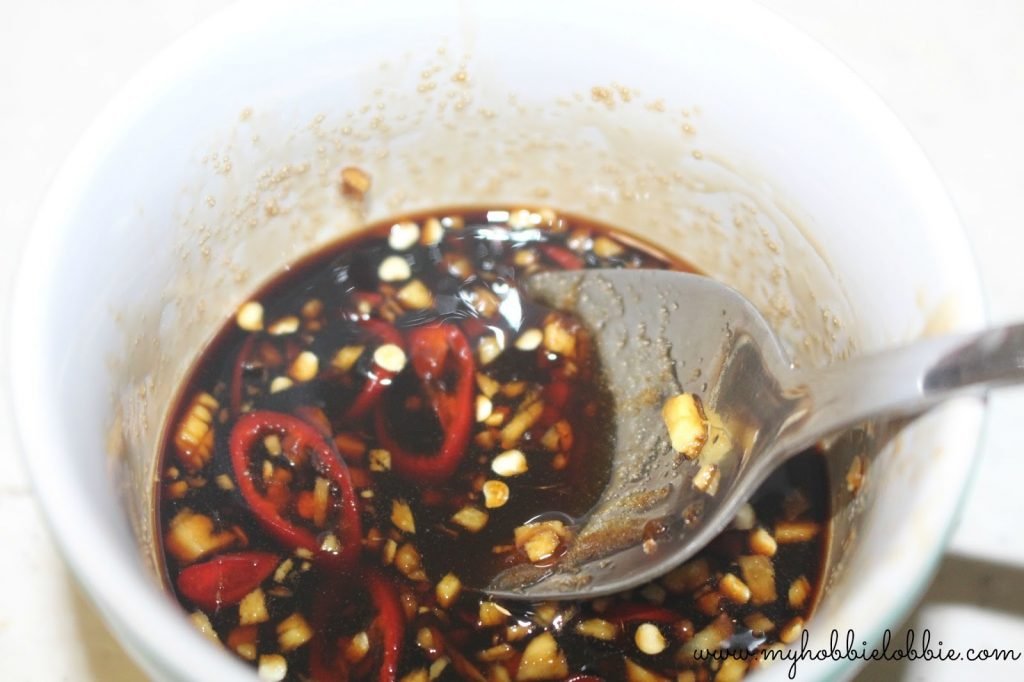 Pour the glaze over the pork and cook till the pork looks dark and sticky. Stir frequently. Do not leave unattended – you do not want the pork to burn.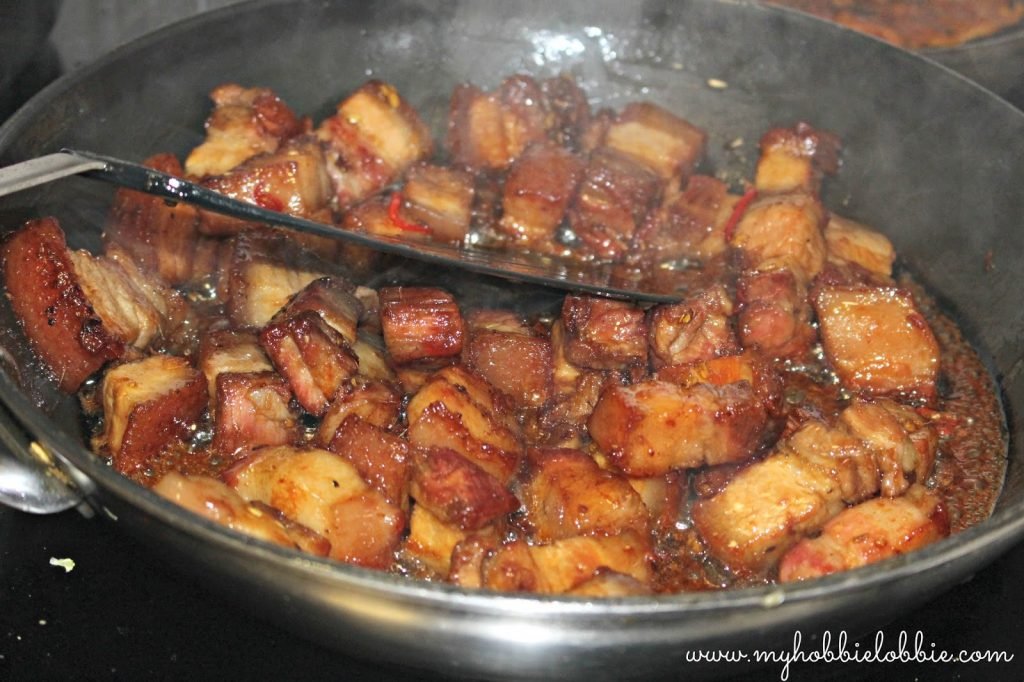 Once the glaze has thickened, garnish with some finely sliced chilly and spring onions and serve with some noodles or rice and greens.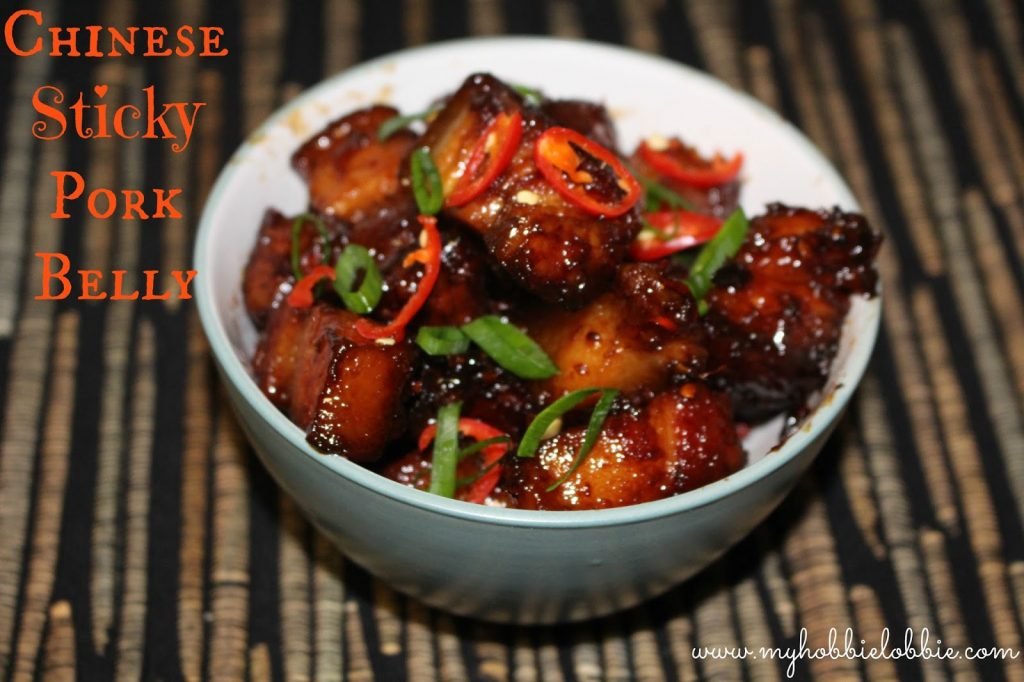 Enjoy!!!
Ok, here's a quick option for those dinners when you want to have something special, but just don't want to spend too much time or when take-out just won't do. Now I know these are pork fillets, but at home, when we were younger we always called them pork chops, for some strange reason. And the term stuck. To this day, I still call them that.
The other day, I was in the supermarket doing my usual grocery run and I saw these gorgeous packets of pork scotch fillets that were on special. (When things are on special, you want to make sure you have some time before the 'Use By Date' printed). These were well within the time frame and looked good. So I picked up a packet since I hadn't figured out what we were going to have for dinner that day.
The recipe isn't even a recipe per say, just a marinade and then you cook the meat to your liking. But the sheer simplicity that results in something this delicious made me want to share it with you. Once you apply the marinade, you should try and give it atleast half an hour to an hour to let the flavors do their magic. If you don't have that kind of time, you could still make this and have a delicious dinner, but letting the meat sit in the marinade makes it so much better.
Serve it up with some fresh salad and your favorite side and you've got yourself a fantastic meal.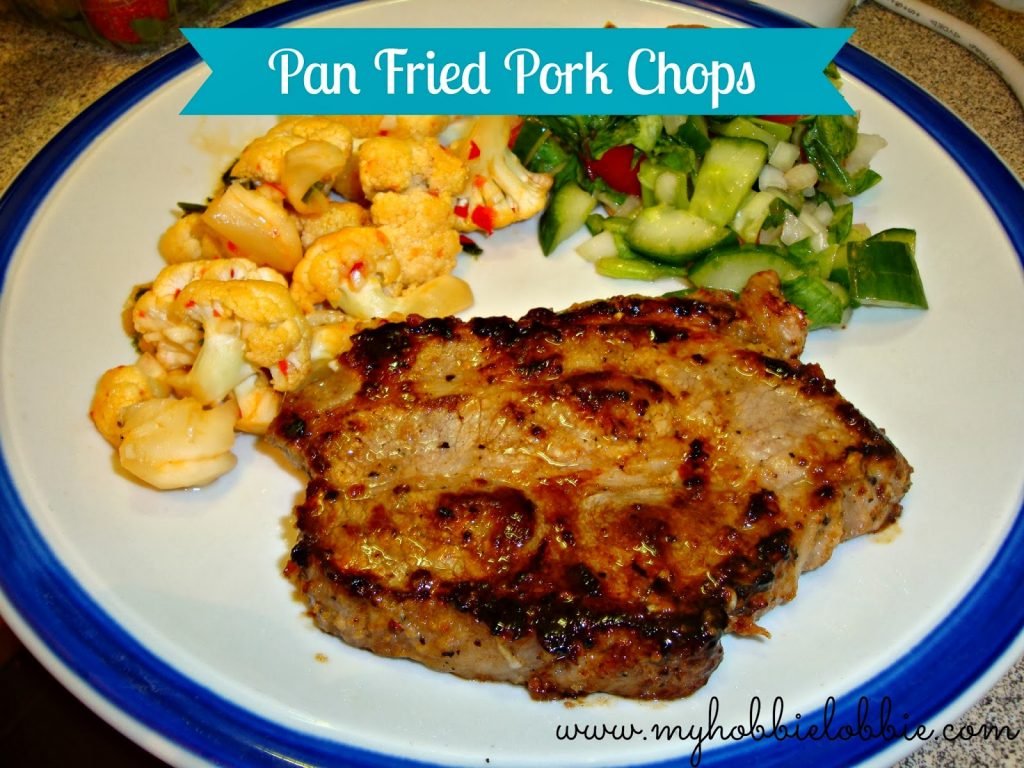 Pan Fried Pork Chops


Pack of 3-4 pork scotch fillets
Salt, to taste
Lime juice, to taste
1 tsp. ginger paste
1 tsp. garlic paste
Freshly crushed black pepper, to taste
1 tsp. oil
Place the pork chops in a large shallow dish or plate.
Sprinkle the salt, lime juice, ginger and garlic paste and the crushed pepper. Rub the marinade into the meat.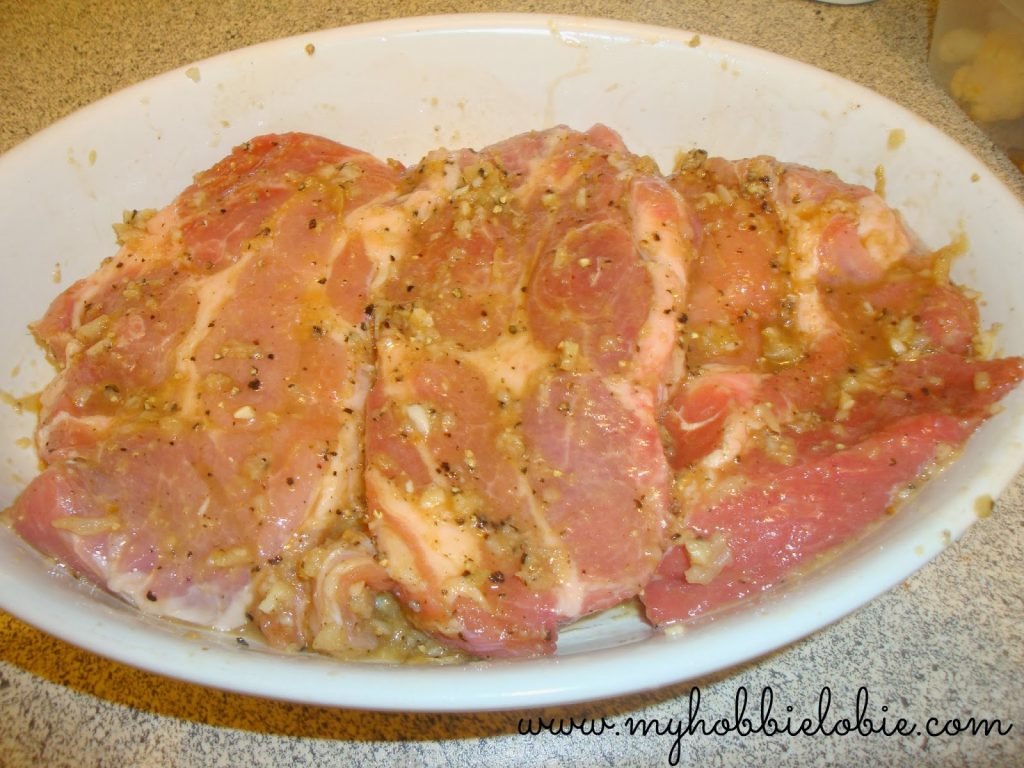 Let the meat sit in the marinade for half an hour to an hour.
Heat the oil in a pan. Place the pork fillets in the pan. Cook to your liking,
I cook it for about 4 minutes on each side.
Take it off the pan and let it rest for a couple of minutes.
Serve up and enjoy!
Today's post is my first as part of a fun baking group that I recently came across called "Baking Partners". Read all about it and join up
here
. The idea is a small group of people come together and improve their baking skills by targeting a common recipe / technique each month. I loved the sound of it and immediately signed up. Thank you, Swathi, for letting me be a part of this group.
Their goal for this month was attempting to make a New York Style Pizza from scratch at home. We love pizzas and I enjoy making them from scratch too and yet somehow, I've never blogged about if before. Strange, I know. I figured this would be a great way to add to my baking repertoire and I pretty much stuck to the recipe except for not using fresh basil in the sauce as it wasn't available. But I did instead add some mixed Italian herbs to develop a better flavor profile for the sauce. I halved the recipe and made 3 pizza pies of different sizes. This was enough for dinner for 2 with enough leftover for another meal coupled with a salad.
It was a good learning experience and I can't wait to see what this group decides to bake next. For now, here's a peak at the pizzas I made. They tasted wonderful and I was very pleased with the fact that it was made at home and not just ordered for. One thing that I will do the next time is pay more attention to presentation. Other than that, this recipe is great.
This is the veggie one we enjoyed. Toppings include red onion rings, green peppers and corn. I used a combination of Mozzarella and Cheddar cheese.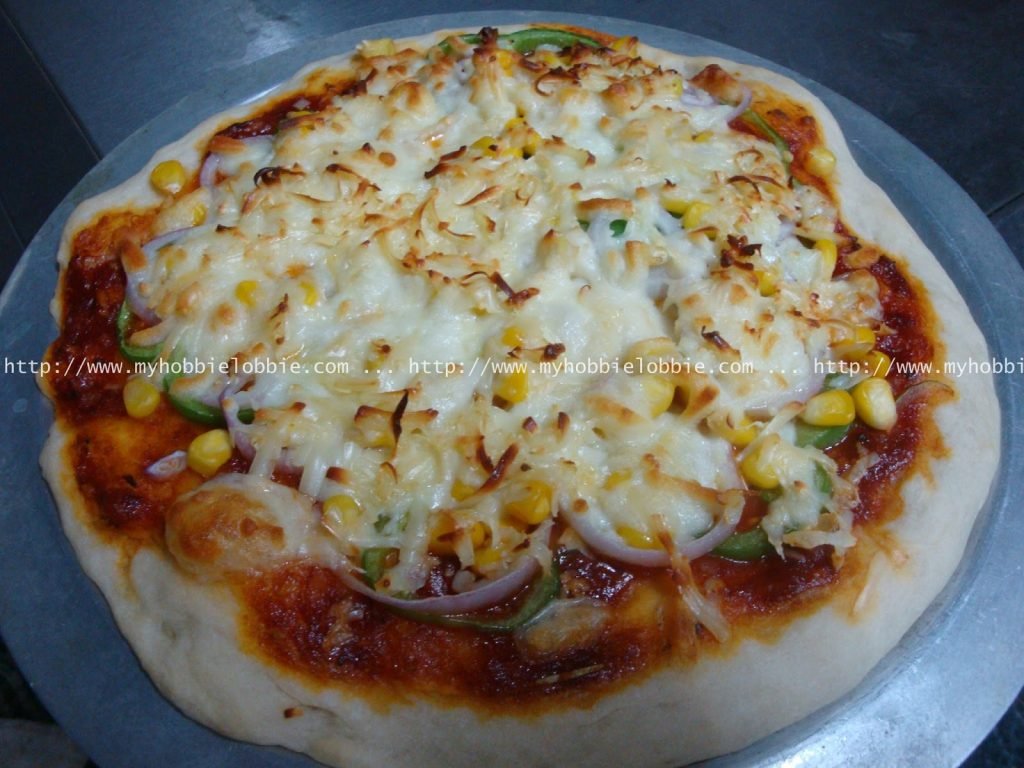 Here's a snapshot of the non-veg version. Toppings include red onion rings, green peppers and spicy pork sausage slices. I used the same combination of Mozzarella and Cheddar cheese for this one as well.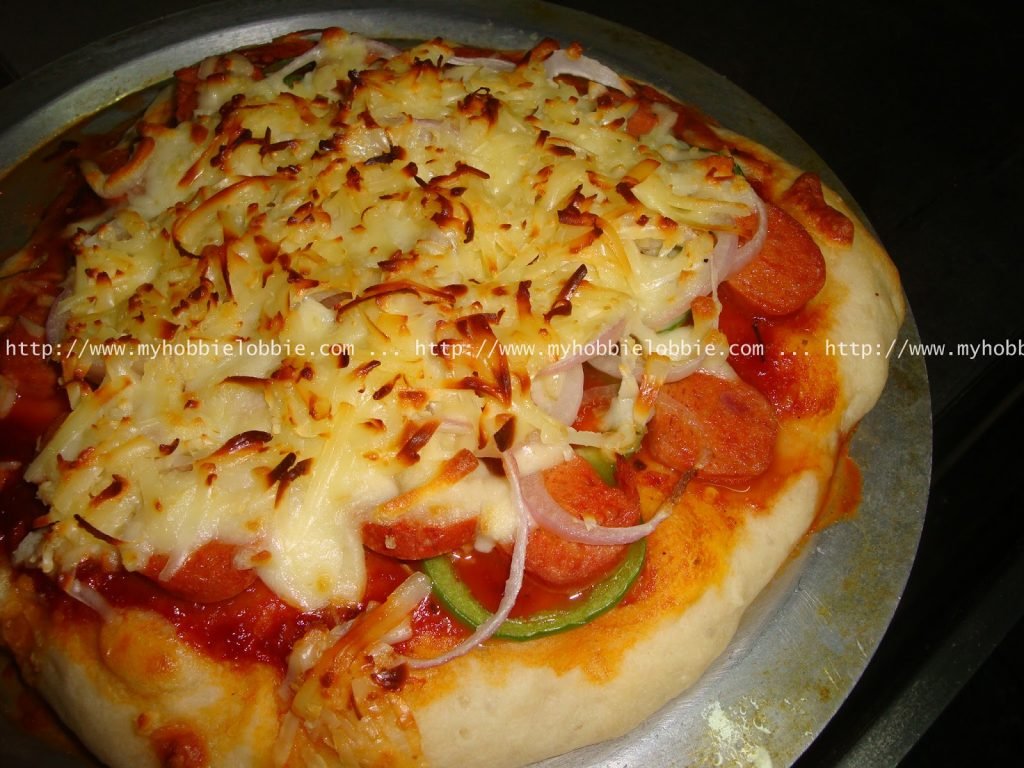 New York Style Pizza
Adapted from: Serious Eats
Shredded cheese of your choice – I used a mix of mozzarella and cheddar
Toppings of your choice – I used Veg (Onion rings, Green pepper rings and corn kernels) and Non-veg (Onion rings, green pepper wings and spicy pork sausage slices)


For the Dough –


2 1/4 cups all-purpose flour
3/4 tbsp sugar
1 1/2 tsp salt
1 tsp instant yeast
1 1/2 tbsp EVOO
7 1/2 ounces lukewarm water
Place the flour on your workstation.
Make a well in the center and place the yeast, sugar and water in the center.
A water gradually and work the flour from the center working in a little bit of the flour at a time, till all the flour is used up. You may or may not need all the water.
When you've got a soft, pliable dough, place it on one side.
Spoon the salt on the workstation and pour the oil over the salt. Rub down on it using the base of your palm.
Work the oil into the dough. Round it off to a smooth ball, cover with a damp cloth and keep aside in a warm place for about an hour or till the dough has doubled in size.
In the meanwhile you can start working on the sauce.


For the sauce –


1 (200g) pack tomato puree (non availability of canned tomatoes)
1/2 tbsp olive oil
1/2 tbsp butter
2 cloves garlic, minced
1 white onion, finely chopped
1/4 – 1/2 tsp. Dried oregano
1/4 – 1/2 tsp. Mixed Italian herbs
Salt, to taste
A pinch of red chilli flakes
Freshly cracked black pepper, to taste
1/2 – 1 tsp. sugar
Heat the oil and butter in a pan.
Tip in the garlic and saute for a few seconds to release the aroma.
Tip in the onion and saute till the onions have softened.
Tip in the spices and herbs and stir it in.
Add the tomato puree and stir in. Let it simmer for about 10 minutes.
Season with some salt, pepper and sugar. Stir and let it continue simmering till it thickens and the flavors develop, about another 15-20 minutes. Be careful to not burn it. Check on the sauce at about the halfway mark. If you're happy with the flavors, take it off the fire.
To assemble –


Preheat the oven to 180ºC.
Lightly drizzle some olive oil on the baking sheet and spread it on the pan.
Divide the dough into 2-3 portions. Roll into balls and using your fingers flatten it out to form a disc, keeping the outer edge a little thicker. Drape the dough over your knuckles and gently stretch till the crust is about 1/4″ thick.
Place on the greased sheet. Spread the sauce over it. Add your toppings and finally the cheese.
Bake for about 10-15 minutes till the cheese is all melty and has a few brown specks on it.
Take out of the oven, slice and serve hot.
Note: The original recipe has you rest the dough for about 24-72 hours. But when I did that the last time I made pizza, I was treated to a big disastrous mess in the fridge. So I made these the same day.
I don't know how many of you have had the opportunity to try out Goa sausages or Chorizo sausages. I love them. I've heard that flavor wise the Portuguese
chouriço
sausages are very similar, the Goan ones are supposedly a spicier variant. You can read more about the different types available
here
. In Goa its very easy to source the locally homemade sausage links which are sold in the local markets. In Mumbai, its not that easy. But we do get some packaged, branded variants like the popular Joao's or Costa's. My favorite brand is Barry & Jules. It has less fat but is a lot spicier than the others. The sausage is so flavorful that it needs no more spices or herbs. This chilly fry is a simple preparation but is packed with flavor and spice. So you can omit the additional chilly. Enjoy this with some soft hearty white bread. In Goa, its eaten with pao, a local Goan bread.
I hope you enjoy it as much as we do 🙂
Spicy Goa Sausage Chilly Fry


1/3 packet Goa sausages, taken out of casing and chopped
1/2 tbsp. oil
2 onions, chopped
1/2″ ginger
4 curry leaves
2 green chillies, chopped in to 3-4 pieces
1 tomato, chopped
1 large or 2 small potatoes, cubed


Heat the oil in a pan. Add the onion, curry leaves and chillies and sauté till the onions have softened. Add the finger and sauté till the onions have browned.


Add the tomatoes and continue cooking till they have softened.


Add the sausage meat and let it fry a little and release its flavors. Once the aroma has released, tip in the potatoes. Stir fry for a couple of minutes.


Add a splash of water, not too much, cover and cook till the potatoes are done.


Serve hot with bread.




This recipe is linked to –
Whats on the Menu Wednesday
Delicious Dishes
Recipes I Can't Wait to Try