Do I have a treat for you today, or what? If you're like me and love cheese, love something spicy and are on the lookout for quick and easy appetizers or finger food you can serve a crowd, you've come to the right place. These little cheese bites are so, good. With a little crunch from the bread crumbs, these little bites, I think would be lovely with some chilled beer. It would be ideal on a game night, specially if you have folks over to watch the game. Be warned, these are addictive, so you might want to make enough to cater to the crowd you're expecting.
Each pepper gives you 2 pieces. Typically, these bites are made using jalapeno peppers, but in Mumbai it is close to impossible to get jalapeno peppers, so I opted for 'Bhavnagari Chillies', the next best thing. Its also really easy to increase or decrease quantities here, so just go for it. You won't regret it.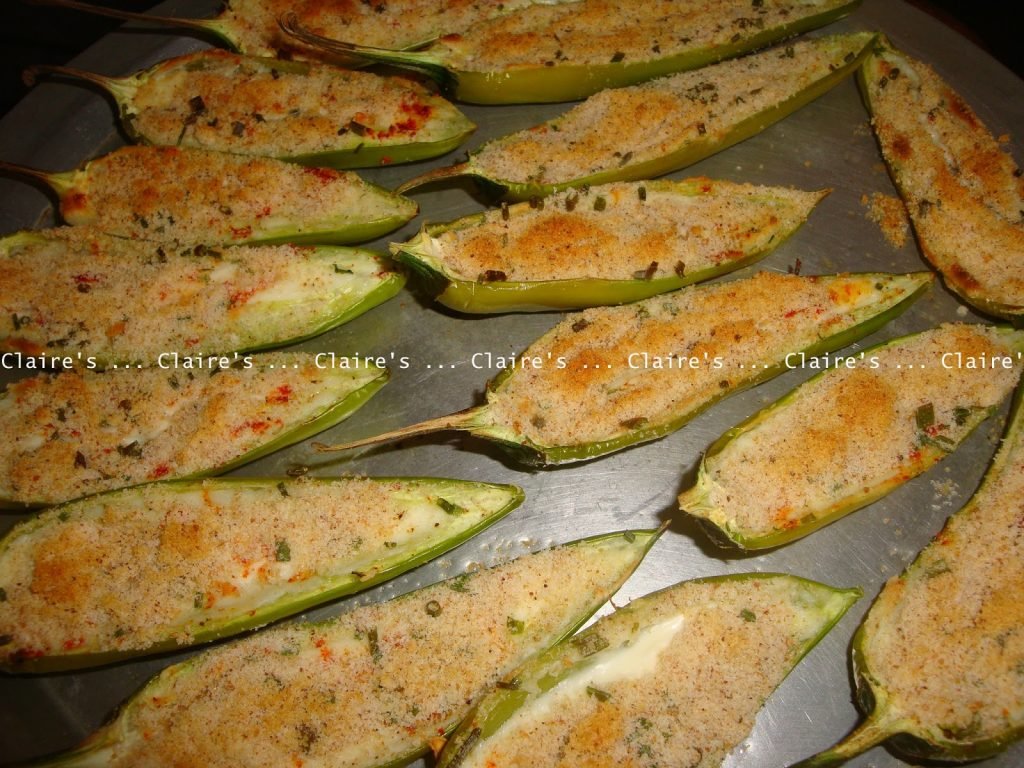 Green Pepper Poppers


1 dozen Bhavnagari Chillies / jalapeno peppers
1/2 cup Cream cheese
Bread crumbs, as required
Red chilly powder, to sprinkle over
Chives, to sprinkle over
Wash the peppers and pat dry. (I leave the stalks on, I think it looks cute like that.)
Slit the peppers in half.
Whisk the cream cheese till it becomes smooth and creamy. Do not over whisk.
Using a spoon, fill the pepper halves with the cream cheese. Alternatively, you can use a pipping bag to pipe the cream out. This time around, I used a spoon.
Sprinkle a touch of red chilly powder, the bread crumbs and some chives.
Place on a baking tray and bake in a hot oven @ 170ºC, till the crumbs are crispy and slightly browned.
Serve hot.
This one isn't really a recipe, but just a way to use up some leftover ground
beef mince
and make it a little interesting. The wrap adds a lovely crunch and is super versatile; fill it with whatever you have at hand. It is a beautiful way to serve up leftovers.
I use ice berg lettuce leaves, but you can adapt and use any lettuce you have. Another thing to remember is, make sure the beef is slightly on the drier side. While cooking the mince, if you've left it at a gravy consistency, simply cook it uncovered till the juices dry up, stirring occasionally to ensure it doesn't burn.
I didn't just stop there. I threw in some thinly sliced onion, a slice of tomato and some chopped coriander leaves.
As options, you could use steamed prawns and a cocktail sauce, you could use leftover grilled chicken with some sauteed onions and mushrooms and so much more. I like to think of this as a healthy snack; there's no carbs. If you decide to whip up some lettuce wraps, I'd love to hear from you. Leave me a comment and tell me what you used as a filling. You could send me some pictures or a link too, I'd be happy to feature them here.
Here's to healthy snacking!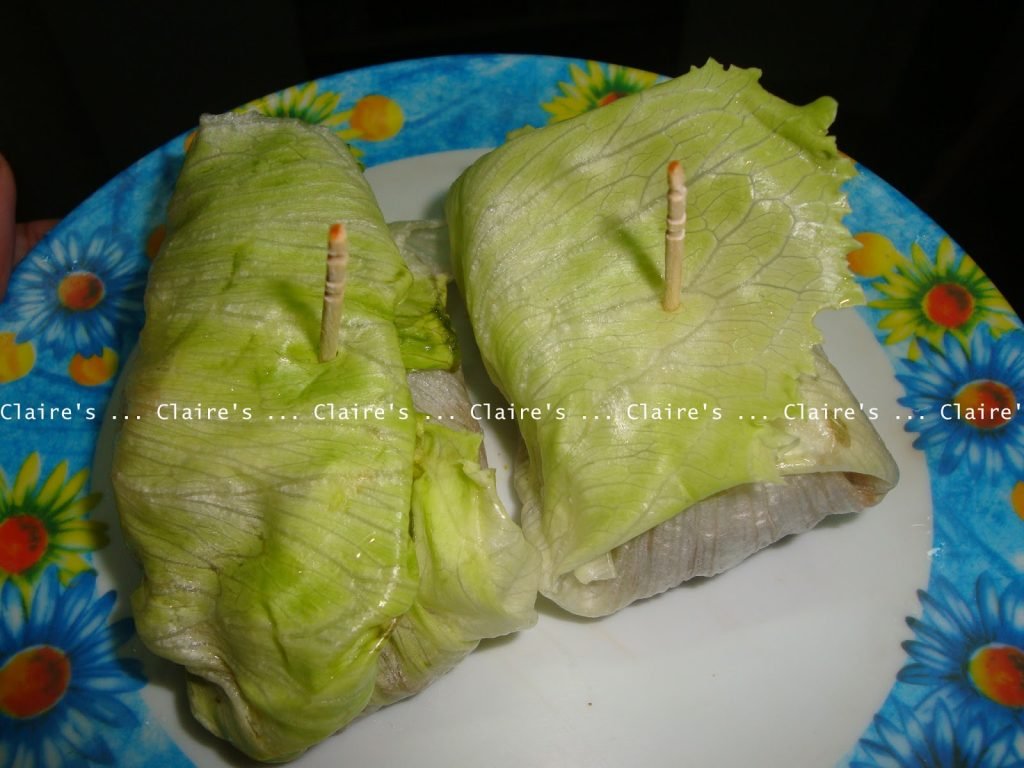 Crunchy Lettuce Wraps


Iceberg lettuce
Leftover beef mince
A few slices of onion
A few slices of tomato
Fresh coriander leaves, chopped


Wash, pat dry and separate as many layers of ice berg lettuce as you'd want wraps.
Place a spoonful of the beef mince, a few slices of onion, a slice of tomato and some chopped coriander leaves.
Wrap it snugly, so that the filling doesn't fall out. As a precaution, I used some small cocktail sticks to keep everything in place.
Place on a platter and serve.
As promised in the last post, here's one on the chicken on skewers. Now this recipe is quick to put together, but the flavors are much better if you get started a few hours before you want to serve up. There is barely any hands-on work other than marinating the chicken pieces, but the flavors get a chance to do their thing and you end up with a lot of deliciousness. However, if your in a rush, try and give the chicken at least an hour to sit in the spices.
When you use wooden skewers, its very important to let them soak in cold water for about 30 minutes to an hour. If they float to the top use a small plate to weigh them down and keep them submerged in the water. This is important since you don't want them lighting up in the oven with the heat. Ofcourse, if you're using metal skewers, simply skip this step. I prefer the wooden / bamboo skewers, because that means a little less washing to do after the meal. 🙂 But feel free to use what you have on hand.
This recipe is very versatile, you can alter spice levels and substitute them for others you prefer. You can also easily double or triple quantities of chicken based on how many people you need to feed.
I served the chicken with some
Baked Cauliflower Poppers
and some plain yogurt and a salad to make a wonderful weeknight meal. It made for a delicious, healthy meal.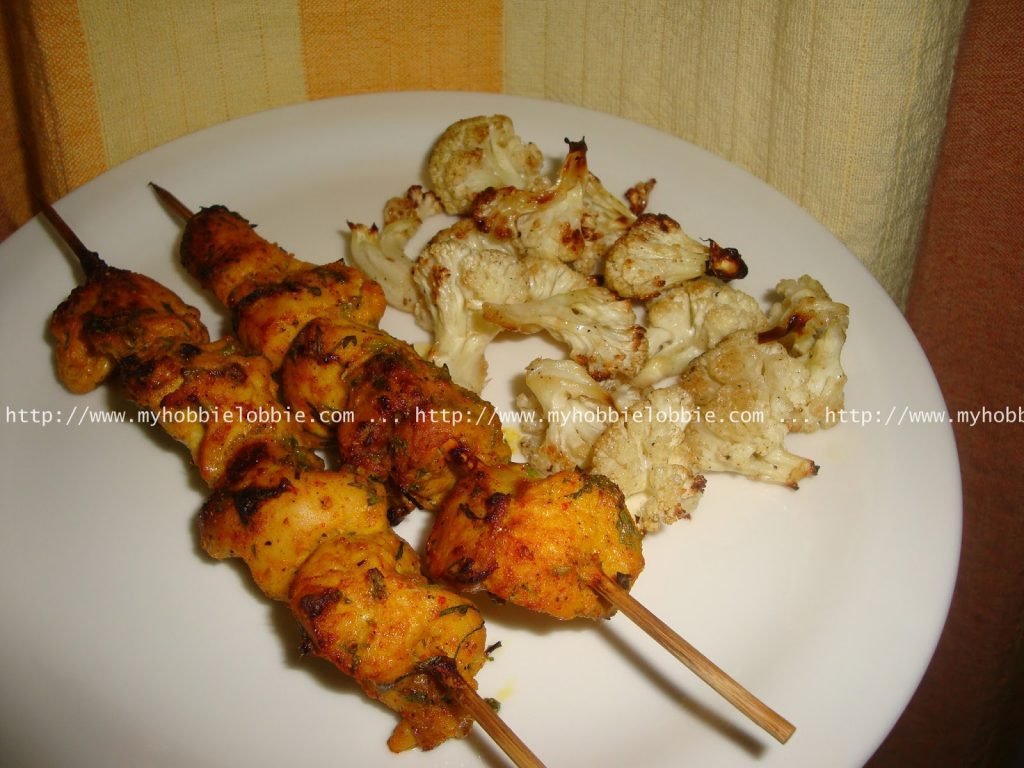 Chicken on Skewers
250g boneless chicken
1/3 cup plain yogurt
Salt to taste
1/4 tsp turmeric powder
1/2 tsp red chilly powder
1/4 tsp coriander powder
1/4 tsp cumin powder
2 tbsp fresh coriander, finely chopped
11/2 tsp ginger garlic paste
Olive oil, to drizzle over the chicken
Soak the wooden / bamboo skewers in some cold water for 30 minutes to an hour.
Cut the chicken into cubes.
Mix the spices in the yogurt in a bowl and check for salt levels and adjust if needed.
Add the chicken pieces to the spice mix and toss well to coat.
Cover the bowl with some cling film and leave it to marinate in the fridge for about 4-6 hours or overnight. If you are in a rush, try and let it marinate for atleast an hour.
When you're ready to bake, carefully thread the chicken pieces onto the wooden skewers. Drizzle some olive oil over the chicken.
I placed the skewers on a foil lined baking dish to catch the drip (since I didn't want to add to the clean up later).
Bake in a preheated oven (about 180ºC) on the top shelf under the grill, for about 8 to 10 minutes on each side, or until golden and cooked through.
Notes:
Don't cut the chicken pieces too small else they'll dry out while cooking.
You may baste the pieces with a little olive oil when you flip them over.
Cauliflower – now here's a vegetable that can go either way if you ask me. Till date, I like my cauliflower with a little crunch. I think cauliflower has a little bit of a bad rep, because some folks just don't know how to cook it well. I've had cauliflower in many forms – steamed, steamed and tossed in butter, filled in some parathas, as pakodas / fritters or curried like an aloo gobhi (a recipe I will share with you soon), and I like most of them. But serve me some overcooked, mushy cauliflower florets and I will struggle to get through a portion of it.
This is another ingenious way of cooking cauliflower, if you ask me. They call it a healthier alternative to fries, and I will agree. Can you imagine a healthier alternative to fries? It was hard for me to, and I always thought this would be a lot of hype and would not deliver. But, I was wrong, and I'm glad I was wrong. Because these little beauties turned out gorgeous. They are so more-ish, its hard to stop eating them. Like you see in the picture below, I served these up with some skewered chicken (recipe to follow in the next post). It was super quick to put together and it was absolutely delicious. It needs very little prep work, so once you pop it in the oven, you can get on with other tasks you may have to complete.
It turns out, that these poppers can be served with some ketchup, but we loved them just the way they were and didn't even bother with the ketchup.
If you haven't tried these yet, I really think you should. I know that these baked poppers will make an appearance at my dinner table every now and then 🙂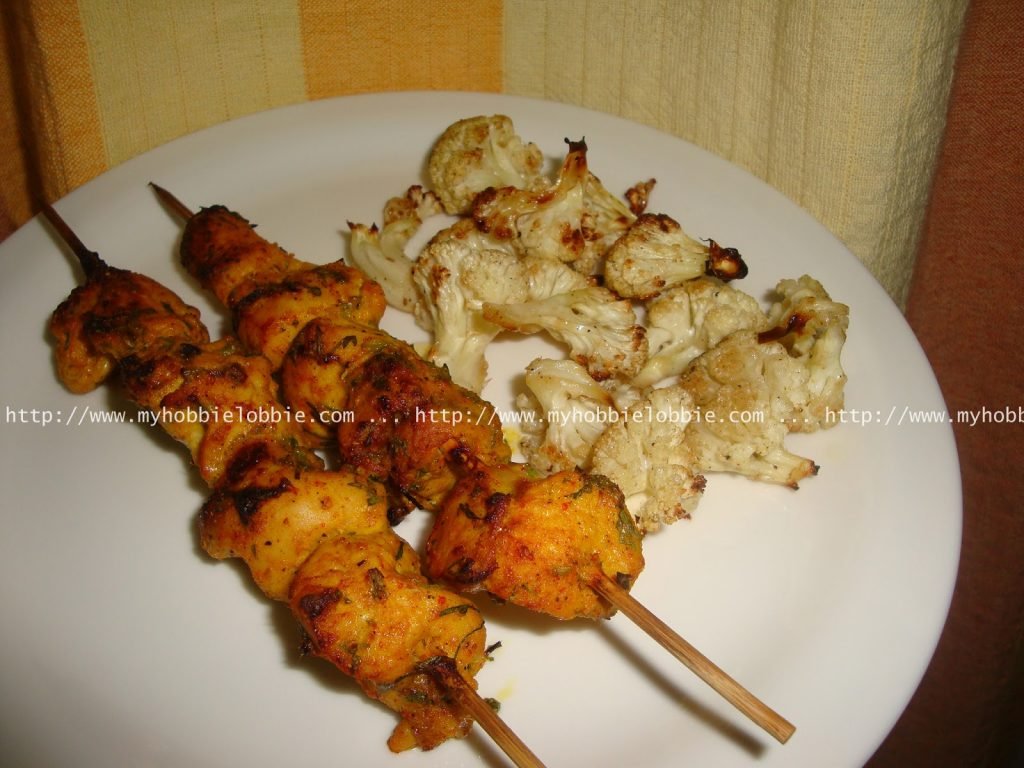 Baked Cauliflower Poppers

1 head of cauliflower
2-3 tbsp. olive oil
Salt, to taste
Freshly crushed black pepper corns, to taste
Preheat the oven to 190º – 200ºC.
Wash and dry the cauliflower and cut it up into florets. Try and maintain the same size to ensure even cooking.
In a large bowl, toss the cauliflower florets, olive oil, salt and pepper. Make sure the florets are evenly coated with the oil and seasoning.
Line a baking sheet with parchment paper or foil and spread the cauliflower over it evenly.
Bake for about 20-30 minutes, stirring and turning the florets over every now and then, to make sure they don't burn. I stirred them around every 8 minutes or so. Keep an eye on them and turn them as needed. You don't want them to burn.
Once they're nicely roasted, serve them up hot and enjoy.
This would be so much healthier than a bag of potato chips to snack on too.
Now here's a pudding that I've always loved. My aunt, who is in England now used to make this very often when she lived with us many years ago. I must have been no more than 6 years old at the time, but I can still remember how she'd always serve us a pudding of some sort or the other after a meal. Years later, my dad tried his hand at making us some bread pudding. Now don't get me wrong, it was good, but it just wasn't the same like the one my aunt used to make for us. When I tried out this recipe, I was really pleased because this is the closest I've had to the real thing, atleast for me. The only thing I did a little differently than what my aunt used to do was add some slivered almonds and some golden raisins. Oh boy, I was glad I did. It turned out to be really yummy. However, if you're not to fond of dried fruit and nuts in your bread pudding, then don't hesitate to leave it out altogether.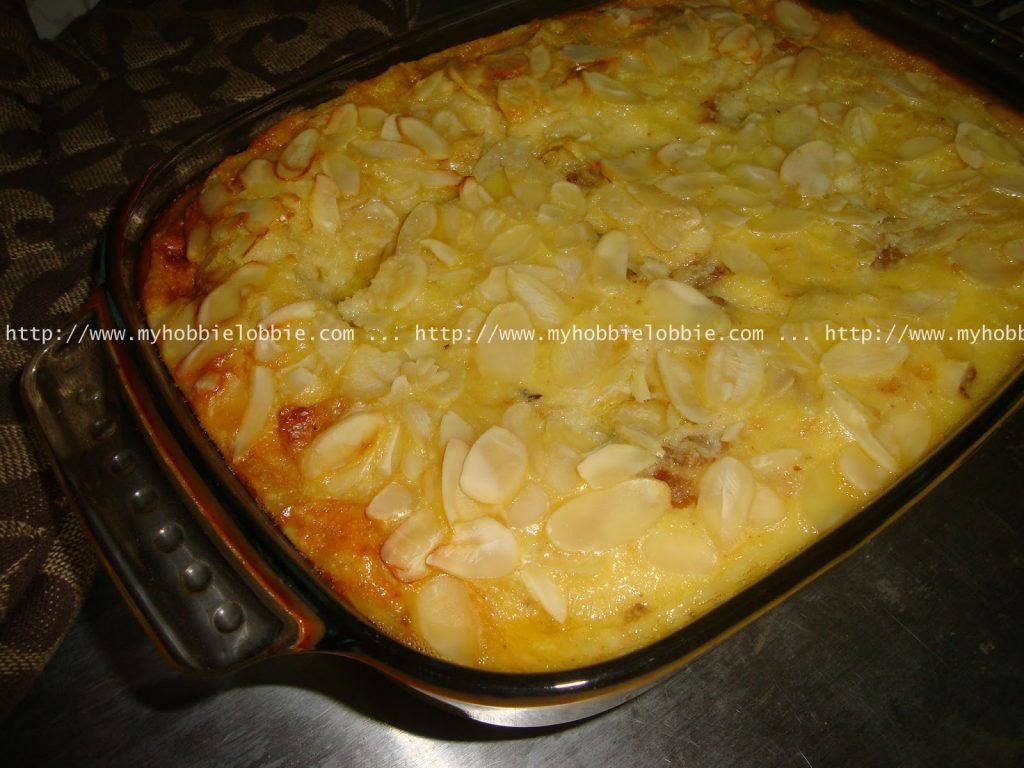 Bread Pudding

12 slices of bread, if they're a day or 2 old, its even better
500ml milk
5 eggs
150g sugar
Grated nutmeg or nutmeg powder, to taste
1-2 tbsp. butter
1/2 – 1 tsp. vanilla essence
Extra sugar for the layer of caramel
1/4 cup of raisins, or to taste (optional)
1/4 cup slivered almonds (optional)
Mix warm milk and sugar and stir to dissolve the sugar.
Lightly beat up the eggs, vanilla and nutmeg and add to the cooled down milk mixture. Whisk in to mix well.
Chop up the bread roughly or simply tear the slices of bread into smaller pieces and soak it in the milk and eggs mix.
Add the raisins and stir a little to spread them through the mix.
Let it stand and soak in the liquid. In the meanwhile, you can make the caramel.
Make the caramel either straight on the baking tray, if you're using a metal one or make it in a pot and pour into the baking dish to cover the base of it. I did the latter. Simply melt the sugar on low heat till it caramelises. Keep an eye on it as is can go from a beautiful caramel to severely burnt in moments.
When your happy with the colour of the caramel, drizzle it over the base of the baking tin while its still hot. As it starts to cool it wont spread around the base.
Note that when making the caramel, they say its better to swirl the pot rather and stir it. That's how I've always done it and have never had any trouble with it.
Give the caramel a few minutes to set and then pour in the eggy – milky – bread mix. (I'm sure there's a better term to use here 😉 but you get the message)
Sprinkle some of the slivered almonds on the top, you can also add some raisins to the topping if you wish.
Add a few knobs of butter on the top.
Bake in a preheated oven at 160ºC for about 30-40 minutes.
Here's what it looks like before baking; all assembled and ready to go into the oven.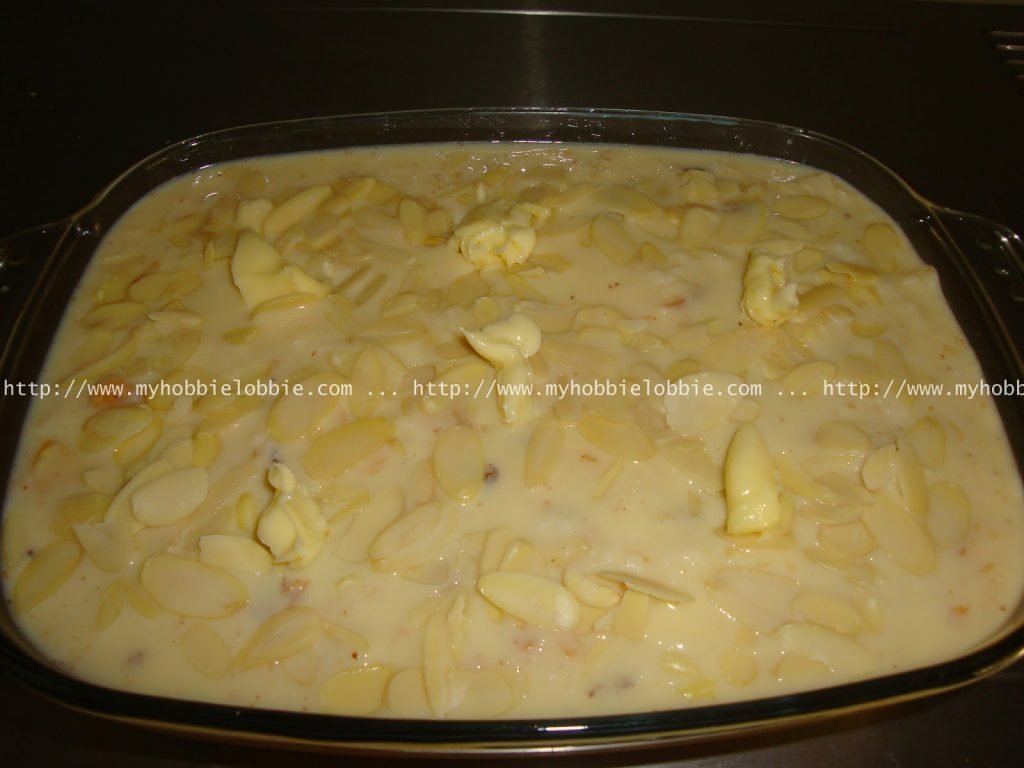 After it comes out of the oven and has cooled down, here's a glimpse of the golden caramel goodness that lies beneath.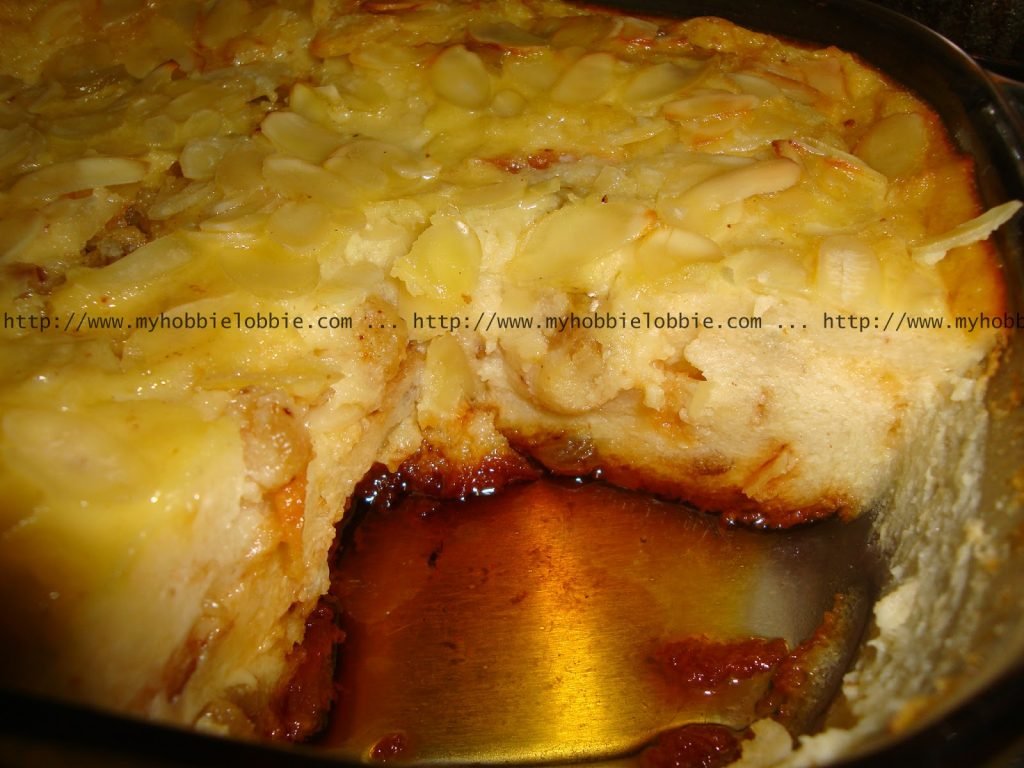 This pudding can either be served warm or cold. Its just as good either way.
This was dinner on a weeknight when I was flat out of ideas. I'm part of this group on Facebook called the Home Baker's Guild and this recipe just happened to be posted there that very day by a lovely lady, Prerna, who I had the pleasure of meeting a few days later. My husband and I love our seafood and most of it is either in the form of a curry or fried with some spices – Goan style or crumb fried. This is the first time I baked fish. I used a delicately flavoured basa fillet for this and I think it worked really well. The sauce was simple to put together and within a short while we were sitting down to a nice, healthy, home-cooked meal. I served the baked fish with some lightly buttered spaghetti and a fresh garden green salad.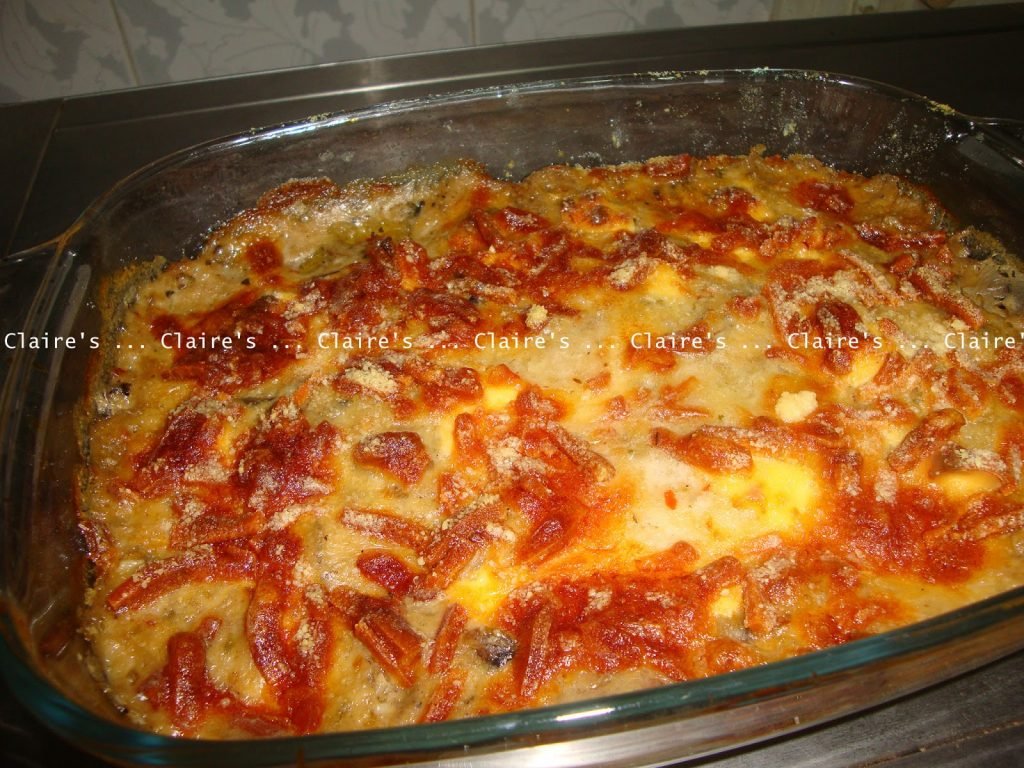 Baked Fish in Mushroom Sauce

300g Basa fillets (You can use any fish fillets of your choice)
1 tbsp. butter
250g mushrooms, sliced
1 tsp mixed dried herbs (I used an Italian mix)
2 tbsp. all purpose flour
1 cup milk
Salt, to taste
2 large cloves of garlic, finely chopped
1 tbsp. Olive oil
1 tbsp. Parmesan Cheese (You can used a processed / Cheddar cheese if you prefer – I used a little of both)
Fresh coriander, finely chopped, to garnish (I left this out since I didn't have any on hand)
Heat the butter in a pan. Add the mushrooms and salt and sauté on a medium flame till the liquid dries out.
Add the flour and cook for a couple of minutes till its not floury and has cooked out.
Now lower the heat and add the milk and whisk well so that no lumps are formed.
Add the herbs and cook for a few minutes on low flame.
In a glass baking dish, drizzle a little olive oil to grease the base of the dish, place the fish and the garlic and drizzle the rest of the olive oil over it.
Pour the sauce over the fish and sprinkle the cheese over the sauce.
Sprinkle the fresh coriander over (if using) and bake in a pre-heated oven at 200ºC for 20-25 minutes.
Keep a close eye on it while it is in the oven, I think I should've taken my dish out of the oven a few minutes before. It browned a little more that I would have liked, however, it still tasted fantastic.
Some of you know that in the past few posts, I've tried a few new things with a view to using up what was in the pantry, since we were going to move. These little gems were the result of one such experiment in my kitchen. I'm a big fan of sabudana (globally known tapioca pearls) preparations. I've had a few of them in the form of Kheer (sweet pudding), Khitchdi (savoury stir-fry) and these Vadas (fritters). I'd bought a packet of these pearls in the hopes of making all of these in my own kitchen at home. I didn't have too much luck with the Khitchdi, but these Vadas were superb. They were beautifully flavourful, nice and crunchy on the outside and would be great as a snack served with some ketchup or green chutney or as a side dish as part of a meal too. I'm happy I got around to trying these.
When going through Kanan's blog, I learnt that there are different varieties of sabudana. Some need to be soaked for just 2-3 hours, others overnight, depending on the quality of the pearls. Mine was good to go in about 2 and a half hours. When you soak the pearls, it is best to use a wide, shallow dish for this. If you're not sure how long your sabudana needs to be soaked, so what I did the first time around. Check on them every now and then. When you press a pearl between your fingers, it should mash easily, that's when you know they are done. Do not oversoak as the pearls will just get mushy and you don't want that to happen.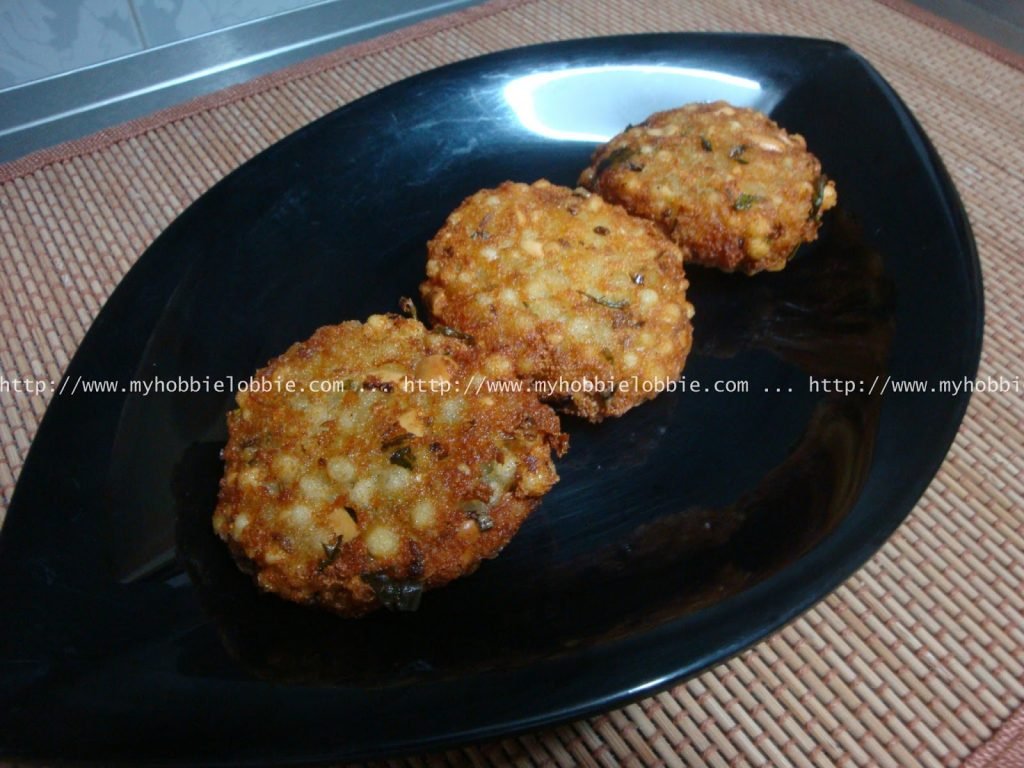 Sabudana Vadas
Recipe from: Spice Up the Curry
Yields about 20 vadas
3/4 cup Sabudana
2 medium sized potatoes, boiled, peeled and mashed (1 1/2 cup)
1/2 cup roasted peanuts
1 tsp cumin seeds
1 1/2 tsp ginger, finely chopped
5-6 green chillies, finely chopped (Or to taste)
10 sprigs fresh coriander, finely chopped
1 tsp lemon juice
Salt, to taste
Oil, for deep frying
Wash the sabudana under cold, running water, till the water runs clear.
Soak in a shallow dish till done. (See information above the picture.) The pearls will more than double in size so use a dish size that will accommodate this.
Drain the water and leave the pearls in a colander for about 10 minutes.
Roughly chop the roasted peanuts.
Place all the ingredients in a large bowl and mix till everything is well incorporated and form into a ball.
Heat the oil for deep frying. To check if the oil is hot enough, carefully place a small portion of a the mix in the oil. If it rises to the top immediately, you are good to go.
Grease your palms with a little oil, to avoid the mix sticking to your hands.
Take portions of the mix and shape them into little patties, round and flat.
Gently slide the patties into the oil, and fry till they are golden brown on both sides, on medium heat.
Do not overcrowd the pan that you are deep frying in.
Drain them on a paper towel lined plate to do away with the excess oil.
Serve them hot, with some ketchup or green chutney (coriander or mint) and a cup of hot tea.
Perfect snack for evenings when its raining or cold outsides. Alternatively, you can also serve these as part of a larger meal.
Enjoy!
Notes:
After shaping a few of the vadas, if the mix starts sticking to your hands, wash your hands, wipe dry, grease your palms lightly again and continue.
If the oil is not hot enough, the vadas will either fall apart in the oil or will soak up too much oil when frying.
Once the vadas are place in the oil, do not disturb them for about a minute. If they are disturbed, they could break up and absorb a lot more oil than they should.
These vadas are nice and crispy on the outside, if stored and reheated, they will lose their crispness to an extent.
Between batches while frying, let the temperature of the oil come back up before you can add the next lot. Do not overcrowd the pan.
So today, I finally had a little time to take a peek at this space and yet again, its been a while since I last posted here. I'm still getting my head around the what's where here in Sydney and will post more about my findings soon. In the meanwhile, I found that I still have a few recipes in my drafts, this is all from before we left Mumbai. Things were so hectic then, that I hardly had the time to share some of these recipes with you. Well, now is as good a time as any. So in the next few days, I'll be finally posting some of the stuff I'd whipped up earlier.
This cheesecake was requested for, by my brother. He had a friends birthday to attend and the birthday boy is a big fan of cheesecake, hence the request. This recipe is one I hadn't tried before, so I literally had my fingers crossed while this was coming together. I actually made a second tiny cheesecake, so that we could taste it too.
The cheesecake was a complete hit. We at home loved it too, so I know for sure they weren't just trying to be nice when they complemented it. I heard that at the party there was quite a scramble for it. There were a couple of pieces set aside to take to someone, but apparently a couple of the boys were found in the kitchen gobbling them down. All that was left were crumbs. Its always so nice to hear that. That's what keeps me baking.
I followed the recipe I found on Easy Meal Planning for the cheesecake. I didn't however, have the time to make the sauce for the topping. This cheesecake was originally supposed to be a Blueberry Cheesecake, but my brother who was supposed to pick up a tin for this specific purpose, picked up a tin of Blackcurrant pie filling instead. So we decided to use it anyway. Waste not! Want Not!
This cheesecake had to travel about an hour to its destination, so all I did was use the dull side of a knife to loosed the edges of the cheesecake after it had cooled completely. Then I placed a glass on the table and the cheesecake tin over it just to demould it completely. I simply picked the ring up again and then added the topping. I wrapped it all up nice and securely at the base and covered the top with some al-foil. It reached safe and sound.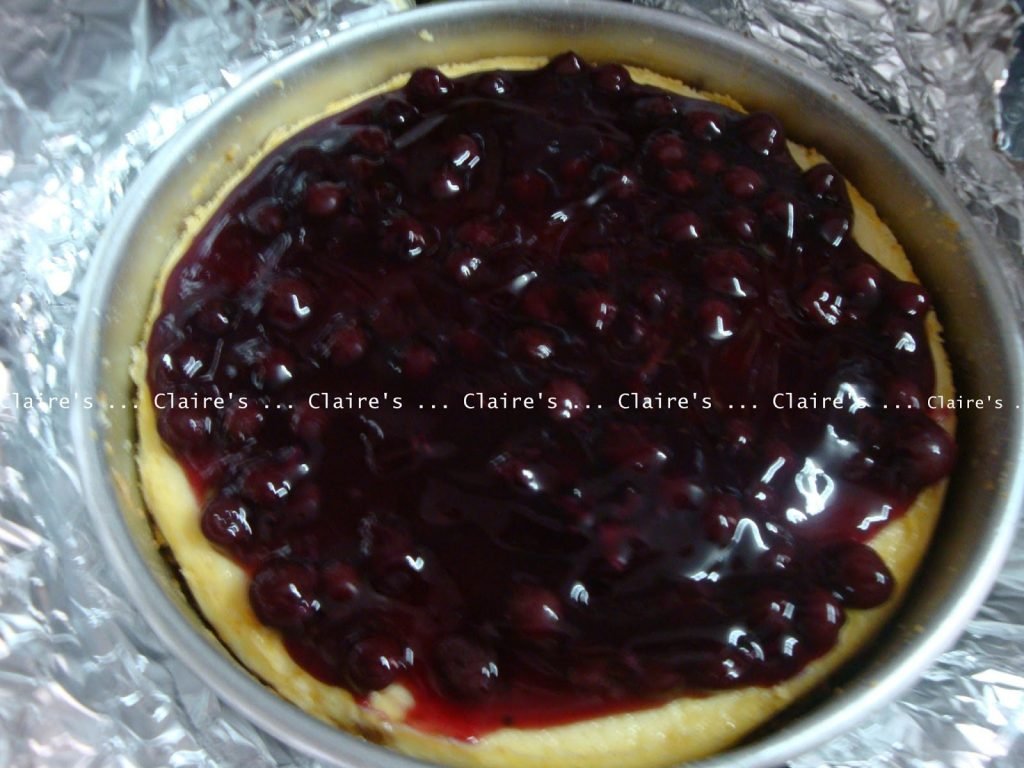 Blackcurrant Cheesecake
Yields 1-8″ and a tiny 4″ one or 1 – 9″ cake
For the base
250g digestive biscuits, crushed
60g butter, melted
Preheat the oven to 180ºC.
You can either use the food processor and lightly crush the biscuits till it resembled coarse bread crumbs or you can use a rolling pin. I used the food processor to save time.
Tip the biscuit crumbs in a mixing bowl and add the melted butter. Stir till it is incorporated well and starts to look like wet sand.
Press this mixture into the bottom of a loose bottomed cake tin (you could also use a spring form pan if you have one) and let it come up the sides as well. How high you let it come depends on how you like your cheesecake crust. Avoid making the crust too thick where the base meets the sides.
Bake for 7-10 minutes till it has lightly browned.
While this is happening, you can start mixing your filling.
For the filling
250g cream cheese
450g cottage cheese
200g light brown sugar
6 eggs, separated
1 tsp vanilla essence
1 tbsp. lemon zest
Make sure the cream cheese and the cottage cheese is near room temperature and not chilled to get a nice, creamy texture.
Blitz the cottage cheese in a blender with some milk / cream till smooth and creamy. Do not over beat.
Beat together the cottage cheese, the cream cheese, sour cream and the sugar. Add the egg yolks and continue to beat. Add the zest and the vanilla essence and beat till it has been incorporated well into the mix.
Beat the egg whites till they hold soft peaks. Fold the beaten whites into the cream cheese mix.
Pour the mix into the baked biscuit shell.
Wrap a large piece of heavy duty aluminium foil around the base of the tin and up the sides. Place the tin in a roasting tray. Carefully, pour boiling water in the roasting pan till it reaches halfway up the side of the cake pan.
Carefully place the roasting pan in the oven and bake for about 40 minutes or till a skewer inserted in the middle of the cake comes out just clean.
Remove the foil from around the tin and let the cheesecake cool completely.
Now you can demould the cake and add the topping. I used a tin of black-currant pie filling/cheesecake topping.
(Note that the original recipe calls for 450g cream cheese and 250g cottage cheese. I had just about 250g cream cheese and the local store was out of cream cheese so I used the quantities above and still ended up with a cheesecake that had beautiful texture.)