I've decided to take you through a few of the treats that I've made for Easter in the past. Some of them were made to order. The others, for friends and family. I hope you enjoy them!!!
This is a very short post on my version of Easter Cupcakes. Last Easter, I made a ton of marzipan chicks, eggs, bonnets etc. to order. When I was done with those, I decided that I needed a change from all that. So I turned to my favorite Chocolate cake recipe – its a Nigella Lawson recipe, my no-fail, go-to recipe for a great chocolate cake. I made some chocolate cupcakes topped it with Chocolate frosting and placed 3 marzipan eggs on the top. I like how they turned out. The only thing I will do differently when I make them next, is reduce the size of the eggs a little.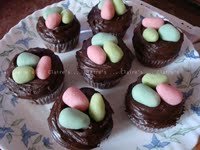 When I first started this blog, I assumed I would use it to share things that I made often and was good at. Never in my wildest dreams would I have thought that it would become so much more. This blog has given me the push in so many ways. Its made me revisit my collection of recipes and helped me discover some lost wonders amongst them. It has also encouraged me to try out things I've never done before and post it. I love all the little discoveries I've made along the way. Which brings me to todays post – my very first attempt at yeasted bread. My husband and I have always enjoyed a good burger. That however seems to have become increasingly difficult to find. So one weekend, we decided to whip up some burgers at home. So far, no biggie. While we were thinking of what kind of meat to have in our burgers, I decided that it would be really cool if we could bake our own burger buns as well. Trust me, a year ago I would've never thought that. Anyway after a little bit of scouting on the internet, I decided to go with a recipe I found on the
King Arthur Flour website
.
It was fairly easy to make. The only catch here is the waiting. You need to make this a little ahead of when you will be needing it. The buns turned out really tasty. However, they didn't turn out as light as I expected them to. I used Active Dry Yeast instead of the Instant Yeast the original recipe calls for, which later, upon troubleshooting I discovered is okay to do, provided to add more yeast than the original Instant yeast quantities called for. When I make them next, I will try that out and see if it works better. But the loaves turned out really hearty and so much more flavorful than the store bought ones. I also wanted to try out two different washes. The ones in the center, the plain ones, those had a melted butter wash going for them. The sesame topped buns had the egg wash. I like the glaze that the egg wash added to the finished product. I'm definitely going to keep making my own burger buns at home. Do you have a no fail burger bun recipe? I'd love to give it a try.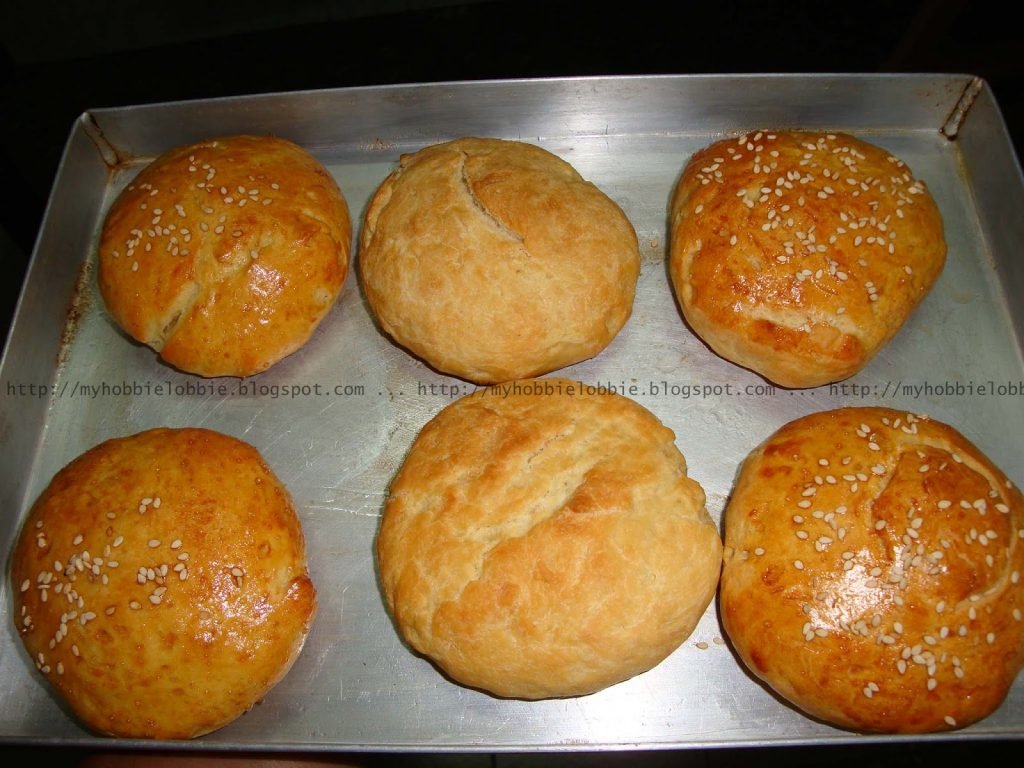 Homemade Burger Buns
Recipe by: King Arthur Flour
Yield: 8 buns
3 1/2 cups all purpose flour
3/4 to 1 cup luke warm water
1 tbsp instant yeast
1/4 cup sugar
1 1/4 tsp salt
2 tbsp butter
1 large egg
Mix all the ingredients to form a smooth soft dough. (If you are using Active Dry yeast instead, let it sit in the warm water and sugar for about 5-10 minutes till it gets bubbly and frothy and then add it to the other dry ingredients).
Cover the dough and let it rise till it has doubled in size, about an hour.
Gently deflate the dough. Divide into 8 portions. Shape the buns and place them on a lightly greased baking sheet.
Cover and let it rise for about another hour, till nice and puffy.


If desired, brush buns with melted butter. Or brush lightly with egg wash (1 egg beaten with 1 tablespoon water), and sprinkle with sesame seeds.
Bake the buns for about 12-15 minutes in an oven thats been preheated to 180ºC till golden.
Cool on a rack.
Enjoy your own homemade burger buns.
Stay tuned for tomorrows post to see what I did with these.
This recipe has been linked to –
Recipes I Can't Wait to Try
Whats on the Menu Wednesday
Works for me Wednesday
Real Food Wednesday
Delicious Dishes
Let's Break Bread Together
Whenever, I boil dried beans of any sort, I make sure I cook a little more than I need. I love eating a few plain, nice and warm, just after they've cooked. Sometimes, I keep some aside to add to a salad. It just adds another dimension to the salad. This is exactly what I do when I boil dried chickpeas. If you want to know how its done, check this
post
.
I simply love the colors.


Chickpea Salad


1/2 cup boiled chickpeas
1 onion, chopped
2 green chillies, finely chopped (optional)
1 tomato, chopped
1 tbsp. fresh coriander leaves, chopped
Salt, to taste
Crushed black peppercorns, to taste
A squirt of lime juice
Balsamic vinegar, to taste
Mix all the ingredients together in a bowl. Check for salt and sourness.
Keep chilled till you're ready to serve.
This recipe is linked to –
Delectable Tuesday
Tasty Tuesday
A Little Birdie Told Me
Hearth and Soul
Tuesdays at the Table
Tasty Tuesday
Tuesday Night Supper Club
Mangia Mondays
This is another popular dish in India. There are many recipes you will find to make this curry. This is a simple recipe and one of my favorites. This curry is usually paired with Baturas or Pooris but goes very well with chapatis (whole wheat Indian flatbread) as well. It also goes well with plain boiled rice. I will have posts up on
baturas
, pooris and chapatis. Stay tuned. This is a thick gravy, also called a chana masala because of this very reason.
Chole (Garbanzo beans curry)


100 gms. dried kabuli channa (Garbanzo beans)
2 kashmiri chillies (dried red chillies)
3 onions, peeled and cubed
2 green chillies (or to taste)
1″ ginger, roughly chopped
4 cloves garlic, peeled and roughly chopped
2 tomatoes, roughly cubed
1/2 tsp. turmeric powder
1 tsp. red chilly powder
1 tsp. garam masala powder
1 t 1/2 tbsp. vegetable oil
Salt, to taste
2 tbsp. fresh coriander leaves, chopped
Soak the beans overnight in plenty of water.
Rinse out with fresh water the next day and pressure cook with 2 kashmiri chillies and about 1 tsp. salt. Cook for about 15 minutes after the 1st whistle.
If you aren't using a pressure cooker, simply cook till tender. Reserve the stock.
In a blender, blitz the onions, chillies, ginger and garlic till you get a smooth paste.
Heat the oil in a pot/vessel and tip in the onion paste. Sauté for a few minutes, stirring to make sure it doesn't burn.
While this is cooking off, tip the tomatoes in the blender and puree. Keep aside.
When the onion paste has thickened, add the turmeric powder, chilly powder and garam masala powder and stir till well mixed with the onion paste.
Add the tomato puree, stir well and let it cook off on a medium flame till you see a little of the oil at the sides of the masala paste. It should take a couple of minutes.
Add the cooked beans and stir gently. Let it cook in the masala for a couple of minutes.
Add some of the water in which the beans were cooked to the pot till you get the desired consistency. Let it thicken a little.
Check for salt. Adjust if needed.
Sprinkle the chopped coriander leaves and gently mix through.
Serve hot!
**Check back for the next post which will show you another interesting use of boiled garbanzo beans.**
This recipe is linked to –
Not Baaad
Meatless Mondays
Just Another Meatless Monday
My Meatless Mondays
Decidedly Healthy or Horridly Decadent
The Blog Entourage
Mouthwatering Monday
Just the other day big time hunger pangs caught me by surprise. And what I was doing at the time wasn't helping either. Any guesses? Yes, I was looking through some wonderful food blogs with the most amazing pictures. That just made things worse. I needed something, anything, quickly. While I was browsing, I came across a post for a peanut butter nutella sandwich. I love peanut butter. Sometimes, I have a plain peanut butter sandwich, other times, I indulge in a peanut butter and jam one. I also love the flavor of nutella, but i find it a tad too sweet. I really don't remember which blog I had stumbled upon
(Note to self: Next time make a note of such blogs not just the recipes they offer),
but I must admit, I just couldn't see these 2 individually wonderful yummy things coming together. But by that time I was so hungry and since there wasn't any cooking or major prep work involved, I decided to try it out. My dear friends, I was astonished. This was an awesome sandwich. I skimped on the Nutella because of the sweetness, but the flavor was all there. What worked even better, was that the saltiness of the peanut butter was helping to cut through the sweetness of the Nutella. All in all, a great instant chocolate fix. You'll be smiling for a while after you've had it. Will I make this sandwich again? Not too often, but hell yeah!
Peanut Butter Nutella Sandwich
2 slices of bread
Crunchy Peanut Butter
Nutella
Spread some peanut butter on one slice and Nutella on the other. Put the slices together, sit back and relish it. Let the goodies do their thing!
I don't know how many of you have had the opportunity to try out Goa sausages or Chorizo sausages. I love them. I've heard that flavor wise the Portuguese
chouriço
sausages are very similar, the Goan ones are supposedly a spicier variant. You can read more about the different types available
here
. In Goa its very easy to source the locally homemade sausage links which are sold in the local markets. In Mumbai, its not that easy. But we do get some packaged, branded variants like the popular Joao's or Costa's. My favorite brand is Barry & Jules. It has less fat but is a lot spicier than the others. The sausage is so flavorful that it needs no more spices or herbs. This chilly fry is a simple preparation but is packed with flavor and spice. So you can omit the additional chilly. Enjoy this with some soft hearty white bread. In Goa, its eaten with pao, a local Goan bread.
I hope you enjoy it as much as we do 🙂
Spicy Goa Sausage Chilly Fry


1/3 packet Goa sausages, taken out of casing and chopped
1/2 tbsp. oil
2 onions, chopped
1/2″ ginger
4 curry leaves
2 green chillies, chopped in to 3-4 pieces
1 tomato, chopped
1 large or 2 small potatoes, cubed


Heat the oil in a pan. Add the onion, curry leaves and chillies and sauté till the onions have softened. Add the finger and sauté till the onions have browned.


Add the tomatoes and continue cooking till they have softened.


Add the sausage meat and let it fry a little and release its flavors. Once the aroma has released, tip in the potatoes. Stir fry for a couple of minutes.


Add a splash of water, not too much, cover and cook till the potatoes are done.


Serve hot with bread.




This recipe is linked to –
Whats on the Menu Wednesday
Delicious Dishes
Recipes I Can't Wait to Try
UPDATE
: I've found an easier recipe for homemade tortilla chips. Check it out
here
.
I've always wanted to try making nachos at home and yes, from scratch. Recently, I've been thinking a lot about this amazing plate of Nachos that I had while I was in Goa for a few days. I knew that if I wanted it like that, I'd have to make it myself. The only thing I had a recipe guide me with was the corn tortillas for the homemade tortilla chips, which I took from Nita Mehta's "Multi-cuisine Cookbook". I didn't spend time looking for recipes for the rest of the stuff, but just threw a few things together from memory. It really was quite funny, me, roaming in circles in my kitchen, trying to remember what was on the plate and what the flavors were and then checking to see if I had what was needed to put together a plate of Nachos. Crazy visual, anyway back to food.
Being my first attempt, I was very pleased with the way it turned out, the textures and flavors were nice. However, when I make this next, I'm definitely going to up the cheese. I think I will look around on the internet for a few ideas to pretty this up. I'd be glad if I could get a little input from you wonderful bloggers out there. I know a lot of you have made Nachos at home and have some tricks up your sleeves. I'd love to hear from you. For those of you who haven't tried making these before, I suggest you do it, soon, if you love Mexican food that is, and only if you want to be able to dish out some yummy stuff right out of your kitchen. Here's my humble take on it –
Nachos –
For the homemade tortilla chips –
(Makes 10-12)
1 1/2 cups corn meal
1 cup all purpose flour
3/4 tsp. salt
Warm water, to knead the dough
Oil, for deep frying
Mix the dry ingredients in a large bowl.
Knead it into a dough using enough warm water to make it a pliable dough.
Cover with a damp cloth and let it rest for an hour.
Divide the dough into portions. Roll out to form a thin disc.
Heat a griddle. Place the rolled tortilla on the griddle and let it cook for about a minute on a medium flame.
Turn over and cook the other side till a few brown specs start appearing. Don't let them crisp up.
When the tortillas are ready, cut into 8 wedges each and deep fry in hot oil.
Drain on some kitchen paper.
For the Pico de Gallo –
1 onion, chopped
1 tomato, chopped
1-2 green chillies, chopped
1 tbsp. fresh coriander leaves, chopped
Salt, to taste
Lime juice, to taste
Toss all the veggies in a bowl. Add the salt and lime juice. Toss well. Check for seasoning.
For the assembly –
I didn't want to switch the oven on for this, so I just used the stove top and improvised.
Place the tortilla chips on a griddle. Grate some cheese over it. You can use whatever variant of cheese you enjoy, or have at hand. Don't skimp on the cheese if you want some really deliciously cheesy nachos.
Carefully tip the nachos with the cheesy top on a plate, trying not to disturb the layer of cheese on top.
Serve up with sides of your choice. I served it with some sour cream and some pico de gallo.
You can also serve it with some guacamole and salsa if you'd like.
This is the last of the salads that I had made for the
barbecue party. Now this doesn't mean that there won't be more salad recipes and posts, because there will. With the summer heat and humidity already upon us, I am going to switch from warm hearty meals to some cool, fresh and soothing salads. Stay tuned.
This cucumber salad is very simple to make and the dill leaves add a lovely flavor to the yogurt. I used a little cream to add the creamy factor to this salad, so feel free to either leave it out completely or vary the quantities to your liking. Salads are very forgiving. You don't have to stick to quantities and at times, even an ingredient list. So, go ahead, put your spin on it, and let me know how it worked out for you.
Cucumber Salad With Dill Yogurt
2 fresh cucumbers, peeled and sliced
One really popular drink especially during the hot summers in India is a Lassi. A lassi is nothing but fresh yogurt sweetened to your liking and top with a dollop of cream. I like mine without the cream. Its refreshing and healthy. Restaurants here serve two varieties a sweet and a salty lassi. I've never tried the salty variant, I don't think I'd like it.
Summer seems to have found its ways here a little to early. Its as hot as it would typically be during the peak of summer in the month of May. I can only imagine what May will be like. What better way to cope with the crazy heat than a delicious, cool, fruity lassi. Surprisingly the only fruity yogurt we can find here is processed and honestly, doesn't even taste like yogurt anymore. I'd picked up a whole bunch of strawberries on our last trip to Panchgani and decided to add a few to the lassi. The result was delicious, refreshing and as REAL as real food gets without any funny stuff (read preservatives etc.) added to it and its so simple to make. I used fresh strawberries since they were in season but I'm pretty sure frozen berries will do just fine as well. You can opt to use a sweetener of your choice or if you prefer you can leave it out altogether.
Strawberry Lassi
(Serves 2)
1 tub natural unflavored yogurt (We get it in 400g tubs)
A few fresh stawberries (I used about 8-10 strawberries)
2 spoons superfine sugar (optional)
Place all the ingredients in a blender and blitz till is well incorporated.
Serve.
This recipe is linked to –
This Week's Cravings
Decidedly Healthy or Horridly Decadent
Sweet Tooth Friday
Sweets for a Saturday

Seasonal Indulgence – Series Summer Coolers
UPDATE: Just wanted to let you guys know that Bombay Ducks are actually a type of fish and not meat. They are called Bombil in Hindi and Marathi. You can get more information here.
As a child, I hated fish, or so they thought. My mum and nana would try everything they could think of to try and get me to eat fish. Of course, I wasn't a stubborn child except where eating fish was concerned so they had their work cut out for them. Eventually they realized that the reason I wouldn't eat fish was that I was okay with eating fish but what I actually hated having to debone the cooked fish before eating. Ironically I didn't mind eating fried sardines and fried karli (silver barfish), the boniest of the varieties available here, go figure! So my loving grandma would patiently sit and debone the fish on my plate, which I would very willingly eat up. Oh, the memories.
Anyway, moving on to the current day scenario, I love fish. And one of my current day favorites are crunchy (fresh) bombay duck fillets. The best part is, my husband, Ashley, is a genius at filleting these guys. Lucky me!!! Nothing could be simpler that making this dish. You really should try this. I want you to enjoy something this delicious. This is not so much a recipe, but simple pointers to making the fillets. Please adjust flavors to your liking
Crunchy Bombay Duck Fillets


Bombay ducks, cleaned and filleted
Turmeric powder
Red chilly powder
Salt, to taste
Lime juice to taste
Apple cider vinegar, to taste
Besan (chickpea flour)
Bread crumbs, to coat
Oil, for frying
Wash the fish and pat dry. Lay the fillets out flat on a plate.
Sprinkle the salt, turmeric powder, red chilly powder, lime juice and apple cider vinegar over the fish. Gently, turn over to make sure that both sides are seasoned. Its hard to give you quantities for the spices, since everyone has different preferences. I make sure that there is a little sprinkling of the spices on all the fish on both sides. Handle lightly as this is a delicate fish.
Sprinkle some chickpea flour over the fish on both sides till lightly coated. You can add a few drops of water to help you with this. The chickpea flour will help the fish stay together so please don't omit it. Since this is a delicate fish, leaving it out will result in the fish breaking up while you try to move it around in the pan. You don't want a thick layer or a chickpea batter coat, just a light sprinkling to bind it.
Keep aside for about 15 minutes.
Heat a couple of tablespoons of oil in a pan.
Dredge the fillets in breadcrumbs to coat them well. This will give you a crunchy fillet.
Shallow fry on a medium flame. Do not move the fish around in the pan, till a crust has formed on the bottom. Moving it to early will break the fish up. Once the bottom side has formed a nice brown crust, turn over and cook on the other side till done.
Serve hot.


This recipe has been linked to –
Delectable Tuesday
Whats Cooking Thursday
Full Plate Thursday
Fun with Food Friday