When I first started this blog, I assumed I would use it to share things that I made often and was good at. Never in my wildest dreams would I have thought that it would become so much more. This blog has given me the push in so many ways. Its made me revisit my collection of recipes and helped me discover some lost wonders amongst them. It has also encouraged me to try out things I've never done before and post it. I love all the little discoveries I've made along the way. Which brings me to todays post – my very first attempt at yeasted bread. My husband and I have always enjoyed a good burger. That however seems to have become increasingly difficult to find. So one weekend, we decided to whip up some burgers at home. So far, no biggie. While we were thinking of what kind of meat to have in our burgers, I decided that it would be really cool if we could bake our own burger buns as well. Trust me, a year ago I would've never thought that. Anyway after a little bit of scouting on the internet, I decided to go with a recipe I found on the
King Arthur Flour website
.
It was fairly easy to make. The only catch here is the waiting. You need to make this a little ahead of when you will be needing it. The buns turned out really tasty. However, they didn't turn out as light as I expected them to. I used Active Dry Yeast instead of the Instant Yeast the original recipe calls for, which later, upon troubleshooting I discovered is okay to do, provided to add more yeast than the original Instant yeast quantities called for. When I make them next, I will try that out and see if it works better. But the loaves turned out really hearty and so much more flavorful than the store bought ones. I also wanted to try out two different washes. The ones in the center, the plain ones, those had a melted butter wash going for them. The sesame topped buns had the egg wash. I like the glaze that the egg wash added to the finished product. I'm definitely going to keep making my own burger buns at home. Do you have a no fail burger bun recipe? I'd love to give it a try.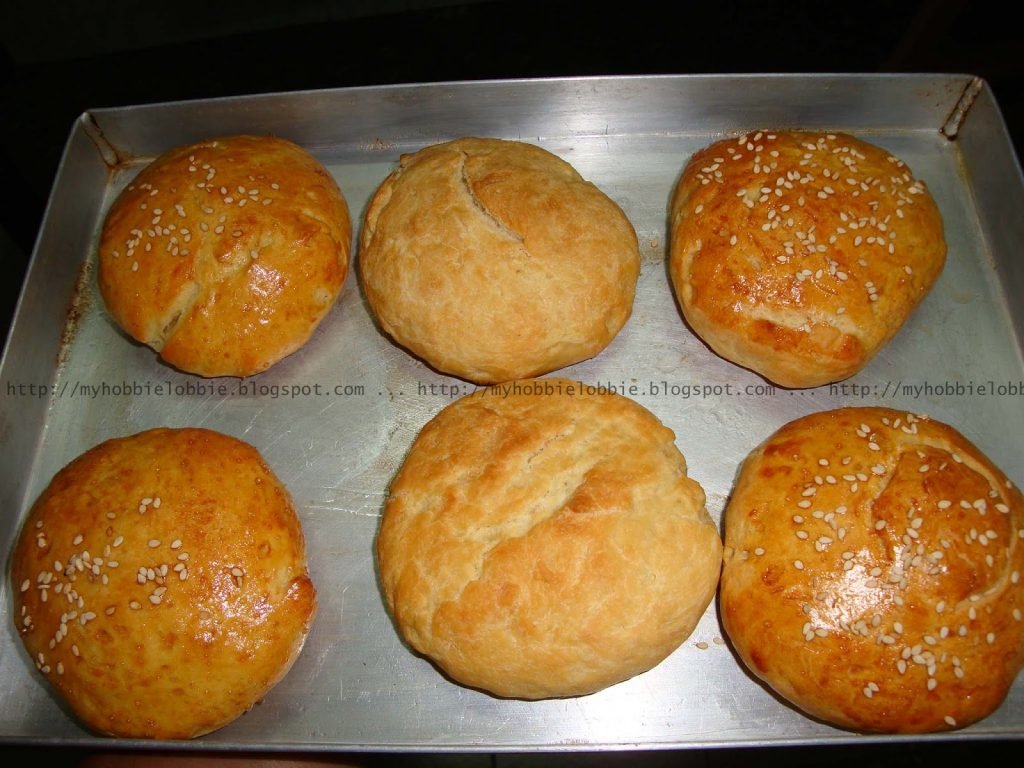 Homemade Burger Buns
Recipe by: King Arthur Flour
Yield: 8 buns
3 1/2 cups all purpose flour
3/4 to 1 cup luke warm water
1 tbsp instant yeast
1/4 cup sugar
1 1/4 tsp salt
2 tbsp butter
1 large egg
Mix all the ingredients to form a smooth soft dough. (If you are using Active Dry yeast instead, let it sit in the warm water and sugar for about 5-10 minutes till it gets bubbly and frothy and then add it to the other dry ingredients).
Cover the dough and let it rise till it has doubled in size, about an hour.
Gently deflate the dough. Divide into 8 portions. Shape the buns and place them on a lightly greased baking sheet.
Cover and let it rise for about another hour, till nice and puffy.


If desired, brush buns with melted butter. Or brush lightly with egg wash (1 egg beaten with 1 tablespoon water), and sprinkle with sesame seeds.
Bake the buns for about 12-15 minutes in an oven thats been preheated to 180ºC till golden.
Cool on a rack.
Enjoy your own homemade burger buns.
Stay tuned for tomorrows post to see what I did with these.
This recipe has been linked to –
Recipes I Can't Wait to Try
Whats on the Menu Wednesday
Works for me Wednesday
Real Food Wednesday
Delicious Dishes
Let's Break Bread Together