Those of you who follow my blog posts will know that my recipe titles which are normally my post titles usually never make lofty claims. This time it just had to be done. I believe, yes, truly believe that I have come across the best cheesecake recipe.
Let's go back to where it all began, shall we! My husband and I were sitting one evening and watching the latest season of Masterchef Australia (one of my favourite food shows) and it happened to be a Masterclass episode. I'm so stoked they brought back the Masterclass episodes this year. I felt quite cheated out of them last year. Anyway, Matt Preston was making a baked cheesecake. We love cheesecake in our house. So we were very keen to check this masterclass out. Long story short, we loved the way his cheesecake turned out and decided that we would try it sometime soon.
Now I didn't know how soon "soon" would actually be. I figured it would be a while before I got a chance to make one of them. Turned out, my husband had other plans. The following Saturday while I was at work (yes, unfortunately I do work some weekends), he actually went to the shops and picked out all the ingredients for the cake and had it prepped by the time I got home from work. We popped it in to bake and then in the fridge to set. After dinner that day we were both anxious to see how it turned out. It was HEAVENLY. Soft, creamy, beautifully flavoured with a fantastic crust. We we both very, very pleased with the way this cheesecake turned out and I can happily say that this will now be my go-to recipe for a baked Cheesecake. Thank you Matt Preston! and thank you Masterchef Australia!
Baked Cheesecake


For the base –
1 packet of Granita biscuits (250g pack) (if you can't find Granita biscuits, you can use Digestive biscuits instead)
60g sugar
75 g butter, melted
For the filling –
750g cream cheese, at room temperature
230g or 1 cup caster sugar
4 eggs
2 1/2 tbsp lemon juice
1 tsp lemon
1 tsp vanilla extract
A pinch of salt
300ml double cream
Preheat the oven to 175ºC.
Line a 23cm spring form cake tin with baking paper.
Double wrap the outside of the cake tin with extra wide aluminium foil. This is to make the tin water tight to ensure that water from the little water bath you will create for the cake, doesn't seep into the cake.
For the base, blitz the biscuits in a food processor till you get crumbs. Add the sugar and blitz again for a couple of seconds till its mixes well. Add the unsalted butter and blitz again to combine.
At this stage, your base mix should resemble coarse wet sand.
Press the mix into the bottom of the prepared cake tin, spreading it out with the back of a large wooden spoon to even it out.
Bake for 10 minutes till lightly brown and set.
Remove the tin from the oven and set aside to cool. This base should be completely cooled before you add the filling.
For the filling, place the cream cheese in a stand mixer and using a padding attachment beat till smooth and creamy.
Add the sugar and beat till the sugar has completely dissolved.
Add the eggs one at a time, beating between each addition and make sure the egg is fully incorporated in the mix before adding the next one.
Add the lemon juice, vanilla extract and salt and mix until well combined.
Now add the cream and mix until well combined.
Pour the mix over the cooled base. Set the cake tin in the middle of a larger roasting tray or larger baking dish. You want to ensure your roasting tray / baking dish has high sides. Set this on the middle rack of the oven.
Carefully, fill the roasting tray with boiling water upto a 2 cm height and bake till the cake has set and the top is a little golden brown. This should take about 65 minutes.
Turn off the oven and leave the cheesecake inside the oven to cool with the oven door closed.
Then take the cheesecake and leave to cool completely.
Cover it and pop it into the fridge to cool a little and set further.
Serve with fresh berries if desired. But even by itself, the cake is so good you'll be glad you baked it.
I'm finally back to blogging! If you've been wondering where I've been over the last few weeks, I've been right here but I've had my laptop die on me. It was a real task recovering the data on it and getting back to doing this. But thanks to my wonderful husband, I've recovered most of it. And now finally have access to it. Still don't have my trusty laptop, but the family computer works fine for now.
So to ease back into the flow of things, this will be a quick post. The recipe also is a quick one, super simple to make. Infact, you can barely even call it a recipe, but the results are so very good, I will go ahead and post it here to share with you. If you haven't tried out sweet potato fries yet, trust me, you really should. Even my beloved husband, who doesn't care much for the sweet potato (he calls it a sweet mush / baby food), loved it and actually requests for these fries every once in a while.
There are a couple of things to keep in mind here. You could peel the potatoes, but I leave the skin on. Just give it a good wash and scrub and you are good to go. Also, size of the fries will make a difference. The thicker you cut it, the longer it will take to cook. The thicker sized fries will still be soft and fluffy. If you are like me and love a little crunch in your life, cut the fries thin. It cooks quicker and caramelises a little and is super delicious, not to mention perfectly crunchy.
This fries are a much more healthy version that the regular potato fries and are great either as a snack or as a side to a big roast dinner or holiday meal too.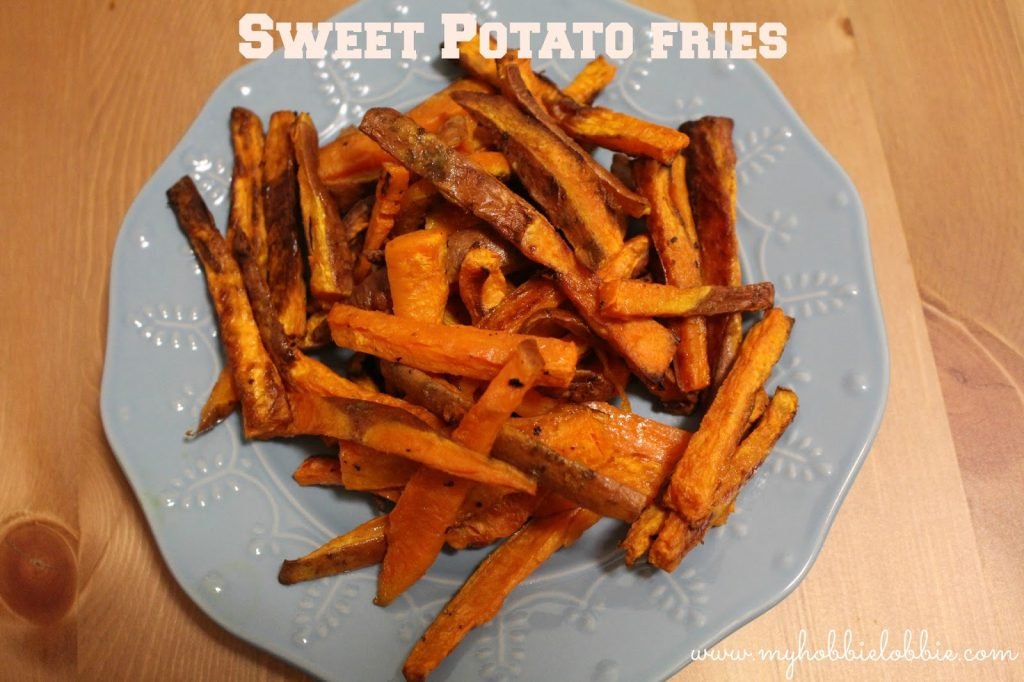 Sweet Potato Fries


1 large sweet potato, washed
Salt, to taste
Freshly crushed black pepper, to taste
A drizzle of olive oil (about 1 tbsp)
Preheat the oven to 200°C.
Cut the sweet potato into fries.
Drizzle a little olive oil on a baking tray.
Place the sweet potato, salt and pepper on the tray and toss to make sure everything is well coated. You can add a little more olive oil if needed.
Arrange the potato pieces in a single layer.
Bake for 15-20 minutes, turning the pieces once at the halfway mark.
Keep an eye on your oven from time to time. It may not need as long in your oven. Also this time will depend on the size of the pieces. So keep an eye on it the first time you make this.
When it is done to your liking, take it out of the oven.
Serve hot and enjoy!
The last couple of months have somehow seemed to sneak past. It is hard to believe that it is May 2016 already. The good part about coming into a new month is the
SRC
reveal day. This month, I was assigned Sally's blog,
Bewitching Kitchen
. I was so excited when I got this assignment. I've always been a huge fan of Sally's blog. Sally is a fascinating person. By day, she is a Biochemist. She also is an exercise fanatic. Originally born in Brazil, she has spent time living in Paris and now is in the USA. You can see delicious influences from all these places in her cooking and on her blog. If you love bread like I do, you are in for a treat. Go and have a look at Sally's blog. She has a plethora of bread recipes. While you are there, don't forget to check out the antics of 3 of the most adorable little doggies you have ever seen. I had an amazing time getting to know Sally a little better. And there are so many recipes I can't wait to try, like this
Baked Coconut
, these
Coconut Brigadeiros
, a delicious
Cappuccino Panna Cotta
and a savoury Brazilian delicacy called
Coxinha De Galinha
, just to name a few. The Bewitching Kitchen is one blog where you want to try out pretty much every recipe you see. I finally settled on a savoury one this month.
The weather has started cooling down here and when that happens, I find myself longing for soup. In the past, I have to admit, I've almost always ripped open a packet of instant soup and made do with that. In the last couple of years though, I have tried out a couple of homemade soups and I've enjoyed them so much, I have decided to make a few more this year and to get that started I picked Sally's Zucchini Spinach Soup for this month's reveal. Oh what a recipe this is – delicious, warm and hearty. It is hard to believe that a recipe this simple can be so comforting. I'm enjoying the discovery that making soups at home, from scratch is not as complicated as I thought it would be. Thanks Sally, for a beautiful soup, which will make an appearance on our dinner table on many more occasions.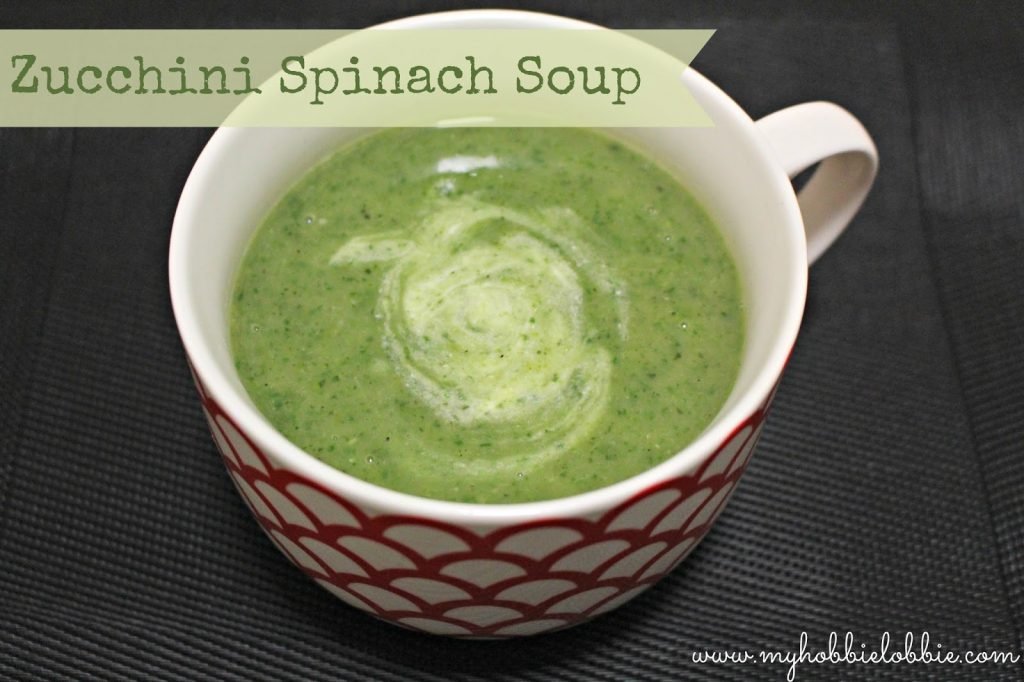 Zucchini Spinach Soup


1 tbsp olive oil
1 leek (white part finely sliced)
3 medium sized zucchini, slice thickly
1 can butter beans
4 cups water
2 cups baby spinach
Salt, to taste
Black pepper powder to taste
A dollop of yogurt
A squeeze of lemon juice
In a pot, heat the olive oil and add the sliced leek. '
Saute till the leek turns golden.
Add the zucchini slices.
Season with salt and pepper and saute till the slices get some colour on them, stirring every now and then.


Add the beans and let it cook for a couple of minutes.
Add the water (you could also use vegetable stock if you like).
Cover the pot and let it come to a boil over high heat.
Lower the heat and let it simmer for about 15 minutes or till the zucchini slices are tender.
Add the baby spinach leaves and stir. When the leaves wilt, you can take the soup off the stovetop.
I used an immersion blender to blitz this into a nice luscious soup. You could also use a blender if you don't have an immersion blender. Irrespective of what gadget you use, please, please, please be cautious while blending the soup, because it is scalding hot.
Serve up hot with a squirt of lemon juice and a little dollop of yogurt.
Enjoy!!!