After spending a little more than 30 years in Mumbai, when I was born and brought up, we moved to our new home – Australia. Nothing gives me greater joy than calling Australia home. But every once in a while, I go through phases where I miss Indian food. We cook a lot of Indian food at home. But what I was missing was the easily available street food that Mumbai is famous for – it's Chat and idli/vada/dosas. Another thing I tend to miss is the Indian Mithai (sweets) and farsaan (savoury munchies). The Indian stores here stock them, but they're usually not as fresh as they should be, or as tasty. You also end up spending a fair bit on them. I decided it was time that I learnt to make the things I love, myself. To my surprise, I found that a lot of these recipes are fairly easy. With a little research online, I am now well on my way to making a lot of these goodies myself. Today I'm making some Garlic Karasev.
I tried my hand at an easy version of the Gulab Jamun which you can check out here. I was so stoked with the results, I knew I couldn't stop there. So the very next day, I decided to try out something savoury. I found this recipe through Pinterest and at the same time I tried out a recipe for Methi Mathri. The Methi Mathri flopped, but I think I know what possible caused that to fail. But this Garlic Karasev, was spot on. I love garlic and that garlicky flavour came through beautifully. I stuck to the ingredient list in the original recipe, but made a few modifications to the process. This made the process easier with no impact on the resulting flavour or texture. I was very pleased with the results. It is hard to stop snacking on this garlic karasev with your afternoon cup of tea. This recipe is an absolute keeper. It yields a fairly big batch within a short time too.
Garlic Karasev
Adapted from: The Chef and Her Kitchen
2 1/2 cups besan (chickpea flour)
1 cup rice flour
2 tsp melted ghee (clarified butter)
2 tsp red chilli powder
3 large cloves of garlic, finely grated
Salt to taste (about 1 tsp approx.)
Oil, for deep frying
Heat oil in a wok for deep frying. While the oil is heating, prepare the dough.
In a large mixing bowl, place the besan, rice flour, red chilli powder and salt. Mix well.
Add the grated garlic and mix to distribute evenly.
Add the melted ghee next. Again mix well.
Gradually add a little water and knead to a dough. The dough shouldn't be too tight or too soft. It will be a little sticky, which is fine.
Divide the dough into 2-3 portions. I had 3 portions, one was in the chakli press.
For this recipe, you need to use the form with slightly larger holes. You may have one with 3 larger holes or multiple ones. I've indicated the one I used.
By now, the oil should have heated. Insert the form you are using first. Add the dough. Then simply turn the handle on the top while moving your arm slightly to form a little circular nest directly in the hot oil. Don't overlap the dough too much or it wont fry well. Turn the heat to medium.
When it starts to turn a light golden brown, carefully turn over with a slotted spoon.
When it has cooked on both sides to a golden brown colour, take it off the heat using a slotted spoon and place on some kitchen paper to get rid of any excess oil.
Continue the process with the rest of the dough.
Once it has cooled completely, you can break it up gently into smaller pieces and store in an airtight container.
You've got yourself a couple of weeks worth of munchies. And the best part is, you know exactly what is in it, no artificial flavouring or preservatives. That makes me very happy.
So go ahead, try this recipe and let me know what you think of it.
Have I told you how much I love Indian sweets? Probably not. Well, here goes – I love, love, LOVE Indian sweets. I love Indian sweets even more than I love chocolate some days. I know, shocking!!! Isn't it?
When I lived in Mumbai, I was fortunate enough to have 3 really good Indian sweet shops or Mithaiwalas in the vicinity. Thankfully they weren't too close. I'd literally go nuts whenever I went there. There were so many options to choose from. And I don't to well with too many options. I just cannot pick in those situations. Anyway, my indecisiveness aside, one of my favourite Indian sweets has to be Gulab Jamuns. Gulab Jamuns are beautiful little deep fried dumplings soaked in cardamom infused sugar syrup.
I have made Gulab Jamun at home a few times now. Traditionally, the dumplings are made with milk that is reduced to an almost solid state. This process takes atleast an hour. If you live in India, you should be able to go to the store and buy mava / khoya (the reduced milk solids). If you don't want to spend as much time or money (mava / khoya can be pricey), but still want to sit back and enjoy some home made Gulab Jamun, you have come to the right place. I have found a recipe that will probably take you about half an hour (or thereabouts) to make from start to finish.
If you are someone who has just about started dabbling in Indian food and want to impress your family and friends with some home made Indian dessert, try your hand at this recipe. You will love it and you can count on being hailed a superstar if you bring these to a potluck or any party.
Now, on to the recipe. I cannot take credit for this genious idea. I was watching Better Homes and Gardens one Friday night and I saw Fast Ed make these and I knew then and there that I had to try them out myself. It was too good to be true and the skeptic in me, knew there'd be something different about these. Either the flavour or the texture wouldn't be right. But I was wrong, so very wrong. These Gulab Jamun turned out just like I remember them. Beautiful luscious dumplings, soft and drenched in the infused sugar syrup. These are best enjoyed a little warm but they are pretty darn good served cold as well. Even in the traditional sweet shops in India the sizes of the dumpling vary. I make them a little smaller because they will expand after frying and soaking in the sugar syrup. I prefer them smaller because that way they cook through quickly and they look so dainty served in a little bowl. I have also seen them made oblong in shape. Either way they are like little bites of heaven.
You could dress them up by sprinkling some pistachio dust (grated/ finely chopped pistachio) over them. They don't need it, but it looks prettier. I didn't have any pistachio with me, so I skipped that step.
If you love Gulab Jamun as much as I do, and you've been known to pick up some of the tinned stuff you get in the Indian stores or probably even the ready mixes (like Gits etc.), ditch them. You don't need any of that stuff. Try this recipe out and you'll never go back to those tins and mixes again.
Gulab Jamun
For the sugar syrup –
500g sugar
700ml water
4 pods of cardamom
Open the cardamom pods and separate the seeds and the shells.
Place all the ingredients, including the cardamom seeds and shells in a saucepan and bring to a boil.
Lower the temperature after it comes to a boil and let it simmer for 5 minutes.
Take off the heat and set it aside.
** We usually crush the cardamom seeds to a powder and add that to the syrup. This results in a stronger infusion of flavour. If you haven't tried cardamom before or aren't sure how strong the flavour would be, start off by keeping the seeds whole. The favour infused will be subtle. When serving, make sure you discard the seeds and shells first.
** Start off by making the syrup first because it needs to cool a little before you can add the dumplings. The syrup needs to be warm, not scalding hot when the dumplings are put in.
** Do NOT stir the syrup once the sugar has dissolved. Stirring will crystallise the sugar.
For the dumplings –
220g milk powder
1/2 cup all purpose flour
1/2 tsp baking powder
1 tbsp ghee / clarified butter
A little milk (approximately less than half a cup)
Oil, for deep frying
Heat the oil for deep frying.
Place the milk powder, all purpose flour, baking powder and ghee in a mixing bowl.
Gradually add the milk a little at a time and bind the ingredients to a dough. It is important to not add too much milk while making the dough. Use just enough to bind everything together.
Shape them into little balls. You want the balls to be smaller than what size you want the finished product because they will expand.
This recipe yield 20-22 massive dumplings or if you're after little ones, you can get about 45. I got 47 in all. Make sure the dumplings are evenly sized so that they cook evenly.
Test if the oil is hot by placing a tiny pea sized ball in the oil. If it sizzles and rises to the top you'r oil is hot enough and you can proceed. If it just sits in the oil, you need to heat the oil a little more. If the ball just chars, you're oil is too hot. Take it off the heat for a couple of minutes and then place it back on slightly lower heat and continue.
Have the oil on medium heat.
Carefully, drop the dumplings in the hot oil and fry till golden brown.
Your sugar syrup should have cooled down a little by now, but should still be fairly warm.
Using a slotted spoon, take the dumplings out of the oil and tap off any excess oil and put the dumplings in the sugar syrup straight away. Watch them expand as they soak in the syrup. Gently turn them around in the syrup after about a minute so that is soaks in the syrup on all sides.
Repeat with the rest of the batter. Once the dumpling have soaked in the sugar syrup and expanded a bit, you can carefully take them out into a shallow serving bowl or a baking dish like this one. Pour all the sugar syrup over.
At this stage, you can add the chopped pistachio over.
Sneak a peek at what it looks like on the inside. Soft, melt in your mouth goodness!
Serve warm or cold.
As the person who put made these lovely dumplings, even if you're making this ahead of time, I urge you to sample some of these warm and you'll know what I'm talking about. 🙂
So a few days before we left for our trip, I found a great deal on some beautiful zucchini. Obviously, I couldn't resist it and bought some. Now, whenever I see fresh fruit and veg at good prices, I end up buying a bunch. I know I'll eventually figure out what to do with it. For those of you who don't know, that's how I plan my menu. I go by what's in season and what appeals to me on the day I'm shopping. Not very organised, I know, but it works well for me. I like to be surprised. On the day we were leaving, I realised I still had the zucchini and some eggplant. I couldn't leave it till we got back, it just wouldn't last. So I made a beautiful pickle with the eggplant. I will share that recipe soon. With the zucchini I made these muffins. I figured we could just take them with us to snack on.
The muffins are really simple to make. My husband helped with these. Now I have to be honest. We usually work well together in the kitchen. But on this given day, we were trying to get things done quick and there was a little confusion. We ended up using half the quantity of flour that the recipe called for. Fortunately for us, it wasn't a disaster. With extra baking time, the muffins were fine. I would love to try these again with the right measurements. However, the muffins turned out pretty well. They were light and spongy, savoury with a hint of cheese. I might even try using a sharper, vintage cheddar the next time. I was pleasantly surprised when these tasted even better a couple of days later. I can happily report that these muffins keep well for a week refrigerated. When you want to eat them, simply warm them up in the microwave and you've got yourself a nice, little snack.
The recipe I've listed below, is the original one with the right measurements, just incase you'd like to try these out too.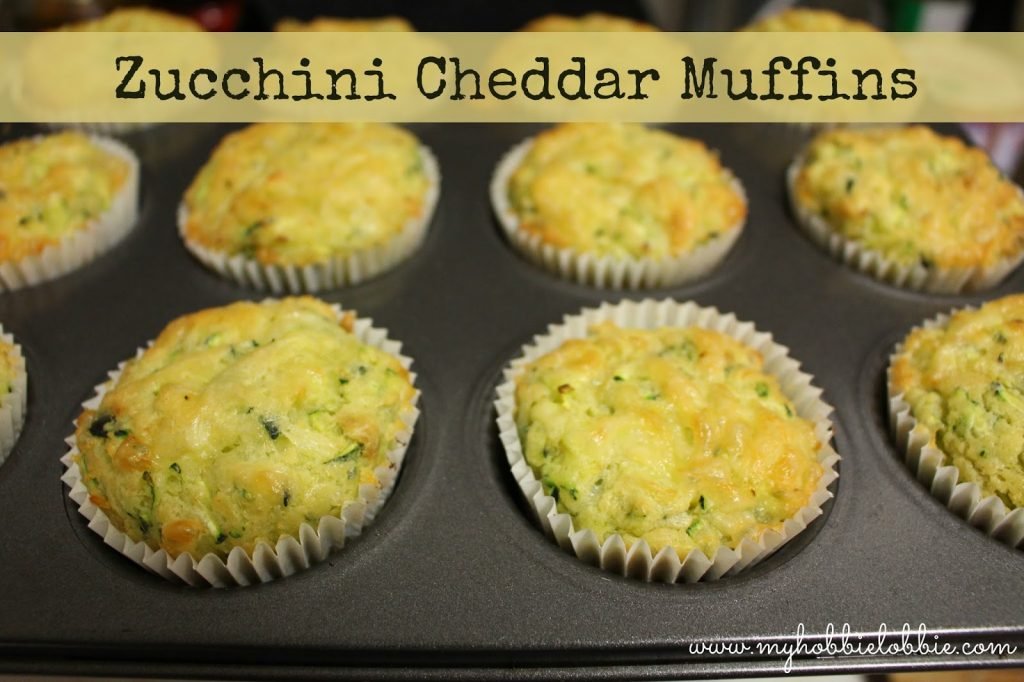 Zucchini Cheddar Muffins
Adapted from: Will Cook for Smiles
Yield: 12 muffins


3 eggs
3/4 cup vegatable oil
1/4 cup sour cream
1 1/2 tsp salt
2 cups all-purpose flour
2 tsp baking powder
1/2 tsp baking soda
2 cups shredded zucchini
100g cheddar cheese, grated (30g reserved for topping)
Preheat the oven to 180ºC and place muffin liners in the cavities in the pan.
In a large mixing bowl combine the dry ingredients, the flour, salt, baking powder and baking soda. Set aside.
Whisk the eggs, oil and sour cream till combined.
Add the wet ingredients to the dry ingredients and whisk until just incorporated.
Add the zucchini and mix well.
Add 70g of shredded cheese and whisk till it has evenly combined.
Spoon batter into the muffin pan and top with the reserved 30g of shredded cheese.
Bake for 18-20 minutes or till a toothpick inserted in the centre of the muffins comes out clean.
Enjoy!
If you want to keep these for later, let them cool off completely and store them in an airtight container in the fridge. Warm in the microwave when you are ready to eat them. (It lasted us a week. It might've lasted longer, but we got through this batch.)
On our recent Road Trip from Sydney to Mornington Peninsula, we spend a day in the Melbourne CBD. While it wasn't nearly enough time to check out the wonders that Melbourne has to offer, it gave us a little peek into what the city centre is. Safe to say, we'll be making a trip straight to Melbourne and live in the city so that we can explore it a little more.
The drive to Melbourne from Rye in the Peninsular was smooth. We hit a little traffic once we got closer to Brighton and St. Kilda, but made it in good time. After wandering around the streets of Melbourne, it was time to pick out a spot to have lunch. There are so many options, it is hard to choose. Initially we were in a part of town which had options, but weren't to interesting. Just when we were ready to settle, we stumbled onto gold, better know as Swanston Street. After checking out the options on the street, which seemed endless, we settled on Rice Paper, specialising in Vietnamese street food. It was a great choice, because my husband and I both love Asian flavours. Oh and this time I remembered to take a few pictures.
Its was really crowded even though we got there at about 2 in the afternoon, but we got seated immediately. The staff were really friendly and on the job. The place seemed very open and airy and I liked that. We were starving after all that walking around, so we decided to try out a few menu options. That wasn't easy. There were so many things I wanted to try.
We simply had to try the rice paper rolls. I mean, come on! that's what they're called! How could we not try them. So we got a couple of prawn rice paper rolls with the spicy hoisin sauce.
The rolls were fresh and tightly packed with succulent prawns, rice vermicelli noodles and fresh greens. We loved the mint leaves in there, it lightened and freshened the rolls up. I would have liked a little more acidity in the sauce though. It was a good thing then that we had also ordered the crab claws.
Now the crab claws themselves, we just okay. I have had better at a takeaway joint on the Gold Coast, QLD (unfortunately I cannot remember the name). But these were crunchy and more importantly came on a bed of gloriously pickled veggies, namely carrot and daikon radish. I absolutely loved the pickled veggies. They were more than just basic pickled vegetables. There was an unmistakable hint of garlic too, which I loved. The dipping sauce was sweet chilly sauce. I preferred this sauce with the rice paper rolls too. But that's probably just me.
For mains, we called for the Saigon Curry Chicken on rice and the Crispy Skin Chicken on rice.
The Saigon Curry Chicken on rice was this big bowl of Chicken curry with succulent pieces of chicken and this was served with some coconut rice. A beautiful combination, one that any curry lover would be very happy with. The curry was also coconut based and perfectly spiced and flavourful.
The Crispy Skin Chicken on rice came with some fresh salad greens, the pickled veggies (Yay!) some sweet chilly dipping sauce and a huge portion of coconut rice topped with some tiny dried, roasted shrimp (I'm pretty sure that's what it was). I personally found the rice a little dry to be eaten just as is. It's a good thing the Saigon Curry Chicken was a generous portion. But that Crispy Skin Chicken was fantastic. Crispy skin as promised with some nice charred, smokey flavour and the meat inside was still moist and flavourful.
We washed all this wonderful food down with a tall glass of Tropical Iced Lychee …
… and a Tropical Iced Longan
The whole meal cost us $44 bucks. However, I think we overdid it and if we had to opportunity to eat here regularly, we'd probably pace ourselves. That being said, I think it was good value for money. The portions were generous, the food flavourful and the ambience was relaxed. I know I'd go back for sure.
Disclaimer: This post is not a sponsored post. I haven't been compensated for it in cash or kind. This is just a meal we really enjoyed, and all of the comments above, my humble opinion.
After sort of getting over the initial nerves of making my first video tutorial on YouTube, I discovered that I kinda liked it. So I've made another one for you. This time it's Calla Lilies. They're really cute and very easy to make. I hope you decide to give them a try.
A couple of weeks ago, before we left on our holiday, I found myself longing for some home baked treats. There was just one tiny problem – I wanted it right then. Now, anyone who has baked know that yummy, home-baked goodness usually takes a little time and a few ingredients. Given the urgency of the craving, I suddenly thought of something a dear friend of mine (my soul sista, actually) told me about a few months ago. She'd told me about these quick and easy peanut butter cookies that she's whipped up one afternoon for an after-school snack. I knew that's what I was going to try out.
After a little looking, I settled on a recipe that asked for just 3 ingredients. I was SOLD. Yummy cookies with just 3 ingredients – I couldn't wait to try them out. Making the cookie dough was super easy and after a few minutes in the oven, I had a pile of little cookies. I split the dough and to half of it I added a fourth ingredient – some chocolate chips. You don't have to do this, but who can resist a little chocolate. With this cookie you get a little sweet and a little salty. If you are going to use some crunchy peanut butter like I did, you'll have a few small pieces of nuts in there too. I love having a quick and easy recipe like this one in my arsenal. I would, however, cut down the sugar in this recipe the next time I make them. I did find them a little too sweet for my taste. I'd probably drop it to 3/4 of a cup the next time and take it from there. The recipe below has the original quantities.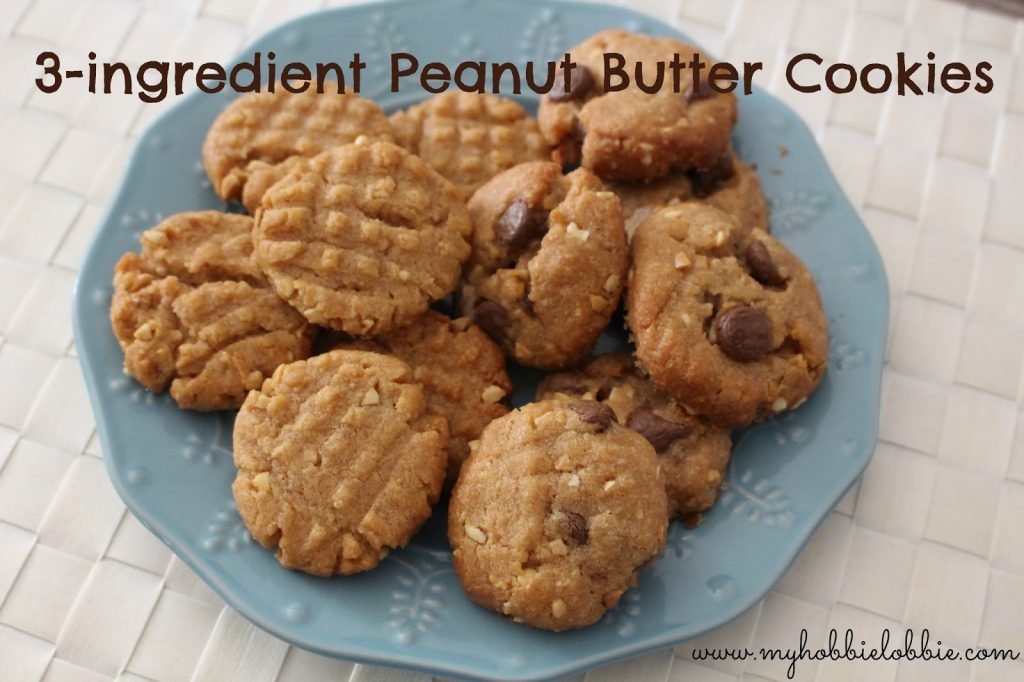 3-ingredient Peanut Butter Cookies
Recipe from: KitchMe
Yields:18-20 depending on size
1 cup peanut butter (smooth or chunky)
1 cup sugar
1 egg
Preheat oven to 170ºC.
Mix the peanut butter, sugar and egg till smooth.
At this stage, if you'd like to add chocolate chips to some, or all of the dough, you can do so.
Portion out and roll into balls. I just use my hands for this.
Press down lightly with a fork. The tines of the fork give you a criss cross pattern. You could either press down just once to give you some lines across the cookie or turn the cookie a little and press the fork down again to get a chequered pattern.
Place on a cookie sheet. Bake for 10-12 minutes.
Don't let it overbake or brown it off too much.
Enjoy!!!
I have a secret to share with you! I think I've found the best meat pie's in all of Australia.
For those of you who aren't from this part of the world, you should know, meat pie's are serious business. There are a lot of places that sell them, but they don't all taste good. Heck, some of them have no taste at all. I've had a few pie's since I got here. I bought some of the store bought frozen ones that you bake at home and they taste okay, but who knows what kind of nasties are in them. I've also tried the meat pies at Heatherbrae's, QLD (en-route to the Gold Coast), and I loved their pastry but found their filling lacking in flavour. I've also had some at coffee shops around the place and at Pie Face, but they were all pretty average. I'm waiting to try making them from scratch at home and see how they turn out. But that's not what today's post is about.
Very recently my husband and I drove from Sydney to Melbourne and back. I will post more about the trip later. But on our way from Merimbula to Mornington Peninsula, via the coastal road, we passed through Lakes Entrance in Victoria. We must've stopped there for about an hour, maybe less, but what we saw in that hour was gorgeous. If you haven't been to Lakes Entrance, here are some glimpses.
The beach was stunning. Its a shame we couldn't spend any more time there.
Now, it's probably just me, but a few hours stuck in the car had my brain fogged up a bit and I didn't get pictures of the pies and the sandwich we ordered, but I did get a glimpse of the place for you. In the heart of town, just opposite the waterfront, is this quaint looking shop, that from the outside, doesn't look overly special.
When we passed by it the first time, I had a feeling it would be worth the visit. So after checking out a few other not so interesting options, I decided to come back to this little bakery, called The Lakes Bakery. Seriously … best decision ever. We ordered for a Steak & Onion Pie, a Burgundy Beef Pie and a Chicken Delight Sandwich.
The pies were out of this world. The pastry was perfect and the fillings were flavourful and just simply delicious. I couldn't believe it but I was very happy we stopped there for lunch. Both the pies were amazing and while I was looking around at their other goodies I realised that on the window, in big letters, the fact that their Pies were award winning. No surprise there at all. Now on to the sandwich, a humble chicken sandwich, lightly toasted. Again one of the best sandwiches I have every eaten. The tops of the sandwich were lightly seasoned with chives and it took this sandwich from being pretty darn good to out of this world. Right from the bread to the filling, everything was perfect… and believe me, I am very hard to please (atleast where food is concerned). I just wish I had remembered to take some pictures.
The prices were fairly reasonable too. The pies were around $4-$4.50 a piece, the sausage rolls (which we didn't try) were $3 and the sandwich was about $10 (not too sure about this one). I was very happy with the pricing. It was really good value for money. Here's what their hot shelf full of pies and sausage rolls looked like.
So do me a favour and if any of you every visit the area, do stop by and check them out for yourself. You can thank me later 😉
Disclaimer: I haven't been compensated for this post. I'm just sharing a great find. All the opinions expressed in this post are my own.
It's been ages since I posted about anything crafty. But I will today. I have been wanting to do something like this for ages, but something or the other has always come in the way. I'm happy to report that finally, FINALLY, I took the plunge and posted my very first You Tube tutorial. Yikes! I still can't believe I've done it. My first video is a tutorial on how to make these beautiful paper Buttercups.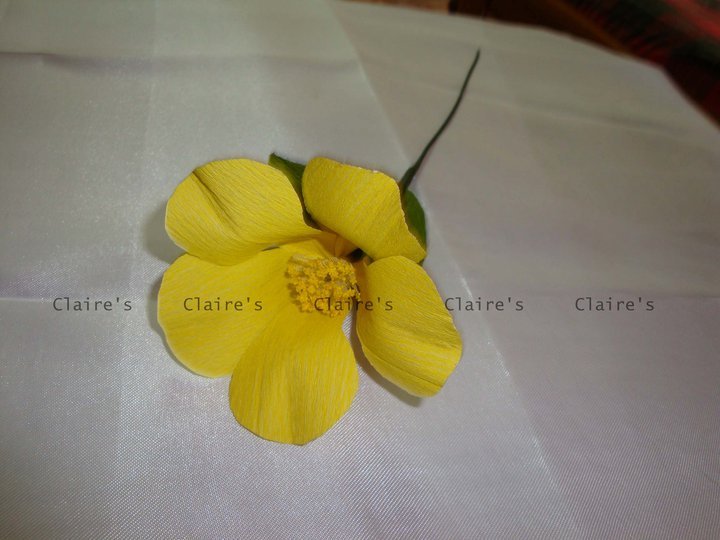 You can see the video here.
If you'd like to play along, you can use this template.
I'd love to hear your thoughts on this attempt. Of course, feel free to share this video with your friends and I'd love to see what you create.
Yay for the first
SRC
reveal of 2016! Even though we just had a teeny tiny month off from SRC to enjoy the holidays and spend time with family, I must admit I've missed and an am happy to be back in the swing of things. For my first assignment for the year, I had the absolute pleasure of perusing Dorothy's blog,
Shockingly Delicious
. I was so excited with this assignment. I've been a big admirer of Dorothy's blog ever since I first set eyes on it. She has one of those blogs where you want to make everything you see. Which tells you what a task picking out a recipe for this months reveal was. With great difficulty I finally narrowed my picks down to these beauties –
Almond Polenta Cake
,
Irish Elephant Ears
and a delicious looking
sesame dressing
. Now, those of you who don't know Dorothy, she has also been called the
"Pie Lady of Malibu"
and with good reason. She has won 23 ribbons at the Malibu Pie Contest in all among other accolades. Check out her award winning recipes
here
. I have bookmarked her recipe for a pie called
The Bob and Andy Pie
, a curiously named pie that looks pretty darn good. I was tossing between the pie and her
Dutch Baby Oven pancakes
and in the end, by a very short margin, the oven baked pancakes won.
Truth be told, I've been waiting for the opportunity to try out the Dutch Baby Oven pancakes and this was the perfect time. I love my pancakes and was eager to check out this version that bakes in the oven and you just cut it up and serve with your favourite things. This time around I had to use fresh berries which are at their prime at the moment. Where do I start with this recipe! It is super simple to put together and the flavour is phenomenal. It is like no other pancake I have tasted. I loved the flavour of the nutmeg and the vanilla in the batter. And do not leave out the fresh fruit. It really adds to the taste and the whole experience. I used fresh berries because they are gorgeous and in season. You could use whatever fruit you like and is in season and I'm sure it will turn out fabulous. Thank you Dorothy for a fantastic recipe!
I halved the recipe and it was pretty good for breakfast for 2. The amounts mentioned below serves 2.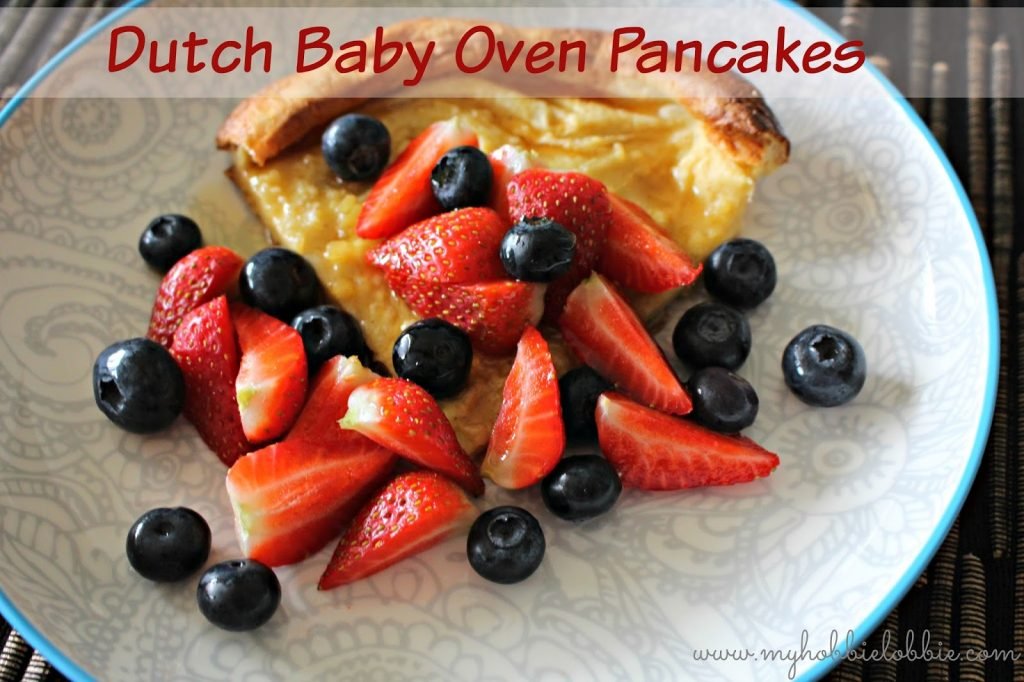 Dutch Baby Oven Pancake


2 eggs
1/2 cup milk
1/2 cup all-purpose flour
1 tbsp sugar
1/4 tsp vanilla extract
1/8 tsp grated nutmeg
A pinch of salt
1/8 cup butter
For the toppings –
Fresh blueberries
Fresh strawberries
Maple Syrup
Heat the oven to 245ºC.
Place an 8″ pan in the oven to heat up for about 5 minutes.
Place the butter in the pan and let it melt, till foamy.
In a large mixing bowl, whisk up the eggs, milk, sugar, vanilla, nutmeg and salt.
Add the flour and whisk till combined.
When the butter is foamy, carefully take the pan out of the oven and swirl the butter around to coat the bottom of the pan.
Pour in the pancake batter and bake for 20 minutes.
Sit back and be amazed as the sides rise up first, followed by the centre. This will deflate after you take it out of the oven and cut into it.
Serve up with berries and a drizzle of maple syrup.
I think some good greek yogurt would also do well with fruit or you could stick with some fruit and sprinkle some icing sugar over the top.
Enjoy!!!
:
<!– end InLinkz script —>