It is so good to have access to an oven again. After a trying 6-7 months without one, the last few have been bliss. My last post talks about how to make a basic chicken roast in the oven. Every roast, chicken or otherwise, needs to be accompanied by a few yummy sides too. I only recently realized that I haven't posted too many such sides on my blog. Now that was just not done. I had to rectify that. So I'm going to start with these really delicious baked potato wedges. These baked potato wedges are a step up from the humble roasted potatoes. The garlic herb seasoning makes these irresistible.
Most of you know my deep rooted love for the humble potato in every form. This recipe here, is another good one. Its healthier than the regular french fries, but don't let that fool you. It tastes really good. I'm so happy to have tried this recipe. I know these wedges will make more than a few appearances on my dinner table.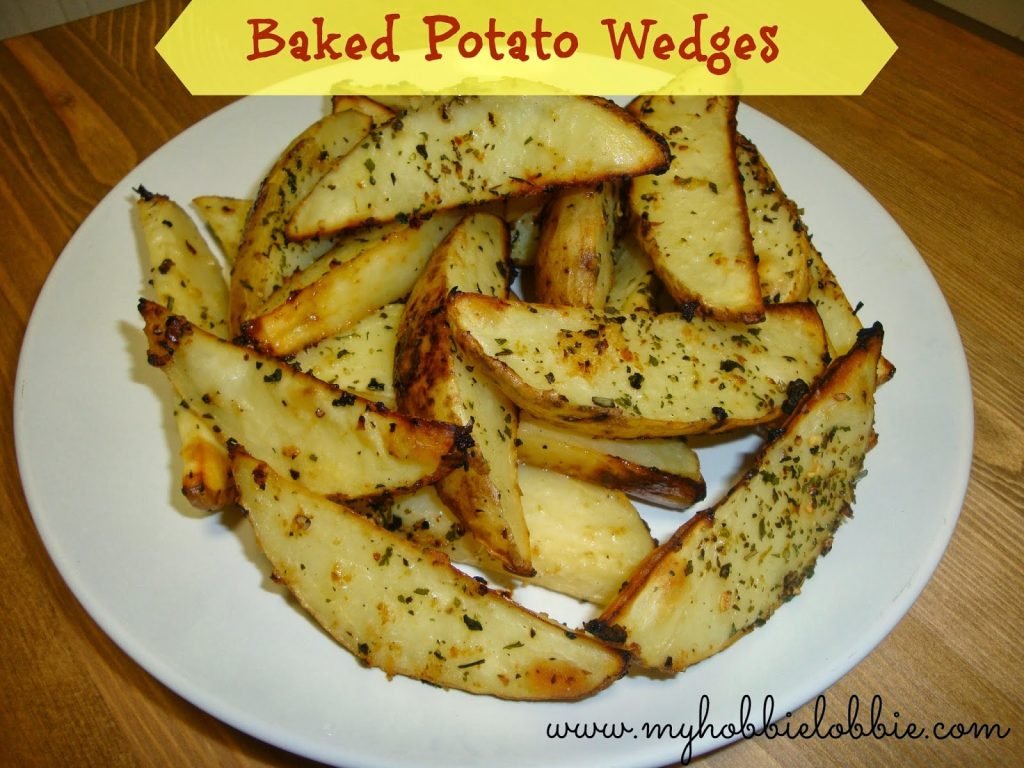 Baked Garlic Herb Potato Wedges
Adapted from: About.com
2 potatoes, washed thoroughly, skins left on
Salt, to taste
1-2 tbsp. Olive oil
1/2 tsp garlic powder (I used garlic salt and adjusted the salt levels accordingly)
Black peppercorns, crushed, to taste
1 tsp dried Italian herb mix
A little dried parsley (or finely chopped fresh parsley), to garnish
Preheat oven to 210°C.
Cut the potatoes in half, lengthwise and each half into 4-5 wedges, equal in size.
Toss the wedges with the rest of the ingredients in a bowl and make sure all the wedges are coated evenly. You can adjust the quantities of the seasoning to your taste. The quantities mentioned above work well as a guide.
Line a baking sheet with foil. Place the wedges skin side down. Space them evenly so that they cook uniformly.
Bake for about 30-35 minutes or until browned to your liking, crusty on the ends and tender inside.
Serve immediately. Add more salt if needed while they are still hot from the oven.
Sprinkle a little parsley over the potatoes and serve hot.
Sit back and enjoy!
Over the years, in my family, a roast chicken (or two) has become a staple at our family gatherings. There's something so familiar and comforting about it. Now that we've moved to a different country, I still find myself longing for those gatherings or maybe, just maybe, what I'm really longing for is a good roast chicken, lol.
I recently picked up a whole bird from the supermarket. I usually pick up an RSPCA approved product. My take on a roast chicken is usually a very simple, yet flavorful marinade. Of course, you can serve this chicken up at a regular weekend meal or even at a more prominent family get together or party, by putting up some clever sides. I will share some ideas for sides over time. For today, we'll stick with the roast chicken. So if you've never made a roast chicken at home before, this is a good recipe to start with. Chances are you'll already have all the ingredients in your pantry. I'm sharing this recipe with you today so that you have a little time to try this out before Easter and then maybe, serve it up for Easter as well.
When roasting a chicken, the cooking time will vary based on the sized of the bird. After doing a little reading up, a common rule of thumb for cooking time is 45 minutes per kilo of chicken + 20 minutes. I use this as a guide and this is something you should keep in mind if you've never roasted a chicken before. How do you work out cooking time required for a good chicken roast?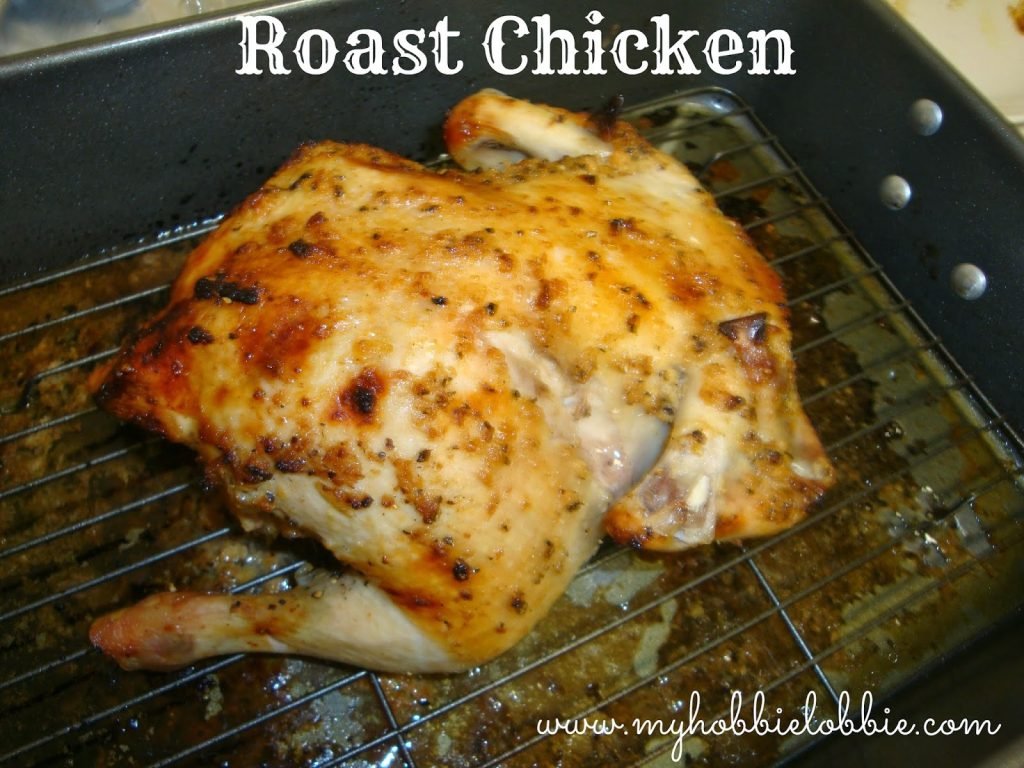 Roast Chicken
1 chicken, whole, skin on (I used a smaller sized one about 1.2kilos )
Salt, to taste
Crushed black pepper, to taste
Juice of half a lemon
1 1/2 tsp Ginger garlic paste
1 – 1 1/2 tbsp Olive oil
Wash and pat the chicken dry using paper towels.
Spread all the marinade ingredients on the chicken as well as in the cavity and rub it in well, almost like a massage. Leave to rest for about an hour.
Heat the oven to 200°C.
This time around, I placed the chicken on the rack in the roasting tray. I think it works well. This way the chicken isn't cooking in the liquids. The skin turns out crisper.
Place the chicken in the hot oven. After about 10 minutes, lower the oven temperature to 180°C. Bake for required time till the chicken is cooked. Halfway through the cooking process, I baste the chicken with the some olive oil.
(If some of the marinade has dripped onto the roasting tray and seems like its burning, carefully add a splash of water to the tray, just a tiny bit to keep it from burning. I had to do this a couple of times.)
Please note the cooking time instructions above. To check if the chicken is cooked well, insert a sharp knife in the joint where the leg joins the body. If the juices run clear, the chicken is cooked. If it is still pink, the chicken needs to cook more.
When the chicken is cooked, cover with foil and let it rest for about 10 minutes.
Serve up with your favorite sides.
Enjoy!!!
What are some of your favorite sides? I'd love to hear from you.
I made jam at home. And not just any jam, I made some delicious Nectarine Jam. I've been holding back on ya! Not intentionally of course, but I just haven't gotten around to sharing this information with you –
Paddy's Market at Flemington rocks!!!
I've only been there a couple of times now, but I love the place. Fresh, seasonal produce combined with an opportunity to meet the growers and very reasonable pricing, makes this one of my favorite places to shop for fruit and veggies.
On my first trip there, I picked up a whole box of tomatoes, which transformed into homemade tomato puree. I will share that post with you soon. And some amazing veggies that churned out some super yummy food for us.
Our last trip there was equally fantastic. My husband picked up this huge box of yellow nectarines at a bargain. Now there's only so much nectarine that the two of us can eat before it starts getting bad. I didn't want any of it to go to waste, so before I lost any of them, I decided to try my hand at making some jam. Now I have to admit that I was a tiny bit nervous. You see, I'd never made jam before. But I decided to take the plunge. I found a recipe that looked simple enough to make.
The process was not as tedious as I expected it to be. After washing, de-stoning and chopping up the fruit, all it took was about 45-50 minutes on the stove top. It would have been a shorter process but I had the heat on so low in the beginning, that the vessel was barely warm when the mix should have started simmering. So I turned up the heat and everything else pretty much fell into place. I did make one change to the original recipe, I added some cinnamon sticks to the fruit in the pan. This took the jam to a whole different level of yummmm.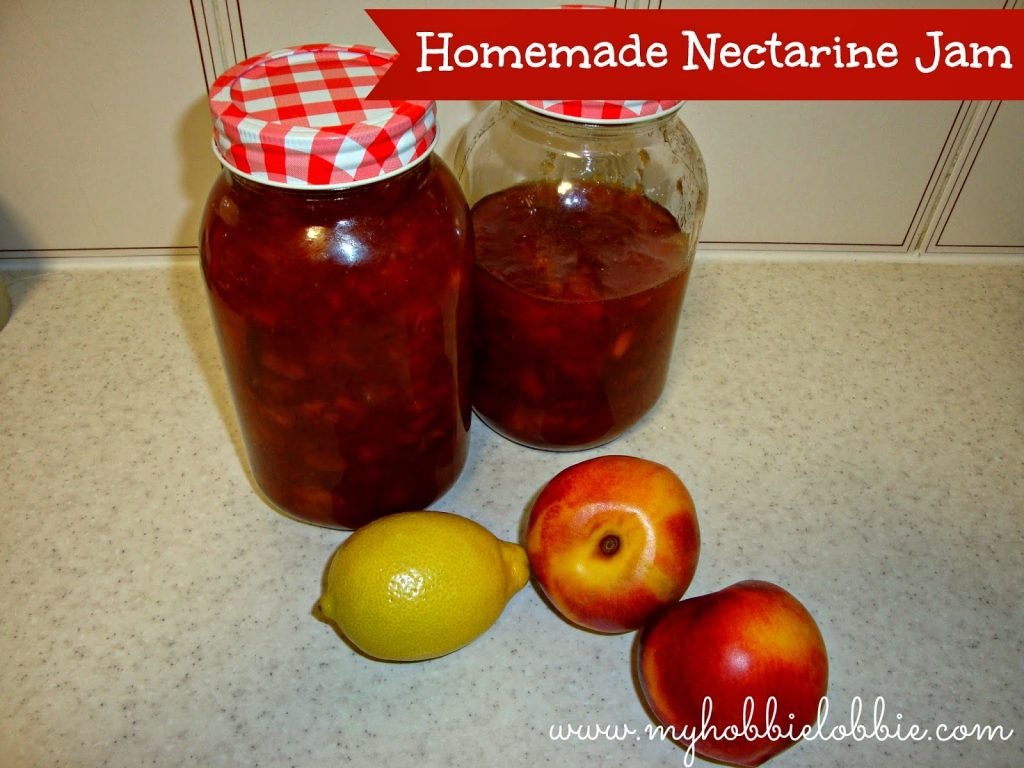 If you haven't tried making jam before, don't let it intimidate you. Now that I know first hand how simple this process is, I can't wait to try my hand at making jam of some other fruits as they come in season. The resulting jam was not just beyond delicious, but I also knew what was in it. I knew for a fact that there were no funky ingredients in there like you find in the store bought version.
How good was this nectarine jam? Here's something to consider – My husband doesn't care about jam too much. I mean he'll have a little, if there's no other option, but that's it. The color and the aroma of the homemade nectarine jam was so alluring, he had to try a little, without me having to ask him to. After the first spoonful or two or maybe even more, he was converted. He loves this jam. That says a lot. I see a lot more homemade jam in my future 🙂
Homemade Nectarine Jam
Yellow Nectarines
Lemon / (s)
Sugar
Cinnamon sticks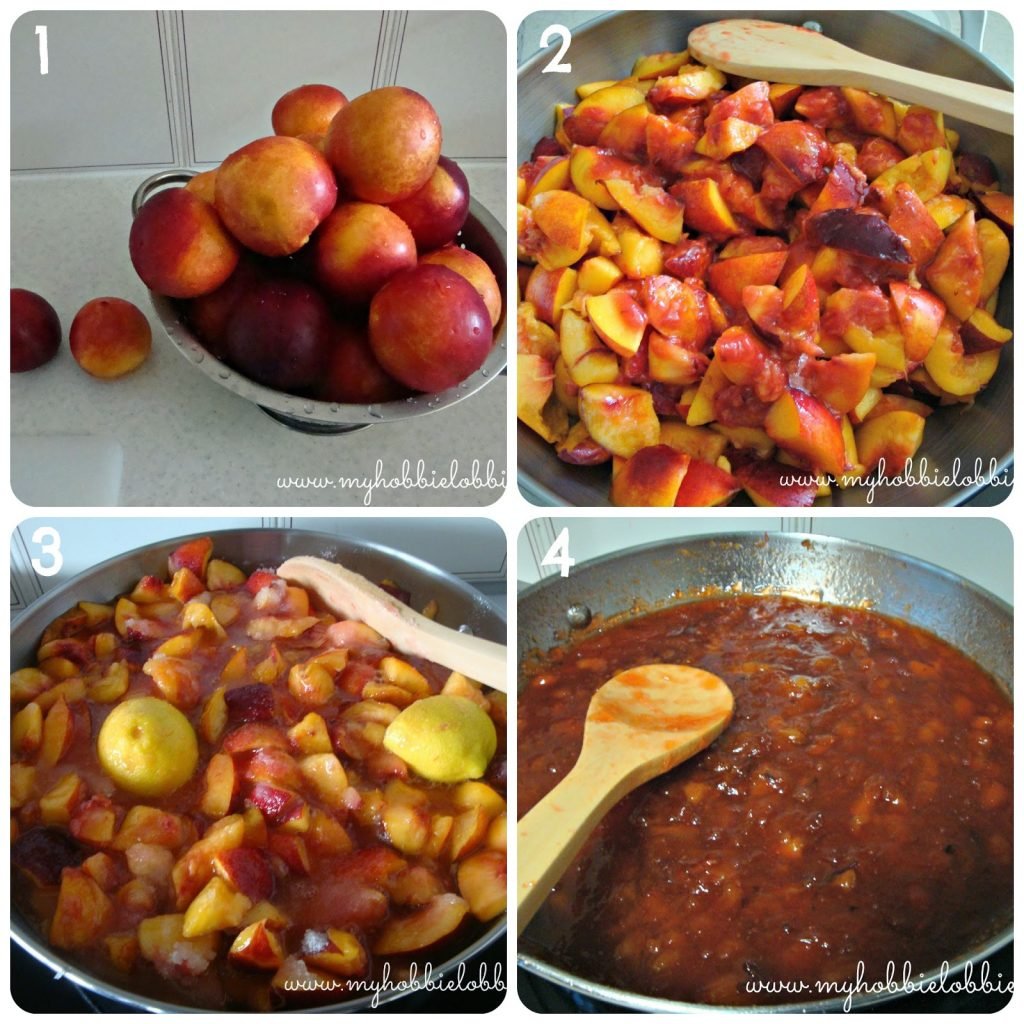 1) Prepare your fruit – We used a carton of nectarines. Wash, de-seed and chop the fruit up. I left the skin on.
2) Weigh the fruit. Add half the weight in sugar. eg. My fruit weighed about 1900g give or take a few gms. I added about 950g sugar.
3) Squeeze the juice of 1 lemon onto the fruit and put the peel in with the fruit. Throw in a couple of cinnamon sticks.
4) Cook over a medium heat till it reaches the desired consistency. Make sure you stir frequently else the fruit could stick to the pan and burn. Also, the stirring helps with breaking down the pieces of fruit. It helps to use a wide pan, so that more liquids can evaporate. It took me about 45-50 minutes.
Take out the lemon skins and the cinnamon sticks. Use a potato masher to break down the fruit to achieve the consistency you like. I left some pieces of fruit in, I like a chunky jam with pieces of fruit in.
When it has cooled, store this nectarine jam in prepared jars. (They should be washed and completely dry).
Since I don't sterilize the jars or follow other canning steps, I keep my jam in the refrigerator. Lets see how long it lasts.
And look at that color, all from the fruit, without anything artificial.
I sure hope you give jam-making a go. I found it immensely satisfying and a whole lot of fun. 🙂
Happy St. Patrick's Day everyone!
While most of the times, you see recipes for St. Paddy's day all decked out in green, I'm pretty sure Irish fare isn't all green. Do correct me if I'm wrong. I've never been to Ireland, but hope to travel there someday. This year, I decided to treat myself and the husband to traditional Irish food. After looking through a few sites, I knew I would have to bake some Irish Soda Bread, but I wanted something quick to go with it. I happened upon a recipe for traditional Irish Colcannon. As luck would have it, I had all the requisite ingredients. So I had picked out the side dish for the evening. Now, I didn't have the time to make anything elaborate for the main, so I just went with some sausages. I don't know how Irish that is, but I can tell you this, it sure made for a delicious meal.
Many of you may not know this, but I can be very absent minded at times. For example, I was so sure I had taken pictures of the loaf of bread I baked, but actually I hadn't. The bread was very easy and quick to put together. It was different compared to the regular yeasted breads, but I was happy with the way it turned out. I made a wholewheat soda bread this time around, but I'm quite eager to try out the white bread version too. We enjoyed this bread for dinner as well as for breakfast the next morning, with a smear of butter and some homemade Nectarine jam (recipe to follow). Later in the day when I sat down to edit the pictures and blog about it, it appeared I hadn't taken pictures of the bread at all. ***Gasp*** I know!!! In the life of a blogger, that's an absolute disaster. I figured, I would have to skip blogging about the bread this time around, atleast till I made this bread again and captured some pictures of it anyway. That's when I realized, I still had one lonesome slice of the bread left. So please forgive the picture of the lone slice of soda bread.
On to the colcannon; nothing could be simpler to put together. Its a nice way to mix up mashed potatoes. I simply wrapped a couple of clean, washed and brushed potaotes – skin on, in some foil and put them in the oven with the bread and it was ready it by the time the bread was done. I didn't think the combination of cabbage and potato would work, but I was wrong. This turned out really yummy. It had some nice flavor and texture from the cabbage and the onion. Typically, leftovers of mashed potato are used in the dish. I didn't have any, so I just roasted some potatoes in the oven to use. You could make some mashed potatoes the regular way, by boiling the potatoes instead. Do what works best for you.
Our tribute to St. Patrick's Day was a rather subdued one. What are you doing this year to celebrate this day. Leave me a comment, I'd love to hear more.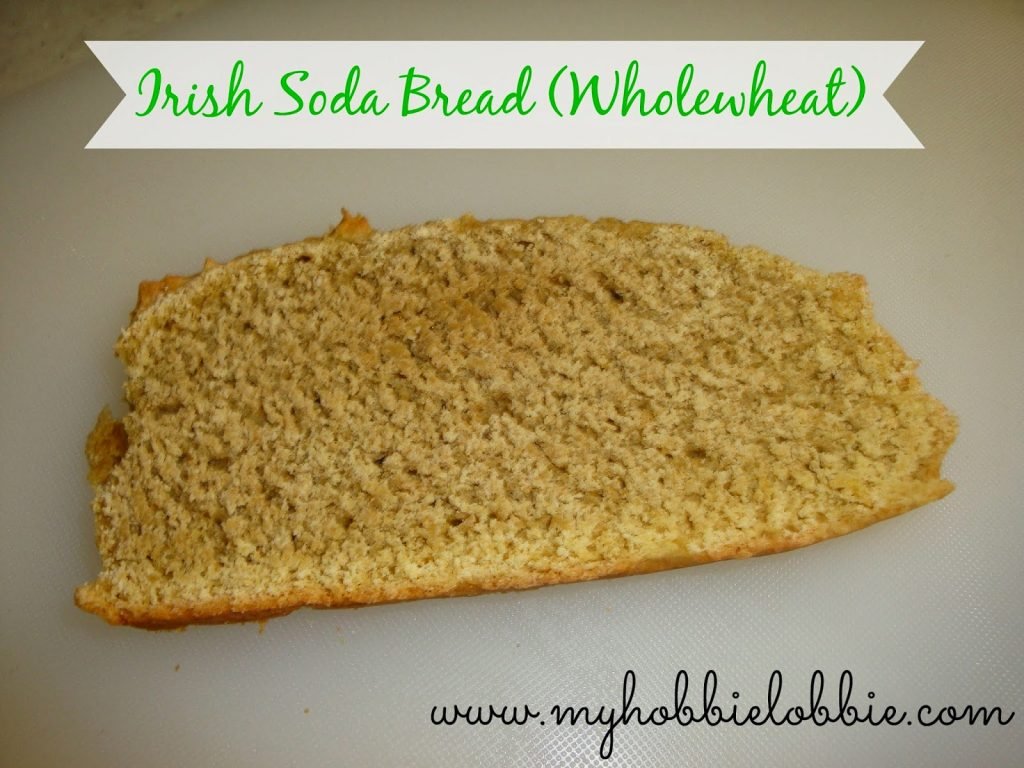 You can find the recipe I used here.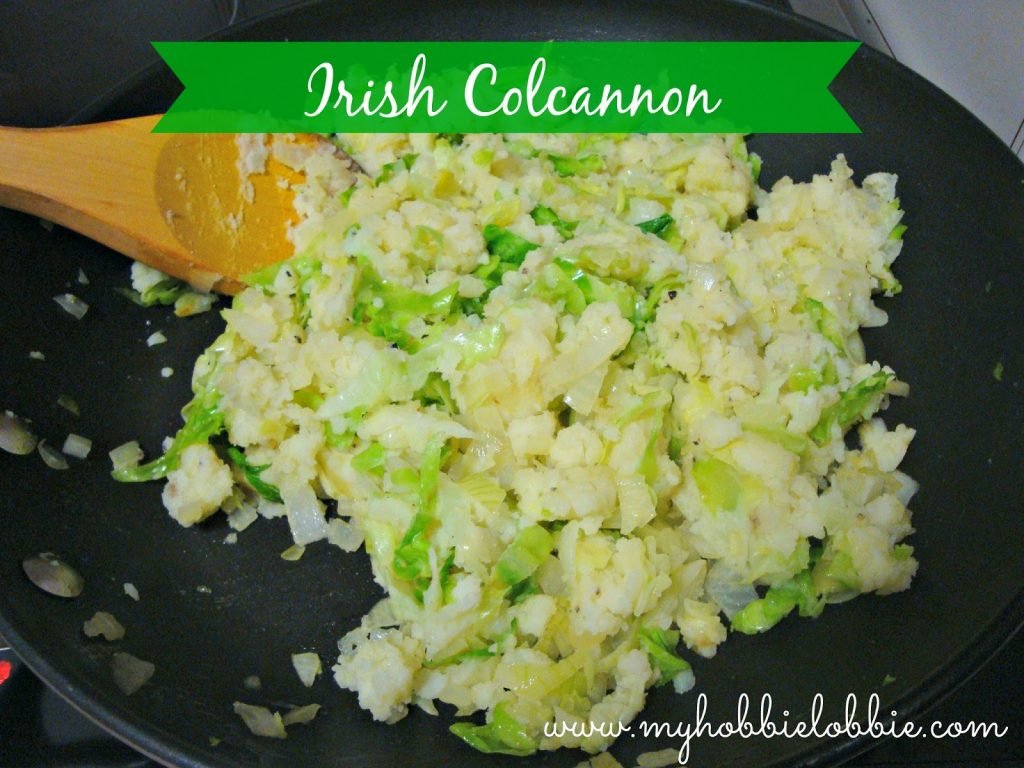 Irish Colcannon
Recipe from: Crystal's Tiny Treasures
2 large potatoes, boiled or roasted
1/3 head of cabbage, finely cut
1 onion, finely chopped
Salt, to taste
Crushed black pepper, to taste
Splash of milk, as needed
Small knob of butter
Peel and mash the potatoes.
Heat a small knob of butter in a pan and saute the cabbage till done to your liking,
Mix the cabbage and mashed potato well. Season with salt and pepper. If the mash appears too stiff, add a splash of milk and mix.
Melt some more butter in a pan and saute the onion till it has softened.
Tip in the potato and cabbage mash and mix well. Check the seasonings and adjust, if needed.
Enjoy!!!
I was so excited when I received my blog assignment for this
SRC
reveal. I mean, who wouldn't be? Especially when the blog you've been assigned has a name like –
Searching for Dessert
. The lovely Shannon, authors this blog, and boy, does she have an impressive background – she's recently graduated from Le Cordon Bleu College with a bachelor's degree in Culinary Management. She also has an associate's degree in Baking & Pastry Arts. I've got to be honest, when I read this, I was more than a little nervous, I wanted to do her recipes justice, and wasn't sure if I would.
Anyway, I figured, this would be a huge learning experience for me. So off I went to try picking out a recipe. I was spoiled for choice, ranging from breads to cakes and cookies, to desserts as well as some savory meatless dishes, I had a lot of options, making my decision a really hard one. That being said, there's something for everyone. So do go over and say Hi to Shannon, will you? But be warned, that impressive recipe index is not for the faint hearted 😉
After a lot of looking and considering and re-considering and then considering some more, I settled on these little pretties for this months reveal. Some of you already know, I love me my apple pie. And when I saw this cute little version of it, I was sold. I already had all the ingredients on hand, so one afternoon, I decided that we were going to have apple pie with our evening tea. These pies are so easy to make, but they do take a little time, since they are individual portions. I made a few of these dainty sized ones and then, embarrassing as this may sound, I got lazy and decided to go with some that were larger than the others. By the time I got to the larger ones, I realized that the filling had no cinnamon in it. I simply had to add cinnamon, you see, for me the smell of cinnamon IS apple pie and I couldn't see myself having apple pie without it, so I simply sprinkled some cinnamon powder over the filling before sealing it up. Within no time, I had the pies in the oven and waited eagerly for them to be done. We tried a few of them when they were still warm and I have to tell you, I was so happy with them. The crust was beautiful (maybe even the best I've had or made so far), the filling was mildly sweet (just the way we like it), they looked lovely and made for easily portions without the bother of cutting. These are definitely going to make an appearance on more than a few occasions. Thanks Shannon, this one's a keeper.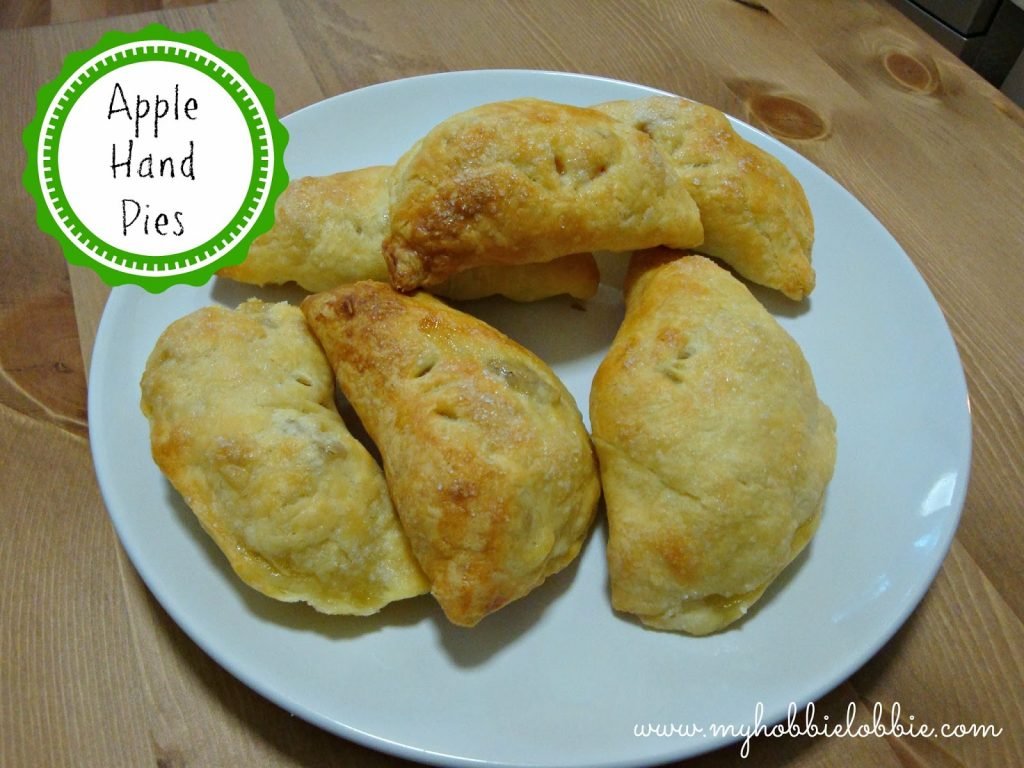 Apple Hand Pies
For the crust –
1 1/2 cups all-purpose flour
1/2 tsp salt
1/2 cup + 2 tbsp cold unsalted butter, cubed
1 egg
1 1/2 tsp vinegar (I used apple cider vinegar)
2 1/2 tbsp water
For the filling –
1 1/2 cups apples (I used 1 1/2 local Aussie apples)
2 tbsp granulated sugar
3/4 tbsp all-purpose flour
1/8 tsp salt
1/4 tsp lemon juice
Cinnamon powder, to taste
Some milk
Granulated sugar
For the crust –
Sprinkle the salt into the flour and mix well.
Rub the butter into the flour till it resembles coarse, wet sand.
Mix the egg, water and vinegar in a bowl.
Add to the flour and mix gently till it just about comes together. Do not knead too much or heavily – or you wont get a short pastry.
On a lightly floured surface, turn the dough over and lightly bring it together. Wrap in cling film and flatten to a disc. Refrigerate for about half an hour.
Preheat the oven to 180ºC.
Dice the apples into 1/4″ pieces and place in a bowl along with the lime, salt, flour and sugar. Stir well, making sure the apple pieces are well coated. You could add some cinnamon powder to the mix at this stage. Since I forgot to, I just sprinkled some over the filling before sealing the pies.
Place a cooling rack onto a cookie tray lined with foil. This ensures you get a lovely crisp crust and quick cleanup. Brush some butter on the cooling rack.
When the dough has been in the fridge for about 30 minutes, roll out to 1/4″ thickness and cut into 3 1/2 " circles.
Place some filling in the middle of the disc and fold the dough over to form a half moon shape. Seal the edges well and place the pies on the cooling rack on the pan. Repeat with the other hand pies.
Brush the hand pies with a little milk and sprinkle some sugar over it. Make 3 little slits on the top of the hand pies.
Bake for 30 minutes or till the crust is beautifully golden brown.
Remove from the oven and gently loosen from the rack. Cool.
Enjoy!!!
If anyone wants a peek at the slightly bigger version of these hand pies, here it is –