How many of you enjoy your dry fruits, nuts and seeds? I'm talking raisins, sultanas, dates, apricots, prunes or almonds, cashewnuts, peanuts and also pumpkin seeds (pepitas) and sunflower seeds. Me, I love them all. They are all known to have health benefits if eaten in small quantities as part of a balanced diet. It is a shame that more people don't include these little gems in the diets. My husband loves nuts, but isn't too keen on the dried fruit or seeds by themselves. So I have to think of ways to include them in our diet. Most often, we usually just nibble on a small handful of an assortment of fruits and nuts / seeds, but I was looking for other ways to enjoy them too.
When I came across a post with these bars, I knew I had found something good. It has dates, apricots, pepitas, chia seeds and a touch of cinnamon, all of which are know to be healthy in their own right. They come together to form these little delicious bars which are so tasty. They are sweet from the dates, a little tangy from the apricots and have the crunch of the chia seeds and pepitas though them. As the original recipe included a small amount of white chocolate chips, I threw them in, but they would be fantastic even with dark chocolate or even without chocolate at all.
The verdict, my husband enjoys them, which is a win for dry fruits in his books. They are small portion sizes, but pack a punch. If you like to reach for a snack bar or a granola bar during the day, I suggest trying these out. They are very satisfying and will keep the hunger pangs away till your next meal. They take all of 10 minutes hands on time. So even if you are time poor, you can still make a batch of these on your day off and enjoy them through the week. Kids will enjoy them too. Go ahead, give them a try. If you do, I'd love to hear what you think of them.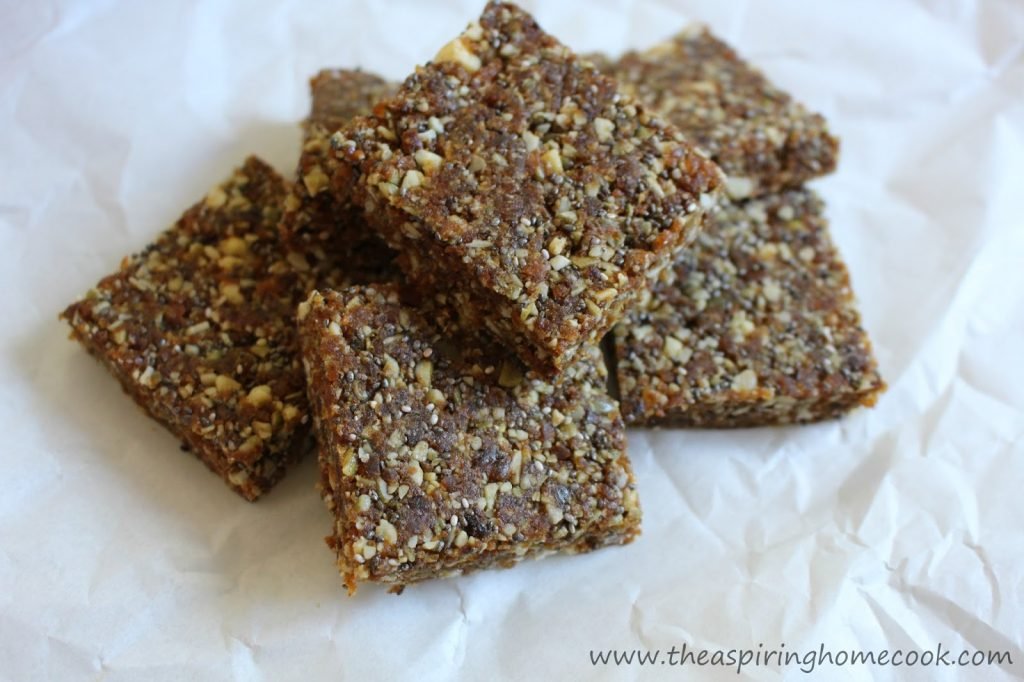 Date, Apricot & Chia Bars
Recipe from: Cupcakes & Kale Chips
Yields: 16 pieces (2 inch squares)
1 cup dates, pitted
1 cup dried apricots
2 tbsp Chia seeds
1/4 tsp ground cinnamon
1 cup raw pumpkin seeds / pepitas
2 tbsp white chocolate chips (optional)
Line an 8×8 inch baking dish or tray with baking paper.
Place the dates, apricots, chia seeds and cinnamon in a food processor and blitz till it has coarsely broken down.
Add the pepitas to the processor and blitz again till the pepitas have broken down to finely chopped.
Now add the chocolate chips, if you're using them and blitz again to break them up to little pieces.
Empty this mix onto the lined baking dish and flatten it down as best as you can, using the back of a spoon.
Next, I used another piece of baking paper on the top and used a large glass jar to flatten it out evenly. You can also use the bottom of a pan or a similar sized baking dish to do this after you place the baking paper on top.
Refrigerate for an hour.
Cut into squares. They are now ready to eat.
To store these bars, place a piece of baking paper between the squares to keep them from sticking to each other. Store in an airtight container in the fridge.
You now have little snack bars that will take you through the week.
Enjoy!!!
If you like this recipe, here's a few more you might enjoy –
Fruit & Nut Balls
Power Packed Snack Bars
Banana Bread Baked Oatmeal
I have finally gotten around to writing this post. For some reason these pictures have been lurking somewhere in the deep, dark recesses of my computer and kinda got forgotten there. Today, when I was looking for something else, I came across them and realized I hadn't yet shared it with you. So it just had to be done.
We've been trying to be more conscious of what we eat now. No fad diets or deprivation, but we're trying to focus on making better choices. Let me be very clear here, there will still be baked goodies. And lots of regular ones too. All I'm saying is that I'm going to be more open to the slightly healthier variants too. For example, these brownies. I came across this recipe when I was looking for ways to use up a massive box of sweet potatoes I picked up at the growers market at Flemington. The only sweetener in it is maple syrup. The rest of the sweetness comes from the sweet potato and the dates. And that make me happy. I can enjoy a piece because I know whats in it. There are also no eggs in the recipe, so that will make my vegetarian friends from India (the ones that don't eat eggs) very happy. This recipe also uses raw cacao powder instead of cocoa powder or chocolate. Though I'm pretty sure you'd be able to substitute them if you so wished. I hear raw cacao is purer and healthier. A quick blitz of ingredients in the food processor, a quick stir in of the dry ingredients and you're ready to bake. That's how easy it is to make these brownies.
Now, the verdict – These are nothing like the typical chocolate brownies you buy at the store or even make at home. They are equally delicious and have a nice gooey texture. They have a slightly different flavor from the sweet potatoes and kinda reminded me of a typical Goan sweet "Dodol" with minimal effort. So if you're up for trying out something a little different, give these sweet potato brownies a go. You won't be disappointed.
Sweet Potato Brownies
Recipe from: Deliciously Ella
2 medium to large sweet potatoes (approx 600g)
2/3 cup ground almonds (I used almond meal)
1/2 cup rice flour (You could also use buckwheat flour)
14 dates
4 tbsp raw cacao
3 tbsp pure maple syrup
A pinch of salt


Preheat the oven to 180ºC.
You need to use cooked sweet potato for the recipe. You could either roast, boil or stem them till they are nice and soft. I wrapped them in foil and baked them while I had the oven on the previous night.
Peel the sweet potato and cut them into chunks and add them to a food processor along with the pitted dates. Process this you are left with a nice creamy mixture.
Place all the dry ingredients in a bowl and stir together.

Add the sweet potato and date paste and mix this thoroughly combined.
Today, I'm going to share with you a wonderful Indian sweet. This little gems make an appearance at every Indian festival. I love them so much that I can have them anytime of the year. I'm talking about none other than the famous Besan ke ladoo – famous in India atleast 🙂 A "besan ka ladoo" is a little ball made out of sweetened chickpea flour, some clarified butter or ghee and flavored with some cardamom. Though this is not typically made for Christmas, I see no reason why it can't be included on the platter. Moreover, its simple to make and really quick to put together. The best part is that there is absolutely no wheat flour, this treat uses only chickpea flour, so even those on a gluten free diet should be able to enjoy them. They have a wonderfully nutty taste, they're creamy in texture and can be topped either with raisins or a piece of cashew nut or really anything else of your choice. I went with raisins this time.
Besan ke Ladoo
Recipe from: Cumin and Cardamom
1 1/2 cup tightly packed Chickpea flour (besan)
3/4 cup ghee (clarified butter), melted
1 1/4 cup icing sugar
1/4 tsp cardamom powder
Some raisins for topping
In a nonstick pan, over low heat melt the ghee and then tip in the chickpea flour (besan). Mix well and cook for about 7-8 minutes on low heat or till the mixture starts smelling nice and nutty. Keep stirring all the while so that it doesn't burn.
Take off the heat and leave it to cool completely.
Add the sugar and cardamom powder. Mix well and let the mixture sit for about 15 minutes.
Divide into 24 portions and roll into small balls (ladoos). Place a raisin on top and this yummy treat is ready.
Note: If the dough feels too soft when shaping into balls, don't worry. Shape them anyway and leave them to stand for about 15-20 minutes. The mixture should dry out a little during this time. Then re-shape them into balls and they should hold their shape now.
I placed them in little brown paper cups. You can then easily place them in little boxes to give them away.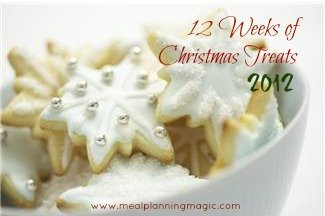 Don't forget to check what the others have put together for this weeks edition of 12 Weeks of Christmas Treats hosted by Brenda of Meal Planning Magic.
UPDATE: Edited to add a video recipe using the same great recipe.
For the second edition of the Bombay Street Food Special, I've chosen Bhajiyas. These are nothing but vegetable fritters. My mum used to make this for us as an after school snack and we always enjoyed it piping hot with some spicy tomato sauce. Today I'm going to share with you not one, but two, yes two types of bhajiyas and based on these, there's a whole range of vegetables you can use to increase the variety. Have this with a piping hot cup of tea, there's nothing better than this on a rainy day.
This one's for all the potato lovers out there.
Aloo Bhajiyas (Potato Fritters)


2 potatoes, peeled and sliced and kept aside in salted water (Take some water in a bowl, drop in about 1/2 tsp. salt and stir.) till you're ready to fry.
Oil, for deep frying


For the batter –
1/2 cup besan (chickpea flour)
Salt, to taste
A pinch of turmeric powder
A pinch or two of red chilli powder
1/4 tsp. ajwain (carom seeds)
Water
Mix all the dry ingredients together and gradually add the water, a little bit at a time, till you get it to a dripping batter. It shouldn't be too thin, it should coat the back of a spoon. (If its too thick, add a little water, if its too runny, add some more besan). Ensure you are left with a lump free batter.
Heat oil for deep frying.
When the oil is hot, pick up the potato slices from the salted water and drain off any excess water, dip well in batter till its coated and carefully drop it into the oil.
Fry on both sides till it gets a nice golden brown on a medium flame. Drain on some kitchen paper.
Serve hot with some spicy tomato ketchup.
If you have any excess batter, you can either slice up some more potatoes and make some more of these delicious fritters or you can use it for the next kind of fritters. You'll see how in just a bit.
In the same manner, you can make fritters using cauliflower florets or spinach leaves (dip whole spinach leaves into the batter) instead of the potatoes and the same batter.
Kanda Bhajiyas (Spicy Onion Fritters)


2 onions, sliced
1-2 green chillies, finely chopped
1/2 cup besan (chickpea flour)
Salt, to taste
A pinch of turmeric powder
A pinch or two of red chilli powder
1/4 tsp. ajwain (carom seeds)
Water
Oil, for deep frying
Mix all the ingredients except the water in a bowl.
Add water a little at a time to form a medium consistency batter. It shouldn't be too thick or too thin.
Heat the oil. Carefully, using a spoon, place spoonfuls of the batter into the oil. Leave to cook, untouched for a few seconds. Then turn them around to ensure even cooking on all sides using a medium flame.
Once they've turned a nice brown, drain on some kitchen paper. Serve hot.
Make sure you don't burn them, or you'll be left with bitter-ish fritters.
Serve hot with some tomato ketchup.
You can also add some grated lauki (bottle gourd) to the mix and make some lauki bhajiyas. If using grated lauki or bottle gourd, peel and grate it in advance. Sprinkle some salt and keep aside for about half an hour. Squeeze out all the water from the grated vegetable and add it to the mix.
So there you go, using these two methods, you can make atleast five different types of fritters, using a variety of vegetables.
Go on then, give it a try and tell me what you think of it!
These recipes have been linked to –